Winter Table Runner Using Speed Piecing Techniques

Cool blues and white are the perfect choice for a winter table runner. This classic block can be put together two ways to create two different looks, so you can choose the look you like best. For this project, we'll use a couple of speed piecing techniques that we've looked at before, but using them together makes this a project you can finish in a weekend.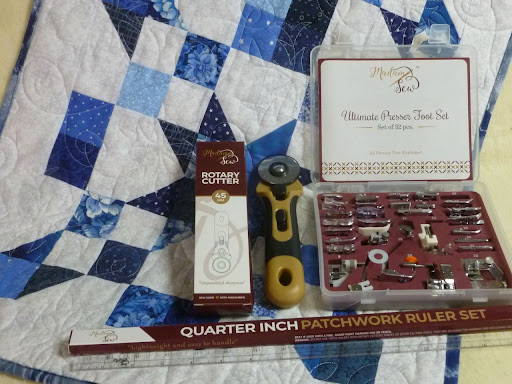 Prepare your equipment. You'll need your sewing machine with a new needle, a 1/4-inch quilting foot and a walking foot for quilting, Thread, Needles, Straight Pins (Glass head pins preferred), Thread snips, Rotary Cutter 45mm, cutting ruler and mat, optional ruler grip, iron and ironing board, Wool Pressing Mat, and a square up ruler.
Cutting Instructions for an 8-block table runner

Blue Scraps
2-1/2-inch squares - 48
3-inch Squares - 16
White Tone on Tone Background
2-1/2 - inch squares - 48
3-inch Squares - 16
Strips - 21-1/2 inches x 3-inch wide - 2 Strips
Strips - 32-1/2 inches x 3-inch wide - 2 Strips
Additional fabric for backing and binding.
For our first speed piecing technique, we'll Chain Piece our Half Square Triangles. See my MadamSew post on that technique for a more in-depth discussion. Today, we have a better tool for marking sewing lines on the back of your background 3-inch squares. I use MadamSew's Quarter-Inch Ruler to mark sewing lines 1/4-inch away from a center diagonal line, placing the line in the middle of the ruler on opposite diagonal corners, and marking the sewing line at a precise 1/4-inch. Unlike any other quarter-inch ruler on the market, the MadamSew ruler has a non-slip back, making marking easier with less slippage and mis-marking. Begin by marking the lines on the back side of the 3-inch white background squares.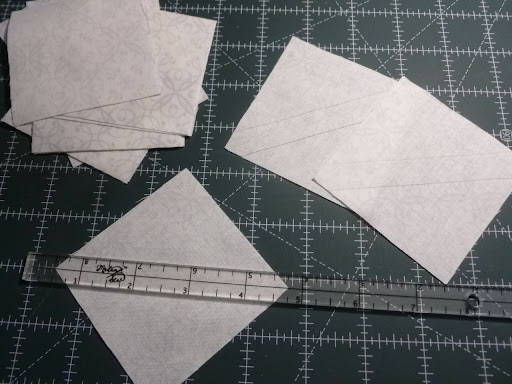 Pair the 3-inch scrappy squares with the marked 3-inch background squares and make half square triangles (HSTs). Chain piece by setting up all your square pairs, one scrappy square with one marked background square right sides together. Pair up all 16. Sewing on the edge of the line nearest the center gives you a more accurate half-square triangle unit. Chain piece on one line for all the pairs. The chain makes sewing the seam on the other side really easy as they are all together. Then, just turn the chain around and sew on the other 1/4 inch line.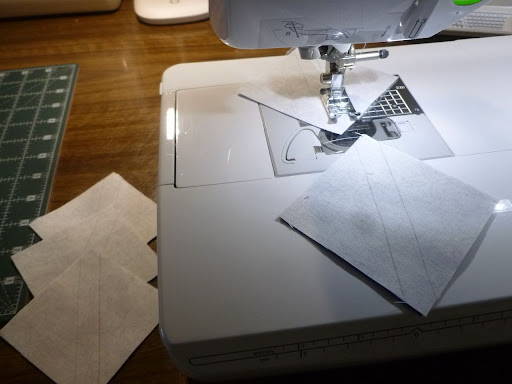 Cut the pieces apart from each other, then cut between the sewing lines to yield two HST units.
Press toward the darker of the fabrics. Square up to the correct size of 2-1/2-inches, placing the 45-degree line along the diagonal seam and trimming all four sides.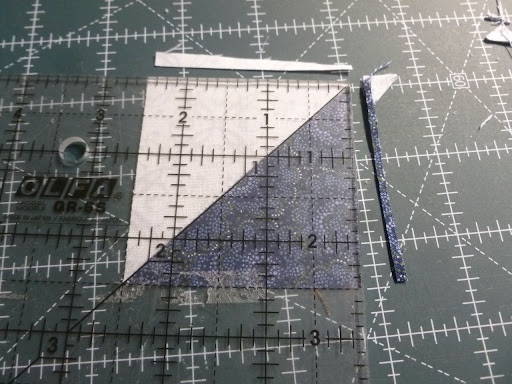 The elements you have cut and sewn will make 8 blocks, here is the block. It is a classic, traditional block called Road to Oklahoma.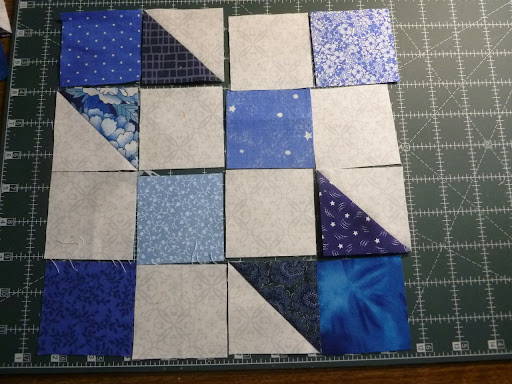 Sew the blocks using the web method we've done before. Fold the second row over the first, then stack rows three and four. Sew in order from top to bottom. For a more detailed tutorial on Web Method Quilt Assembly, click on that link.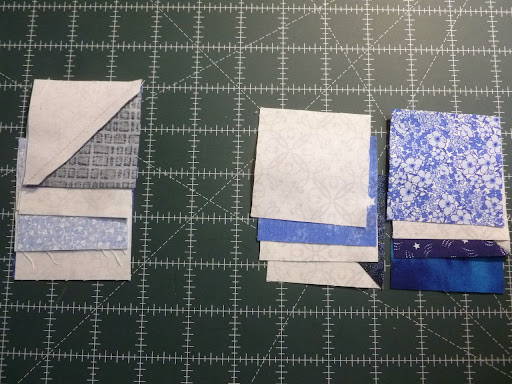 You can web several blocks together only going to the pressing station every few blocks, saving time. Press your seams in opposite directions, then sew several at once.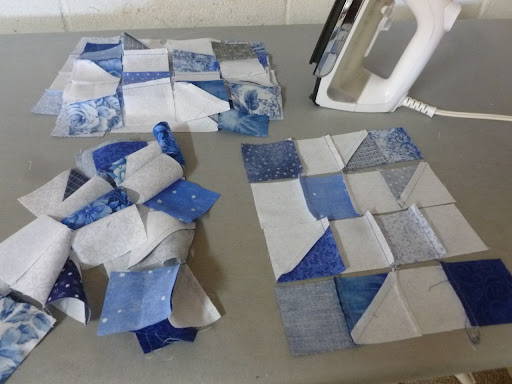 This will allow nesting of seams between blocks. You can always repress the seams in the opposite direction if you need to.
When your blocks are all assembled, press the seams all in one direction.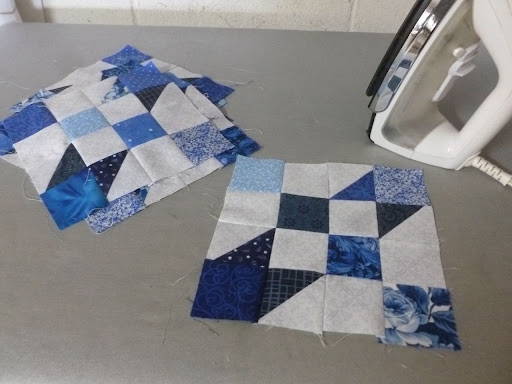 Arrange the blocks in a 2 x 4 configuration. How you lay out the blocks will make two different looks. Choose the one you like best. This way...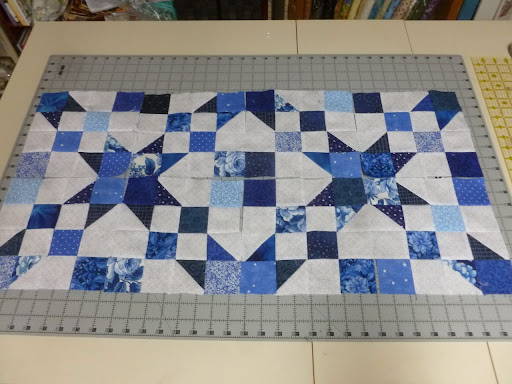 Sew the blocks together using the same web method.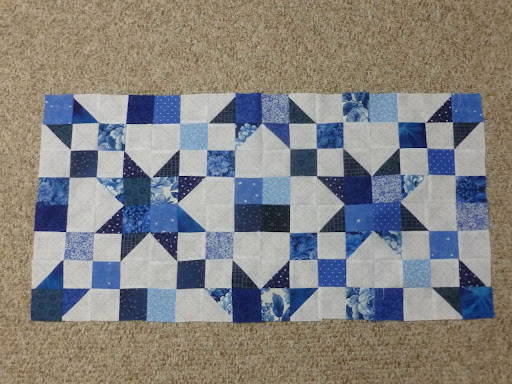 Add the background color borders, putting the longest ones on the top and bottom first, then adding the sides.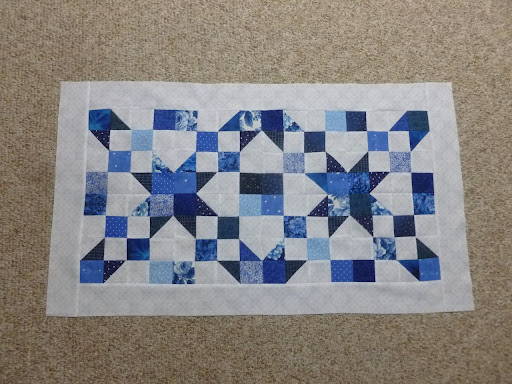 Quilt as desired, then bind in a dark blue.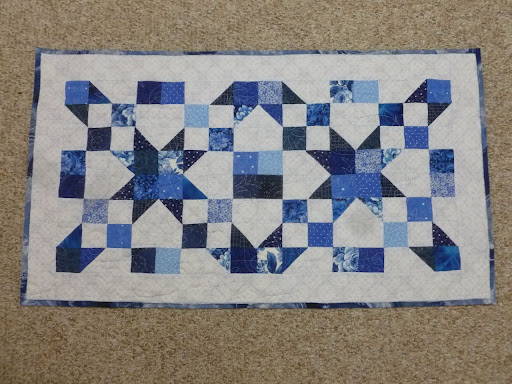 All done, and ready to grace your table in the winter months, or any time of year! Enjoy!

Be sure to see my other posts for great projects and my beginning quilting series for tutorials to increase your skills.

Have fun quilting!
Carole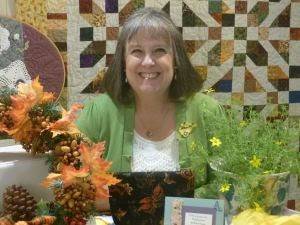 If you are new to the Madam Sew blog, be sure to check out my complete Beginning Quilting series -