How many times have you seen an adorable panel in a quilt shop and thought "I love that, but how would I use it?" You are not alone, as many quilters get stuck with this problem. The answer is that there are a number of ideas you could do, and I'll show you just a few today. Panels come in many sizes, some with a design that needs to be used whole, while others lend themselves to being cut up. Today's post is more about inspiration than a how-to, but the projects are easy and fun, and most don't require a pattern. Please note that all of the panels shown in this post are from my personal stash, or the stash of friends. To my knowledge, they are mostly vintage and no longer available in stores. They are shown to spark your inspiration to create beautiful projects with your own panels. We'll start simple and move up to more complicated.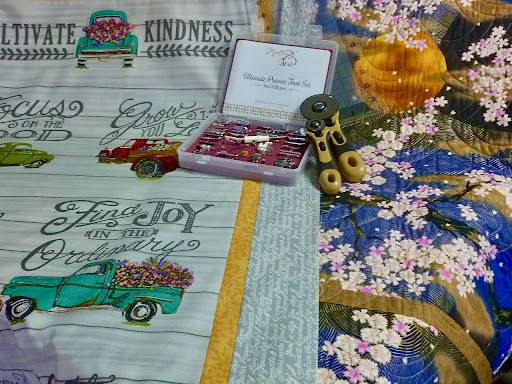 Take a look at this panel, it could be used two ways, one just as it is, and the other cut up into smaller pieces for smaller projects. But let's start with the basics and just use it as it is.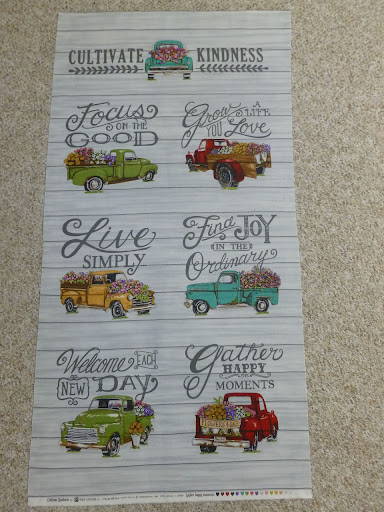 Begin by making sure that your sides are cut straight. Often when panels are cut at the fabric shop, they don't come out evenly.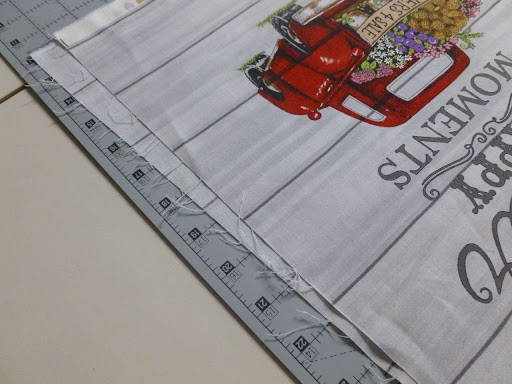 If the edges are not straight, trim them up using a long ruler and rotary cutter. If you don't have the Madam Sew 60-mm rotary cutter, get one, they are fabulous.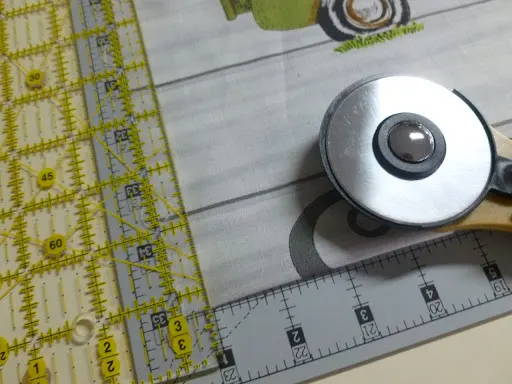 Add simple borders, using the technique you learned in Adding Borders here on Madam Sew's blog. Here, the first border is an accent color to set off the panel from the outer grey border.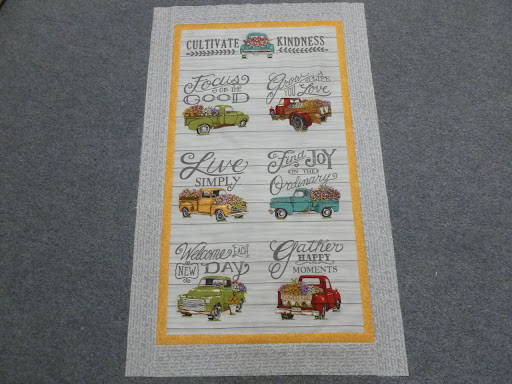 But what if you wanted to make placemats from the individual motifs? Begin by measuring one to see how big you can cut the pieces.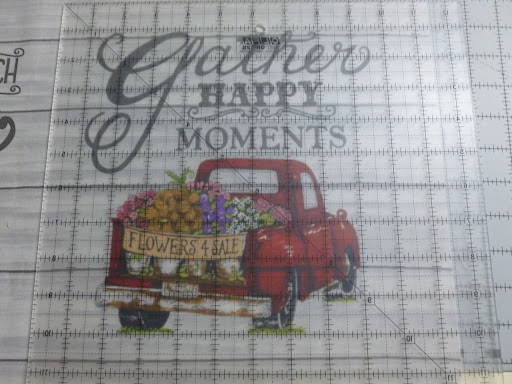 Be sure to do more than one motif so you are sure of your measurements, particularly allowing the same amount between motifs. In this case, it looks like 11-inches square will be the best I can do. I would need to add 3-inch finished side pieces on both sides, then a 1-inch border all around to get the optimum placemat size of 12 x 18 inches. We'll do some placemats next month so I can show you that in detail.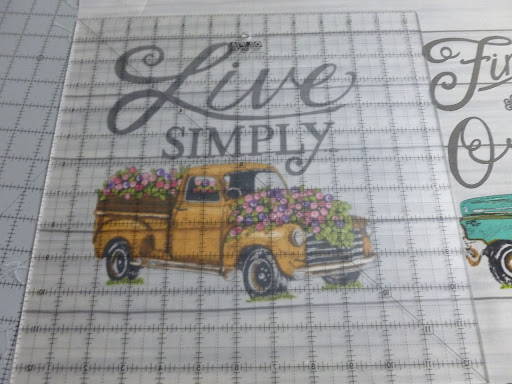 These placemats give you the idea of just adding side panels. These were 12-inch blocks, with 3-inch finished side panels added.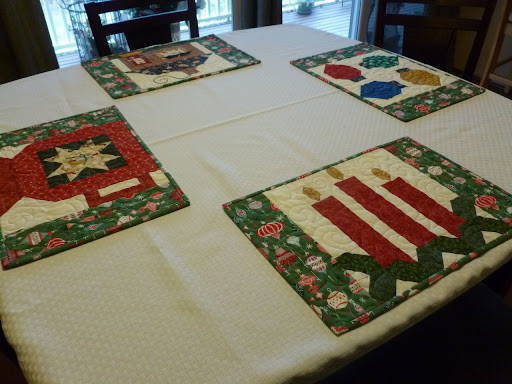 If you'd like just a bit more than a simple border, do one with all squares of the coordinating fabrics in the same line. This one used 3-inch squares all around from just a few fat quarters. Separate the pieced border from the main panel by framing the inner area in a solid coordinating color. This also makes the math easier as you can bring the size up to one that divides easily by the finished size square you want to use.
Another idea for the individual sections is pillows. Panels make great focus images with just a couple of borders added. Finishing the back with an overlapping backing means a pillow form can be slipped in for display or use, then removed when you bring out other seasonal pillows. This allows flat storage of the ones not in use.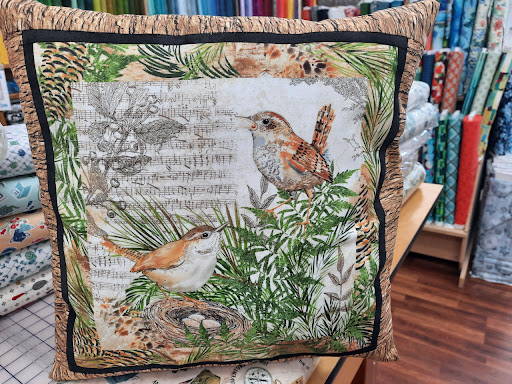 This fun idea for small panel, focus images is one of my favorite ways to use them, making tote bags. For this one, two panel images are used as front pockets on a coffee bean print tote, with flying geese at the top.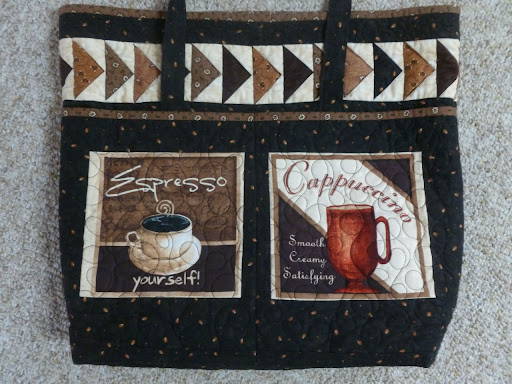 Inside, another focus panel image is a pocket to hold some of my Madam Sew essentials at retreats and classes, like my rotary cutter, cutting gloves, and spare blade.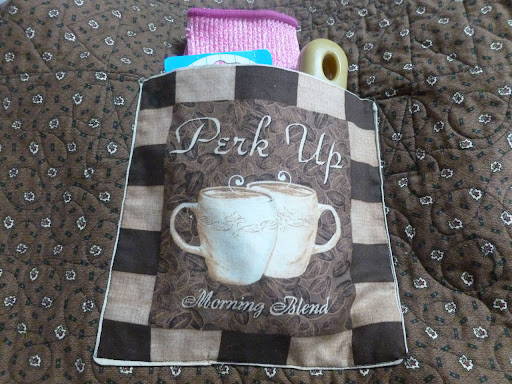 Let's consider another panel with sections like the one above. This one is a Christmas theme panel with three distinct sections.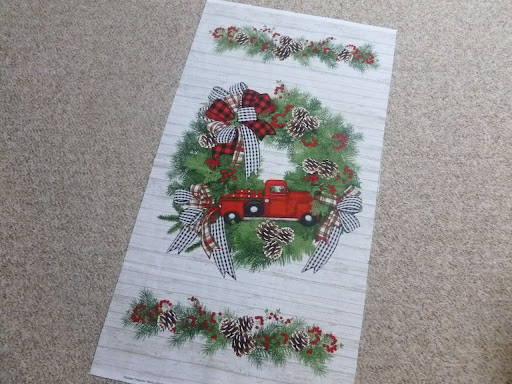 It would be cute enough with borders as a wall hanging, but cutting it into pieces gives us more options for both wall hangings, or table runners.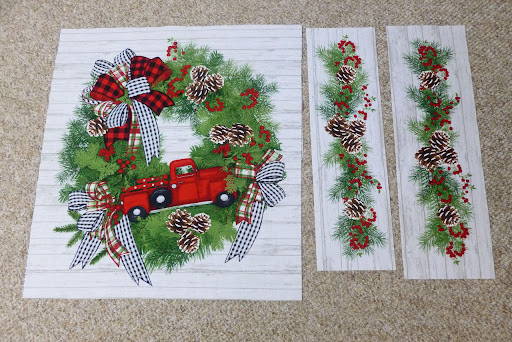 Starting with the largest section with the cute red truck, I added simple squares all around in colors that complemented the panel piece. An outer border in black completes the top.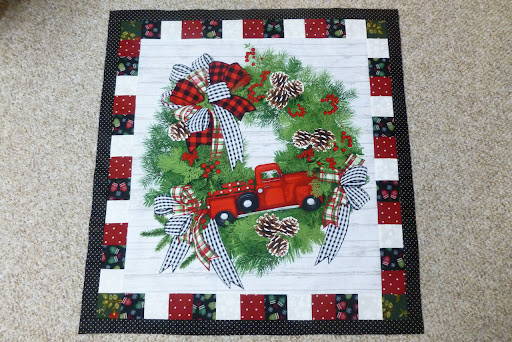 Next, let's look at two different ideas for the evergreen boughs, since I had two to work with. First, again using simple squares, I added an inner border of red, then the squares, and then an outer border in the same red. It is a nice way to make the panel a lot larger. You can build as many borders as you like.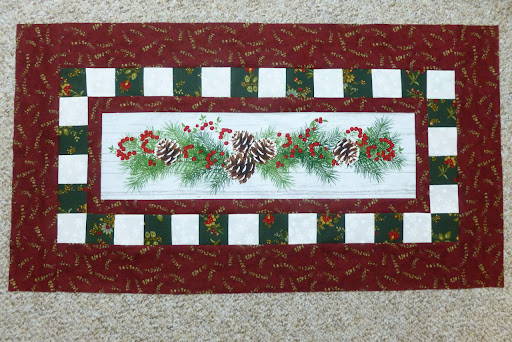 But, if you are a bit more ambitious, make a flying geese border, then an outer border in green. The math for this is a bit more complex, but you don't have to be an expert. Just make them the size you want, then add an inner border to make the measurements match if needed.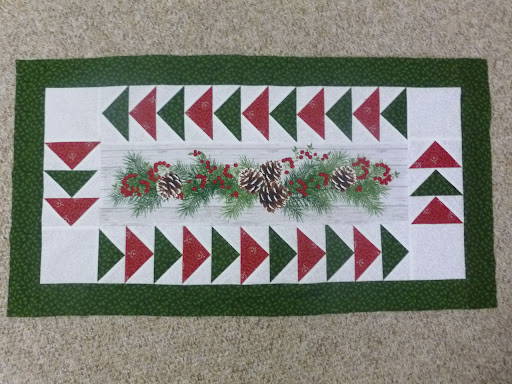 It is quite common to find patriotic panels, and these make wonderful Quilts of Valor. Surrounding the panel with a sampler of blocks enlarges the size and adds a lot of interest and design to the quilt top. Note the narrow solid red borders to set off the blocks.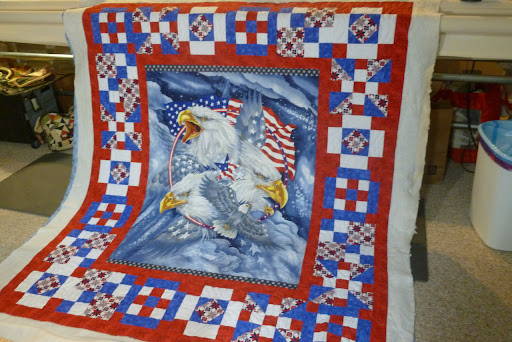 Now, let's see what you can do with a bit more ambition. A panel can not only be a printed scene, but also a large print repeat like this one.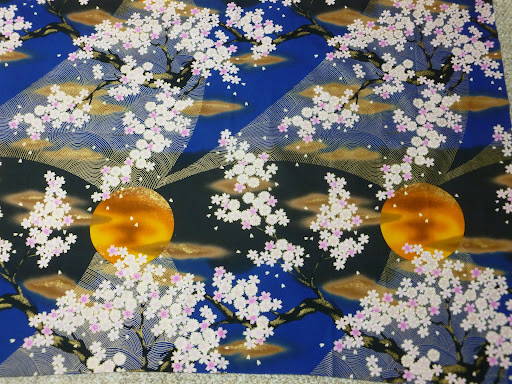 By doing some careful cutting and adding sashing, a window scene is created. Cut the pieces as you like.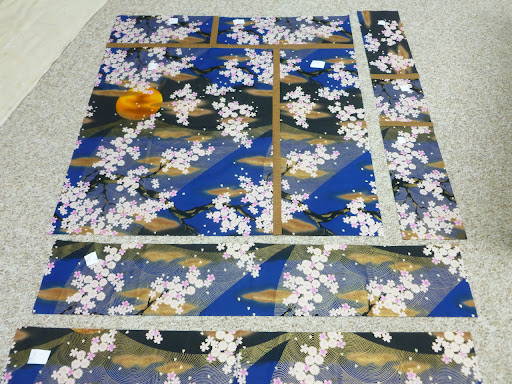 Then add sashing between the pieces. I used a 1-1/2-inch cut sashing, which finishes to one inch. This one has the feel of a Japanese window looking out to the cherry trees.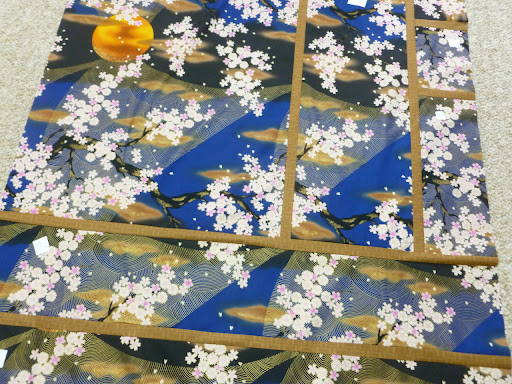 This is a great technique for panels that have flower garden scenes, adding sashing in white will give the feel of looking through a picket fence, or in black to invoke the feeling of a wrought iron fence. Black can also simulate stained glass with the right panel as the image. A final border finishes the top.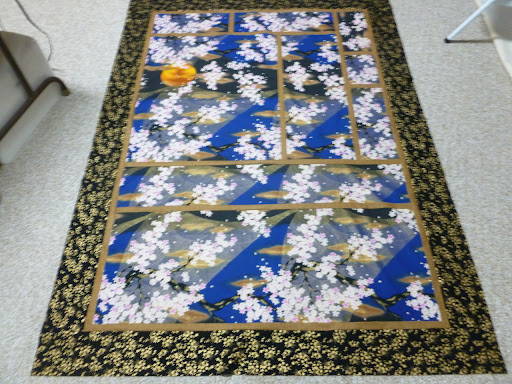 Sometimes, a panel will lend itself to some creative quilting. Such is the case with the Hoffman Fabrics panels called Dream Big. These huge dahlias started a quilting craze that expanded into more offerings like giant leaves and roses. These panels are meant for showcasing quilting.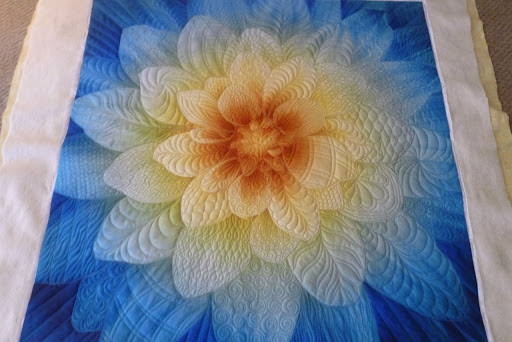 Not only can you experiment with all your quilting fill designs and free motion quilting, but also practice ruler work or straight lines like I did here in the background.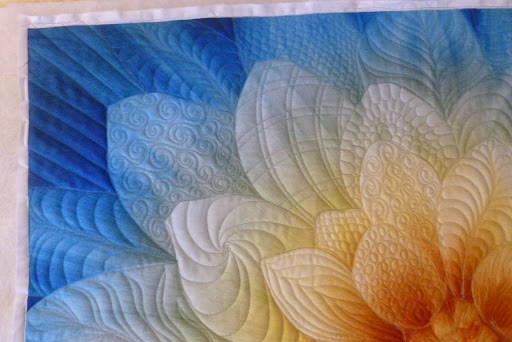 In addition, you can experiment with different threads using metallics or variegated colors in the different areas. These are easy to do on domestic machines as the total size is about 42-inches square. Just start in the middle and work your way to the edges.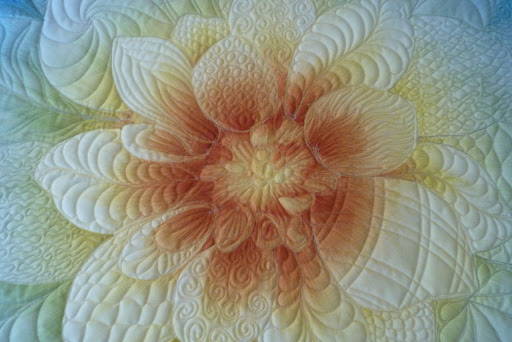 Now, take a panel like this one. The autumn door really needs to be used as a wholecloth panel. You could add a simple border to finish it, and then quilt lots of different designs in all the elements. It could have curved lines in the pumpkins, echo straight lines on the door, curlicue fills in the leaves, and outlined motifs at the top and bottom. Simply following all the lines in the image will give you a fabulous, custom quilted project.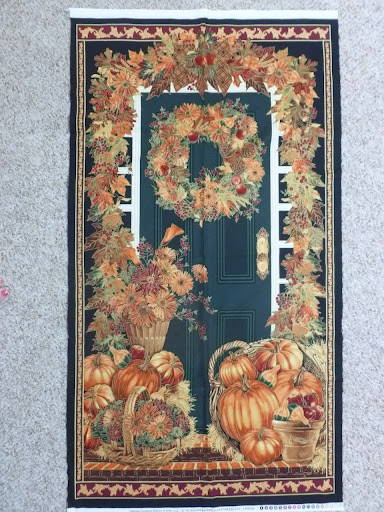 Lastly, for the very ambitious, there is a book out from the author of One Block Wonder Quilts using panels. This involves buying seven of the same panel, stacking six of them and doing some creative cutting with a 60-degree triangle ruler. Those pieces are arranged in hexagons, which are then placed around the remaining intact panel. This one in progress sewn by a friend uses a Stonehenge panel. Several ladies were working on these at a retreat and allowed me to photograph their works in progress.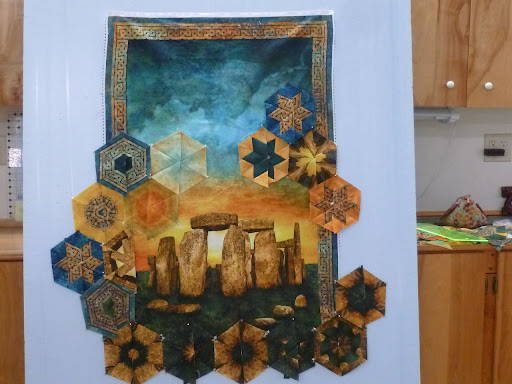 The book is One-Block Wonder Panel Quilts by Maxine Rosenthal and Nancy Miller published by C&T Publishing and it will walk you through the stacking, cutting, and assembly. Here is another one in progress using a lighthouse panel. It is really helpful to have a design wall to audition where the hexagons look best.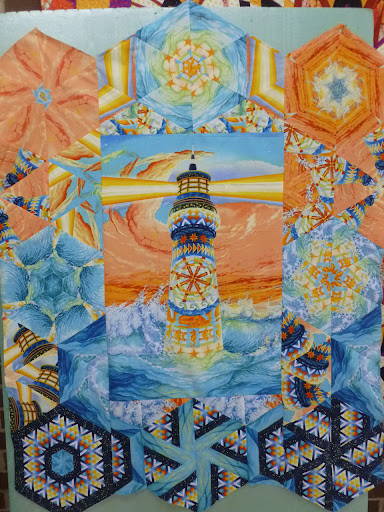 So, there you are, from the very simple to the extremely ambitious, choose your favorite and have fun sewing with panels!