Beginning Quilting - Basics, Tools, and A Simple Block
Learning to quilt is fun, and can give you a lifetime of patterns and projects to make, give away, and enjoy in your home. It is important to learn the correct way of doing things from the outset, so that your time and efforts produce the results you want.
The most important thing in quilting is accuracy, and we will spend some time on how to achieve that. Accuracy means corners line up, points are sharp, and blocks fit together. Not having accuracy means frustration with the process, ripped out seams in sewing, and a finished project that you aren't thrilled with. So first, let's start with the tools you need, and some reasons why you need them. Then we'll make a basic block to get you started.
Your sewing machine only needs to be the very basic, as all we will use for piecing and quilting is a straight stitch. It is why a lot of quilters love the antique Singer Featherweight machines. Thread your machine with good quality thread. The best weight for piecing is a 50 weight thread, as it is thinner than the 40 wt producing a more accurate seam. The best needle size for 100% cotton quilting fabric is 70/10, although an 80/12 can also be used. Set your stitch length for 12 stitches per inch. Be sure your tensions are balanced.
The most accurate piecing will be accomplished with a flanged 1/4-inch foot. This foot allows you to accurately guide the fabric through the machine. Placing the fabric edge next to the flange, with the needle in the center position, creates a 1/4-inch seam.   This seam size will not ravel, and will reduce the bulk under the top when it is quilted. Do not 'pink' the edge, as this produces inaccurate measuring for your seam allowance, and is unnecessary work.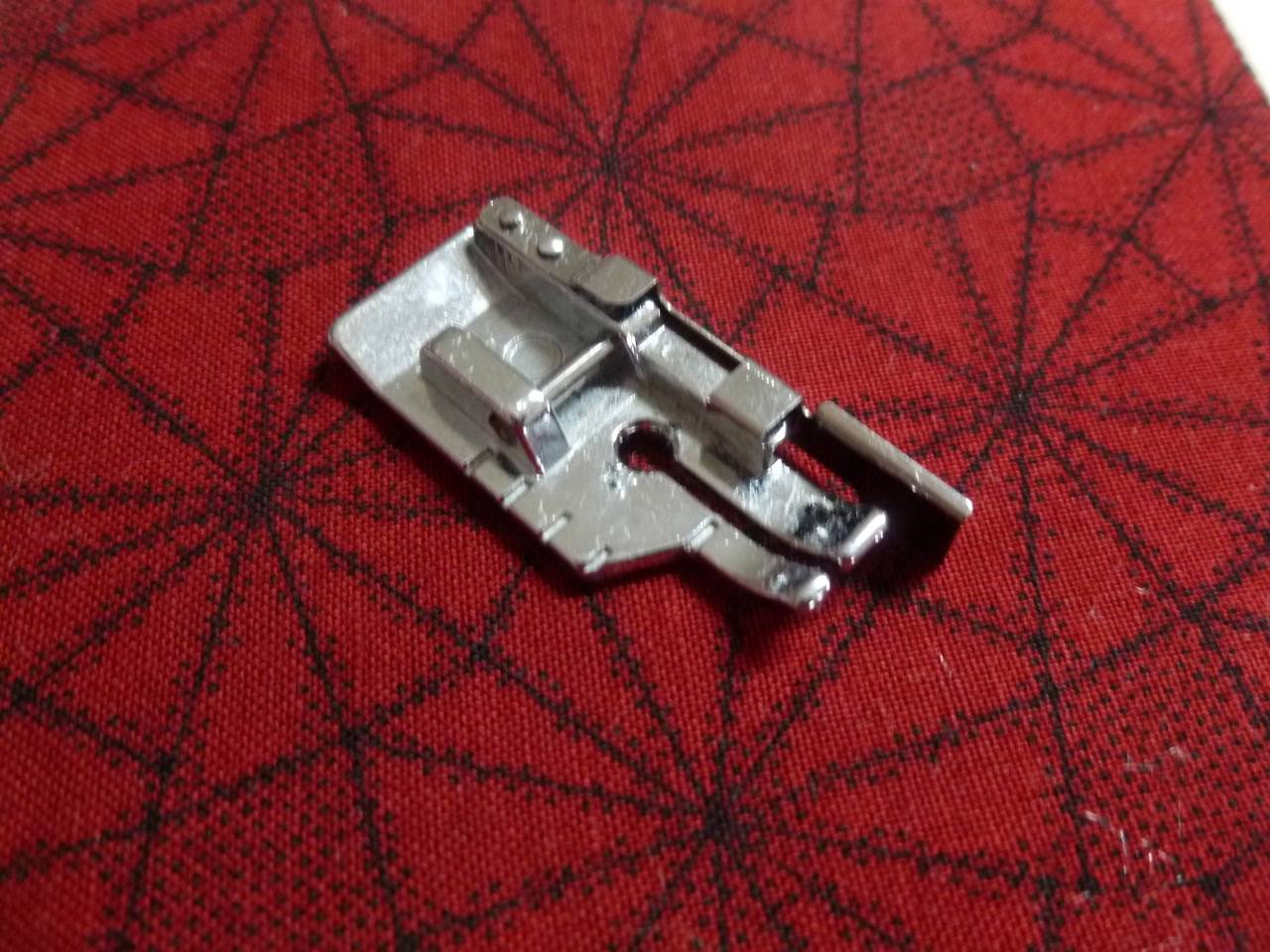 Now that your machine is set up, let's select some fabrics to use. To begin, pick two or three fabrics that have a nice contrast in value. Value is the lightness or darkness of a color. Something like red and white would give you a nice balance of value.  
I personally like to have beginners start with our flag colors of red, white and blue. Using a medium blue, a darker value red and a light white is a good way to start learning about contrast. You can use the colors you like, just be sure one is light, one is medium and one is darker in value. It is contrast in color values that create movement and interest in a finished design. I'll talk more about color and fabric selection in a future post.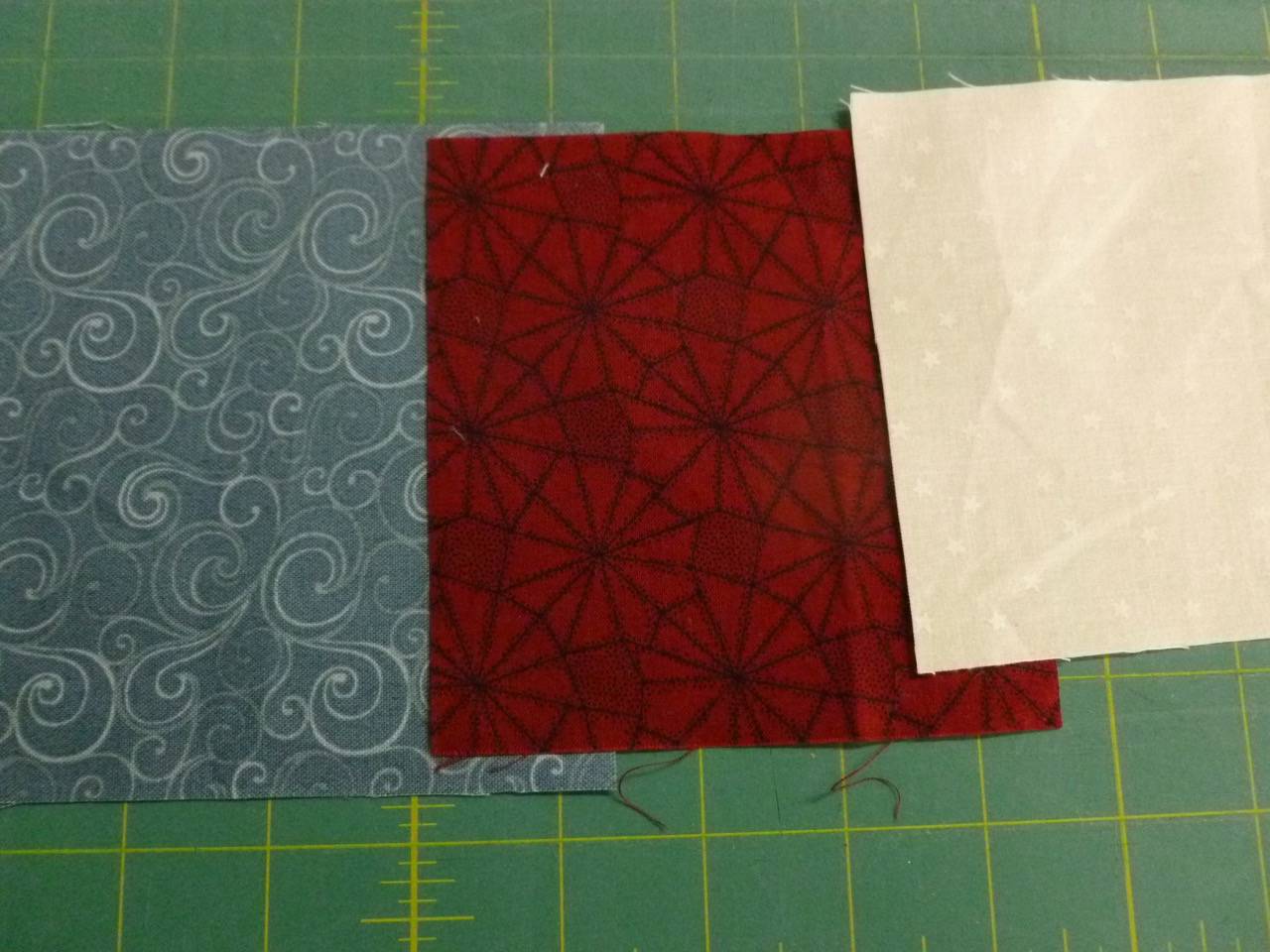 Once you have your fabric selected, it is time to cut. You'll need a good quality self-healing cutting mat to use with your rotary cutter. The best size cutting mat for a beginner is 24 x 36, as it is large enough to do most projects. The ruler size recommended for beginners is 6x24, which is large enough to cut most projects. See the post I wrote for the Madam Sew blog on Rotary Cutting Basics and Tips for a detailed explanation of how to use the cutting tools, how to measure accurately, and safety.
A great block for learning the basics is a nine-patch. Using your rotary cutter, ruler, mat and safety gloves, cut some 4-1/2-inch squares for a simple nine-patch block. You'll need one red square, four white squares, and four blue squares, all 4-1/2-inches square.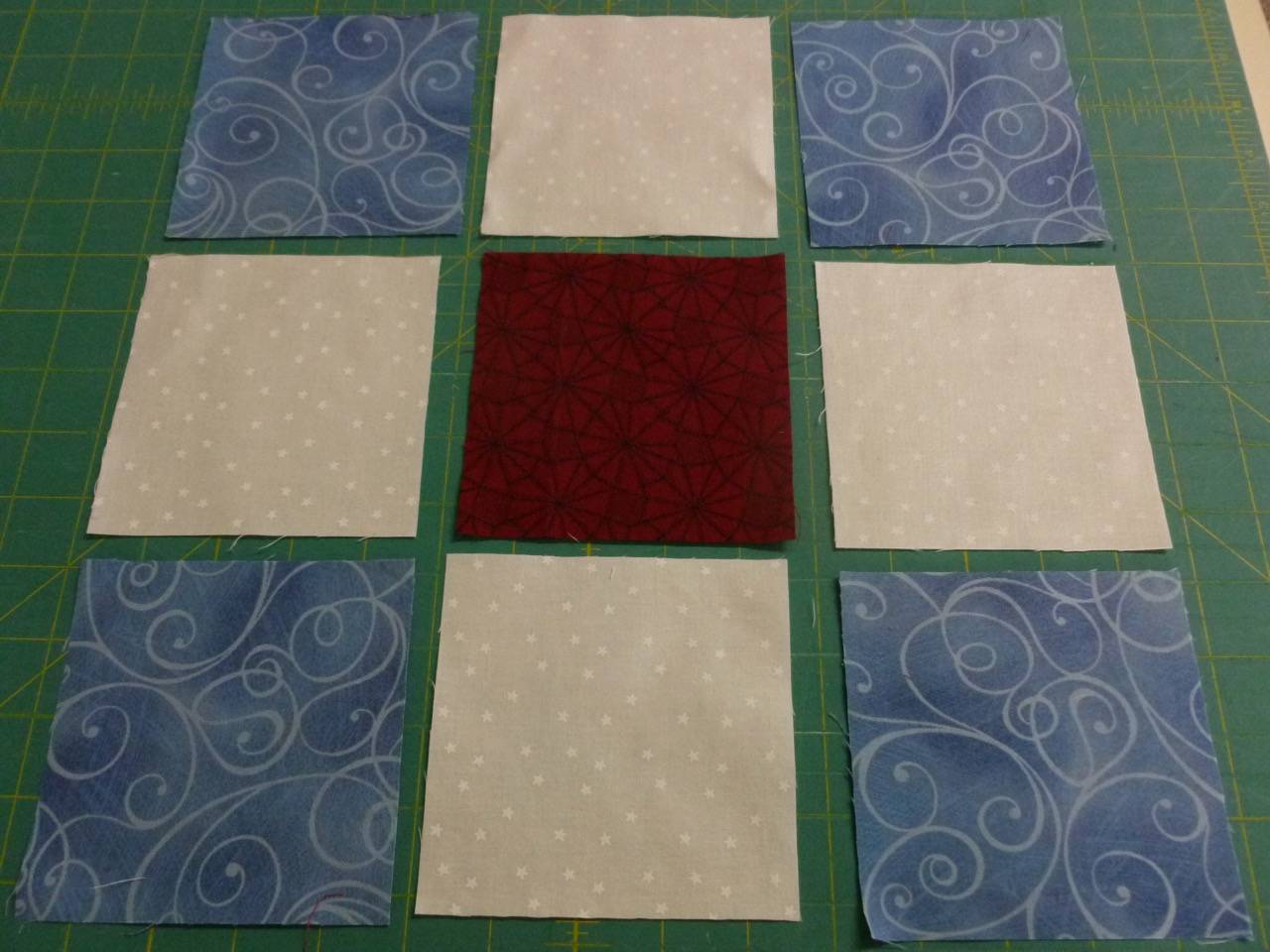 Construct the nine-patch in rows, sewing the three together across a row first. Do not back stitch at the beginning and end of stitching. It isn't necessary, as the cross seams going over the previous seams will lock the stitching, preventing it from coming undone.  
So, pick up two patches and pin them together. Using glass head pins ensures that if you accidentally press over one, the head will not melt onto your fabric. Pinning where the point of the pin is about 1/2-inch away from the edge of the fabric will allow you to sew without removing the pins as you sew, and not have them run under the needle.  
Keeping the pins in ensures that the pieces do not slip when moving under the presser foot. When sewing, pay attention to the placement of the fabric as it moves through the foot. You want it to lay just next to the flange, not up against it or under it.
You can sew many of the pieces at the same time by 'chain piecing'. This means to place the next piece to be sewn up against the one just sewn, and sew across the gap to the next one without lifting the presser foot, or removing the first pieces. It will not hurt your machine to sew a few stitches without fabric under the needle. Just keep going until you run out of seams you can do. Then remove from the machine, and snip the threads between the seamed pieces.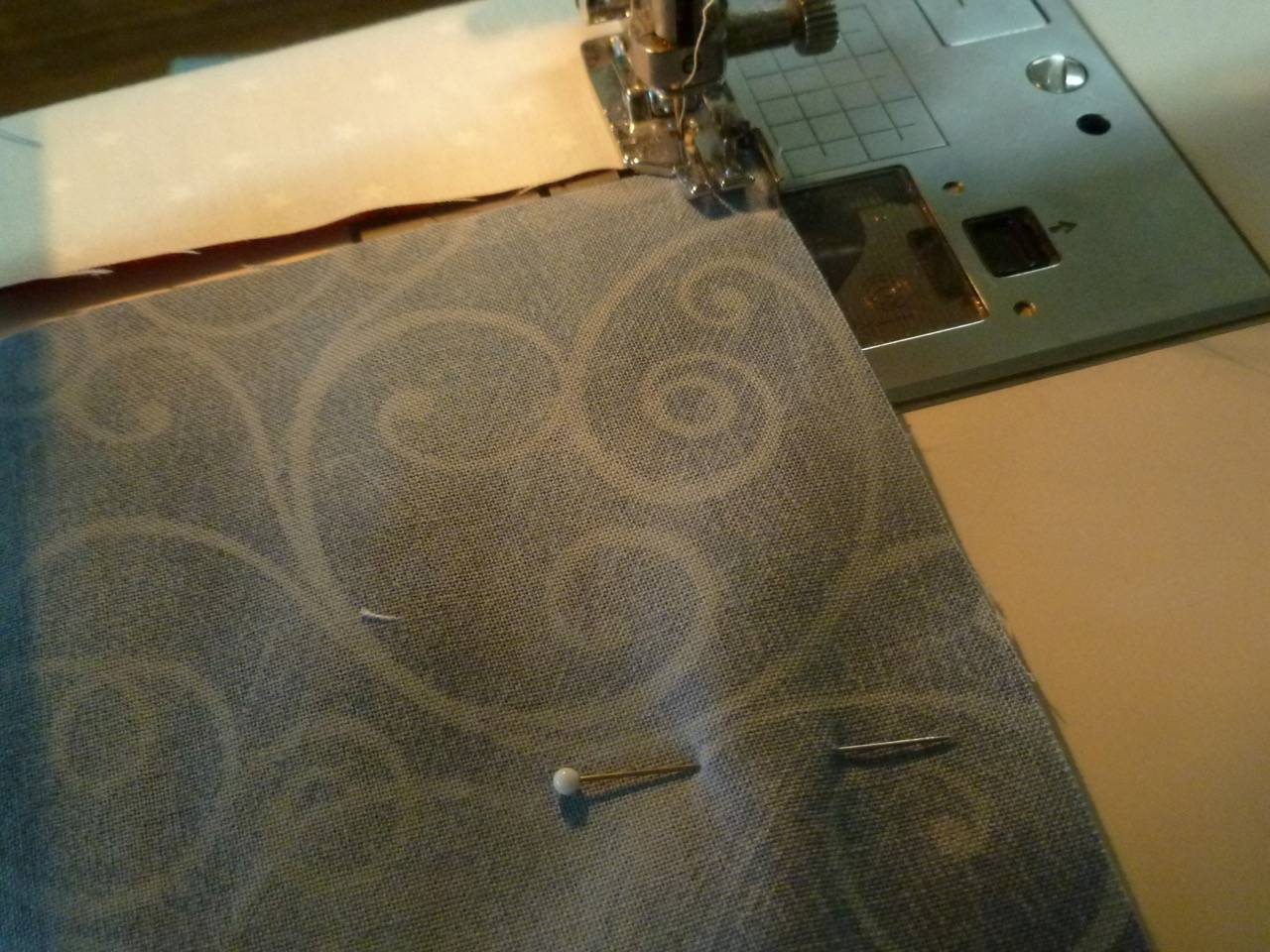 Lay out your block again, and be sure you have them in the proper places.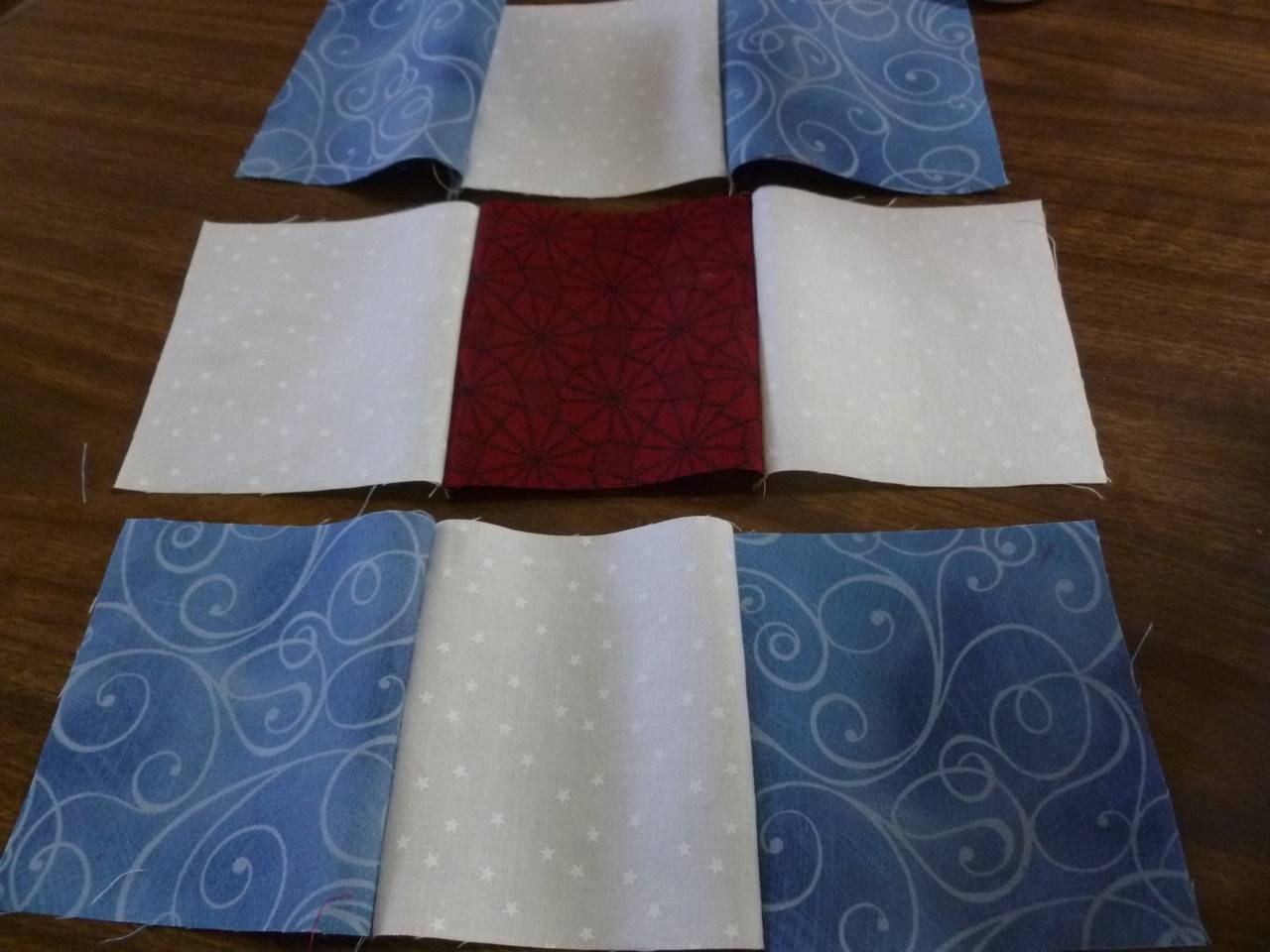 Press the seams on the top and bottom rows towards the outside, and the center row towards the center. In our block, this will be towards the darker fabric, but that will not always be the case.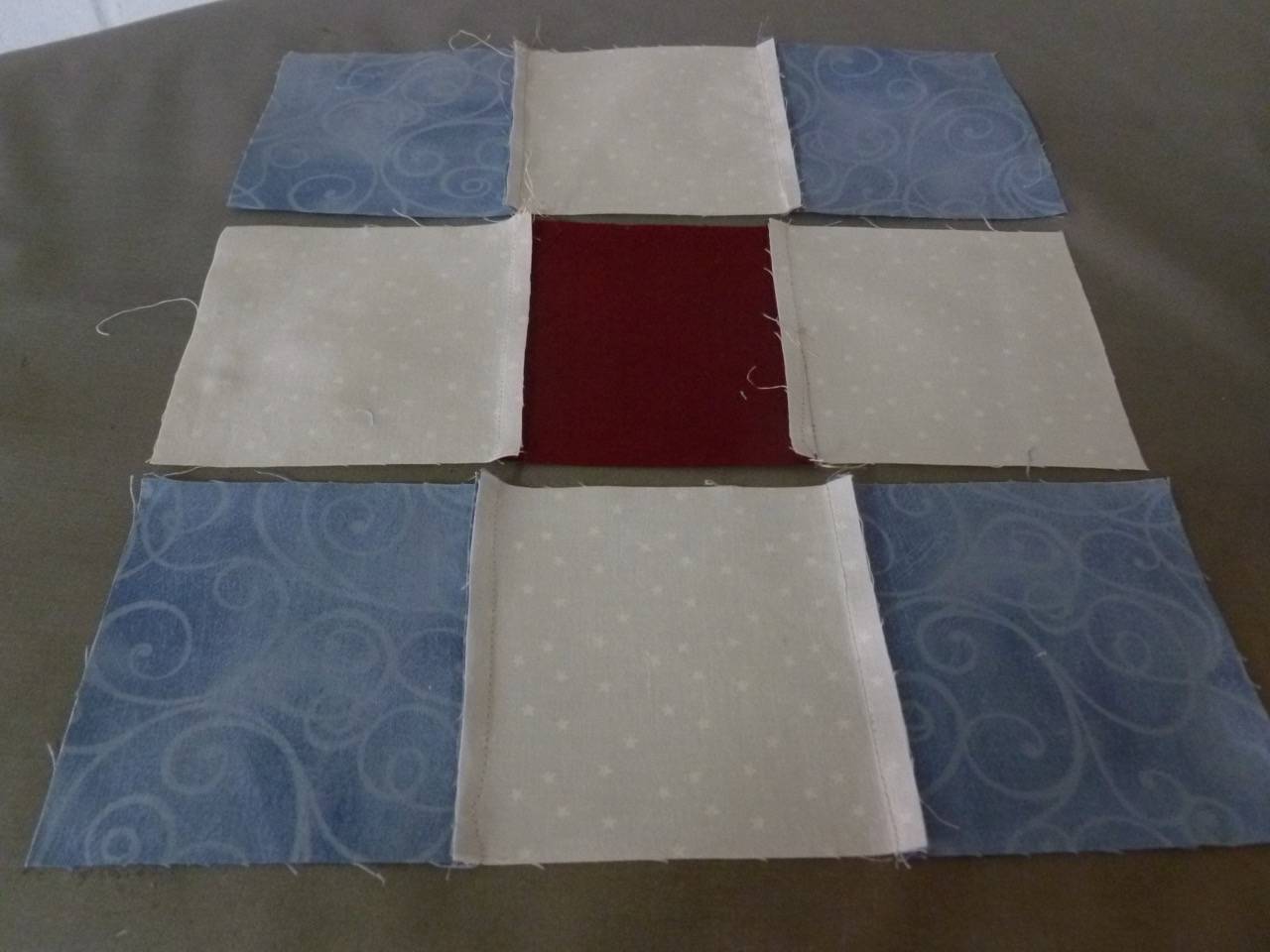 This will allow the seams to 'nest', improving accuracy.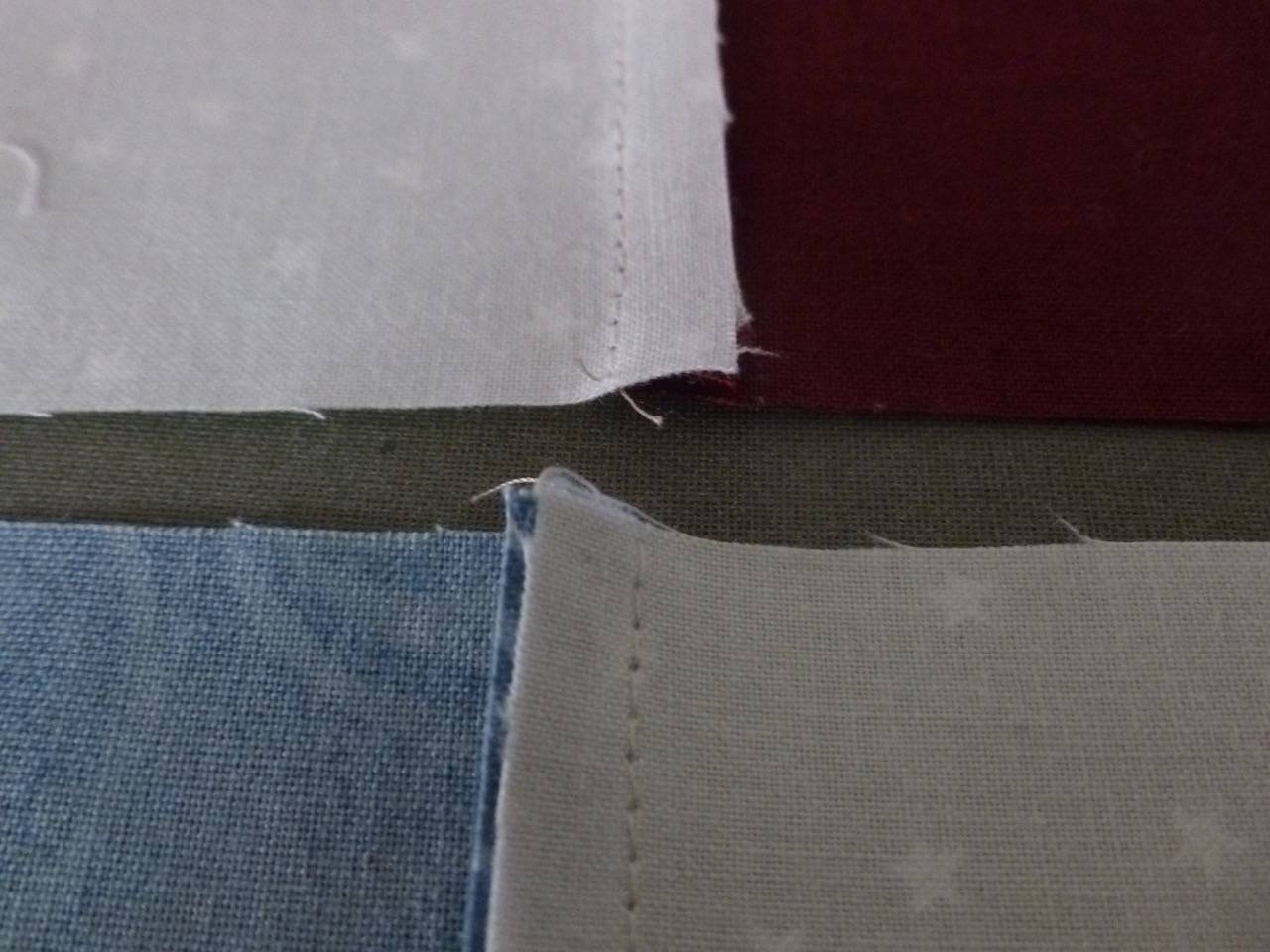 When you pin the sections together, the pieces will naturally line up. Placing the seams together in this manner means you can feel that they are aligned properly.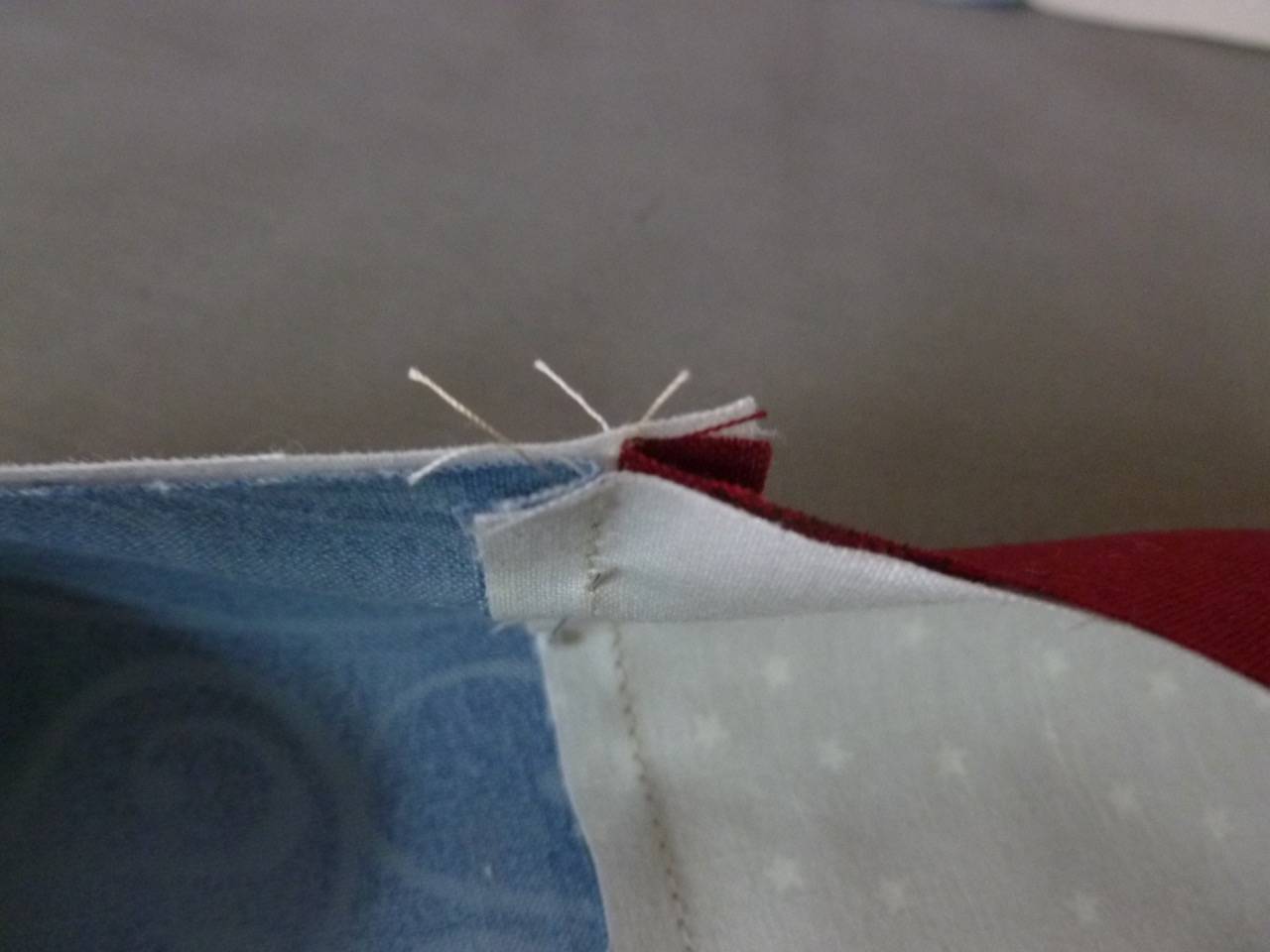 Again, pin the pieces with the pin points about 1/2-inch away from the edge, making sure the pieces are accurately placed against each other. Using two pins to start, pin each seam allowance in place to facilitate sewing accuracy.
Sew with careful attention to the fabric placement as it goes through the foot. As your skills improve, you can use just one pin, but for now, use two so you gain confidence and accuracy.
At the end of the sewing, the final block should measure 12-1/2 inches. Check your block to see if it is the correct size. If not, look at your seams, and figure out what adjustments you need to make on your sewing to get the seams accurate at 1/4-inch. Make another block, and check again. When you are proficient at your 1/4-inch seam, make more blocks to practice.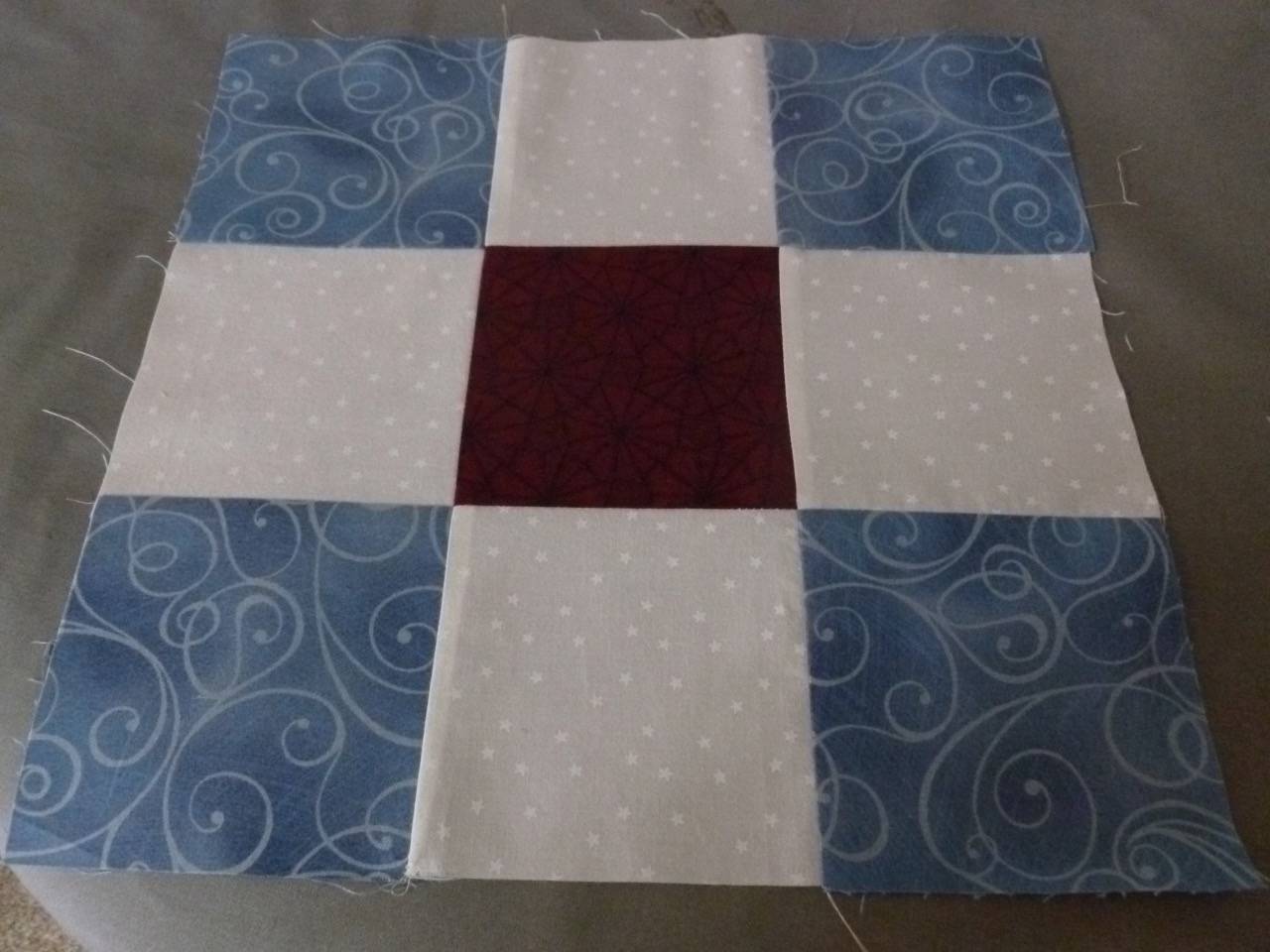 The accuracy of cutting and precision of nested seams make perfect intersections.
Make 12 of these blocks for a nice size lap quilt. Press the row seams on the blocks all in one direction, so you can nest the seams between blocks in the assembly of the quilt top as much as possible. There will be some that don't nest, and that will happen in most quilt tops, just re-press where you can, and pin well where you cannot. Some quilters press all their seams open, which is a personal choice, but for beginners I don't recommend it. It is much easier to get the accuracy in the beginning with nested seam allowances. Making a bunch of nine-patches will build your skill level, so you are ready for the next lesson next month.
The last item every quilter needs is a good seam ripper. We all hope we won't need to use it, but there are a few things to know if you need to use one. So, suppose this set of squares is sewed incorrectly, and the seam needs to be ripped out.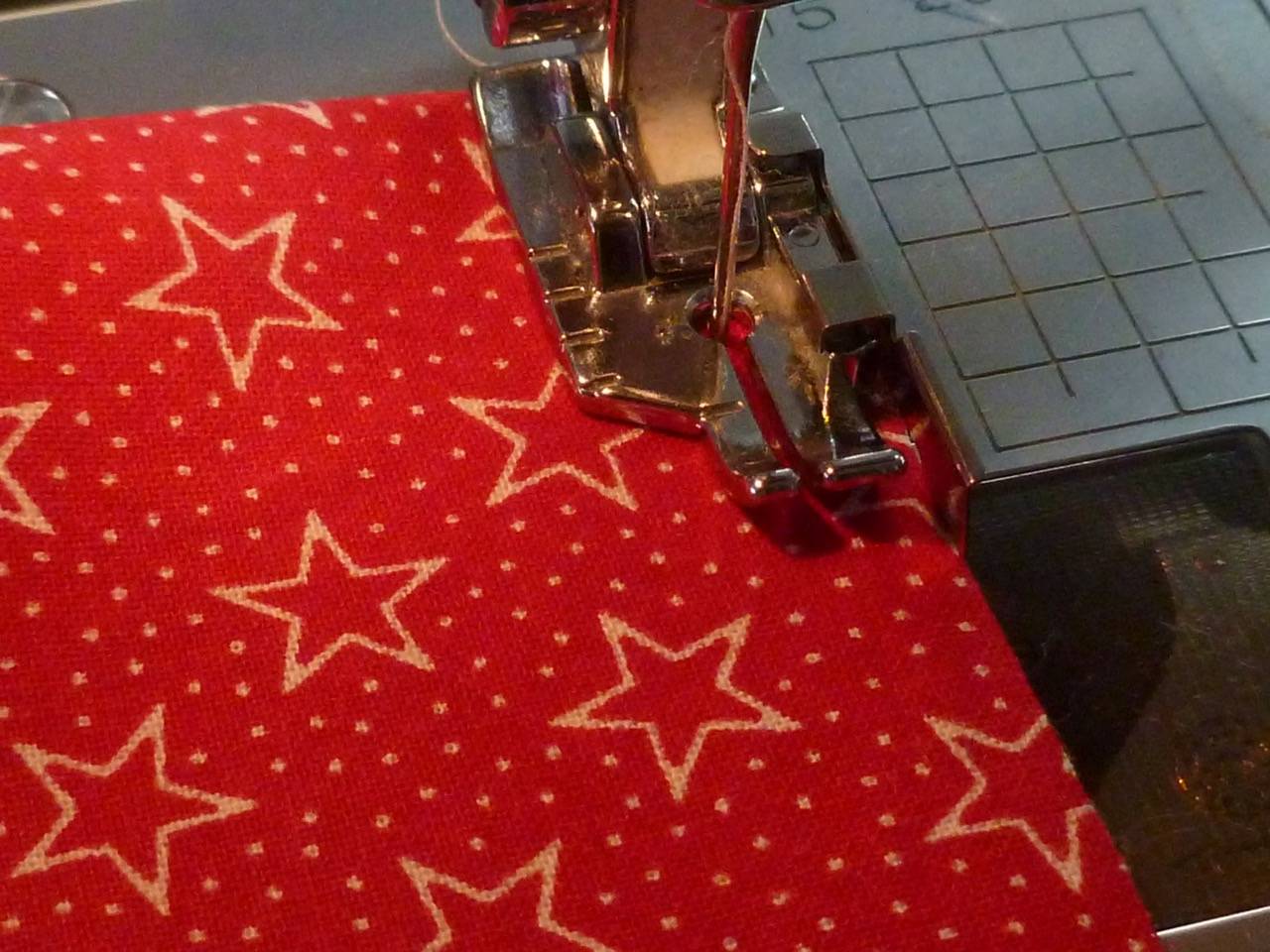 Begin by using the longer finger of the seam ripper to catch a couple of threads at the edge, and cut them by moving the blade part up through the threads.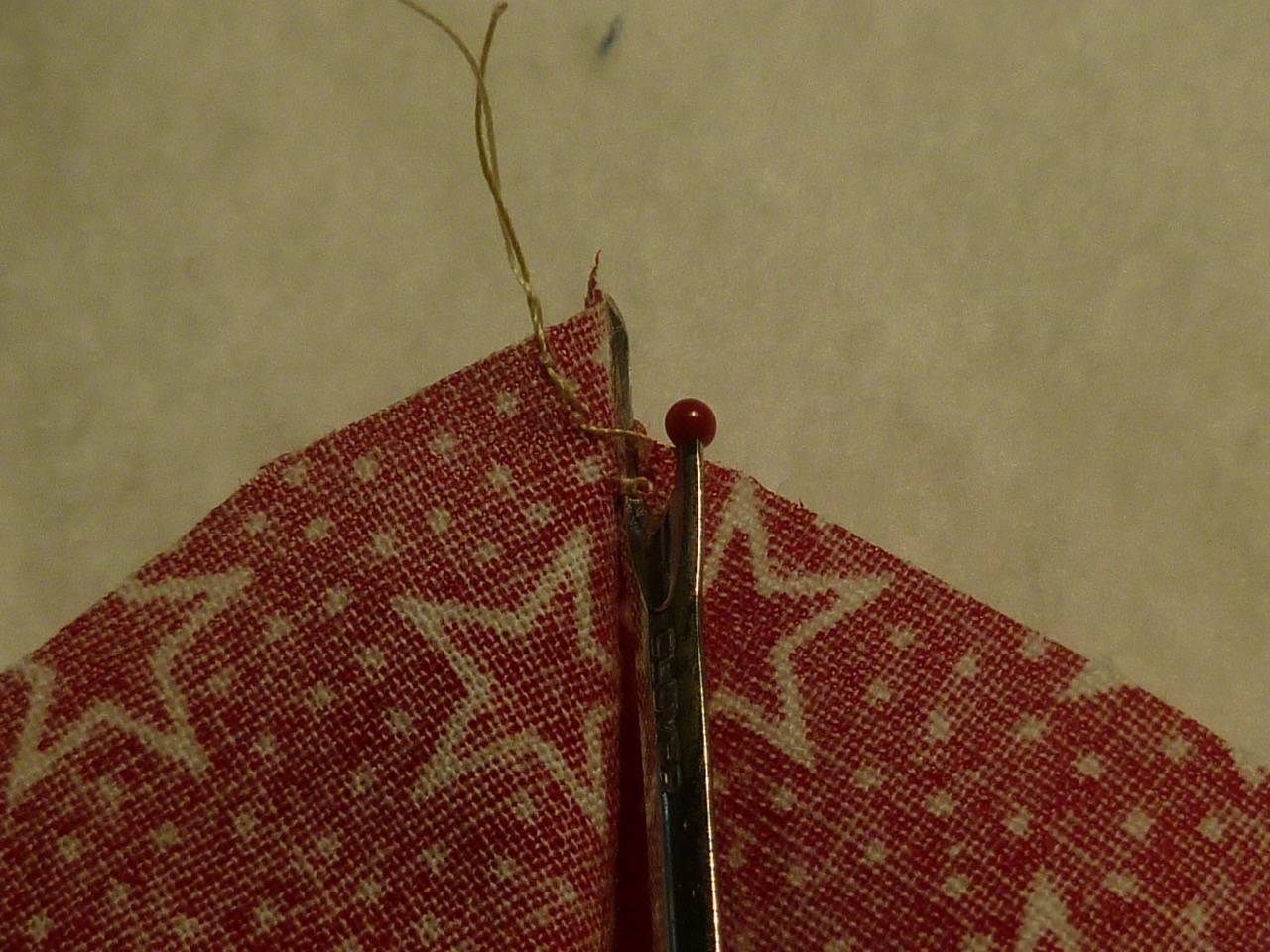 When there are a couple of stitches loose, turn the seam ripper around so that the red ball is under the stitch line. The purpose of the ball is to keep the fabric away from the blade area. Move the ripper slowly along the seam, keeping the tool straight between the fabric pieces.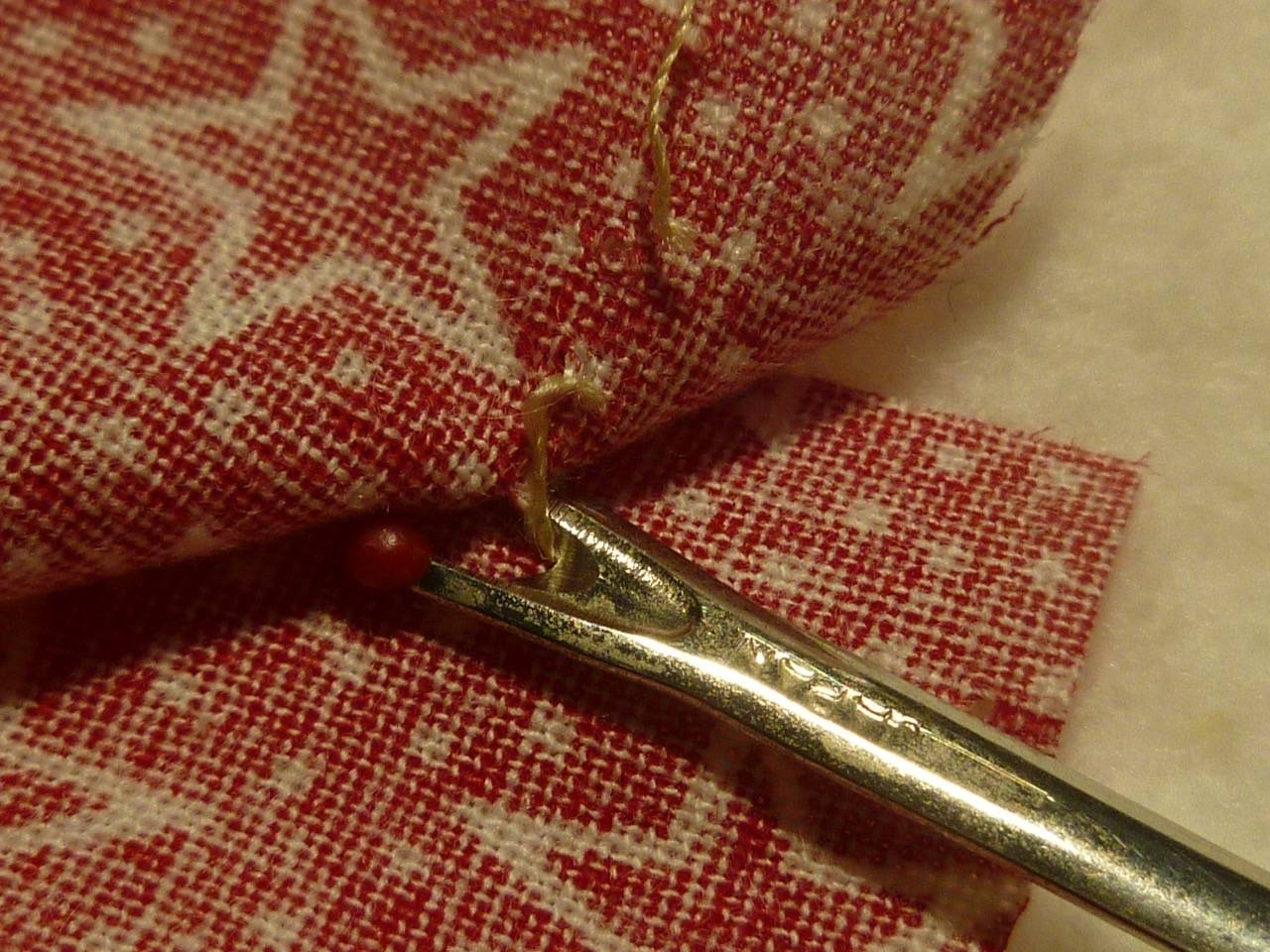 It is easiest to do this with the bottom piece on a table, and the tool parallel to the table. It should move smoothly down the stitching line in an easy way, and much faster than trying to pick out every single stitch.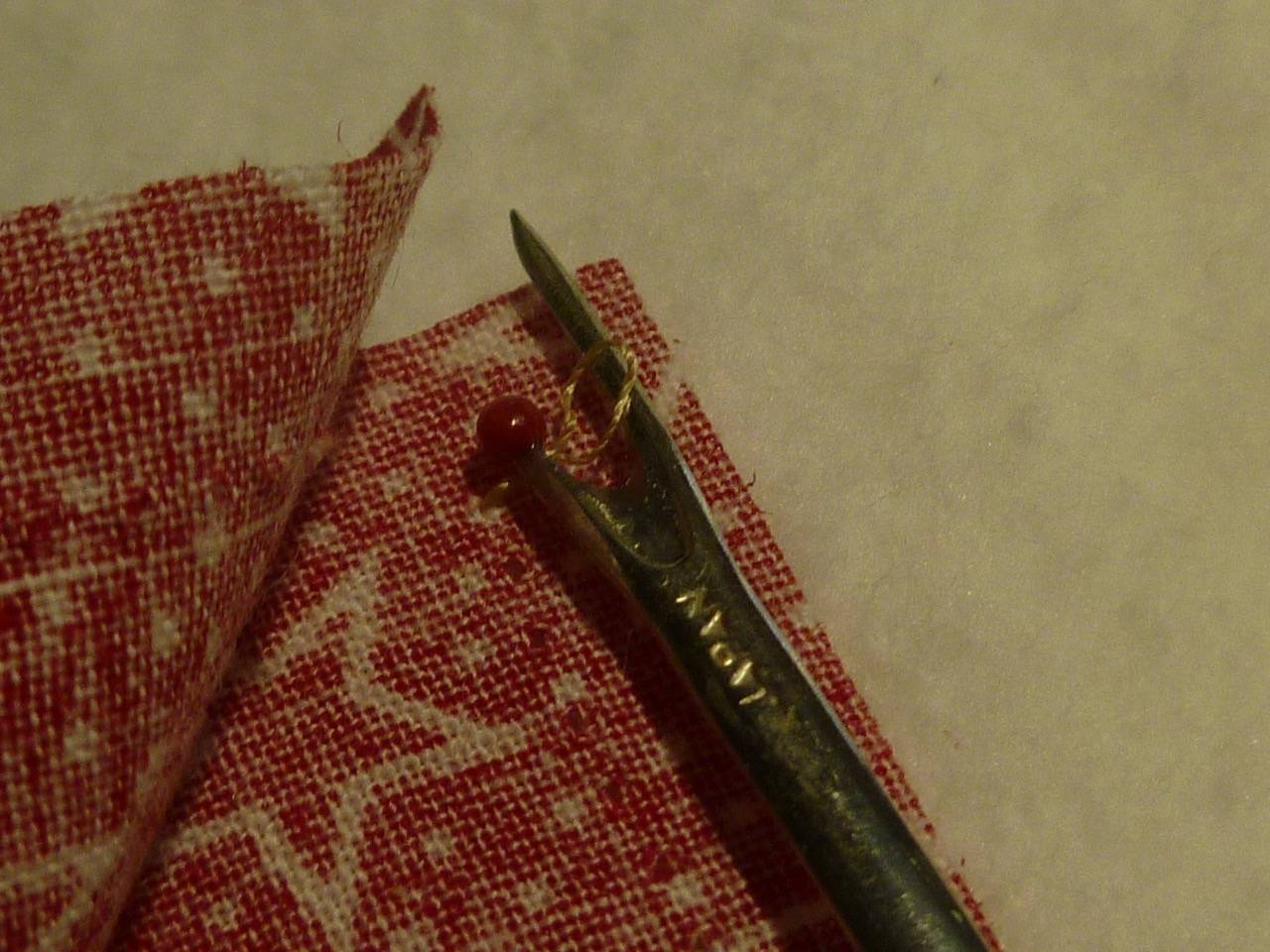 Remember that each patch has a seam allowance around all edges of 1/4-inch. The final block also has a 1/4-inch seam allowance, so it will finish at 12 inches square. At this stage, when it isn't part of a quilt yet, it should measure 12-1/2-inches square.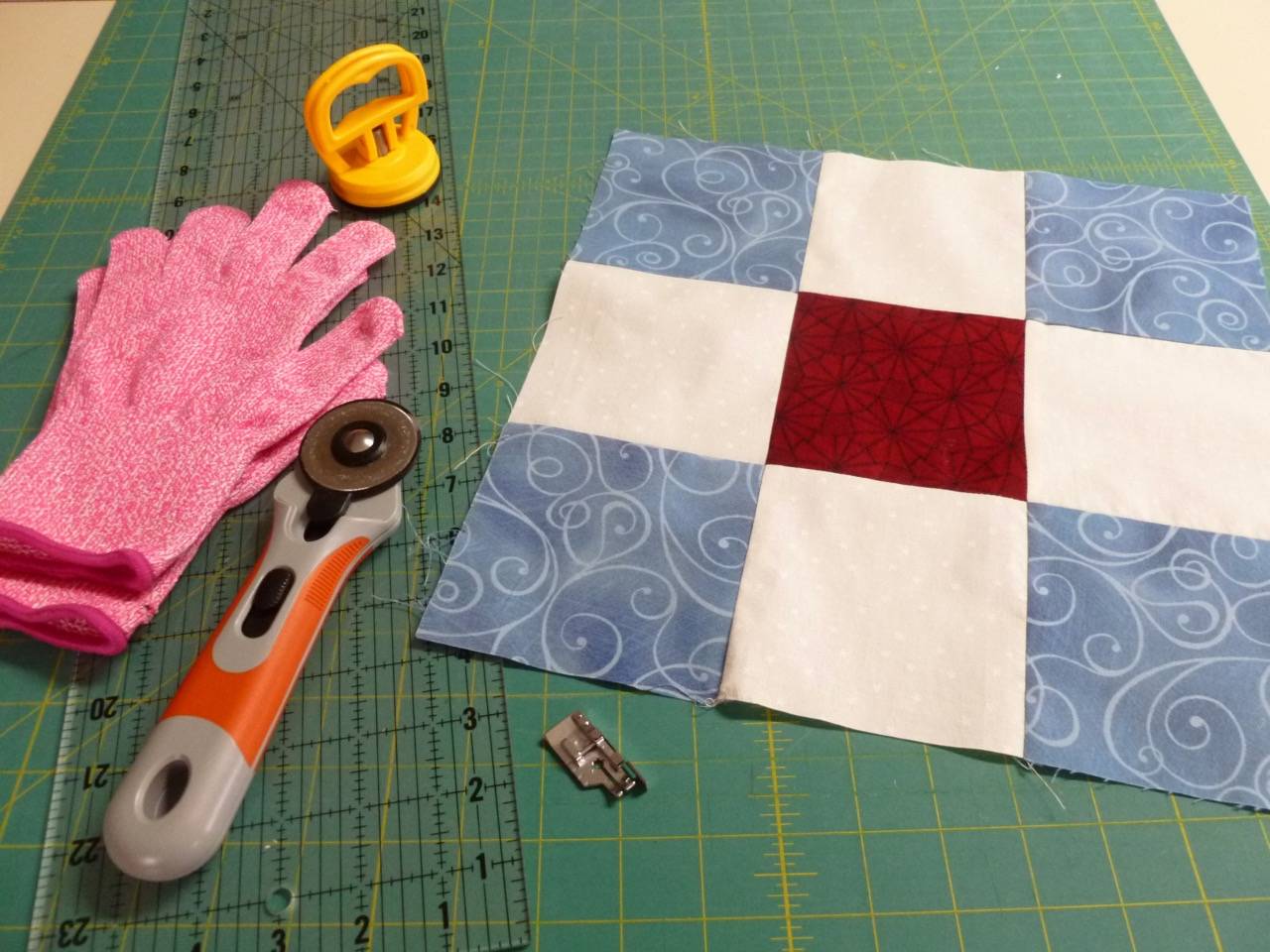 If you want to add borders to your quilt, be sure to see my comprehensive tutorial on how and why to measure your borders, Quilt Borders Understanding the Why. I also have a four-part comprehensive tutorial on Binding a Quilt.
I have more tutorials here on Madam Sew to help you choose a way to do the quilting on your quilt.  Quilting with a Walking Foot is a good way to quilt a larger quilt on a home machine.
Stipple Quilting is a fun way to quilt smaller quilts, especially one block quilts for pillows.
If you'd like to try Paper Piecing for a block, see my Paper Piecing Basics and Tips tutorial.
Find Madam Sew products to start your quilting adventure with these links -
1/4-inch quilting foot, walking foot, Thread snips, seam ripper
Rotary Cutter 45mm, 6x24-inch ruler , safety gloves, ruler grip
Have fun quilting, and stop by my blog for more easy projects. I'll be doing more articles to advance your quilting in the coming months. Subscribe to the Madam Sew blog so you don't miss a thing!
Carole