How to Make a Quilted Fabric Wall Hanging with Fall Embroidery Designs

In this tutorial you'll learn how to use little embroidered designs on a quilt panel for a pretty autumn themed wall hanging. I'm very happy to share this free quilted wall hanging pattern with all of you!
For those of you with embroidery machines, do you sometimes find it hard to decide where to use some of those wonderful designs? For this project, you will stitch out designs on your machine, and I'll walk you through a technique, not a pattern as such because everyone will have different designs and different sizes. If you do not have an embroidery machine, look for some small motifs in your local fabric shop on a panel, or you can use some hand embroidered pieces.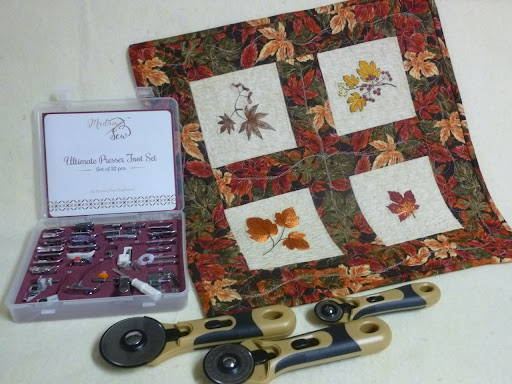 Tools and materials you will need to make a wall hanging

Prepare your equipment. You'll need your sewing machine with a new needle, a 1/4-inch quilting foot and a walking foot for quilting, Thread, Needles, Straight Pins (Glass head pins preferred), Thread snips, Rotary Cutter 45mm, cutting ruler and mat, optional ruler grip, iron and ironing board, Wool Pressing Mat, and a square up ruler. Use polyester shiny threads for your embroidery, our set of Machine Embroidery Threads will give you all the colors you need. You'll also need tear-away or wash-away stabilizer, and it is helpful to have some water soluble stabilizer for the top of your embroidery.
Machine Embroider Fall Leaves for a Quilt

Prepare your embroidery hoop with two layers of tear-away or wash-away stabilizer on the back side of your neutral fabric and one layer of water soluble stabilizer on top. The top stabilizer will help keep the stitches even and laying nicely on top of the focus fabric. Cut the size of both the fabric and the stabilizers to be about an inch larger than your hoop, and we'll cut it to size later.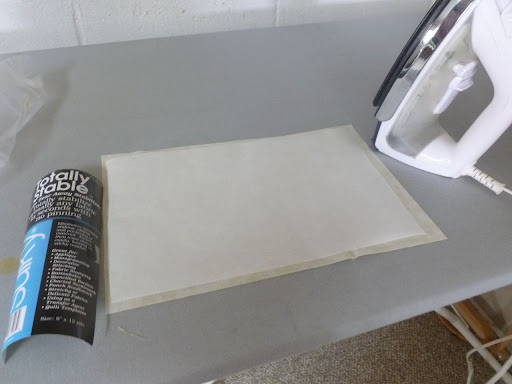 Look through your software designs, for fall inspired motifs like leaves. First thing to realize is that the color guides given are really just suggestions, not written in stone. My first design will be this maple leaf, but I'll change the colors a bit.
Although the colors above are fall inspired already, I wanted a bit of contrast in the leaf. I used just a bit more red in mine, beginning with deep burgundy, then adding orange and two browns.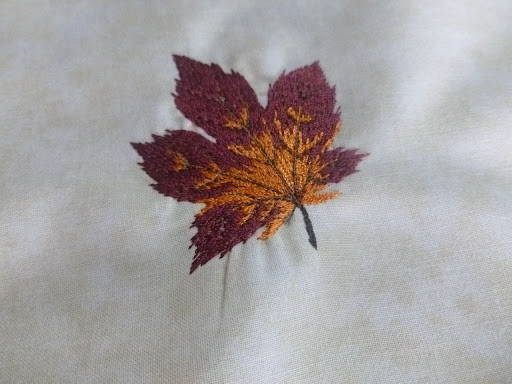 Even though the leaves on this motif are green, I'll stitch them out in fall colors.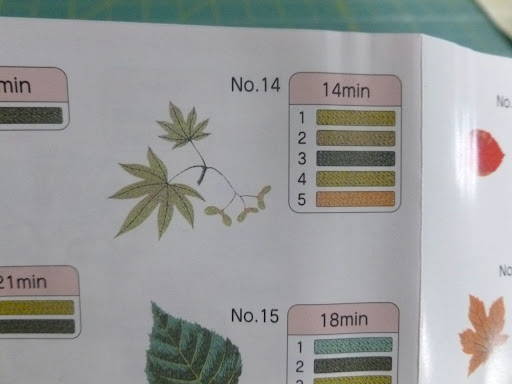 I stitched it out in browns, using a deep burgundy for the #5 accent. Is it true to actual life? Probably not, but who cares?! Colors #1 and #4 looked the same to me, so I used the same light brown. For color #2 I used a more golden brown, and for #3 I used a dark mahogany brown.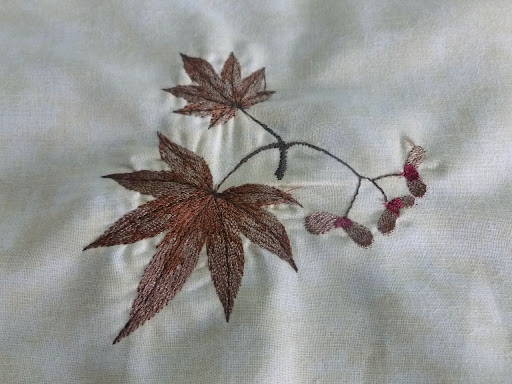 Next, I picked this one, also shown in green.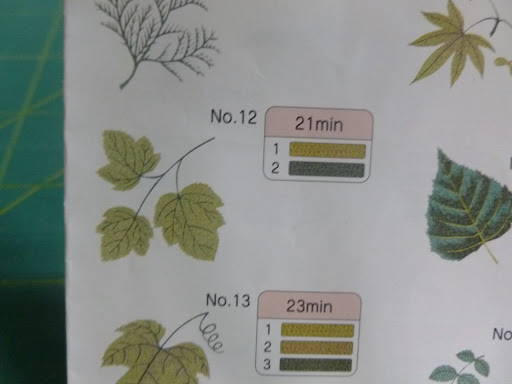 Stitching it out in orange and chocolate brown makes it fall.
This motif is shown in fall colors, so I'll match the threads I have to the ones in the design.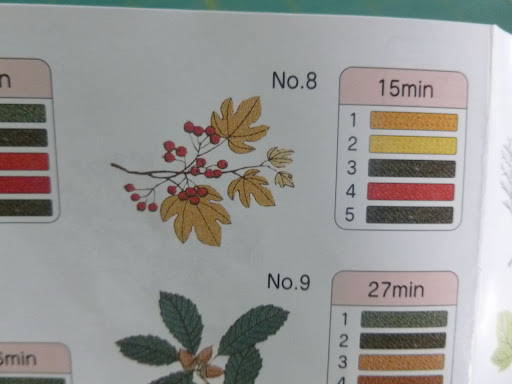 It stitched out nicely in the suggested colors.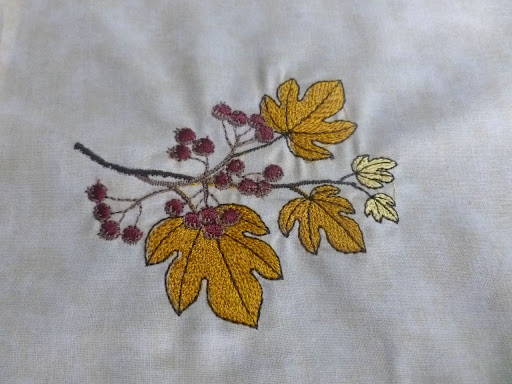 If you don't have leaves, choose motifs you like and stitch them out in fall colors. As an alternative, you could do them in everyday colors if you'd rather have yours for everyday use or to give as a gift this holiday season. If you want something holiday themed, use Christmas motifs and colors. When you are done with the embroidery, remove the excess stabilizers from both the front and back.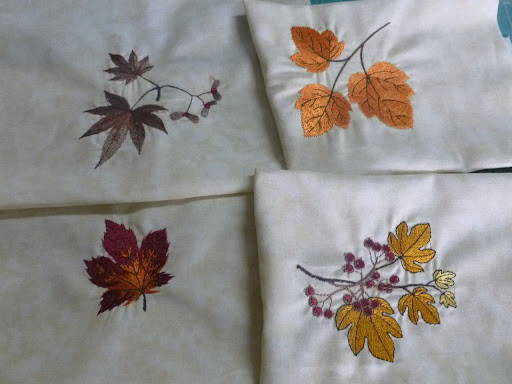 Assembling the Quilt Wall Hanging

Measure your embroidered elements with a square up ruler to determine the largest size. Then add 1-2 inches all around. When I decide how big to make these, I put tape on my ruler to cut all of them the same size.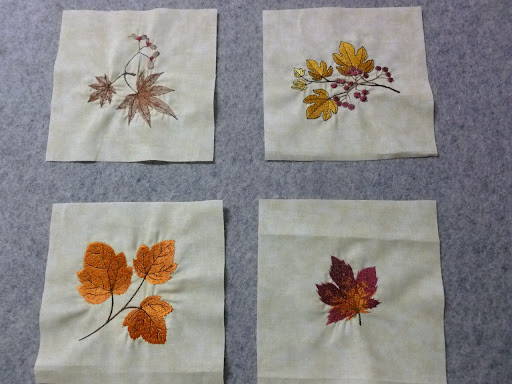 For sashing, choose a pretty coordinating print One of the things that makes this project pop is the black background on the sashing and border print, contrasting well with the ecru background of the blocks. Measure, cut and sew just like you do for borders. Use a measurement that is one-half the width of your square, so my sashing will be 2-1/2-inches finished. I cut my sashing strips 3 inches wide which allows for a quarter-inch seam allowance all around. Sew sashing strips between two motifs, then join those with a strip down the center. Finish with strips around the edges. Press to the print.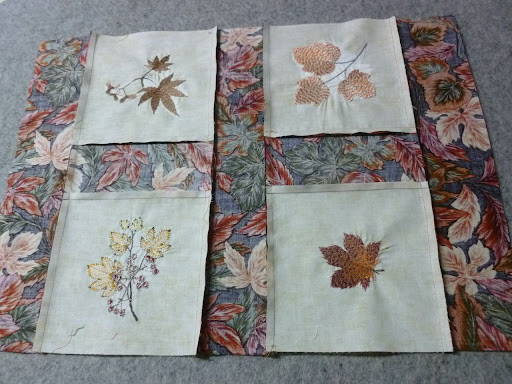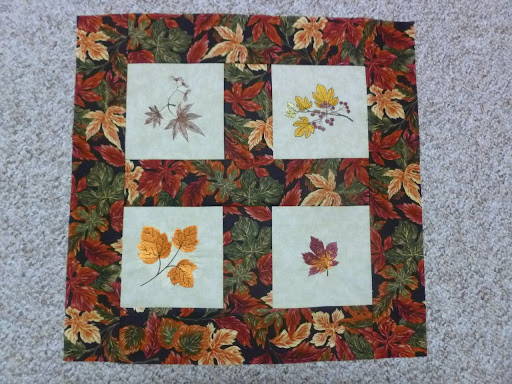 Custom Stipple Quilting on the Wall Hanging

Quilt as desired. I used custom quilting on this project, as I needed to stipple in the fullness around the embroideries. See my post on MadamSew's blog on Stipple Quilting for complete instructions.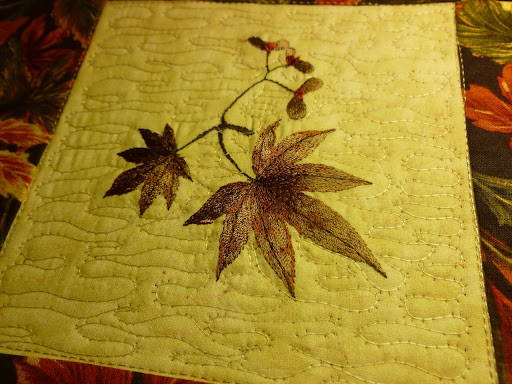 I added feathers in the sashing. The project is small enough to do by free motion on your domestic machine. See my post on MadamSew's blog on Free Motion Quilting.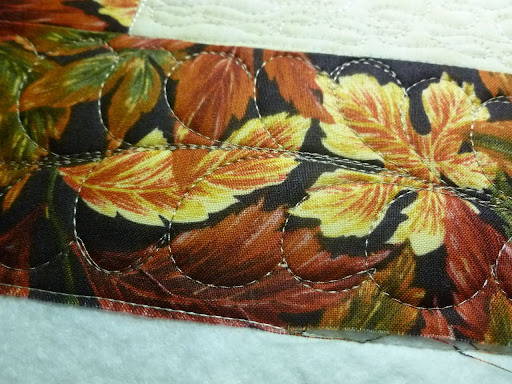 Adding Binding to a Quilted Wall Hanging

The binding is the same fabric as the border.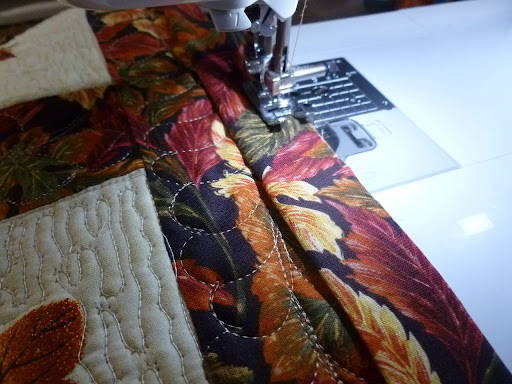 All finished and ready for the season.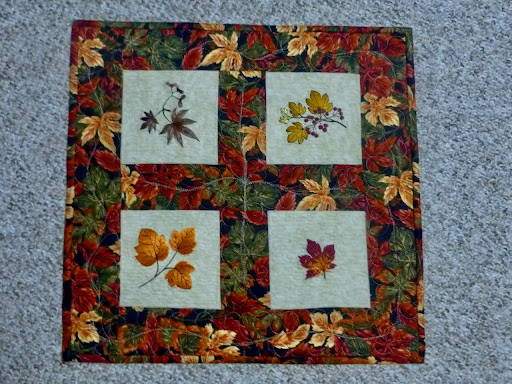 Enjoy your new Autumn Wall Hanging on the wall by using our Hanging Clips with a curtain rod, or use as a table topper.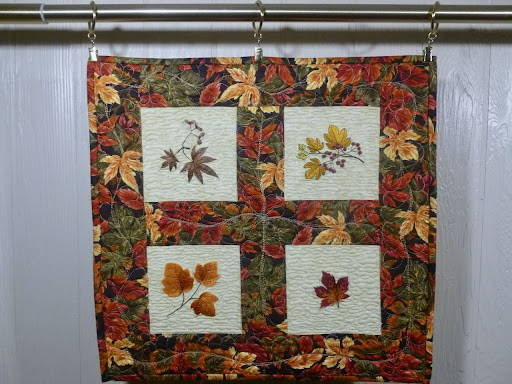 See the links below for more ideas on gifts for this year and my series to improve your quilting skills.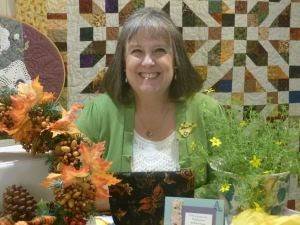 If you are new to the Madam Sew blog, be sure to check out my complete Beginning Quilting series -
See My Travel Gift Series

I'll be doing more articles to advance your quilting skills on Madam Sew. Subscribe to the Madam Sew blog so you don't miss a thing!