June Customer Of The Month
In November, we posted on our blog about our tour to visit MadamSew customers throughout the country, with a promise to write more extensively about each visit. Having an online store is a great way to offer the newest tools to sewers, but we were missing the face to face interactions of a traditional brick and mortar company, so we set out to meet with some of our customers! One customer we met with was Edna from Zephyrhills, Florida.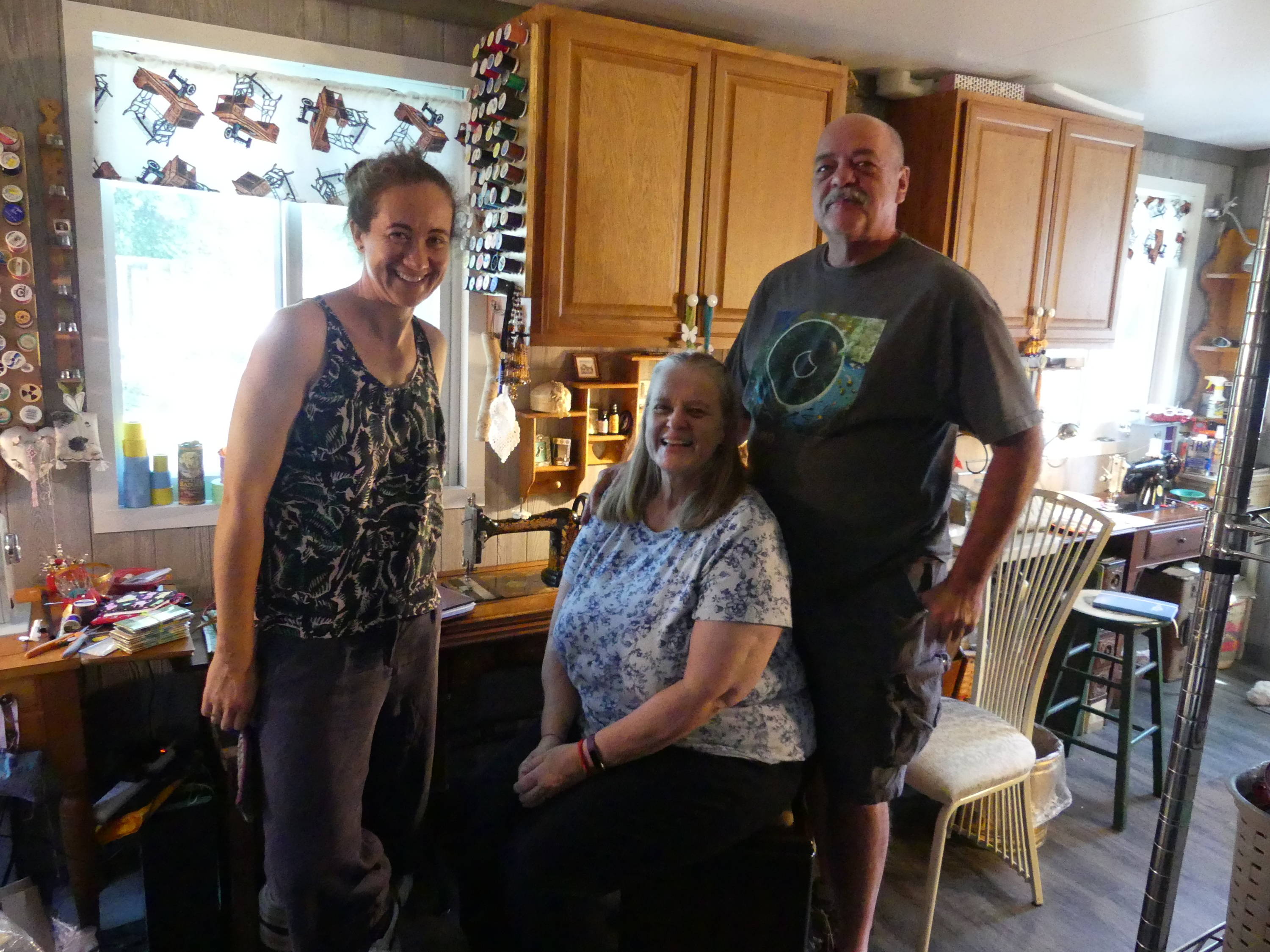 Edna led us to her newly refurbished sunroom, which was designed to house her collection of antique sewing machines, serve as a storage space, and her sewing workspace. Edna explained to us that before she met her husband, her sewing had taken over the living room, where shelves of fabric had lined the walls. She said that there was no entertaining in the space in those days. However, now, she shares her hobby with her husband of 10 years, who works on restoring the antique sewing machines that they both collect.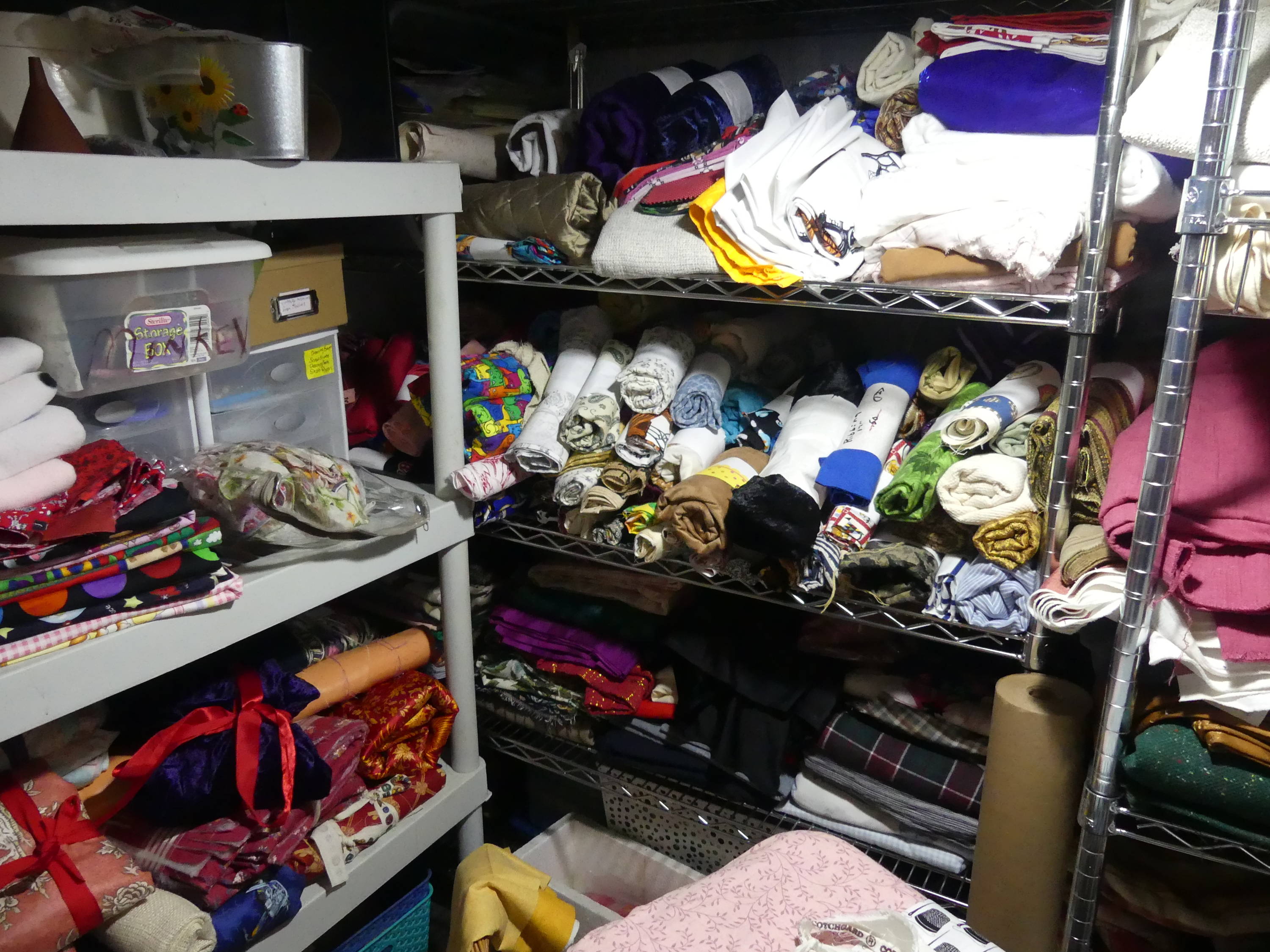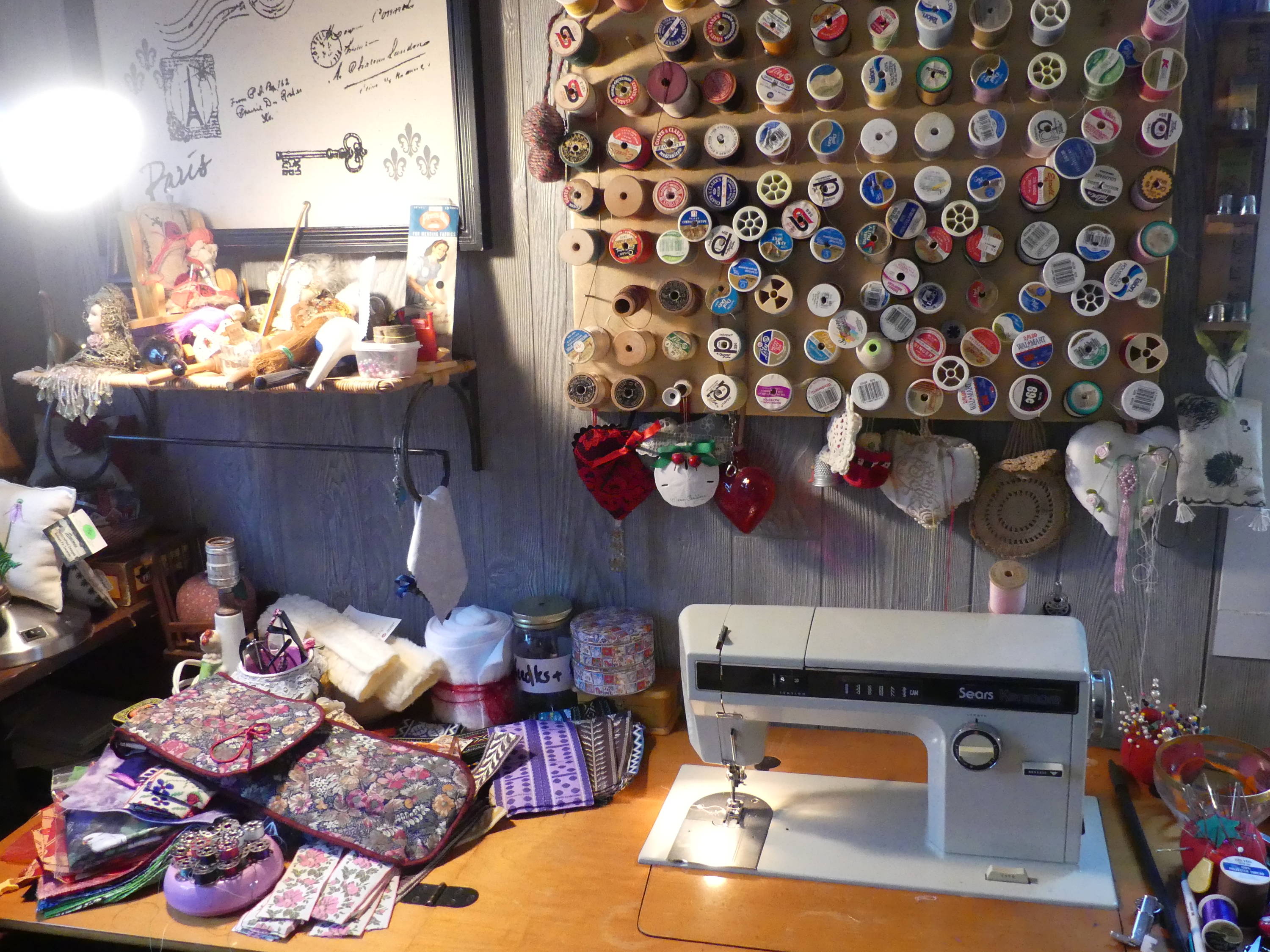 Edna first learned to hand sew from her mother, and then took sewing classes in school in 7th and 8th grade. She recalled a strict sewing instructor, and had to make an uneven plaid skirt for the class. One day, in the early '60's, her father came home with an old White sewing machine, a rotary electric, that he purchased from Goodwill for $4. This beautiful White became her first sewing machine, and astonishingly, it still sews like a dream, and she still has it!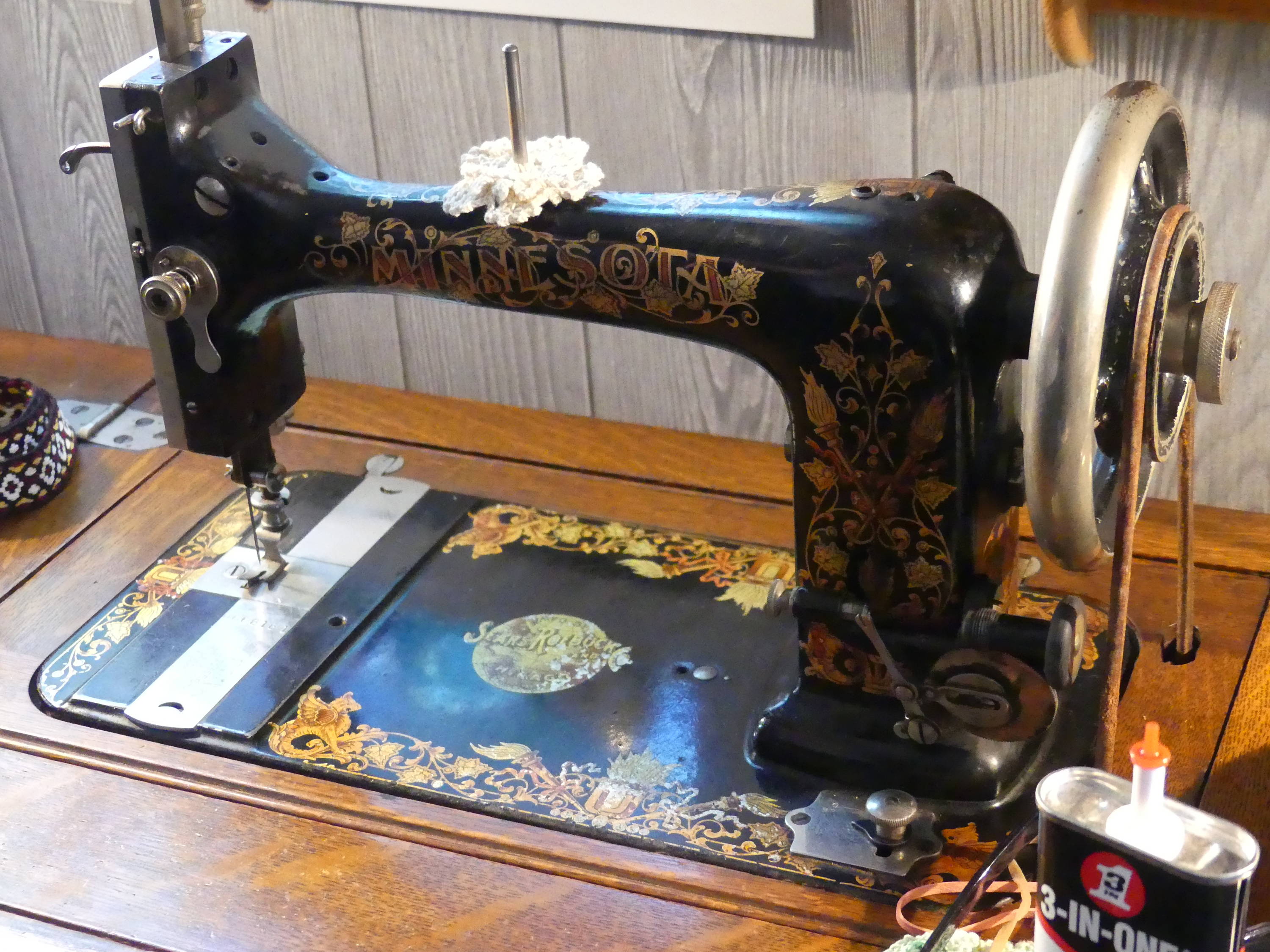 Edna's sewing has been a journey, as she described making quilts on a big wooden quilting frame during the long winters when she lived in Alaska, making elaborate costumes for renaissance fairs, pincushions, fringe and other items for her Etsy store, and even pet blankets, costumes, surgical sheets, and bibs for kittens at a pet hospital in Massachusetts that her cousin volunteers for. She even made the curtains for her new sewing room. Now retired, she enjoys sewing silk pillows for her son and his wife, and managing her extensive Etsy store, along with caring for and restoring her collection of sewing machines with her husband.
The couple currently have 13 sewing machines, and their collection is growing. Recently, Edna brought home her mother's machine to care for it, and her husband bought her a new, computerized machine a few years ago, which she has been afraid to work with.
Edna and her husband have a wealth of knowledge regarding sewing machines! We spoke about high shank, versus low shank, versus slant shank machines, and Edna even enlightened us about her Kenmore, a very first "computerized" sewing machines.
She told us that such machines work with "cams", combinations of stitches, patterns, and settings which comprised the basis for the earliest programmable sewing machines. They work like a punch card for a sewing machine, she explained to us, and is also where the phrase, "Having all of your ducks lined up" comes from- its talking about cams! Cams were once common for home sewing machines, but since computerized machines became popular, the system has become a thing of the past.
She also showed us a monogrammer from the 1970's, button hole cams, and a quilting foot that works with a double needle. Several of Edna's machines began as rotary machines, meant to operate without electricity and often with a treadle. Edna's husband, Bill, explained that as electricity became more prevalent, many machines were converted with an engine, to run on electricity, which many home sewers found much better than constantly operating a treadle. The electrical parts, however, are the first to fail, though the parts and wiring are somewhat simple to replace. He explained that the older, completely metal sewing machines work for far longer. The most common issue he finds with those types of machines is simply that they are gummed up with old machine oil. A little work cleaning to get the gears unlocked, and they're as good as new.
Of her 13 sewing machines, the machine that Edna returns to most frequently is a Sears-Kenmore machine. She recently purchased and received the ultimate presser-foot set from MadamSew.com, and wanted a little help to see if she could use her new presser feet with her favorite machine, and if they were compatible with her other machines. Because the ultimate presser foot set was created with versatility in mind, the presser feet can be used on any of Edna's low shank machines, and most of the presser feet can be used on her high-shank machine with an adapter. Needless to say, after learning this, she was excited to test the feet out on her machines to see what they could do!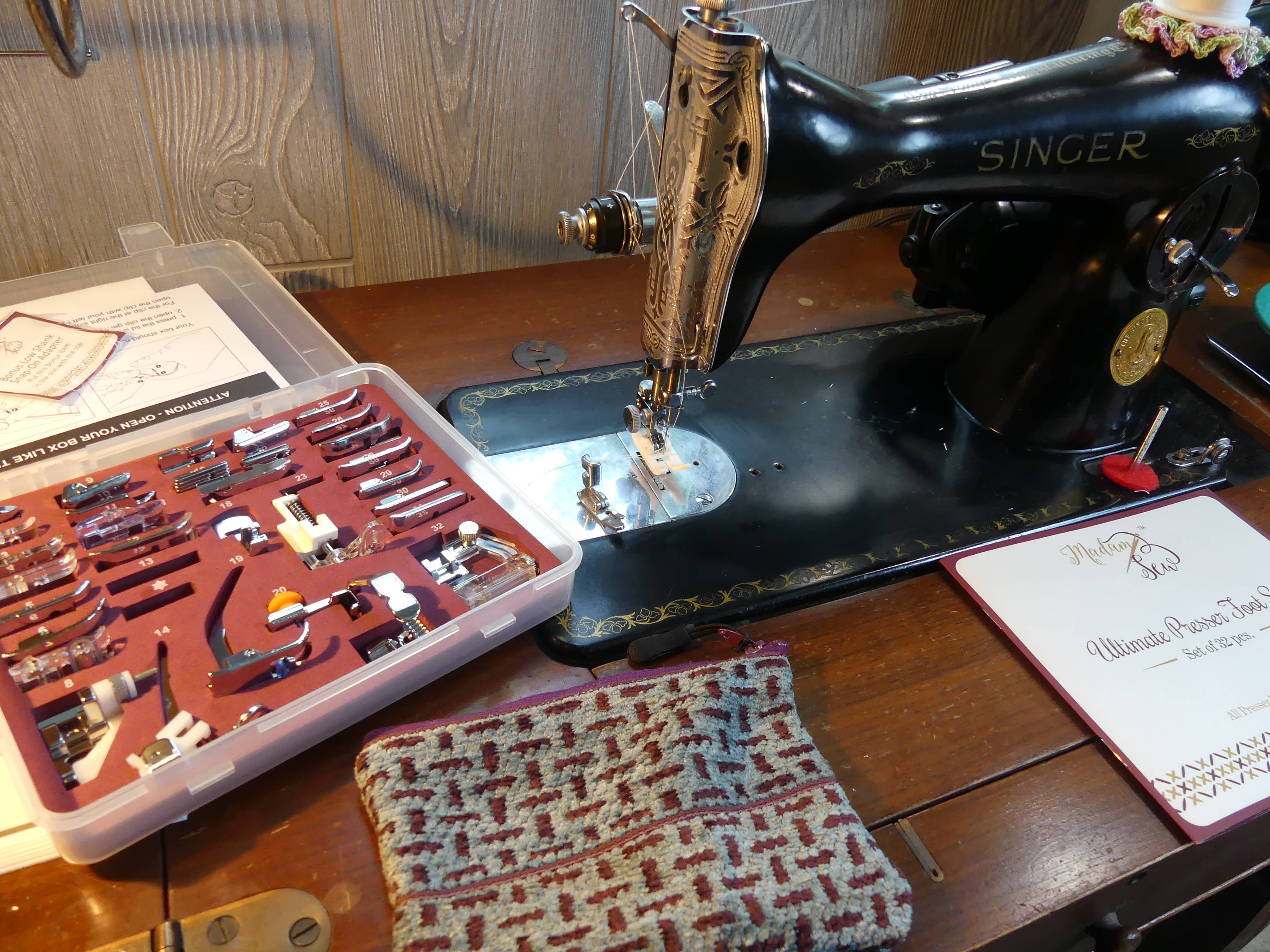 Edna and Bill have grand plans for their future. In addition to adding to their collection of antique sewing machines, they dream of eventually traveling with their sewing machines to visit experts across the country who teach classes on restoring sewing machines, where they can further specialize their sewing machine restoration skills. The closest of these classes, however, is still several states away, and the planning for such a trip at the moment seems a bit daunting.

It was a pleasure visiting Edna and Bill, who warmly invited us into their home and were excited to share their collection, treasures, and their expertise with us. It was wonderful to see such beautiful old sewing machines still being used and loved, and while Edna is still acclimating to her new sewing space, we are excited to see what she creates with her new presser feet, and to learn about the next sewing machine she restores with Bill.