This is why you need to learn how to sew a flat felled seam.

A flat felled seam- is a sewing technique for seams known for their durability and finish. It is basically an overlapping seam that is sewn flat. You can see it on jeans, workwear and sportswear. This double folded seam even helped to grow the Levi's reputation for quality and durability. This seam encases the raw edge and is the strongest type of seam you can use. Whether you're an aspiring seamstress or a fashion enthusiast, knowing or just understanding the different possibilities for sewing seams, lifts your sewing skills to the next level. And, who doesn't want to know how to do this timeless sewing technique to sew superior strength seams that are both strong and durable?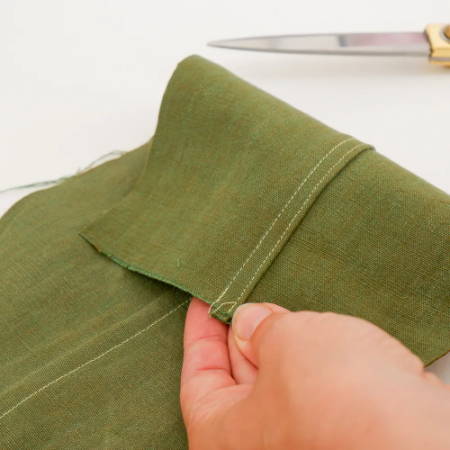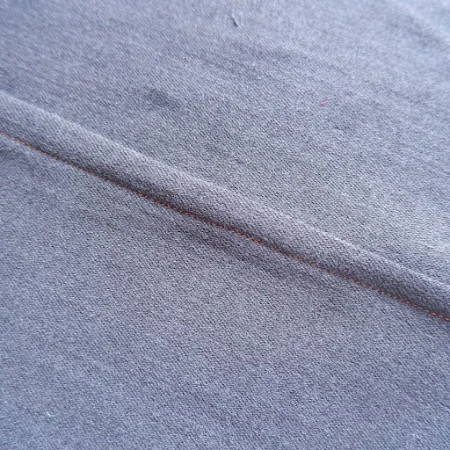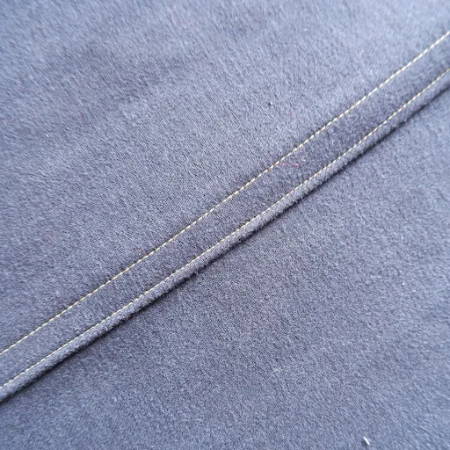 In this tutorial blog I will explain:
what a flat felled seam is

its origin

why you should know how to sew a flat felled seam

what applications you can use it for

how you sew a flat felled seam step-by-step

what tools can come in handy when sewing this seam

some extra expert tips for a flat felled seam
There are pictures and a YouTube video to explain this the best way possible.
So, whether you're seeking to perfect your sewing skills or are simply fascinated by garment construction, let's unravel the flat felled seam together
In the world of sewing, every stitch plays a pivotal role in bringing a garment to life. From delicate dresses to sturdy denim jeans, the strength and aesthetic appeal of a well-executed seam are essential for creating a polished and enduring piece. Sewing seams is a sewing basic.
A regular seam is the joining of two or more fabric pieces with a row of stitches, to create something new, a new whole. While seemingly straightforward, the choice of seam type can make a significant difference in the final appearance and structural integrity of a garment.
Origins of the Flat Felled Seam

Among the various seam techniques that have stood the test of time, the flat felled seam shines as a masterpiece of "seams-manship".
The flat felled seam is also known as "the run and fell" seam. It traces its origins back to the traditional techniques employed by sailmakers and cobblers. Renowned for its strength and ability to withstand heavy use, the flat felled seam found its way into the world of fashion, becoming a beloved method for constructing enduring garments like workwear and denim.
Industrial sewing machines sew this seam in one step but as a hobby sewist, you need to go through a couple of steps to finish it neatly.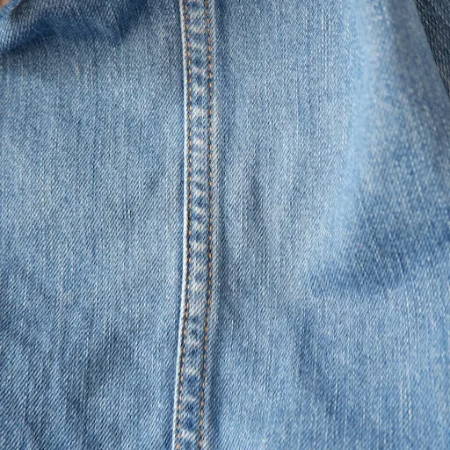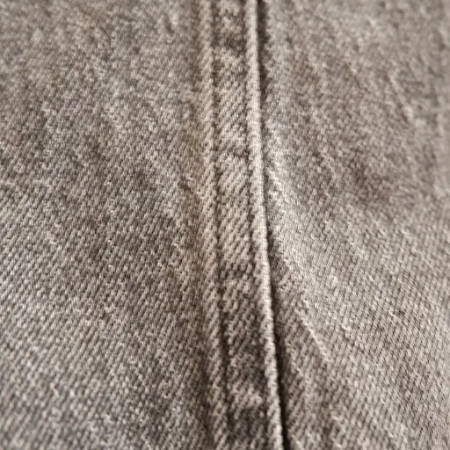 Nowadays lots of jean construction is done with a mock flat felled seam. If you take a look at your own jeans you will see the double stitching on the outside, like a regular flat fell seam. On the inside, however, you'll notice that it is a mock flat fell. This is a faster way of making a flat felled seam and it produces less bulk. Instead of the encased seam allowance, they finish the edge with a serger and sew the seam allowance down with an extra row of stitching.
Levi's and the Flat Felled Seam

Did you know that the flat felled seam played a role in the success of Levi's, an iconic American denim brand?
Levi Strauss & Co. adopted the flat felled seam as a key feature in their denim manufacturing process. Back in the late 1800s, Levi Strauss faced a challenge with their original riveted pants design. The rivets used to reinforce stress points on the jeans were causing discomfort for wearers. In response, Levi Strauss made a significant design change by replacing the rivets with the flat felled seam.
By using the flat felled seam, Levi's jeans became more comfortable and durable. This design modification not only solved the discomfort issue but also enhanced the overall strength and longevity of the jeans, making them highly sought after by workers and miners.
The flat felled seam became synonymous with Levi's denim jeans, contributing to the brand's reputation for quality and durability. Today, it remains a recognizable feature in the construction of denim jeans worldwide.
What Defines a Flat Felled Seam?

What sets the flat felled seam apart from its counterparts is:
its distinctive double-folded design. By folding the raw edges of the fabric inward and securing them with precise stitching, this seam creates a finish that is not only pleasing to the eye but also ensures superior strength and longevity. It has no visible seam allowance inside or out.

its durability. The multiple rows of stitching that go into this seam makes it highly resistant to stress and an ideal choice for seams that undergo frequent strain.

its neat finish on both the inside and outside. It conceals the raw edges completely. You can sew it by hand or by machine. It can seem a little time consuming but it's totally worth the effort. An enclosed edge enhances the overall comfort of the garment if you are sensitive to scratchy or irritating edges rubbing against your skin.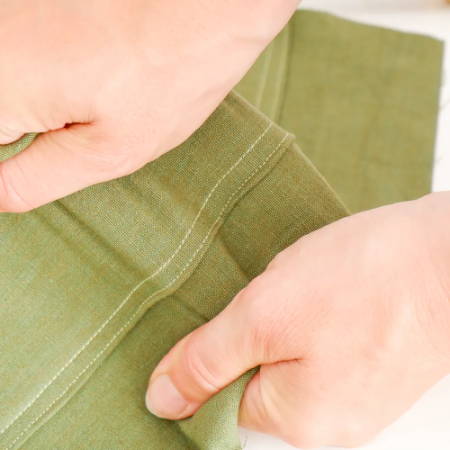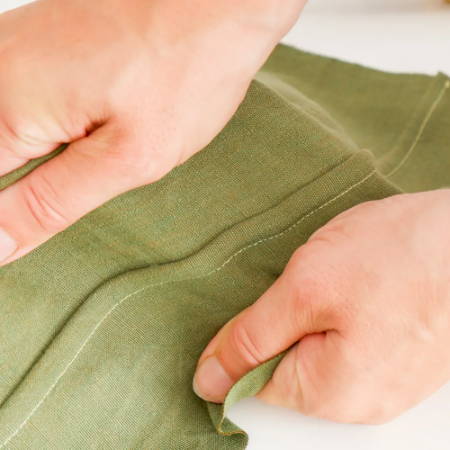 How is a Flat Felled Seam Different from a French Seam?

A couple of weeks ago, we published a tutorial about the French seam. In that blog I compared the flat felled seam with a french seam. Both seams encase the seam allowance so you don't see any raw edges, but they are different in look and the way they are constructed.
A French seam looks like a regular seam on the outside.
And this is what a French seam looks like on the inside: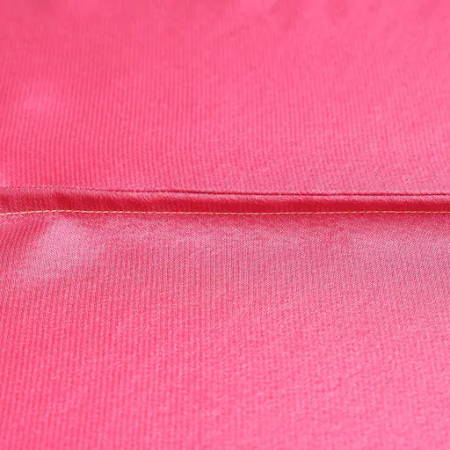 Flat Felled Seams Applications

Flat felled seams are used for garments that require a durable, long-lasting finish such as jeans, jean jackets, sportswear, overalls, and other workwear. These seams are also used for button-up men's shirts.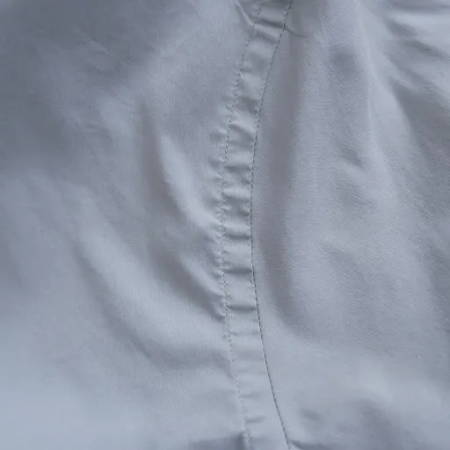 You can use it for any seam if you want, but you need to know that they are more bulky than regular seams and that you need a larger seam allowance to construct a flat felled seam. If your pattern has a ⅜ inch standard seam allowance, I would advise to add some extra allowance. You will understand why, when you check out the "How To" below.
Sewing flat felled seams is easiest on straight seams. Curved seams are harder to sew. To do this you'll need to baste and gather the curve a little and notch the trimmed/shorter seam allowance to get it to lay flat. Be sure to use enough pins before you start topstitching. In this blog Helen from Helen Closet Patterns explains how to do a flat felled seam on an armscye of a shirt.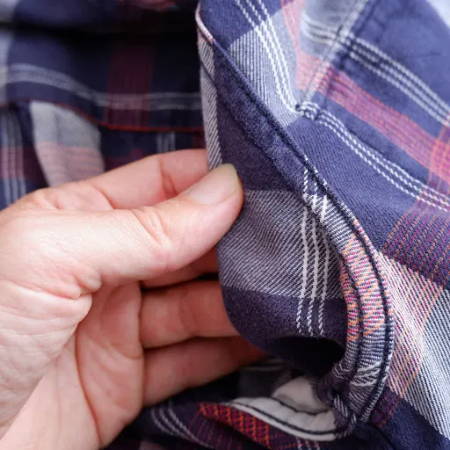 In this blog, I'm focusing on straight seams. Let's get to it!
How to Sew a Flat Felled Seam - 5 Steps

1. You have to start by sewing the wrong sides together. Identify the wrong edge of the fabric. Mark the wrong edges if you are worried about mixing up the sides. Then mark a ⅝ inch seam allowance with a temporary fabric marker on the right side of one fabric piece. This is optional, you can also use the markings on your needle plate to guide you when sewing the seam. Line up your fabric wrong sides facing. Pin or clip together. Sew a straight stitch using a regular stitch length (2.5mm)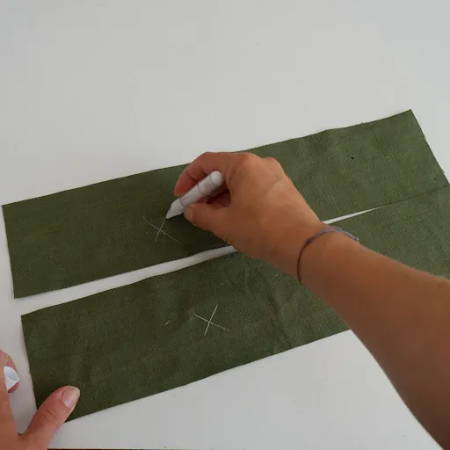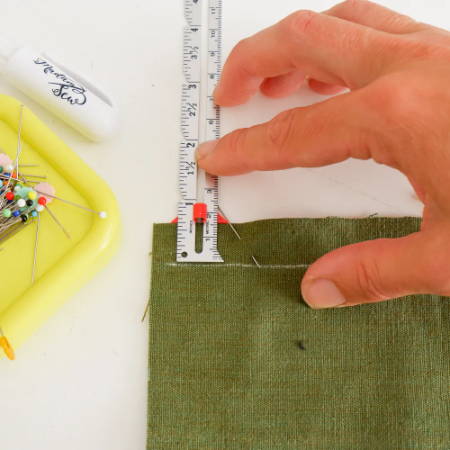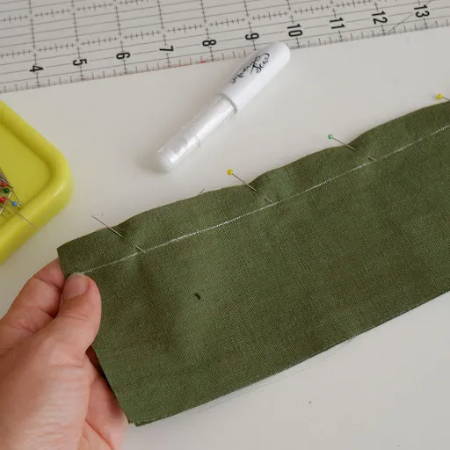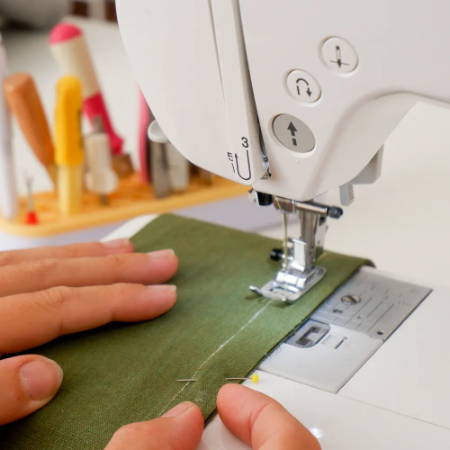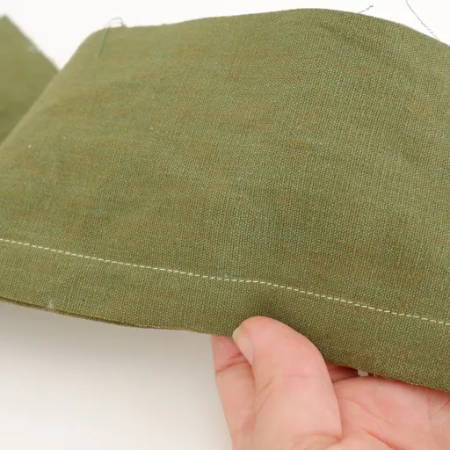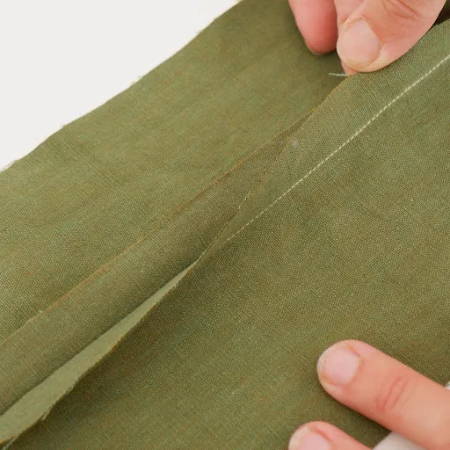 2. Your seam allowance and the raw edges are now on the right side. Finger press the seam open on the right side. You can do this with your finger (of course!) or use a small pressing too like the rolling seam presser.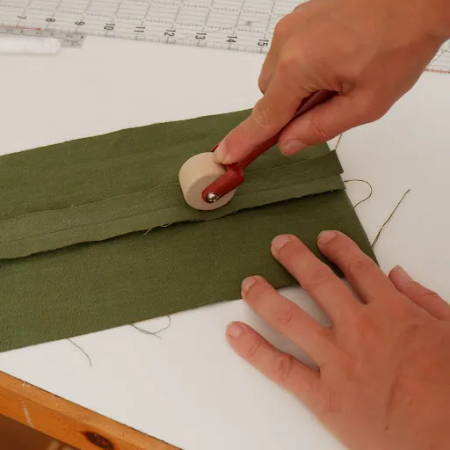 3. Trim one side of the seam allowance to half its width. Leave about ¼ of an inch or less. Use scissors or lay the seam flat on your cutting mat and cut it with a rotary cutter. This way you get clean and precise cuts.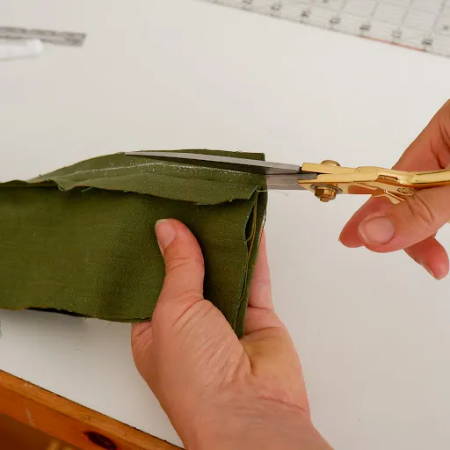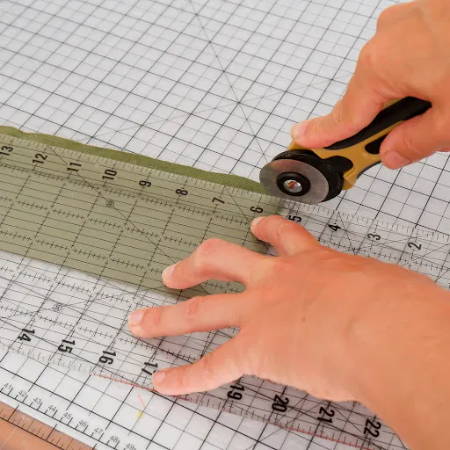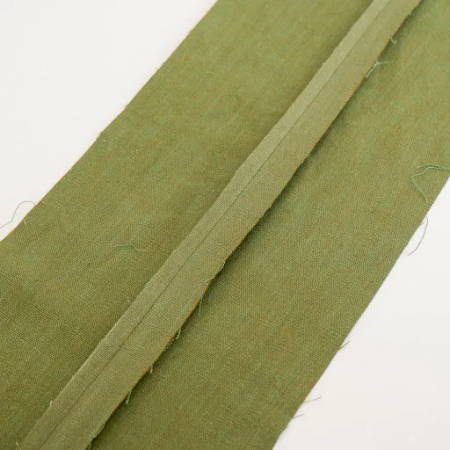 4. Press the untrimmed seam allowance to one side, wrong sides together. Then fold the trimmed side over the untrimmed side, encasing the raw edge. The folded edge should align with the original seam line. Press the folded seam to a crisp even fold making sure the raw edge of the untrimmed side is hidden as well. Pin or baste to keep the seam from shifting. Use enough pins, better too many than too few! It is important to get an even seam so get out your seam guide ruler to fold and press the seam allowance accurately.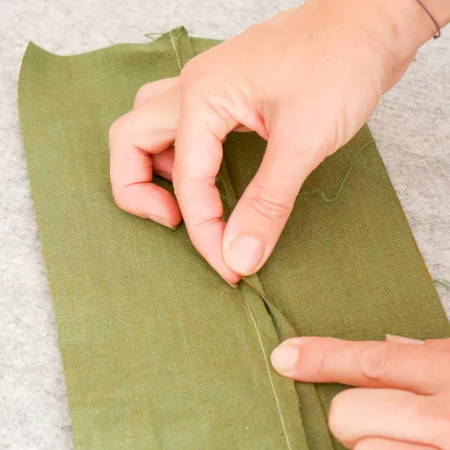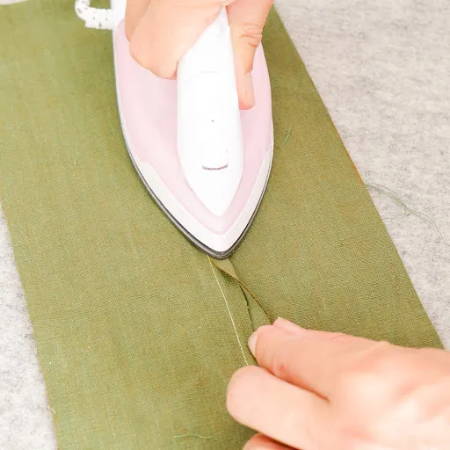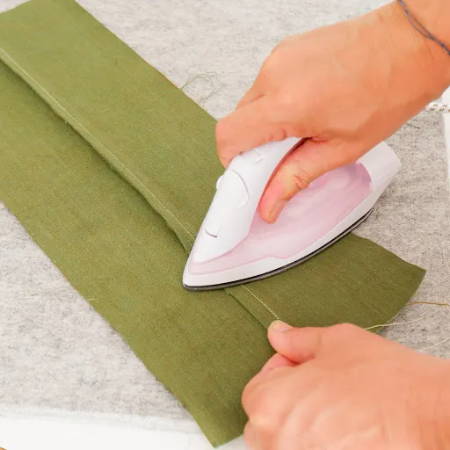 5. Edge stitch a line close to the folded edge. Use a straight stitch or a slightly longer stitch length if working with heavier fabrics. You can use the inside of your presser foot to keep an even distance from the edge. If you want a tool to help, I advise using the edge joining presser foot. Backstitch at the beginning and end of the seam to secure it.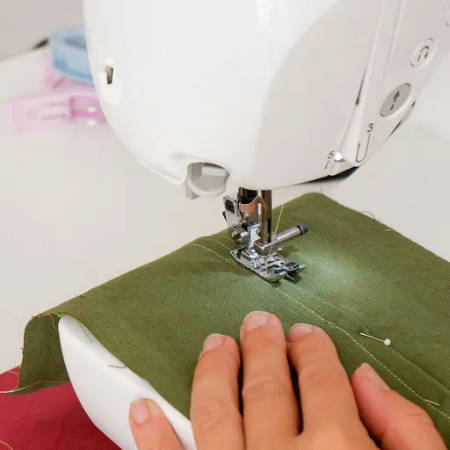 You can also choose to sew the flat felled seam on the wrong side so you have the fold on the inside and the double stitching on the outside. That is entirely up to you!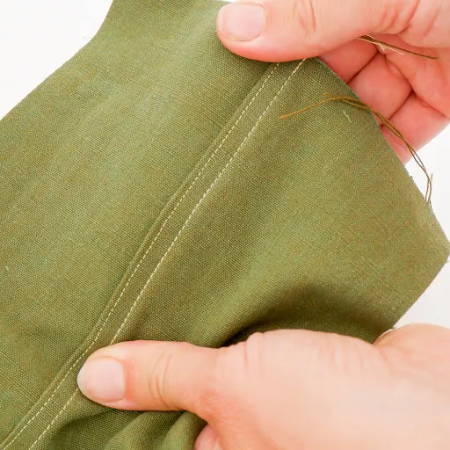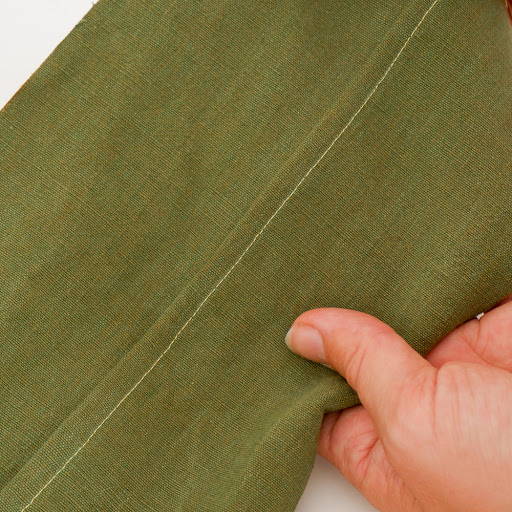 In the images below I used a matching thread so you can see the difference with the contrasting thread I used for the tutorial.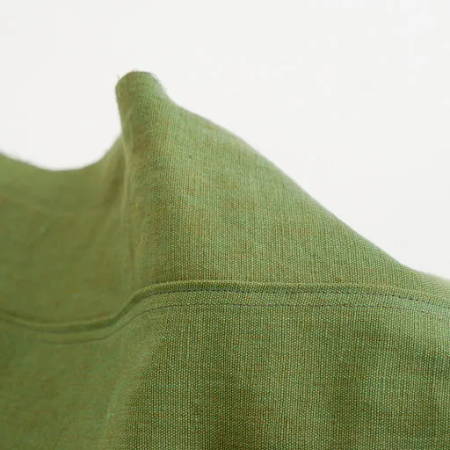 Here are some extra tips to help you sew a flat felled seam:
Mark accurately, a little seam gauge can help to measure and mark the seam allowance accurately and consistently along the fabric

Pin or baste enough to keep the seam in place. Too many pins won't harm, too few will! Use iron resistant pins 

Press, press, press to get clean results. I like to use a mini iron for accuracy reasons.

Use heavier thread for heavy duty fabrics and thinner thread for lightweight fabrics.

Adjust your needle size to the fabric you're sewing with. Denim requires a heavier needle than lightweight cotton.

Practice on scrap fabric before sewing a flat felled seam on your actual project.

Take it slow. With patience and precision, you'll be able to achieve a professional-looking and durable flat felled seam.
That's what I have on the Flat Felled Seam. I hope you learned something new and will be trying this seam. It is not difficult to sew and the result is very neat. No need for a serger or overlock machine to finish the raw edges. Ultimately, learning different sewing techniques, including the flat felled seam, expands your sewing skills and provides you with more options when working on sewing projects.