How To Make An Accent Pillow Cover
Pillow covers-a sure fire way to add color and character to your home no matter the season. I love making pillows covers- especially in machine washable materials. With three little kids running around there are a lot of spills and messes so machine washable is a huge deal in my home. For this tutorial, I decided to do a cute accent pillow that can either sit on my couch, in the corner chair, or on my bed.
Materials Needed
Fabric for the design, lining, border and back.
Batting-. I used a thin polyester batting.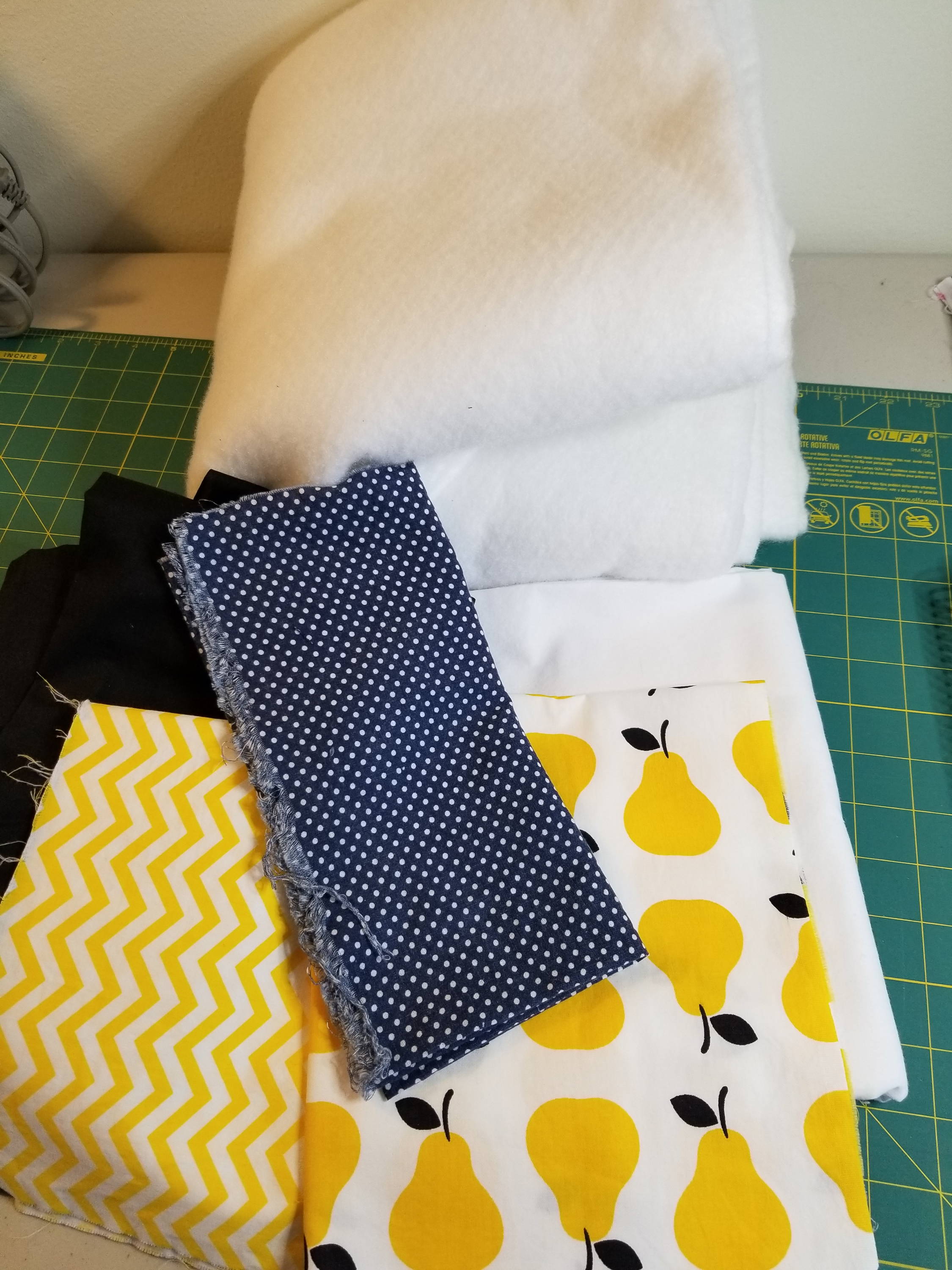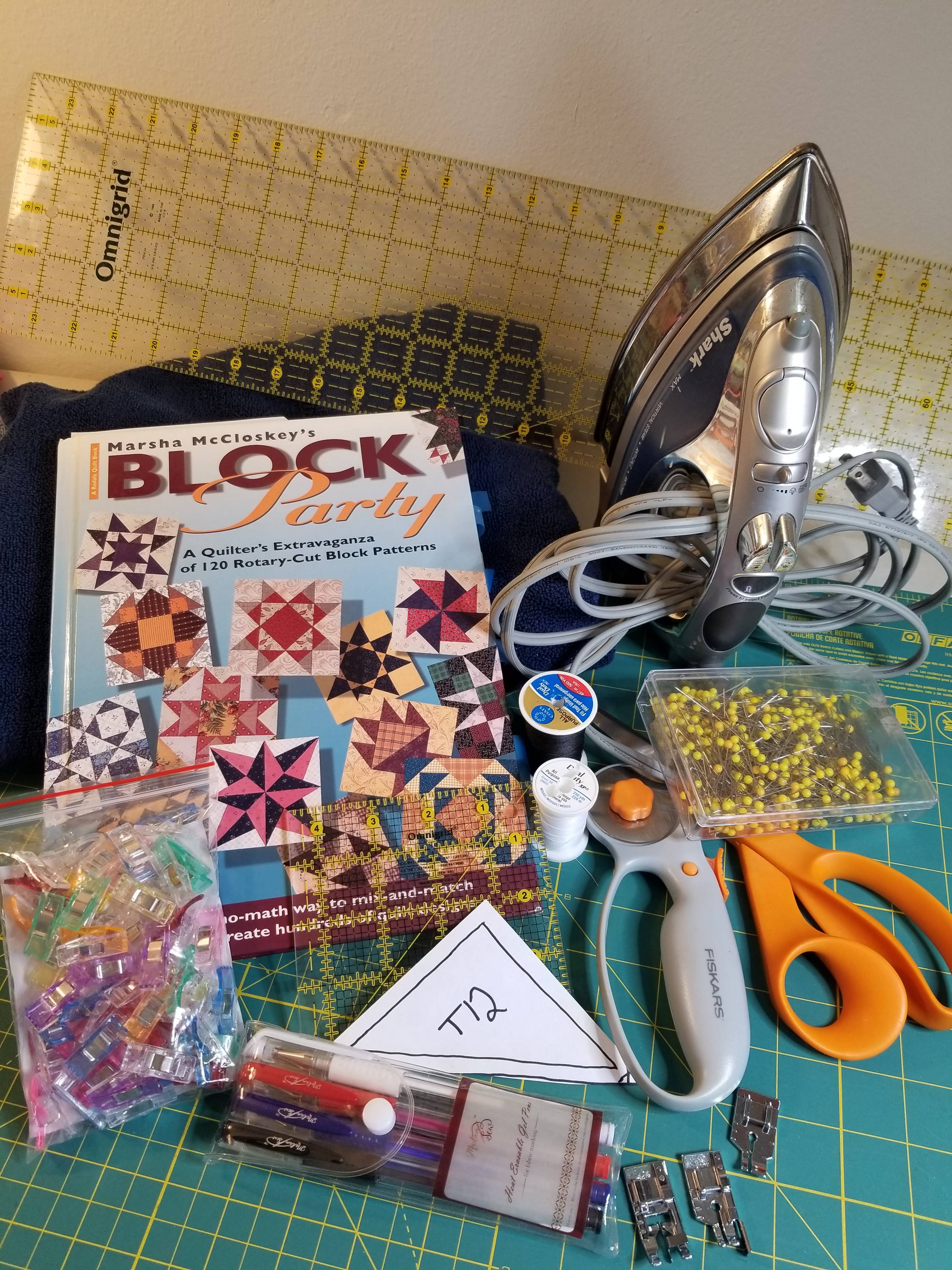 My inspiration for this project came from Marsha McCloskey's Block Party book.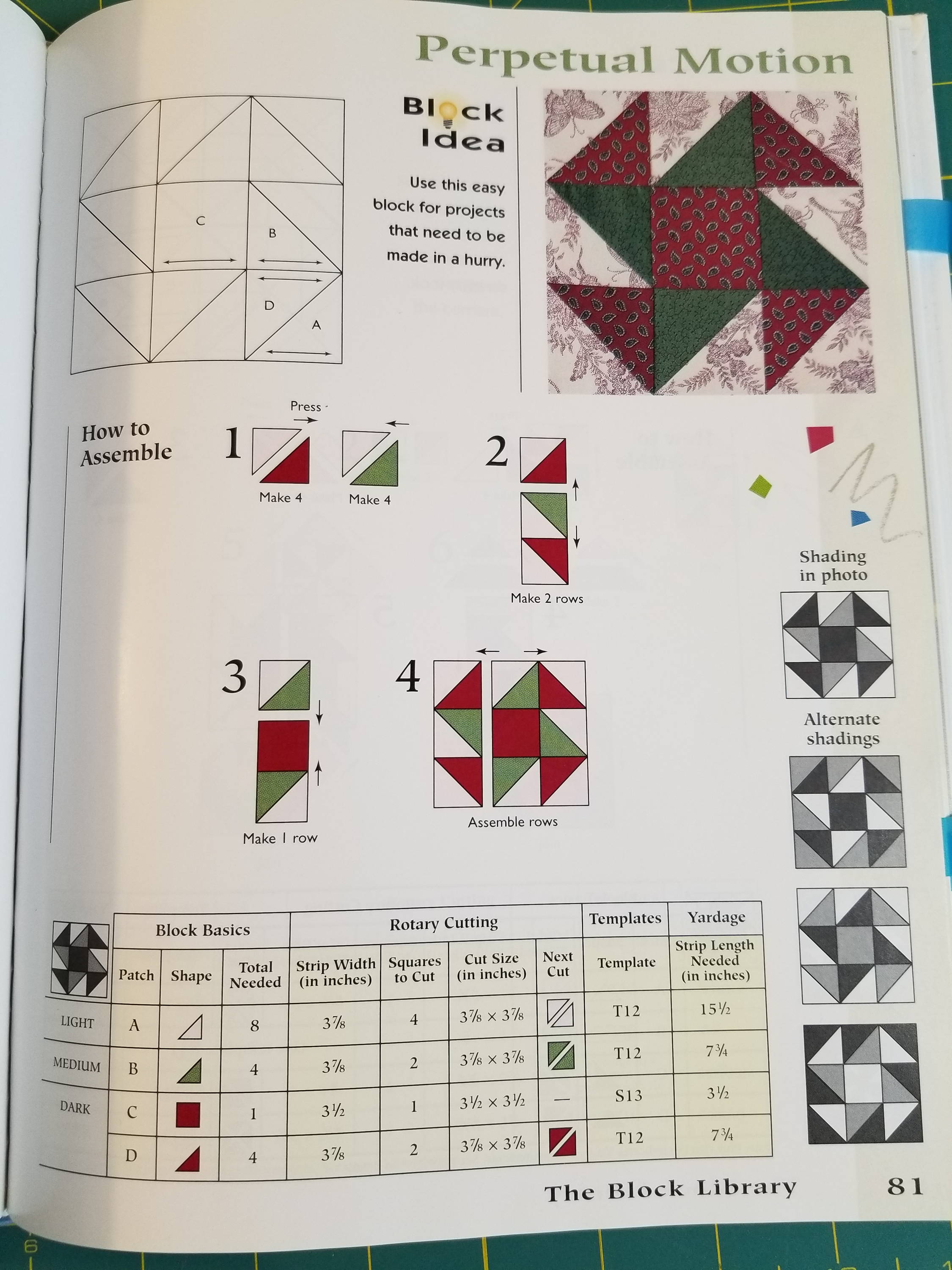 Once you know which fabrics go where, you're ready to start cutting. I used the chevron as my "light" fabric (A), the small polka dot as my "medium" (B), and the pear as my "dark" (C and D).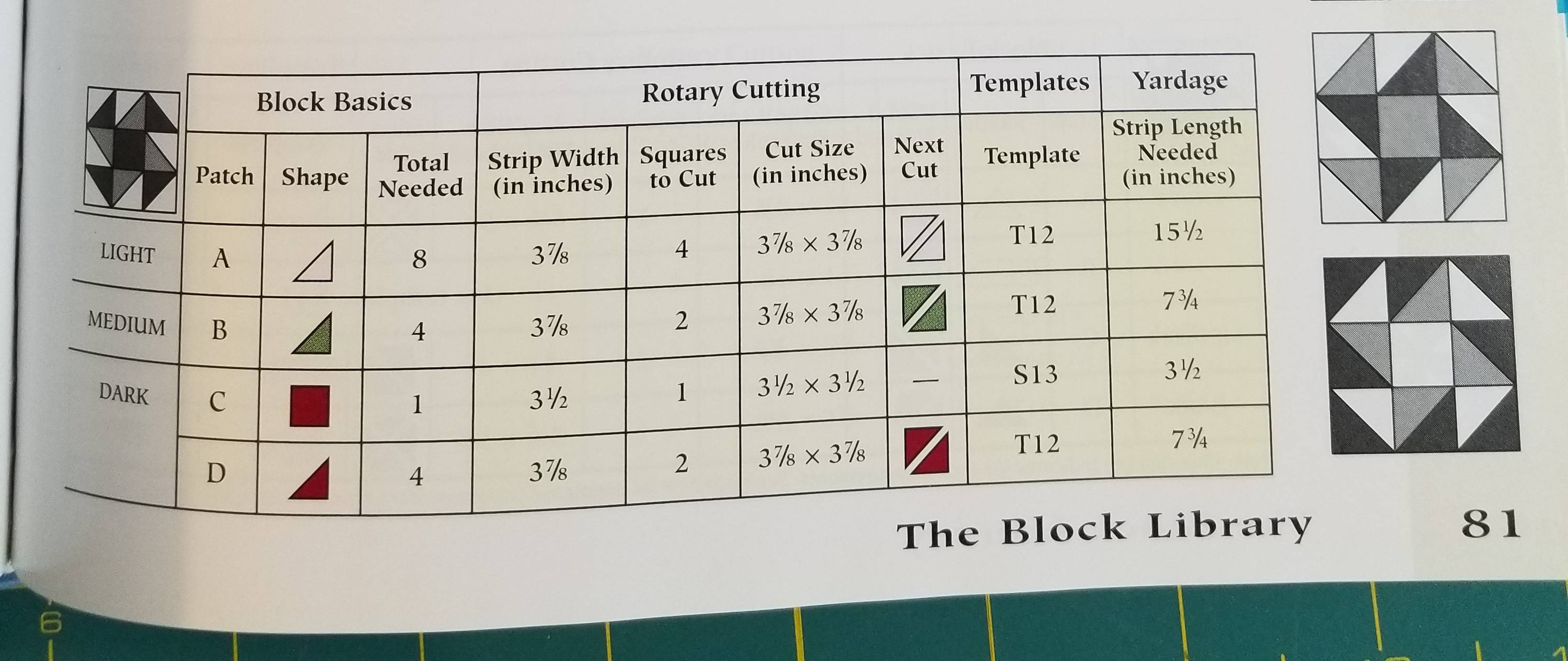 Step 1: Cutting your light fabric (A). To cut the triangles, start with cutting 4 squares 3 ⅞" x 3 ⅞". I love using my square rotary rulers. The one I used was a 4x4 square.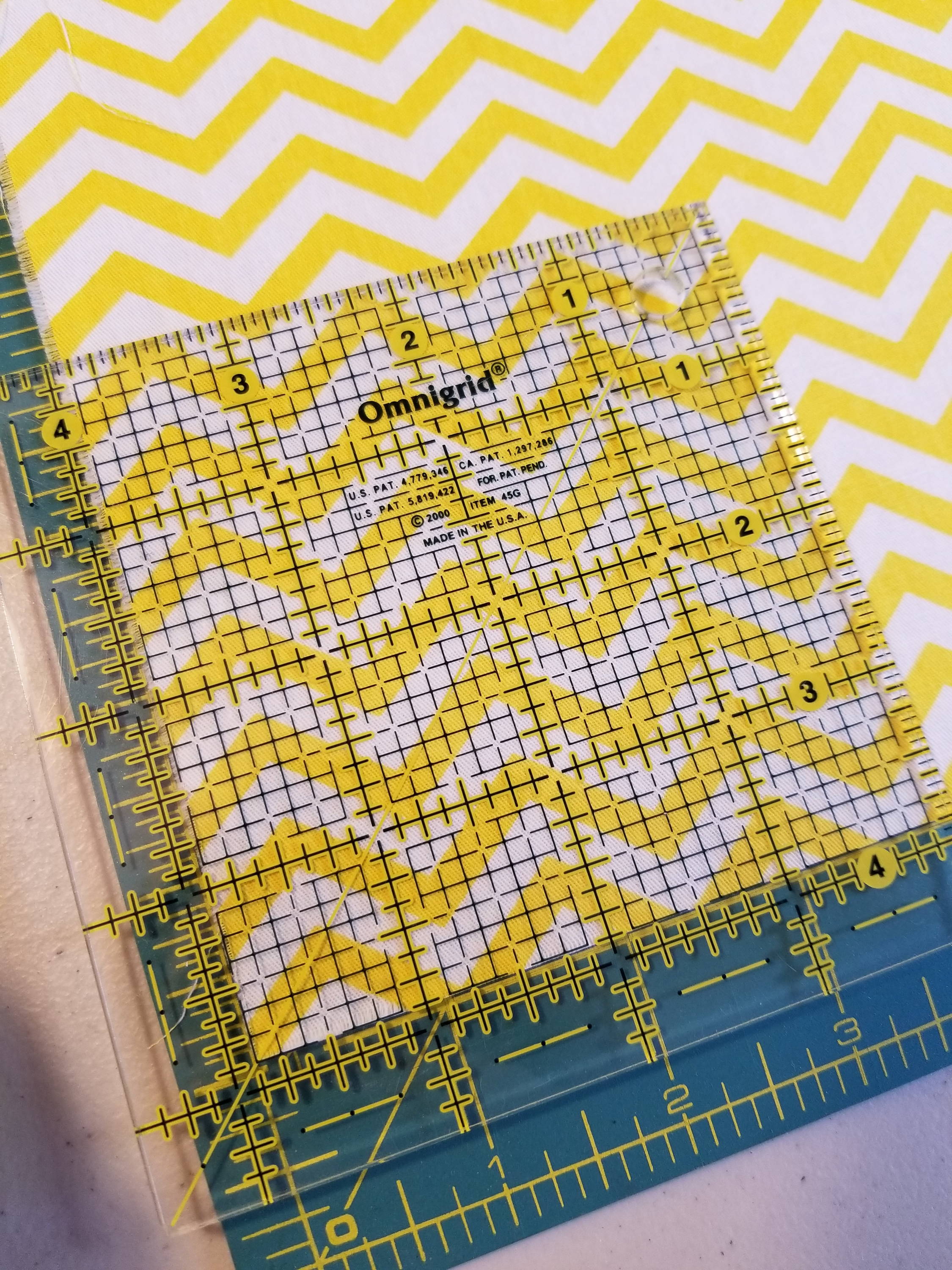 Step 2: Now that the squares are cut, it's time to turn them into triangles. The pattern I used had a template for the triangles.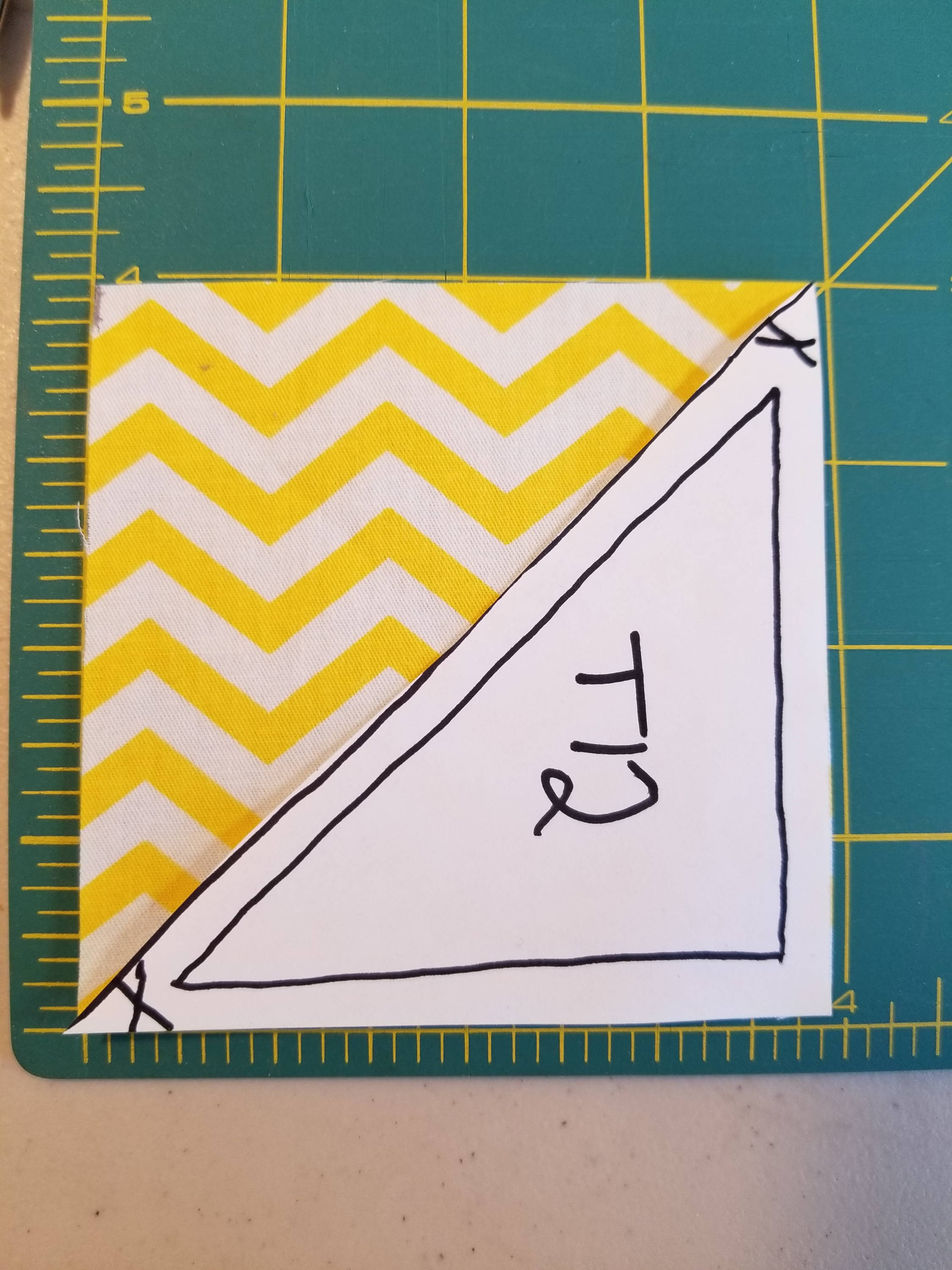 Use the diagonal line starting in the corner of your rotary mat as a shortcut for cutting perfect triangles. Cut all the "A" squares into triangles.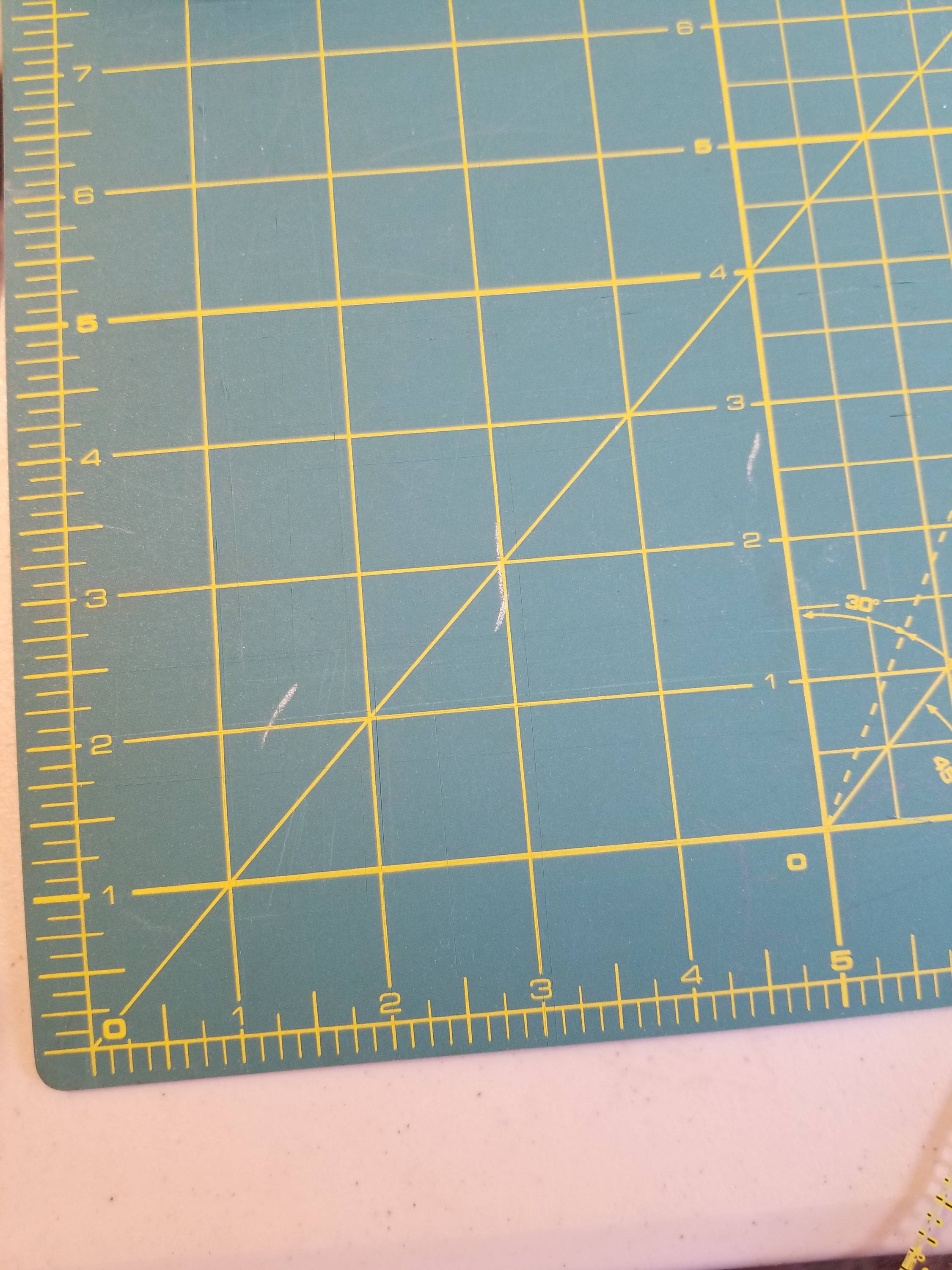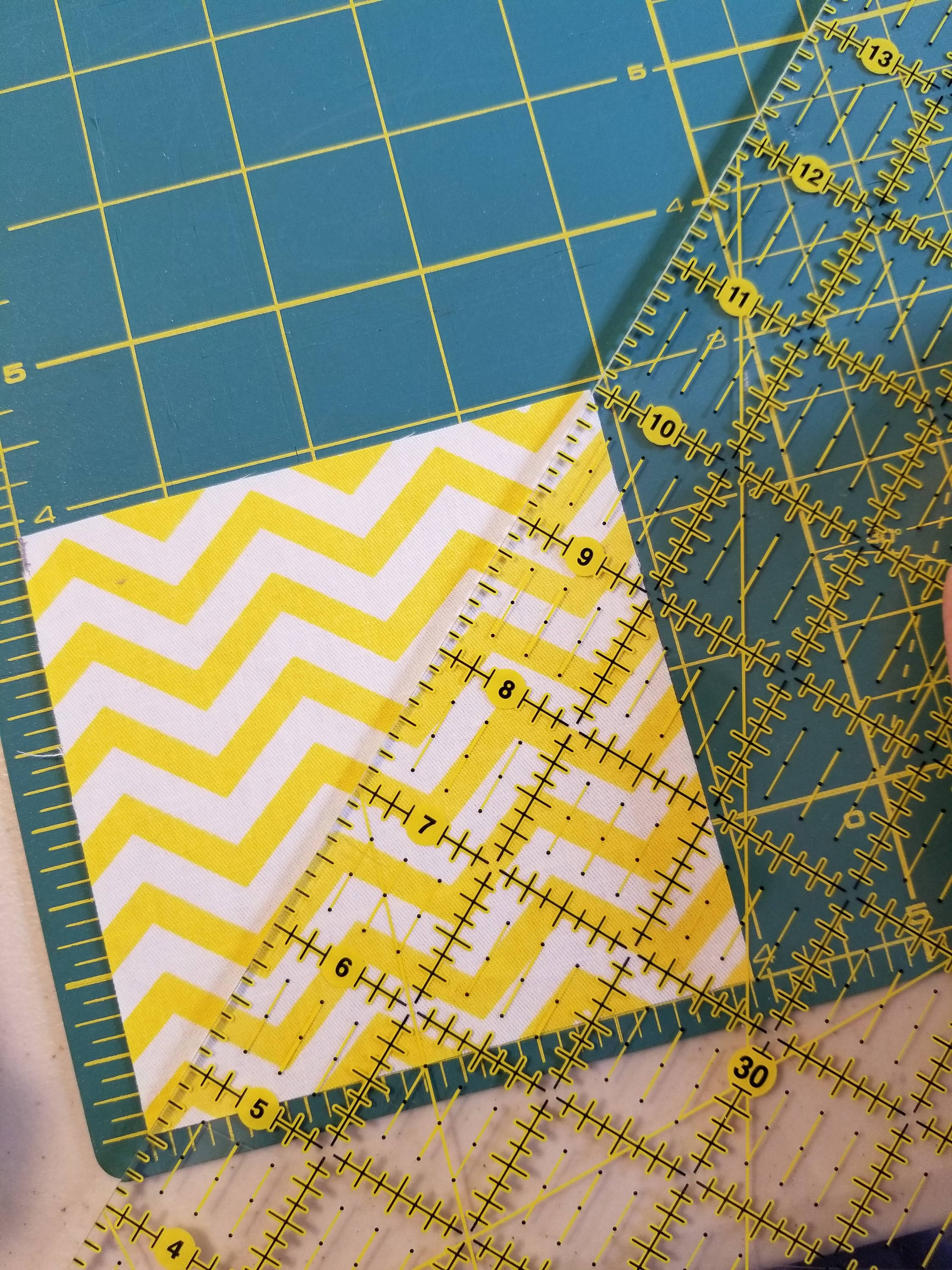 Step 3: Now it's time to cut your "B" and "D" fabrics. Start by cutting 2 squares 3 ⅞" x 3 ⅞" and then repeat step 2 for both. If you want a bigger pillow, make sure to adjust your measurements accordingly.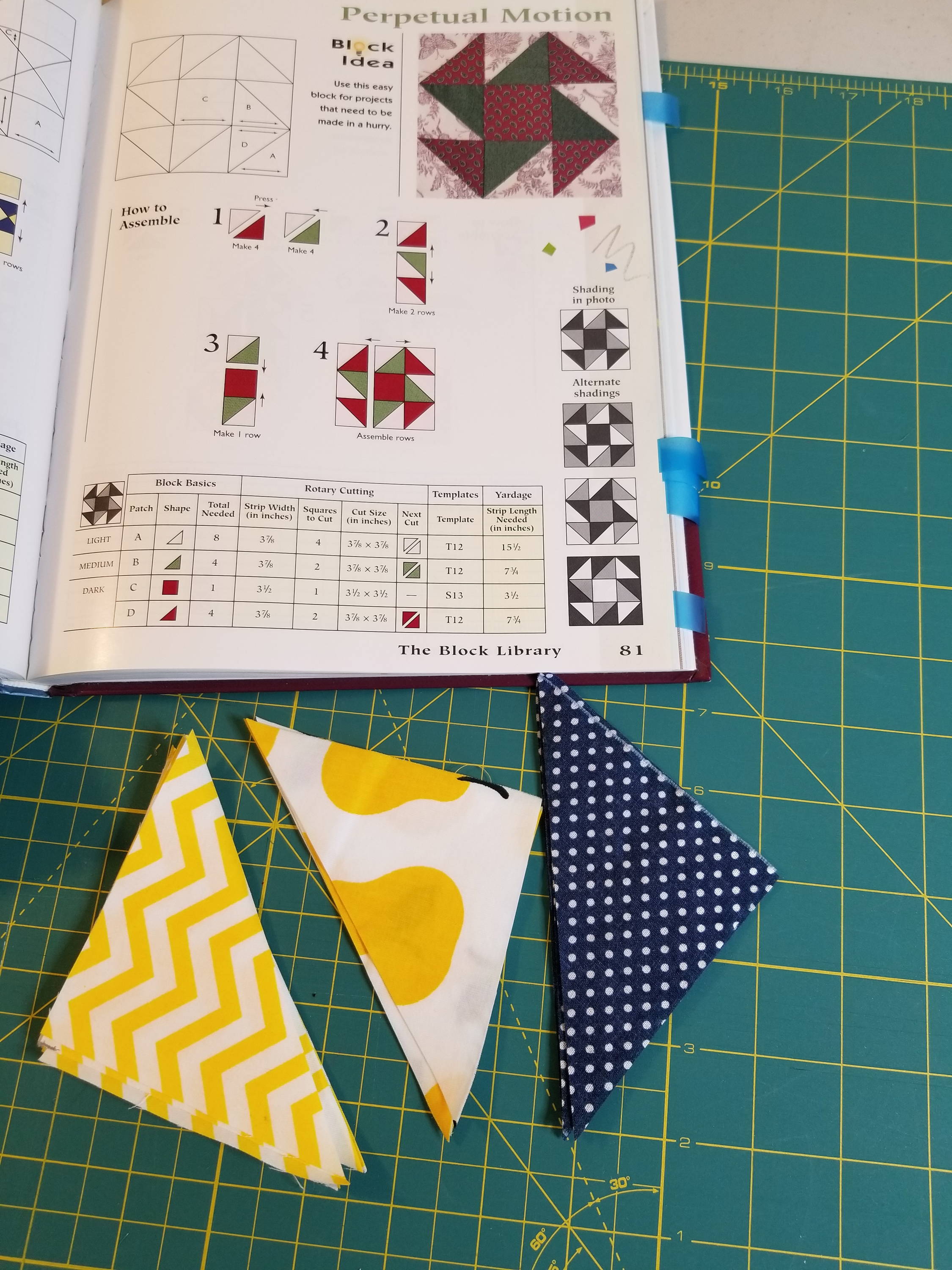 Step 4: Now to cut fabric "C".   This square is the center and measured 3 ½" x 3 ½".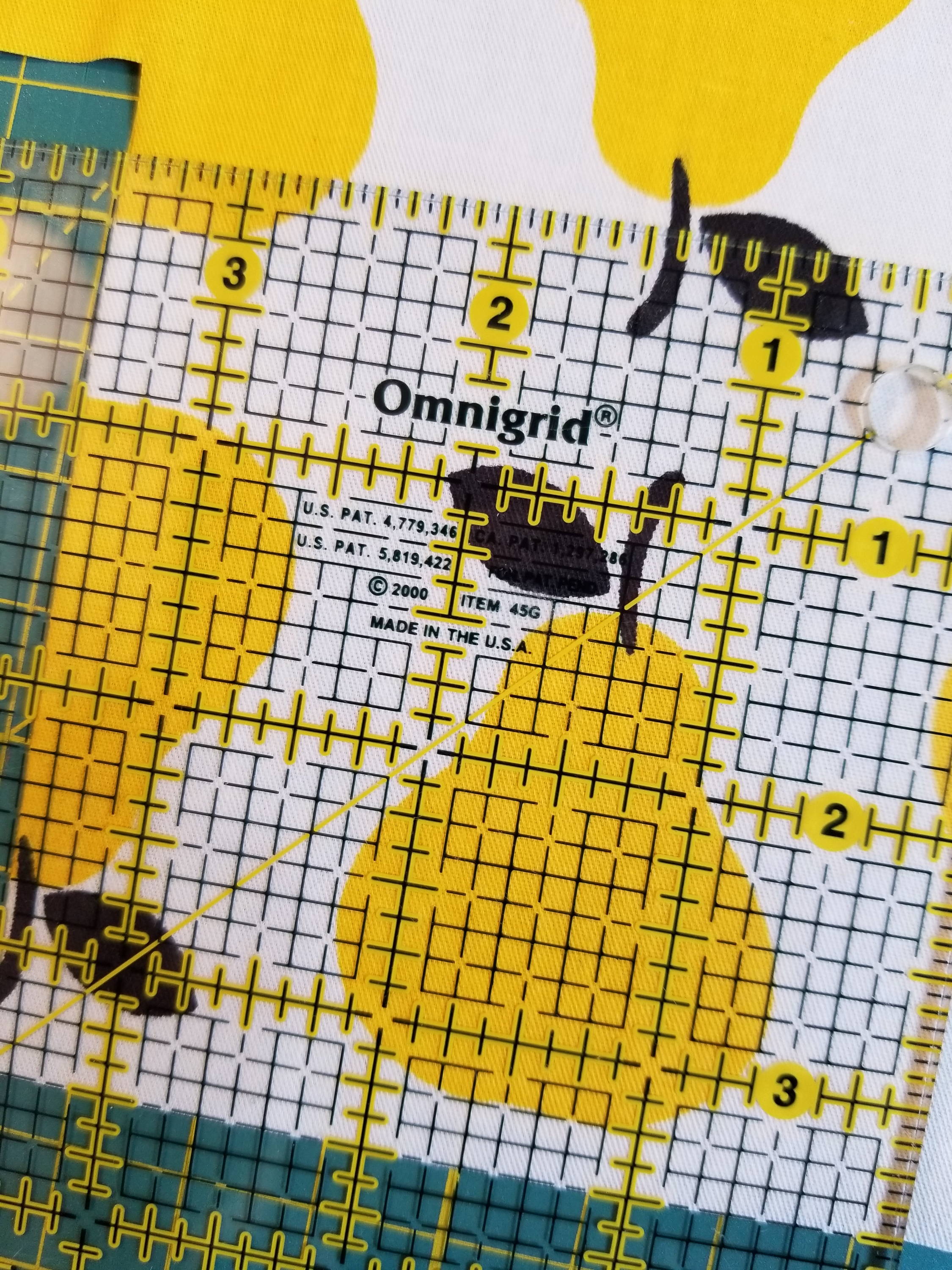 Step 5: Sewing the triangles. To start - attach the "B" and "D" triangles to the "A" triangles- making 4 of each.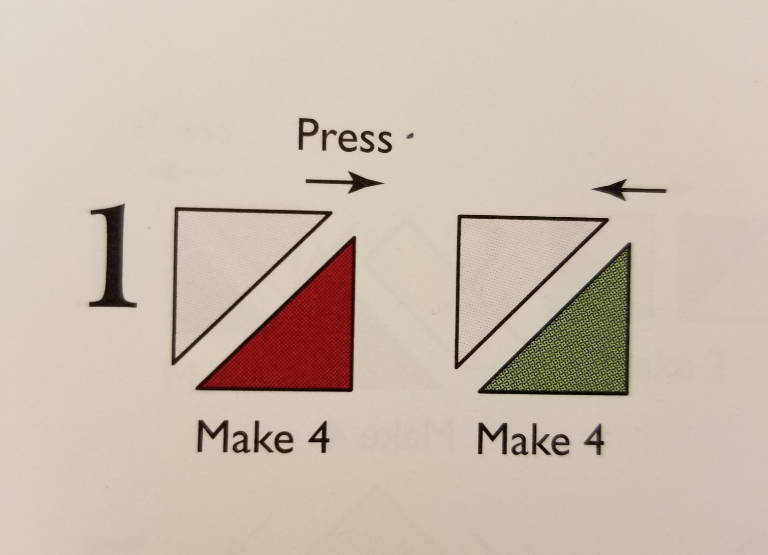 To get the perfect ¼" seam allowance, you can either use the ¼" quilting foot (#10) or the ¼" quilting foot with guide (#17). I prefer the ¼" quilting foot with guide. It minimizes the guesswork for me and I get professional seams.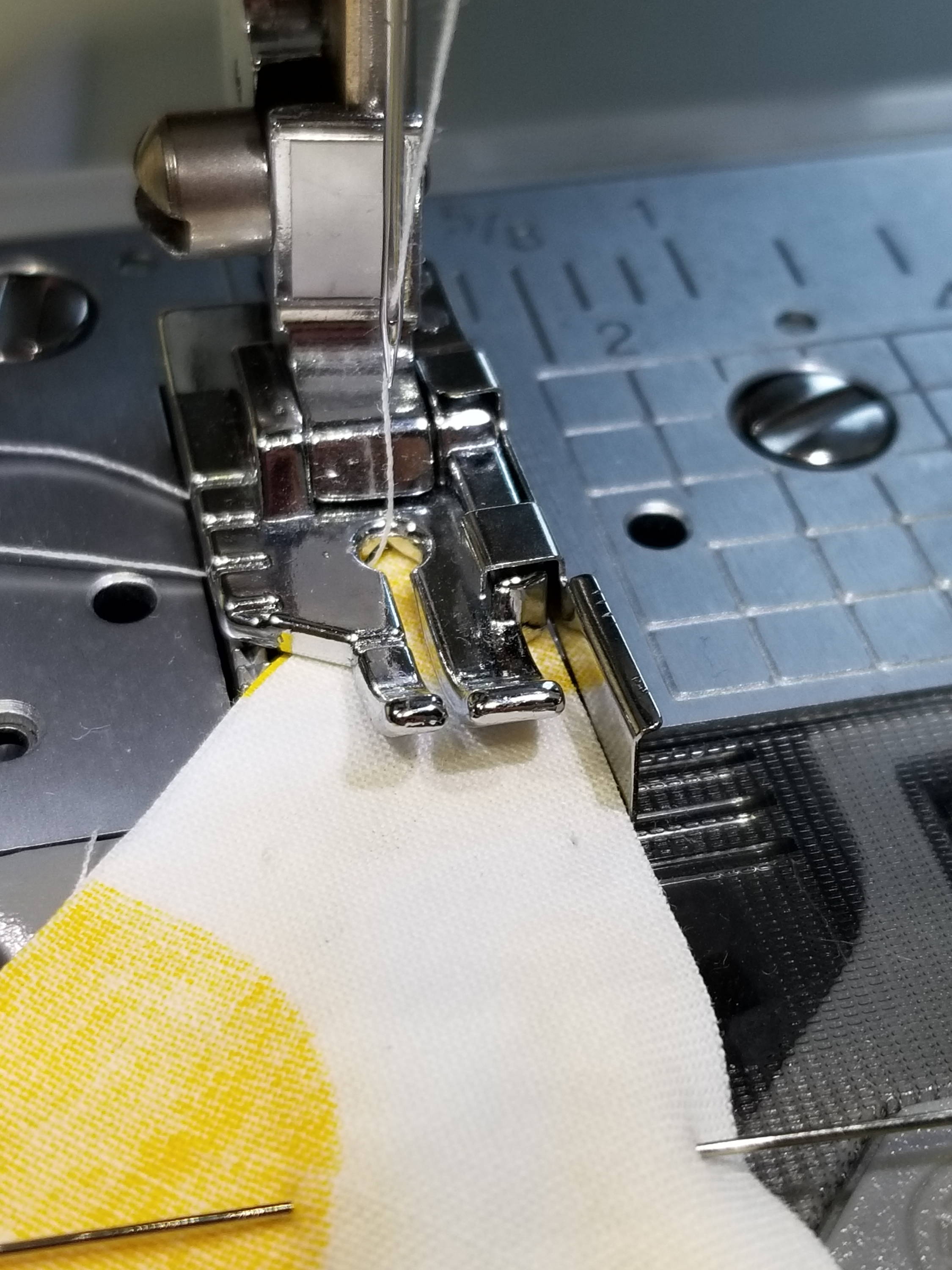 Step 6: Once your triangles are sewn, make a small, slightly lopsided "X" shape using a heat erasable gel pen, or other marking tool. Start it by making a perpendicular line from the start of your seam. Make your second line about a ¼" down from the straight line and go diagonally up. Sew on the "X." Open up your square and you'll notice the seam sticks up above the top of your square. The "X" you just sewed has secured the seam- now trim the protruding fabric.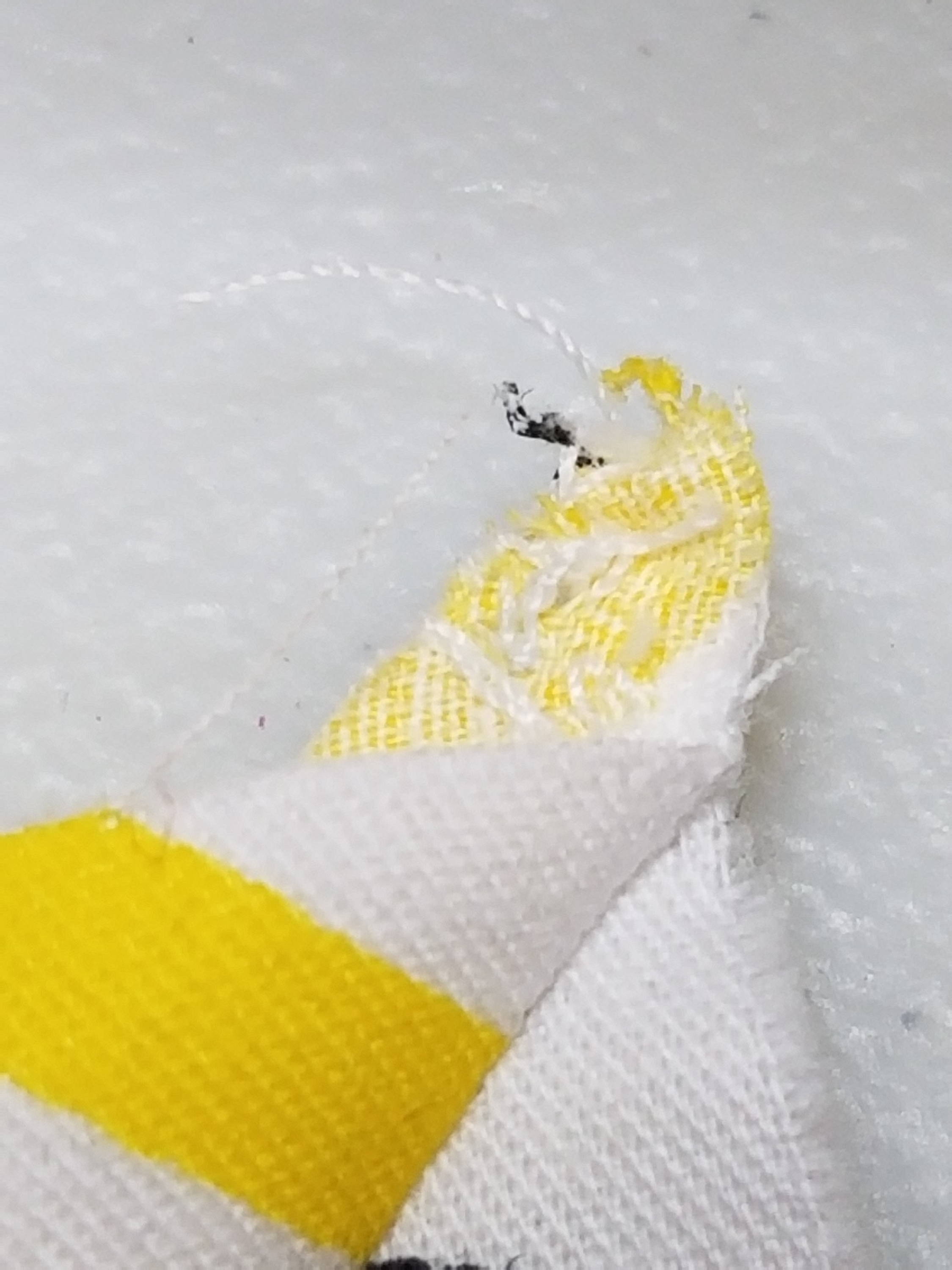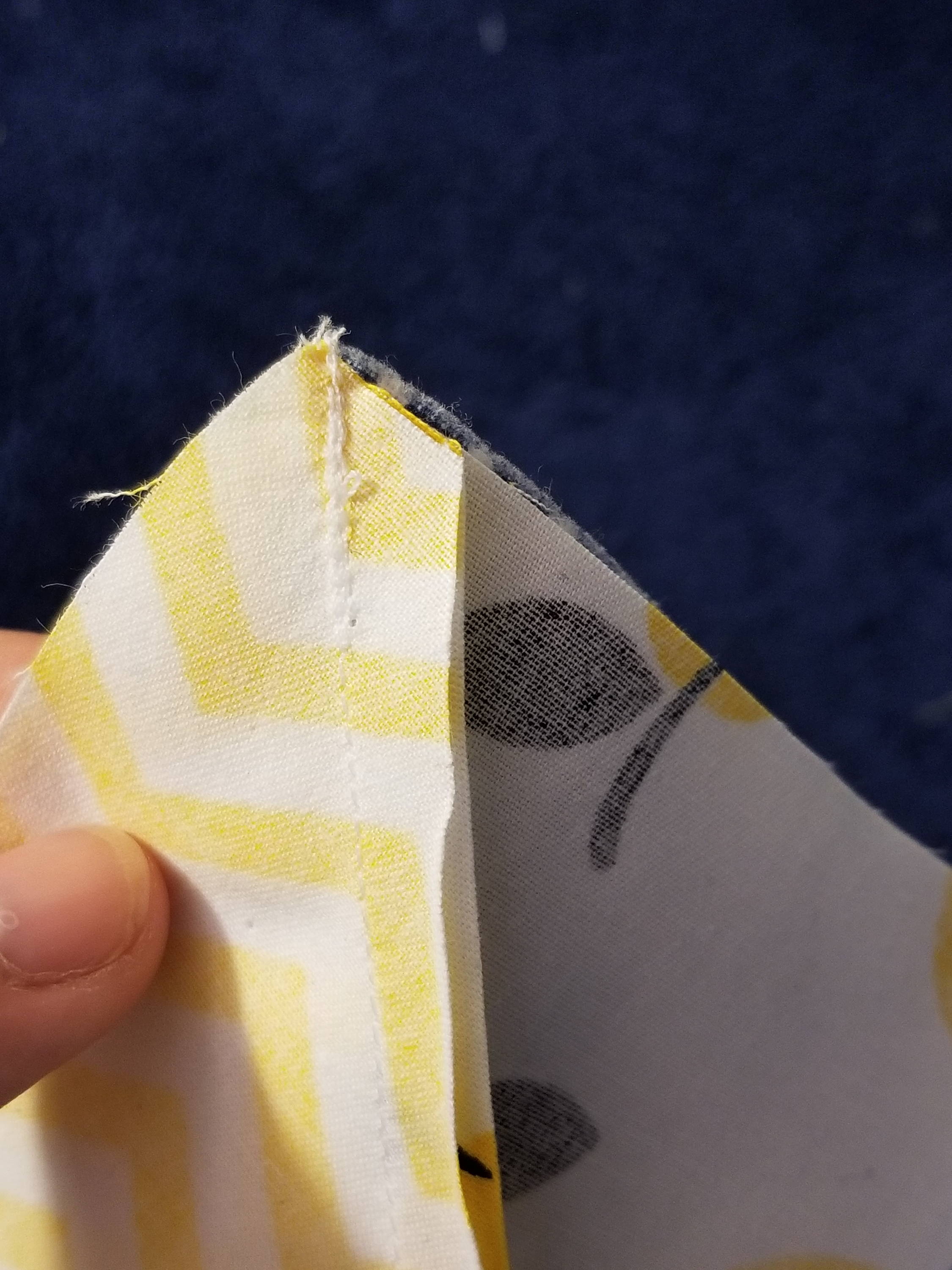 Step 7: Press your seams to one side. On your "AD" squares, press the seam towards fabric "D." On the "AB" squares, press the seam towards fabric "A."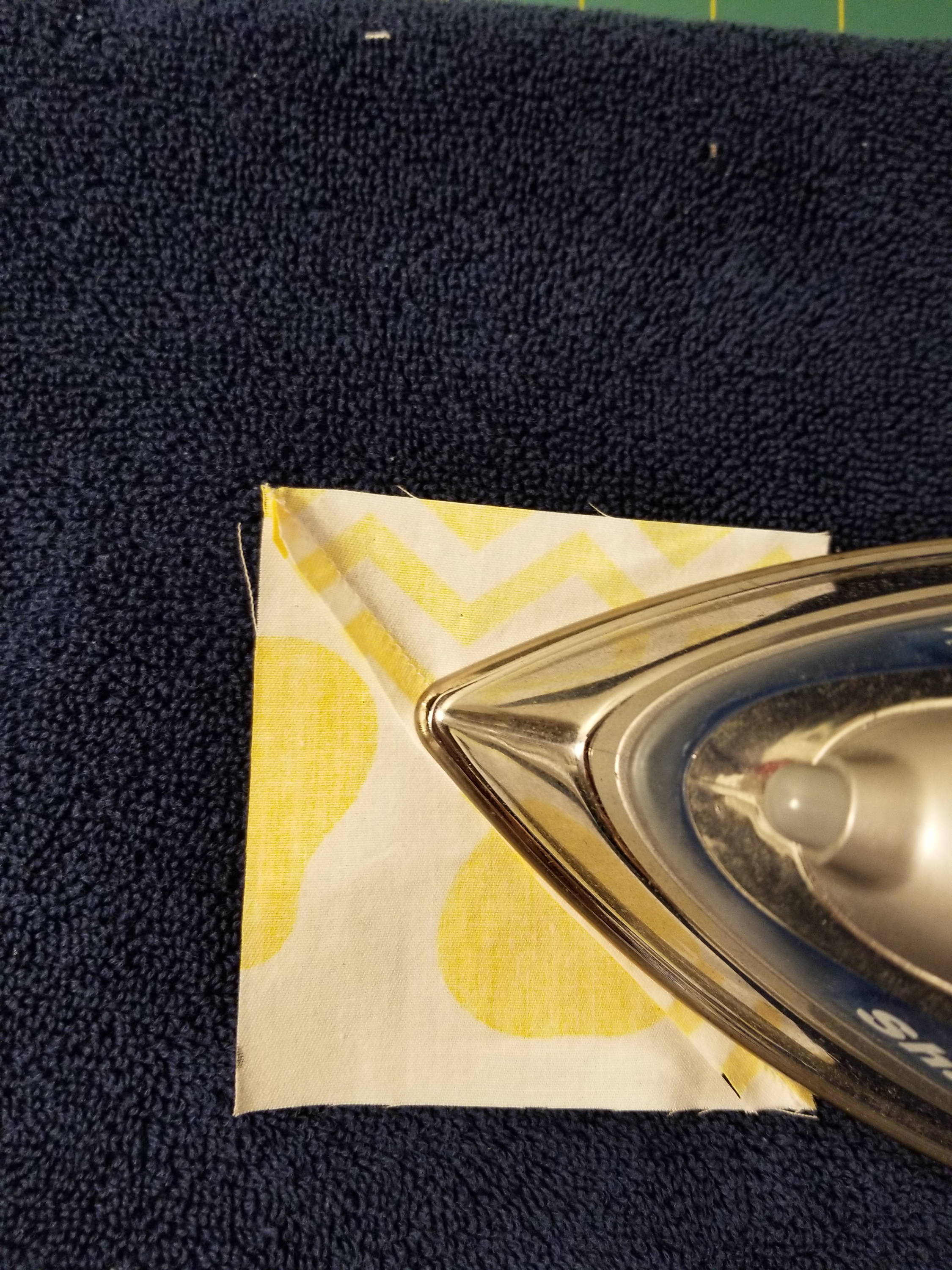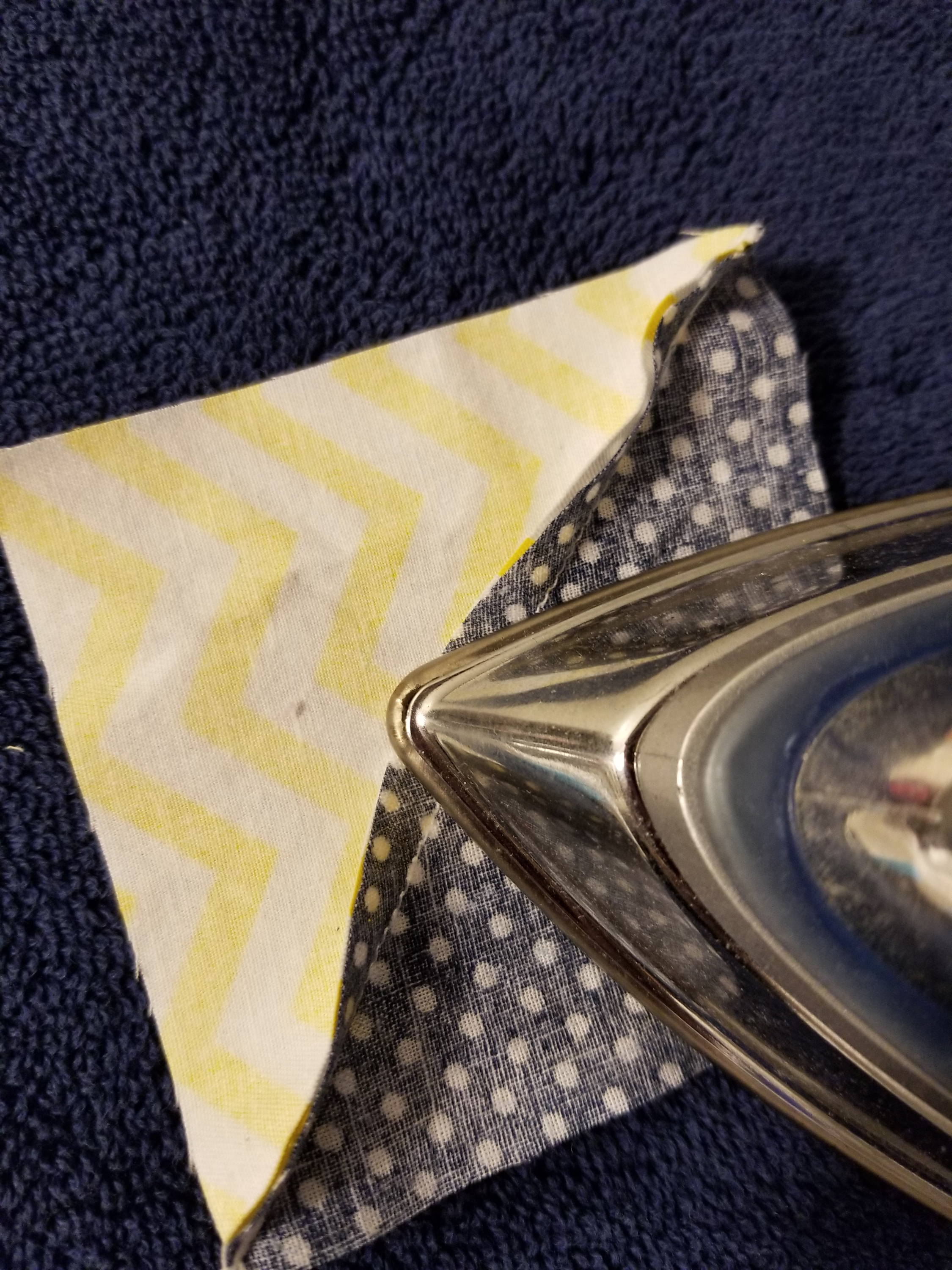 Step 8: Now you should have 8 squares made from the triangles. It's time to sew them into rows. Take 2 "AD" squares and 1 "AB" square. Pin the top "AD" square to the "AB" square, with the "D" fabric matching against your "B" fabric. Match your raw edges and the seams formed by the triangles. An easy way to get your seams to match up is to have one seam going to the right and one going to the left. Sew your ¼" seam and press it towards your "AD" square.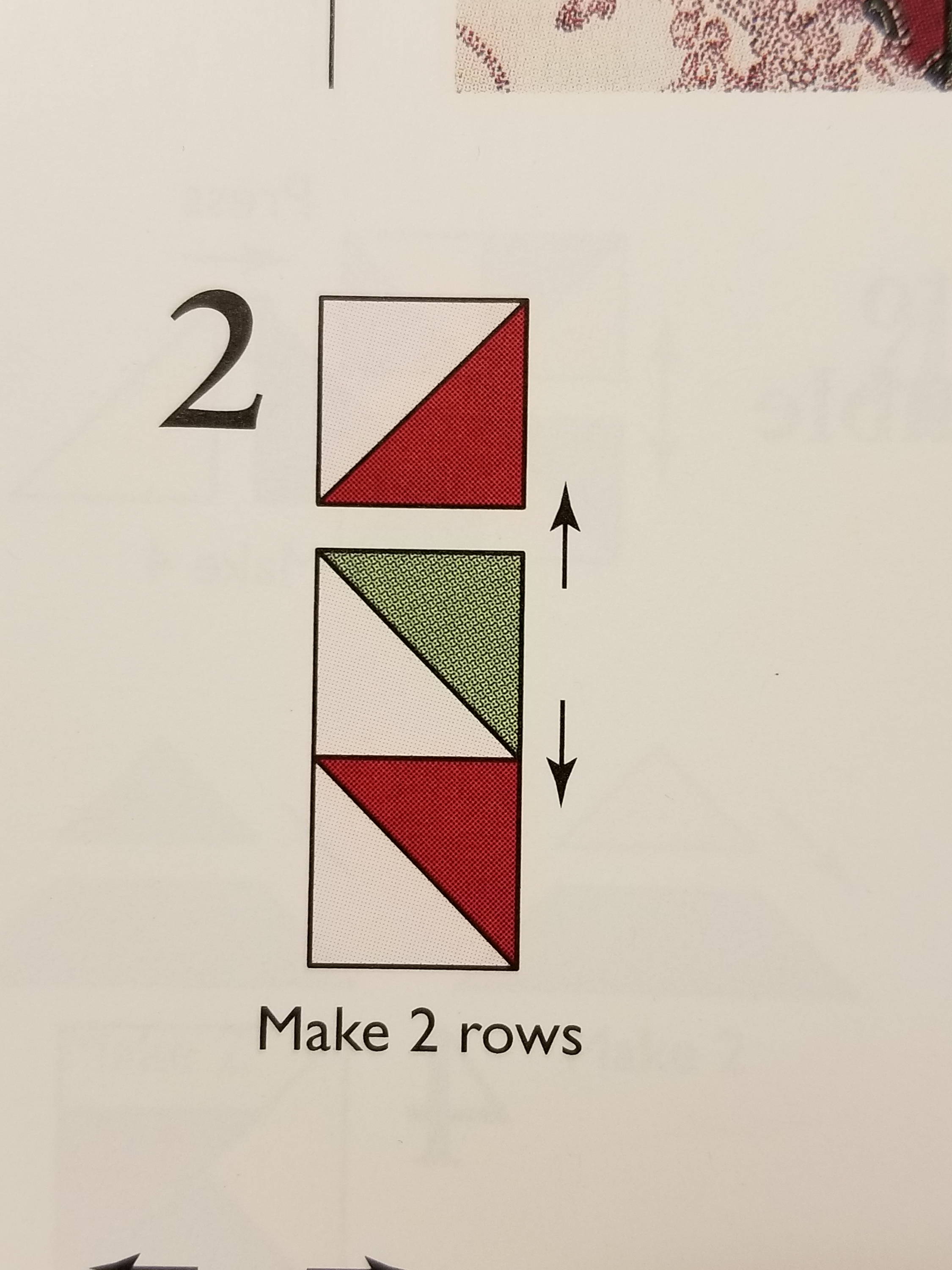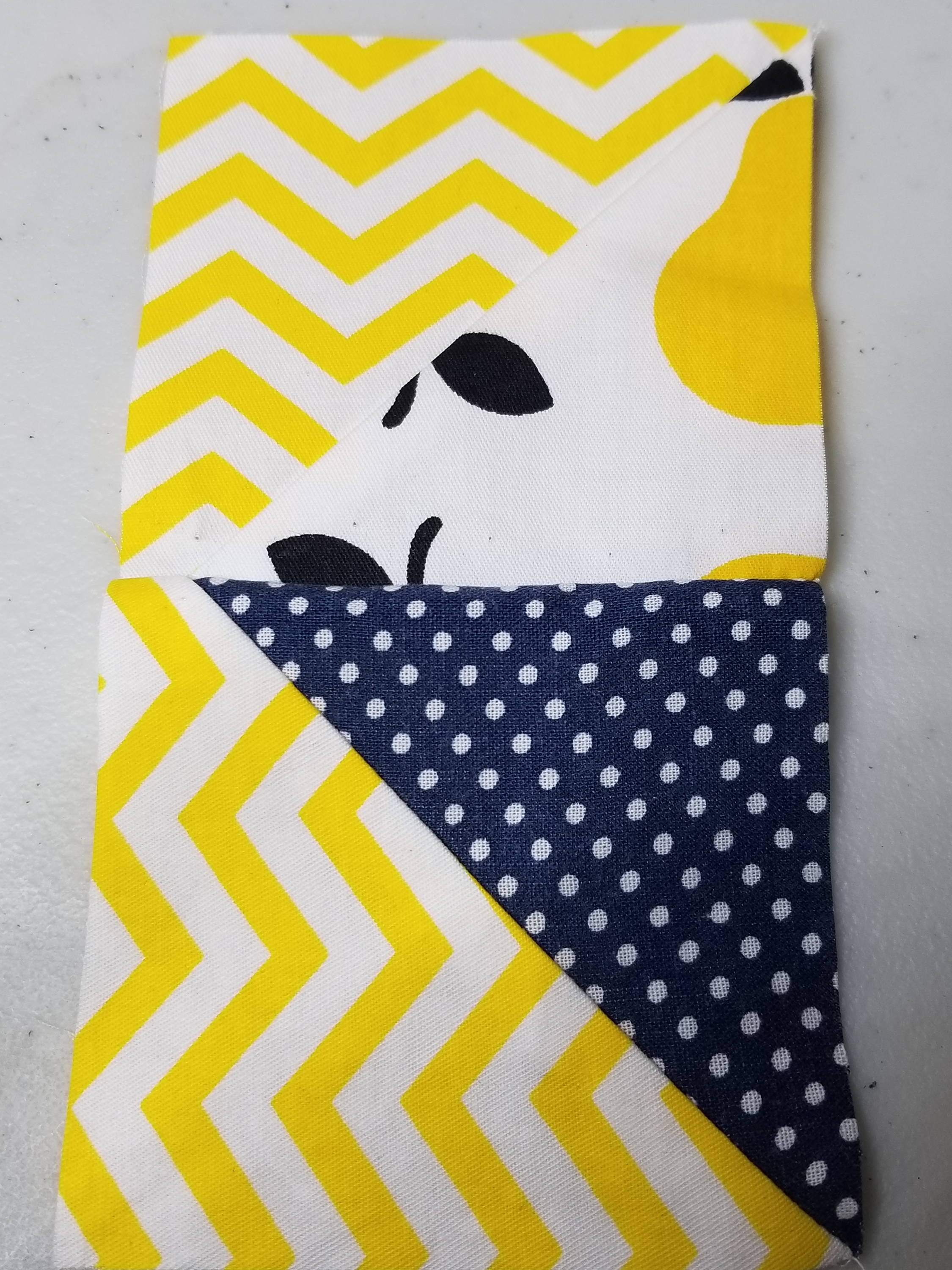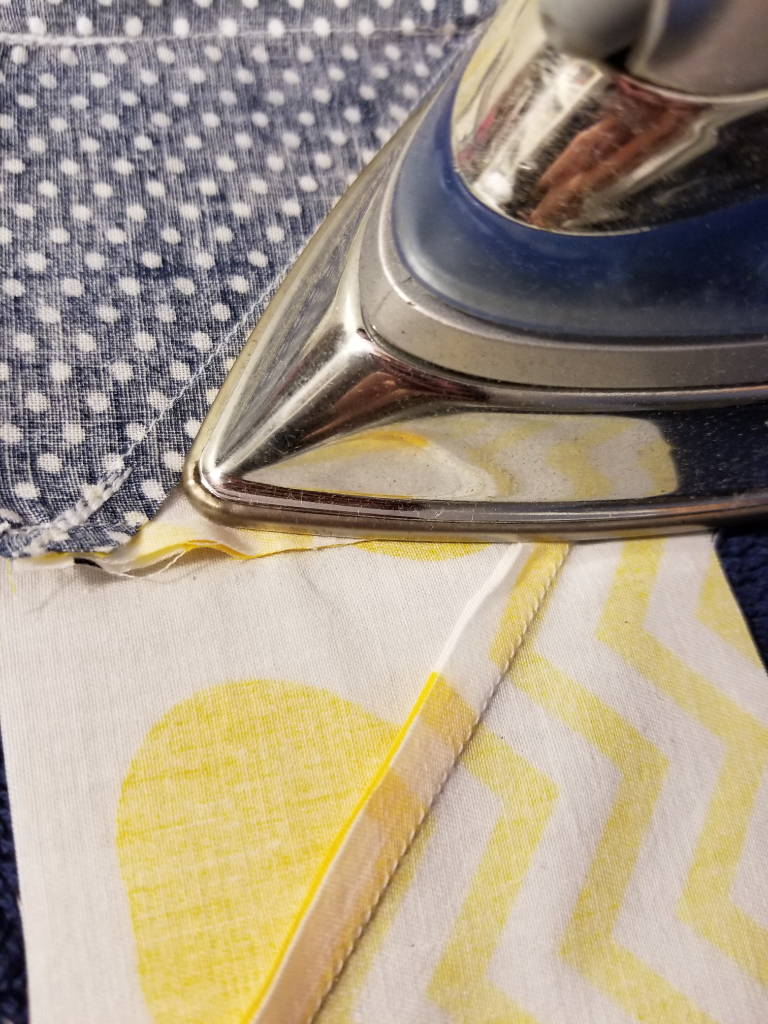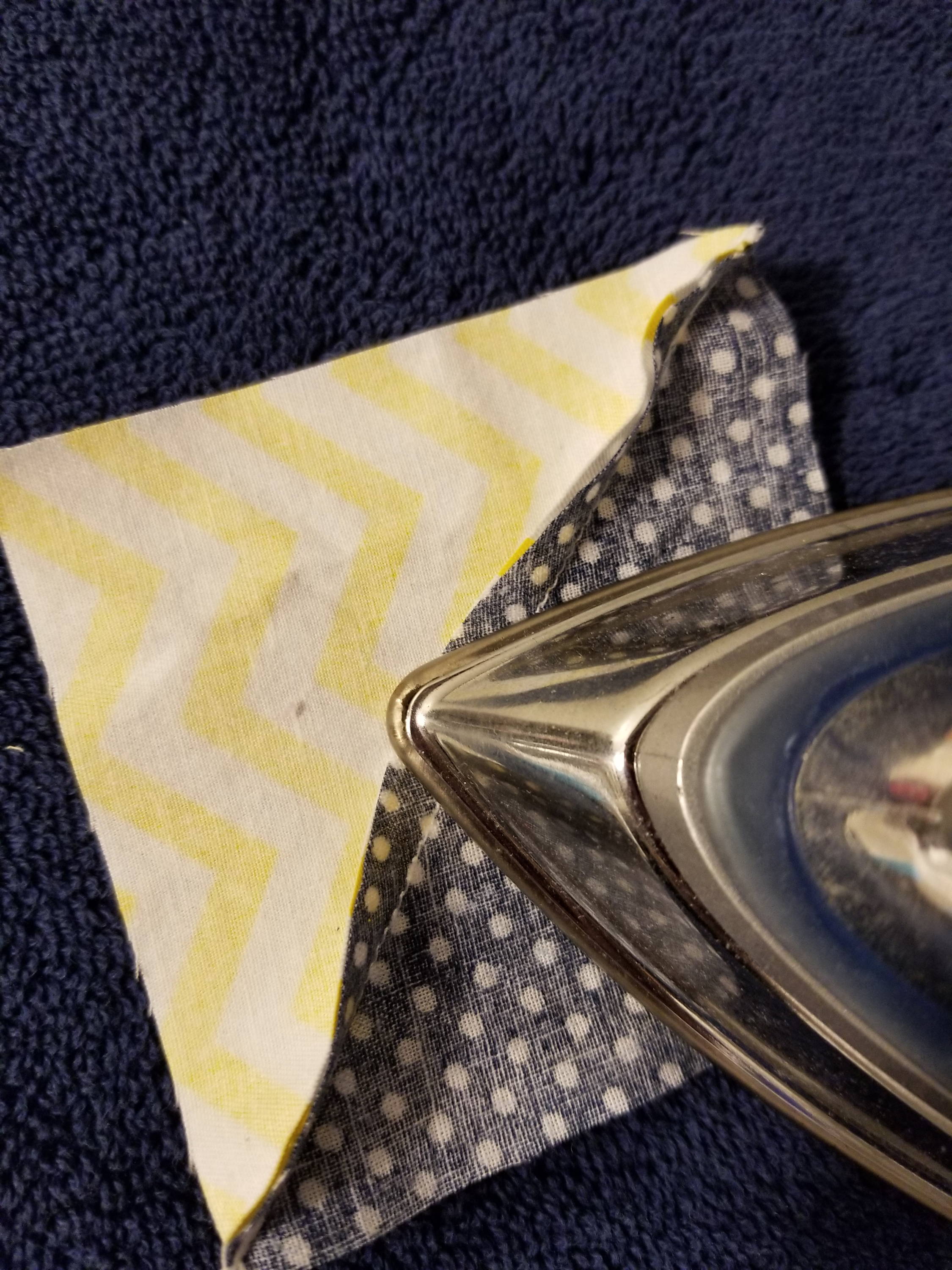 Now attach the bottom "AD" square to the "AB" square, with the "D" fabric on the top so it looks like the picture below. Sew your ¼" seam and press the seam towards the bottom "AD" square. Repeat this step to make a matching row.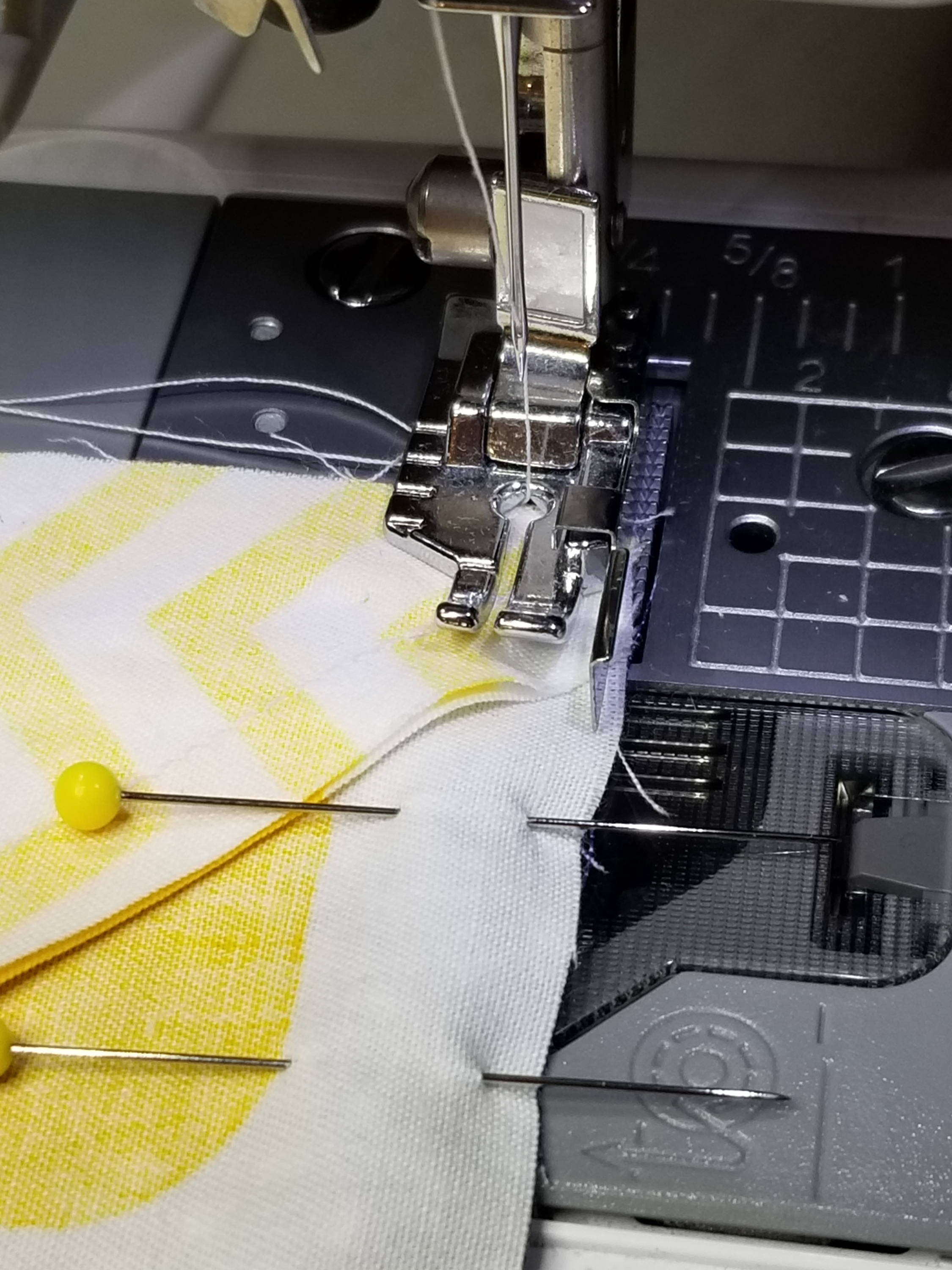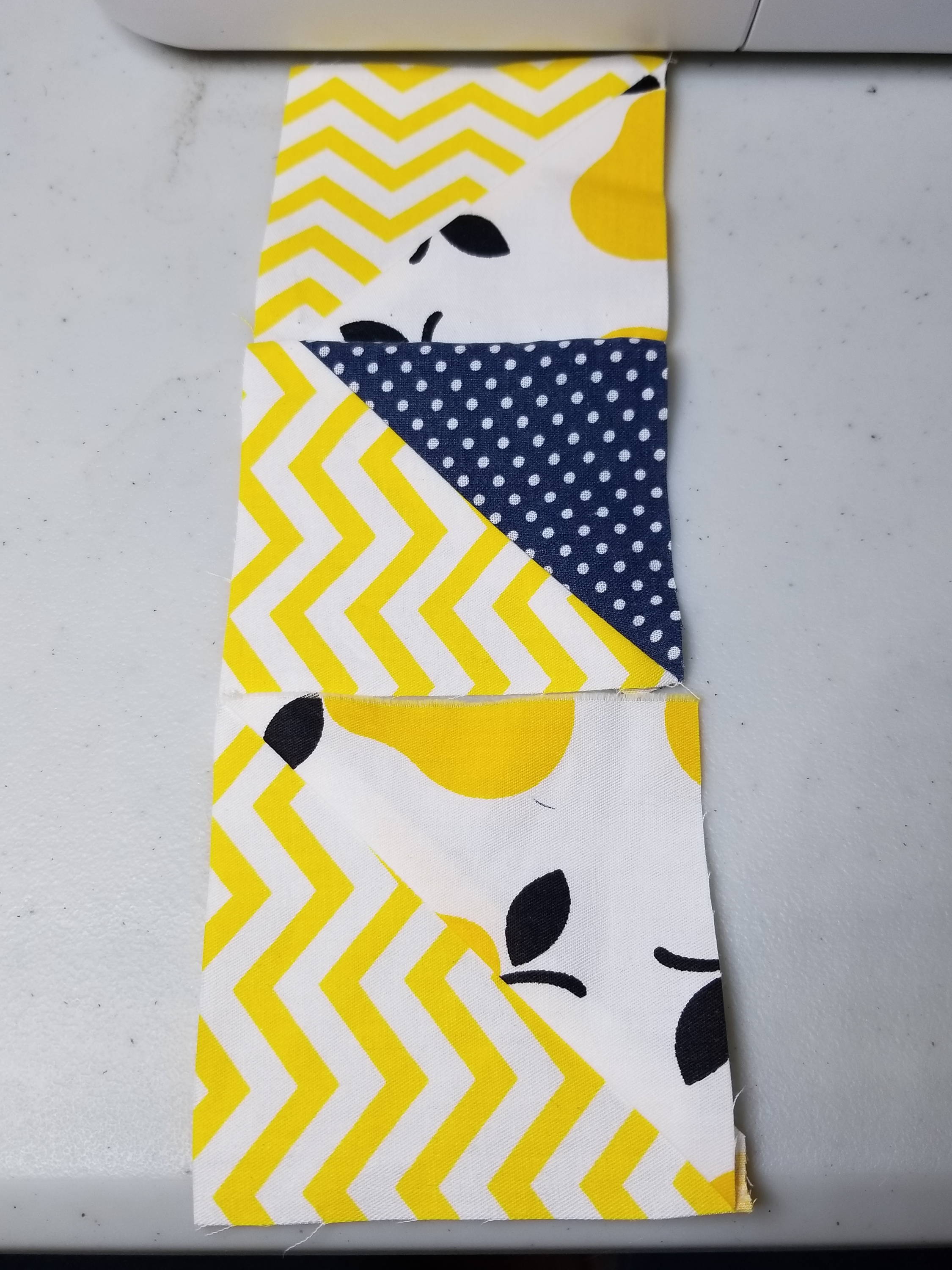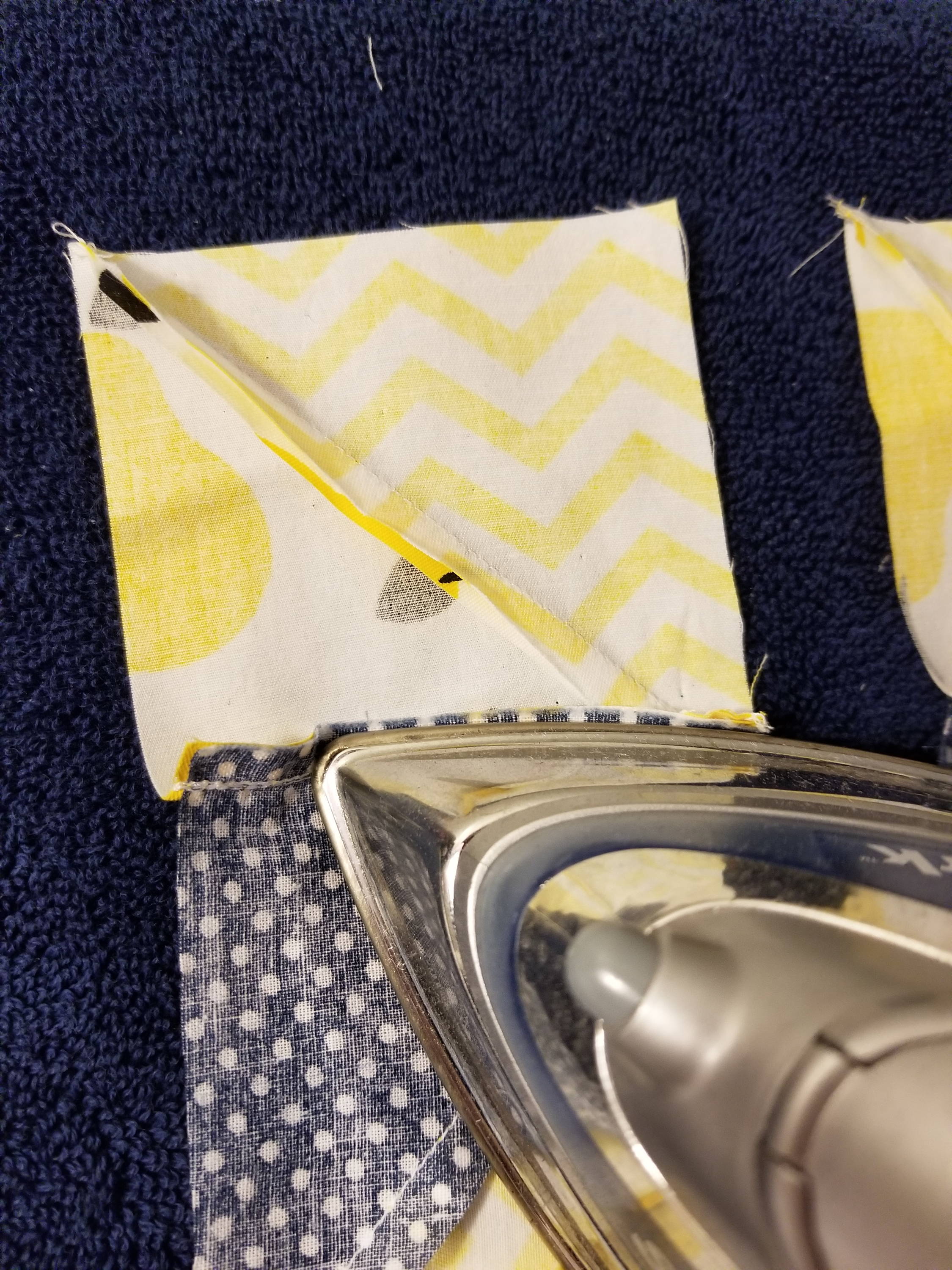 You should now have 2 matching rows:
Step 9: Now we need to make the middle row. Take your "C" fabric square and the 2 remaining "AB" squares. Take the "AB" squares and arrange one on top, one on bottom with the "B" fabric against your "C" square.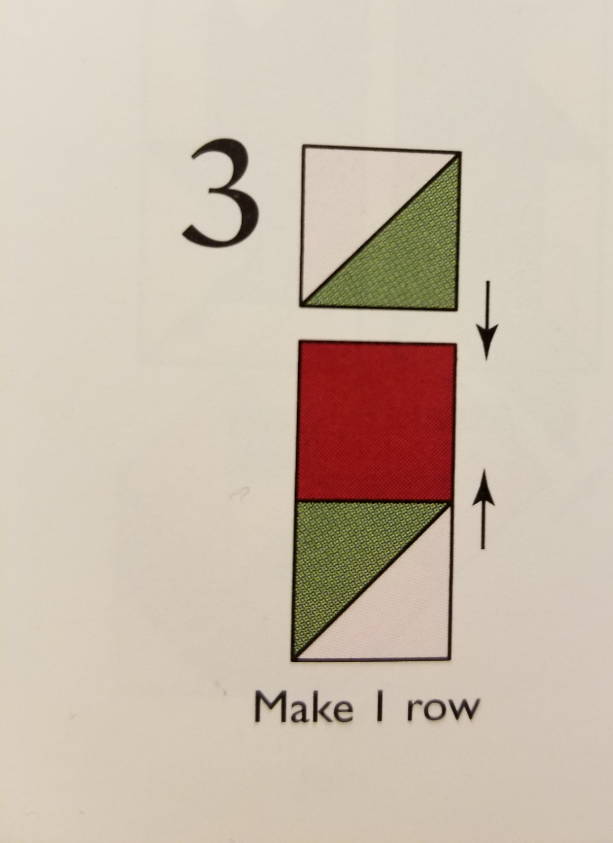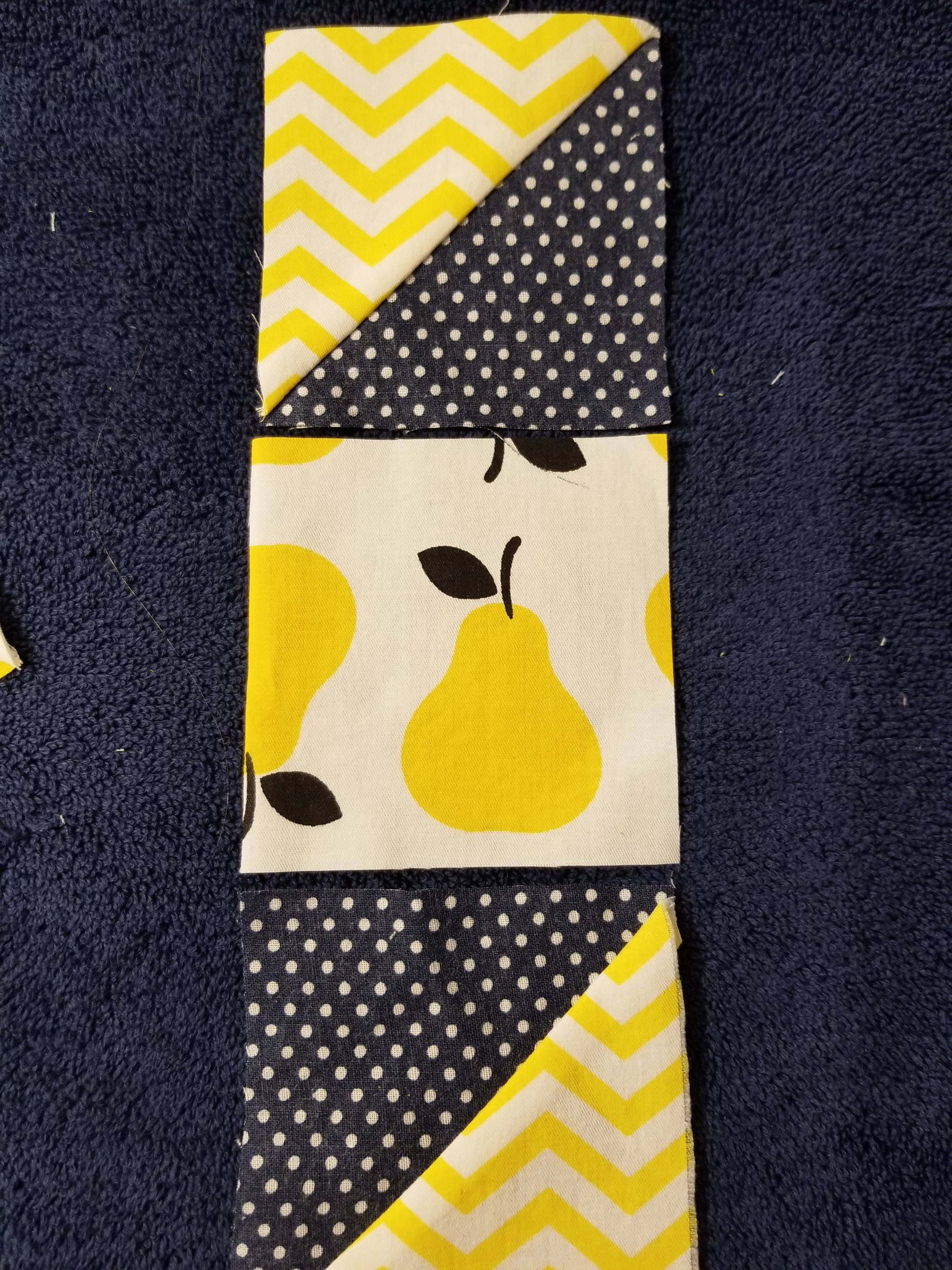 Sew your ¼" seams and press both seams towards the center square.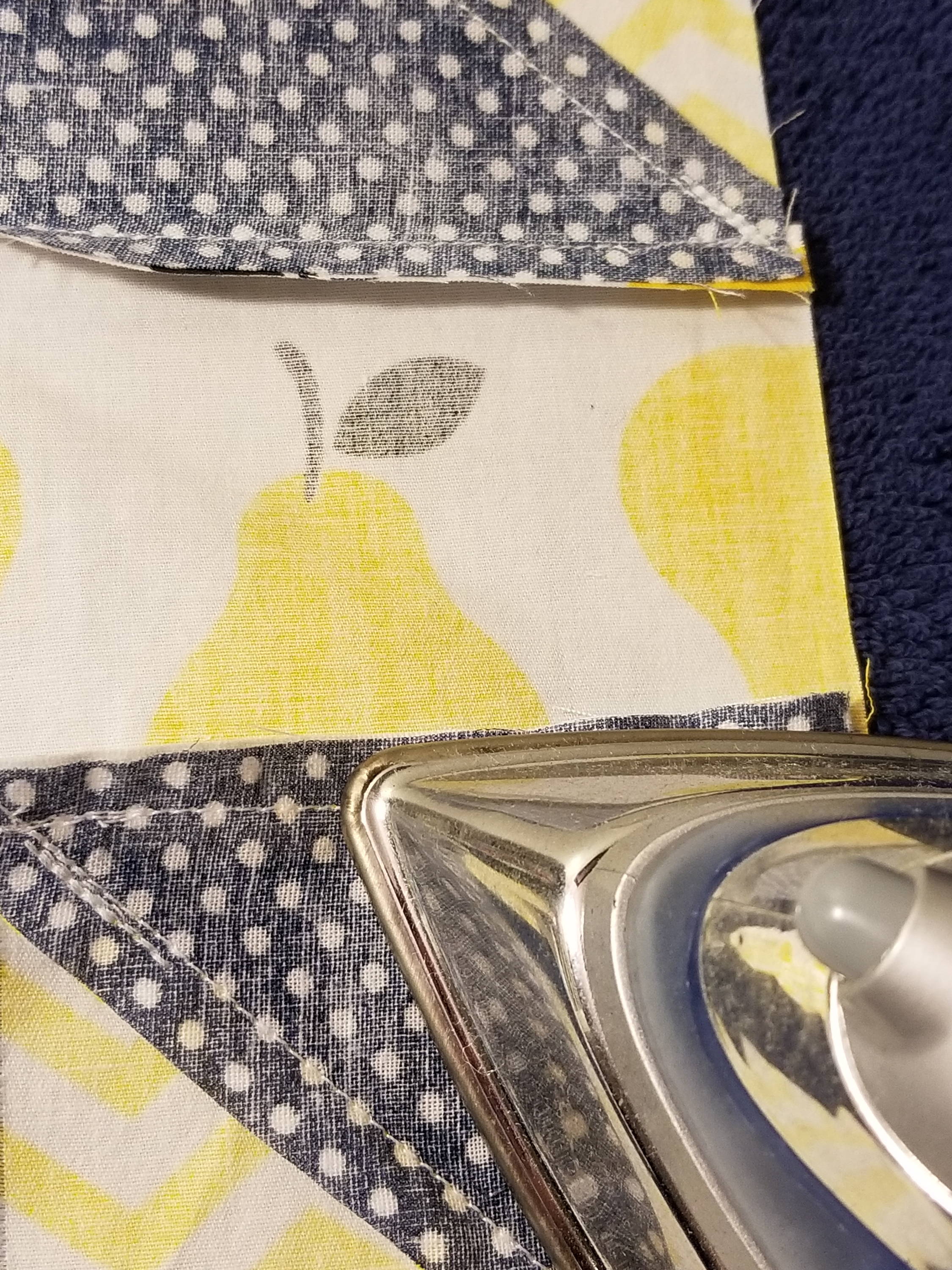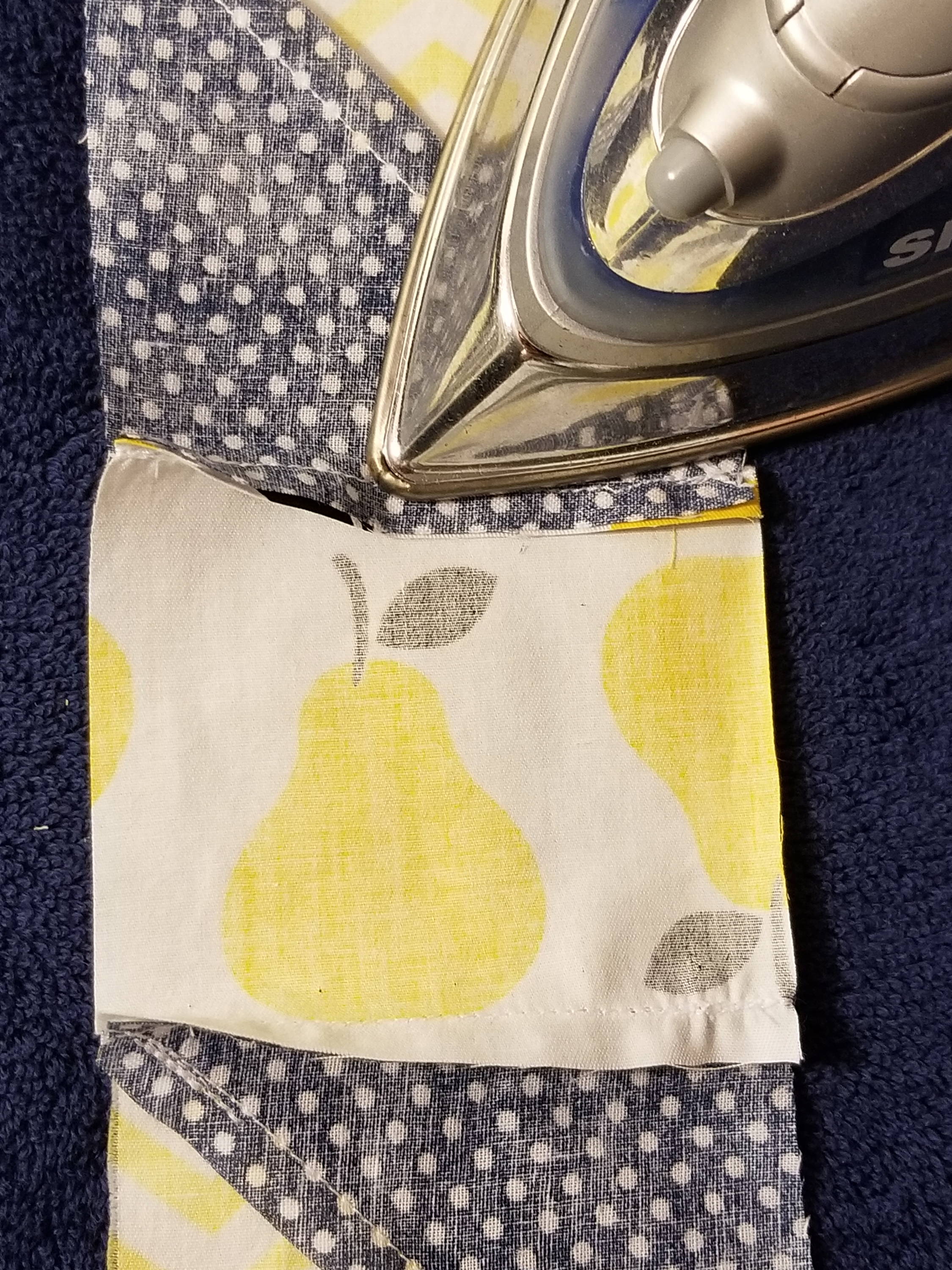 Now here comes the fun part. Attach the 3 rows together; I would suggest laying them out so you can see how it will look laying in the correct direction. To make the Perpetual Motion design, you flip one of the matching rows upside down.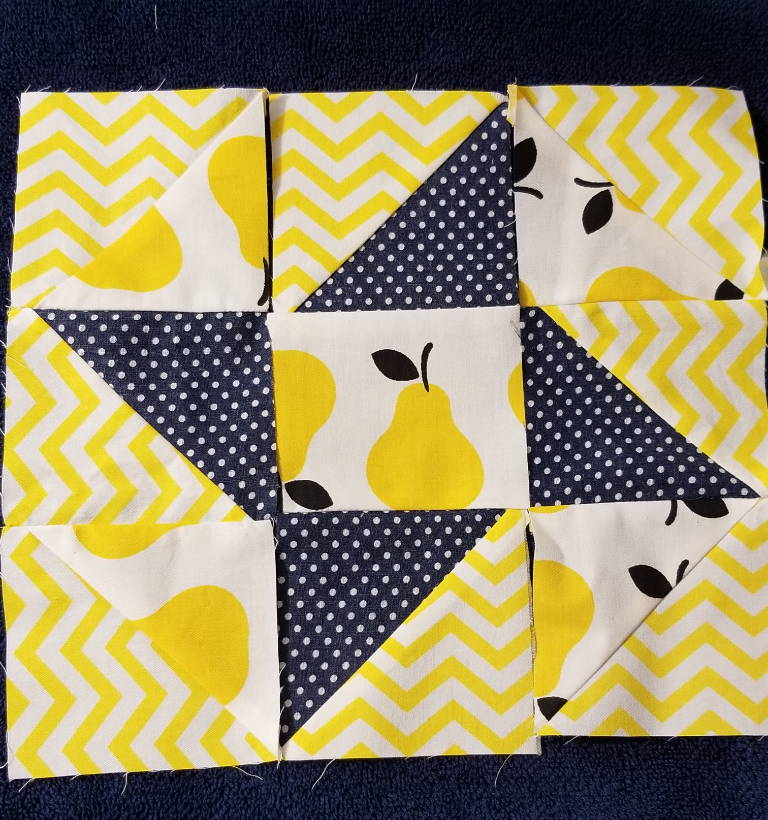 Step 10: It doesn't matter which side you start with.   Match your seams and then pin the rest, matching your raw edges. Remember to put one seam to the left and one seam to the right. This will help get a more accurate match up. Sew you're ¼" seam and repeat for the other side. Press your seams towards your raw edges.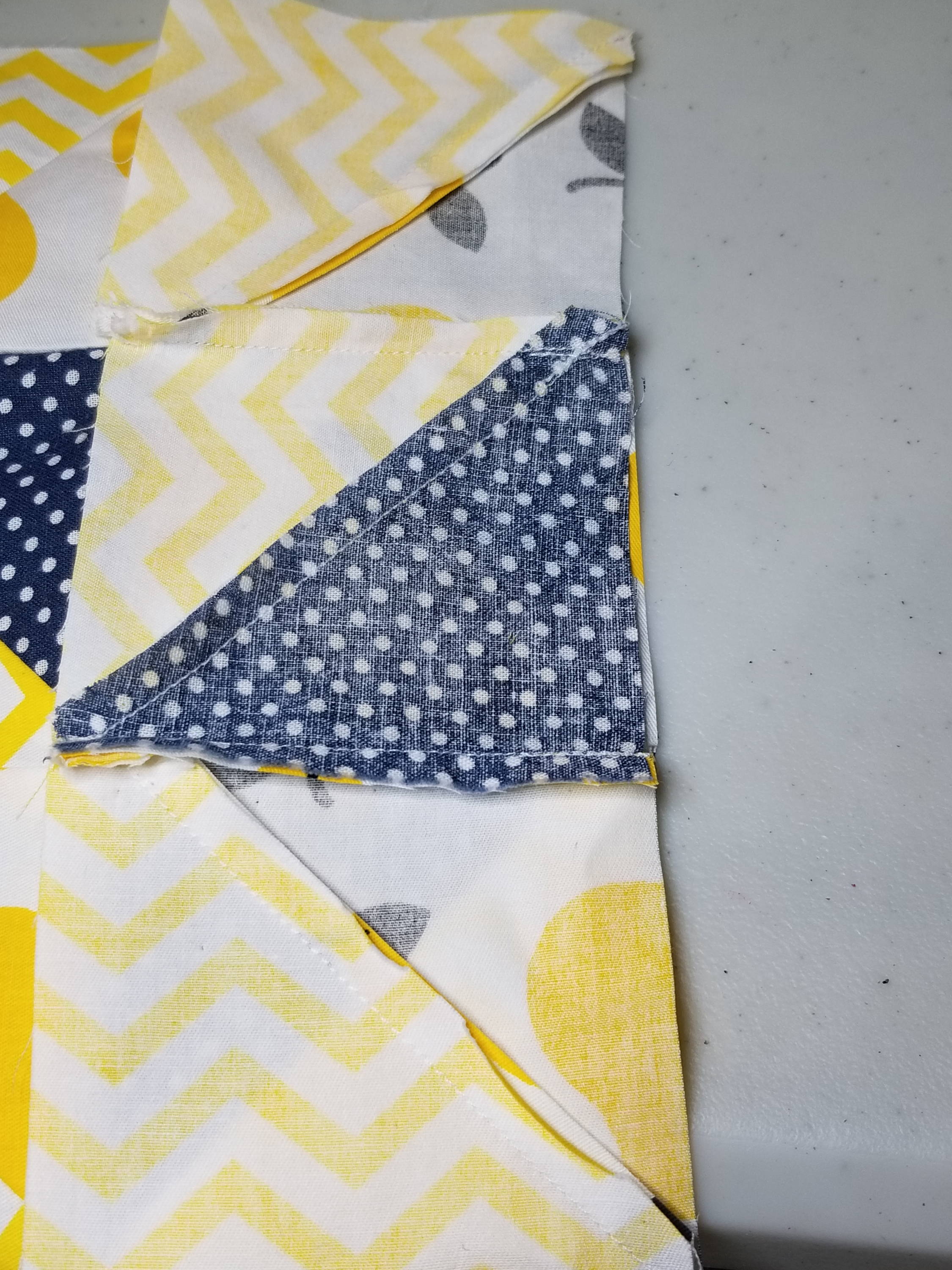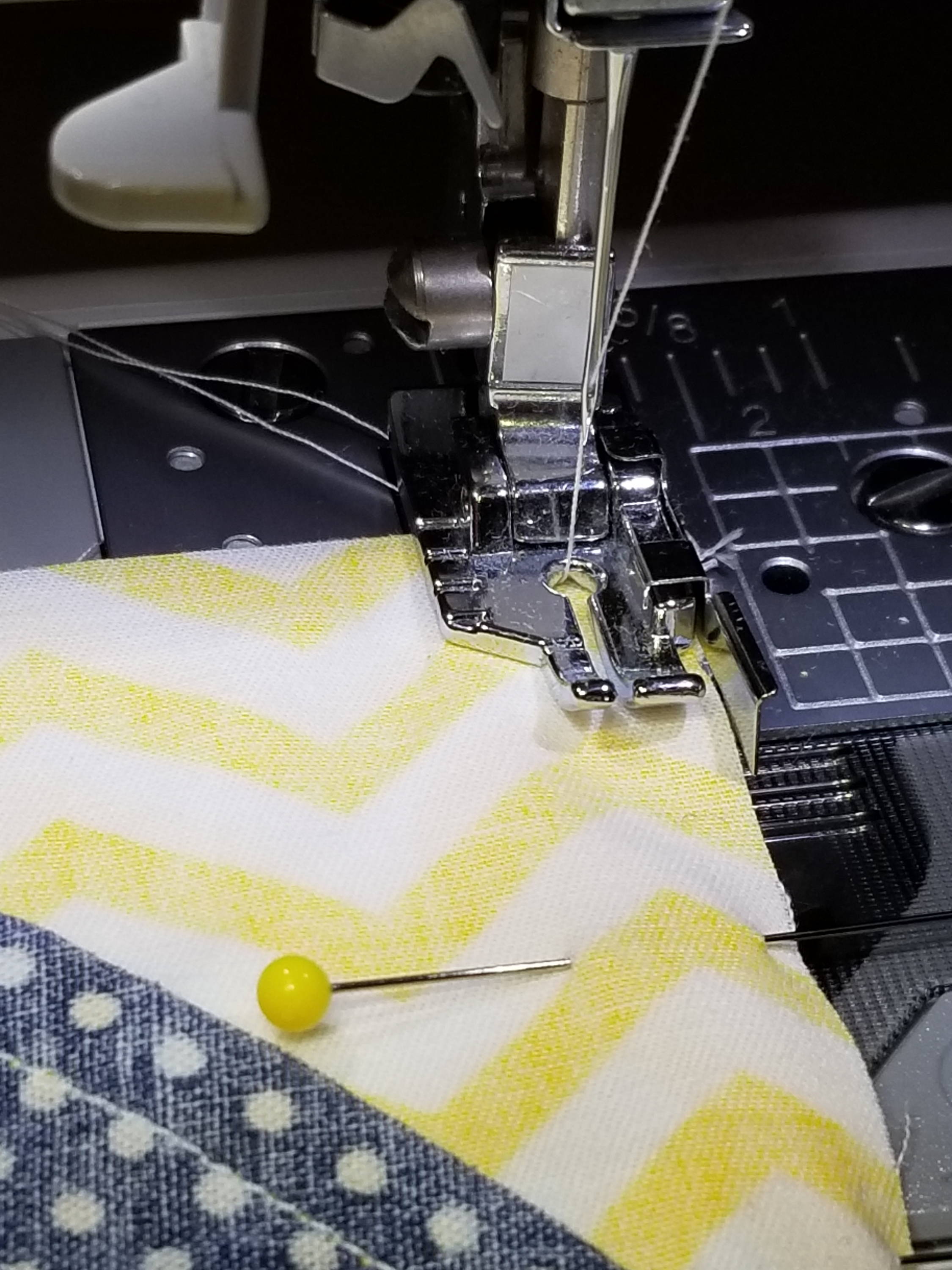 Step 11: Now that your square is sewn together and looking awesome, we cut and attach the borders. This square measured about 9x9 and since I didn't want it too big. I cut the top and bottom borders 1 ¾" wide and 9" long. Pin the borders and sew ¼" seams.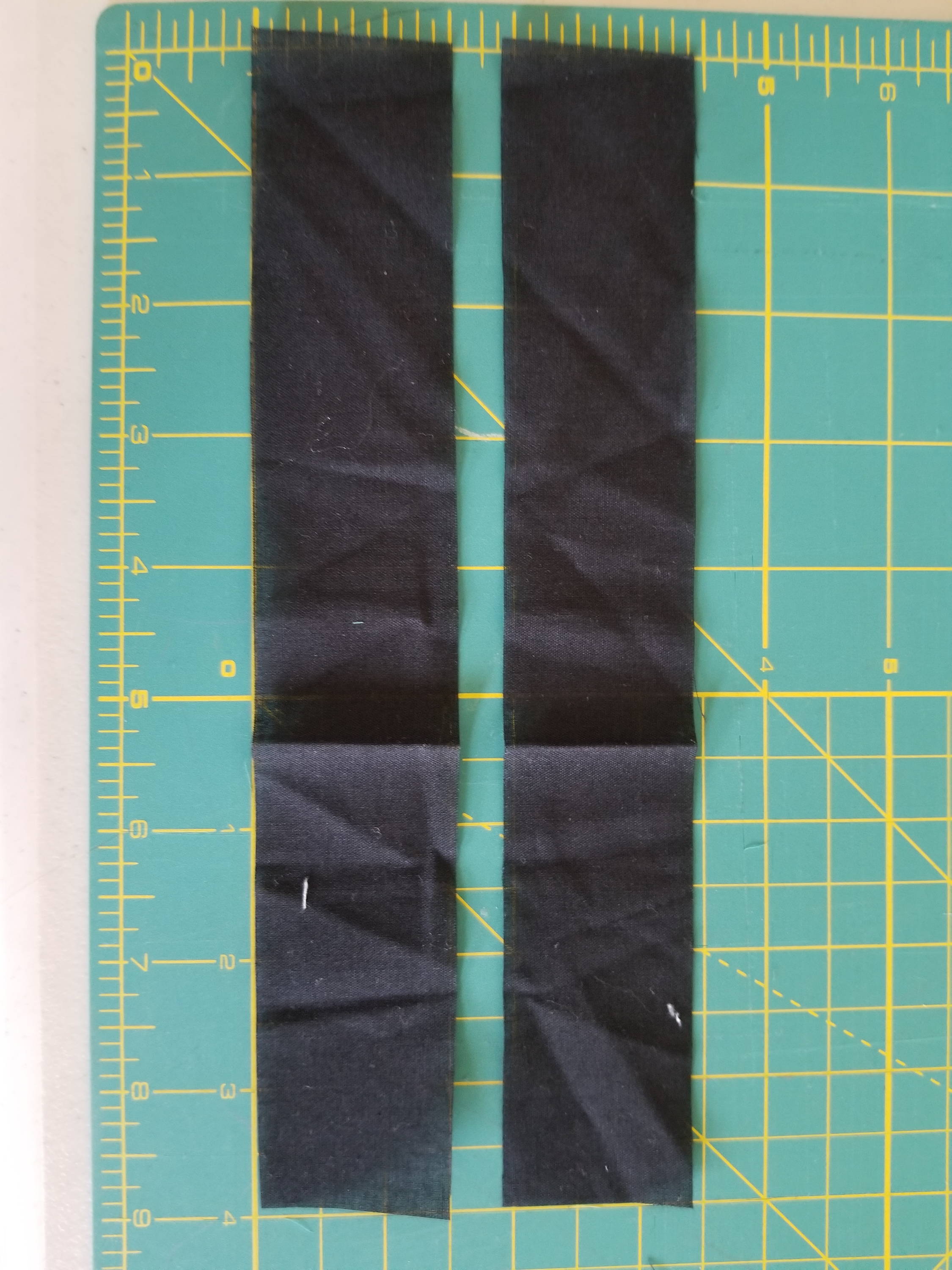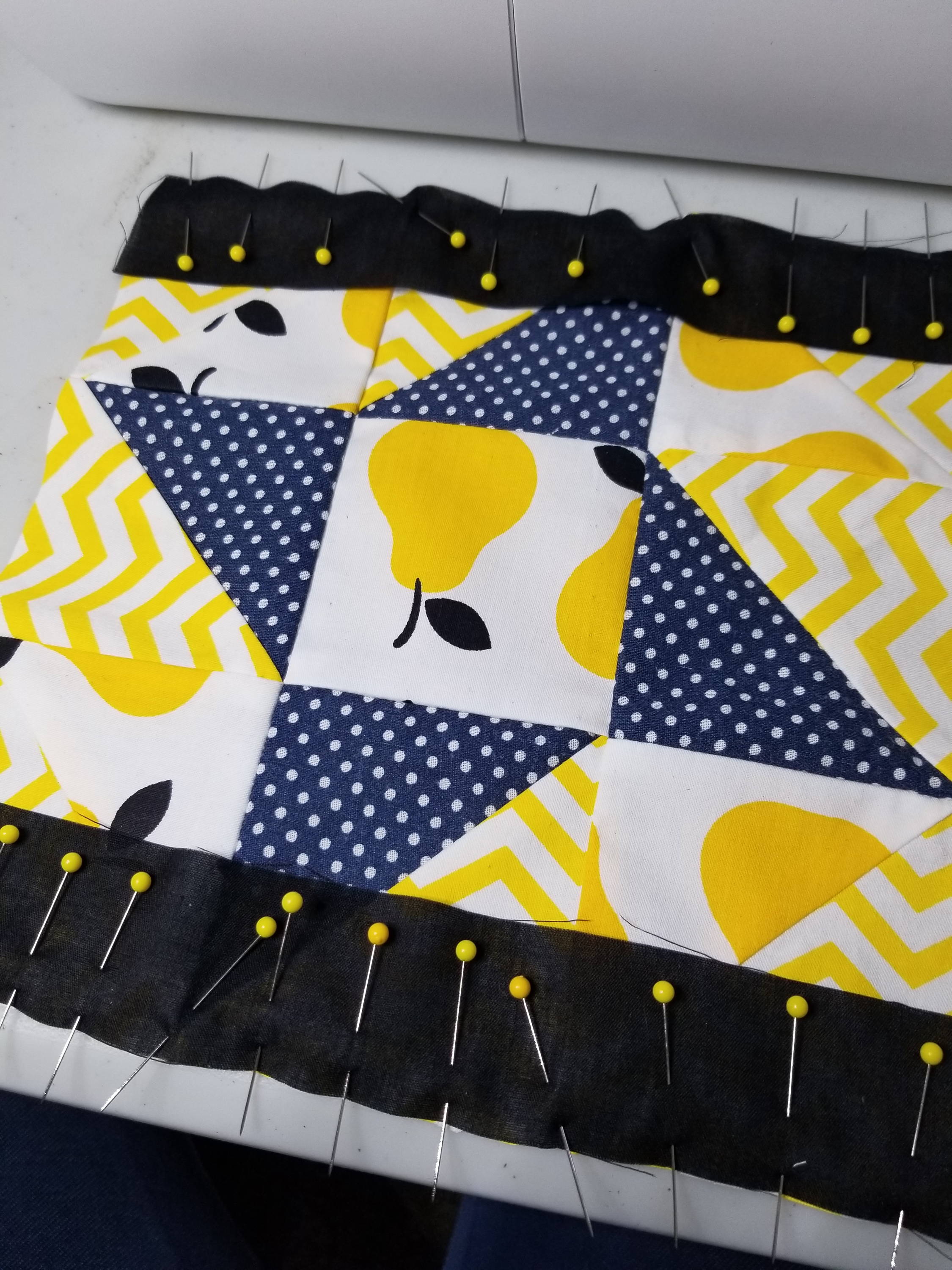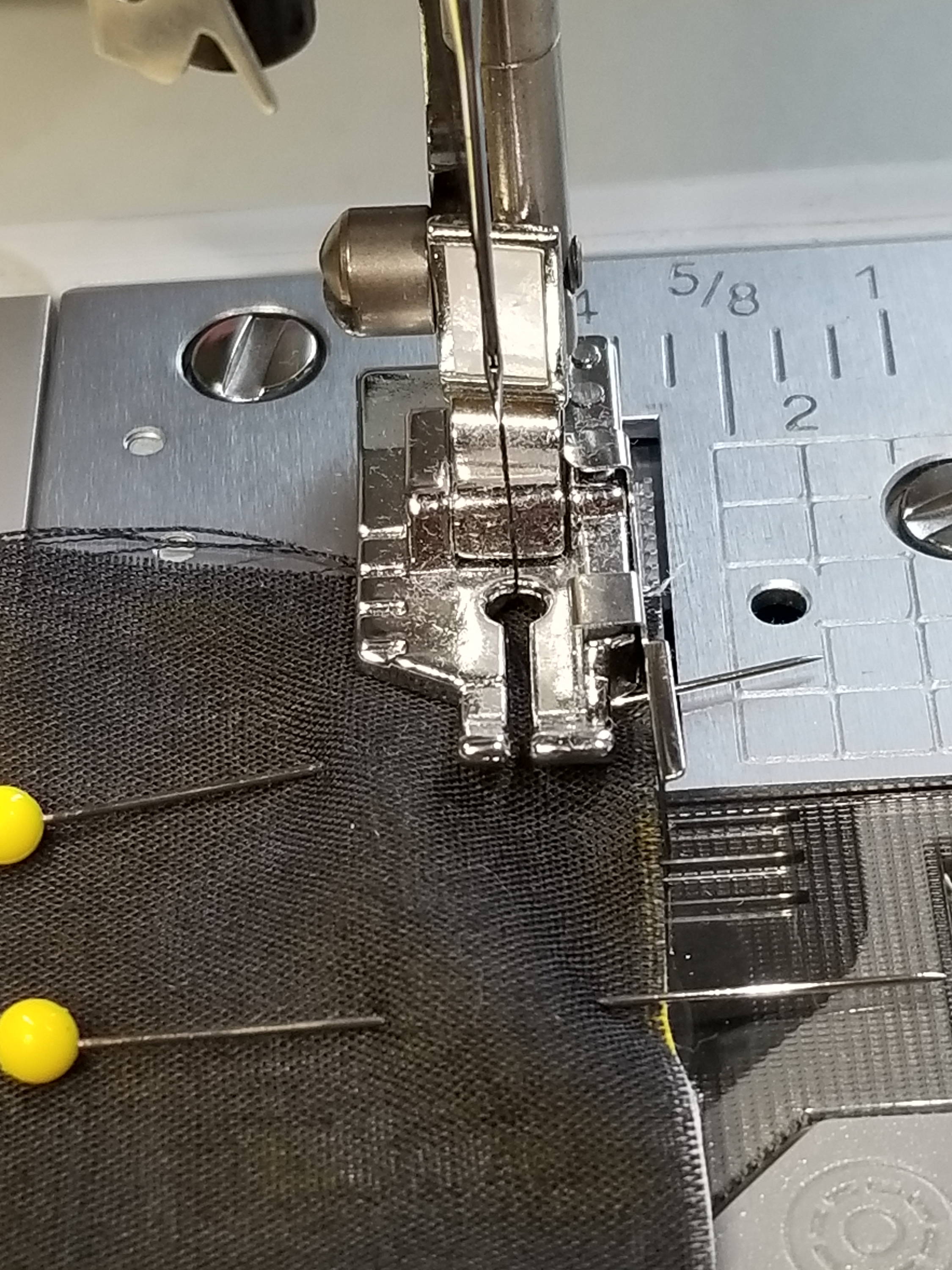 Step 12: Cut the side borders, taking the extra inches added by the top and bottom borders into consideration. I cut the side borders 1 ¾" wide by 12" long since my top and bottom borders added an extra 3 inches. Pin the side borders, and sew your ¼" seams. Press your seams so your square lays flat and looks amazing.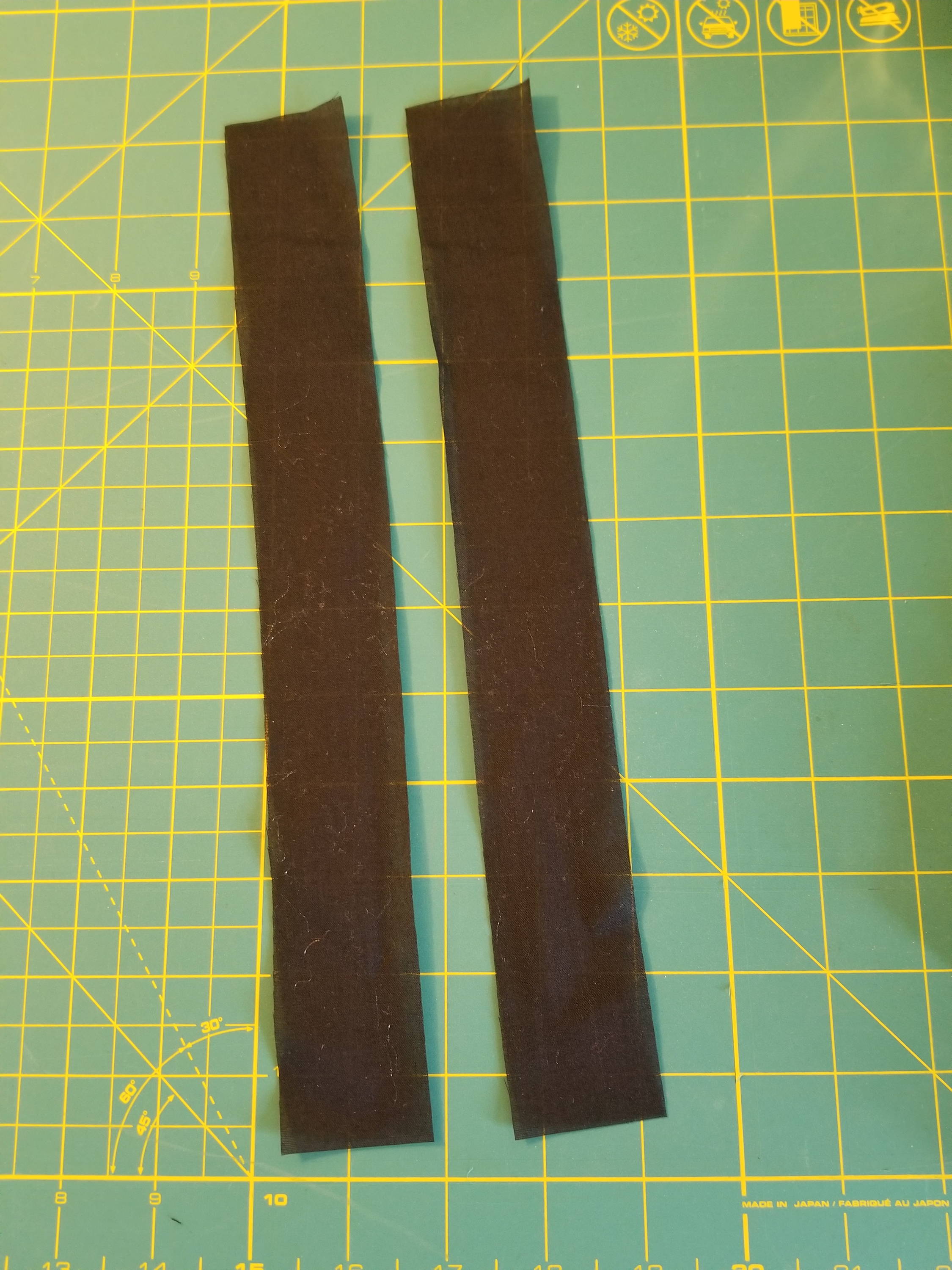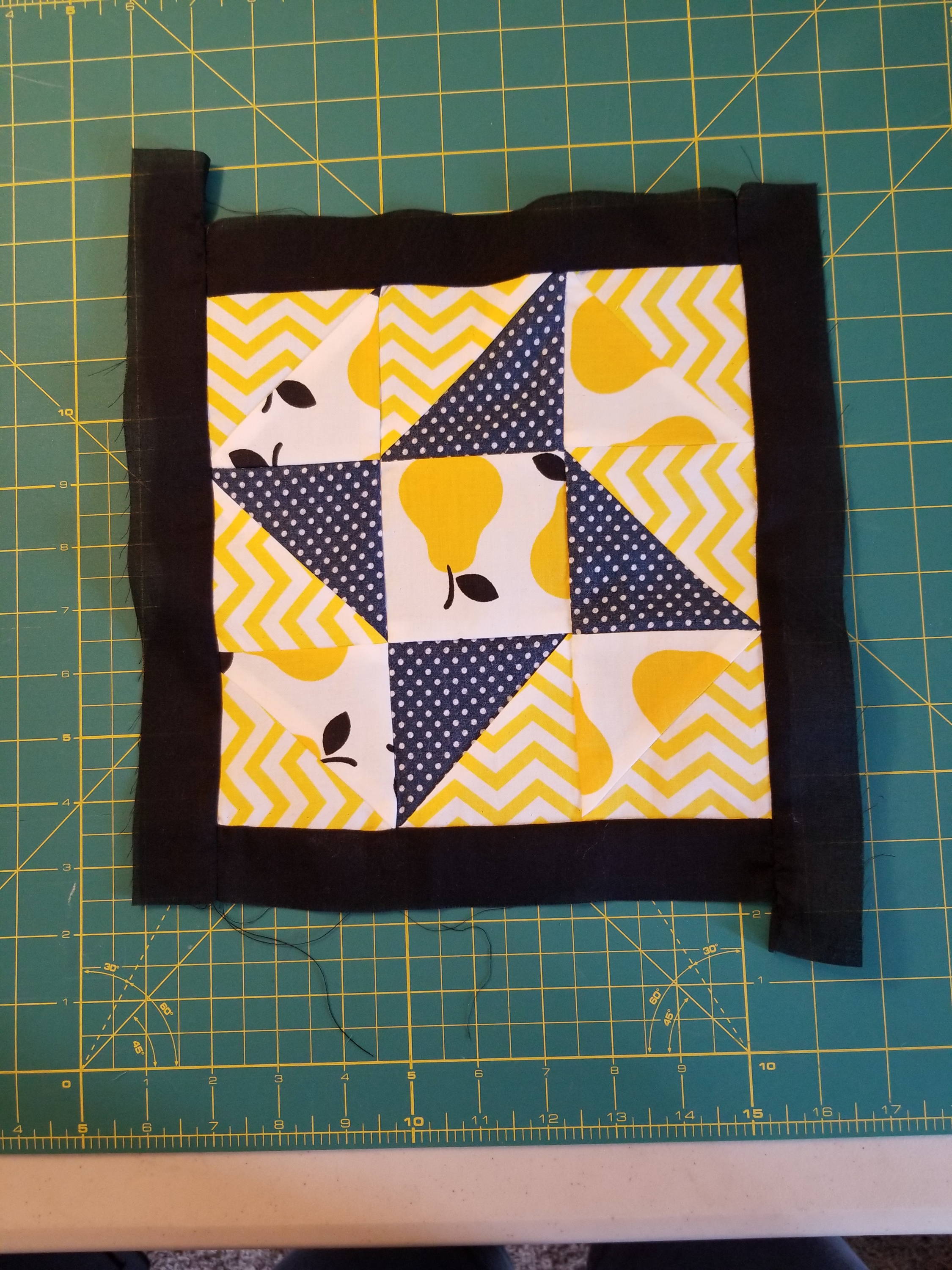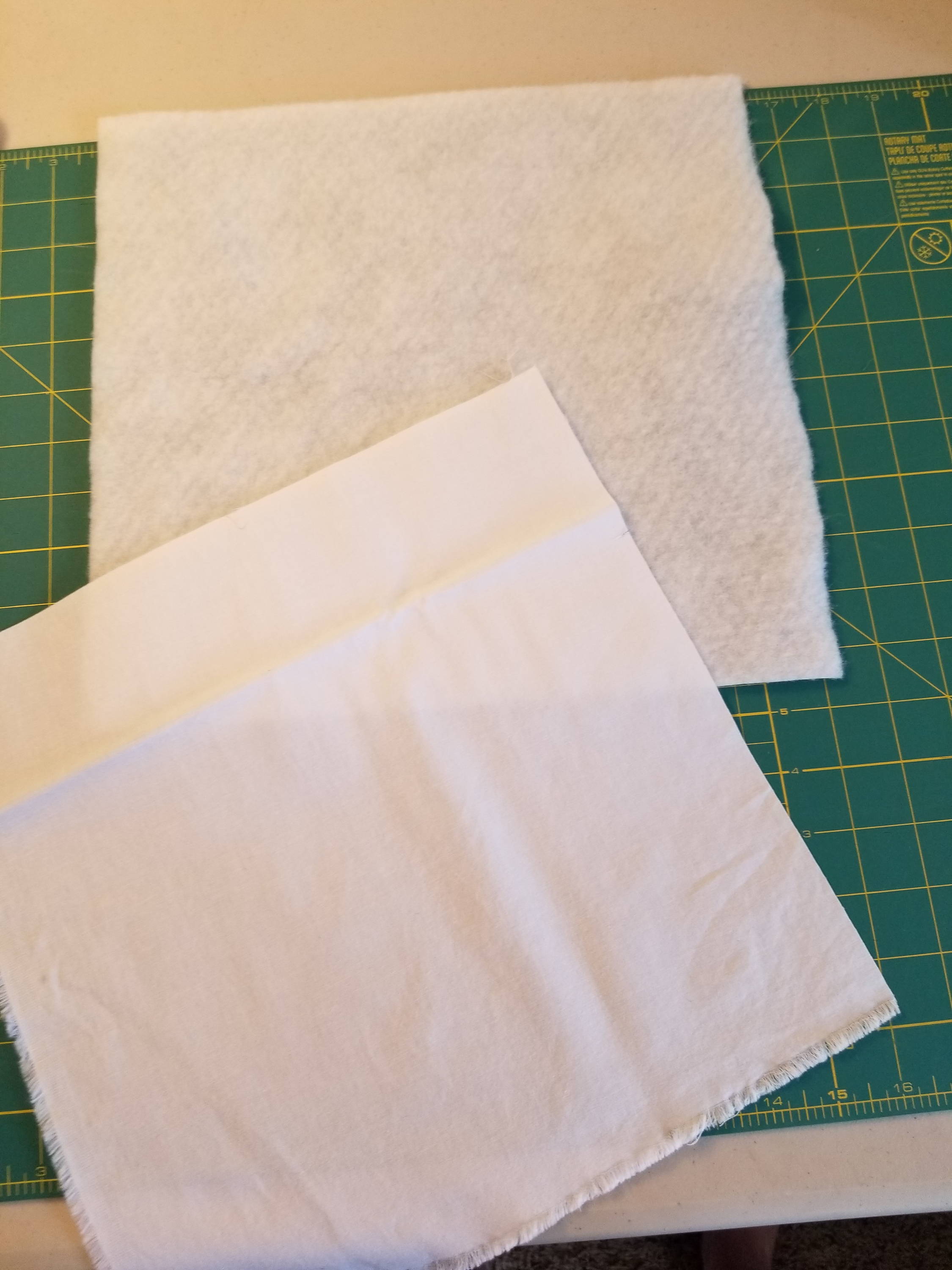 Step 13: Cut your batting and your lining fabric the same size as your bordered square. Make your quilt sandwich starting from the bottom up- lining, batting, and then your square. I used my 50pc clip set to hold my sandwich in place and they held that sandwich together very well and I didn't have to mess with pins.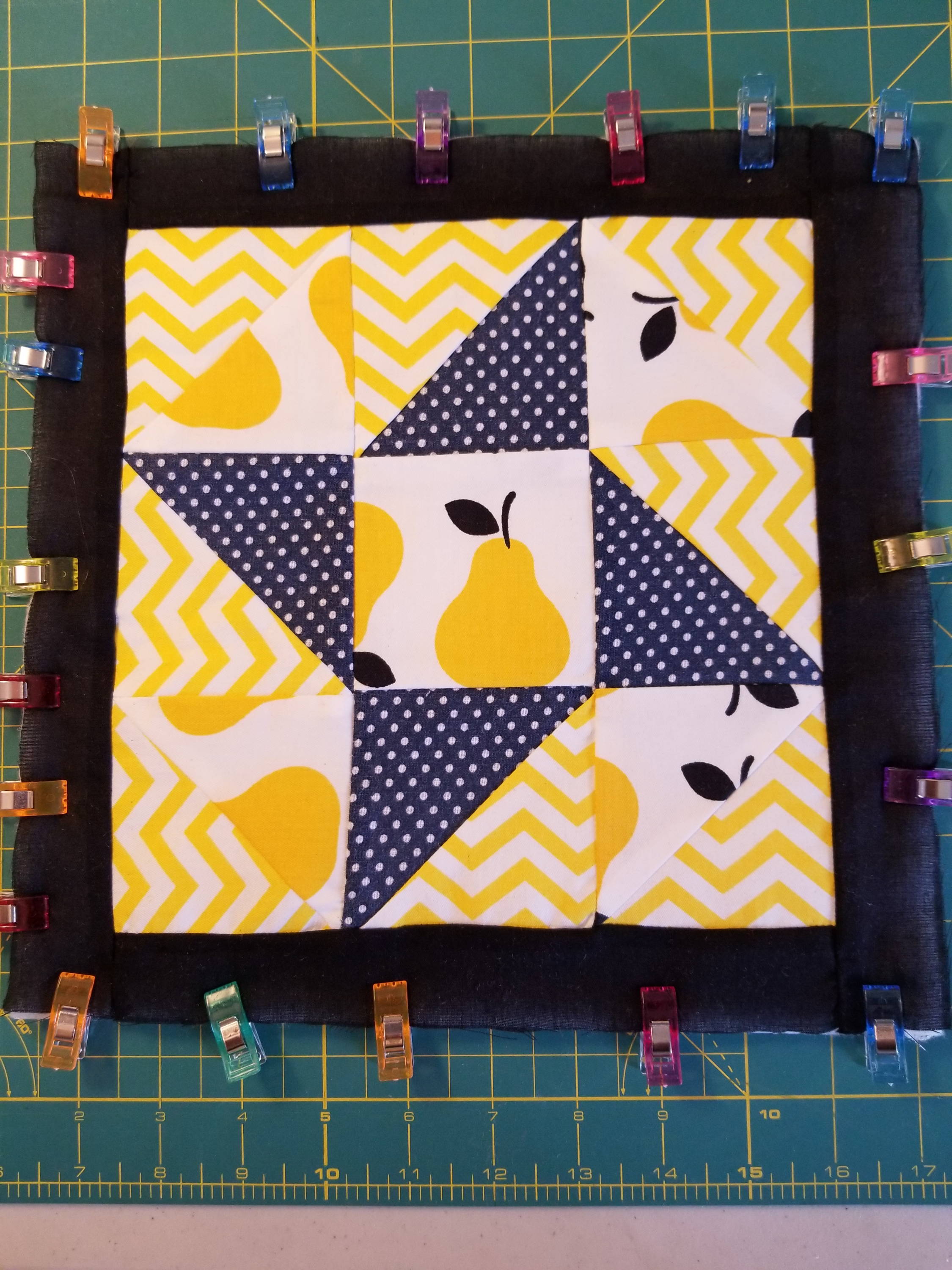 Step 14: Attach your edge joining foot (#27). I decided to use this foot and do stitch-in-the-ditch quilting. Align the guide in the center of the foot with your seam and center your needle. As you sew, if the guide is going right along your seam then you'll get professional looking stitch-in-the-ditch. I used white thread for quilting the main square and then switched out to black thread for the borders.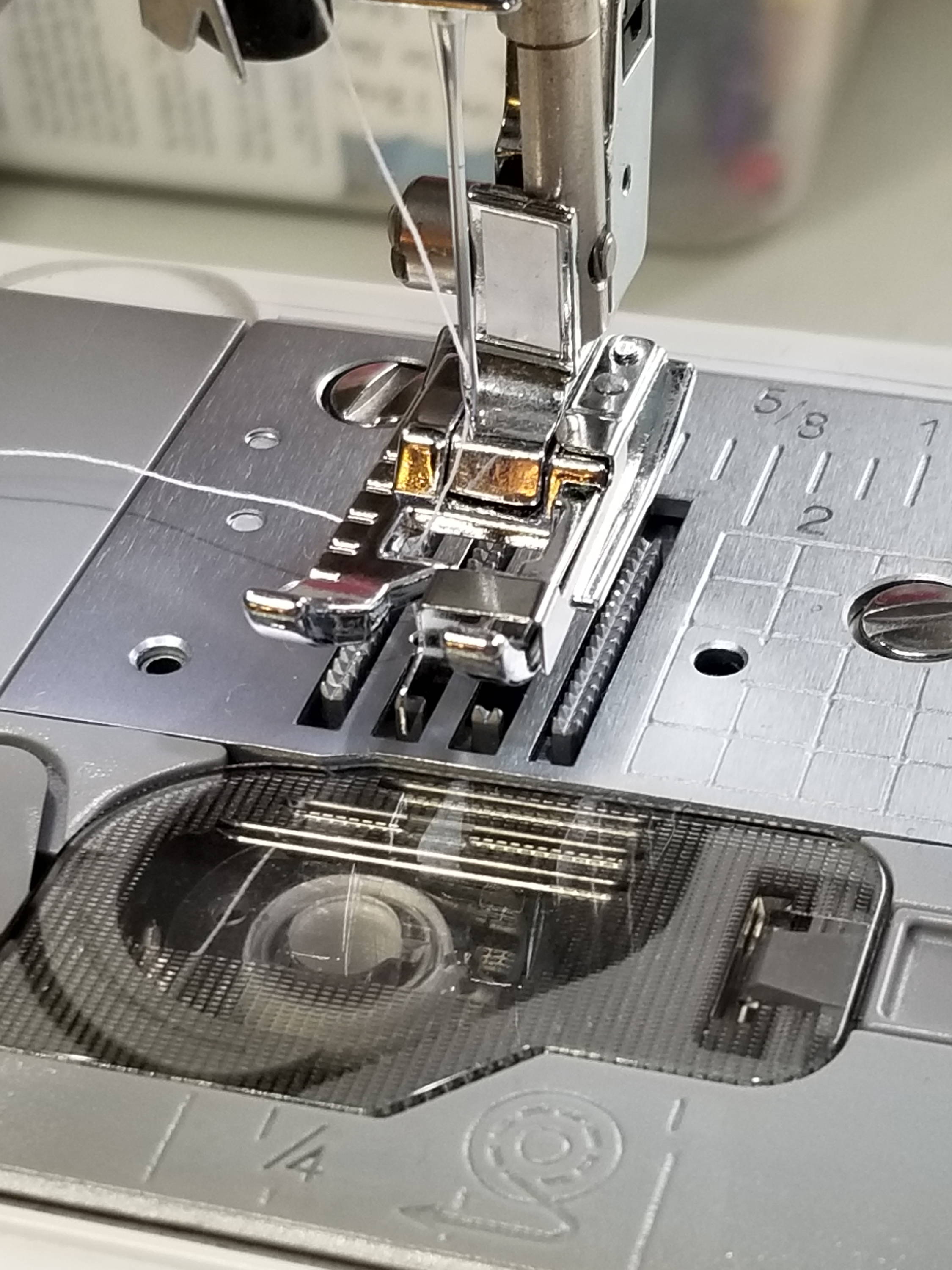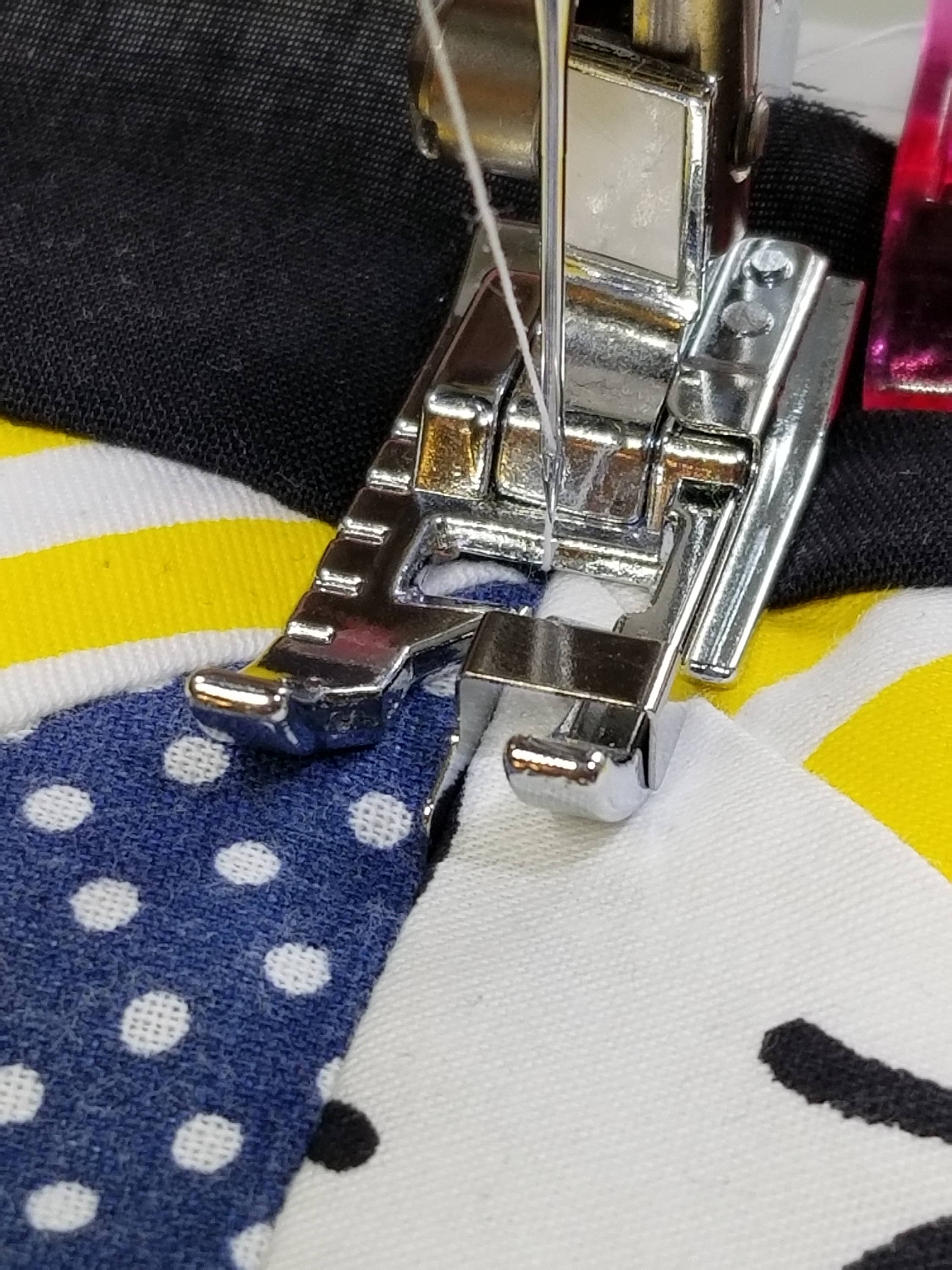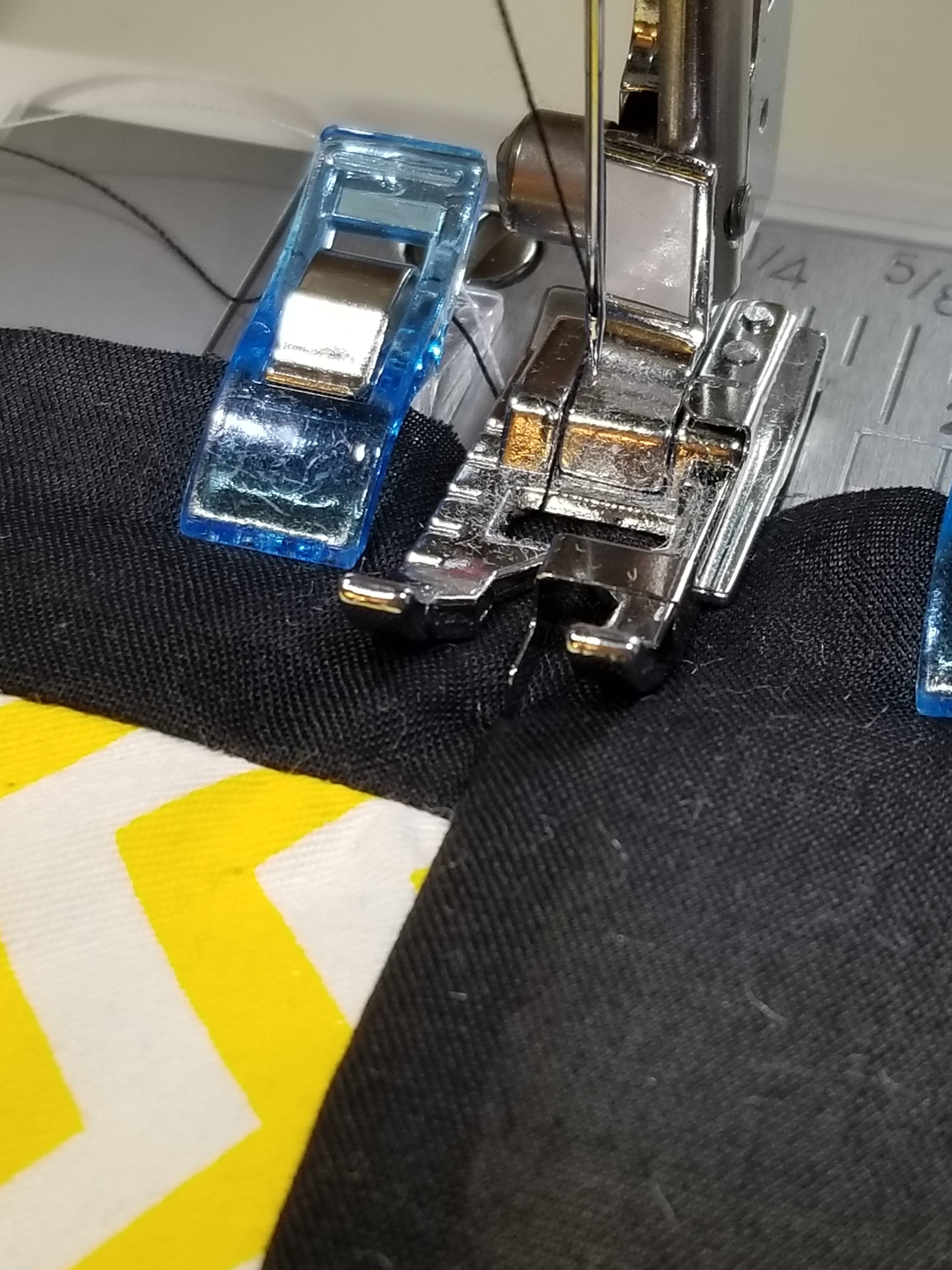 This is what the square looked like when I was done. .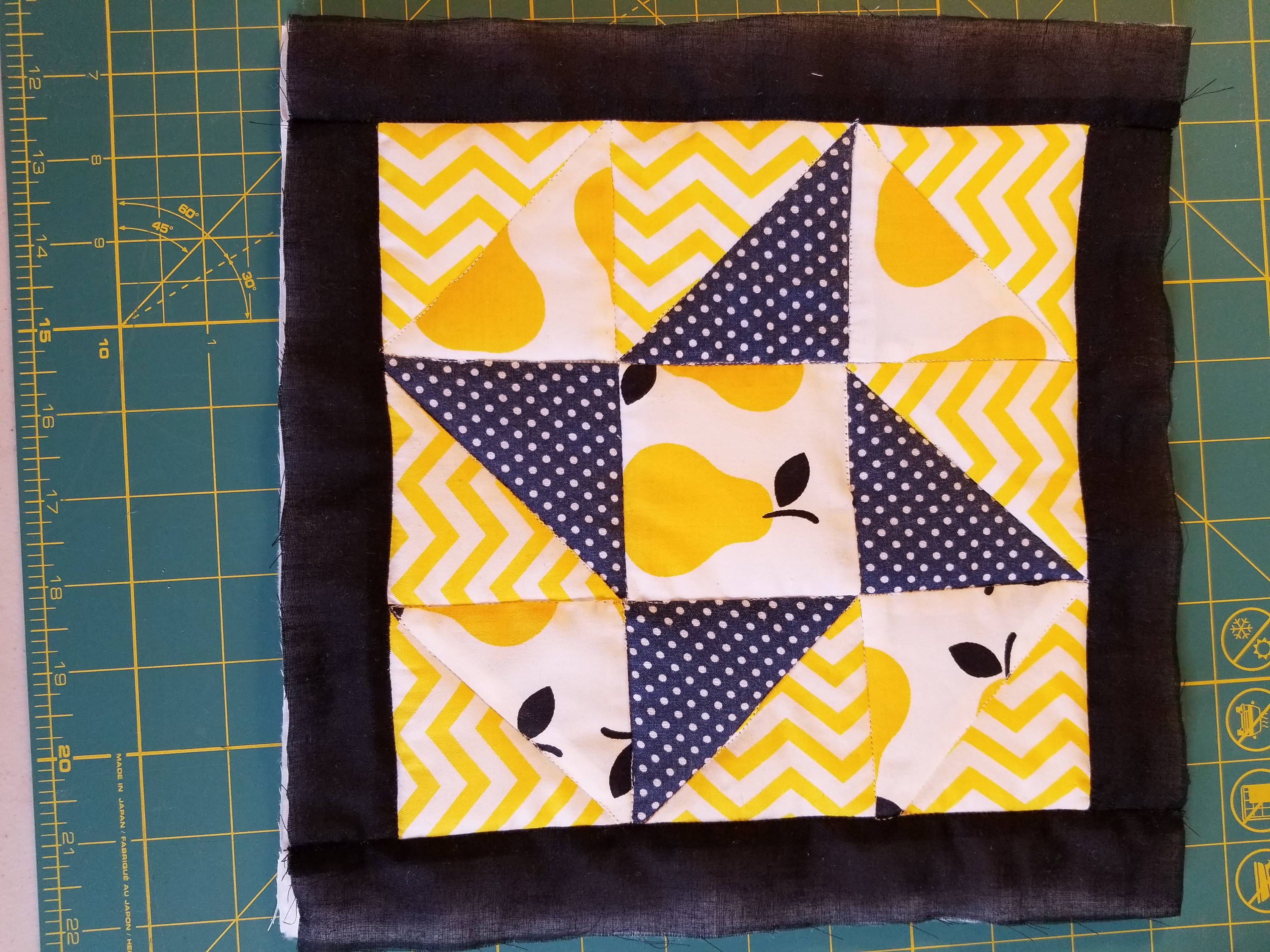 Step 15: For this project, I decided to do an envelope back. To do this, you want the width to be same as your top, but add 4 inches to your length. My pillow top was 11 ¾" wide, so I cut my back 11 ¾" wide and 15 ¾ " long.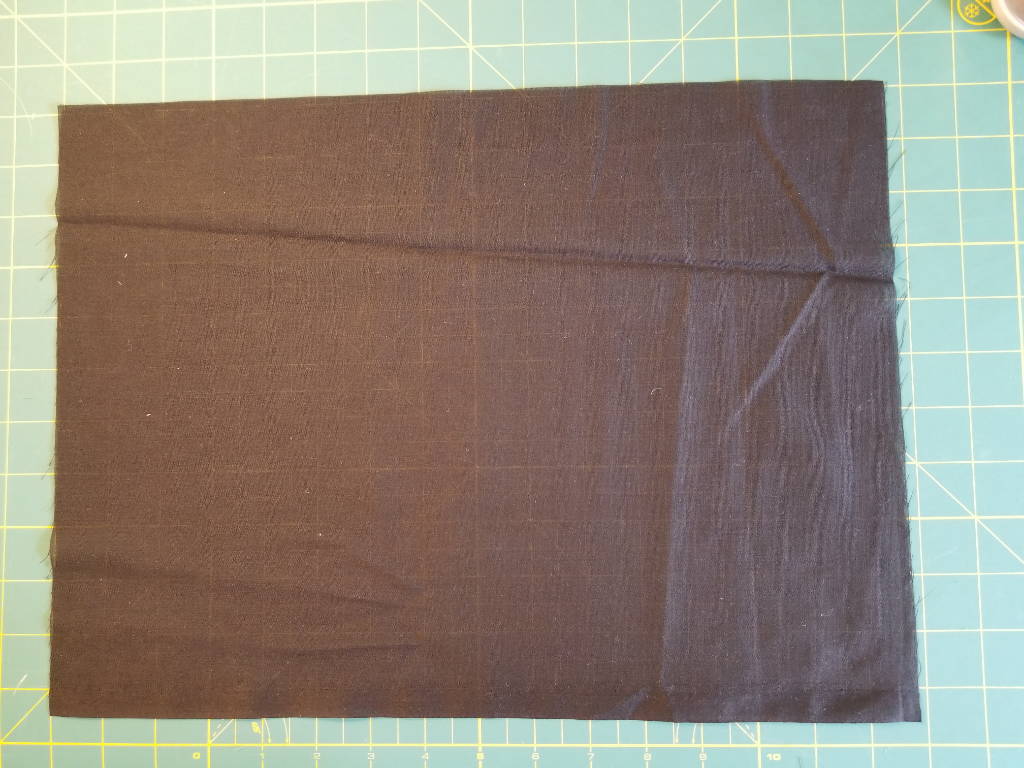 Step 16: Now you cut this piece exactly in half and you have 2 equal back pieces. Mine measured at 7 ⅞". From here you measure over ¼" and press. Fold it over again so it measures ¼". Now you've created a double fold hem. Clip or pin and sew along the edge. I used my ¼" quilting foot with guide for this part.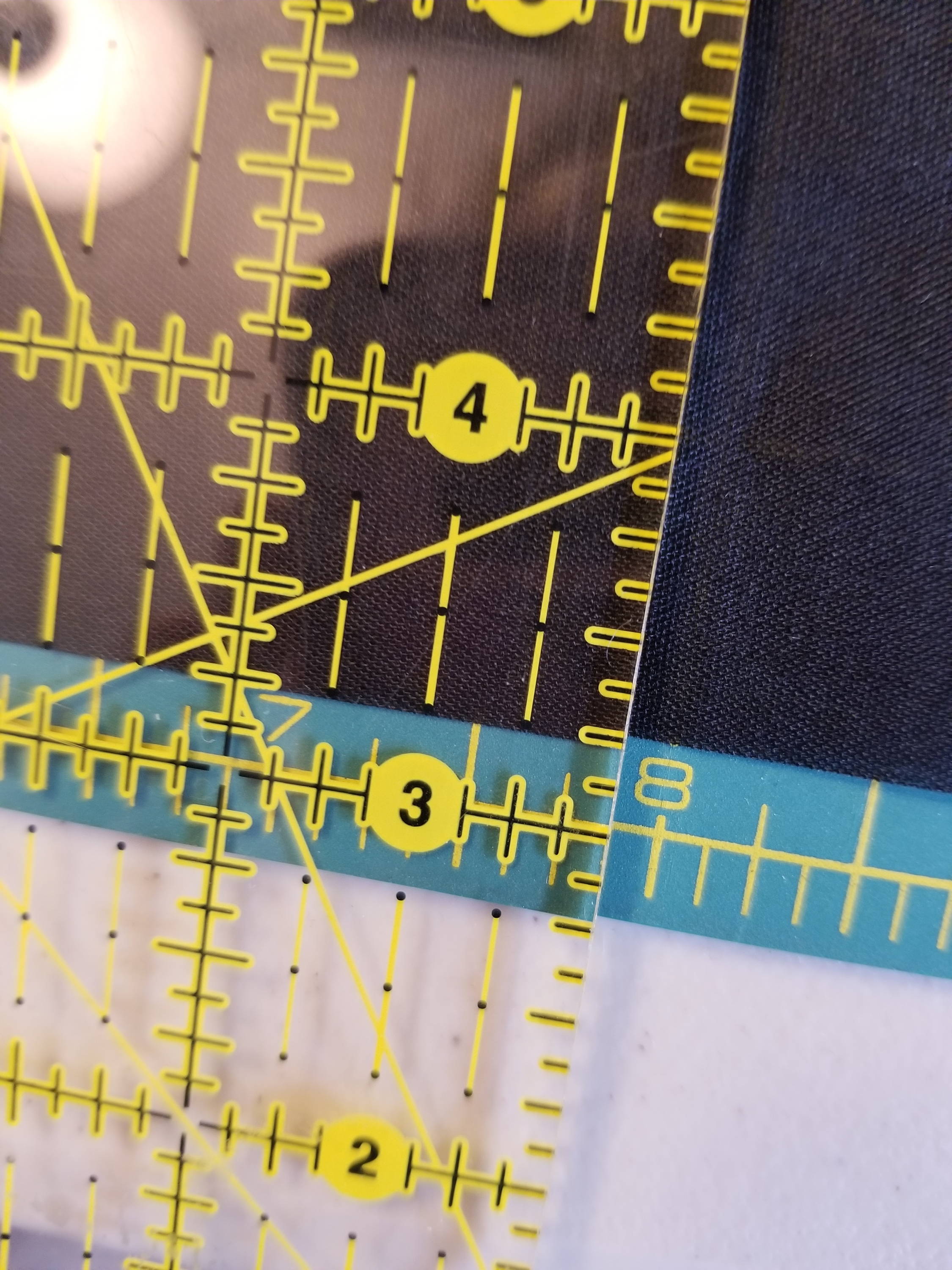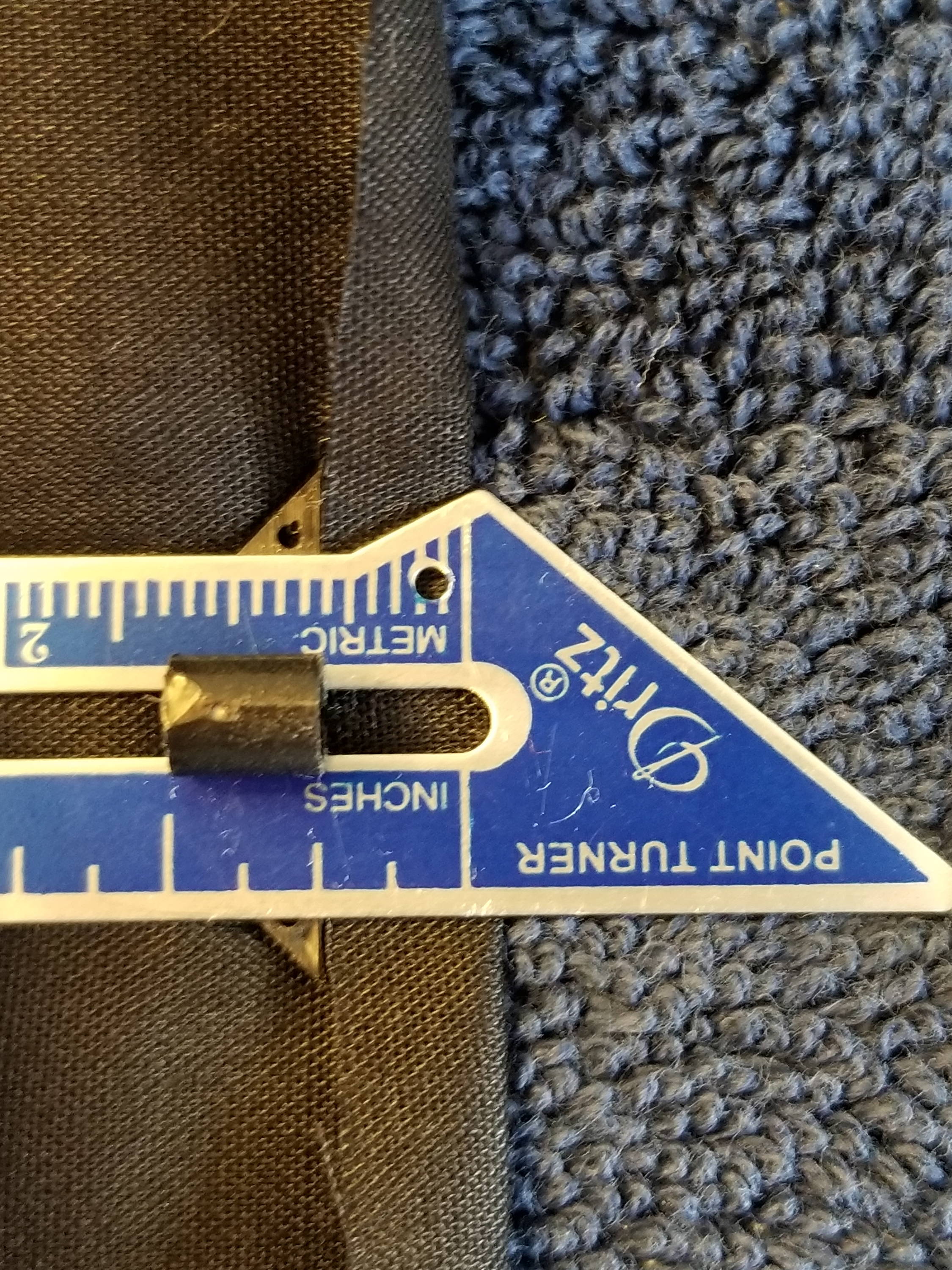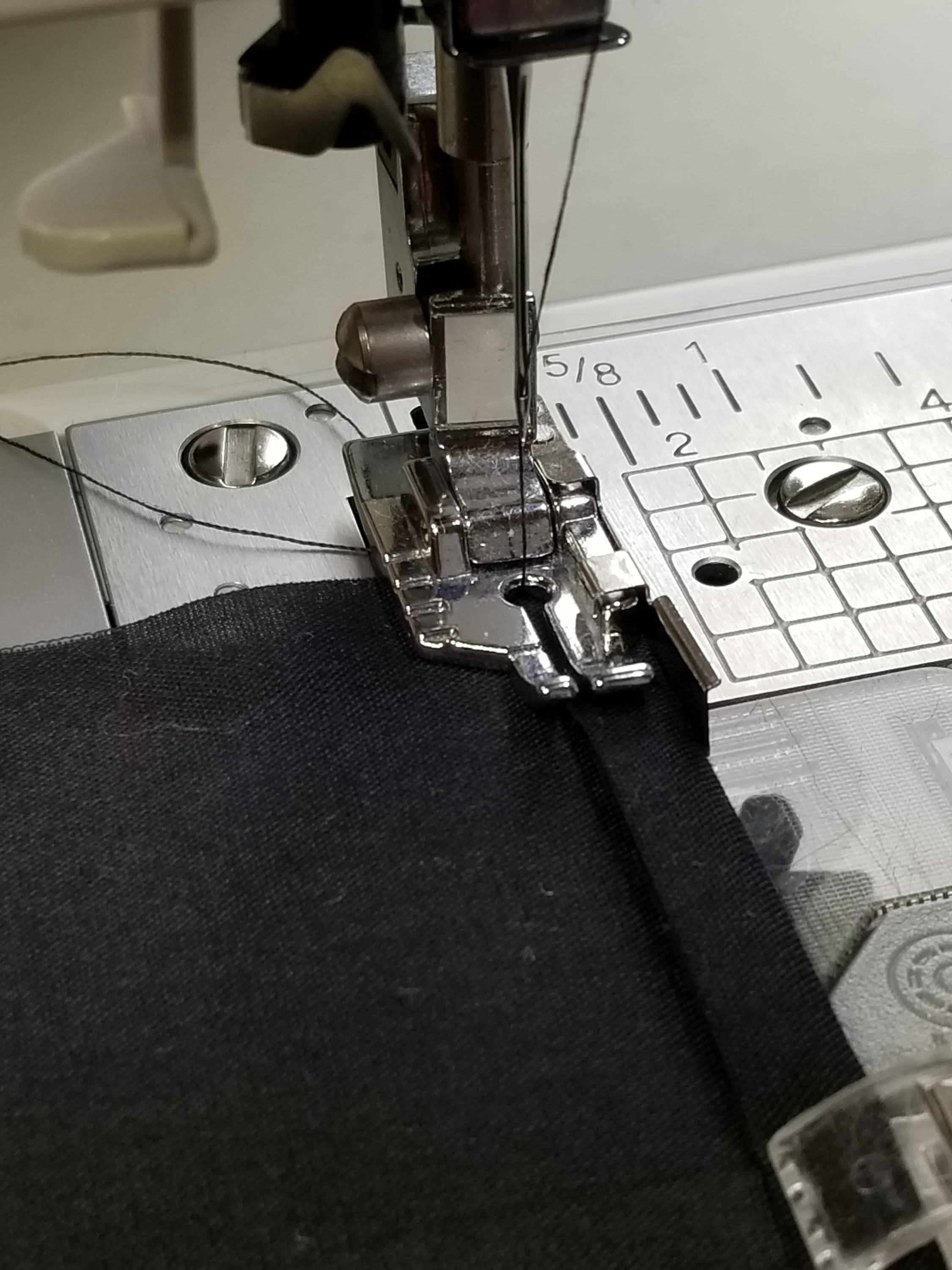 Step 17: Lay your back pieces, right sides together with your top, matching your raw edges. The pieces will overlap in the center. Sew a ¼" seam all the way around. Once your seam is sewn, clip your corners at an angle to help reduce bulk.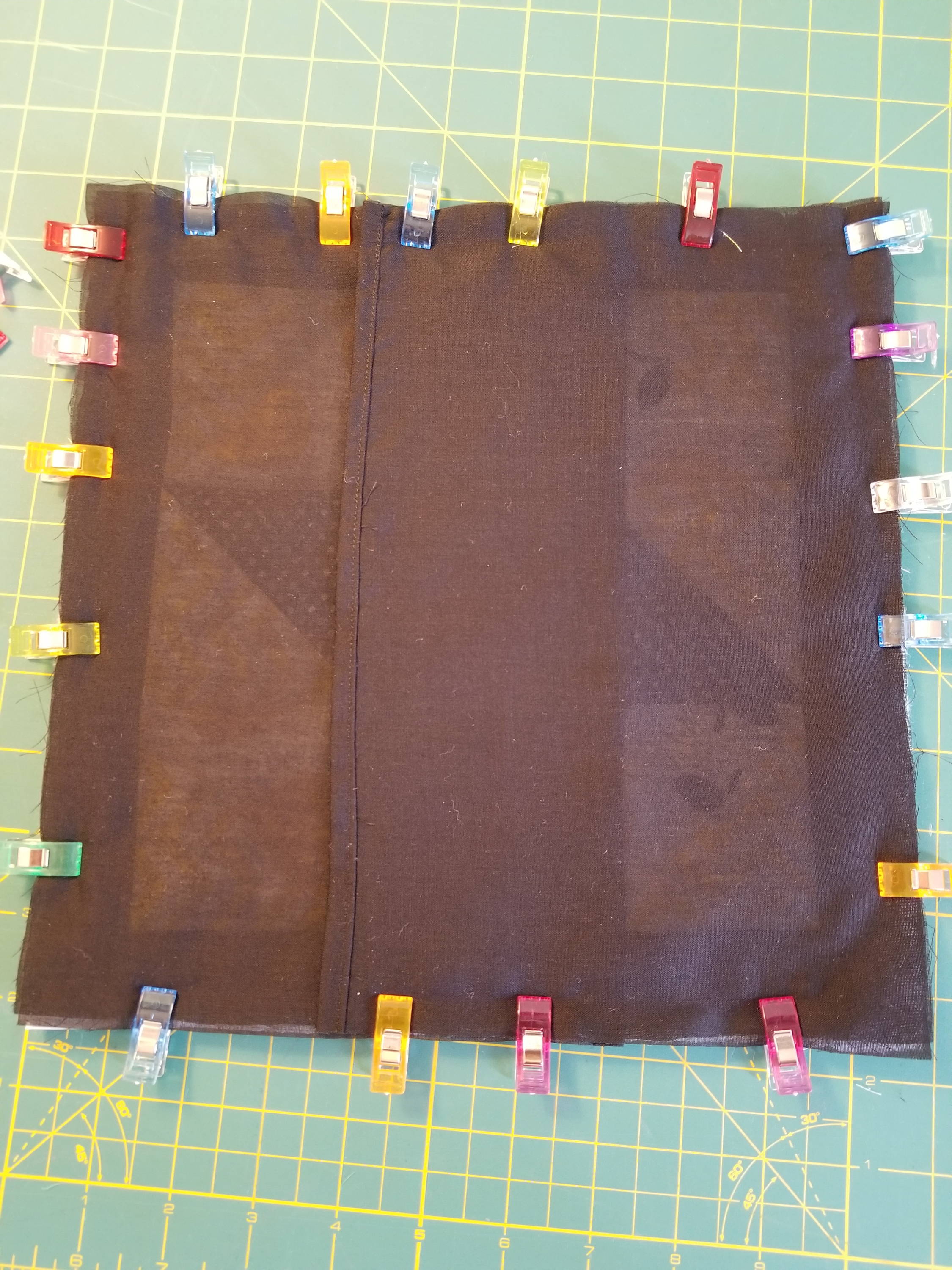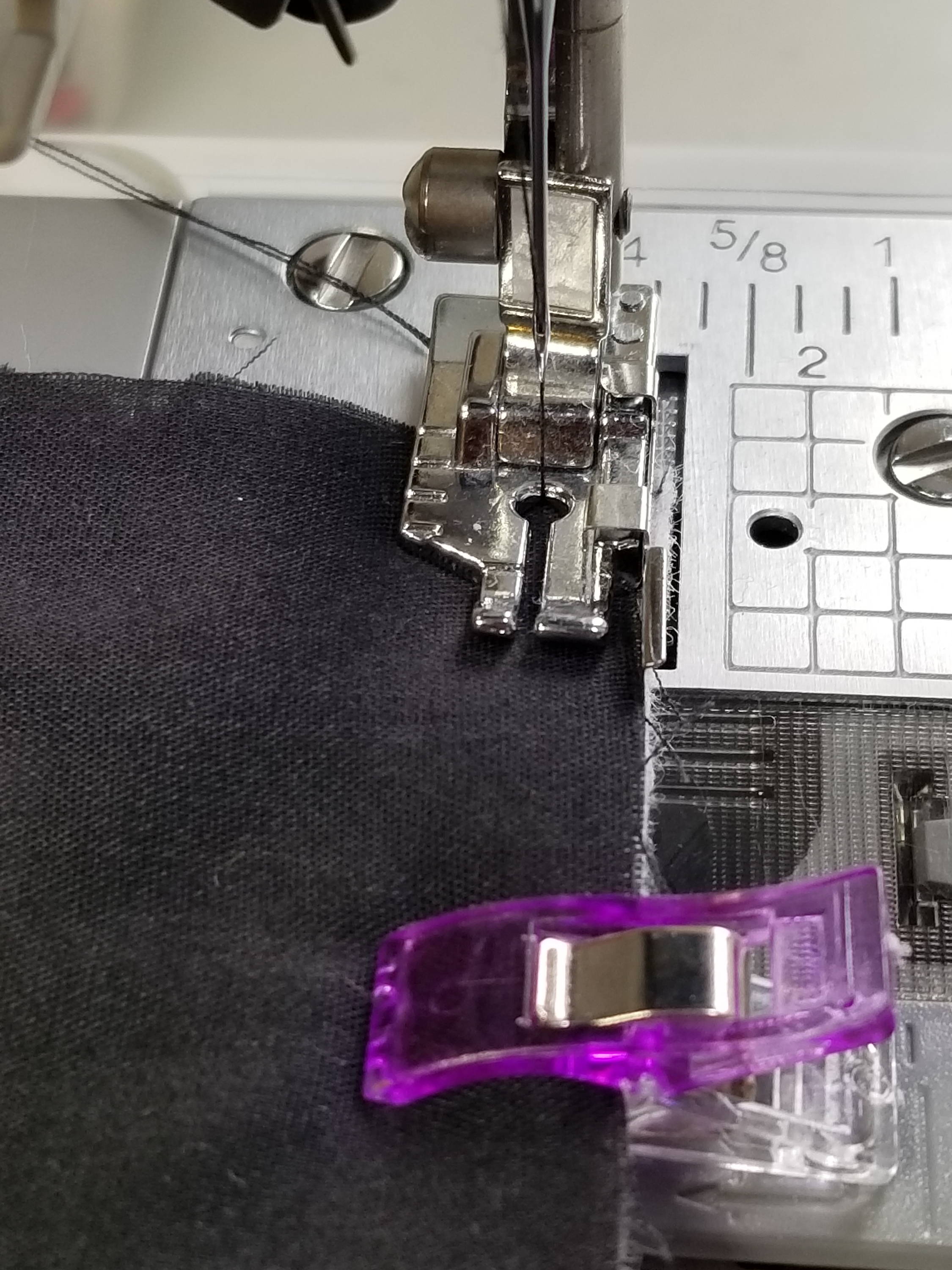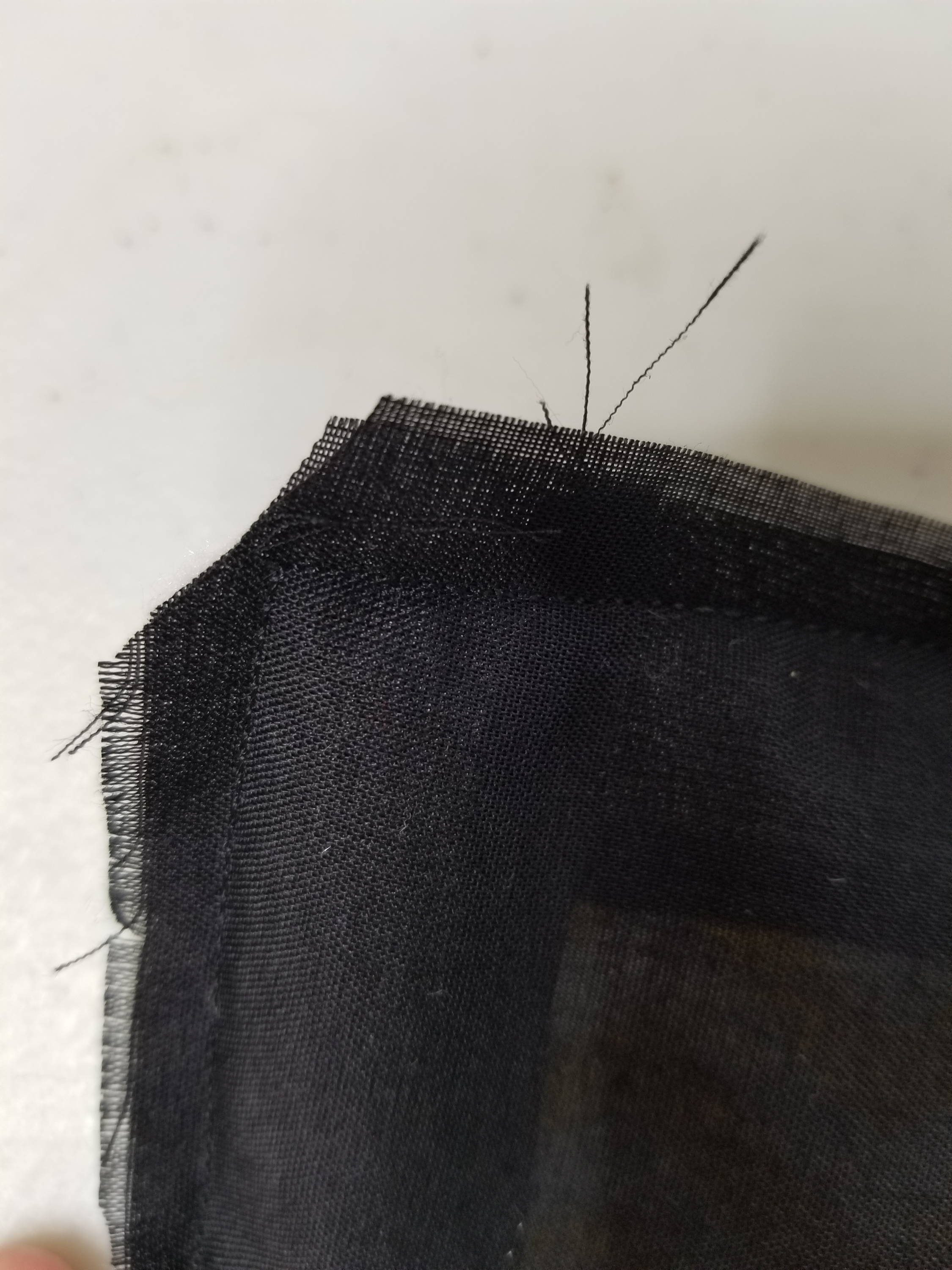 Step 18: Flip your pillow cover right side out through the envelope opening. Push out your corners using your fingers or a corner turner to achieve that crisp corner.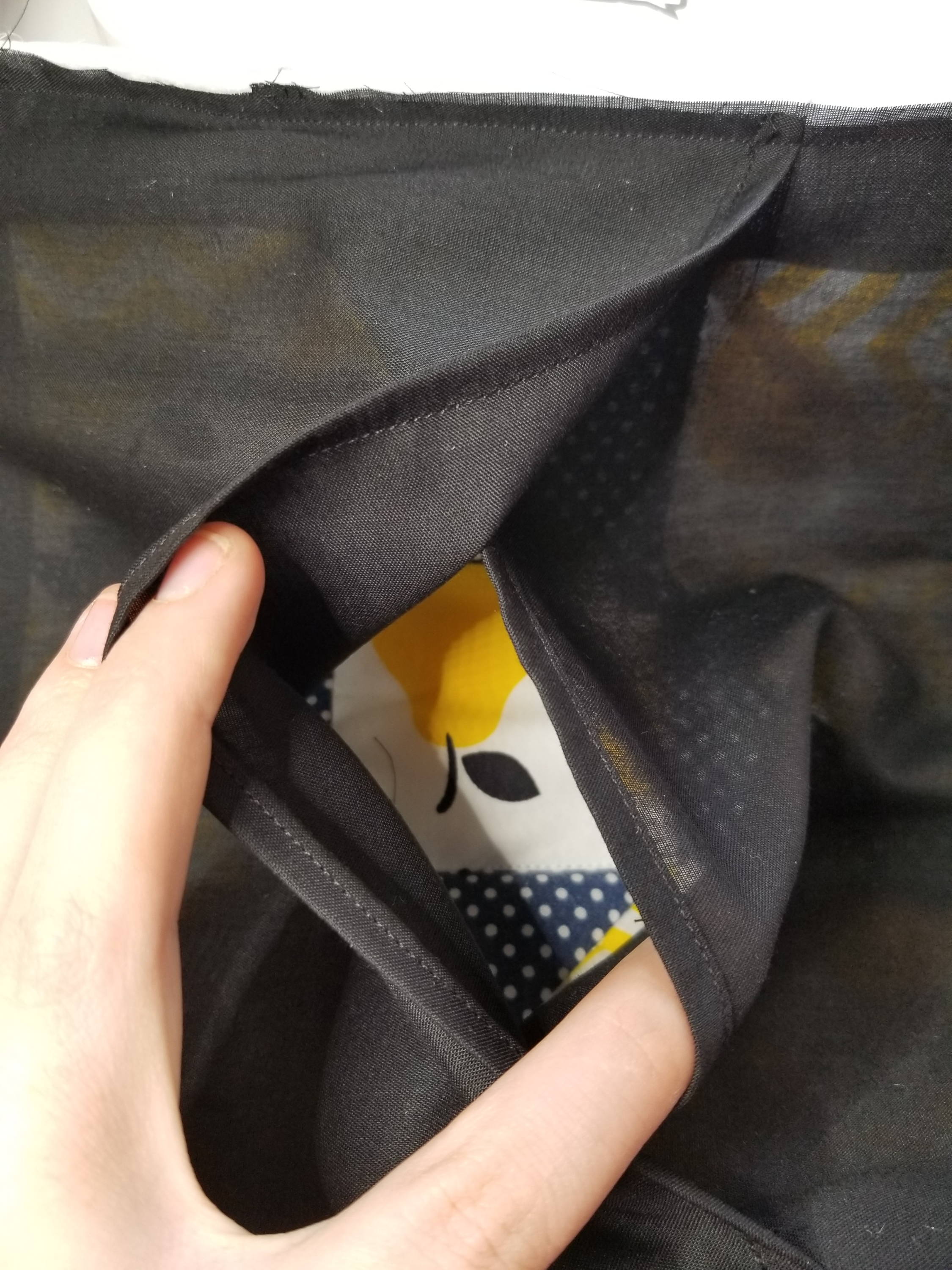 And there you have your pillow cover! This can be machine washable, depending on the fabric you use!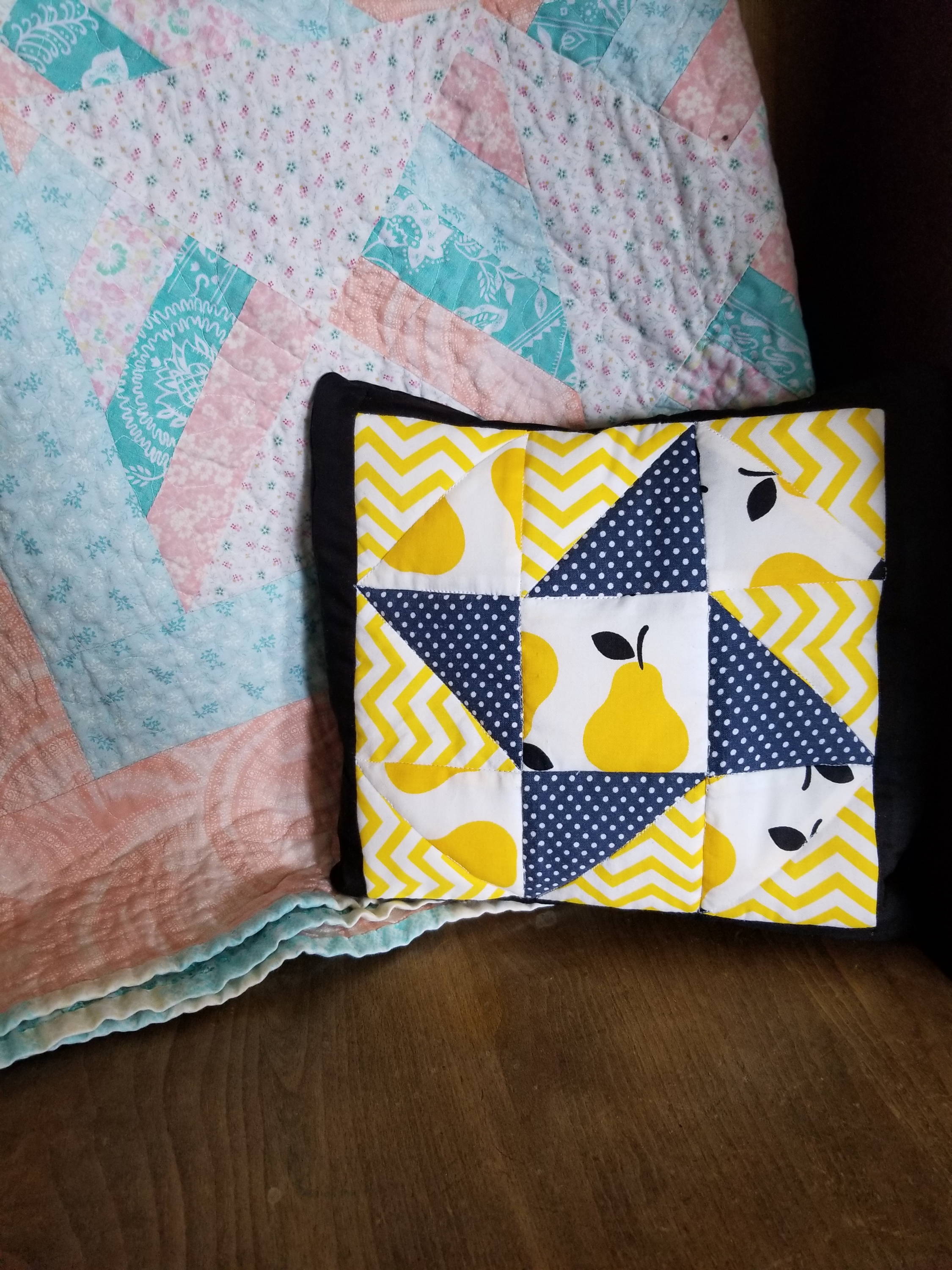 This one was a little more involved with the design, but that's the beauty of creating. You can make a pillow cover as simple or as intricate as you like and when you want a change- make a new one! Let us know in the comments what kind of fabrics you like to use in your home decor!