What Are Jelly Rolls in Quilting?

Have you ever wondered what are Jelly Rolls in quilting? If you are new to sewing or quilting, hearing the term Jelly Roll when referring to fabric cuts might be a bit confusing. In this blog, we are going to try to demystify this yummy term. If you are not new to quilting, we hope you still learn a few neat things, in this informational blog about Jelly Rolls, that you didn't know before. So, read on and when you are done…let us know how you roll with Jelly Rolls.
So…Is it jelly being rolled onto a piece of toast? Or a coffee roll for breakfast?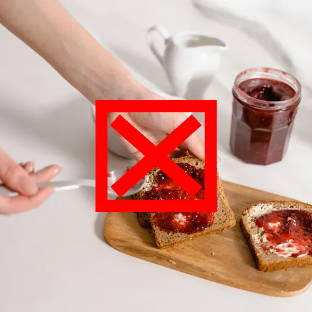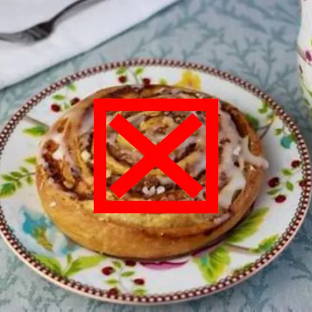 No, but you might have some of those while you read this blog and contemplate what projects you will make with Jelly Rolls in the future.
Fabric Jelly Rolls - What Are They?

Jelly Rolls are rolls of high quality, cotton fabric cut into 2 ½" x 42-45" WOF (width of fabric) strips of coordinating or single-color fabrics, rolled together into a circle and tied together into a bundle. Yes, to me, they kind of look like a cinnamon coffee roll, which if you want to know, is one of my favorite treats. But I digress.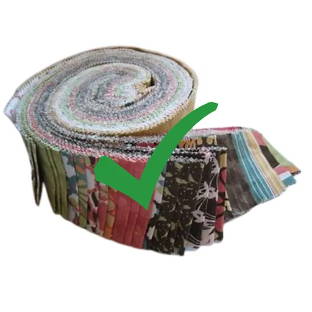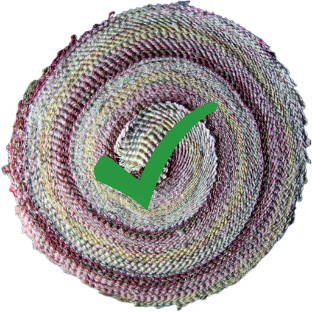 The term Jelly Roll when referring to fabric was coined by Lissa Alexander, of Moda Fabrics in 2006 to identify Moda's precut fabrics from its designers. The first Jelly Rolls hit stores in 2007. Since then, other companies, designers and even some quilt shops have created their own versions. Jelly rolls can be purchased in retail fabric stores, quilt shops and online.
Moda's Jelly Rolls come in two sizes:

1. Jelly Rolls which have 40 strips of fabric. They often have two strips of each fabric design, and the total roll comes in at just under 3-yards (typically 2.75 yards) of fabric.

2. Junior Jelly Rolls (JJRs) which have 20 strips of fabric and are often used for smaller fabric lines.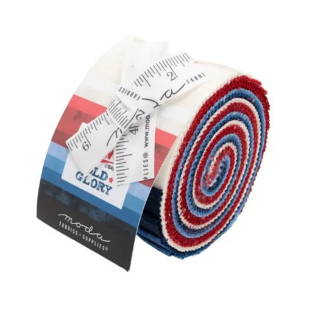 Though they can't be eaten, fabric Jelly Rolls sure are a fun way to get a little "taste" of the fabrics in a designer's line.

Bonus Rolls: Honey Buns are 1 ½" wide strips, made into rolled bundles! Oh, the possibilities!
Jelly Rolls - By Another Name?

Though most of us know them as Jelly Rolls, these fabric bundles are referred to by other names as well. And they also might include more strips (42-44) than those in the Moda Jelly Rolls.
Examples of these other names are: Roll ups, Rolie Polie, Design Roll, Fabric Roll, Pops, Bali Pops, and Strip Sets. The one thing in common is their width and how they are bundled together.
Some popular fabric jelly roll manufacturers/designers include: Moda, Robert Kaufman (designer), Riley Blake (designer), Free Spirit, Maywood Studio, Tilda and more!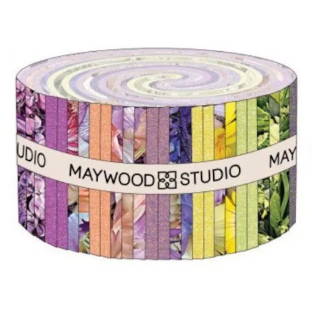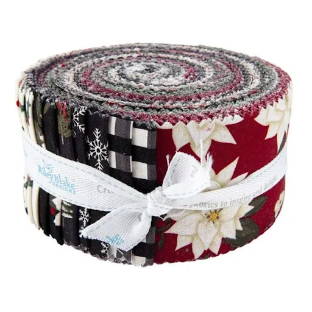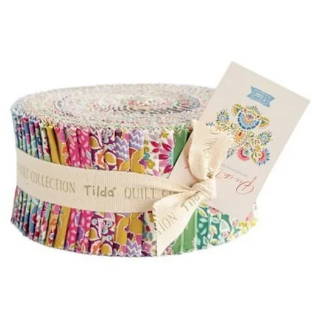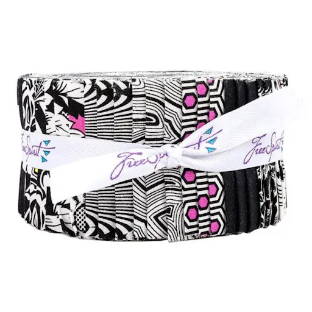 Jelly Rolls - Time Savers

Jelly roll fabrics, because they come from a designer's collection, coordinate with each other. This is a huge time saver when you are trying to pick fabrics for a project. It also gives you peace of mind that no wrong choices have been made as all of the fabrics in the particular roll will go together!
So, instead of spending hours upon hours choosing coordinating fabrics, you can get on with your project. Of course, many of us, including me, feel that spending hours upon hours in a fabric store or quilt shop is a lot of fun. And if you want to do that, you sure can!
Another way that these precuts save time is in the cutting. Can you imagine how long it takes to accurately cut 40 strips of 20 different fabrics each 2 ½" wide? I know that some of us have done it, and well….it takes a LOT of time. These precut bundles are super time savers since someone else has done all of the cutting for you so you can jump right into your project. How nice is that?
Jelly Rolls - Am I Stuck With The Selection?

Not exactly! You can always add additional strips of fabric to add more color or contrast or even include a fabric that you just…love…perhaps it's a signature fabric that you include in all of your projects.
Just because you have a jelly roll fabric bundle doesn't mean you are limited to just those fabrics. Allow yourself to be creative, express yourself and have fun! Isn't that why we quilt, sew, or craft?
Jelly Rolls - What Can You Make?

These precut strips are versatile and can be used for many, many different projects. To give you some examples, you can make clothes, bags, hot pads, Christmas stockings, table runners, quilts and more. Basically, any project that requires 2 ½" wide strips of fabric is a candidate!
One of the projects I made using leftover pieces of Jelly Roll fabric is a doll bed quilt…well actually, I made a few. These were a fun and easy project that used up lots of scraps. A win, win all around.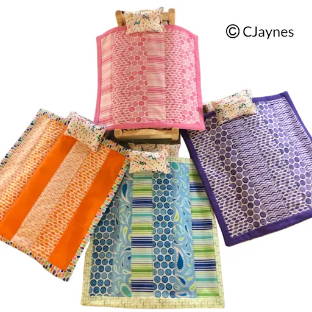 Hmmm…is your imagination taking off yet with projects you might be interested in making?
Jelly Rolls - Where Do I Find Project Ideas?

Fabric manufacturers and designers often offer free patterns for projects. In addition, there are many books specifically designed around jelly rolls. You can also find a ton of ideas on the internet.
And we plan on doing an easy fabric roll project or two in the future which would be a perfect way to try using a Jelly Roll. Honestly, I've been dying to do something with my fabric roll collection other than admire the colors and patterns. So, make sure to check our blog regularly throughout the year to see what's new and when you spot one of the Jelly Roll projects, give it a whirl.
And if you want to try a project right now, we do have a blog you can start with written by our Quilting Blogger, Carole Carter: Variable Star Block.
Tip 1 - Pre-Wash or Don't Pre-Wash

Don't. Many of us pre-wash our fabrics before using them to make sure they don't bleed, etc. In the case of Jelly Rolls, that's not the best idea. Pre-washing fabric rolls can result in a tangled mess, distorted fabric, shrinkage and/or frayed edges. To be honest, I did experience this firsthand with a different set of precuts as seen in the picture below. Not a fun situation. I wish I had known this tip before then. The edges of my precuts had looked so pretty before I washed the fabric.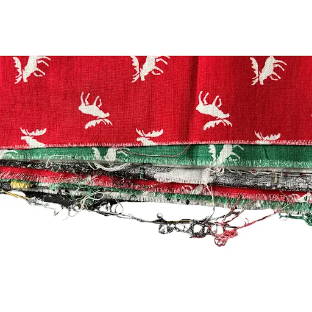 So, if you shouldn't pre-wash a Jelly Roll, then what do you do to keep fabrics from bleeding or fading when the project is finished and then washed? There are several products available to help, such as Shout Color Catcher sheets, Retayne or Synthropol (the last two can often be bought at quilt shops).
It is advisable to press them before sewing. Just be careful to press, as ironing could stretch the fabric strips out of shape.
You can also starch the strips if you like. I haven't done that myself and the projects I made, by pressing only, came out just fine. But the choice is up to you.
Tip 3 - Making Your Own Jelly Roll

Okay, if you really want to make your own fabric roll bundle just know that you will need at least 2.75 to 3 yards, total, of fabric. You can also just make a few of your own strips to add to your project.
Grab a 45mm rotary cutter, self-healing cutting mat and 6" x 24" ruler, and then cut your strips crosswise, on the width of fabric, making each one 2 ½" wide.
If you are making your own bundle, include coordinating light, medium and dark colors and small, medium and large prints. This will give your project contrast and interest.
Well, I hope if you are new to Jelly Rolls in Quilting that you now feel knowledgeable and ready to try a project or two. And if you are someone who has heard of fabric Jelly Rolls in the past, that you learned something new.
We would love for you to share completed Jelly Roll projects and any tips you have on using fabric rolls.