My Favorite Tips For Sewing With Vinyl

Vinyl fabric has some quirks and it takes a bit of getting used to when sewing with it. Because it has a sticky surface, it can get caught on itself and your presser foot, causing tangled stitches and mangled seams. If you are unfamiliar with how to sew vinyl, the tips in this article will save you some frustration. I'll share the tips and tools I use to make sewing vinyl fabric a breeze. Be sure to also watch my video: How to Sew Vinyl.
But first…
Vinyl has become a catch-all term for any material that is made of plastic or has a plastic layer adhered to it. Don't confuse vinyl fabrics with craft vinyl, which is an adhesive material that can be cut into all kinds of shapes and attached to your projects using pressure or heat. Vinyl fabrics include everything from PVC and oilcloth to laminated fabric and faux leather. Sewing with vinyl is very different than sewing with other materials.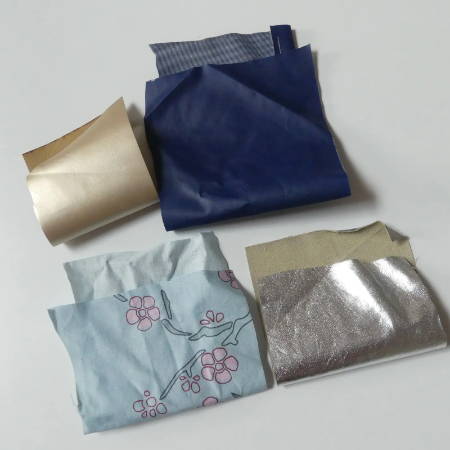 Depending on how thick the vinyl is and how many layers you want to sew, a household sewing machine might not be able to handle this material. Every sewing machine has its limitations. But if you're sewing vinyl fabric that is only two layers or thin, you can use a regular machine.
We have two blog posts that show projects sewn with vinyl.
Carole used clear plastic sheeting to make a transparent pouch. Check out her tutorial about how to sew a vinyl zippered bag here.
And I made some little faux leather accessories out of vinyl this summer and shared a tutorial on how to make these fast and easy faux leather projects.
Preparing to Sew Vinyl Fabric

Before you start sewing with vinyl, read these tips to prepare the fabric, set up your machine, and gather the right tools.
Fabric prep: Vinyl fabric tends to expand and contract with heat 1-3%. In most cases you don't need to worry about preshrinking it, but check the manufacturer's instructions. Some vinyl fabrics may need to be hung or gently warmed to remove creases or other storage marks, but be extra careful with heat so you don't accidentally melt the material.
Stitch length: When stitching vinyl, use a longer stitch length than you would use on regular fabric. With tiny stitches, threads can tangle or break. Your machine can also start skipping stitches. Plus, the holes that the needle makes can create a line of perforation. This will weaken the seam in your vinyl and make it prone to tearing. A stitch length of 3 mm is a good rule of thumb, but you need to run some tests before you determine what works best with your particular material.
Needle: Vinyl fabric puts more stress on your needle than a lightweight cotton, so choose a heavier needle. A denim, leather needle, or a number 90 will do the trick. You may need to lower your needle tension if you're stitching vinyl that is thick.
Don't use pins: The holes you make in vinyl fabric are permanent. This doesn't need much explanation, does it? Use sewing clips instead. Ripping out stitches is also a no-no. Again… permanent holes.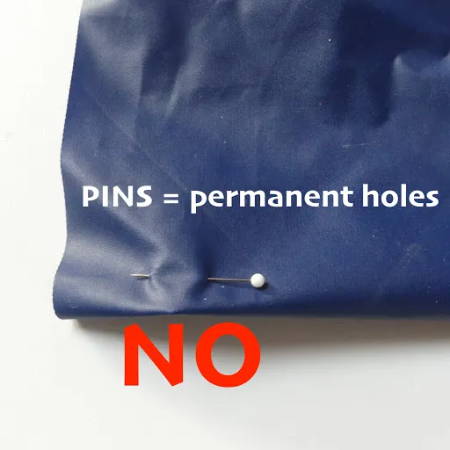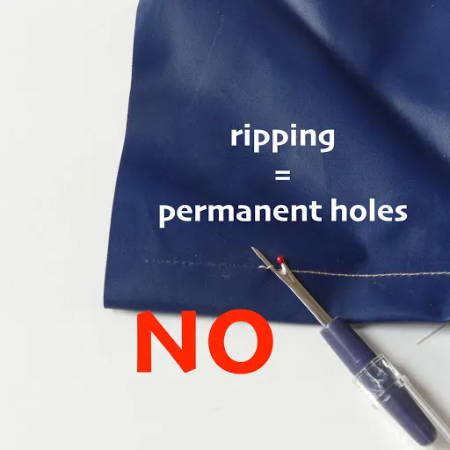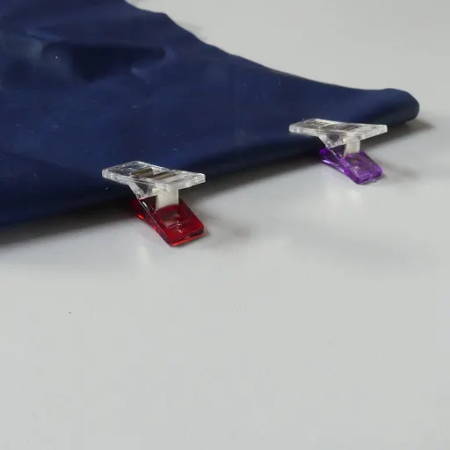 Never backstitch: Every hole you put in your vinyl fabric weakens it. Instead of backstitching, it's better to secure your seams by leaving long thread tails and tying a knot at the end.
Use a chalk marker: Marking vinyl fabric is challenging because some fabric markers will rub right off. Chalk is better.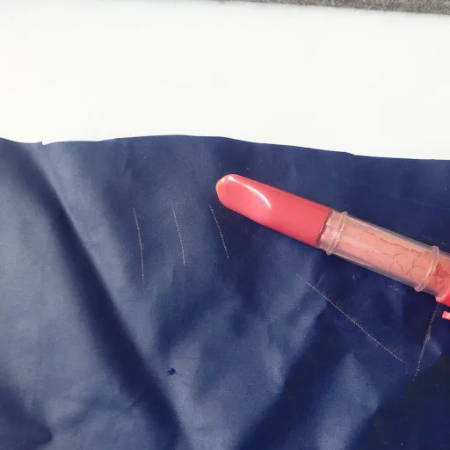 Consider if finishing the edges is necessary: Vinyl doesn't fray unless it is backed with a fabric, so you typically don't need to finish the edges. However, some people like to use leather edge paint or a sealing pen on exposed edges for a more professional look.
Don't iron directly on vinyl: If you want to press a seam, use a finger-presser or seam roller. Some people even use a rubber mallet and pound the material in place. Avoid ironing vinyl as much as possible and think about storing this fabric on a roll so that there won't be too many creases.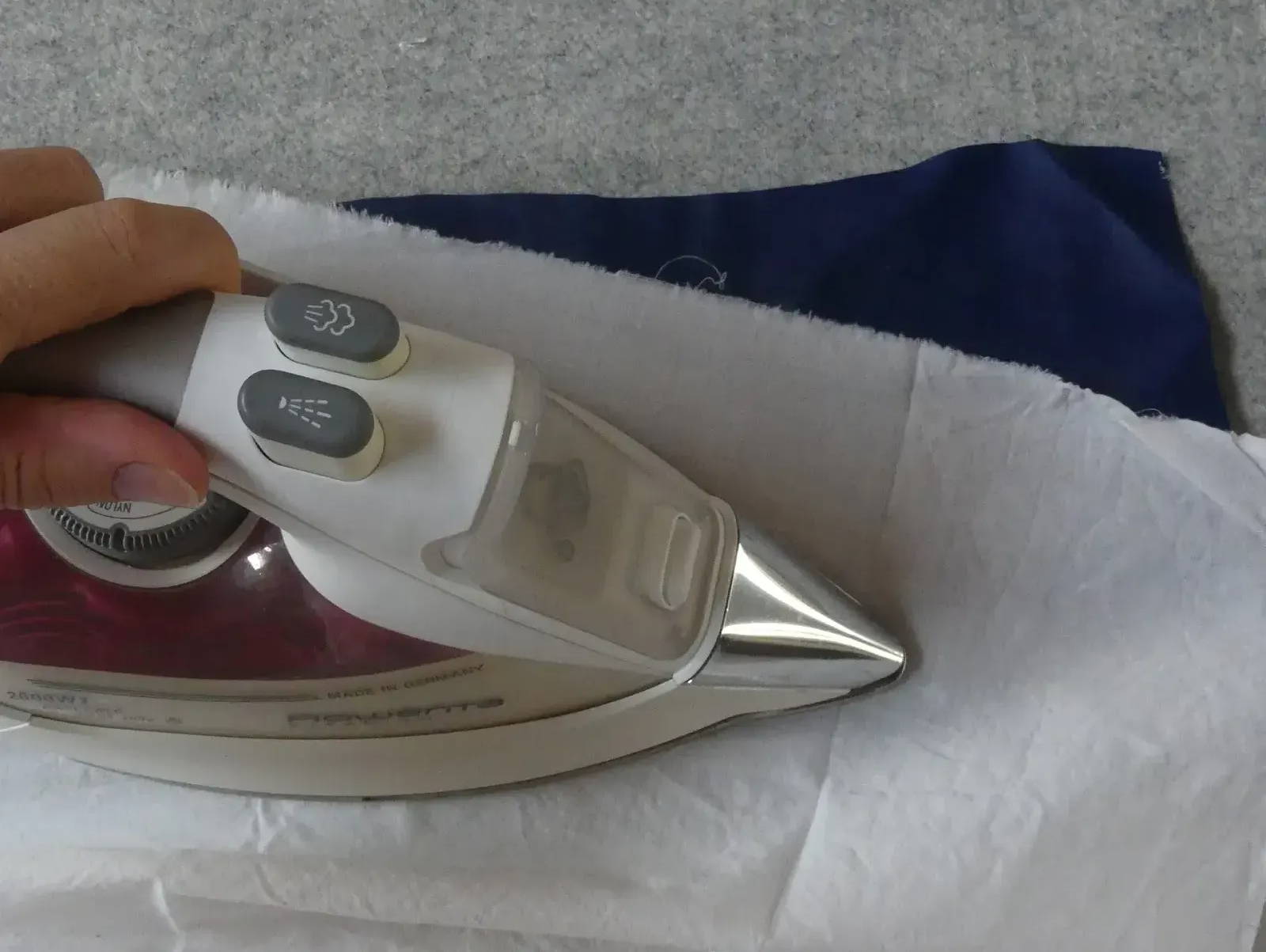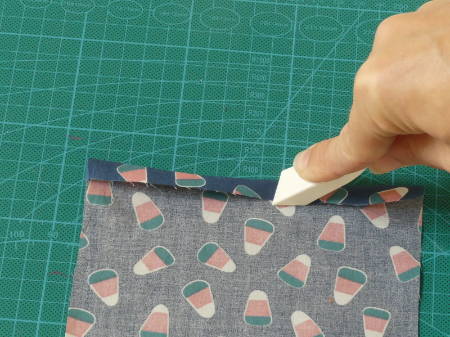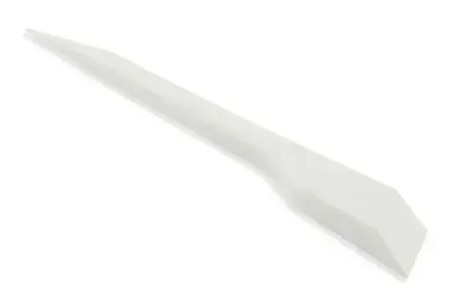 When you are finally ready to start stitching vinyl on your sewing machine, you may find that feeding the material under your regular presser foot is not always a smooth operation. Because of the friction that the material causes, your stitches can end up small and uneven, or your material will bunch up.
Does this situation look familiar?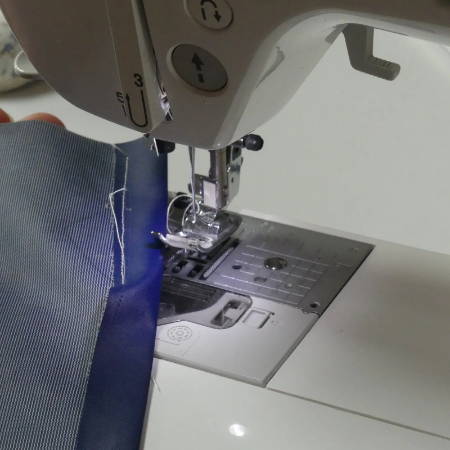 One option is putting gift wrapping tissue between both the fabric and the presser foot and the fabric and the needle plate. It's the see-through paper that gives extra protection to your gifts, not the gift wrap itself. I put this tip to the test in my video, and it worked really well! The only downside is you have to tear away the paper afterwards and the paper blocks your view, so if you want to work really accurately, it might not be ideal.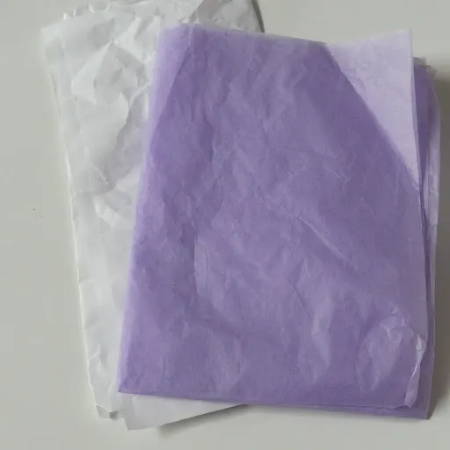 There are also three different presser feet that make sewing with vinyl easier. Two of them are in our 32 pcs Ultimate Presser Foot Set: The teflon or non-stick presser foot (number 13) and the roller foot (number 7). The walking foot you can find in the Big Five set.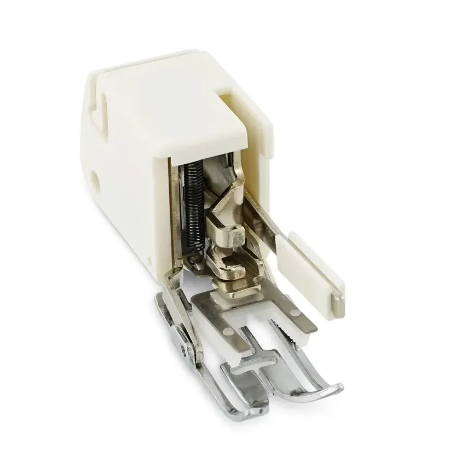 A roller foot is also made for fabrics that are difficult to feed. It will move the fabric forward with the little rollers and also presses your seam as you sew. The roller foot gives that extra bit of control in feeding more than a standard foot. In addition, it also does not leave harsh marks on your more delicate fabrics.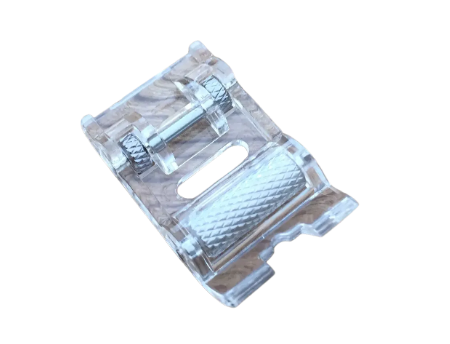 A non-stick foot has a coating or is made out of material that slides better over difficult surfaces. The material prevents the fabric from tugging against the foot. Always test with a little scrap to see how this foot reacts with your fabric. I noticed that with some synthetic fabrics it sticks even more than a regular foot.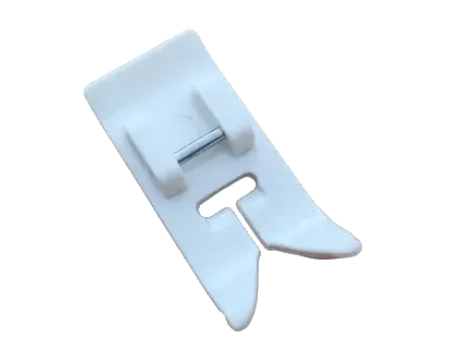 To browse through all the presser feet that we sell seperately and in sets, follow this link to the the MadamSew.com sewing machine attachement collection.
In my video, I tested these feet with my piece of vinyl—which I got from an old windshield. The walking foot with the tissue paper worked best, followed closely by the roller foot. The non-stick foot appeared to be a bit sticky with this material. With other vinyls and faux leathers, the non-stick foot did a great job. So, I advise you to always test before you ruin your project!
I hope you learned something new today and you are ready for more crafty adventures! Sewing with vinyl opens up a whole new world of possibilities—bags, tablecloths, seat covers, aprons, and more.