How to Make a Tutu Skirt?

In this Halloween blog, we're diving headfirst into the enchanting world of tutu skirts, those twirl-worthy, tulle-filled wonders that have the power to turn anyone into a Halloween sensation. Whether you're an adult looking to make a grand entrance at the spookiest soirée of the year or a parent seeking costume ideas to delight your little goblins and princesses, tutus are your secret weapon.
What makes a tutu so wonderful? The incredible versatility! These fluffy, frilly, and fabulous tulle skirts can be the centerpiece of a wide range of costumes, from classic to creative, spooky to sweet. From witches to woodland fairies, from superheroes to storybook characters, tutus offer endless possibilities to fuel your Halloween imagination.
Read on and learn how to craft a big tutu and get inspiration for a multitude of Halloween costumes. Let's weave some tulle!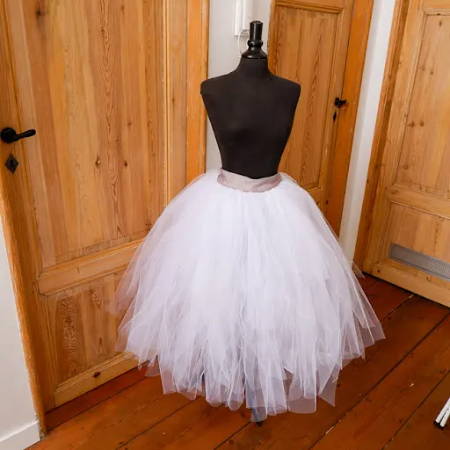 Halloween Costumes With Tulle Skirts

You can make a tutu skirt in different lengths, different colors, mono color or multi color, different degrees of fluffiness, using more or less tulle fabric. In any case, a tutu skirt is a true statement piece, very festive and magical. Lots of girls love to wear a big dress when going to a costume party!
In the images below that I found on Pinterest you can see different costumes using a tutu skirt or tutu dress. All of the tutus below can be made using the technique described in this sewing tutorial. Only the lengths, colors, fullness or extra decorations differ. So, if you are a DIY costume creator, and a lover of whimsical attire, you should learn how to make a tutu skirt.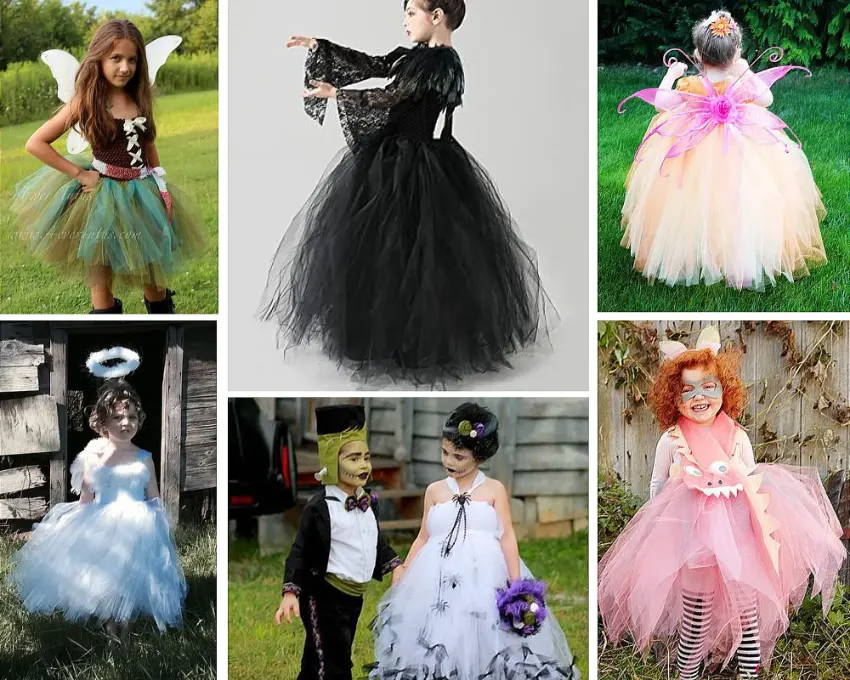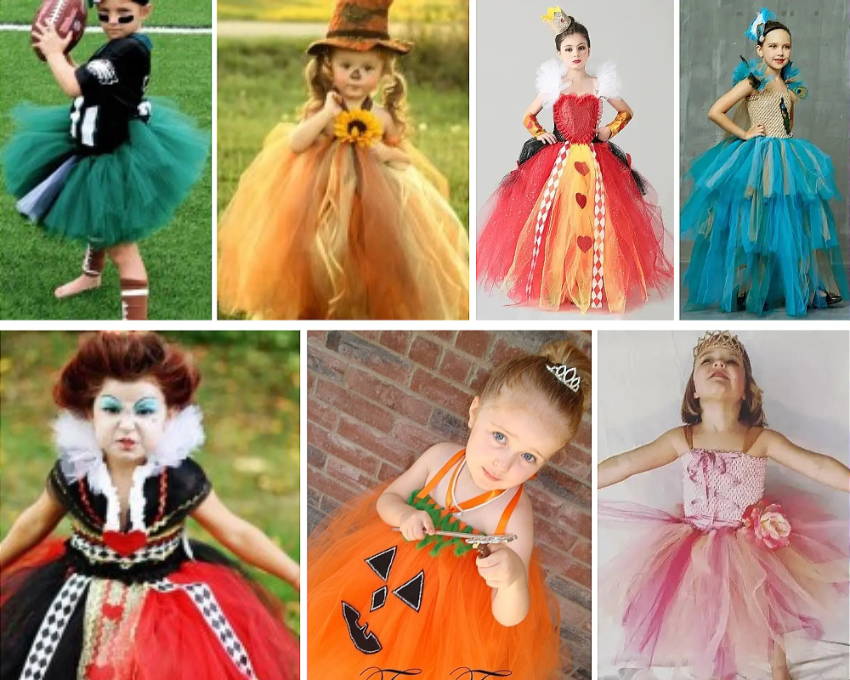 And I found some images of adult costumes for inspiration. A tutu can be part of your next Halloween or cosplay costume! There are so many possibilities with tulle skirts!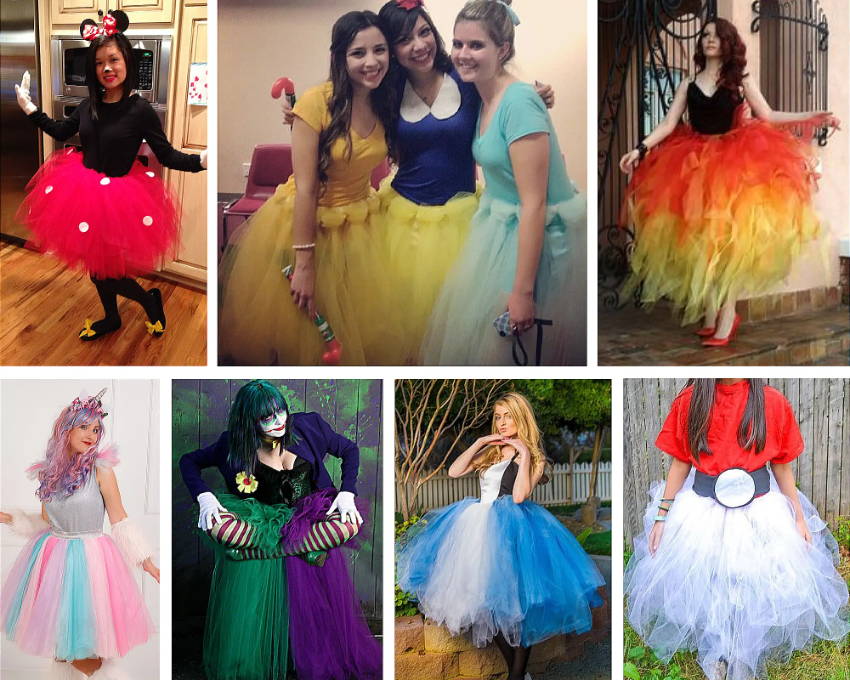 Tips and Supplies to Make a Tulle Tutu Skirt

Making a basic tutu skirt doesn't require many sewing skills. In fact, you can even make a tutu without using a sewing machine whatsoever. I only used my sewing machine to add the silky waist band. If you want this, you need some basic sewing skills.
It took me about half a day to finish this tutu skirt. Depending on the amount of tule you want to use this can become shorter or longer. What takes the longest, is cutting the strips and knotting them one by one onto the waist cord.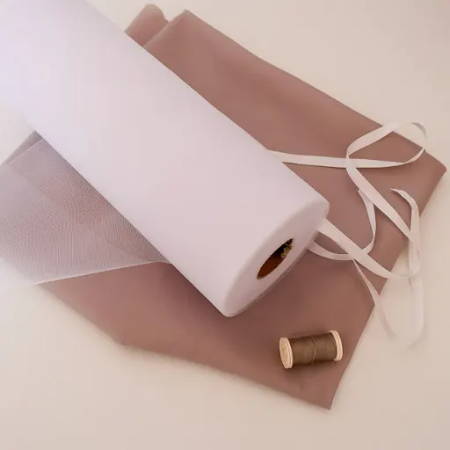 Of course, you need tulle fabric. Tulle fabric can be bought by the yard (meter) or in rolls with strips of 6 or 12 inch or other widths. As this skirt is made out of 6 inch wide strips, you can buy the rolls as well. If you can find 6 Inch rolls, you'll have less cutting work. I found a 100 yard roll of 12 inch wide tulle for 15 dollars on Amazon, which seemed like a good deal to me. But if you look around, you can surely find it cheaper. With this roll I was able to cut 200 yards of 6 inch strips, which was enough for the skirt of my 12 year old daughter..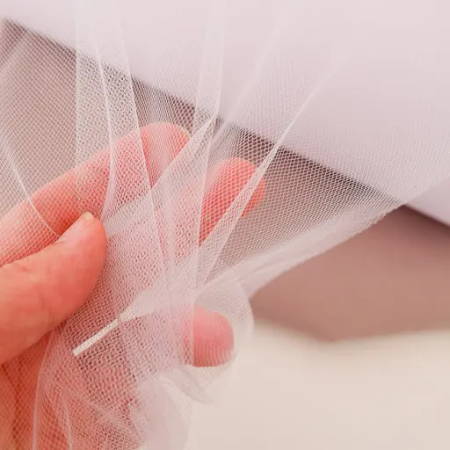 You can buy tulle in different qualities. For bridal dresses you can find very delicate tulle that is more expensive, but for a costume you can buy the quality that is also used for table runners and decoration purposes.
How Much Tulle Do You Need to Make a Tutu?

For a full kids skirt buy about 150 yards of 6 inch strips, for an adult size skirt, go for 300 yards of 6 inch strips. If you buy the tulle fabric by the yard, the fabric width being 54 inch, then you would need about 30 yards of fabric for an adult and 15 yards for a kids tutu skirt. When your skirt doesn't need to be 'big', you can make it with less fabric. It depends on what you want.
For the waistband you need a piece of ribbon or elastic. I used a white piece of ribbon, long enough so it fits around the waist plus some extra length to tie a bow.
There are different options for the waistband. I hid the ribbon with a fabric strip for a neat finish. This way the knots and the ribbon are completely hidden. I used a white glossy synthetic fabric, the kind you would also use for lining. To sew it onto the skirt, you need matching thread as well. You can also work with the ribbon and leave it like this or even use an elastic waistband.
For a simple ribbon waistband, cut the ribbon long enough so it fits around the waist and you can tie a knot or a bow easily.
For an elastic waistband, get some wide elastic, like MadamSew's Fantastic Elastic, measure the circumference of your model, cut it a little smaller and sew the elastic ends together before you go to the next step.
To cut the strips fast, I used a 60MM rotary cutter, ruler and a big cutting mat. This way I didn't need to mark and could cut different layers of tulle fabric at once and no need to mark anything. Of course you can also use markers and fabric scissors to cut the strips.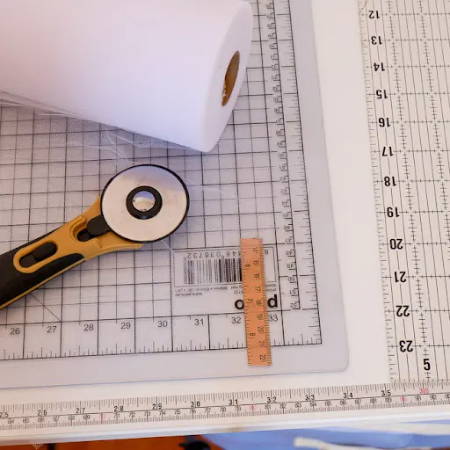 As explained above, you need 6 inch wide strips and a lot of them to make a tutu skirt. The length of the strips will depend on the desired length of your skirt and can also vary within one skirt depending on the shape you want the finished skirt to be.
Each strip has to be double the length of the final length. If you want your skirt to be 32 inches long, you need to cut the strips 64 inches long.
My tulle roll is 12 inches wide so I have to cut it in half for the right width. To make the cutting part more efficient, and reduce the number of cuts, I tried the following setup and it worked well.
First, I cut a lot of 64 inch long pieces, about 50 pieces. I marked the 32 inches line on my cutting mat with some washi tape to make the positioning faster. From zero to 32 and back, one fold at the end, that I attached with a quilting clamp to my table and then cut cut cut! Fold each piece of fabric in four to reduce the length to a quarter length.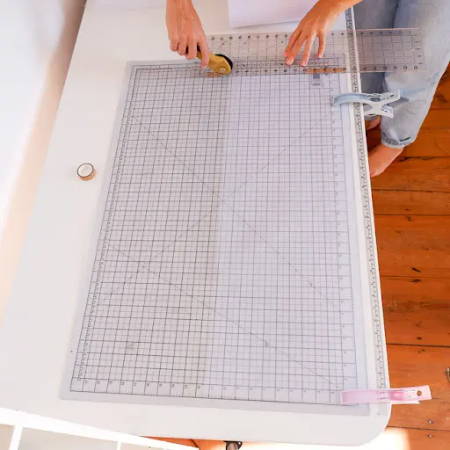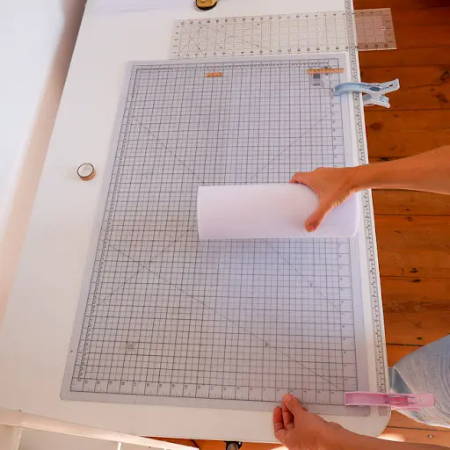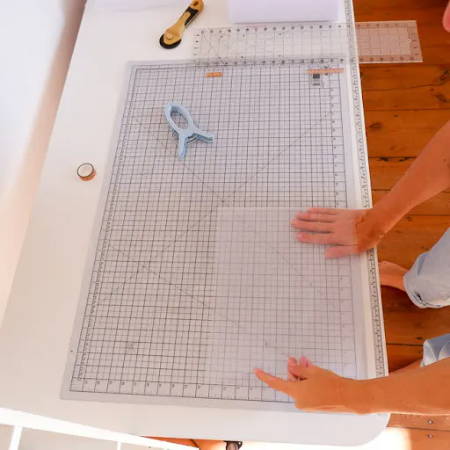 When you have a pile of folded fabric pieces, I put the folded pieces on top of each other to cut the 6 inch width in one movement. Using a 60mm rotary cutter and long quilt ruler you can cut many layers at the same time. Tulle is a very lightweight material. It is totally ok if the length of the strips is not exactly 64 inches and the strips are a little wonky. You won't notice and don't tell your quilting friends :-). Costume making is very forgiving!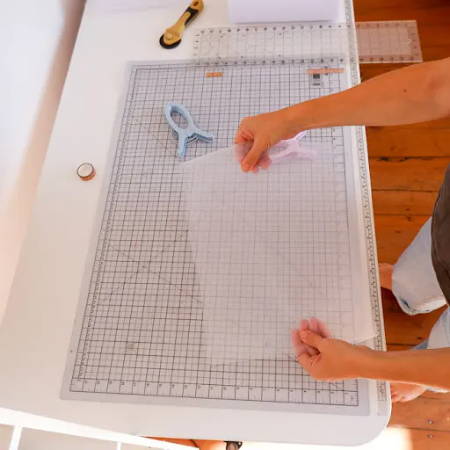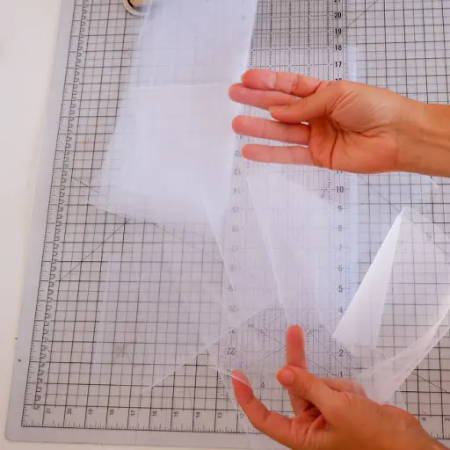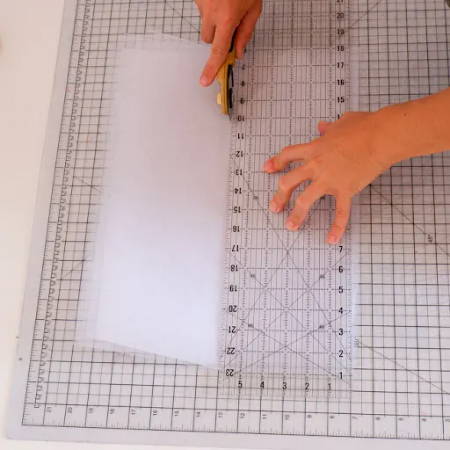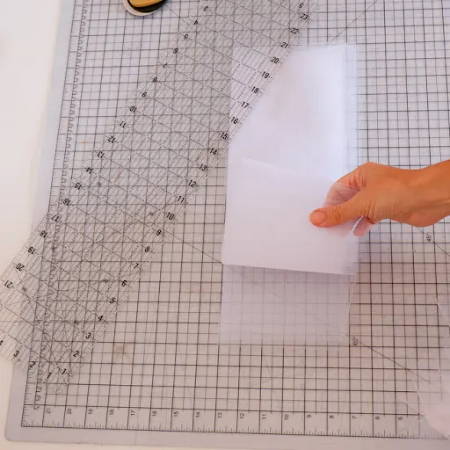 2. Knot the Strips Around The Ribbon

The length of the ribbon is the waist circumference plus 20 inches approximately. The waist of my 12 year old daughter is 23 inches, plus 10 inches on each side makes a ribbon of 43 inches long.
When you have cut enough strips you can start knotting them around the ribbon. First, attach the ribbon like a clothing line so you can easily start knotting. I attached it to a rack and to my dress form. The more tension you can put on the ribbon, the easier to pull the loops tight.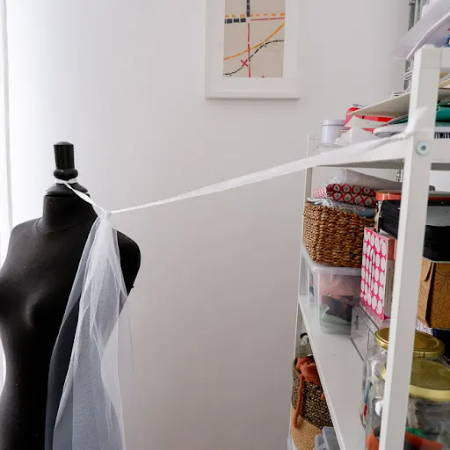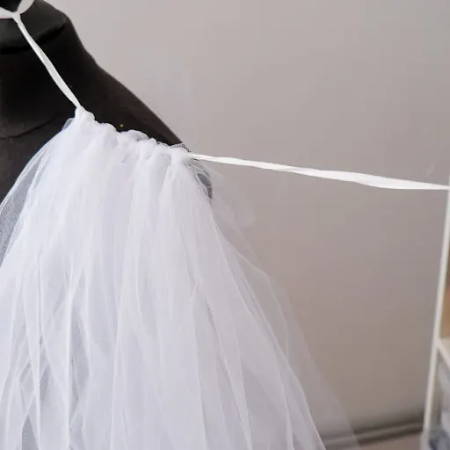 Before you start, know that you can attach the strips in different ways. If you know you want a full dress, I advise you to attach two strips at a time, double layered. You can also choose to attach the strips in different lengths, depending on the shape you want your tutu skirt to be. Of course, you can cut some strips down afterwards as well.
1. Hold a strip close to the ribbon on the fold (in the middle lengthwise) and form a little loop just above the ribbon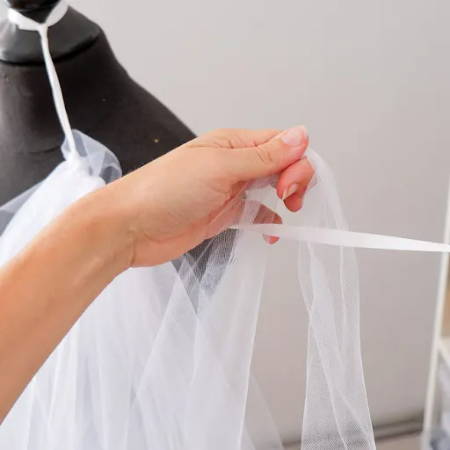 2. Grab the strip ends and pull them all the way through the loop, over/around the ribbon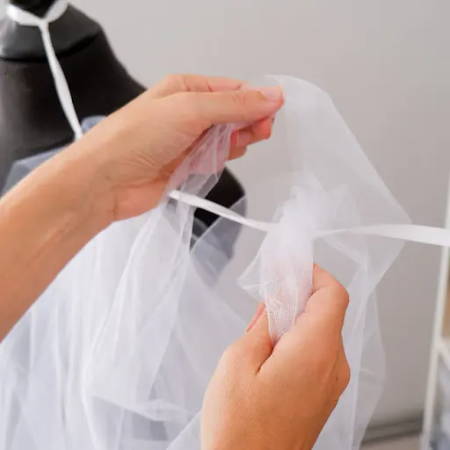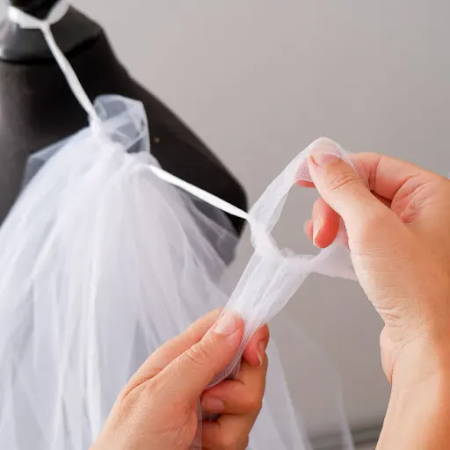 3. Tighten the knot by pulling the strip ends

4. Push the knot close to the other knots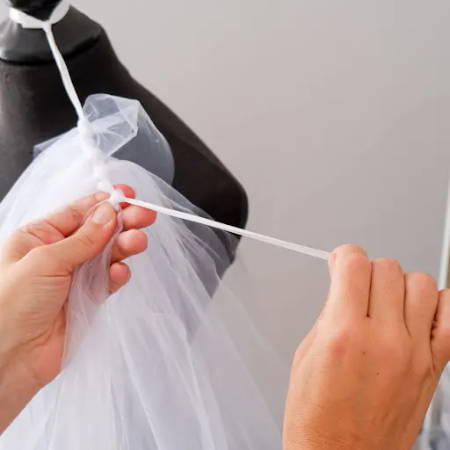 This is what the tutu skirt looks like in this phase, without the extra waistband. You can stop here if you don't want to get out your sewing machine or just don't know how to sew.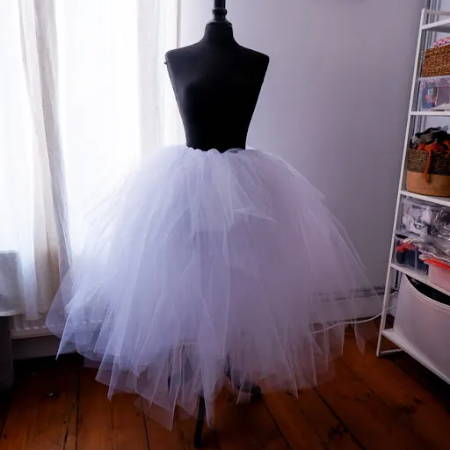 3. Optional: Add the Waist Band

Cut a satin strip of 6 inches wide and the circumference of your model plus 20 inches, the same length as the ribbon. Fold the strip of fabric in half lengthwise, right sides facing. Iron. Sew the two short ends closed plus the 10 inches on each side you will use to tie a knot or a bow. Leave the part open where the tulle will go. Clip the corners.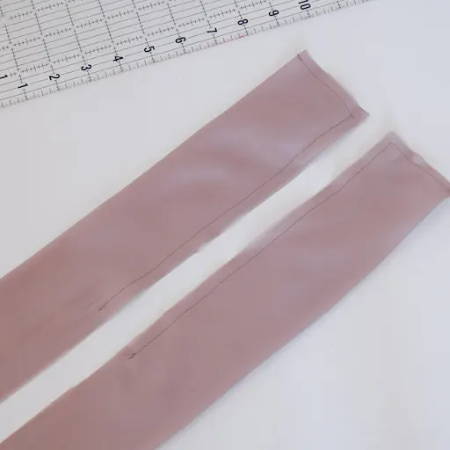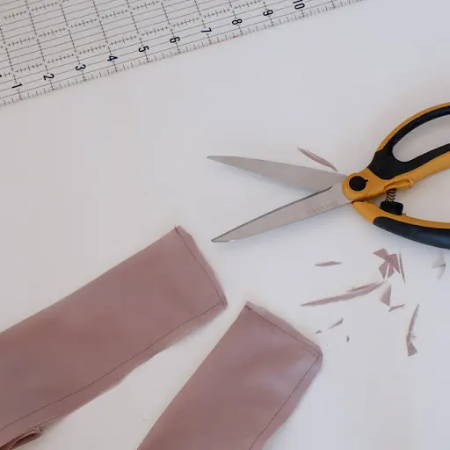 Iron the seams of this part so the raw edges will be easily tucked in when pinning and sewing the band onto the tulle skirt. Turn the waistband right side out. Don't forget to push out the corners and press.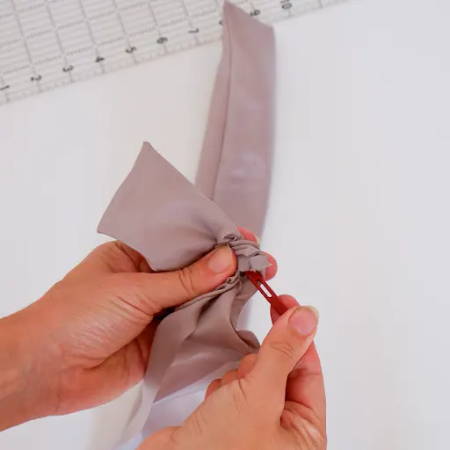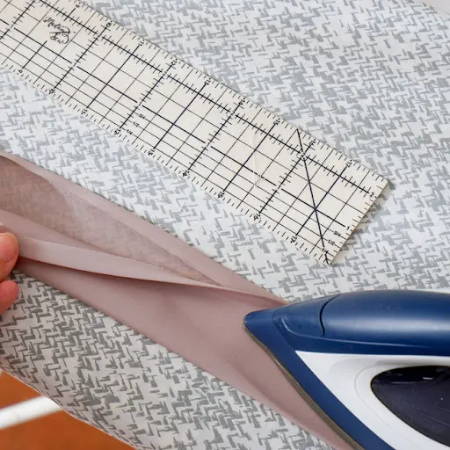 Tuck the ribbon with the tulle knots inside the satin waistband, pin together with long pins and topstitch on the entire length of the bottom edge of the satin waistband, grabbing the tulle knots plus the ribbon and satin fabric on both sides so they are neatly hidden. To sew over the knots with your presser foot, you will probably need a bulky seam jumper to make this process easier.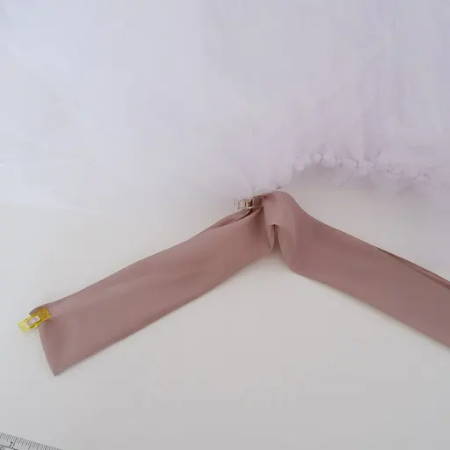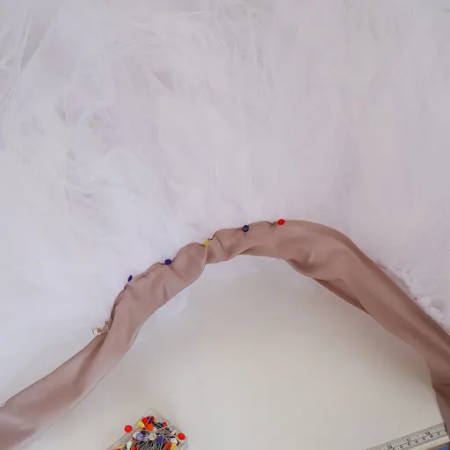 A little warning. This part is not easy. I wonder if I would do it again if I made a new tutu. It is hard to sew through both sides of the waistband. The bottom side slipped away several times. I was very sweaty after sewing this seam. Well, it is 86 degrees outside and the sun is on the window of my sewing room :-). You have to consider that the end result might be more messy than with an unfinished waistband (one where the knots are showing). If you have little sewing experience I would stop at the end of step 2.
Here is my finished tutu skirt on my mannequin. My daughter's waist is a little smaller, hence the little opening under the bow.. What do you think? Should I keep the satin waistband?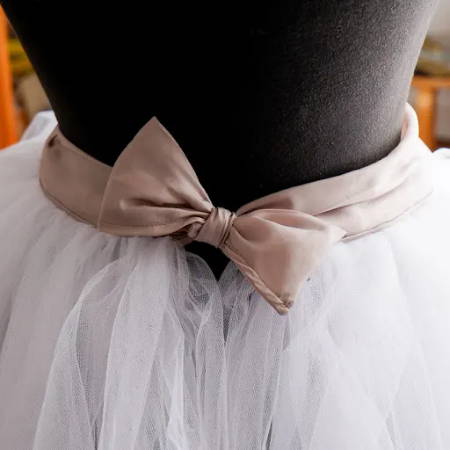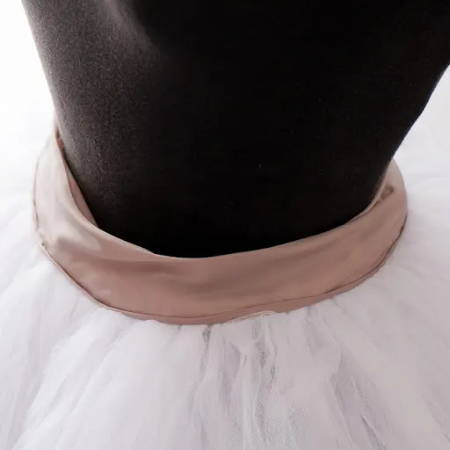 4. Optional: Decorate and Shape the Tulle Skirt

Tulle is a fabric that you can easily 'shape'. If you wrinkle the strips a bit, you get more volume. You can also grab your fabric scissors and cut the skirt in shape. Yes, it is a bit like hairdressing 😄. It is also possible to sew little felt hearts, stars or spiders to the strips, depending on the style you are looking for.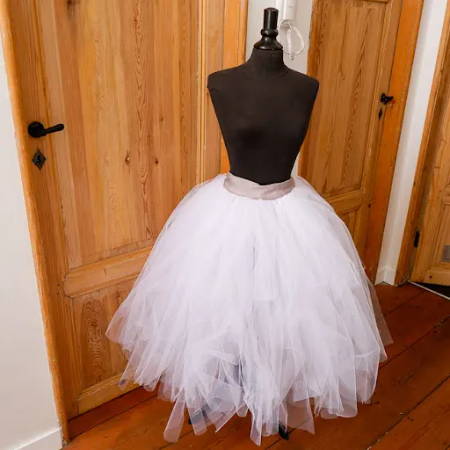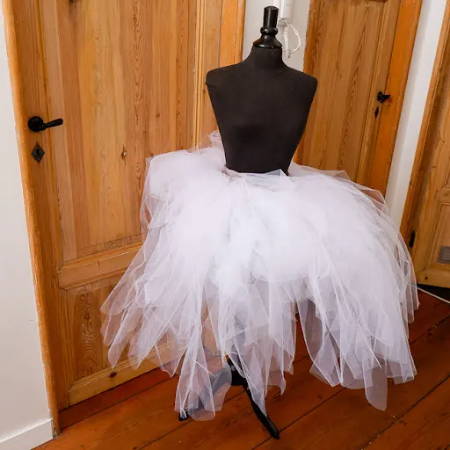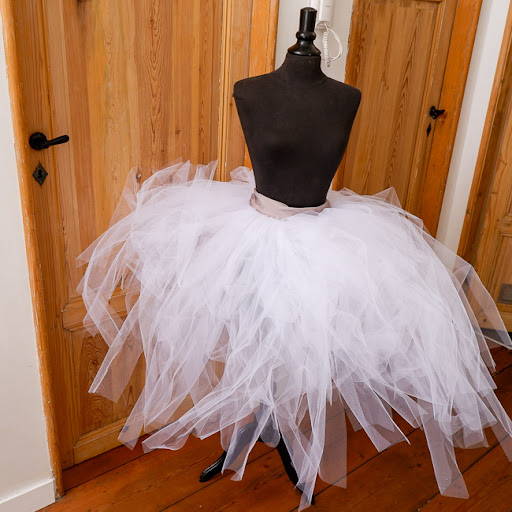 So gather around, all you Halloween enthusiasts, DIY costume creators, and lovers of whimsical attire, buy some tulle, start cutting and knotting and end up in the magical world of tutus! If you're someone who believes that Halloween is more than just a holiday—it's a chance to unleash your creativity and transform into the fantastical character of your dreams—then you're in for a treat. I guarantee it will be a lot of fun. My daughter roamed around the house in the skirt all night after finishing the tutu, making tik toks for her friends, hiding herself behind the skirt in the sofa.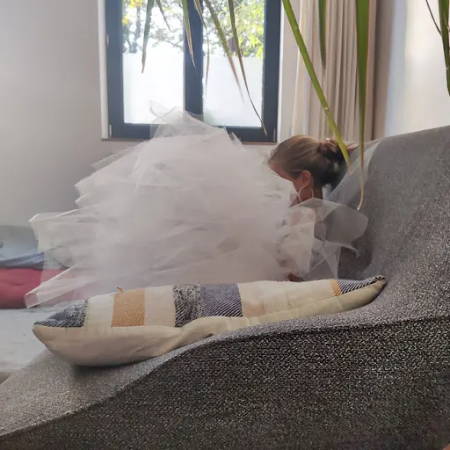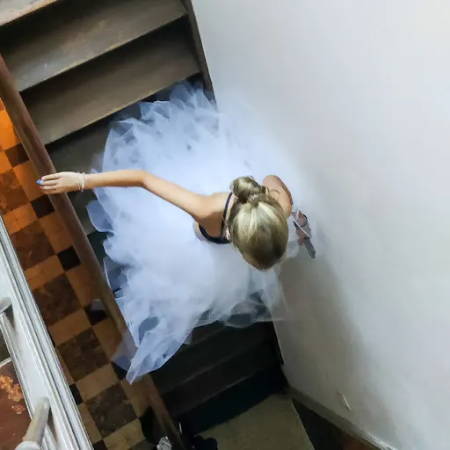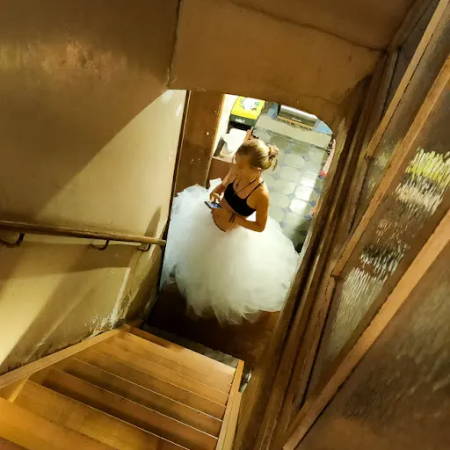 Without step 3, this is a perfect non-sewer project with an impressive result. Don't forget to share your project in our sewing and quilting group on Facebook or on Instagram tagging #madamsew.
Happy Crafting!
An
Blogging for MadamSew.com

PDF Tutorial Document Here