The Bulky Seam Jumper Manual

---
---
The Bulky Seam Jumper (BSJ) helps you to sew over thick seams and humps when sewing bags, upholstery material, straps and jeans. This little tool will alleviate frustration regarding skipped or uneven stitches and broken needles– which happen when the presser foot tilts when you sew.
The BSJ levels the presser foot and keeps it horizontal, ensuring an even connection with the feed dogs underneath. Thus, thick layers will feed evenly and your stitching will be consistent.

The BSJ has 2 sides with different thicknesses. One side is 1/8" and the other is 3/16" thick. Use the side that comes closest to the thickness of the seam you want to sew over. The 2 slots in the center, between the 'legs', are for the needle.

---
---
The little hole in one of the legs can be used as a needle inserter. Put your sewing machine needle in the hole and use the BSJ to hold the needle.
---
---
You can also use this tool to sew buttons onto a project with your sewing machine. The Bulky Seam Jumper creates a shank when sewing buttons in place.
---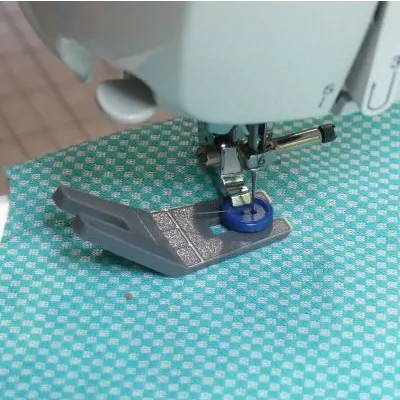 ---
How to sew over a bulky seam ?

---
1. Sew until you approach a bulky seam. Put the needle down in the fabric, lift the presser foot and slip the Bulky Seam Jumper (BSJ) underneath the presser foot, right behind the needle, at the rear of the foot. This is shown in the picture below. Notice that the foot is now level and parallel to the bed of the machine.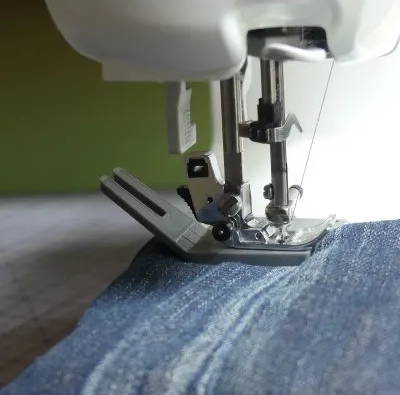 ---
2. Sew across the seam and stop with the needle in the down position when you get to the other side of the 'fat' part, just before the foot will start tilting forward.

3. Lift the presser foot, remove the BSJ and continue sewing.

---
4. Now place the BSJ in front of the needle and sew until your presser foot has passed the seam completely, so the foot doesn't tilt down when you remove the BSJ. Now you can safely remove the BSJ with the needle in the down position and continue sewing.

---
How to sew on buttons with your sewing machine ?

---
1. Remove the standard snap-on presser foot. Lower your feed dogs. Select a zigzag stitch on your machine.

2. Take a button and carefully test and select the width of the zigzag stitch that matches the 2 holes of your button.

3. Place your fabric on the machine's bed. Put the button underneath the presser foot holder (without a presser foot) onto the Bulky Seam Jumper (BSJ). The BSJ is placed between the fabric and the button. Position the BSJ in a way that the needle can go through the holes of the button into one of the needle slots without touching the BSJ.

---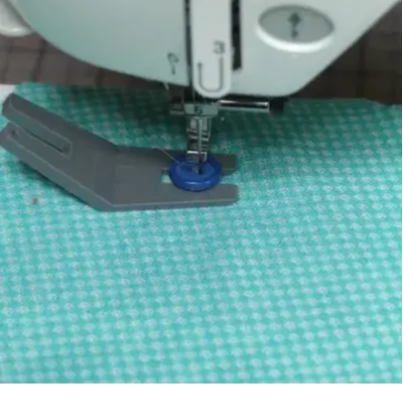 ---
4. Sew slowly and make sure your needle doesn't hit the button or the BSJ.

---
Interested in buying a Bulky Seam Jumper ?

Check out our great deals HERE.