My 9 Tips for Sewing with Stretch Fabrics

Have you always wanted to learn how to sew with stretch fabrics? It's a good skill to learn because lots of clothes are made with knits—cotton lycra, double-brushed poly, french terry, etc. I don't want you to be scared anymore, so today I'm sharing nine easy tips for sewing with stretch fabrics. I'll show you how to navigate wavy hems and popped seams, and share the best stitch choices.
Sewing with Stretch Fabrics - 9 Tips

Stretch fabrics are often quick to sew, especially jersey knits, because they don't generally unravel. That means you don't have to worry about finishing the seams unless you want to. If you have a serger or an overlock machine, you can even stitch and finish your seams at once.
Here are a few basic things to remember about sewing with stretch fabrics to get started:
Before starting any sewing project, prewash your fabric to prevent shrinkage when the project is finished. Knit fabrics sometimes shrink even more than woven fabrics! However, be sure to check the manufacturer's washing instructions first.

When copying your pattern, choose the direction of your fabric wisely. Not all stretch fabrics have the same amount of stretch in all directions. The direction of the greatest stretch has to go across your body, rather than up and down. This will give you the best fit.

Don't focus too much on lining up the selvage edges when laying out your fabric. Use the pattern, stripe, or weave to ensure the fold is straight and your fabric is laying nice and smooth.

Now I'm ready to dive into my nine tips for sewing stretch fabrics. These tips apply to all knits, but keep in mind that you should always test a few stitches on some scraps of fabric before sewing your project together so you can adjust the tension and stitch length for your needs.
1. Use Soap Slivers as a Marking Tool

If you need to transfer pattern markings to your fabric, it can be a challenge to use regular chalk or marking pens because the fabric can drag and bunch up. I prefer to use soap slivers on very stretchy fabrics because they leave smooth marks, especially if you have to draw long lines. Give it a try!
You could also check out the MadamSew marking tools collection and discover the heat erasable fabric markers and the chalk marking pens that also write on stretch fabrics smoothly.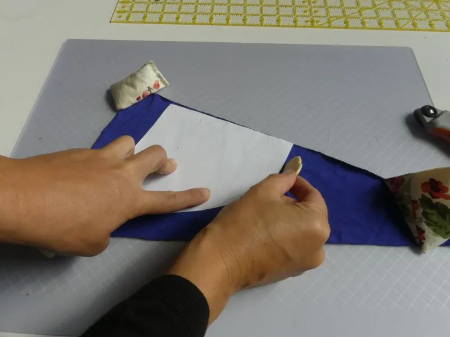 2. Cut Stretchy Fabric with a Rotary Cutter

I always get better results cutting stretch fabrics when I use my rotary cutter instead of fabric shears. The fabric often bunches and moves while I'm cutting, creating jagged edges and cuts that aren't precise. Not everyone agrees, but if you've never tried it, I would certainly give it a go! I get cleaner and more accurate cut lines. Just use some pattern weights, your cutting mat, and if you have straight lines, use your ruler and cut. Keep the fabric relaxed as you cut, don't stretch it out.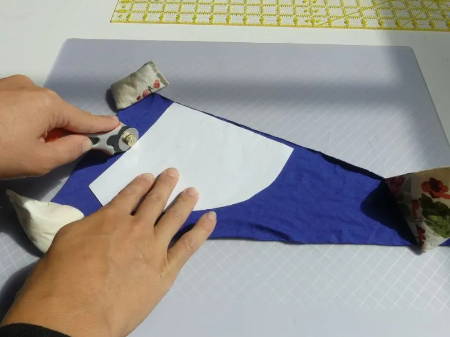 3. Stabilize Stretchy Fabric Before Sewing

Sewing with stretch fabrics is easier when you stabilize the fabric in certain places, like around the hemline or the neckline, or along the edges to prevent curling. Depending on what you need, you can use fusible interfacing with a 1-way, 2-way or 4-way stretch; knit stay tape; iron-on bias tape with reinforcement; or starch spray. You can also use a stabilizer at shoulder seams when making a knit top or a dress, give a seam or hem a bit of support and rebound, or to create a nice sharp edge on a knit.
On MadamSew.com we now have fusible hem tape that can be used stabilize knits. It stretches a little but isn't suitible for 4 way-stretch fabrics.
A good article on using fusible interfacing for knit fabrics is this one from The Last Stitch:
If your fabric gets stuck in the needle plate when you start sewing, you can put some paper underneath your fabric as a starter. Sew the paper along with your seam and tear it away afterwards.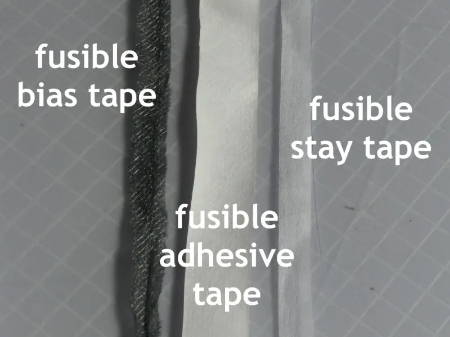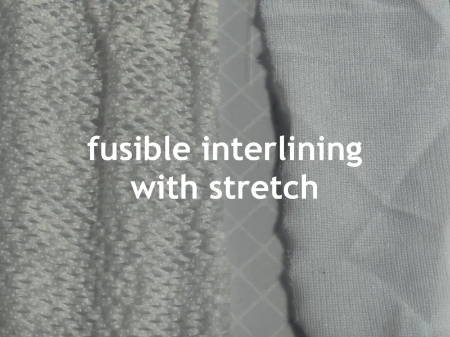 4. Use Basting Stitches or Clips Don't Use Pins!

Try to avoid using pins on knit fabric because they can leave holes or cause runs in some types of knits. Sewing clips are a great alternative to pins for sewing with stretch fabrics.
I also like to use basting stitches when sewing stretch fabrics, especially on hems or when trying to hold tricky pieces together. It prevents them from twisting out of shape when you put in the permanent stitches. The basting stitches can be applied by hand or machine.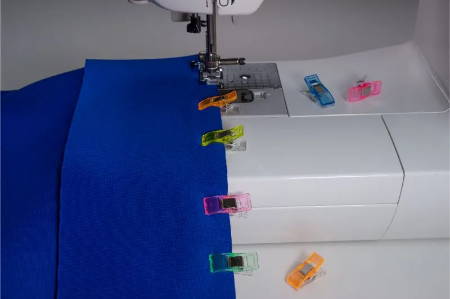 5. Don't Stretch Out Your Fabric While Sewing

Keep your knit fabric relaxed as you sew. Don't pull it toward or away from you. Let your sewing machine do the work! Also support the weight of your project while you sew. If your project falls to the ground while passing through your machine, your fabric will stretch out.
Even when you're being careful, sometimes seams can get a little stretched out. If this happens to you, hover an iron over the fabric and apply steam to the stretched seam to help it shrink again into its intended size and shape.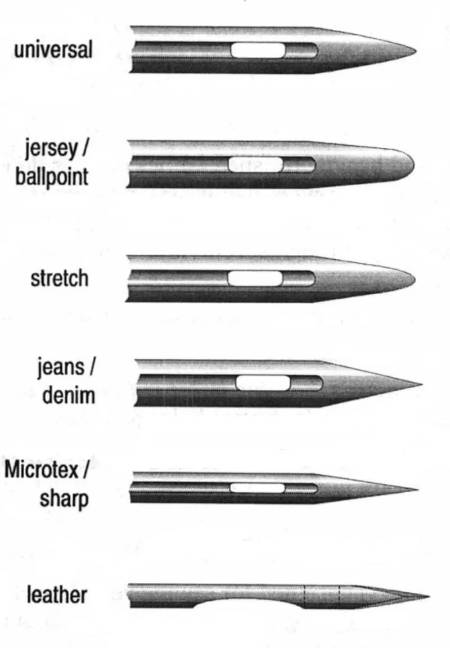 6. Choose the Right Needle for Stretch Fabrics

Don't use a universal sewing machine needle on stretch fabrics. It can leave holes and cause all sorts of other problems. Use a ball point needle (also called a jersey needle) for loosely woven knits or sweater type fabrics. They have a rounded point that gently pushes through the fabric without catching or cutting through the fibers, and thus avoiding runs and tears.
For super stretchy fabric & tightly knitted jersey fabrics with a significant amount of spandex or lycra, like active or dancewear, use a stretch needle. The eye of this needle is a little higher—meaning a larger loop is created when the machine makes a stitch. This means the stitches can really stretch with the fabric.
(needle chart: courtesy of Wikipedia)
7. Choose a Stretch Stitch on Your Sewing Machine

Use a stretch stitch or long and narrow zig zag stitch instead of a straight stitch so that your seams can stretch with the fabric. If you don't have a stretch stitch on your machine, set your stitch length to the narrowest zigzag setting (0.5) and your stitch length to a medium setting. The slight zigzag will give you the stretch you need.
Most sewing machines also offer overlock stitches, intended to mimic the look of a serged edge. We recommend using an overcast presser foot for best results when sewing stretch fabrics. Madam Sew also has a knit presser foot that can help A LOT! I'll talk about that next…
8. Use an Appropriate Presser Foot for Stretch Fabrics

First of all, let the feed dogs on your sewing machine do their job. Never push or pull your fabric while you are sewing. If you feel like your presser foot is giving too much pressure, dive into your sewing machine manual to see how you can adjust the pressure. If the pressure is set too high, it will stretch out your fabric. It will look rippled. To avoid this, adjust your presser foot pressure. Typically a setting of 1 or lower is appropriate for knit fabrics.
A walking foot can be helpful to gently and uniformly feed your fabric. The upper feed dogs help to pull your fabric through your machine at a more even rate. Read this detailed blog post about the use of a walking foot if you want to know more about this versatile sewing machine attachement.
A knit foot doesn't have these upper feed dogs, but as it jumps on the fabric and applies less pressure the fabric feeds more evenly as well.
Go to the presser foot section on MadamSew.com if you want to check out all the different presser feet we have available for different sewing tasks.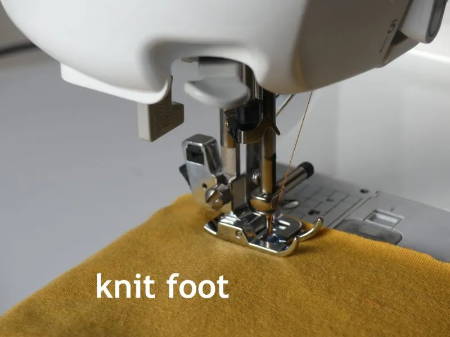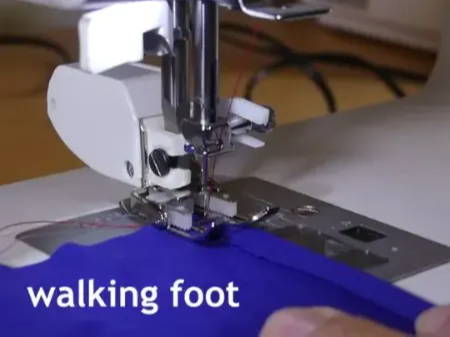 And remember: Always reserve a few scraps to test your needle and machine settings. Not all fabrics will behave the same way, so it helps to practice a lot when learning how to sew with stretch fabrics.
9. Hem Stretch Fabrics with a Double Needle

Double fold hems are common when sewing garments with woven fabric, but you don't want to do this with stretch fabrics. It creates unnecessary bulk and can cause the hem to roll toward the right side or look messy. Professional hems on stretchy fabrics are created with a coverstitch machine.
If you want to imitate the look of a coverstitch that is used in ready-to-wear clothing, a twin needle is your best bet. Use a double needle to sew a perfectly spaced double row of stitches on the right side of the fabric, with a zigzag on the bottom. This stitch has more stretch than a regular stitch and is great for a nice flat hem. The double stitching will help prevent the hem from rolling toward the right side when wearing.
Using a double needle in your sewing machine is easy. You wind and insert the bobbin as usual and then use two spools of thread on the top—one for each needle. Then, to mimic the coverstitch, you simply sew a straight stitch, but you'll probably want to lengthen your stitch length a little bit.You may have to adjust your needle & bobbin tension, so always test on a scrap when you change to a double needle. Knit stay tape can also help to stabilize the hem and prevent tunneling.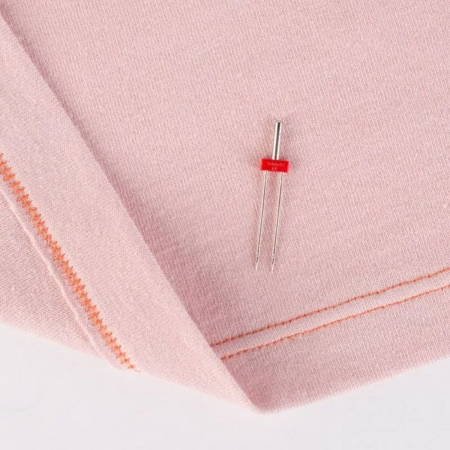 I hope you found my tips for sewing stretch fabrics helpful. If you're ready to try a sewing project with knit fabrics, I put together a little overview to help you understand the different types of stretch fabrics. Read on…
Understanding Stretch Fabrics
The terms jersey, knit, and stretchy fabrics are often used interchangeably to refer to similar fabrics. Most stretch fabrics are knits and jerseys. These fabrics can be made from cotton, viscose, polyester, wool, bamboo, or a combination of other materials.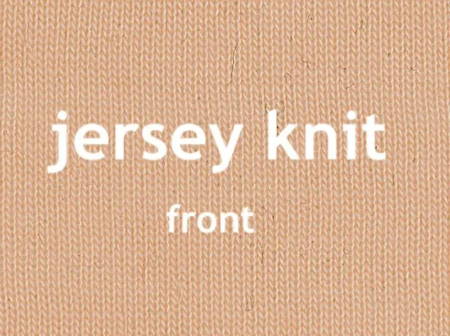 Jersey is just one type of many kinds of knits available. Single knit fabrics are stretchy and they have a right and wrong side–—the front being smooth and the reverse will have very fine bumpy stitches. Double knits have less stretch. Except for the tricot knit, all following knits are weft knits. Warp knits are less common and more complex.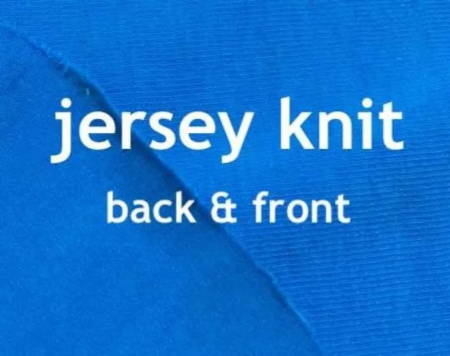 Jersey Knit has flat vertical lines on the front and horizontal ribs on the back of the fabric
A cotton jersey is more stable and holds more shape than a viscose or modal one and is a good fabric for beginners. You can use it for loose t-shirts and kid's clothes.
If you want more fitted t-shirts and garments designed to have more movement, use a viscose jersey. A viscose jersey is more floppy and drapes better.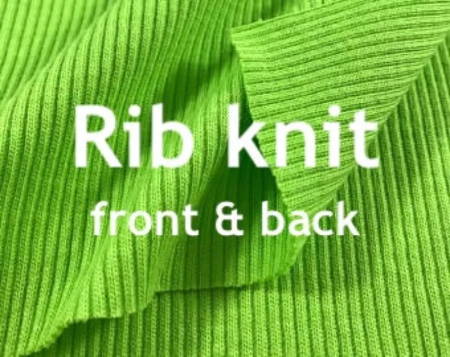 Rib Knit has raised columns on both the front and the back of the fabric.
Ribbing is very stretchy. It is used for cuffs, neck bands, hem bands, and waistbands.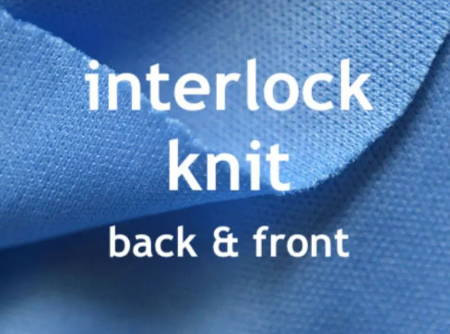 Interlock Knit is a variation of a rib knit, but the front and the back are the same.
Interlock knits do not ravel or curl at the edges and are heavier and thicker.
French Terry is knitted in a way that creates loops on the reverse of the fabric
French terry is a thicker fabric, developed for sportswear with the aim of wicking sweat from your body into the garment and trapping warm air to provide an insulating layer. The more sturdy versions are easy to use and good for beginners.
Fleece Knit is knitted on the right side and purled on the wrong side but the wrong side is brushed, forming a fuzzy look, making the fabric softer and warmer.
It is used for sweaters and jackets and is relatively easy to sew with.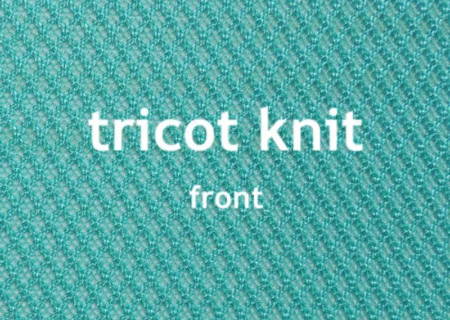 Tricot Knit is a warp knit. The stitches run vertically down the fabric. In tricot, the right side has clearly defined fine vertical ribs and the back has crosswise ribs.
Tricot is usually soft and drapey. The cut edges tend to curl up. It has almost no crosswise stretch.
Tricot is used for lining and lingerie. It can also be used for blouses and dresses.
The Amount of Stretch in Fabric

As I mentioned earlier, not all stretch fabrics have the same amount of stretch. The ability to expand and bounce increases when there is elastane, lycra, or spandex in the fabric. Sometimes you'll see patterns refer to the stretch percentage needed. This is the amount that the fabric physically stretches, not the amount of lycra or elastane in it.
If you want to check the amount of stretch in your fabric, you can use this free printable from Megan Nielsen:
Fabric can stretch in two ways. You can have a:
* 2 way stretch —> stretches between the selvedges (t'shirts, sweaters,...)
* 4 way stretch —> stretches lengthwise and between the selvedges (sportswear, swimwear)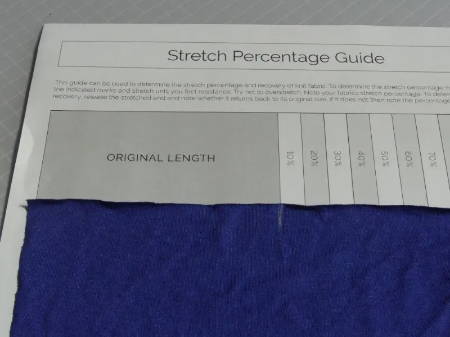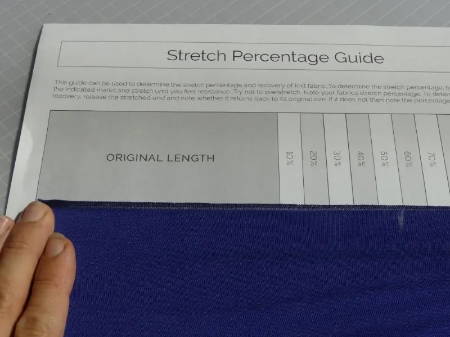 With a little know-how, and some good tools, you will love sewing knits! It opens up a whole world of possibilities, from dresses and shirts to sleepwear and activewear. I hope you found my tips for sewing stretch fabrics helpful!
An
MadamSew's inhouse sewing blogger
an@madamsew.com
Facebook: Madamsew
Instagram: @an_madamsew & @madamsew and use #madamsew if you want to share what you are making