I have recently changed the layout of my sewing room, and now my sewing machine sits in the middle of the room, away from the tools hanging against the wall… soooo, I need a small organizer that can sit right under my machine with my essential tools. Let's make it, shall we? And while we're at it, let's make it so that it can work as a travel organizer as well.
It's a very simple project with just one little challenge: we're going to use vinyl for the pocket. But don't worry, there are plenty of tricks to make sewing with vinyl as simple as can be.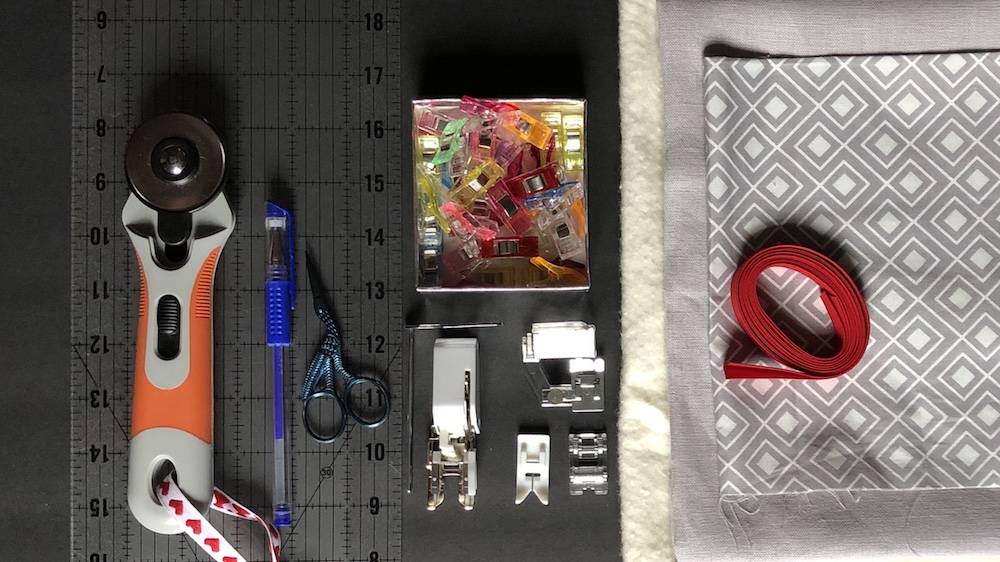 Some Tips on Sewing with Vinyl
You can buy vinyl by the yard in most fabric stores, if you go this route, buy 8 or 4 gauge, which is thick enough to manage with ease, but not so thick that it's going to be difficult to sew. However, you probably have a big enough piece of vinyl in your house right now… lots of things come in vinyl bags, like sheets and other linens, many gift sets like baby layettes come in smaller ones… you can cut one up and have enough vinyl for a few projects.
When folded or crumpled, vinyl will hold creases, but they come out easily with some heat. The easiest, lowest risk (of melting) is to warm up your ironing board with a hot iron, and then lay the vinyl on top and smooth out the wrinkles. Never apply the warm iron directly to the vinyl!
Vinyl is a funny material, as it can be both slippery and sticky, depending on what material it sits against, so you need to think about that when you are cutting and sewing.
When it comes to cutting, the difficulty is increased by the fact that it is transparent and you can't always see where you are cutting. To me the most effective tip is to tape the vinyl to the cutting mat in a couple of places and then cover it with a layer of scrap tissue paper. Then I cut through both layers without worrying that the ruler is going to slip.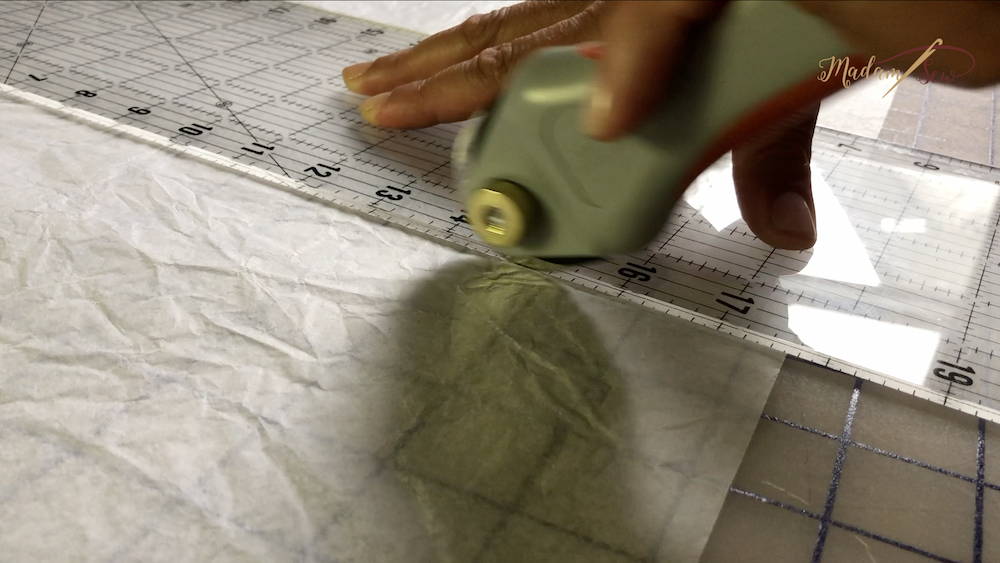 That slippery quality of vinyl seems to increase when you are trying to keep it sandwiched between layers of fabric, but pins will leave permanent holes, so use clips instead of pins to keep all layers together.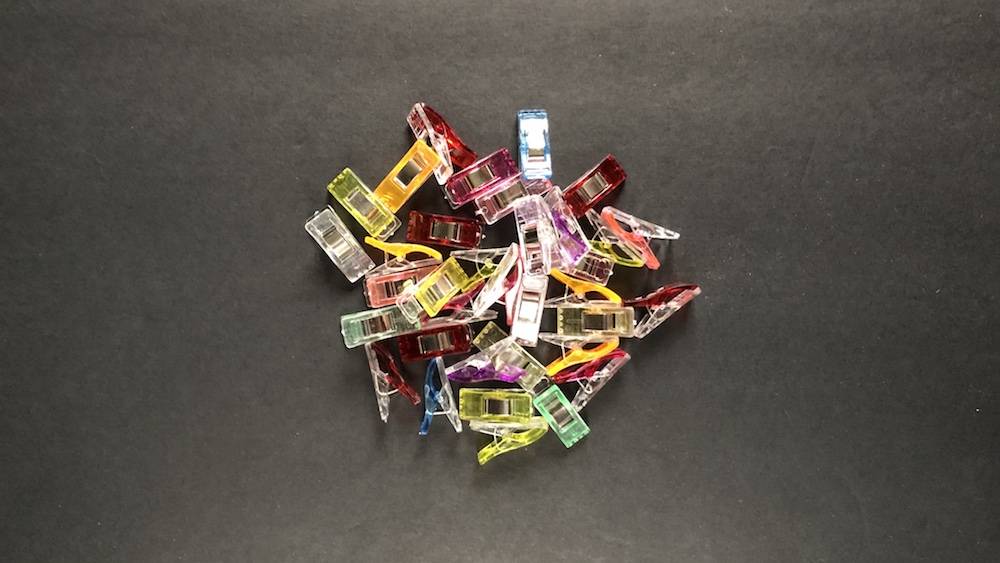 To help you sew use a non-stick or roller foot. Every machine is different, and so are different fabric combinations, so try both feet and see which one works best for you. However, if you don't have either foot, you can use a small piece of matte scotch tape trimmed to fit the bottom of your regular foot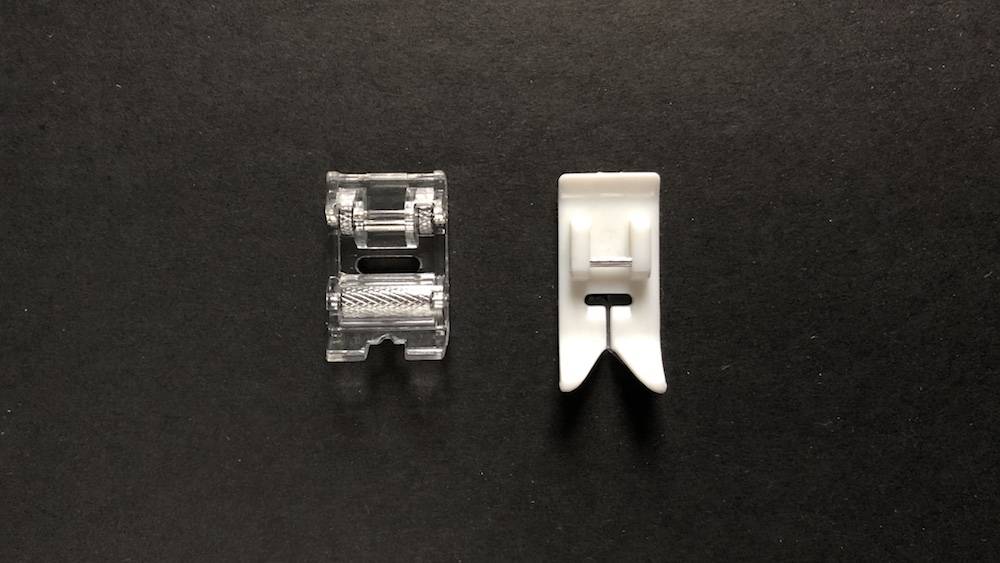 If the vinyl sticks to the bed of your machine, tape a piece of tissue over it.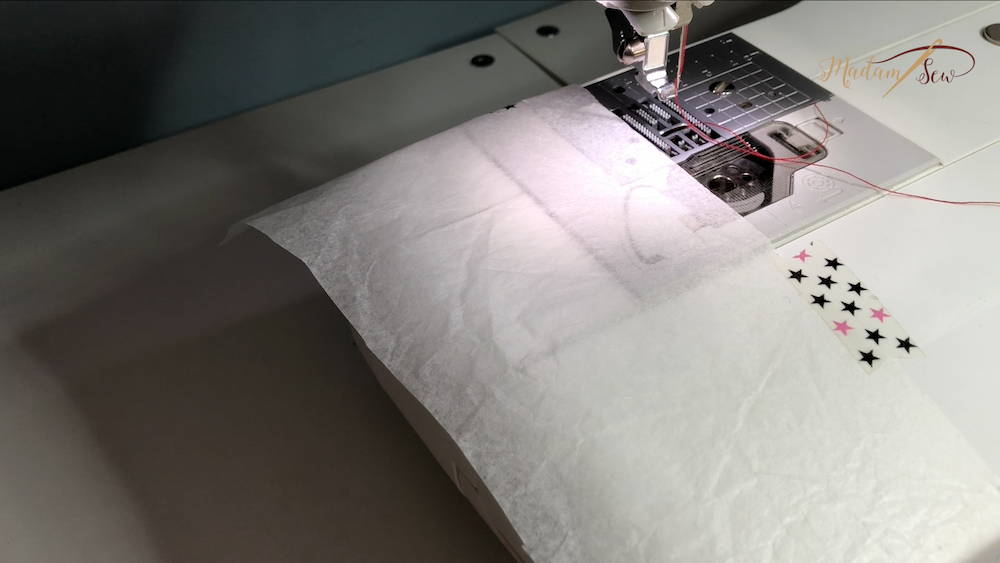 Use a longer stitch length to help the layers move along and to avoid making a perforated line that will eventually allow the plastic to split.
Do a practice run with some scraps before starting your project! This will help you determine which foot and stitch length work best with your machine and whether or not you need to use tissue paper at any point.
Make your quilt sandwich: Lay the backing wrong side up, then the batting and finally the main fabric right side up.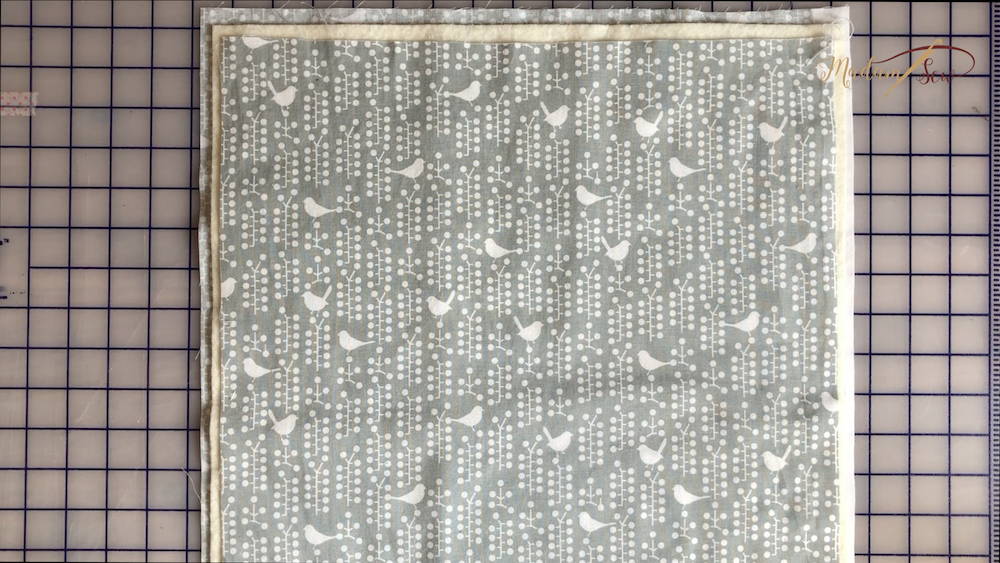 Since the pieces are so small, you don't really need to baste them together before quilting, but you may want to use a couple of pins strategically placed.
Use your walking foot for quilting your desired pattern. I opted for simple straight, horizontal parallel quilting lines, starting from the center of the piece (this central line will act as a folding line.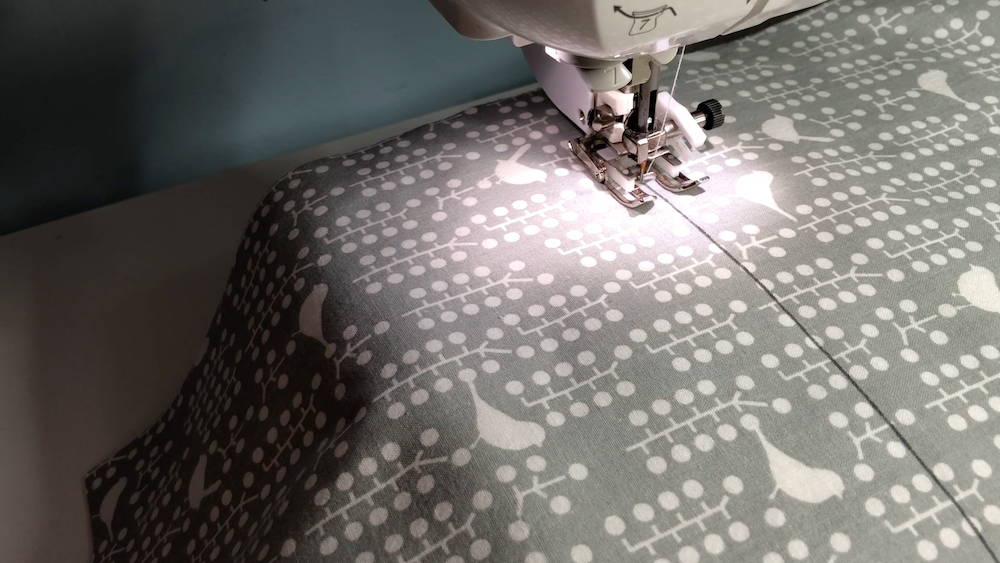 Trim the piece to 15" wide by 16½" long.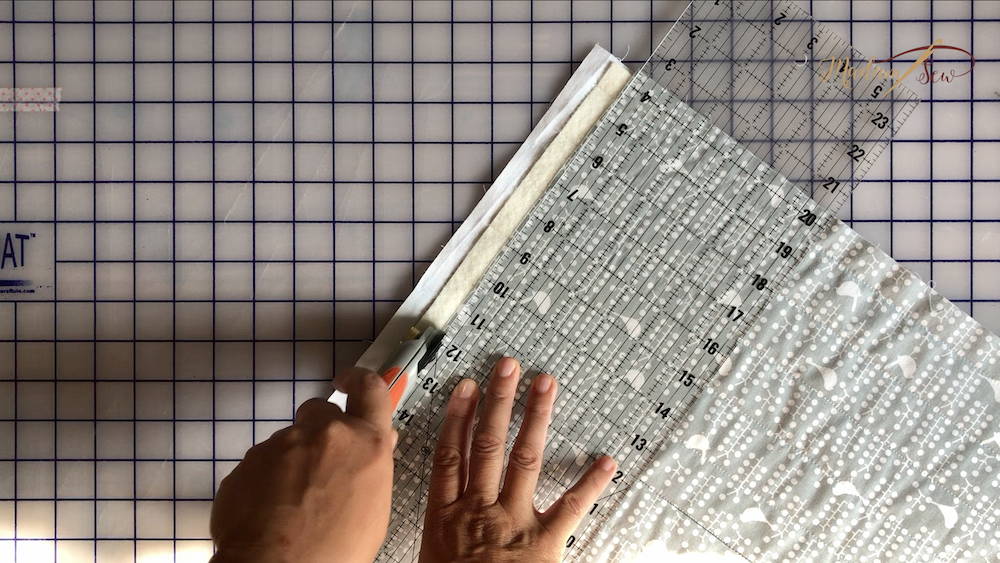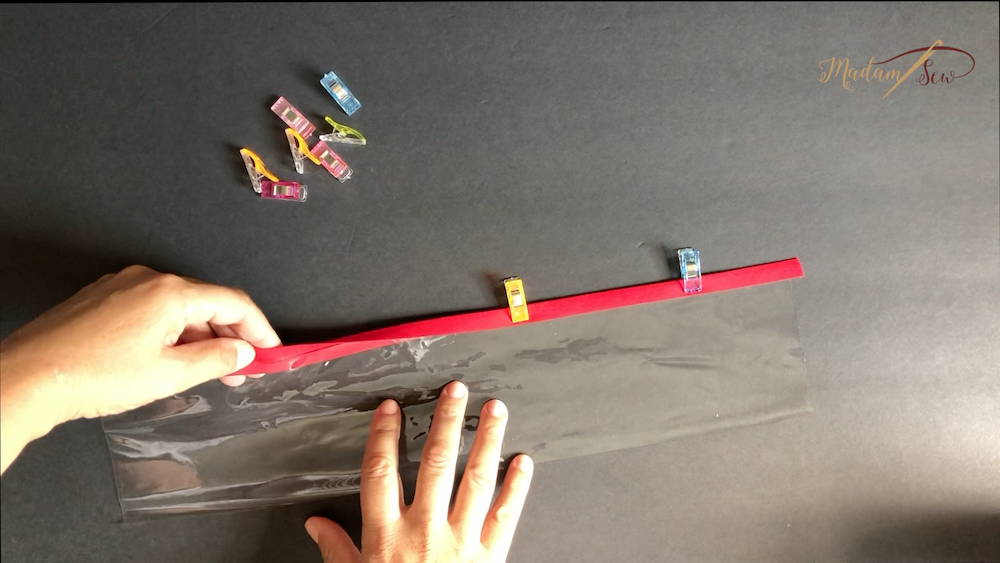 Use the binding foot to attach the binding to the squared off edge, starting on the edge that hangs off the vinyl (it will make it easier to start).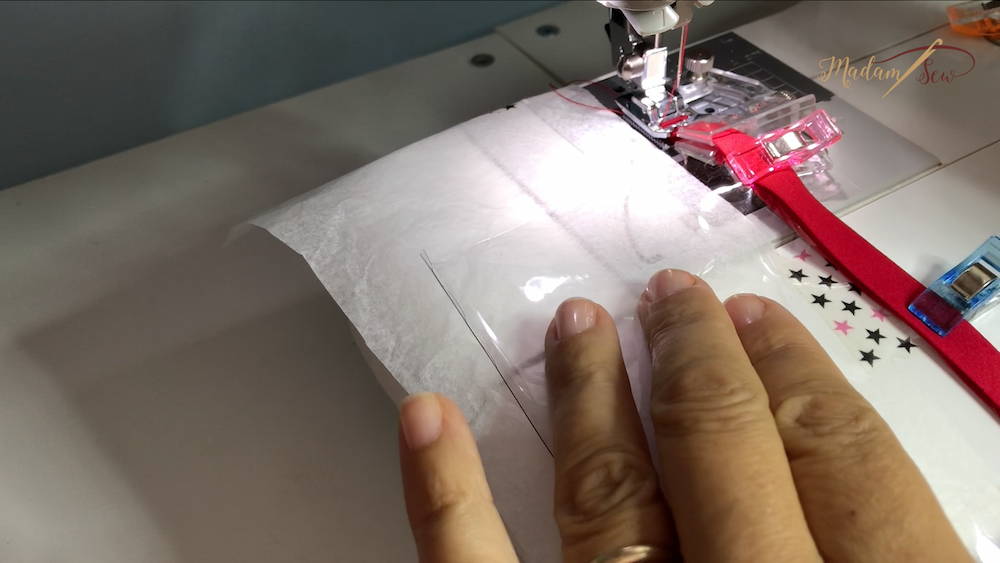 Trim the length of the vinyl pocket to 3½" from the top of the bound edge. Leave the sides and the extra binding uncut for now.
Use a gel pen to mark the pocket lines on the quilted piece. I lay my tools on the fabric and marked around them, but if you want some exact measurements you can follow the graphic below for some generic pockets that will accommodate a variety of tools.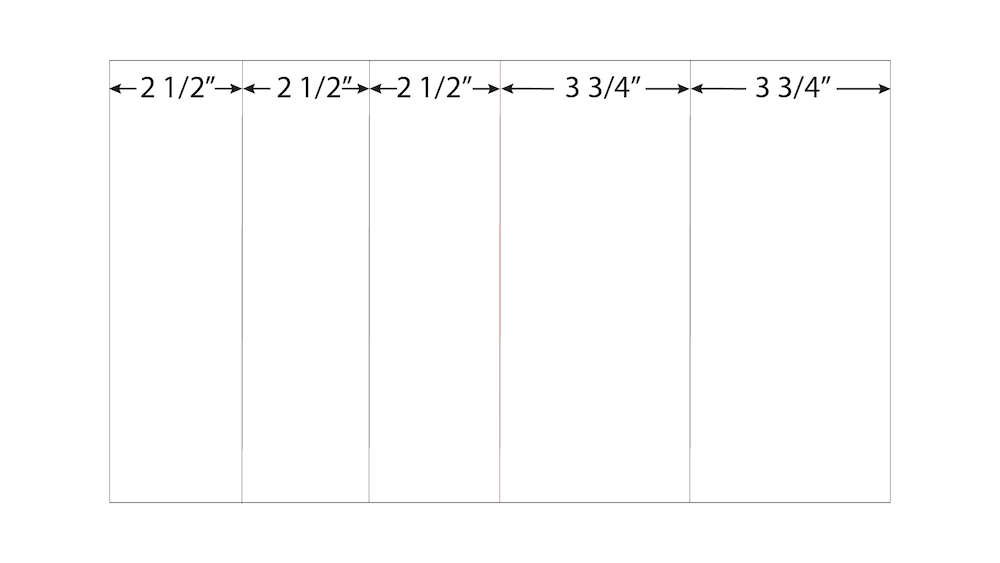 Lay the vinyl pocket matching the bottom edges (the pocket is untrimmed so it should be slightly wider than the main piece, roughly center it so that you have some extra vinyl on both sides). Secure using clips.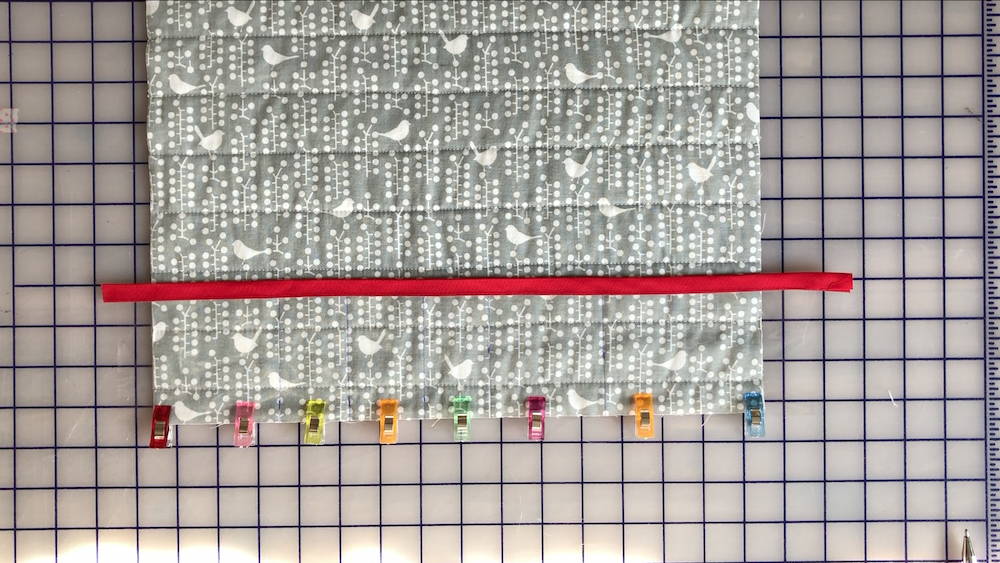 Attach either the non-stick or the roller foot (remember you did a test run to see which one works best?) and sew over the lines. I stopped just before the binding to avoid stitching over it with a contrasting color.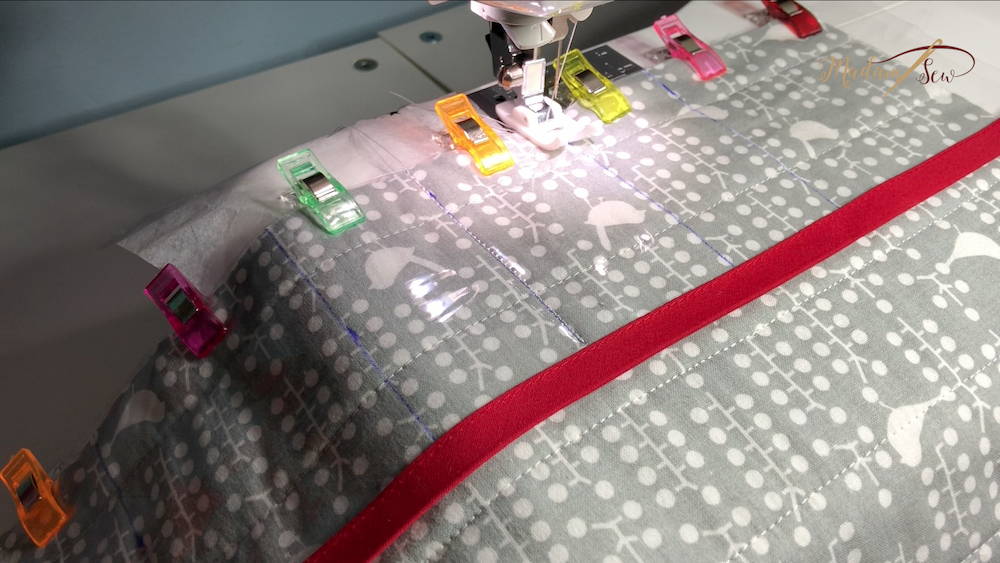 Trim the pocket to the edges of the main piece.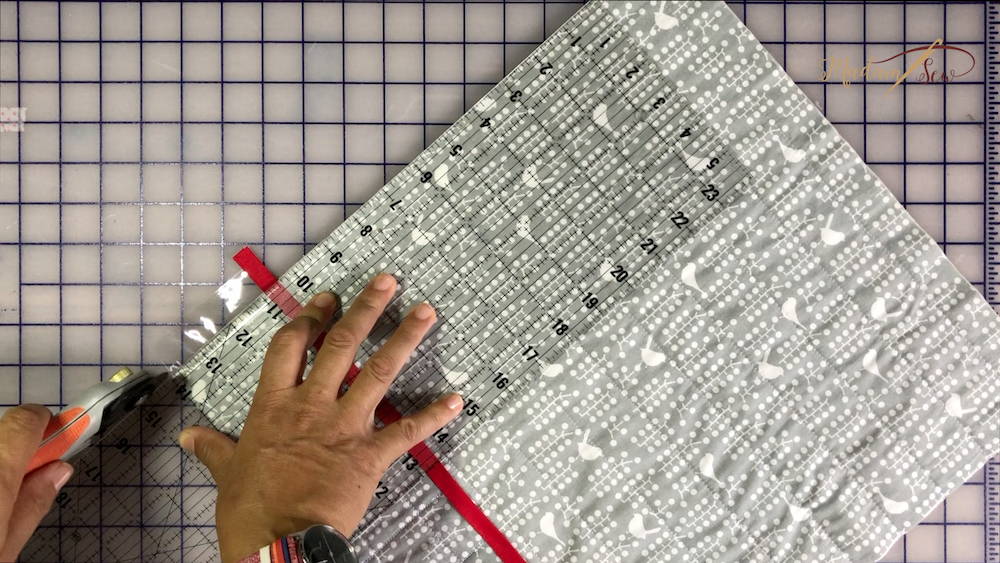 Determine the ribbon placement by folding your organizer from top to bottom, and marking (close to the top of the pocket), where you want it to go.
Pin the folded ribbon and, if desired, a length of elastic to support the longer tools.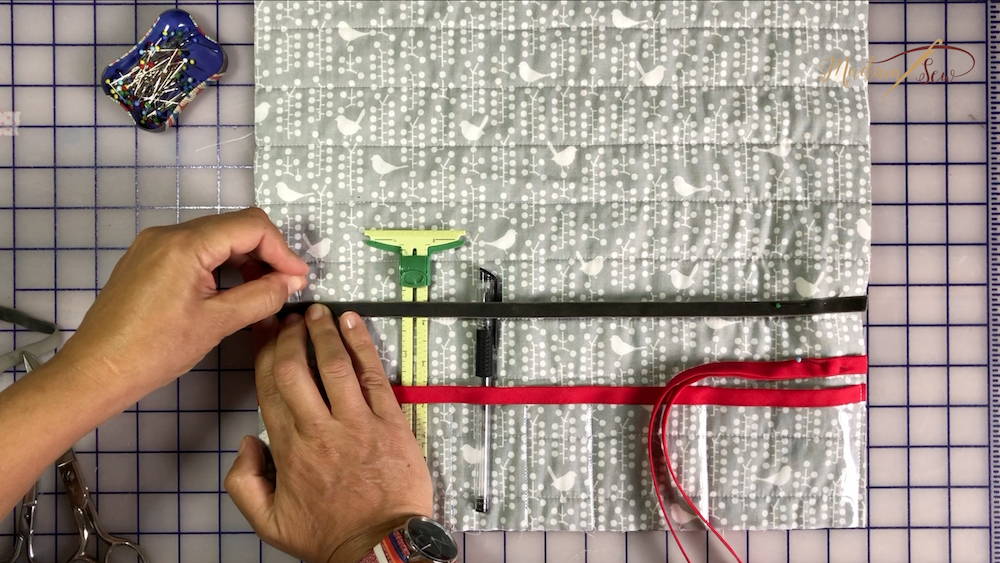 If you wish to avoid mitered corners, trim them to small curves.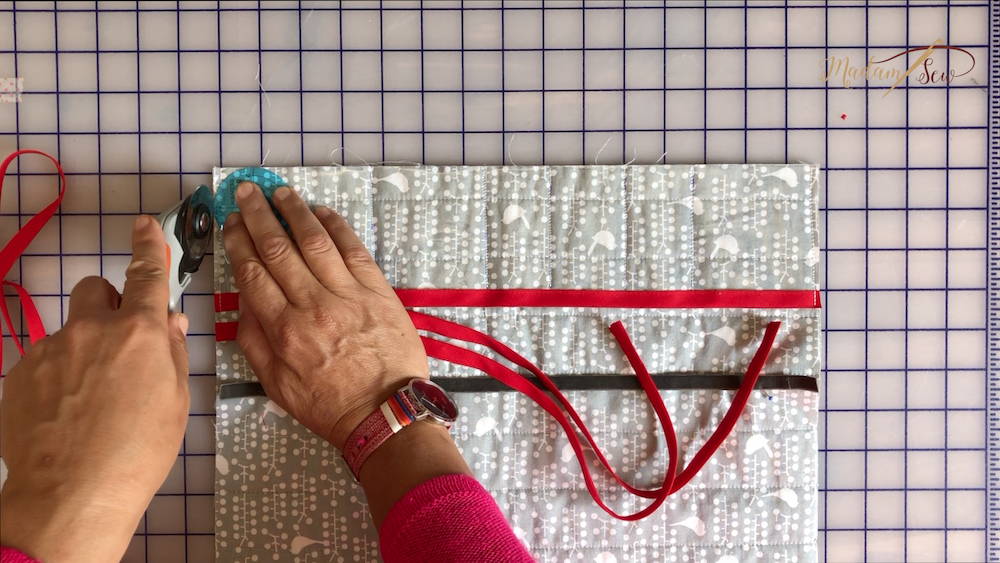 Switch back to the binding foot. Start away from the vinyl pocket and when you get to it, proceed slowly and use tissue paper as needed if things get sticky.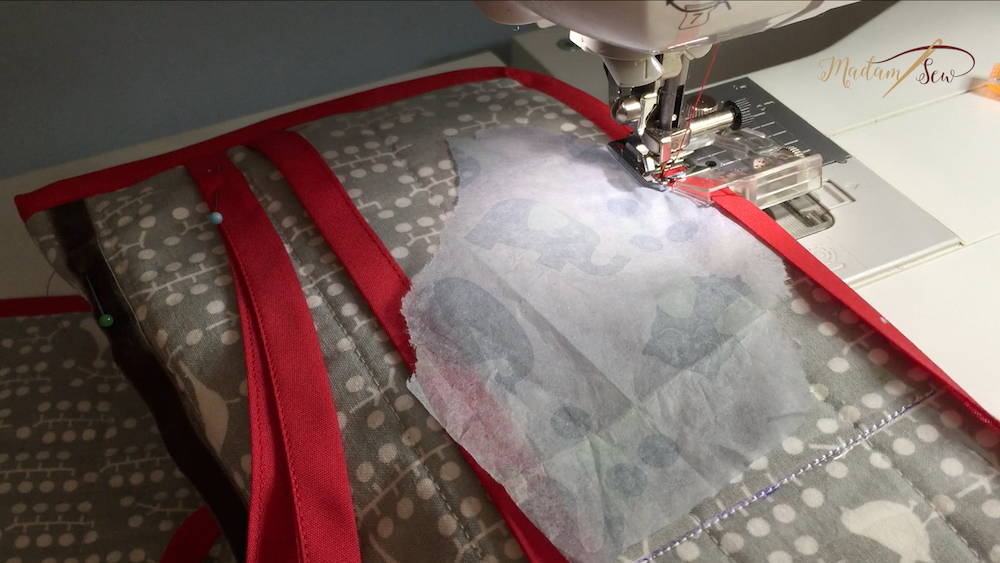 Give the whole thing a quick press to straighten it out and erase the gel pen markings (on the wrong side! Do not iron the vinyl!)
All done! The beauty of this organizer is that it's so very versatile, just change the size and/or depth of the pocket and you can use it for jewelry, makeup brushes… anything that you want to take with you when you're out and about. What will you use yours for? Comment below and let us know!