Let's Make Leaves From Sleeves !

In this sewing tutorial you'll learn how to make fabric leaves from old shirts. We'll explain step by step how to cut the shapes and draw the veins on the fabric with your sewing machine. And what's best, you can repurpose and reuse some old shirts for these DIY fall leaves!
This is a fun project to do with kids because as you see in these pictures the leaves don't have to be perfect and the actual sewing for this project is more like drawing with thread on fabric so kids can be creative and not worry about sewing straight lines or adhering to a pattern. There is also a building toy aspect to this project in that once you've made as many leaves as you like you can use them to create tons of different things from wreathes to bookmarks. Let's get started!
Here is what you'll need to make leaves

Sewing machine with new needle
I'm using sleeves from old favorite shirts but you can use any fabrics you like - Maybe all vintage fabrics, seasonal prints, all plaids - Anything Goes! Also, the biggest piece of fabric you will need is only about 7" by 5" so this is a great project to use up scraps.
How to Make Fabric Leaves Step by Step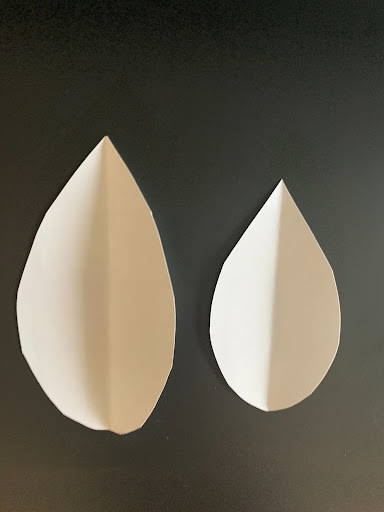 1. Cut a simple leaf shape from sturdy drawing paper

The larger pattern on the left will be used to make your leaves.
The larger pattern shown is about 6" by 4".

2. Now Cut a slightly smaller leaf to use as a pattern for your batting

The smaller batting pattern shown on the right is about 5" by 3".

3. Layer two pieces of fabric with good sides facing in

Then use a fabric marker to outline the leaf shape on your fabric.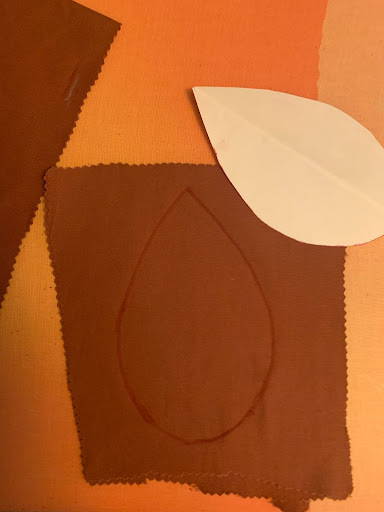 4. Use pinking shears to cut out the leaf shape from your layered fabrics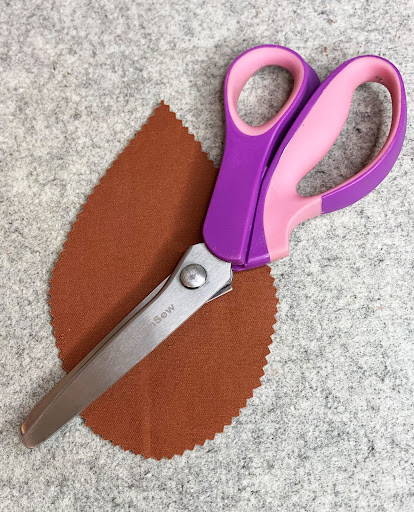 5. Place the smaller pattern on two layers of batting

Hold the pattern firmly in place and use a rotary cutter to cut around the pattern. I find that using a sharp rotary cutter and a rotating cutting mat there is no need to draw the leaf shape on the batting or to pin anything together, simply hold the pattern in place and cut around it. Such is the beauty of a rotary cutter and a rotating cutting mat.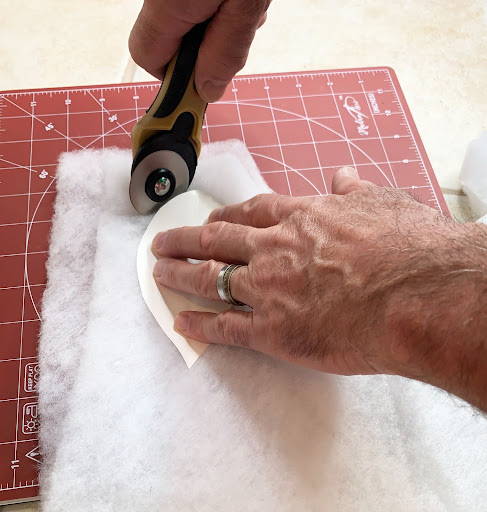 6. Sandwich the two layers of batting between your fabric leaves making sure the good sides of your fabric are now facing out.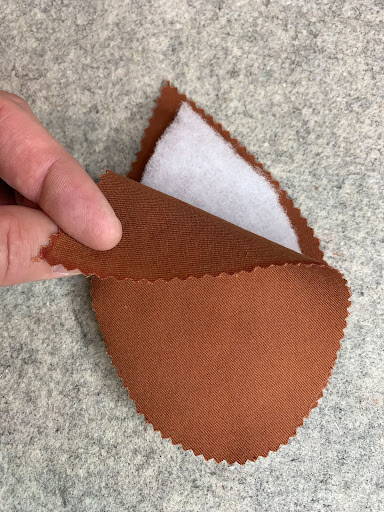 7. Pin everything together and sew an outline around your leaf about a half inch from the outer edge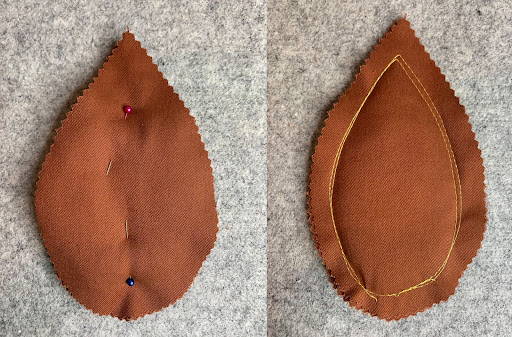 Have a blast - do a traditional leaf spine with V shaped veins or be totally random. Try geometric shapes? Stripes? Zig-Zag? Squiggles? Look how fun these are!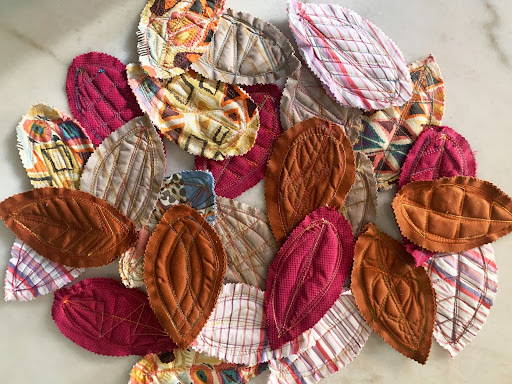 Once you've made as many leaves as you like, you can then use them to create fun home decor. I made about 36 leaves that I've been repurposing for a bunch of cool little projects. Here are some examples.
A Simple Wreath Like Centerpiece for Flowers or Candles

I lightly stitched these together but a FB Group member suggested velcro.
Truth be told, if you only plan to use this for one dinner why not use duct tape on the bottom so that it's easier to take apart when you're ready to use the leaves for something else.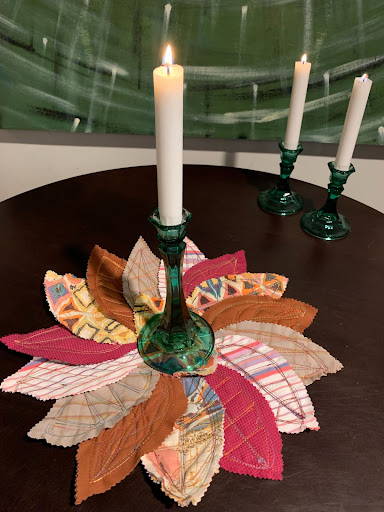 A Hanging Wreath for a Door or Mantle
I used a 12 inch wreath frame for this one and found that two layers of overlapping leaves was just enough.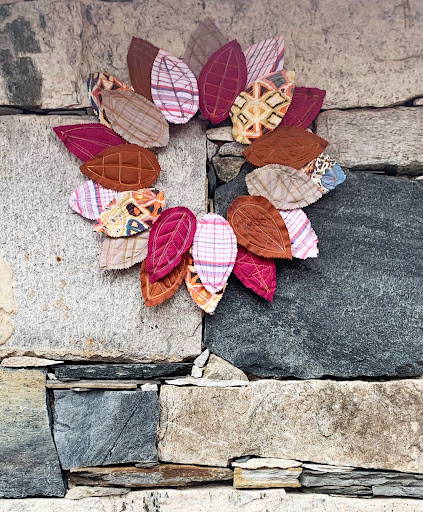 This runner is about 34 inches long and 16 inches wide. It sits on a 36 inch round table. You can make this runner as long and as wide as you like.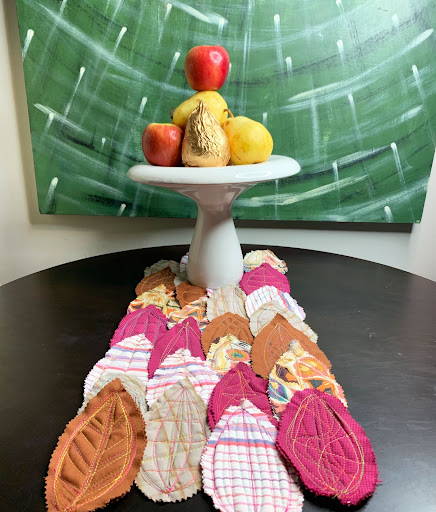 I whipped this garland up in minutes and draped it on our terrace wall for an impromptu outdoor gathering of hot cocoa and nibbles. It was a nice touch.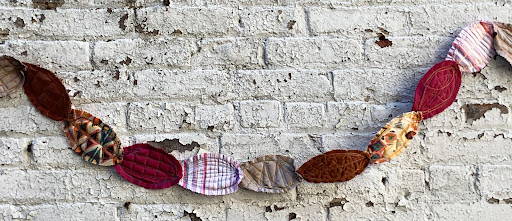 We hope you are inspired to find other clever uses for these diy leaves. Why not bookmarks or table seating name cards? With the same steps you can also make Christmas or Easter ornaments and get even more use out of old clothes or fabric scraps!
Fontaine
Social Media Manager and Sewing Creative @MadamSew
MadamSew.com is not only a webstore offering sewing and quilting tools but also a collective of open minded people who see themselves as doers. Weather you are a sewer, quilter, doll maker, embroiderer or any other crafter working with your hands, you will find a home with MadamSew. This community is all about mentoring, encouraging, inspiring and sharing. We don't compete - we lift!