Preserve Memories with a Photo Quilt

Are you looking for inspiration for your next quilt? I just finished a fun quilt project that I'm excited to share with you today. I made a photo quilt for a friend!
My friend's mother passed away recently, and I offered to sew something as a keepsake for her. I love doing this sort of thing. It's so rewarding to create heartwarming gifts that preserve cherished memories in a tangible way. And, when you add photos to quilts, it makes them even more special…
In today's post, I'm going to walk you through how I made this photo quilt and give you some tips on making your own. I had a lot of fun working on this project, and adding photos to quilts is easier than you might think.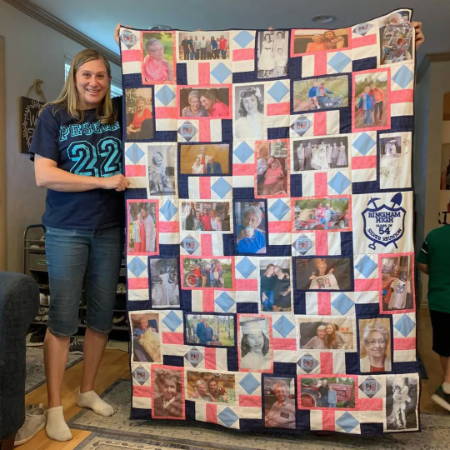 A Closer Look at My Photo Quilt

My friend sent me some photos and gave me a couple of shirts that her mom used to wear. I took them and chose some coordinating fabrics to make the photo quilt. There was a light blue shirt with embroidered butterflies that I cut out to use in the filler pieces of the quilt; a bright pink shirt that I used as an accent throughout the quilt; and an old high school t-shirt. My friend's only request was to include the t-shirt in some way. I went ahead and added it as one of the blocks.
I'm proud of how this photo quilt turned out—a true labor of love. What do you think?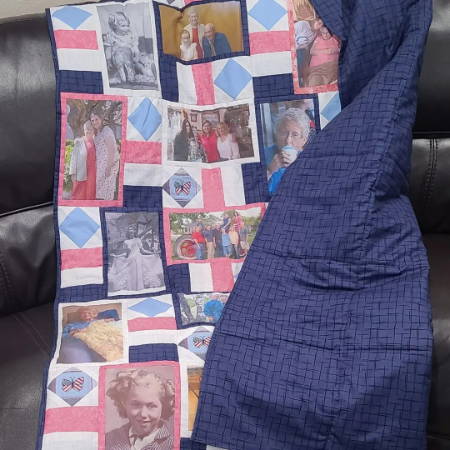 If you're looking for some way to take your quilts to the next level, start incorporating photos!
How to Print Photos on Fabric

If you have a standard inkjet printer, you can easily print photos on fabric at home. All you need is some inkjet fabric sheets that are 8.5"x11". Several brands sell these printable fabric sheets, but they're all very similar. Each one is a sheet of cotton with a paper backing so you can feed it through your home printer. After printing, simply remove the backing, and your fabric is ready to sew!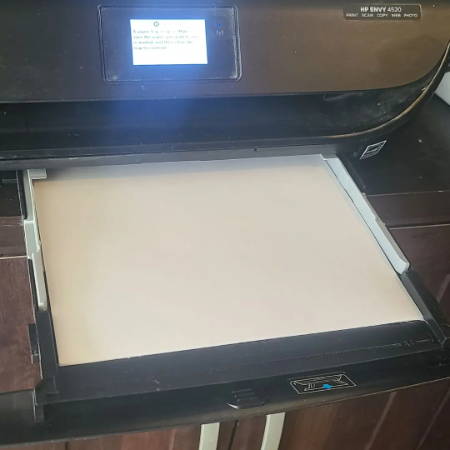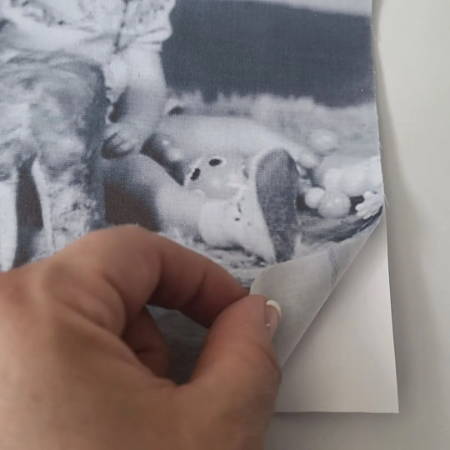 You'll want to avoid touching the surface of the photo until it has dried completely. It's also recommended that you heat set the ink by covering the photo with a pressing cloth and using a hot iron. I performed a small colorfastness test and did not see any dye bleed. I'm confident this photo fabric will hold up in the wash, but it's always a good idea to use caution when washing a quilt. And, like with all cotton fabrics, the colors will probably fade over time and with each wash.
I love how easy it was to use these printable fabric sheets in my photo quilt. Just be sure to follow the manufacturer's instructions for the brand of printable fabric sheets that you get.
Choosing Photos and Designing Your Memory Quilt

When choosing photos for your quilt, pay attention to their orientation. My friend gave me a mix of both portrait and landscape photos, and I had to come up with a quilt design that would accommodate both. Basic patchwork designs work well for photo quilts, especially if you want to incorporate photos in several sizes. I ended up using two in-the-hoop quilt block designs from Sweat Pea Embroidery—one to frame the photos and another to create some pieced filler blocks. I was able to change the orientation of the filler blocks based on the orientation of my photos to create 10-inch square quilt blocks. I ended with seven rows, each with five 10" blocks.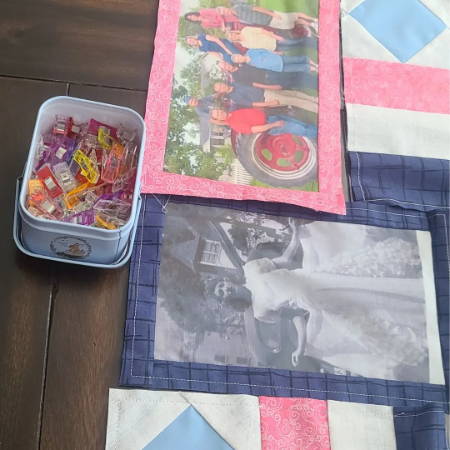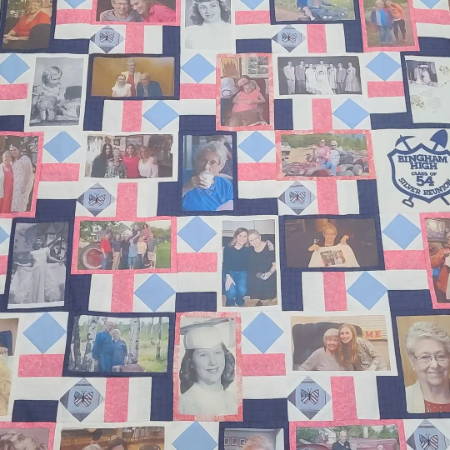 Note: If you've never heard of "in-the-hoop designs," they are files you can upload to an embroidery machine that stitch patterns out for you. You simply hoop some fabric and let your embroidery unit do all the stitching for you. Typically, the designs come with instructions that tell you when to add fabric pieces to your block. If you have an embroidery unit on your sewing machine, I highly recommend that you try in-the-hoop designs. There is no better way to get perfect quilt blocks because the stitching is completely computerized and precise.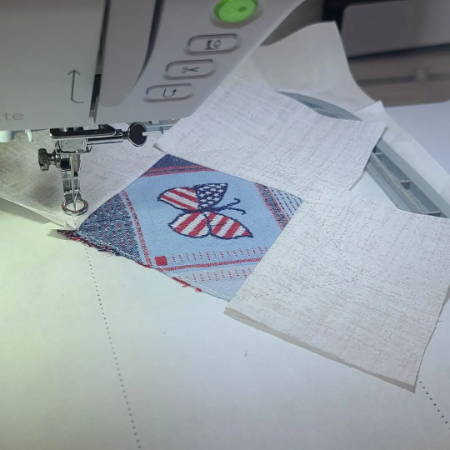 I did stray from my quilt pattern slightly by substituting one of the blocks for the old high school t-shirt. I simply stabilized the back with some t-shirt stabilizer and cut out the front to be 10"x10". T-shirt quilts are a fun project, too. The trick is to use the right stabilizer.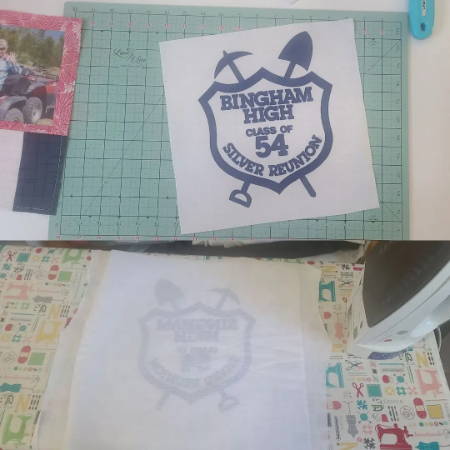 Photo Quilt Construction Tips

When making a photo quilt, it's important to do what you can to keep the seams as flat as possible so that the photos lay flat. This means you should take extra care when deciding which way to press your quilt seams. I also recommend using a low-loft batting to reduce potential puffiness.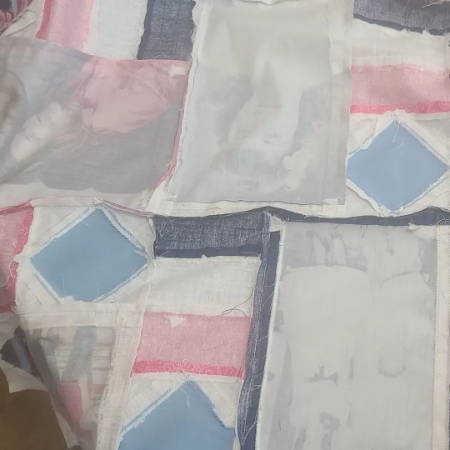 I decided it would be better not to quilt over the photos. Instead, I used invisible thread for the quilting part. I wanted the photos to be the showstopper without the distraction of quilting lines. I had never used invisible thread before, but it worked beautifully. I had to loosen my upper thread tension a little because it was pulling and creating gathers a little at first. However, I found that a stitch in the ditch foot made it super easy to keep my stitches straight so they disappeared within the seams. For this photo quilt, I simply stitched around all the 10-inch quilt blocks.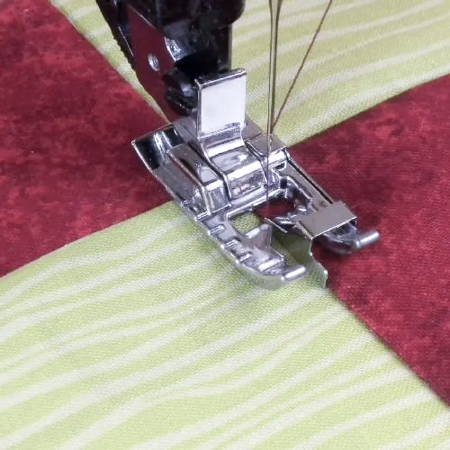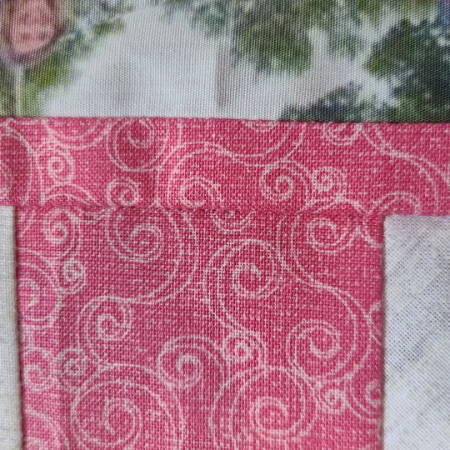 Finally, you'll need to bind your quilt. Madam Sew sells some nifty bias tape makers that are perfect for creating bindings for a quilt. However, I decided just to bind my quilt by folding over the backing. That's my favorite way of doing it because it is so easy. I plan to write about the self-binding method soon, so be sure to subscribe to this blog so you don't miss it.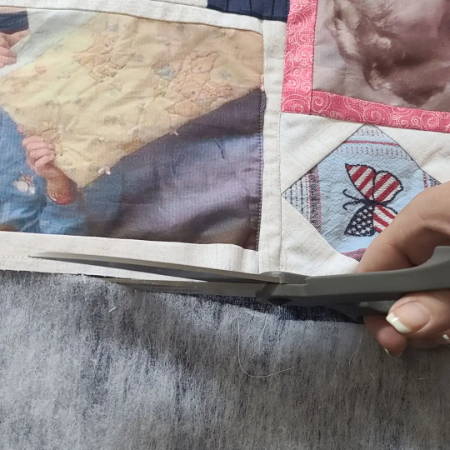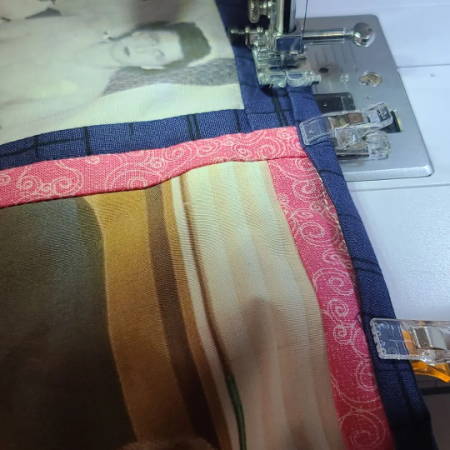 Have you ever made a photo quilt? If so, I'd love to see photos. Please share them in Madam Sew's quilting Facebook page. And don't forget to package your quilt in a quilt storage bag from Madam Sew!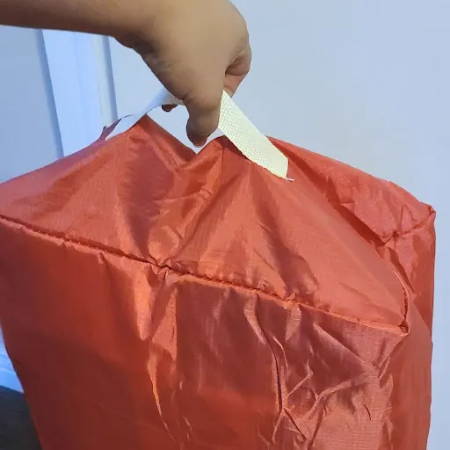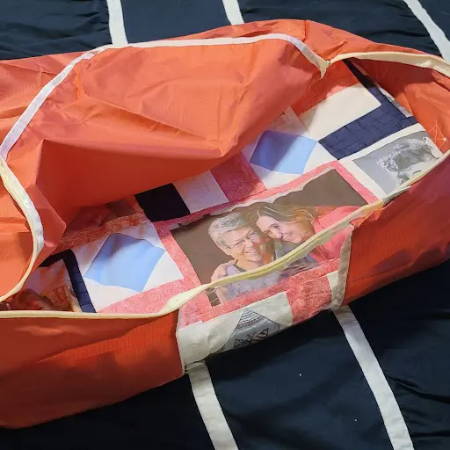 This memory quilt has turned out to be my favorite quilting project this year. I hope my friend will cherish it. Let me know if you have any questions about it in the comments below. I really hope you give photo quilts a try.
Cara Stromness,
Blogging for Madam Sew and Sewing Society


Cara loves sewing, quilting, and machine embroidery. Be sure to subscribe to see her future posts about sewing tips and fun, step-by-step projects.