How To Appliqué… For A Man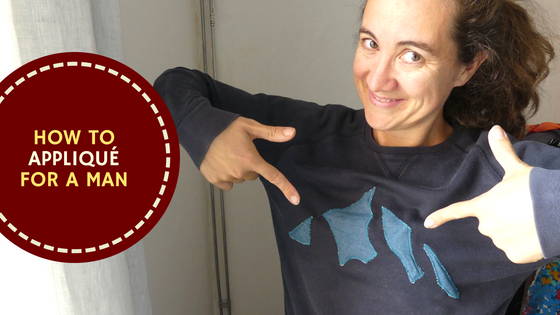 Making a t-shirt or a sweater for him, that was the plan :-) I'm not quite there.. yet. And I wanted a print on it. Appliqué always has this 'for little children' connotation.. cute animals, sailing boats, ice creams, flowers.. When my kids were toddlers I looked for these things, but ... for the husband… that's a no no.
 
And on top of that, I was never really satisfied with the result of my stitching (the corners, I often stitched next to the fabric, it was wobbly)... Read: I didn't have enough patience to practice first :-))
My goal: try and find some cool, simple appliqué designs, test the appliqué stitches, and the tools, and practice (a little) in order to get the look I want.
I find it really hard to find appliqué patterns for men. I don't want a beer, a guitar or a football on my husbands t-shirt, neither does he.. And the patterns I like are usually way to complicated for my appliqué talent.
Drawing my own design… maybe, if it's something abstract, but if I want him to recognise what I drew, I better copy an existing drawing. There are lots of free appliqué designs online but I haven't found a site with "the men friendly" ones, so this time google images had to do the trick. My dear friend Astrid once told me to type 'vector' with the term you want and then you get simple black n white shapes that will often work as appliqué designs. When selecting an image, I avoid the ones with lots of tiny turns and sharp corners.
Sewing an appliqué on your project comes with some esthetic choice making (the pattern & the stitches) and some "tool" options (the presser foot, threads, needle & stabilizer).
I hope this 'start to appliqué' blog post will help the newbies and has some tips for the more experienced among us and for the ones that are looking for men-ly appliqués, I added some simple downloadable appliqué patterns for men at the end of this blog post!
1. Choose The Design
To draw directly on my fabric, you can use heat erasable fabric marking pens.
To copy an existing design:
I print it on paper or copy it from a book with a marker on paper. Don't forget that appliqué pieces must be traced in reverse so they are right side up when fused to the fabric. Very important if you're appliquéing text :-)
Then copy it onto your fabric or onto the stabilizer. White stabilizer is transparent. You can use a light table (don't have one), a window (yes) or the TV (husband says NO). Other people print on fabric or stabilizer directly with the right printer, use carbon or transfer paper, use special transfer pens. A method I will surely test in the future is punching the design through the paper and the fabric with a needle and then rub the paper with talc powder. The powder leaves marks you can trace on your fabric. But for the moment, I have no experience with these methods.
I found these 'manly' designs, with some help of some sweet members of our Facebook Group (thanks Donna, Pam & Katie!). You can download these 18 for free here!
If you use one, I would love to see the result!
2. Choose The Stitches!
The most common stitches used for appliqué are the zig zag stitch (satin or narrow), the blanket stitch and a straight stitch. Some use a blind hem stitch as well. The first thing I did with my machine, was test these stitches, so I made a little stitch sampler. If you don't have a satin stitch on your machine, choose a zig zag, then alter your stitch length to a very low setting – until there is barely any space between the stitches.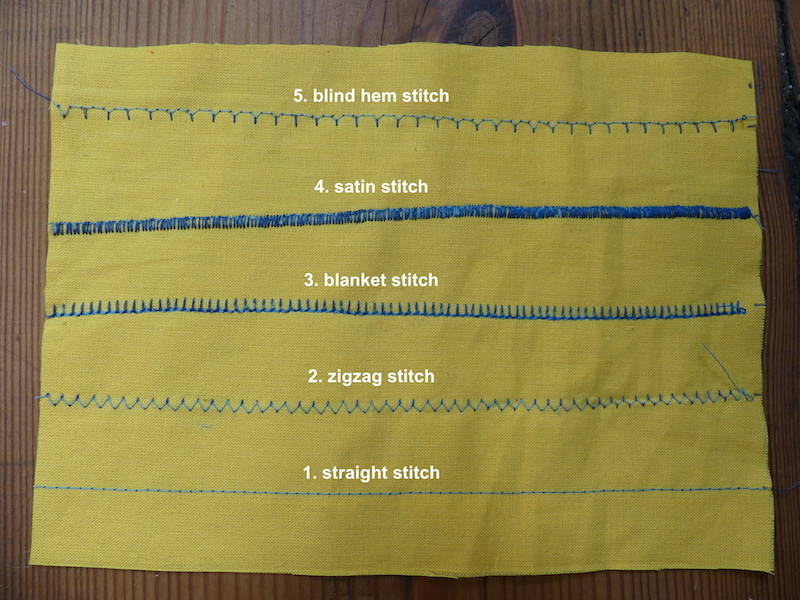 Info on the stitches
I found some great tips on "the crafty quilter" to keep those stitches on the edges of your appliqué fabric and there's another great blogpost on Sewingspark.com about appliquéing around corners and curves with some really clear drawings. The links are at the end of this post.
Stitches
How to use it on appliqué?
Going through curves & corners

The right swing of the needle should go into the background fabric just next to the edge of the applique shape. The left swing of the needle will be going as far into the applique as your stitch width allows.

On an outside curve and an outside corner, you'll want to pivot when the needle is on the right swing. On a corner you give a couple diagonal stitches before turning 90%. On an inside curve, you want to pivot on the left swing. This will prevent any gaps in your stitches from occurring.

When you come to an outside point, you may need to narrow your stitches otherwise they will cross over the tip of the shape and you'll end up with a boxy point. I gradually decrease my stitch width as a approach these points and then gradually increase it back again as I move away.
 

You want the right swing of the needle to fall in the background fabric just next to the applique, but the left swing will go just inside of the applique shape.

Your needle should be piercing the background fabric, but just grazing the applique shape. The bite should be perpendicular to the edge of the applique and go straight into it.

You will need to pivot around the curves. On an outside or inside curve, pivot either before or after taking the straight stitch. Don't pivot when your needle is on the left swing and already taken the "bite". This will prevent a "V" stitch instead of a straight blanket stitch

Just like the blanket stitch, the main line goes next to the fabrics edge and the little V's go onto the appliqué shape. But be aware that the direction of the V's is opposite from the blanket bites. Your appliqué has to be on the right side of your needle when you sew.
I tested the stitches first on 5 yellow rectangles I put on a red stiff cotton and used purple polyester embroidery thread so you can see the result clearly (Auch!.. Horrible color combination alert!) and practiced my corners a bit. The result isn't that great. Especially the corners of the satin stitch are not easy for me.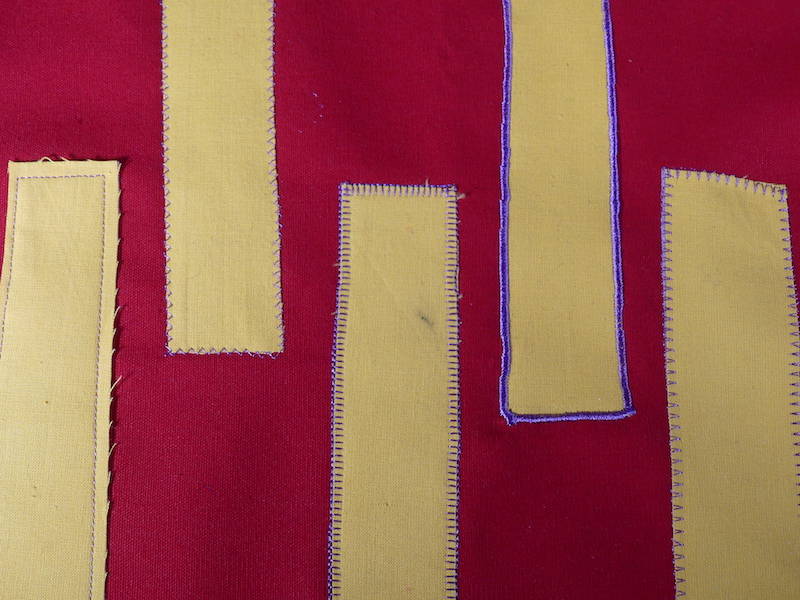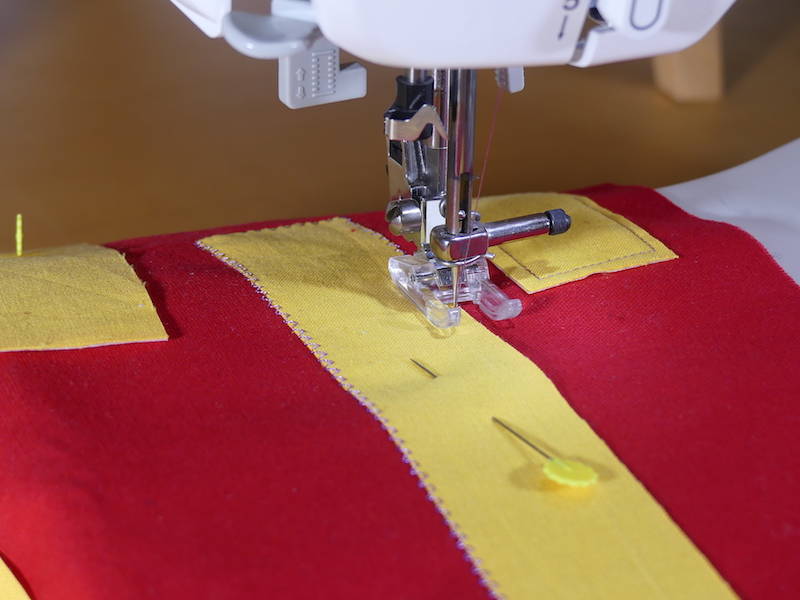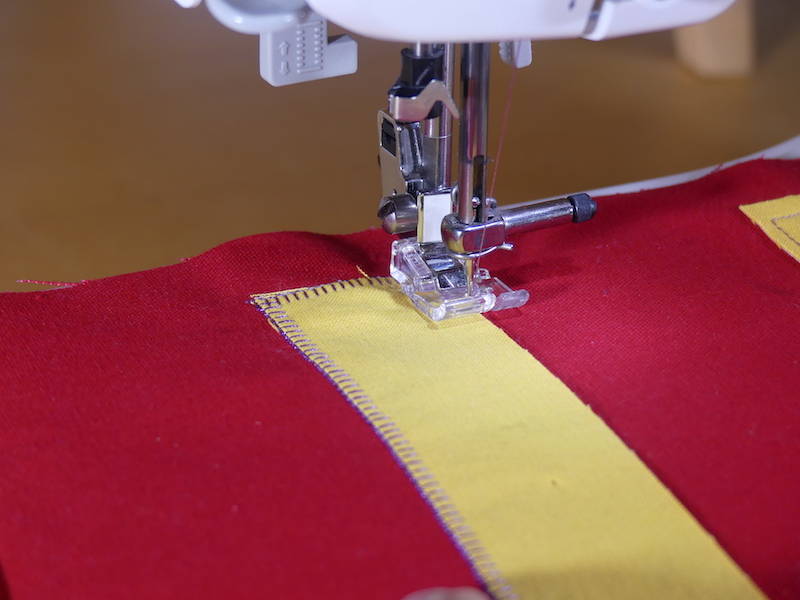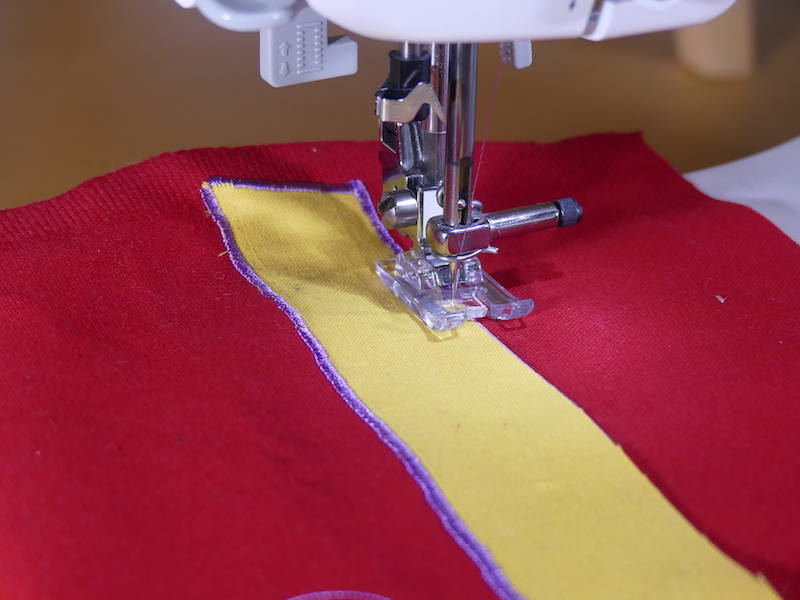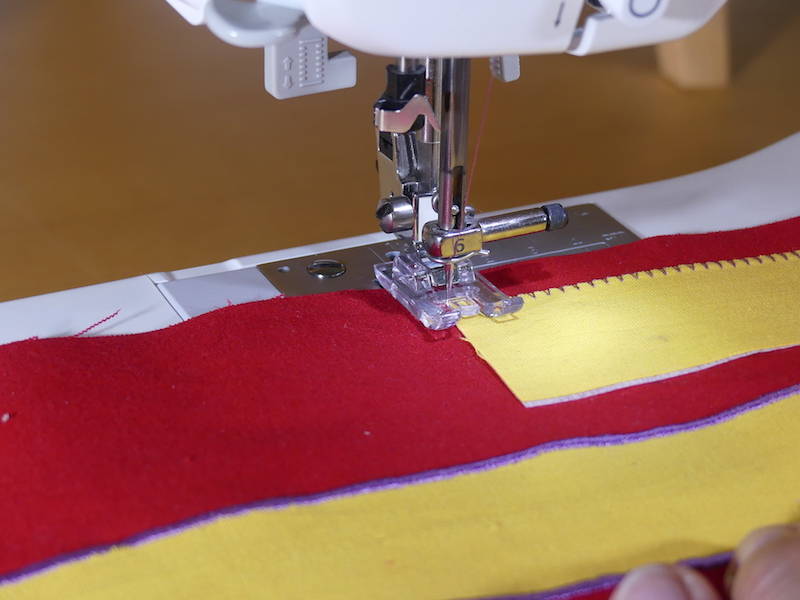 I did a second test with the mountain design on t-shirt jersey with blue embroidery thread and tried all the stitches again with the different pieces of the design.

1. Straight stitch
2. Narrow zigzag
3. Wide zigzag
4. Satin stitch,
5. Blanket stitch
6. A wider blanket stitch
7. Blind hem stitch
8. A wider blind hem stitch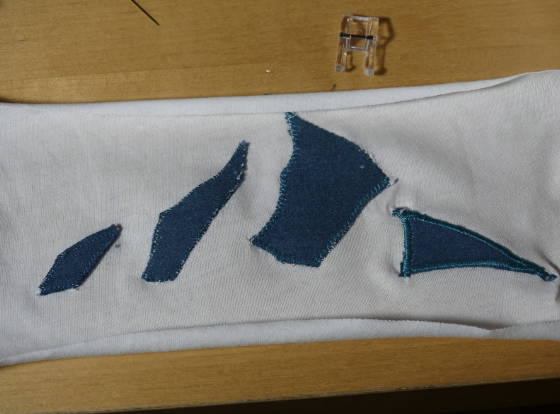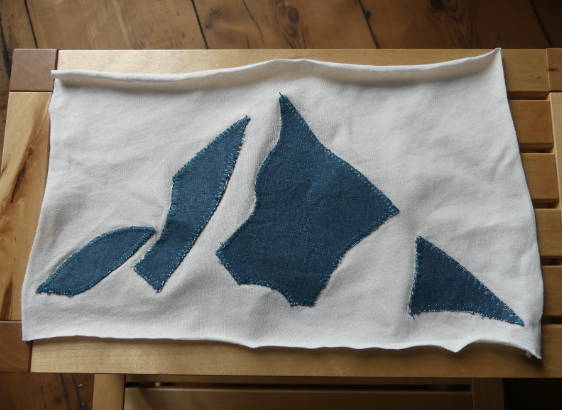 It's definitely too soon for me to use the satin stitch, and the look of the straight stitch isn't what I'm looking for either, you have to like fraying. I came across some really lovely designs with a straight stitch and some thread sketching. Look at these cute collages from Sarah Dodd!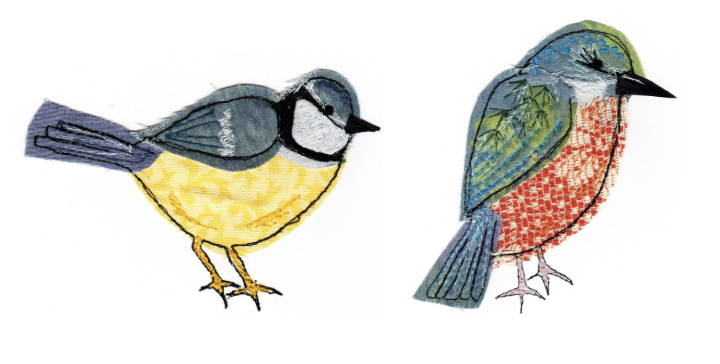 The blanket stitch and the zigzag are easier than a satin stitch. Keeping a straight line and sewing neat corners is definitely for the more experienced appliqué-er. My corners look horrible... If you can do a proper job with a satin stitch, it's beautiful and you have a nice border and no fraying at all.
For my project, my mountain design and my capabilities, I decided to go with the blind hem stitch.
If you want to see how I'm doing, stitching those yellow rectangles with the 5 different stitches, look at this video about the stitches and the presser feet:
One important tip: don't start sewing at a corner without any experience, it's easier and cleaner to start at a straight line and take the corner while you are going around, really!
3. Choose The Presser Foot
Of course you can use a regular presser foot for appliqué stitching, but the thickness of the stitching can build up, especially with satin stitches. This way the fabric does not feed smoothly under the foot because the foot is pressing against the stitches. And because the stitch length is short there is not enough grip from the feed dogs to make the fabric move smoothly. That's why these specialty feet were created, to give you more visibility, let you maneuver easily through curves and corners and allow smooth feeding with the thickness of dense stitching.
Most sewists know the open toe foot, but the Ultimate Presser Foot Set also has an appliqué foot and a satin stitch foot. So I decided to give these 3 feet a try and show you what they do. They are number 2, 3 and 4 in the set.
All 3 feet are made of clear plastic for easier viewing. The choice of the foot is related to the stitches you choose for your appliqué.
The applique foot is a clear foot that is 3/4th shorter than a regular foot, and the shortest of the 3 feet in this post. This is the best one for maneuvering around curves and corners. It has a closed front with a little mark (carving) for the center needle drop point. The underside is flat before the needle drop point for optimum thread tension and it opens wide behind the needle to let stitching and fabric edges easily pass through.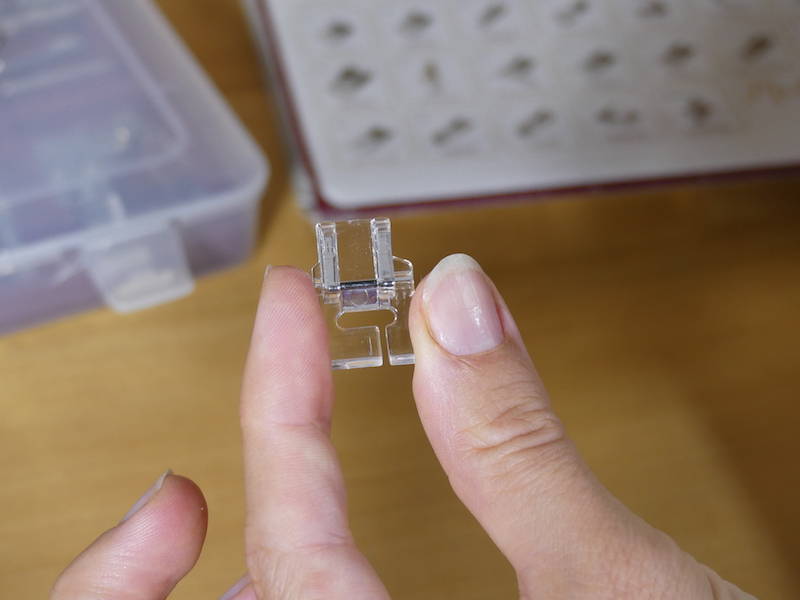 The open toe foot has an open front that gives the best visibility for accuracy. The bottom is slightly recessed so it can also travel over dense stitching. This wide groove or channel runs the length of the foot is 2/8" wide in the front and 3/8" in the back. It has a stitching area wide enough for maximum stitch width without compromising control. The toes of the foot are a bit shorter than a regular foot, but not as short as the appliqué or darning foot where you're going completely free-hand. So if your appliqué has a lot of straight lines, maybe stick with this foot.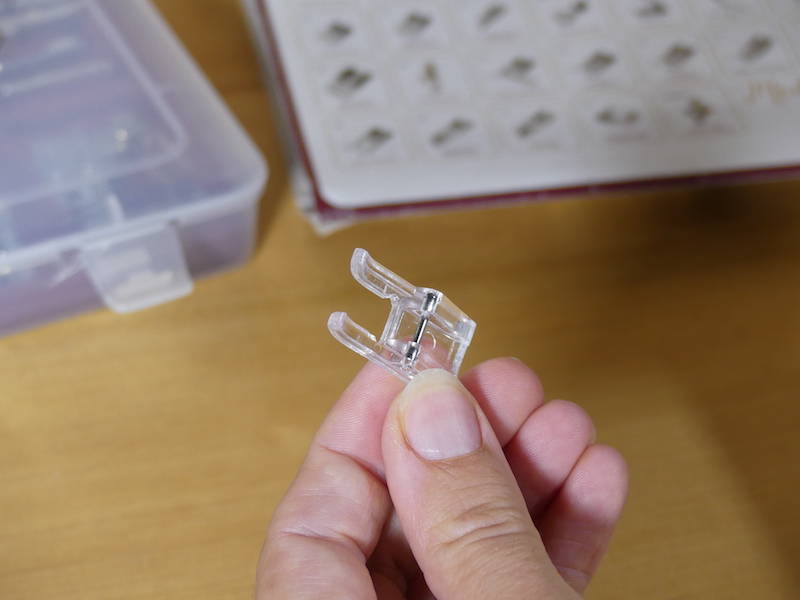 The satin stitch foot : Just like the open toe foot, the satin stitch foot has a recessed bottom. This grove is 3/16" wide. It lets the dense satin stitches pass smoothly. The front of the foot is semi-open, like most regular presser feet. It has a little mark (a V carving) at the front of the foot that provides an excellent stitching guide as you twist and turn. Keep this V at the edge of your fabric and your stitches won't miss your appliqué.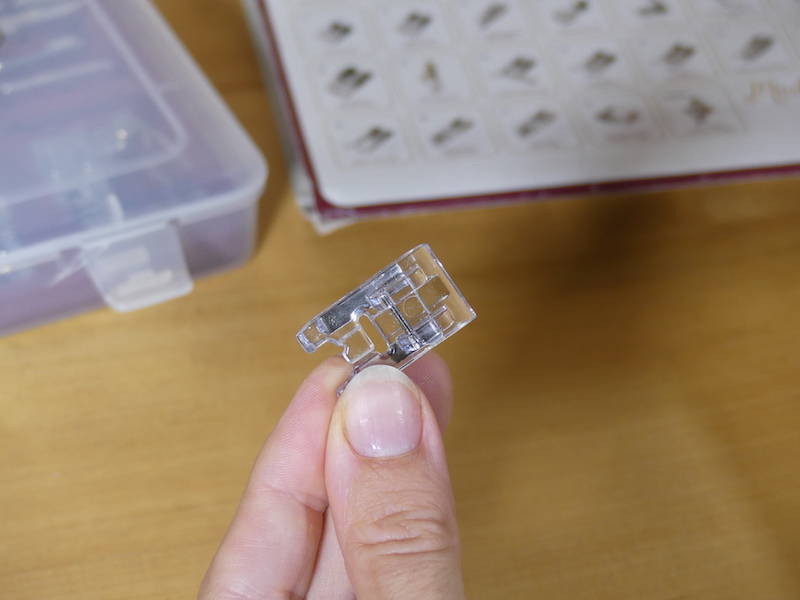 | | | | |
| --- | --- | --- | --- |
| | Characteristics | Good For | Stitches |
| | Open toe, longest toe, wide groove | Straight lines, dense stitching | Straight stitch, zigzag, blind hem stitch |
| | Semi-open toe, wide groove | | Satin stitch & blanket stitch |
| | Closed toe, short toe, maneuverability, closed foot | | Straight stitch, blind hem stitch, wide zigzag stitch |
My favorite for the moment is the appliqué foot because of its maneuvering talent. Which one do you use the most?
4. Choose The Thread And Needle
Thread comes in all shapes, sizes and colors. You'll want to focus on the weight and ply of your thread first. The average weight for a thread is 50 wt. and most threads are made up of 3-ply. If you're just starting out, some people advise to go with a 40 wt embroidery thread. I used a 2 ply thread, 40wt. It's more forgiving and will create a smoother and fuller line of stitching. Traditionally this thread type is rayon or polyester, which means you will get a slightly shiny finish. Make sure you use a needle that works well with your thread type and weight.
5. Choose The Stabilizer
You can stabilize the appliqué and the fabric you're appliquéing onto. I stabilised both. I used a non fusible wash-away stabilizer for the jersey and fusible interfacing to strengthen the appliqué.
Info On Stabilizers, Interfacing, And Webbing
Stabilizers come in different forms, they're used primarily for machine embroidery. There are 4 main categories: wash-away, heat-away, cut-away and tear-away. The names indicate how you will remove it when you are done. You hoop the stabilizer behind your fabric which helps prevent puckering or bunching on something so thread-heavy like embroidery. Unlike interfacing, it is meant to be removed from your project. Its temporary hold provides support for thread heavy work like satin stitching, decorative stitch work, and machine embroidery.
Cut out a square just a bit bigger than your appliqué design. It's important the stabilizer goes all the way to the edge of a cut design in order for it to adhere properly. You will be stitching over the cut edge, but the stabilizer helps prevent any fraying, especially where the design gets very narrow.
Used For
Best Used On
Comes In
Removal

Not removed, except cutting away excess

Firmly woven, natural fiber fabrics

Light to heavy weights; fusible and non-fusible

Torn away, but not always completely removable depending on brand and stitch pattern

Non-washable, delicate fabrics and for off-the-edge stitching techniques

Woven sheets, plastic film

Completely removable with iron and caution

Delicate, mesh-like, and difficult-to-mark fabrics
also for cutwork and embroidered appliqués

Plastic film, paper sheets, brush-on or sprayable liquid

Completely removable with water
Fusible webbing is fusible on both sides. People use it to apply a piece of fabric onto another piece (why it's handy for appliqué) and keep it in place while you permanently stitch it down. There are several brands and multiple weights but all are characterized by a spiderweb look that when pressed with a hot, steamy iron turns to glue. It's usually paper-backed to help prevent the glue from getting on your iron while applying one side.
 
Interfacing can be fusible or sew-in, woven or non-woven, very thin to medium weight to cardboard stiff. It is meant to stabilize or provide structure for projects like bags or garments pieces like cuffs, collars, and plackets. Interfacing is always left in the project, not removed. It is applied to the wrong side of the fabric, with a hot iron if fusible or basted if sew-in.  
So...
You'll need:
Your design on paper
Fusible interfacing + removable stabilizer
Pen
Thread & Sewing machine needle
Sewing machine & presser foot
Pins or fabric glue
Fabric for the applique and for your project
Now You Can Start... And Follow These Steps
1. Transfer the design on to your interfacing with a pen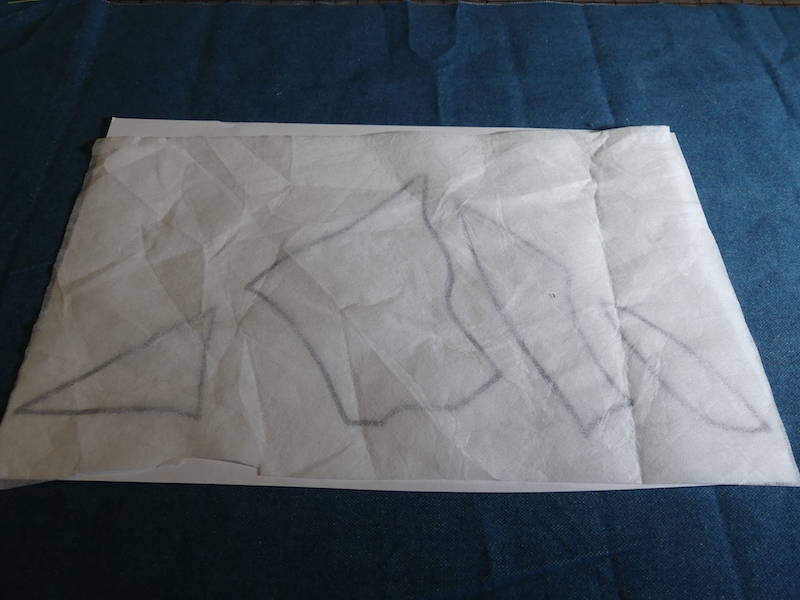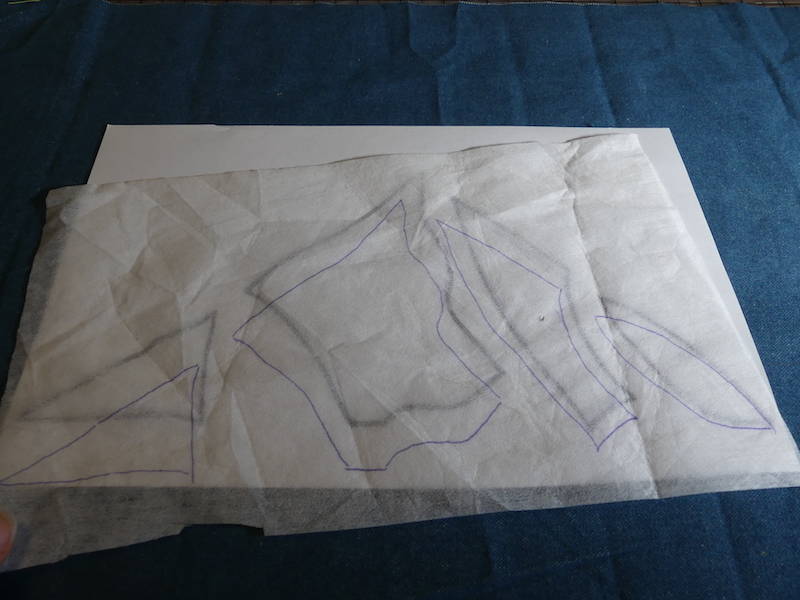 2. Iron the interfacing on to the appliqué fabric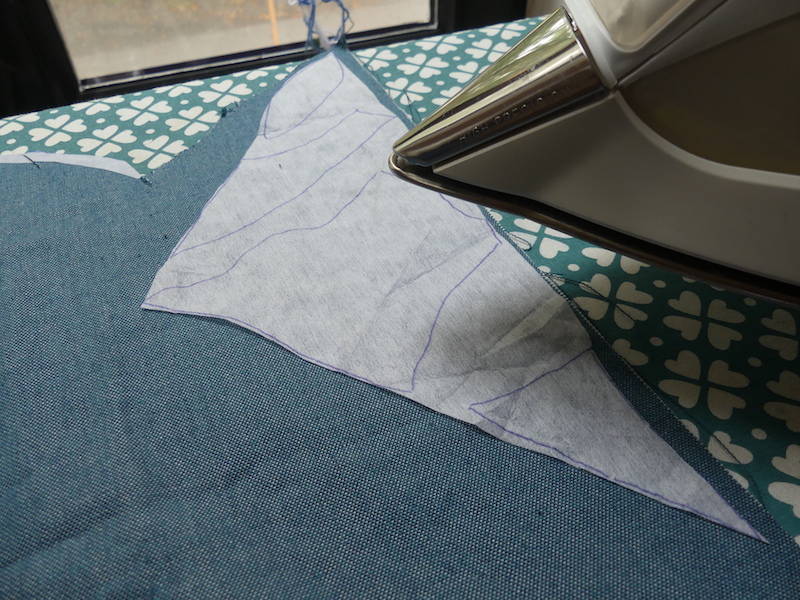 3. Cut out the appliqué pieces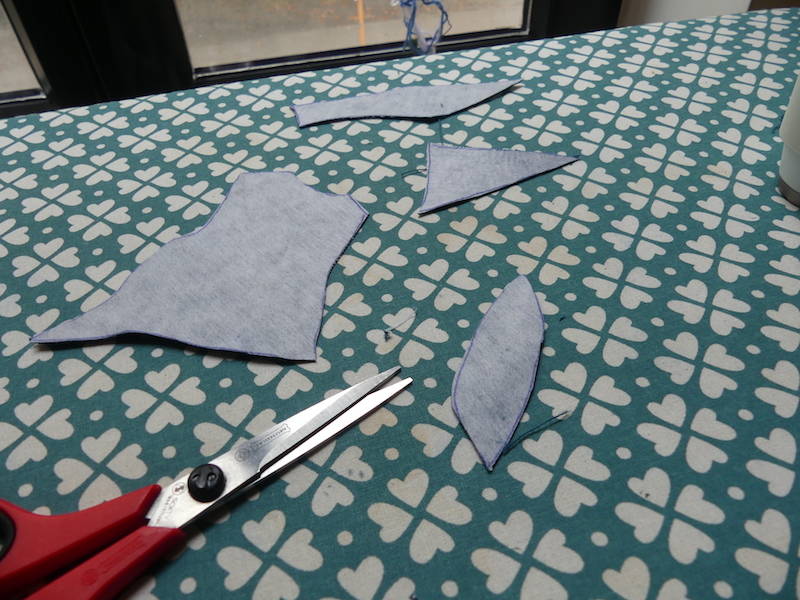 4. Put some stabilizer between the appliqué and your fabric, especially when it's jersey knit, like mine.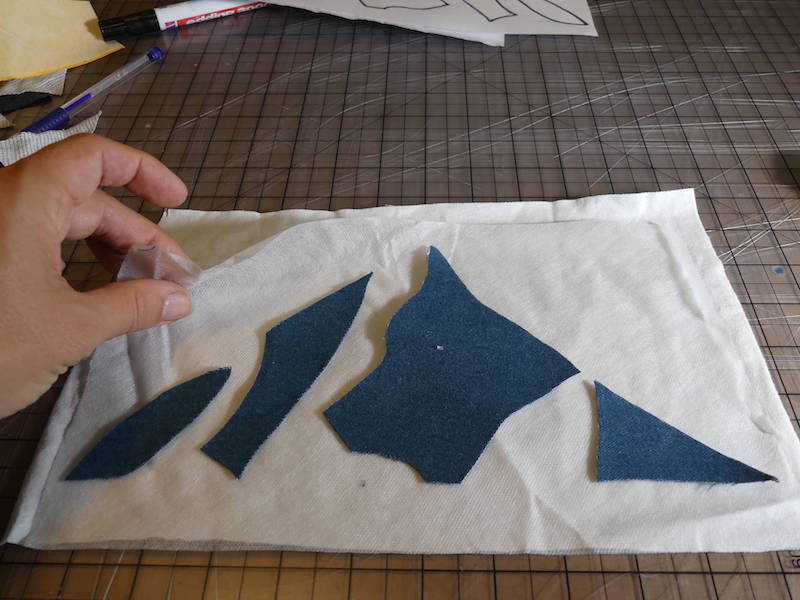 5. Pin or glue the pieces on the project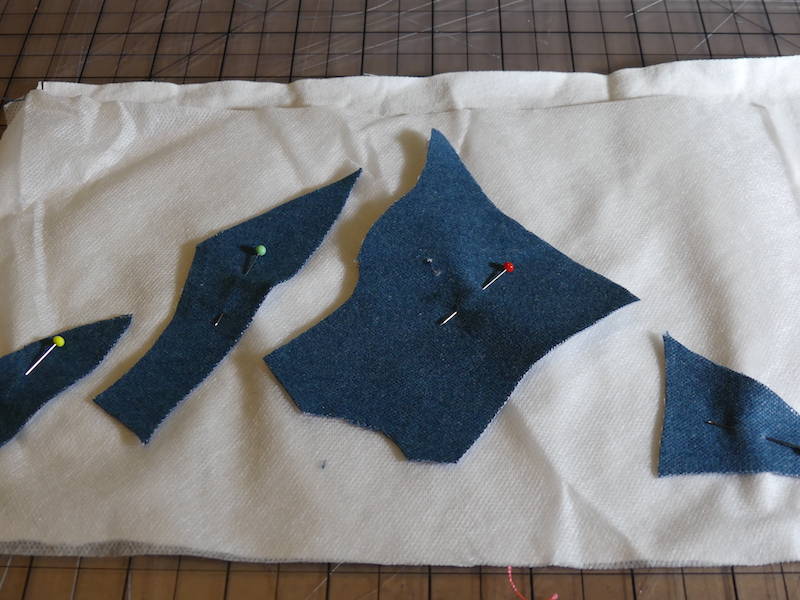 6. Prepare your sewing machine: needle, thread, select a stitch, attach your appliqué presser foot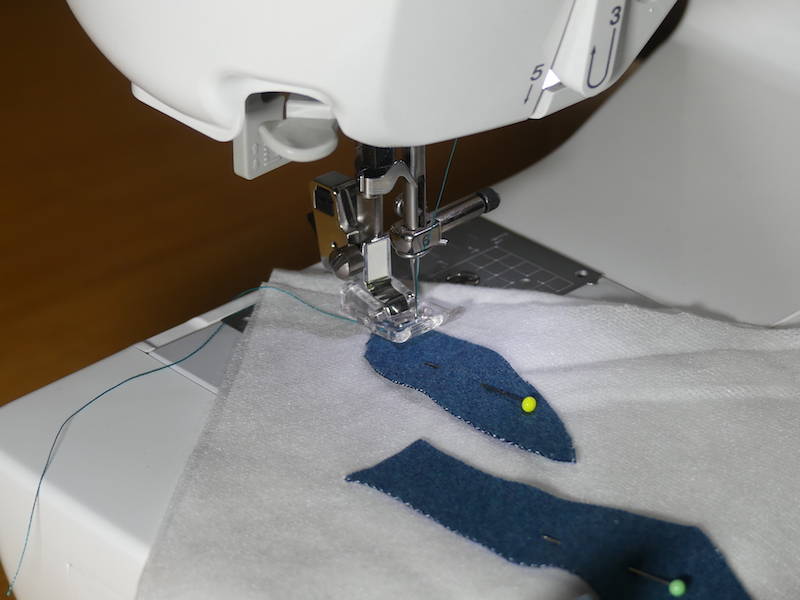 7. Sew the pieces onto your project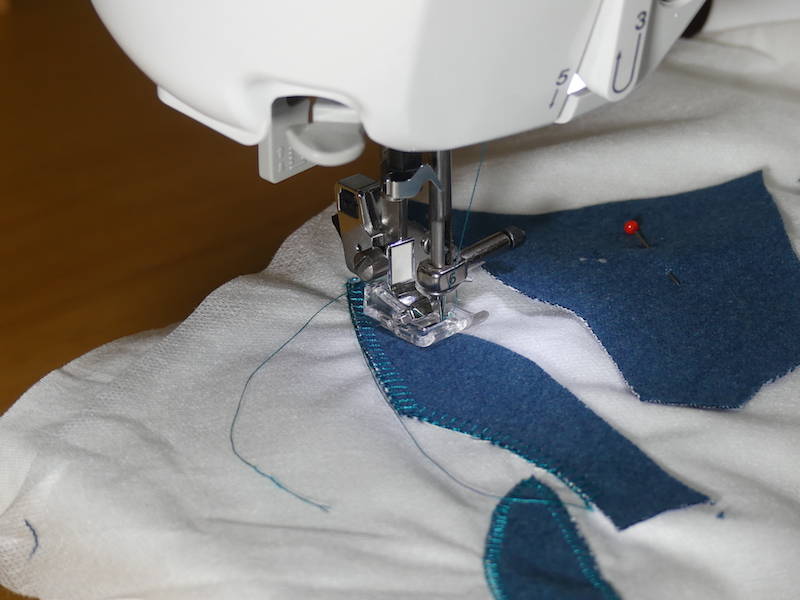 8. Remove the stabilizer. Tear the big pieces away and with some water the rest will dissolve.
9. Bring the little threads to the back and press your appliqué.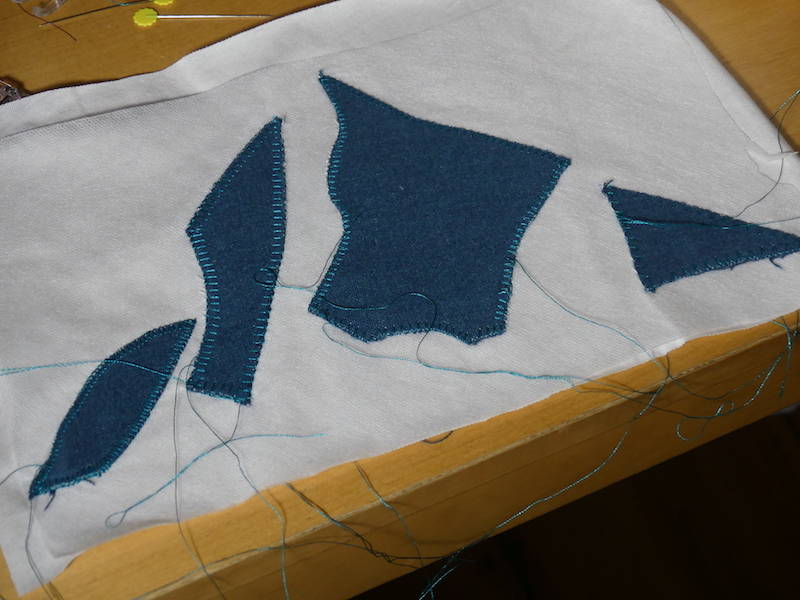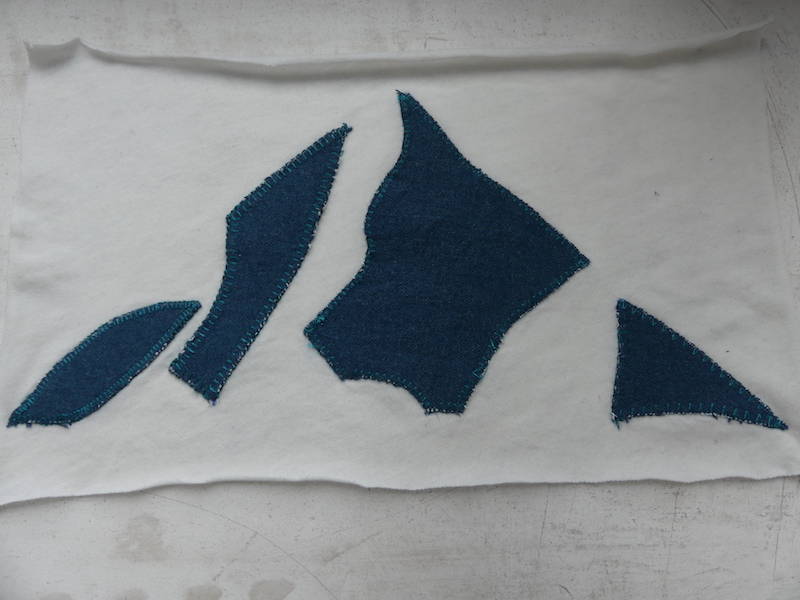 If you want some moving images with this: watch my 2 minute tutorial!
Because I wanted to have a result, an appliqué on a sweater, and I didn't have enough time this week to finish the new sweater… I took an old sweater and upcycled it.. a very 2018 word, no?... upcycling.. :-)
 
I choose the mountain design, copied the design onto some interfacing, used the applique foot with a blind hem stitch, some 2ply 40wt embroidery thread and used a thin jersey needle. And some wash-away stabilizer.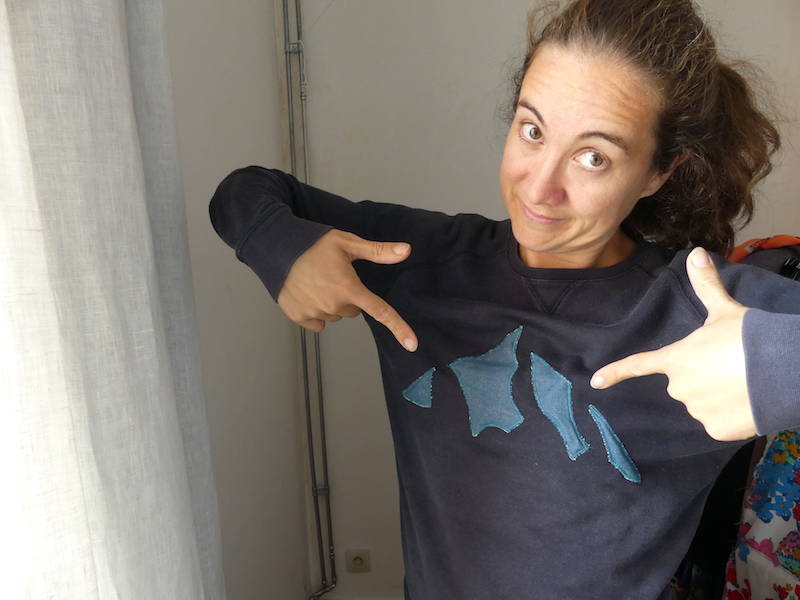 So, this is the result. A picture of my man wearing it will be on Instagram soon! For now you have to look at me :-)
What do you think? Do you sometimes make stuff for your men?
Questions? Don't hesitate to send me an email: an@madamsew.com
An
Sewing aficionado and keen sewing blogger/vlogger.
An is Madam Sew's dedicated creative brain, writing and filming insightful, inspirational content for the sewing enthusiast.