Discover Our Spring Assisted Scissors
Reduce your hand strain by half !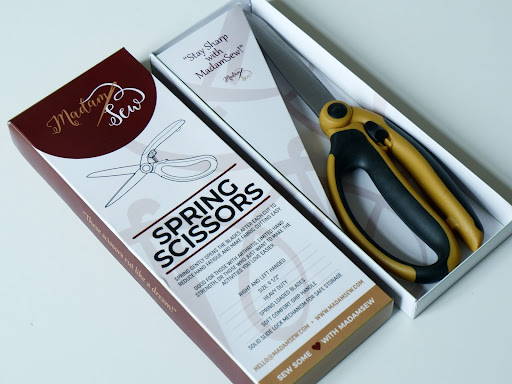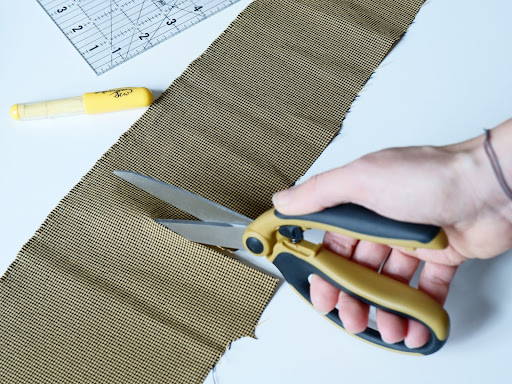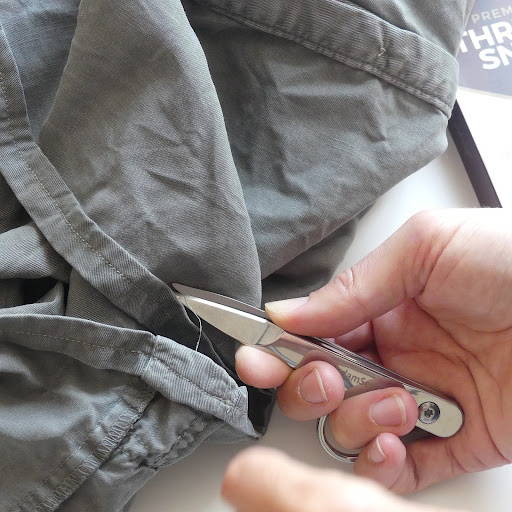 Do you know what spring loaded scissors are and why you need to check them out?
Instead of the push and pull movement of your hands needed with regular scissors, spring assisted scissors jump open after you push them closed. So, only half the strength is needed to perform the same action. When not in use, they are 'open'. You might know this mechanism from thread snips, the small scissors you use to cut threads and thread ends quickly when you are sewing.
We are very pleased to announce that we now have a great pair of thread snips and very durable spring scissors in our MadamSew assortment because we know hand fatigue is a pain point in sewing and we want to make your sewing experience better. Let's take a look at the thread snips and the bigger spring scissors for cutting fabrics.
Why did we add these two types of scissors to the store?
Long-term repetitive movements, such as opening and closing scissors, can increase strain on muscles and joints. Sewing involves a lot of cutting, of both threads and fabrics.

Our stainless steel Thread Snips are 4 ¾ inch long and weigh 3.2 ounces. They have a little circle for your pinkie, ring or middle finger. It saves your fingers from having to grip. With minimal effort you can accurately cut off little threads while you are sewing, quilting, or doing embroidery... Keep them near your sewing machine or on your sewing table!
The Spring Scissors are 9.5 inch shears that weigh xx designed to reduce the effort needed for each and every cut. The shafts of the blades are connected with a steel spring that pushes the blade open. You just press the handles together and the spring returns to its open position. You still need your hand power but only to close the scissors. Quilters can use rotary cutters for their blocks but for cutting larger pattern pieces, trimming seams or cutting long swaths of fabric scissors or shears are still the way to go. I'm using both terms - scissors and shears - alongside but I know I should probably refer to the Spring Scissors as "shears" as they are larger than 6 inch and don't have identical handles.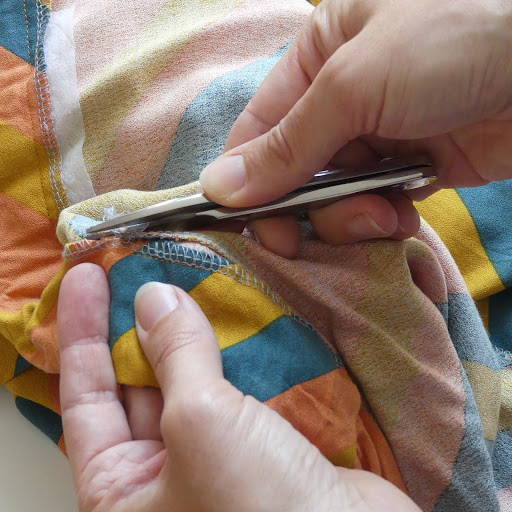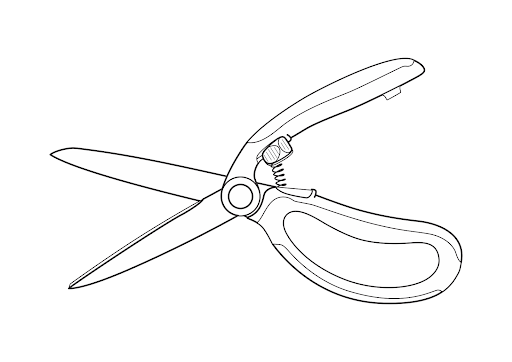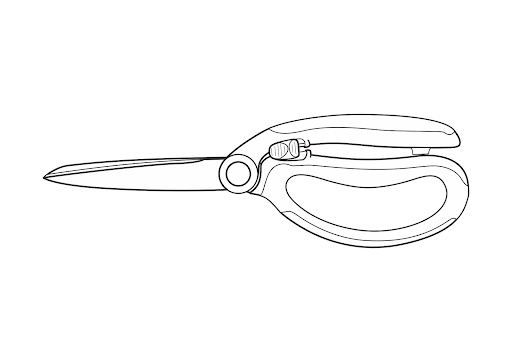 Both the Thread Snips and MadamSew Spring Scissors can be closed easily and safely for storage and traveling. The Thread Snips come with a little red flexible cap to hold the tips together. The Spring Scissors have a lock. You slide the lock toward the handles to open the blades and slide it back while they are closed. This way they are firmly locked.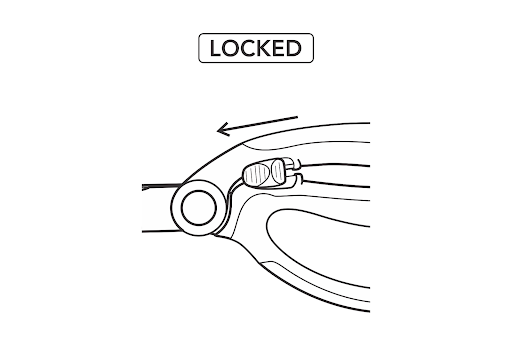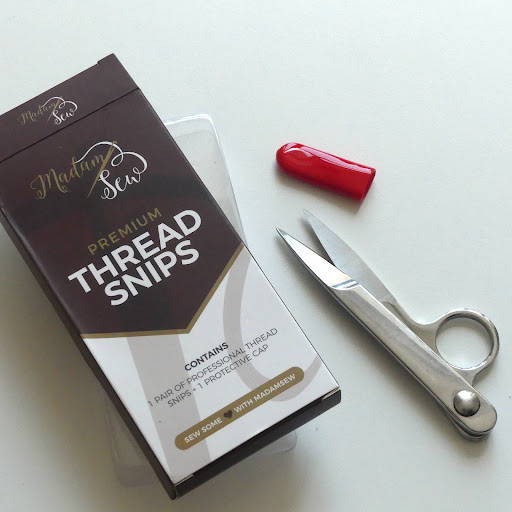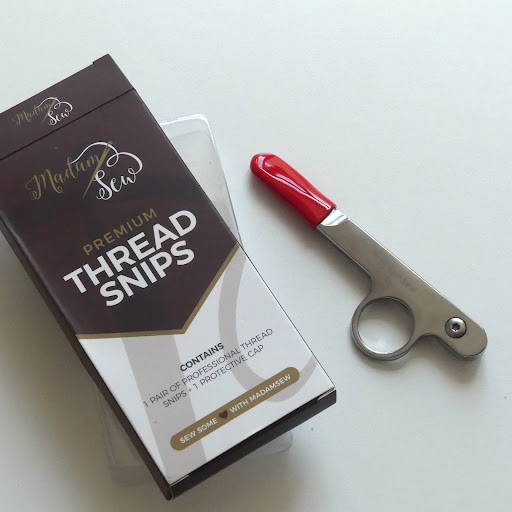 To hold the Spring Scissors correctly, place 4 fingers in the grip hole of the handle and your thumb on top of the flat handle. I often keep my index finger outside of the hole. It gives me more control.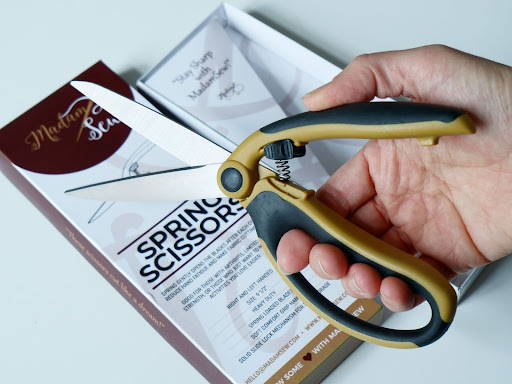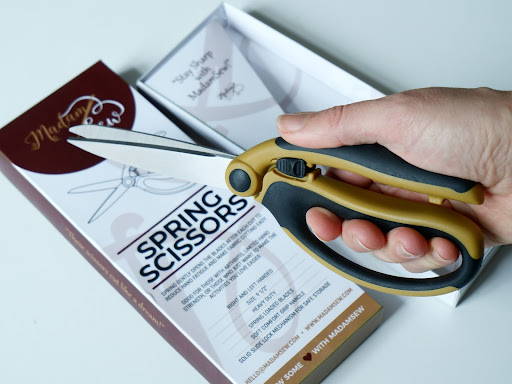 The little circle of the Thread Snips is designed to hold your pinkie, ring or middle finger. Your other fingers are placed in front and behind the handle and your thumb rests on top. It saves your fingers from having to grip. You hold on with the palm of your hand and snip with your thumb. The closer your fingers are to the tip of the blades, the more control you have. With your pinkie in the circle you have the best grip.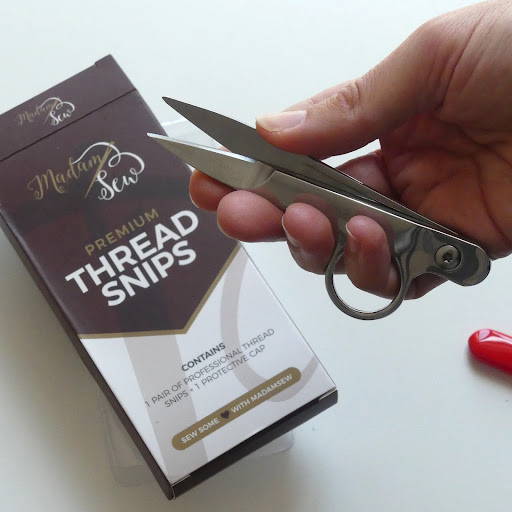 To maintain the scissors, wipe the blades clean with an oil cloth after use, removing any dirt or lint from the blades and around the pivot (where the 2 blades are connected). Oil the pivot regularly with some lightweight multipurpose oil. You can find oil suitable for scissors in your local hardware store.
If these products sparked your interest, check out our great deals for the Thread Snips and for the Spring Scissors (These will be available real soon! Keep an eye on our New Arrivals)