How to Sew a Buttonhole with a Sewing Machine
In this post I'm going to walk you through sewing a buttonhole with a sewing machine. Sewing machines have different types of automation when it comes to making buttonholes. Before we had the buttonhole foot in our store and I made a manual page for this brand new presser foot - which is something we do for most of our products - I actually didn't know much about buttonholes in general. I just knew how to sew a regular buttonhole with my Brother sewing machine, following the instructions of my machine, but that was it. But I did the research for this new product, so why not share it with you all?
I'll try to demystify the different settings, explain different types of buttonhole attachments, buttonhole stitches and the presser feet that you can use. I'll also give you some tips and tricks on how to get the best results possible; talk about vertical and horizontal positions of a buttonhole; go over some different shapes of buttonholes; touch on the advantages of using a specific presser foot; and give you the best way to open a buttonhole after it is sewn.
I will try to talk about different types of sewing machines and settings and explain the possible differences. But, as you probably know, sewing machine models vary - a lot - , so it is possible that your machine is different from what I explain here. If you have any questions, your sewing machine's manual is always a good reference for the settings and the use of a specific attachment, but don't hesitate to send me a message in the comments below or email me at an@madamsew.com if you feel stuck!
The Button and the Buttonhole
Anatomy of the buttonhole
A buttonhole is usually made up of rows of dense stitches. A regular buttonhole consists of two parallel "beads" that are secured by two bartacks at either end of the buttonhole.
The buttonhole's size, shape, and placement always depend on the button—no matter the button type or size. Always purchase the buttons for your project before stitching the button holes.
The simple standard buttonholes that are rectangular in shape, have 2 bartacks and 2 long edges (the 'beads') are suitable for medium to heavy weight fabrics. This style of buttonhole is generally found on most sewing machines.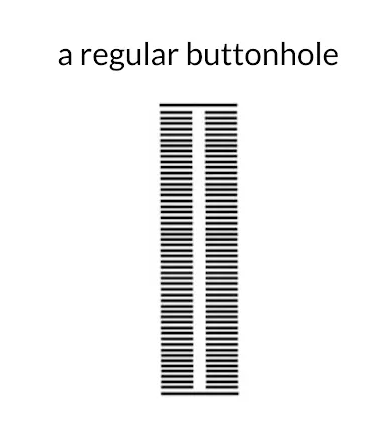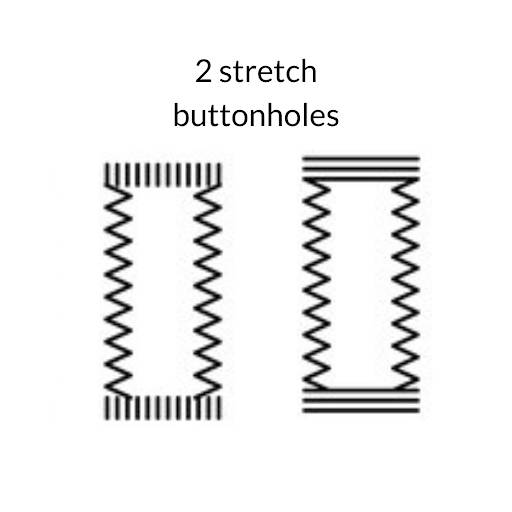 A stretch buttonhole is recommended for jersey and knit fabrics. It allows the fabric to stretch while retaining its shape. The long sides are sewn more 'open', with a wider zigzag and if the fabric stretches a lot in both ways, you can also sew the bartack in the other direction.
A buttonhole with 1 or 2 rounded edges is used for fine and delicate fabrics like silk. The rounded edges finish the buttonhole edge but don't tear or alter the delicate fibers of the fabric.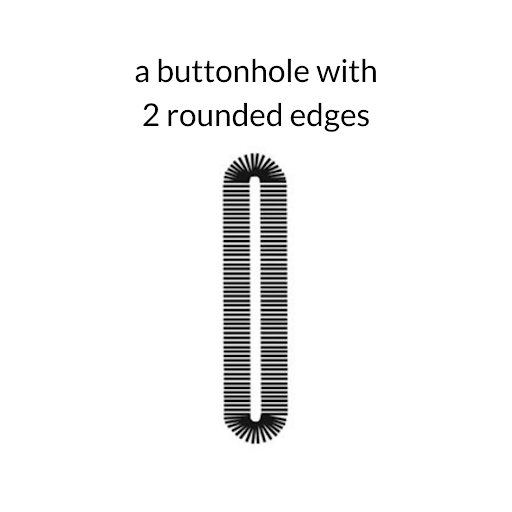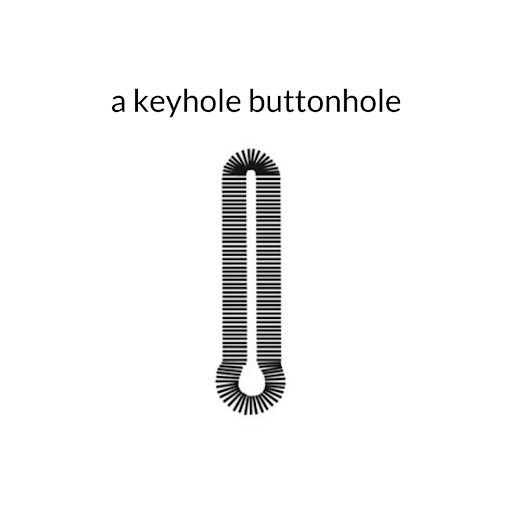 On coats or other medium-heavy to heavy fabrics, round keyhole buttonholes look more professional. A keyhole bottom allows a thick button and thick layers to move through the buttonhole.
A bound buttonhole is different from the other types in the way that it is constructed. It has its raw edges encased by pieces of fabric. There is no dense stitching involved. This type of closure is used on couture jackets and coats and the end result is very elegant. I won't explain this buttonhole in this post but I will add a link at the end of this article to a great tutorial for this type of buttonhole.
Buttons are sized according to their diameter but for a buttonhole you need the diameter plus the height to determine how large the buttonhole should be. A flat button will require a smaller buttonhole than a thick or shank button of the same size. You can use a sliding measuring gauge to measure the diameter and the height and add ⅛ of an inch. If you have a buttonhole attachment that measures the buttonhole, you can use the button guide plate to determine the size accurately. However, if you are making buttonholes for very thick buttons, I would still recommend adding some extra length as the attachment doesn't measure the height.
A machine-made buttonhole is usually sewn with dense zigzag stitches with the two ends finished in a bartack created using a broader zig-zag stitch.
When you dial down the stitch length on a zigzag stitch, a dense set of stitches is created that makes a solid looking line, also known as the satin stitch. These stitches are also used for embroidery and applique.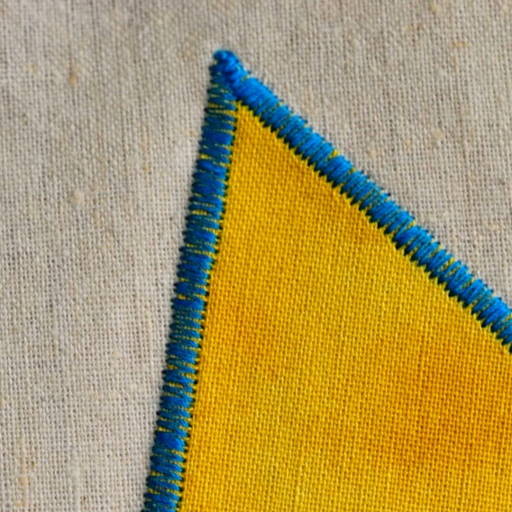 Placement: Horizontal or Vertical?
If you are using a pattern, follow the guidelines of your pattern to place your buttonholes.
Usually buttonholes on a fabric band on the front of a shirt or a blouse are sewn vertically. Vertical buttonholes take up less space on the garment and are easier and faster to sew for the industry. Where there is more stress on the buttonholes, like on the top collar button and the buttonholes on cuffs, buttonholes are sewn horizontally. Buttonholes on jackets, coats and heavy weight garments are also sewn horizontally. Horizontal buttonholes also allow a little more expansion and stay buttoned more securely. The button can slide along the horizontal opening without distorting the buttonhole as much as a vertical one.
So, actually, the direction doesn't matter that much. You can create them however you like, as long as it works for you and your garment.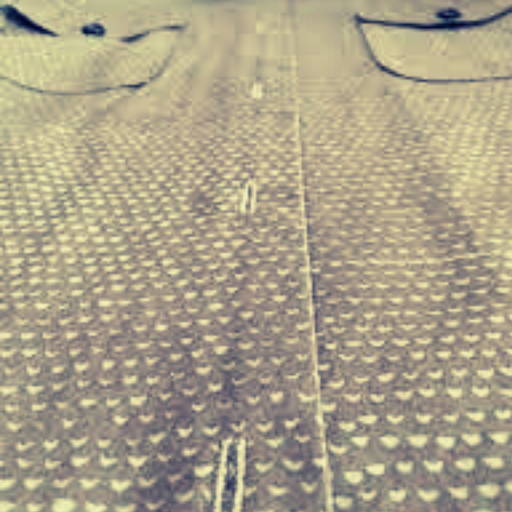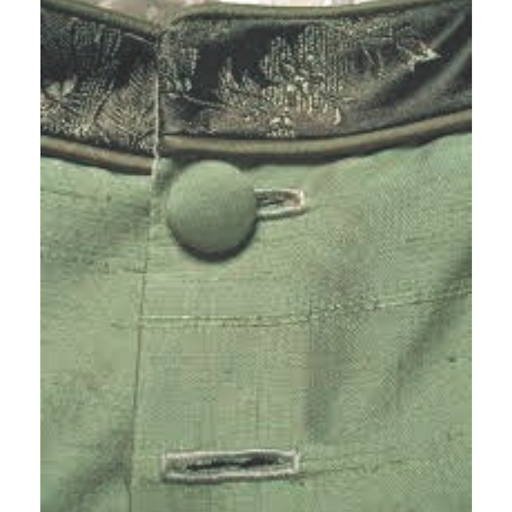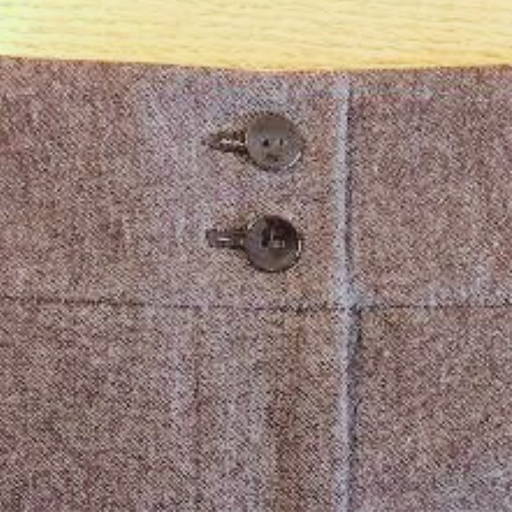 Sewing Machine's Buttonhole Settings
1 step, 4 step or no step
Some newer machines have a fully automated buttonhole setting, meaning that you just need to tell your machine what size of button you need the hole for and then, position your fabric under the needle and it will sew the buttonhole in no time. And just repeat this for other buttonholes on your project of the same size. These are often referred to as 1-step-buttonhole settings. They often have a lever that you need to pull down and a specific attachment that works with that lever. The buttonhole lever is usually positioned behind the bracket on the buttonhole foot.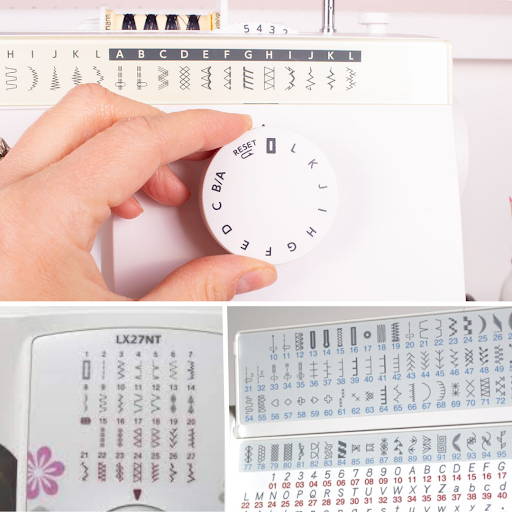 If you read in your machine's manual that you have a 4-step buttonhole setting, it means that there is some automation, but not as advanced as the 1 step setting. This type of machine will have settings to sew the 4 sides of the buttonhole without you needing to change the stitch size, width and direction, but you need to change from 1 step to the next step manually and depending on your machine and the presser foot you are using, it will indicate when to go to the next step. On some machines, you need to mark the size of the buttonhole on your fabric and keep an eye on the marks to go to the next step. Some presser feet help you with this, like MadamSew's Buttonhole Foot.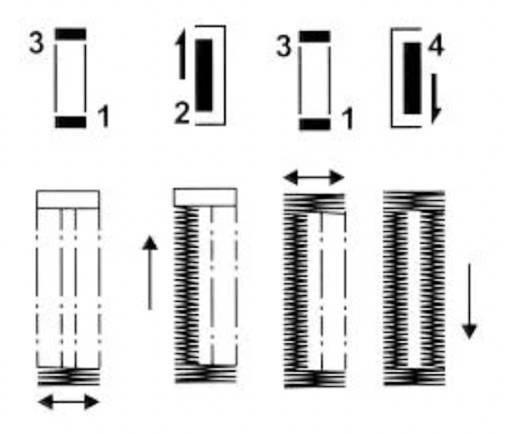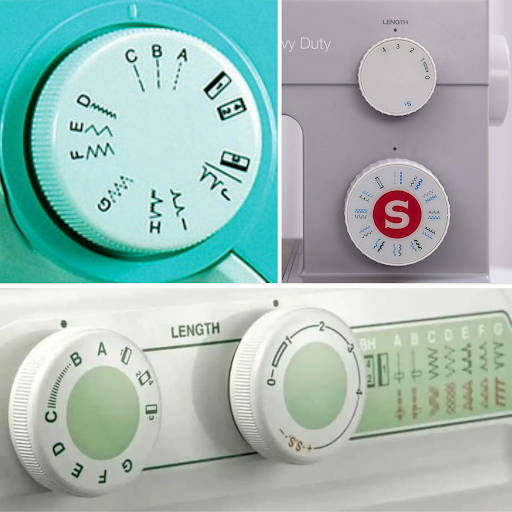 If you have no buttonhole setting at all, you can probably also sew a beautiful buttonhole, no worries! You can get there with a narrow zigzag stitch or a satin stitch. It takes some practice so be sure to start on a piece of scrap fabric. You will have to change the stitch lengths, widths and direction manually after each step to get there, but it is very doable!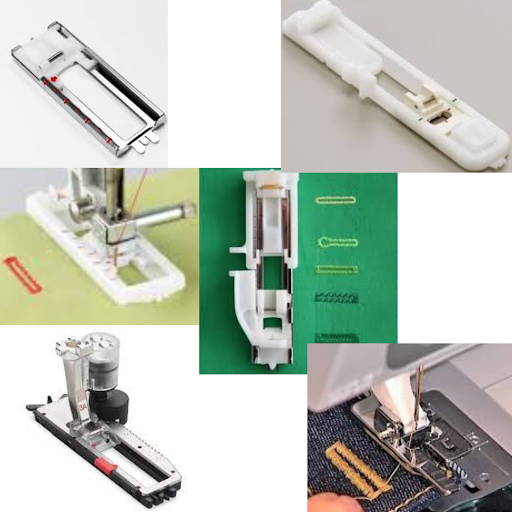 Advantage of a Buttonhole Presser Foot
If you have a buttonhole setting, you probably received a buttonhole foot with your machine. Some types and brands of machines only work with the foot that came with the machine. Check this first before you consider buying a buttonhole presser foot.
Depending on the type of buttonhole foot, the advantages are:
It helps to determine the size of your button accurately, indicating how big your buttonhole needs to be when you are sewing. This means no measuring and marking the buttonhole on your fabric.

After you have set the size manually, it remembers the size of the buttonhole so you can sew 6 perfectly identical buttonholes, on a shirt for example.

You can see clearly where you are sewing.

The large cutout allows the buttonhole (the dense stitching) to pass easily under the foot as it is being created.

It starts sewing in place when you reach the length of the buttonhole.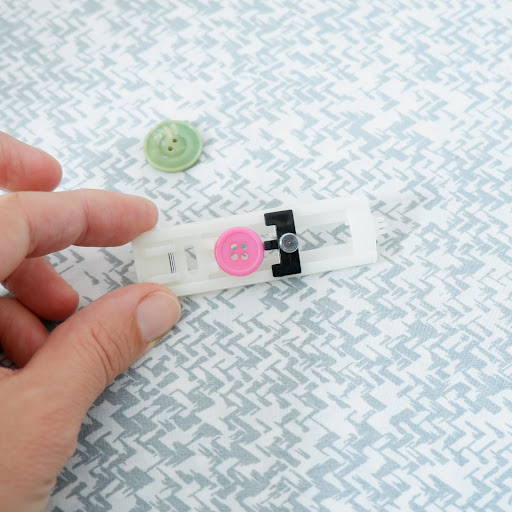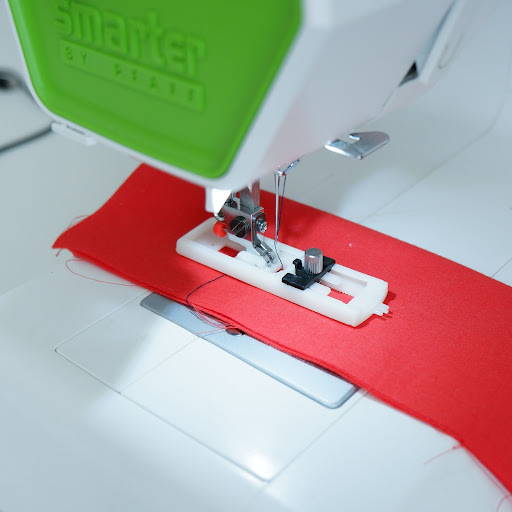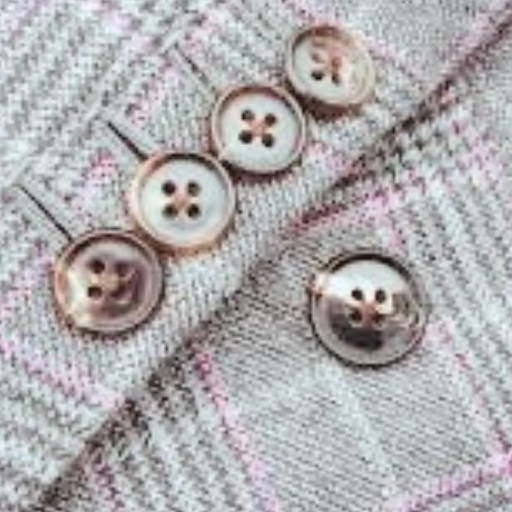 My Brother sewing machine, for example, has a 4 step buttonhole setting and comes with a foot that measures the size of the button. The foot has a little bracket that bumps into the buttonhole lever of the machine. Because of this, the machine stops moving forward when reaching the length that is needed for your buttonhole foot.
I also wrote a manual with a YouTube video about the use of the MadamSew buttonhole foot where I explain how to use it with a 4-step buttonhole setting.
Professional Looking Buttonholes
Strengthening Buttonholes
Just like machine embroidery, a buttonhole has a lot of dense stitching, not all fabric can handle that without reinforcement. If you don't strengthen the fabric a little, it will be distorted and curl up. On top of that, a buttonhole gets a lot of wear and tear, so strengthening it a little is always a good idea.
You can use some small fusible interfacing scraps for buttonholes or reinforce the whole strip where your buttonholes will be sewn. You can also add an extra layer of cotton organdy for a long lasting stabilizer.
Using a water soluble stabilizer on both sides of the fabric when sewing a buttonhole helps to evenly feed your fabric when creating a buttonhole. You can tear this stabilizer away easily and wash it out. This doesn't replace the interfacing or extra layer of cotton. It acts as a temporary lubricant, not a permanent stabilizer.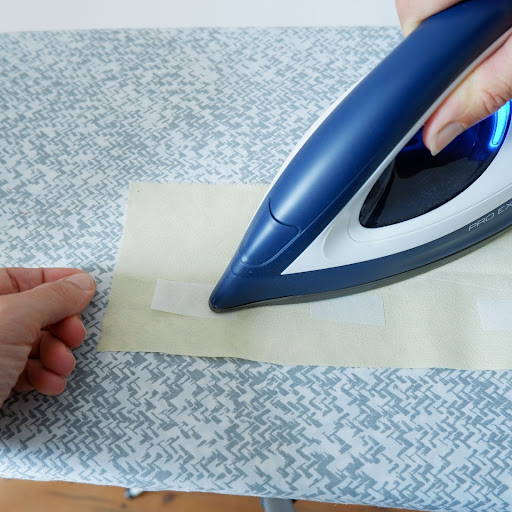 Start Sewing Buttonholes: test test test!
Check your machine's settings to know in what direction your machine will start to sew. If you are going for the manual buttonhole foot, you will start at the back of the buttonhole but my Brother, for example, starts at the front and sews backwards first.
Duplicate your project exactly when you test sew your buttonhole. This might mean you have to stitch a test waistband to get the same amount of layers. While this seems time consuming, it's totally worth it. Buttonholes can be difficult to remove after they're stitched.
If you are worried about cutting too far, place a pin in the fabric across either end of the button hole. Your seam ripper will stop when it hits the pin.
Use the buttonhole cutter with a piece of wood. The wooden block is placed under the buttonhole, while the chisel is pressed against the block from above. I haven't tested this tool yet, but it looks like a good investment, if you have to open a lot of buttonholes.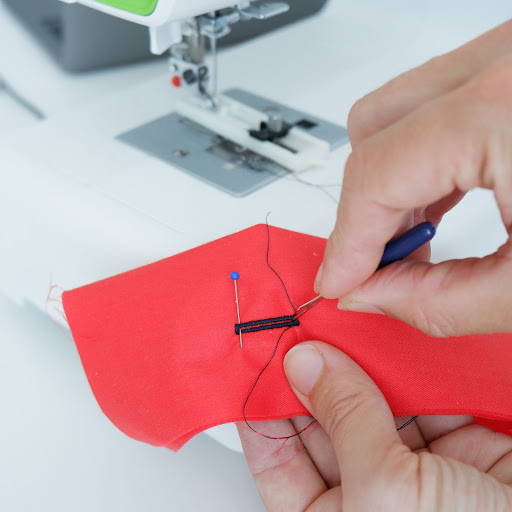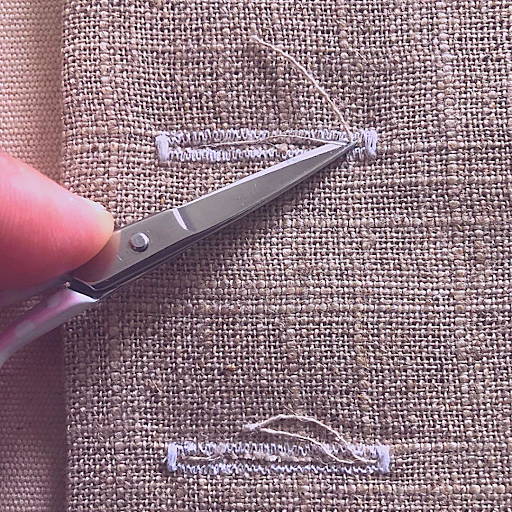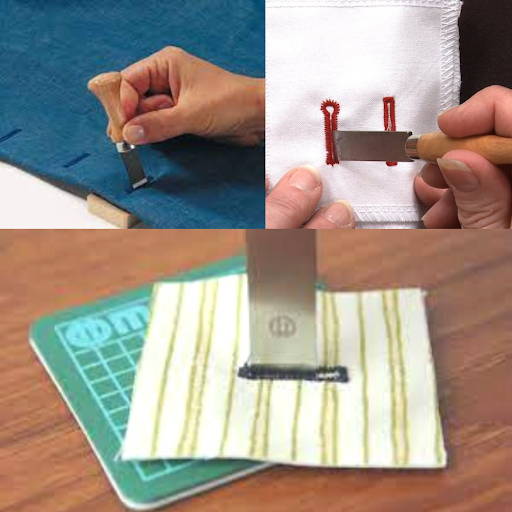 I hope you learned something new about buttonholes and are more confident about sewing them in the future. What projects do you see yourself using a buttonhole foot on? Comment below and let me know!
Happy sewing!
An
Blogging for MadamSew.com
Madam Sew is an online sewing and quilting store. It carries Tools, Notions, Presser Feet, Essentials, Handy Helpers, Organization and Storage Items, and more for sewers and quilters. Plus, it has many manuals and free tutorial blogs to help increase your skills.
Join our Facebook communities too!

INTERESTING LINKS RELATED TO THIS BLOG POST