DIY Two Christmas Quilting Blocks | Madam Sew
Christmas quilting is such fun and with these two blocks, you can make a variety of decorations for your holiday table and decor. This project will build on the skills you've learned from our Beginning Quilting 101 series on the MadamSew blog, plus we'll learn a new one. Begin with gathering some scraps of green and gold, along with background and accents. We'll make a tree and a bell block, then show you a number of ideas for setting them to suit your needs. Essential tools are your rotary cutter and non-slip ruler, thread snips and your Madam Sew Ultimate Presser Foot set. Review the Rotary Cutting Basics if you are new to using a rotary cutter and rulers.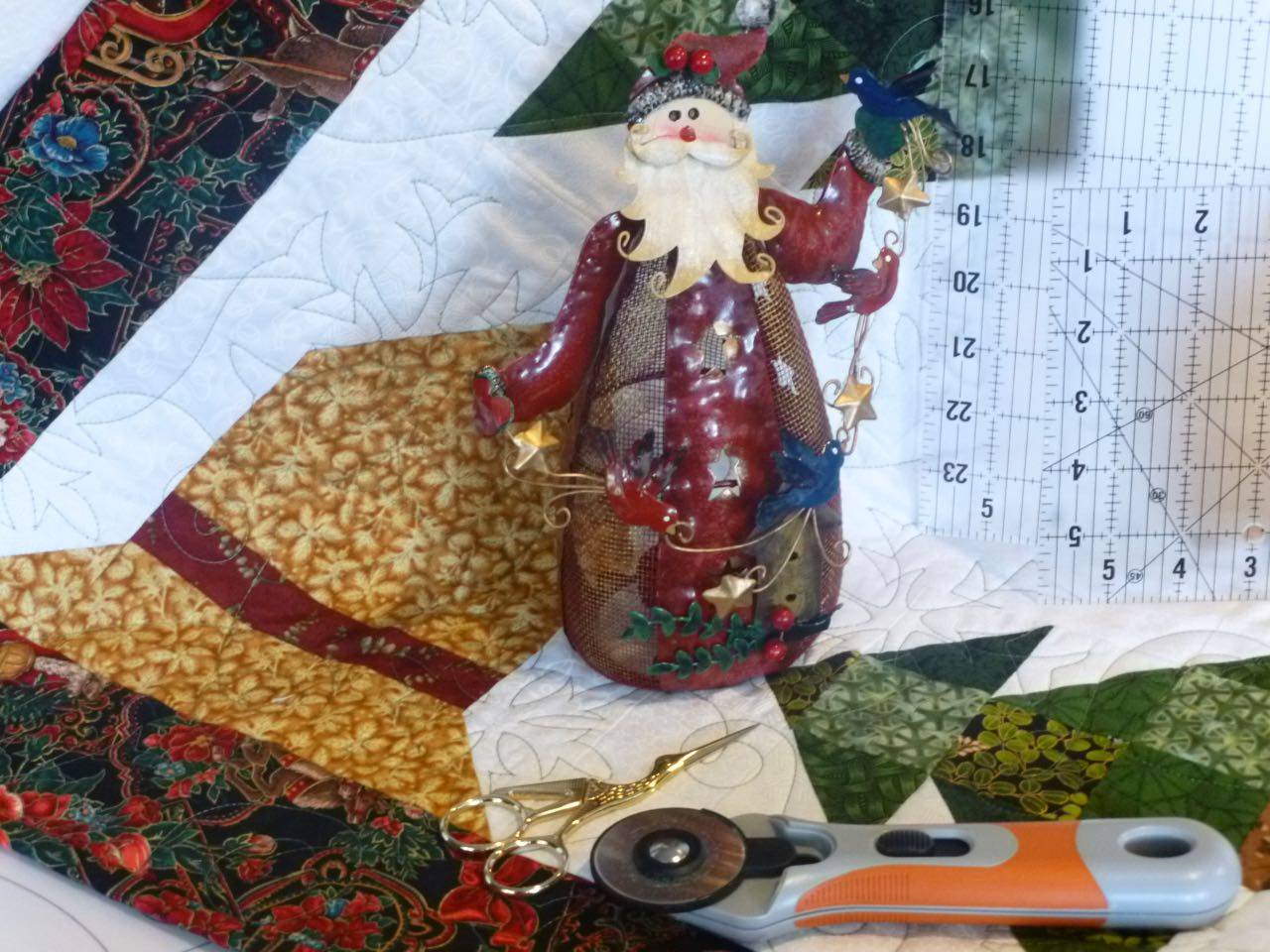 Tree Block Cutting Instructions
Background White or Cream - one 3-1/2-inch square
four 3-inch squares
two strips 2-1/2 inches x 6-1/2-inches
two strips 2-1/2 inches x 4-1/2-inches

Christmas Green scraps - one 3-1/2-inch square

three 3-inch squares
five 2-1/2-inch squares

Tree base brown - one 2-1/2-inch square

Tree Block Sewing Instructions
First, using the background 3-1/2-inch square and the Christmas green print 3-1/2-inch square make Half Square Triangles (HST) using the method you learned in Beginning Quilting - Making HSTs. Set one aside for another project. Now we'll learn how to do a Quarter Square Triangle (QST). Using one of the HSTs you just made, match it up with a 3-inch background square, marking the lines one-quarter inch away from the center on the background square.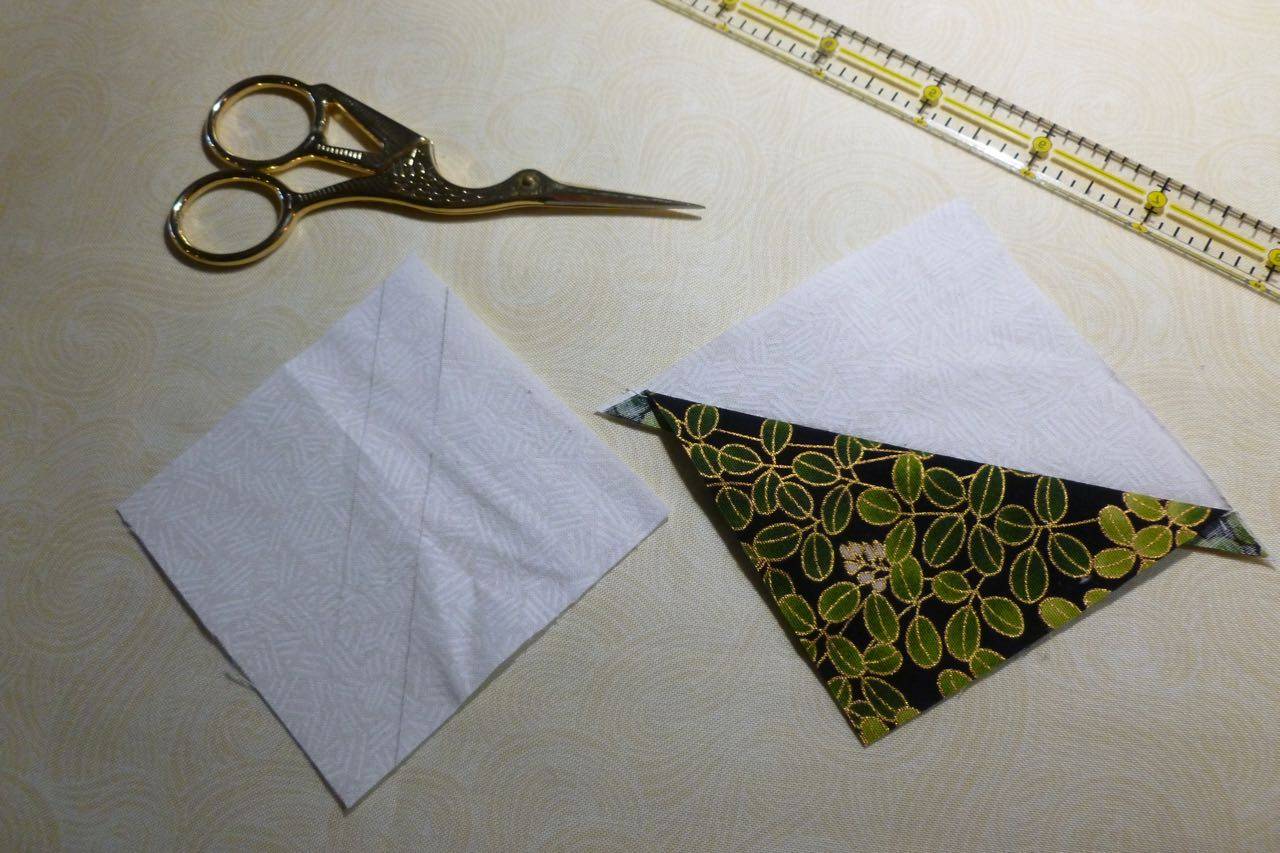 Place the square with the lines perpendicular to the seam line on the HST. Use the #4 or the #29 open toe foot from your Madam Sew Ultimate Presser Foot set so you can easily see the line to sew on. Sew on the lines.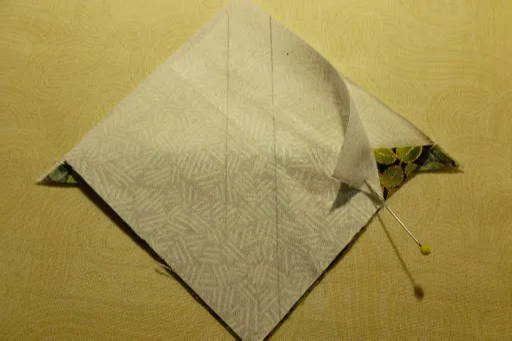 Cut the two sections apart. Set one aside for another tree block. Press in a manner that creates the least bulk, depending on how you pressed your HST. Square up the QST to 2-1/2 inches using your square ruler. Note that the point of the green quarter is at the 1-1/4-inch line for accuracy.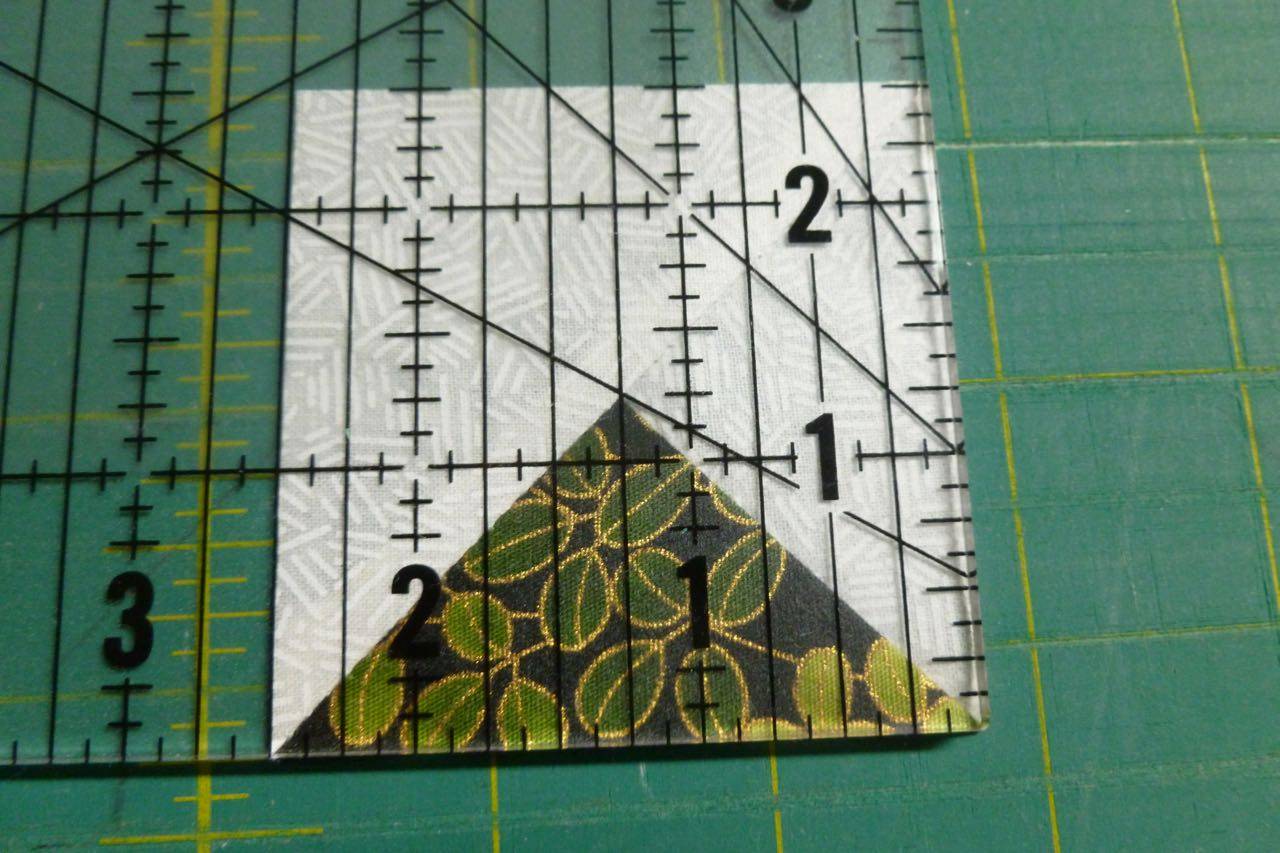 Next, using the remaining three background 3-inch squares and the green 3-inch squares, make six half square triangles. Square up to 2-1/2-inches.
Change the foot on your machine to the #17 Quarter Inch foot with flange from the Ultimate Presser Foot set for accuracy. Assemble the rest of the cut pieces and your sewn elements as shown to form the tree.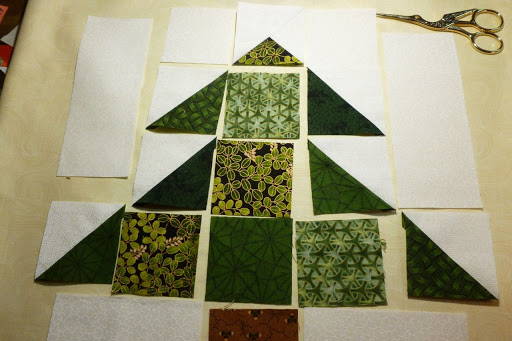 As a reminder, when sewing the pieces together, be sure to sew through the 'x' created by the previous seams for perfect points.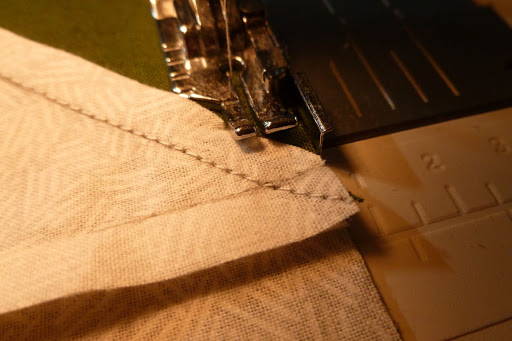 Assembly begins with the center top section first. Sew the nine patches together.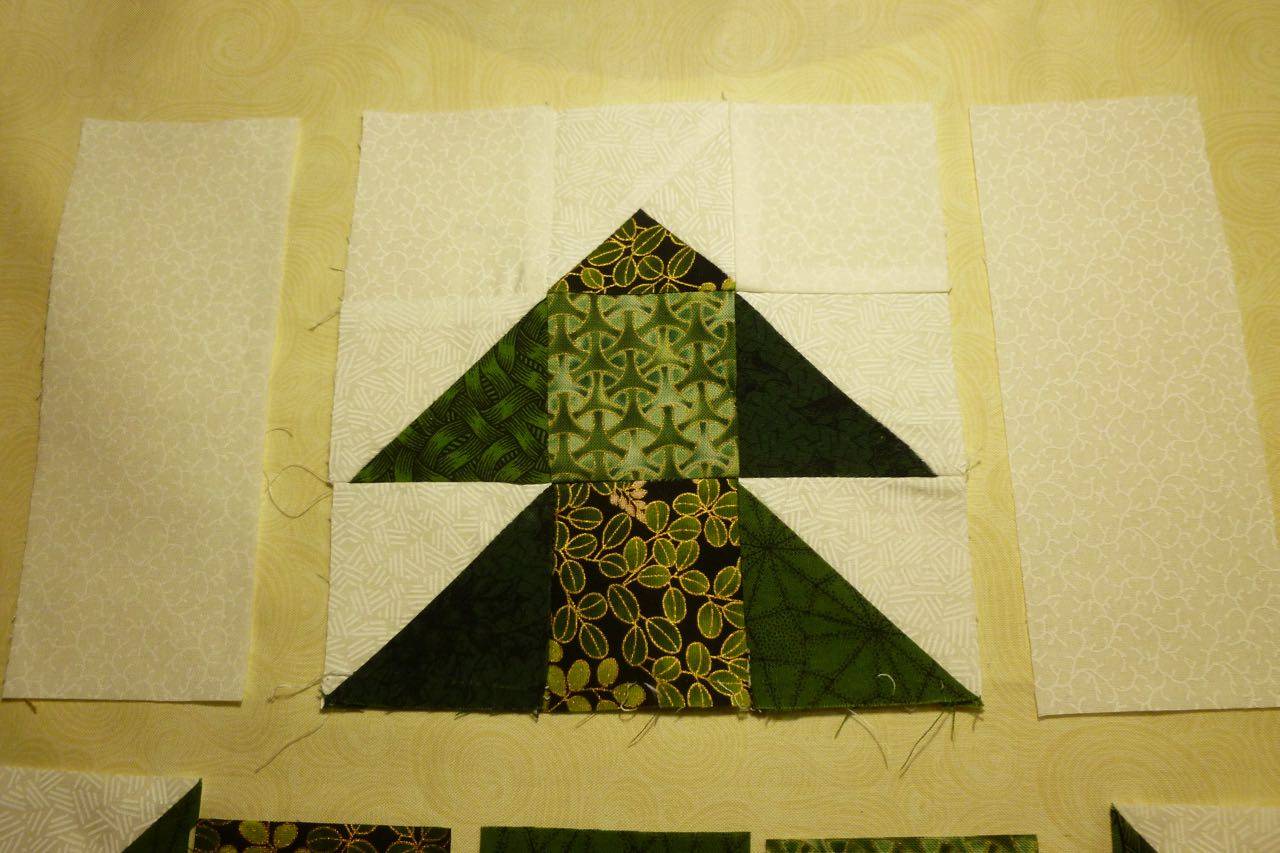 Add the two strips 2-1/2 inches x 6-1/2-inches to the sides of the nine-patch. Sew the next row, and then add the two strips 2-1/2 inches x 4-1/2-inches to the bottom on either side of the brown square tree base.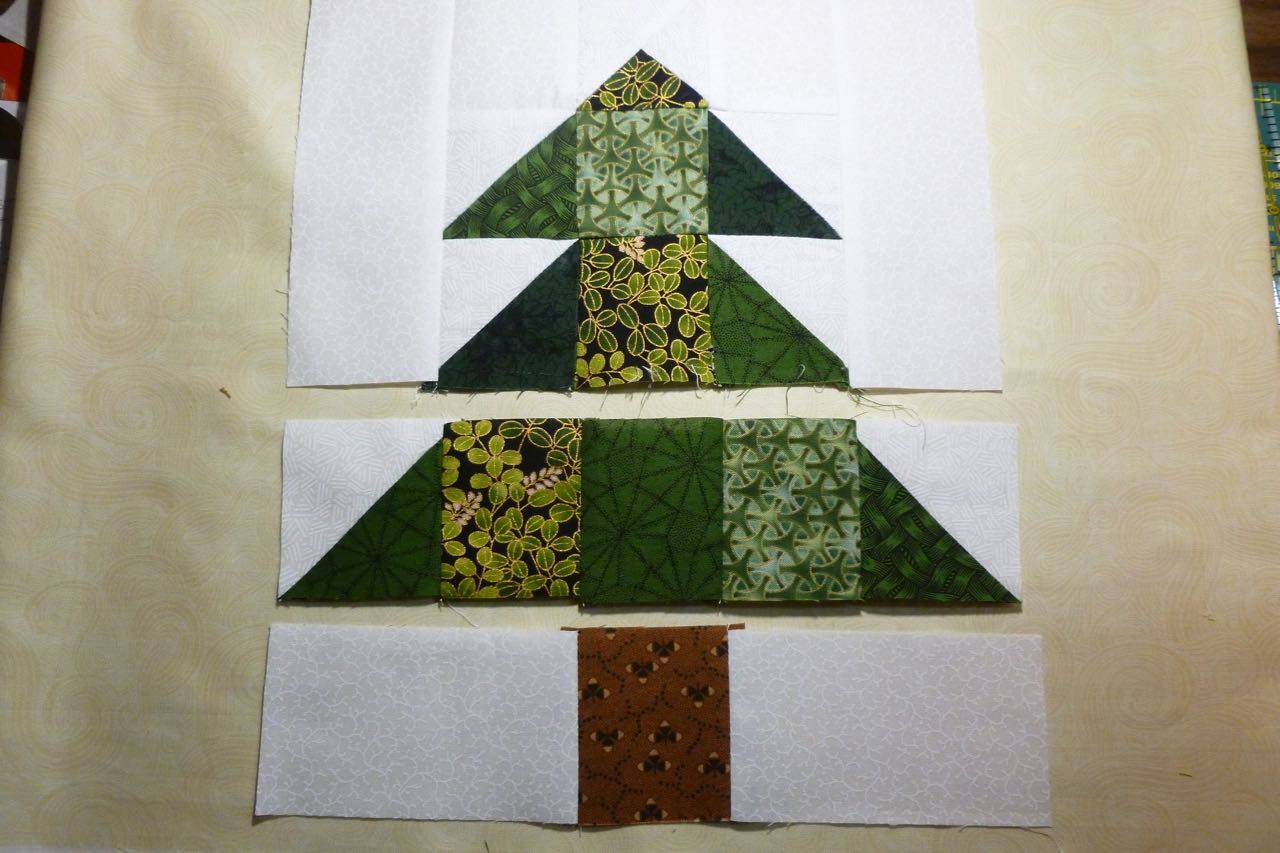 Press your rows in opposite directions to nest the seams, and complete assembly. The block will be 10-1/2-inches at this point.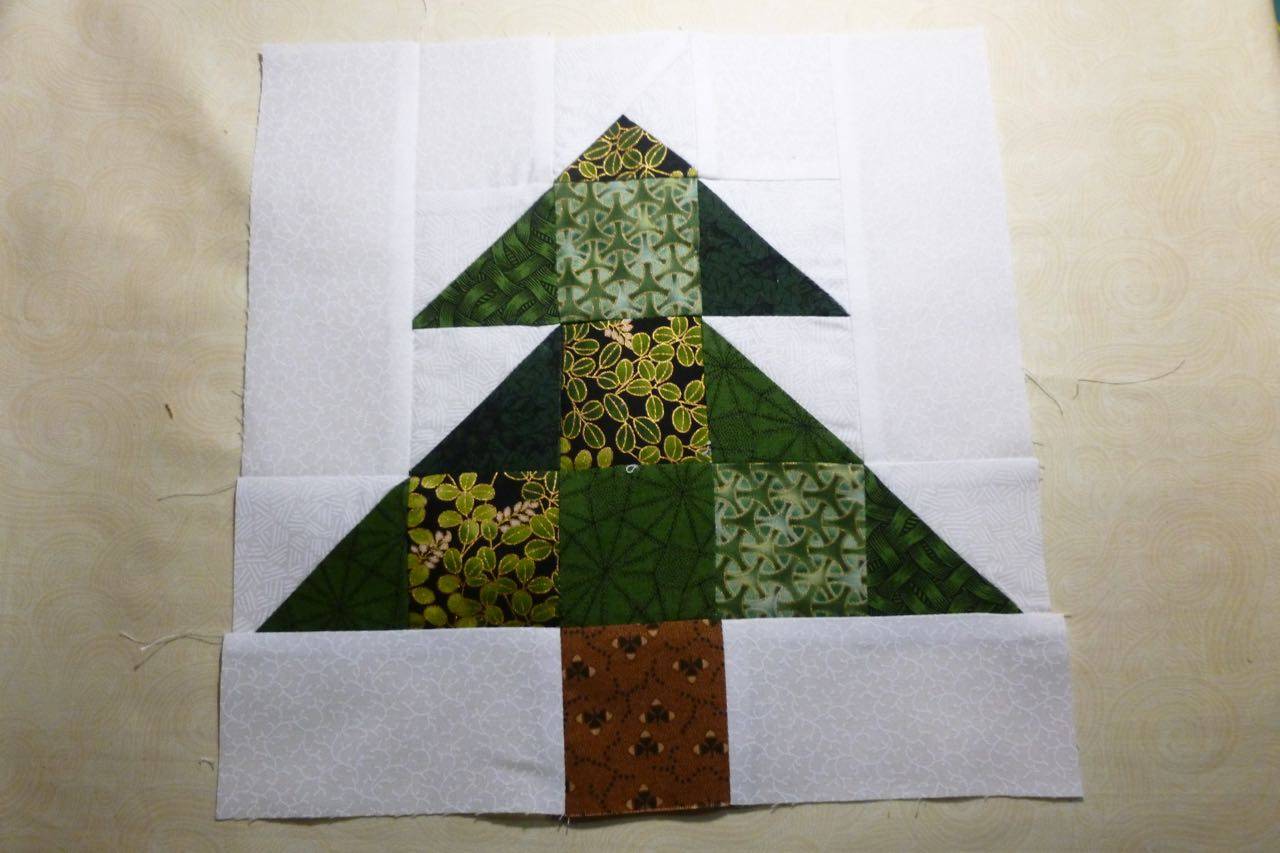 Using your other QST, you can make a second tree block for more options.
Next, let's do the Bell Block.
Bell Block Cutting Instructions
Background - one 3-1/2-inch squares
three 3-inch squares
two 2-1/2-inch squares
Strips 2-1/2-inch x 8-1/2-inch squares

Gold Bell fabric

one 3-1/2-inch squares
two 3-inch squares
one 2-1/2-inch square
one strip 3-1/2-inches x 6-1/2-inches
one strip 2-1/2-inches x 6-1/2 inches

Accent strip - strip 1-1/2-inches x 6-1/2-inches

Bell Block Sewing Instructions
Using the same method as above, make Quarter Square Triangle elements using the 3-1/2 inch background and gold squares, and one background 3-inch square. This will make two QSTs. Save one for a second bell block. Make four Half Square Triangles from the remaining 3-inch squares, squaring them up to 2-1/2-inches. Lay out your elements as below for assembly.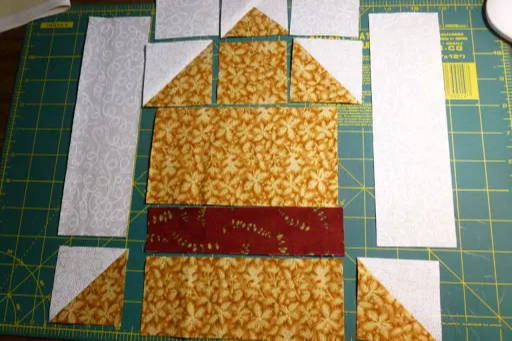 This time we'll assemble in vertical rows. Begin with the center section at the top, sewing the two center row sections in groups of three. Assemble the bottom section separately to sew as much as possible at once. Add the side bars to the bottom HSTs.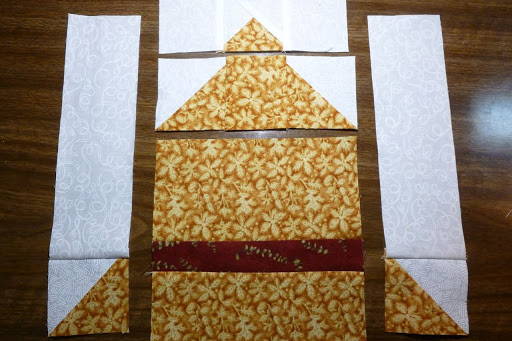 Complete assembly of the center section, press the seams opposite from the sides, then sew the vertical rows together.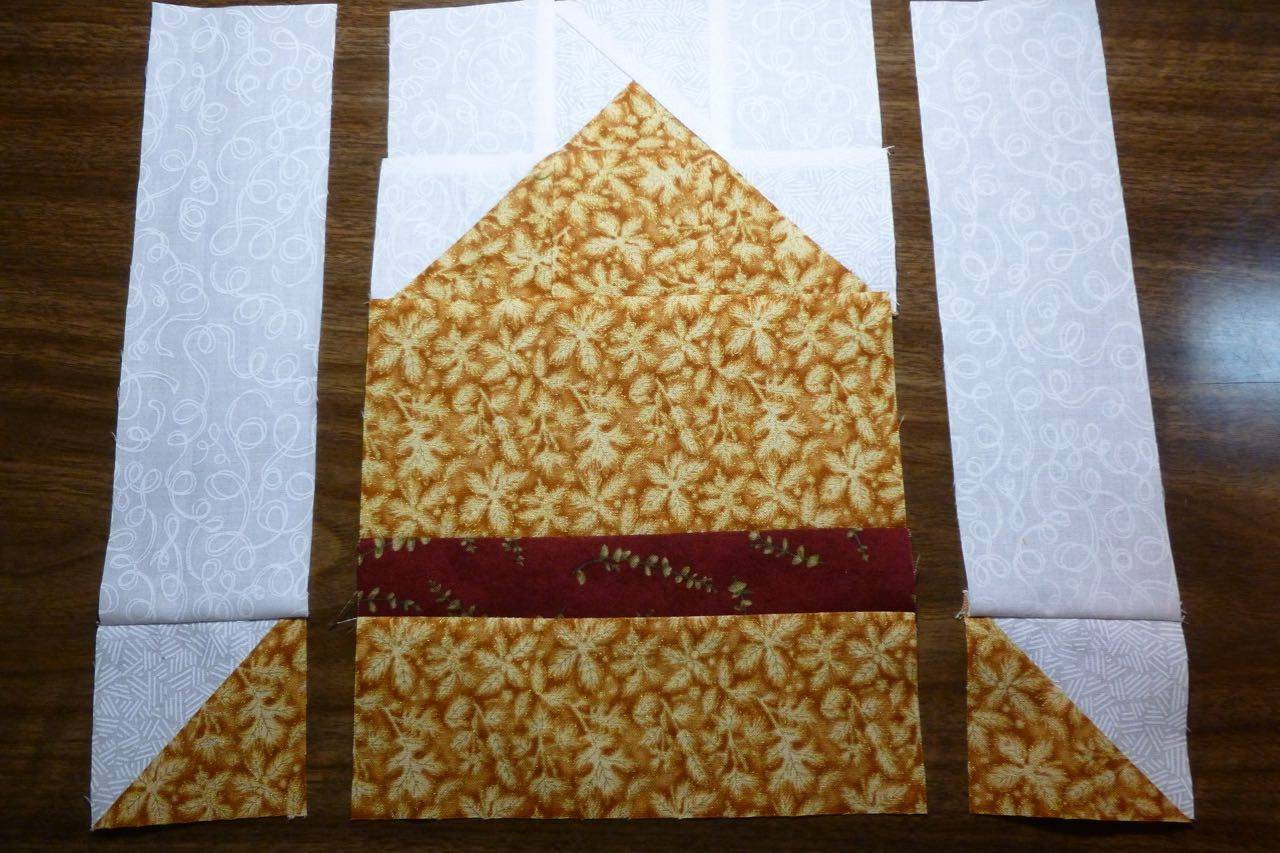 Now it is time to decide how you want them to be put together. I've made two of each block, and here are some ideas for sewing them together. If you'd like a square wall hanging, you can arrange them all facing the same way.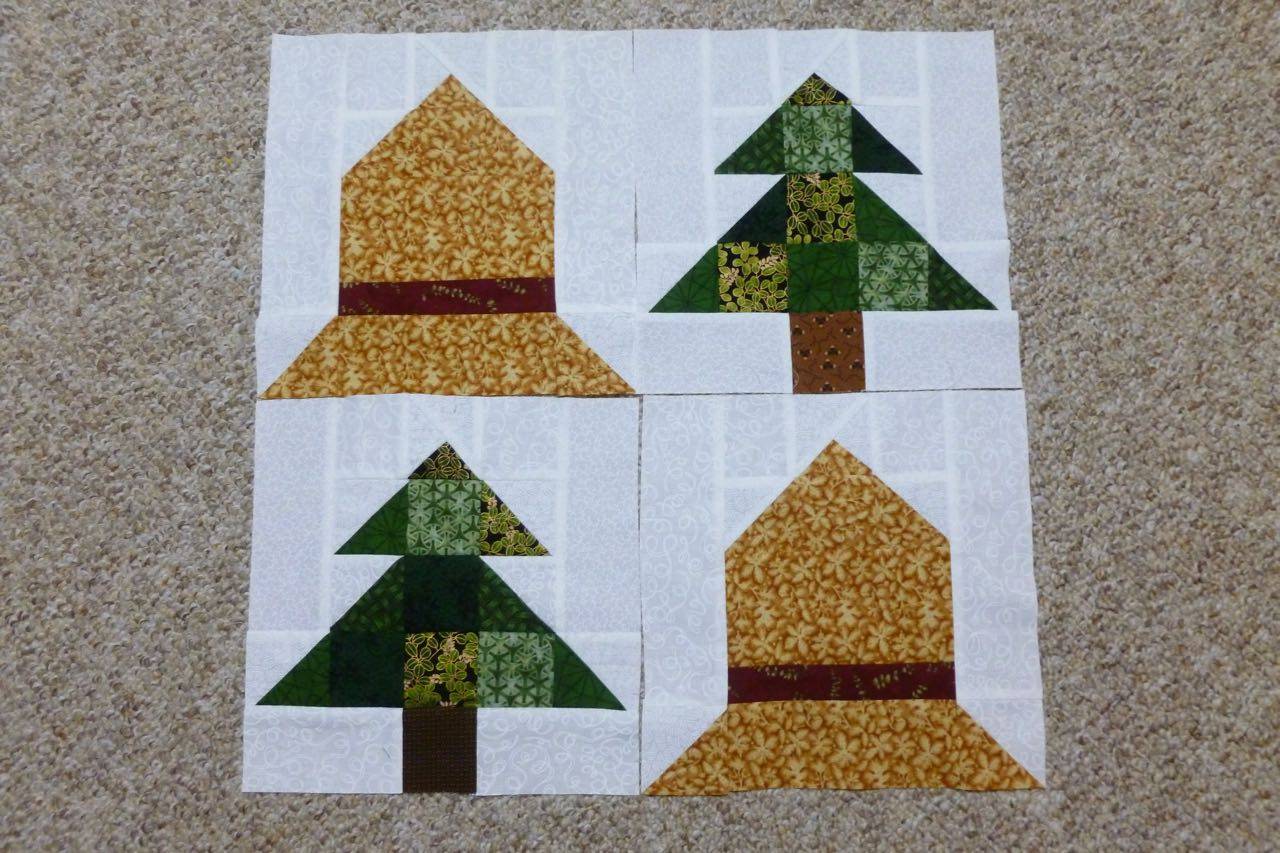 If you would like to place them in a row for a longer wall hanging or table runner, here are a few ideas for placement. Choose the placement you like, and sew the blocks together with your #17 Quarter Inch Foot with Flange for accuracy.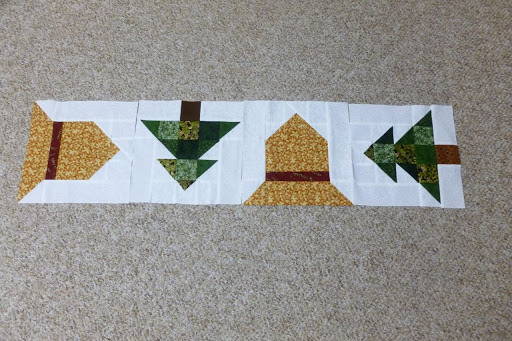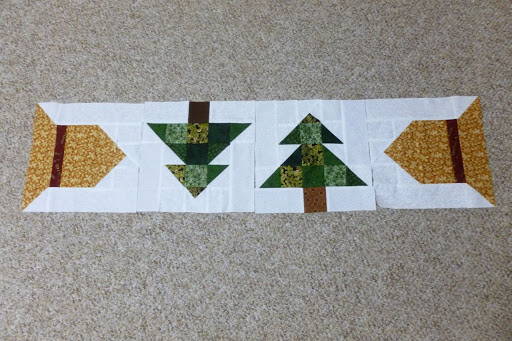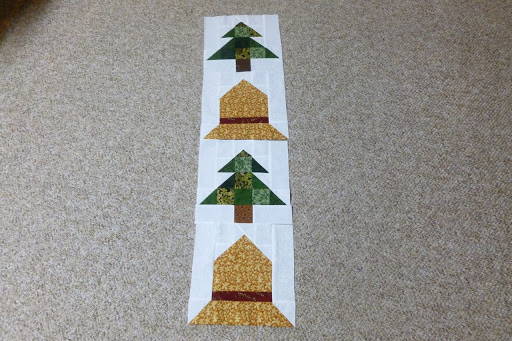 For mine, I placed the blocks in a four-square arrangement facing different directions, so every side has one block right side up. I added a border to mine too. The blocks finish at 10-inches square, and this table topper has 2-inch finished size borders, so the entire topper is 24-inches square. See the Beginning Quilting Adding Borders post for detailed information on adding borders. Quilt your topper using my tutorial on Quilting with a Walking Foot by stitching in the ditch, or you could Stipple Quilt in the background for more definition. You could also try Free Motion Quilting, as shown on An's post. This project is small enough to easily quilt on your domestic machine, and is a great way to practice a new technique. Finish with Binding, as shown in the Beginning Quilting Finishing with Binding tutorial.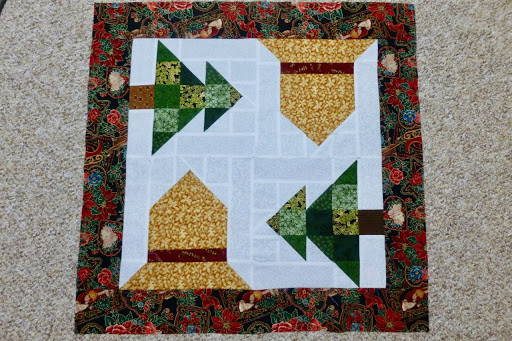 Small projects like this are a great way to use up batting scraps too. If you need to put a couple together, use the #27 Edge Joining Foot with a wide zigzag stitch. The center flange keeps the two sides aligned and the result is a flat seam that won't be noticeable in the finished project.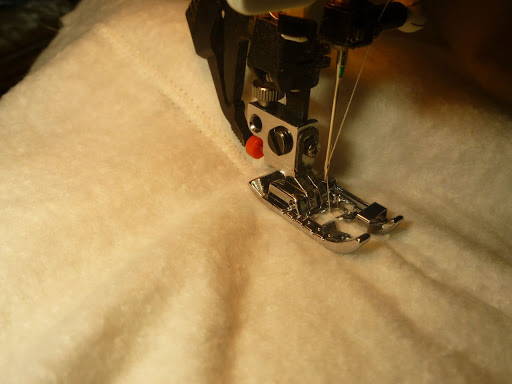 You could use just one block to make a Christmas pillow or a candle mat. On the tree block, you could add buttons to the project as ornaments and embellish the accent strip on the bell too. Your only limit is your imagination. Make 6 of each block for a fun Christmas throw size quilt.