Using An Open Toe Walking Foot For Garment Sewing
You think a walking foot is a quilters-only presser foot? Hell no!
Whether you are topstitching through multiple layers or are trying to match stripes across seams, the walking foot's even feed function can help you achieve professional results on all your sewing projects.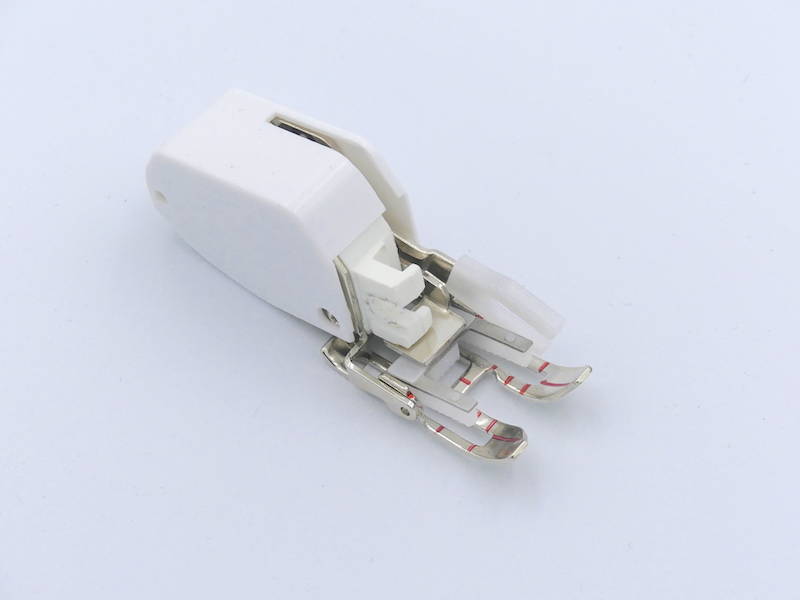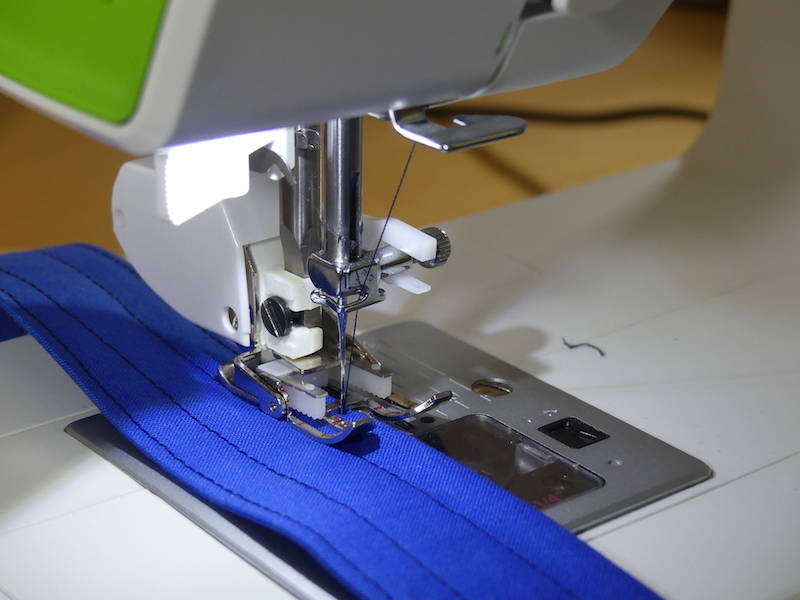 A walking foot is very well known among quilters but us garment sewers haven't really adopted this foot.. yet :-) I tested this foot for all of you that have no idea what I'm talking about or for the ones with a lot of questions about this foot. In this post I'm focussing on some non-quilty applications (sorry sweet quilters!).
With a walking foot different layers of fabric will move evenly through your machine. Hems on stretch fabrics will move straight under this foot and not wobbly, stretched out, leaving you with lumps and a puckered result. And there are other uses for this foot. I've found 5 of them and will show them in this blog post.
The universal open toe walking foot is a screw-on presser foot and can be used on all low shank machines, and with an adapter, also on a Bernina. If you want to have all the details, see if it fits your machine and learn how to attach it to your machine, follow this LINK to the walking foot manual.
The walking foot has built in feed dogs that work like the feed dogs of your machine. The feed dogs of your machine are two or three short, thin metal bars, crosscut with diagonal teeth, in a sewing machine's needle plate, below your presser foot. They march back and forth pulling your fabric under the presser foot while you sew. They march in measured and precisely timed increments that create the distance between each stitch.
The feed dogs of this foot start to walk as the needle and needle bar of your machine go up and down and push the presser foot lever of the walking foot up and down as well. This way the foot grips your fabric evenly from the top.
Sewing with the walking foot
Sewing with this foot is very straightforward. Once it is attached, you can just sew like you would with a regular presser foot. Maybe don't go to fast. And don't get scared, it's like a little factory that starts to move when you stitch :-) It works best at a slower pace, medium speed.
You can use the stitches you like, even use a double needle.
For knit and stretch fabrics, use a special needle and maybe a zigzag stitch. If the fabric is really frail, strengthen it, by ironing some fusible interfacing before you sew the seams.
A walking foot can be used for forward stitching only, as the top feed dogs will keep on moving your top fabric forward. But I have found that my walking foot can handle 2-3 stitches backwards in order to backstitch at the start of a seam.
 
5 garment sewing jobs well done with a walking foot
1. Working with difficult fabrics:
The walking foot is your tool for difficult fabric types, slippery or sticky fabrics, very lightweight or stretch materials, fabrics that tend to creep or stretch out while sewing. Does this sound familiar? When you come to the end of stitching a long line of fabric one piece of material appears to have mysteriously become a centimetre or two longer than the other, despite your efforts at pinning everything in place perfectly. A walking foot can sew two or more layers of these materials together without losing control.
Think sheer tulle, minky, gauze, suede, laminated fabric, vinyl pvc fabric, real leather, faux fur, fleece, flannel, satin, lace, knit fabrics, ...
Minky is notoriously difficult to sew. So I started off with a lot of pins. And the sewing was easy, no frustrations and no wavy result. This fabric curls up terribly that it's even difficult to show the result in a picture, because it curls up like a little snail. If I hold my hands too far from each other to show a big part of the seam, you don't see anything. So you have to watch the video in order to believe it went well :-)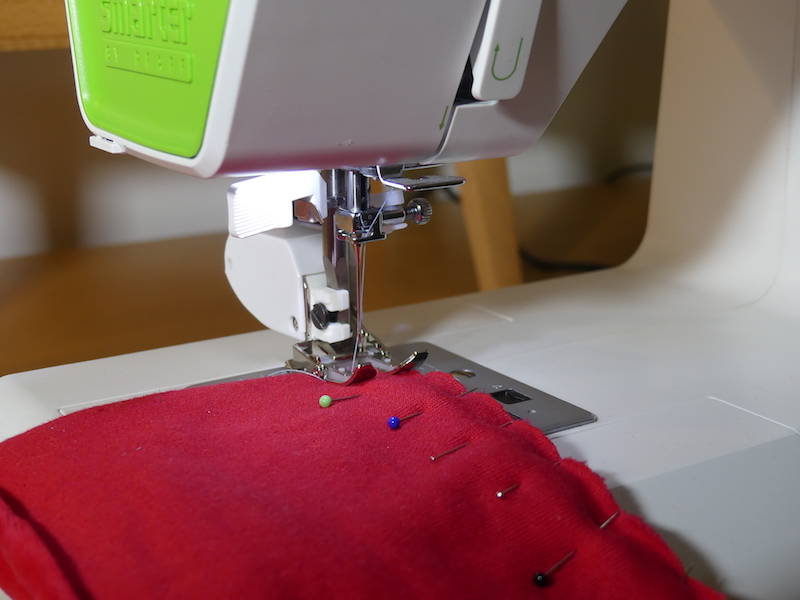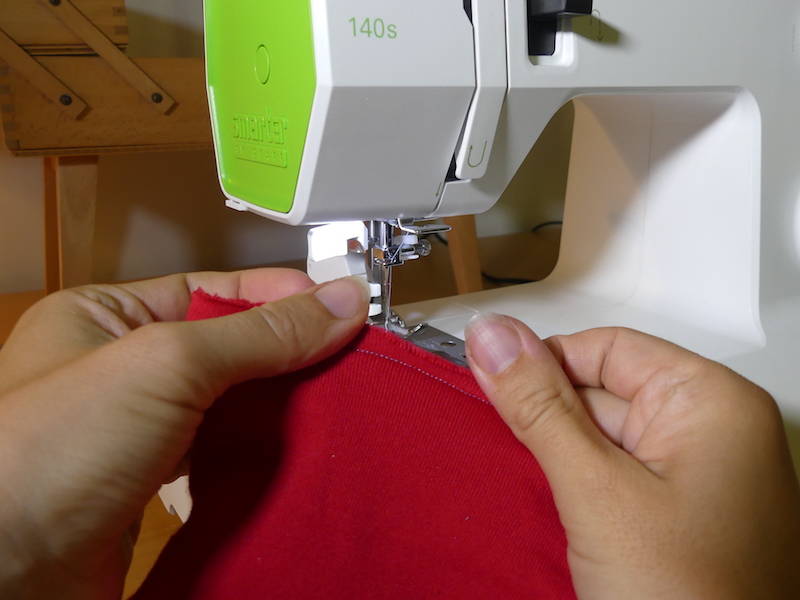 2. Matching designs on seams and matching seam intersections

You want the designs on your fabric to match on seams, like plaids or stripes for example. Or you're making a t-shirt out of 2 different jersey knits. Try to match the seam intersections without a walking foot. Very hard.
The walking foot moves both layers at the same speed, so more control and a nicer result.
I put two pieces of red striped fabric together and also made a bag for a tent out of vinyl (the bottom) and a synthetic water resistant fabric, very slippery to show how the foot works for seam intersections with difficult fabric :-)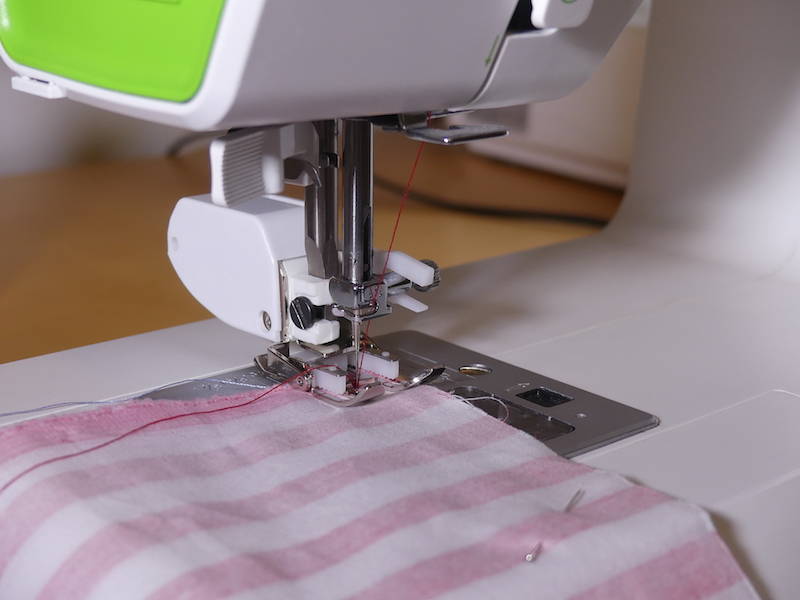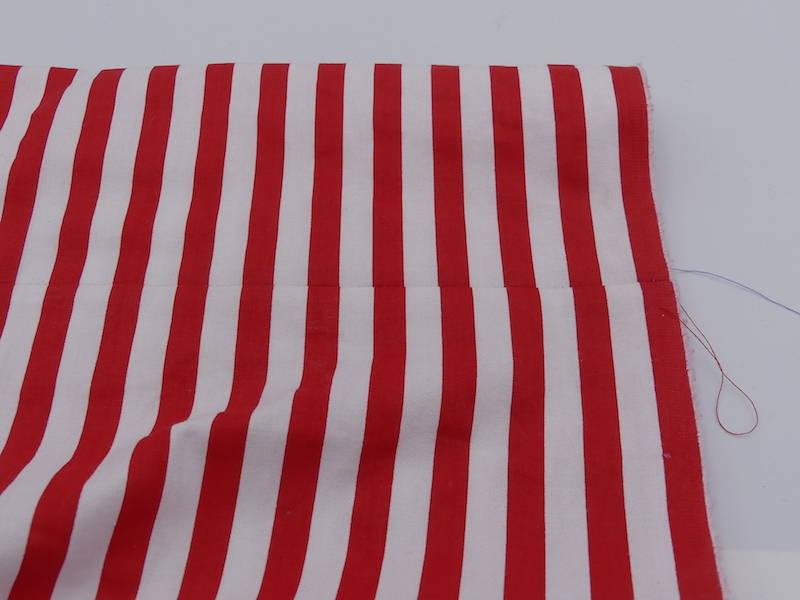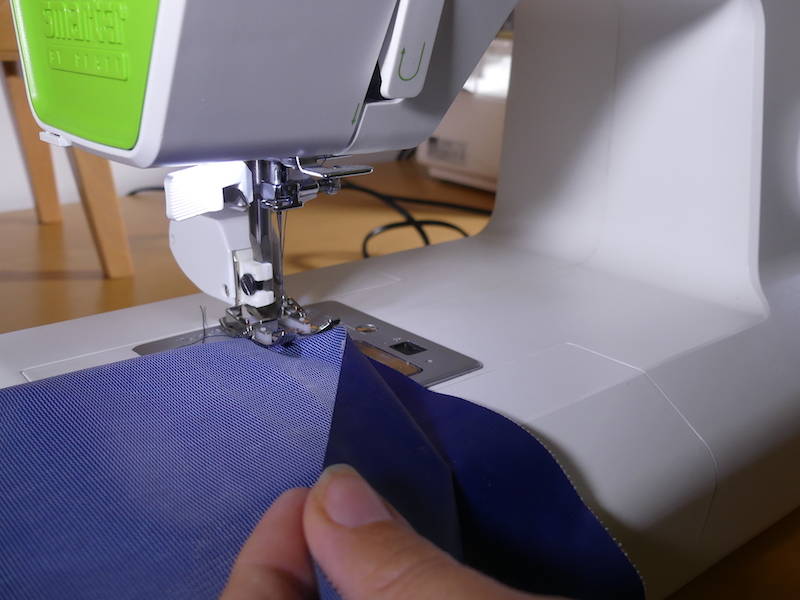 Matching seam intersection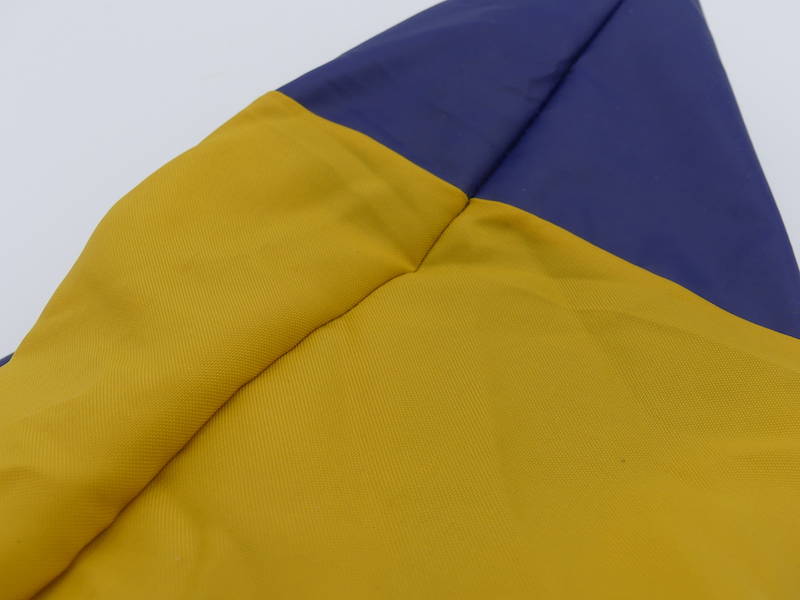 This is why the quilters love this foot so much. Quilters know bulky :-).. So, if you're sewing with denim or leather and you have multiple layers, or a project with thick sew-in interfacing
or lining, the walking foot walks evenly over both layers even when you go from multiple layers to one and back to multiple. It keeps on walking, uphill, downhill 🙂 and sews easily through multiple layers of fabric.
I used it for a strap of a bag I'm going to make. Have you ever had strange ripples down your straps, maybe because you switched the direction of stitching? Well, use a walking foot and that won't happen.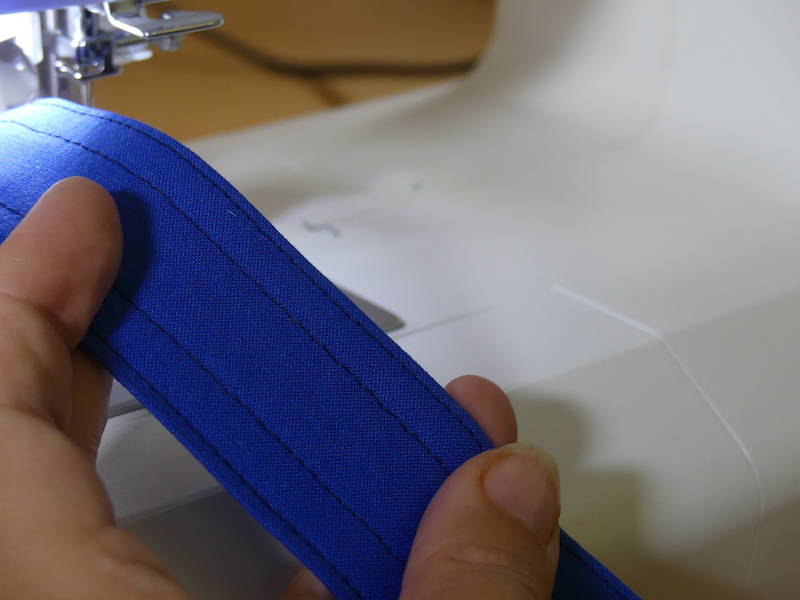 4. Avoid draglines for hems

When sewing hems, especially with slippery, lightweight and stretch fabrics, I often get draglines, even when I put in tons of pins.
So I did a little test. So I took a thin jersey, very stretchy.
Hem 1: First I tried with my normal presser foot, no interfacing, no jersey needle, straight stitch.. I know, I'm asking for disaster.. Look at the result. I just stopped halfway. Impossible...
Hem 2: Same conditions as hem 1, just changed the foot to a walking foot.. Better, no?
Hem 3: Added some fusible interfacing, changed to a jersey needle, changed the stitch to a little zigzag and used my regular presser foot again. Result is worse than hem 2, better than hem 1.
Hem 4: Fusible interfacing, jersey needle, little zigzag and walking foot. Me happy :-)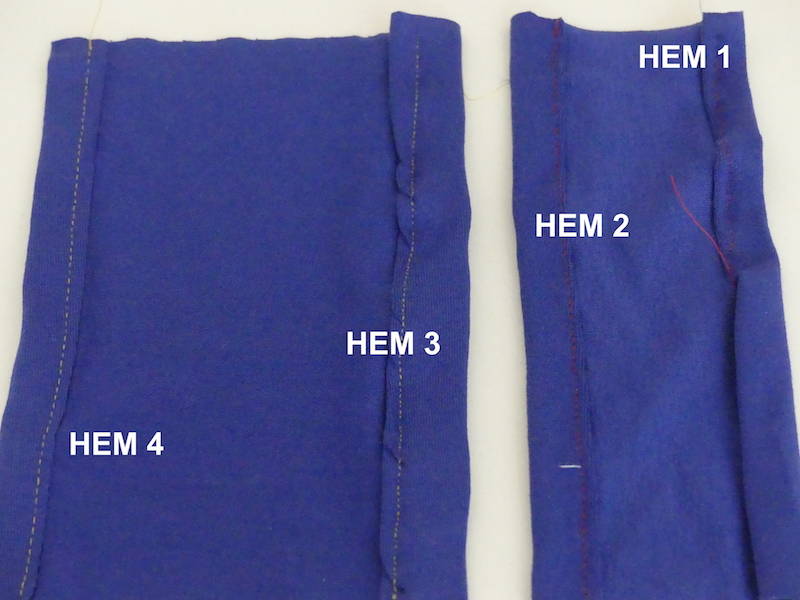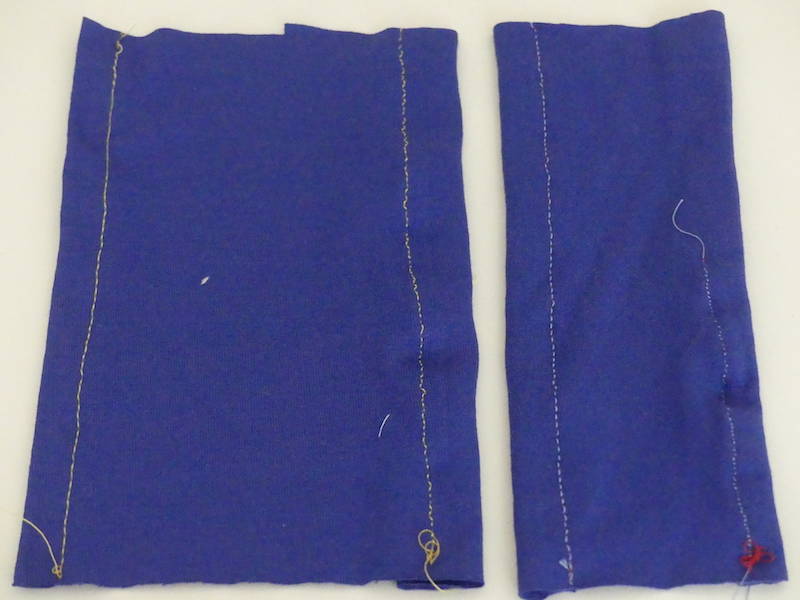 5. Adding embellishments and trimmings

Think ruffles, gathers, pleats,... The pressure of the presser foot has a habit of pushing these embellishments towards you as you sew, shifting the embellishment away from where you intended. The walking foot will just walk over them, the pressure is no longer there.
Some people like to use this foot for appliqués as well, as it is an open toe and the foot isn't pushing the fabric away from you, it makes sense! I will test this for you in one of my future blog posts that will be about appliqués (september).
I finished the blue skirt for my daughter (the bodice I showed you in the understitching blog post) and for the ruffles I used the walking foot. That went really well. My best ruffles ever!
Close Up View Of The Ruffles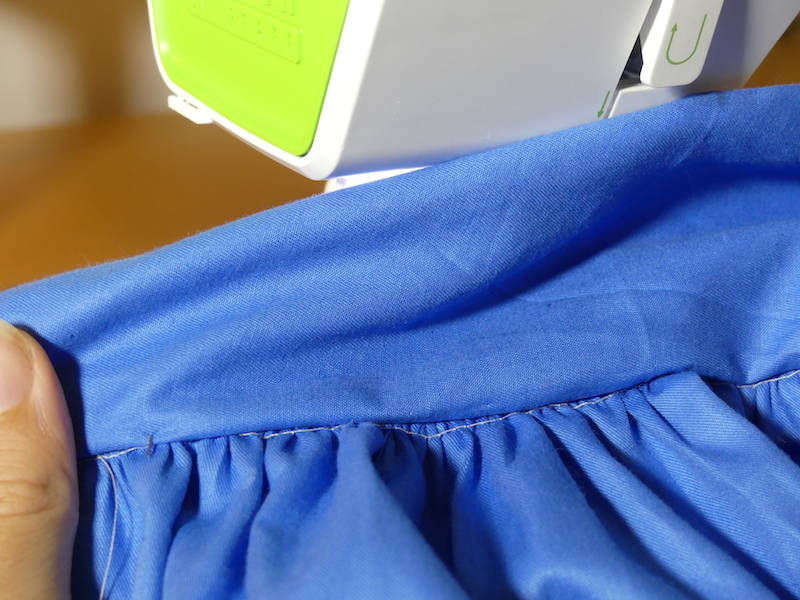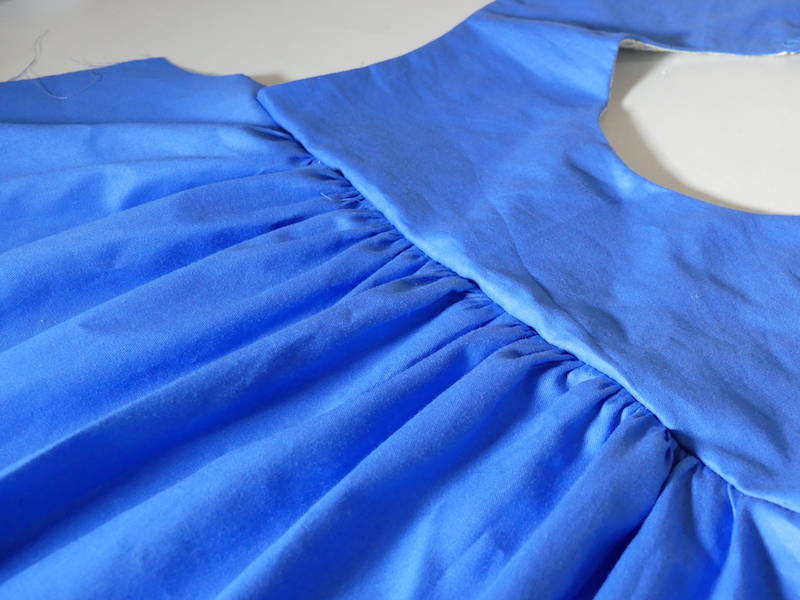 I've read about people that are using their walking foot all the time, they never take it of their machine! I won't go that far but whenever my presser foot seems to be pushing the top layer instead of moving smoothly over it, I'll switch to my walking foot.
If you want to know how Carole uses the walking foot for quilting, go to her blog post by clicking here!
If you have any more questions or hesitations about my post, just send me an email an@madamsew.com or leave a comment.
Have a nice day!
An
Sewing aficionado and keen sewing blogger/vlogger.
An is Madam Sew's dedicated creative brain, writing and filming insightful, inspirational content for the sewing enthusiast.

PS: Do share this blog post - just give clear credit to MadamSew, including our original blog post link. Thanks!