Tips & Tricks for Topstitching Like a Pro

Have you ever read through a sewing pattern and wondered, "What is topstitching?" Topstitching can take a garment, or any sewing project, to the next level by adding stability, structure, and design. When executed neatly, those topstitches can become a stunning detail..
Some people are intimidated by this technique, but in this post, I'm going to give you some tips and tricks on how to topstitch like a pro. Mastering topstitching is a matter of practice.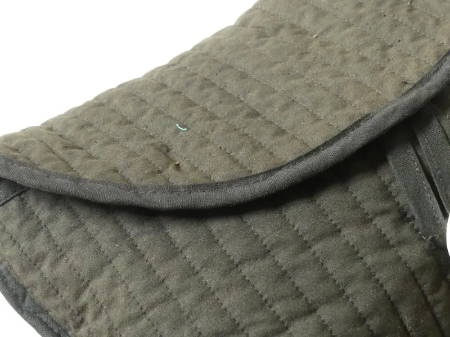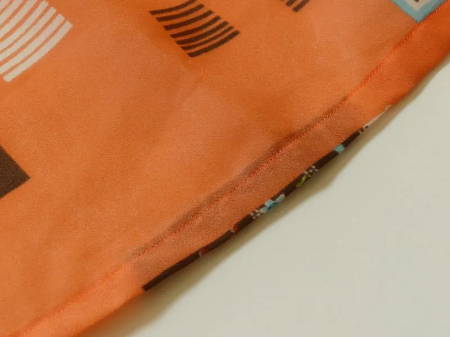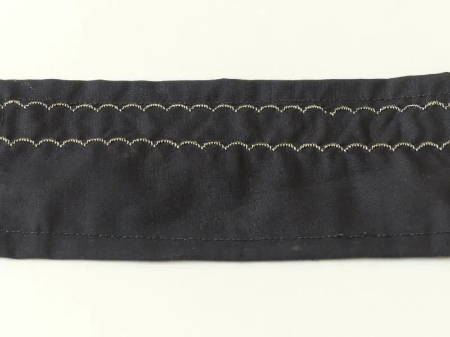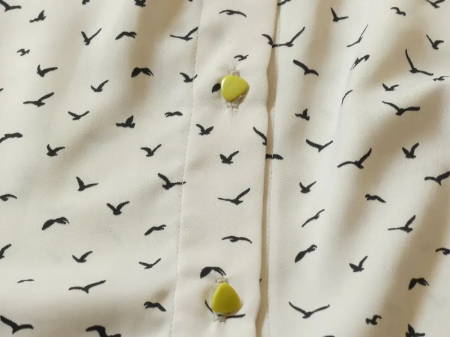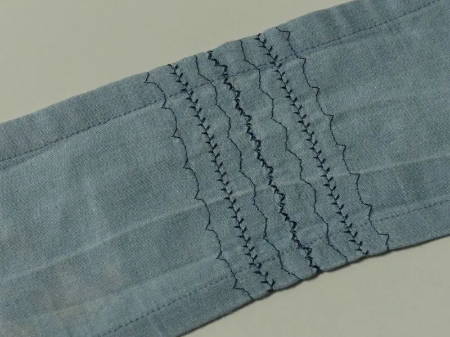 Topstitching is basically any stitching that is seen on the right side of your project.
It's a decorative stitch, but it also helps to stabilize the fabric and adds another level of security to your project. It can also be part of the construction—on bias tape, a hem, or a patch pocket, for example. If you wonder what topstitching on a garment looks like, grab any denim item in your closet and look at the key feature: topstitching on pockets and hems! Topstitching is the thread that runs along the seams, pockets, and edges. In jeans, topstitching stands out by using a contrasting thread color.
Sometimes it is even used in seams, like the flat felled seam that has a double row of stitches on one side.
'Topstitching' is when you sew a straight stitch parallel to the seam line through the top fabric and the seam allowance underneath.
First, you sew your seam, making it wide enough grab the seam allowance with the topstitches. Then, turn your fabric right side out and press the seam.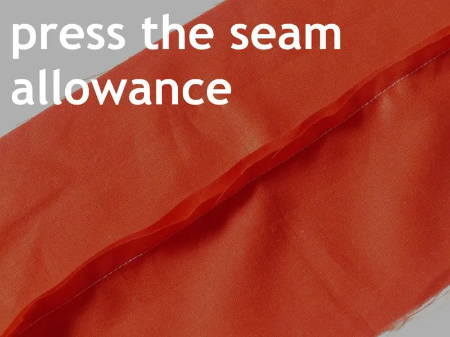 If you want topstitches on one side, press the seam allowance to the opposite side.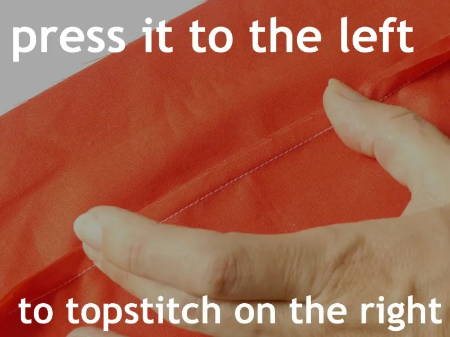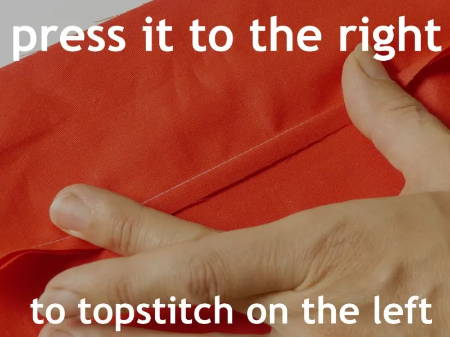 Put your project back on the right side and sew parallel to the seam at ¼". If you sew at ⅛", it's called an edge stitch.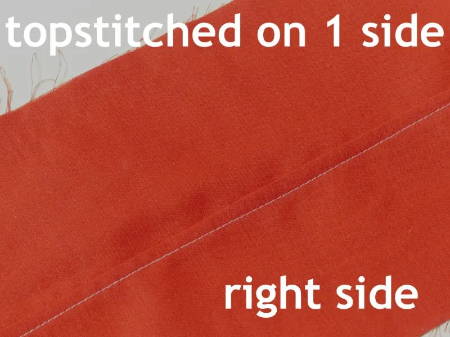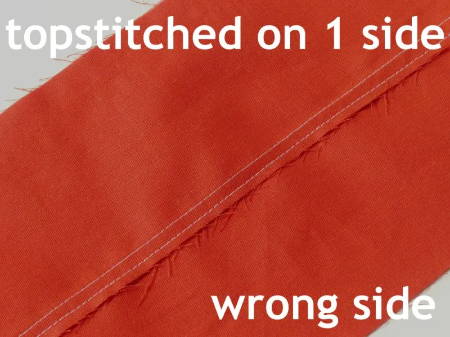 If you are topstitching on both sides, press the seam open. Put your project back on the right side and sew parallel to the seam at ¼".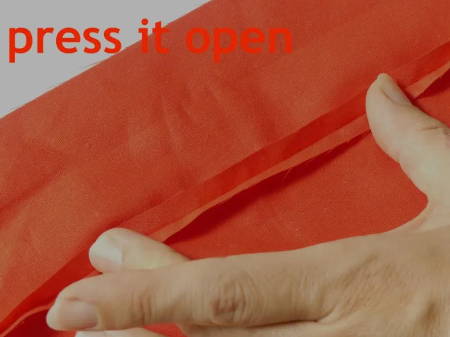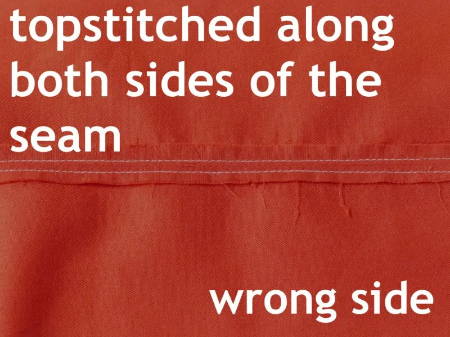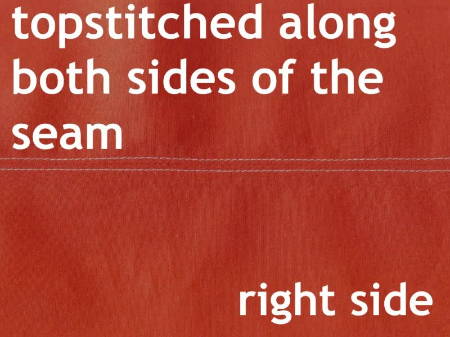 Learning how to topstitch is not difficult, but here are some tips to help your topstitching look its best:
1. Always stop with your needle down

Topstitching is very visible, so it's important to keep it straight and even. To help with this, make sure your needle is in the down position whenever you stop. If you have a fancy sewing machine, there may be a button you can press that ensures your needle is always down when you stop sewing. If you want to start again, your needle is in the right spot to continue stitching your straight line.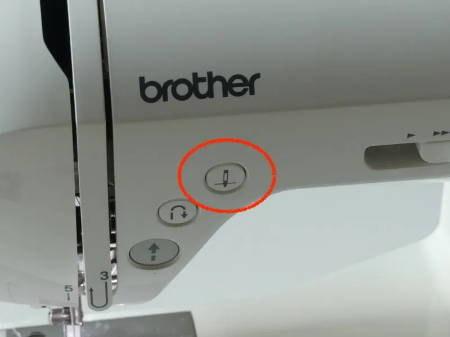 2. Don't backstitch to secure your thread

Topstitching is a decorative stitch, not a construction stitch, so there is no need to backstitch. It can add unnecessary bulk. Just pull the last top thread to the back of the project and tie it in a knot with the lower thread.
Another technique to secure your threads is to shorten your stitch length as much as possible, and tack the stitches in place at the beginning and end of the seam. However, be careful when doing this when topstitching because it can alter the look you're going for.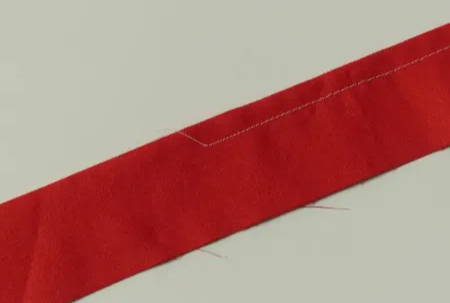 If you must stop in a continuous line, or if you make a mistake, unpick the area and pull the tails to the wrong side. Blend the new stitches by overlapping just one or two stitches before and after the unpicked area as you sew. Place your needle in between two stitches when you start. Next, pull those new thread tails to the wrong side and tie them in a knot with the old thread tails. Snip off the excess.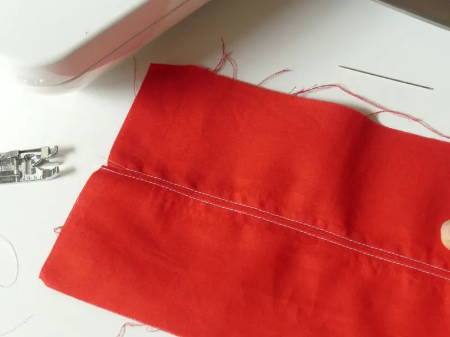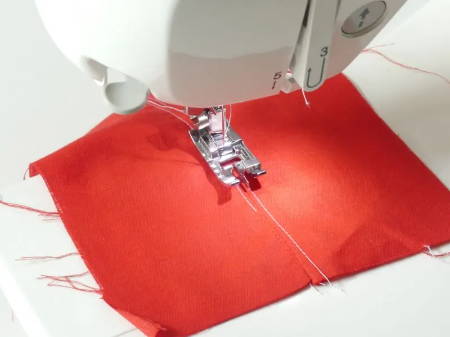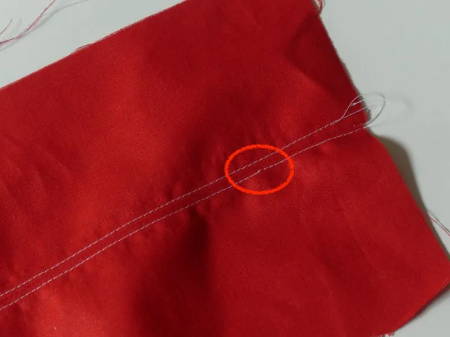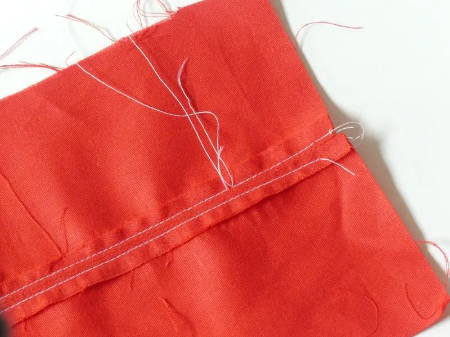 3. Choose your thread wisely

Topstitching can be done with thread that blends into your fabric, but sometimes it's nice to make the stitching stand out with contrasting thread. If you are not confident, or if this is your first time topstitching, avoid contrasting thread. Opt for a more subtle color until you learn how to topstitch. In the following picture, I used red thread for the left hem. You can hardly see it!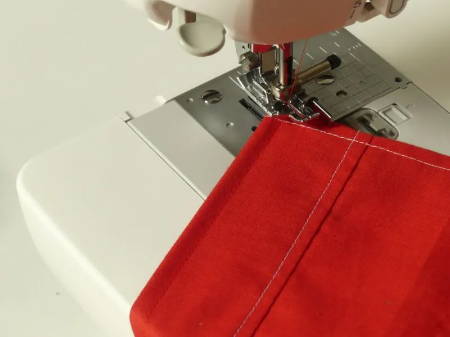 The weight of your fabric impacts the thread too. If you are sewing with a medium weight fabric, all-purpose thread will do the trick. Heavier fabrics like denim or canvas may require more substantial topstitching thread.
Look at those stitches with a topstitching thread on the left seam in the following picture.
If you change your thread, don't forget to check the thread tension setting on your machine. Be sure to change the needle to a topstitch needle for the heavier thread, as this needle has a bigger hole. For all-purpose thread, a microtex needle is a good choice.
It's easier to get straight, consistent stitches when you lengthen your stitch. Shorter stitches can also hide themselves in the fibers of the fabric. For a decorative stitch, that is not ideal. My go-to length for general stitches is 2.5 to 3 but for topstitching, I usually use 3 to 3.5. For heavy-weight fabrics, you can even go up to a 4.
It is actually easier to sew in a straight line when your stitch length is longer because these stitches aren't what is holding the project together, your project doesn't lose strength.
For this thin cotton, a 2.5 is ok. 2 is too small and 3.5 too long.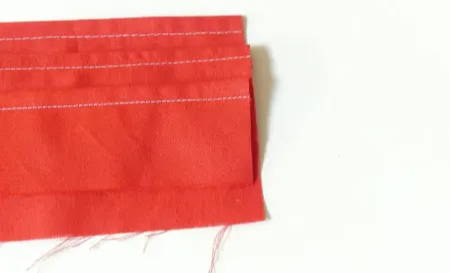 Topstitching is easier when you use the right tools. If you find it difficult holding that parallel line at ¼", an edge-stitching foot can help.
In the table below, I've listed some nifty tools for specific topstitching jobs.
| | |
| --- | --- |
| Sewing Jobs | The Right Tool |
| Straight Edge stitches (1/16" to ⅛") | Stitch in the ditch foot, with your needle set in the left position you can sew at ⅛ inch from the edge or a fold. |
| Straight Parallel stitches ¼" | Quilting foot without or with guide for ¼ inch toptitching |
| Straight Parallel stitches - other distances | Ruler foot, adjustable guide foot, magnetic seam guide, border guide foot. You can choose any distance you like. |
| Zigzag or other decorative stitches | Zigzag foot, appliqué foot to sew with different specialty stitches. |
| Freestyle, free motion, curves, drawing | |
6. Level out your presser foot

Have you ever tried to sew over a bulky seam, but the presser foot just wouldn't move?Then the thread gets all tangled up? That's probably because the foot is stuck trying to move uphill.
To get the foot unstuck, try putting some folded scrap fabric under the foot, behind the piece you're sewing. You can also buy a "button shank plate" to level your foot and some presser feet even have a little button that can level your foot, the presser foot locking pin. Madam Sew also sells a bulky seam jumper that helps tremendously.
This way, the presser foot won't be tilted up at an angle, so it can sew forward much more smoothly. This helps to prevent uneven stitch lengths.
The standard foot on my Brother has this button, and I never knew what it did!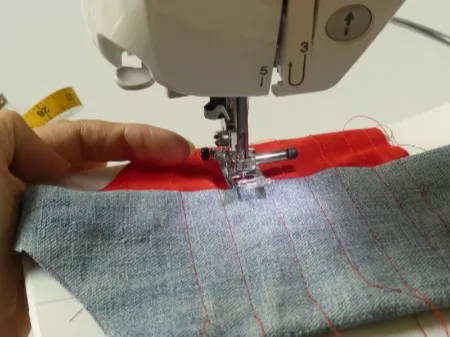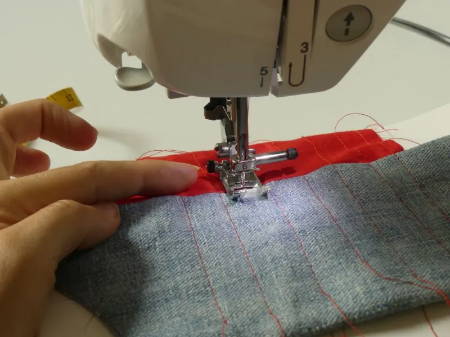 When the front of the foot lifts higher than the back, lift the foot, gently push on the front of the foot to make it level, then push the button into lock position. While holding the button, lower the presser foot. The foot will stay level. Start sewing again. The button will automatically release when the foot sews flat again.
And one last piece of advice … Practice, practice, practice… :-)  
Not only to test your stitch setting, but also to improve your topstitching skills. And even if you are a topstitching pro, make sure to test on a scrap of fabric to warm up before diving into the real deal.
Any questions or remarks, leave a comment below or send me an email an@madamsew.com