Hello all!

If knits intimidate you, you're not alone. Knits are lovely to wear because they stretch and conform to the body without constraining, and when used in a quilt they are especially soft and cozy; but that same quality can make them difficult to manage under the sewing machine foot. Fear not, with a few well chosen tools and some preparation, you can successfully quilt with knits.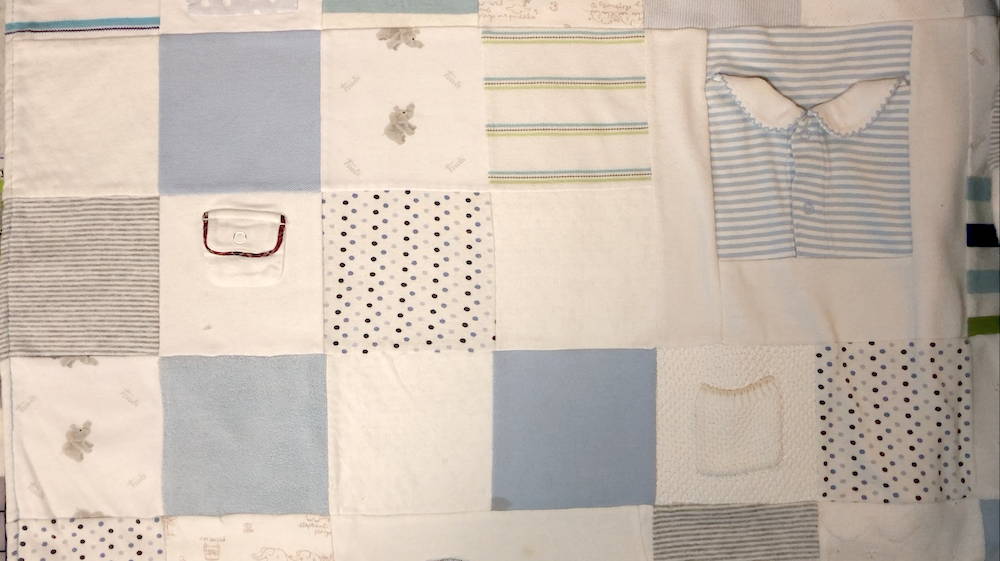 Ball Point Sewing Machine Needle
Your quilt should already be basted, preferably with quilt basting spray. Basting pins do not have ball points and will snag the knit fabric, so avoid them. You could baste by hand using a ball point hand sewing needle, but spray basting is what is going to give you the best chance, as every square inch of all three layers will be secure and smooth.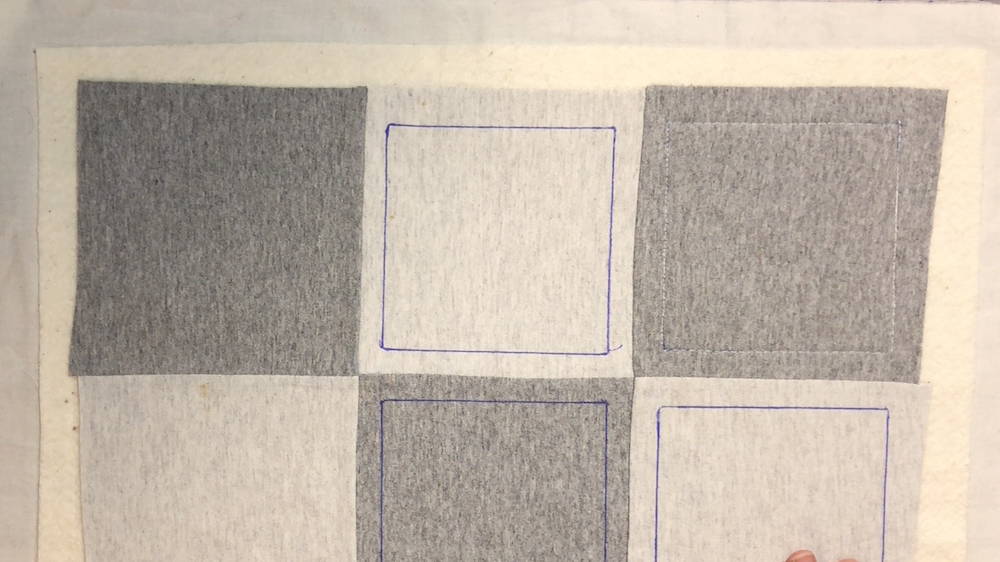 Change your needle to a ball point of a size appropriate for your fabric, and install your walking foot. If you need more information about the walking foot or don't know how to install it you can refer to this blog post and this video.
Adjusting the Settings on Your Machine
If your machine has a "lightning bolt" stitch, do use that, consult your machine's manual to pick the best width and length for your fabric.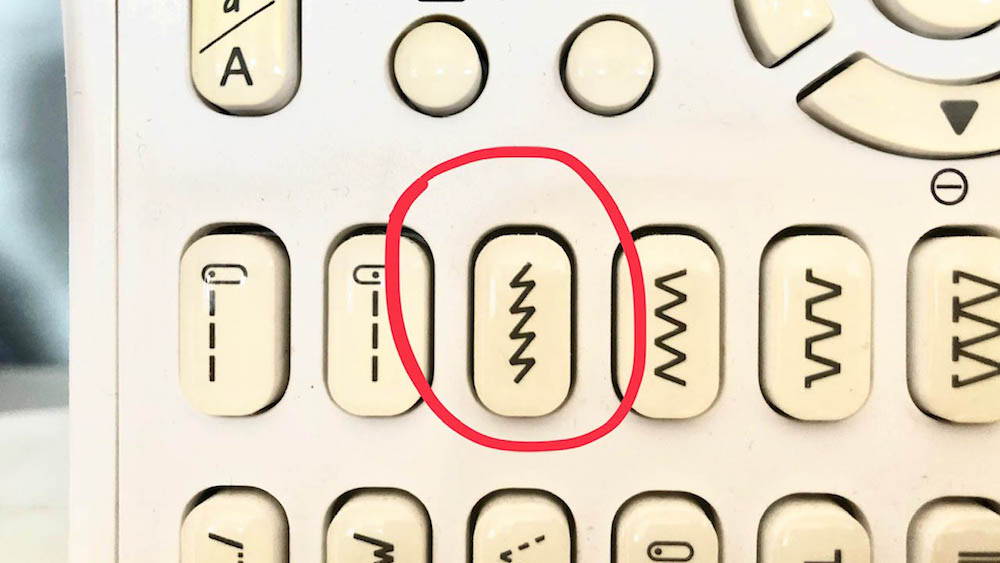 If you don't have a lightning bolt stitch, look up your manual to see if your machine features stretch stitches, chances are it does. Most modern machines have a triple straight stitch that is specific to knits. But even if it doesn't, you can always use a narrow zig-zag. Set it to a very short width, as close to 0 as you can get, and a length around 2.5, depending on how thick your quilt sandwich is.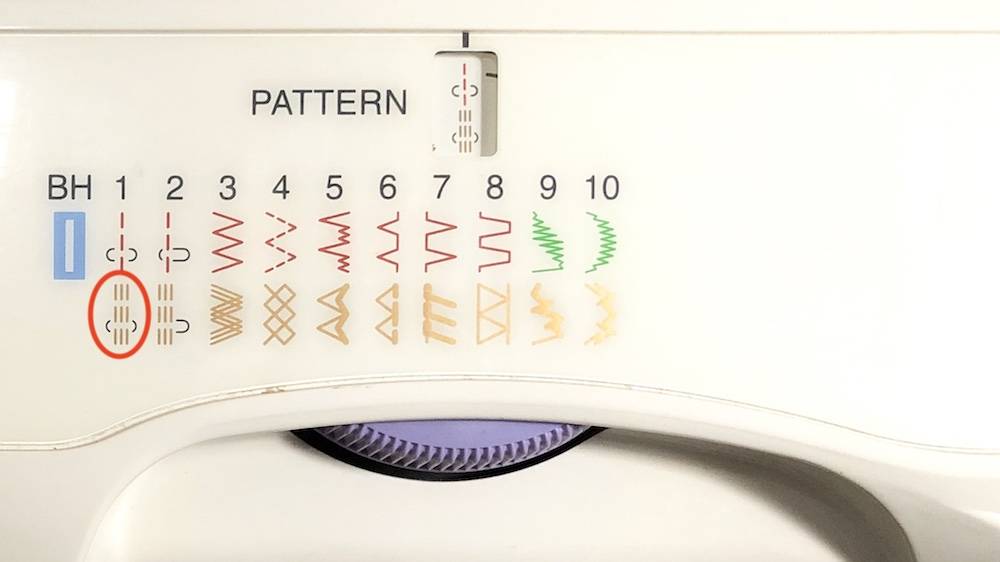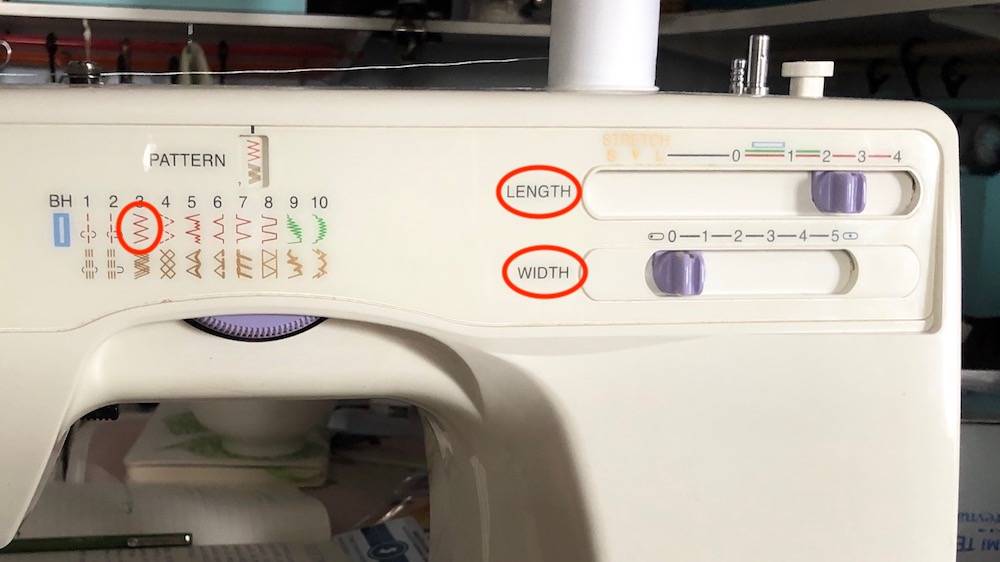 Either of these stitches will read as a straight line, but be aware that you won't get crisp stitch definition.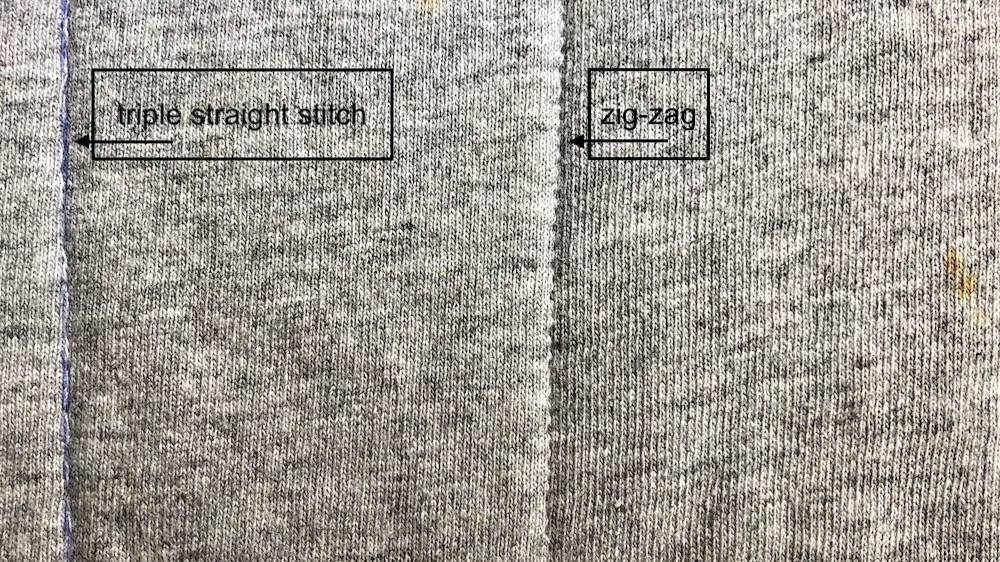 If the fabric is getting stretched, try lengthening the stitch a little bit. If your machine gives you the option to adjust the presser foot pressure, you can also try lessening it. Make sure to do some samples with a few different stitches to see which one your prefer. Machines differ from each other, so you may need to experiment a little bit. I find that my newer machine quilts perfectly with a narrow zigzag, but my older one still stretches the top a bit with the same stitch. So don't avoid this step!
For a first knit quilt, I would avoid free motion quilting ;-), let's stick to the basics and quilt some straight lines first, once you are comfortable with knits you can get more adventurous. I also avoid stitching in the ditch, as the seams on knit blocks tend to veer ever so slightly from the straight line, making it hard to stay in the ditch without stretching the fabric.
Your gel pens are ideal for marking knit fabric, since they roll over it without stretching. Use your quilting ruler to mark where you want your quilted lines.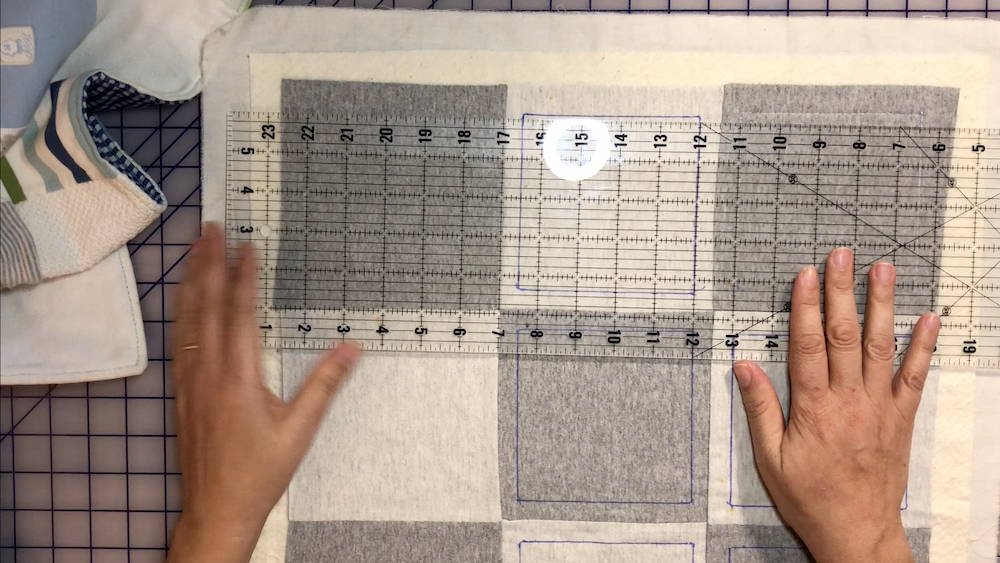 For this piece I decided on simple squares within each square block.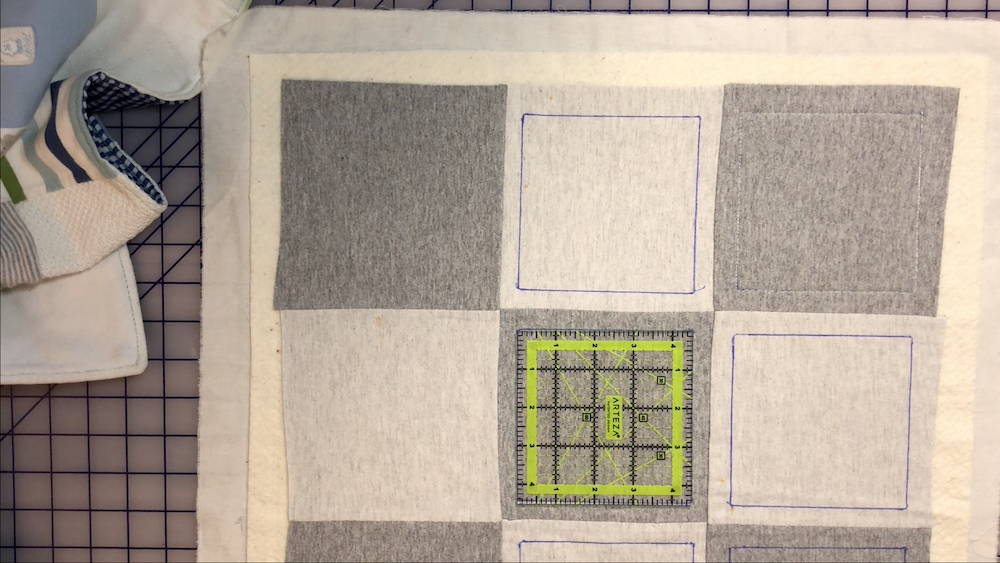 If you have done all your prep and have the right tools, this step should not be much different from quilting a woven top. Make sure your needle is centered and align the center mark on your open toe foot with the markings on your fabric.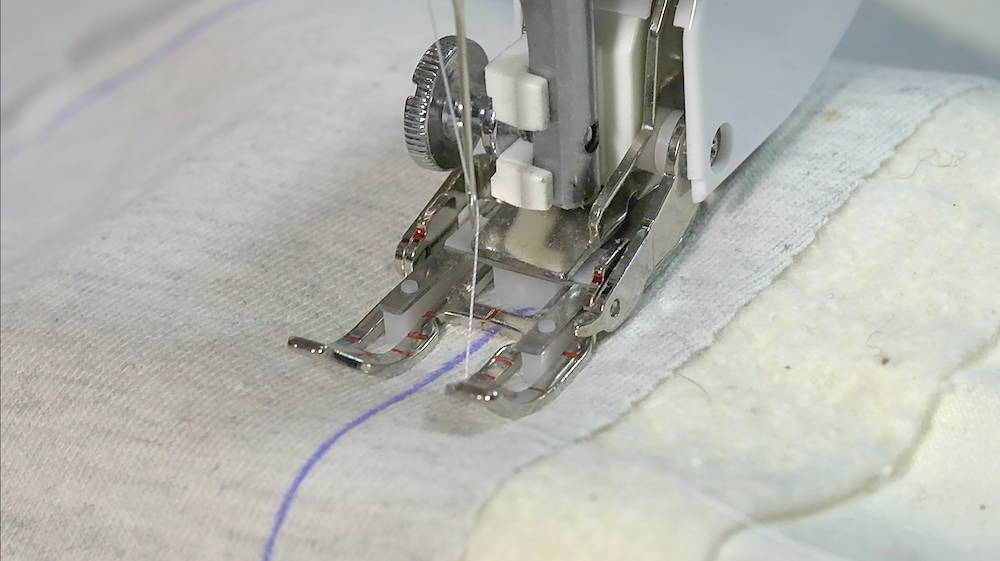 If you have any corners in your design, slow down as you approach them and stop with your needle down. Lift the foot and pivot to continue quilting along the next side of your design (don't forget to put your foot down after turning!).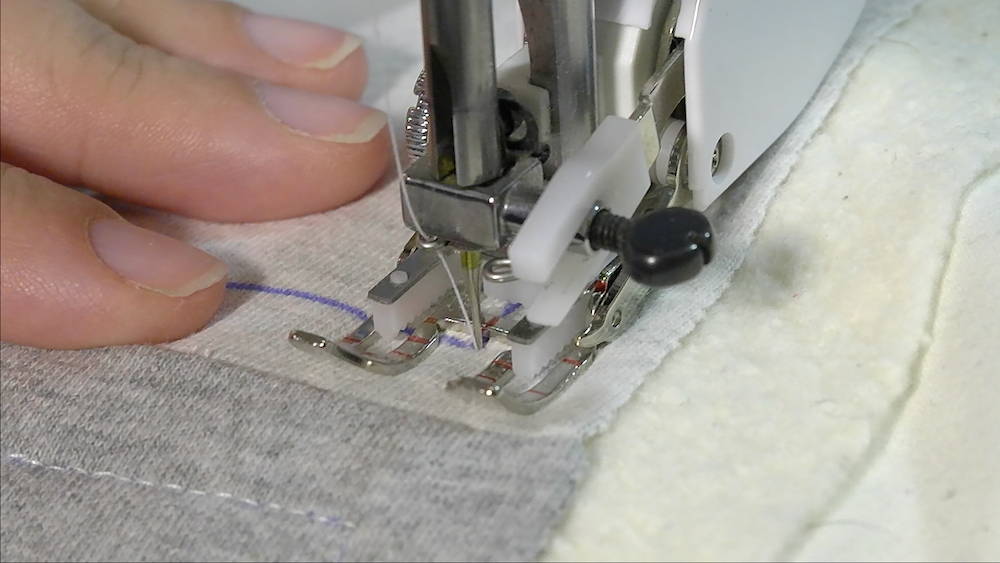 Well, I hope this tutorial has demystified quilting with knits for you! Now you can try your hand at t-shirt quilts or use all those baby clothes you've been saving for a memory quilt… We would love to see what you make!