How to make a Double Four Patch Square
The double four patch square is one of the easier patterns to sew together, and honestly, it's my absolute favorite one to do. You can make it with coordinating fabrics, or you could make some super cute memory squares using scraps from previous projects and/or kids' clothes. So follow along and have fun!
Materials Needed:

3 coordinating fabrics for the top of the square
Fabric for the back
Batting-thickness of your choice
Before starting, decide which fabrics will be your light (A), medium (B), and dark (C) fabrics. Once that is decided, you're ready to start cutting.
Take your light (A) and dark (C) fabrics and cut 4 squares out of each fabric, measuring 2 ¾" x 2 ¾". Cut 2 squares measuring 5" x 5" out of your medium (B) fabric.
Now you take your light (A) and dark (C) squares and sew them right sides together, on one side, using a ¼" seam.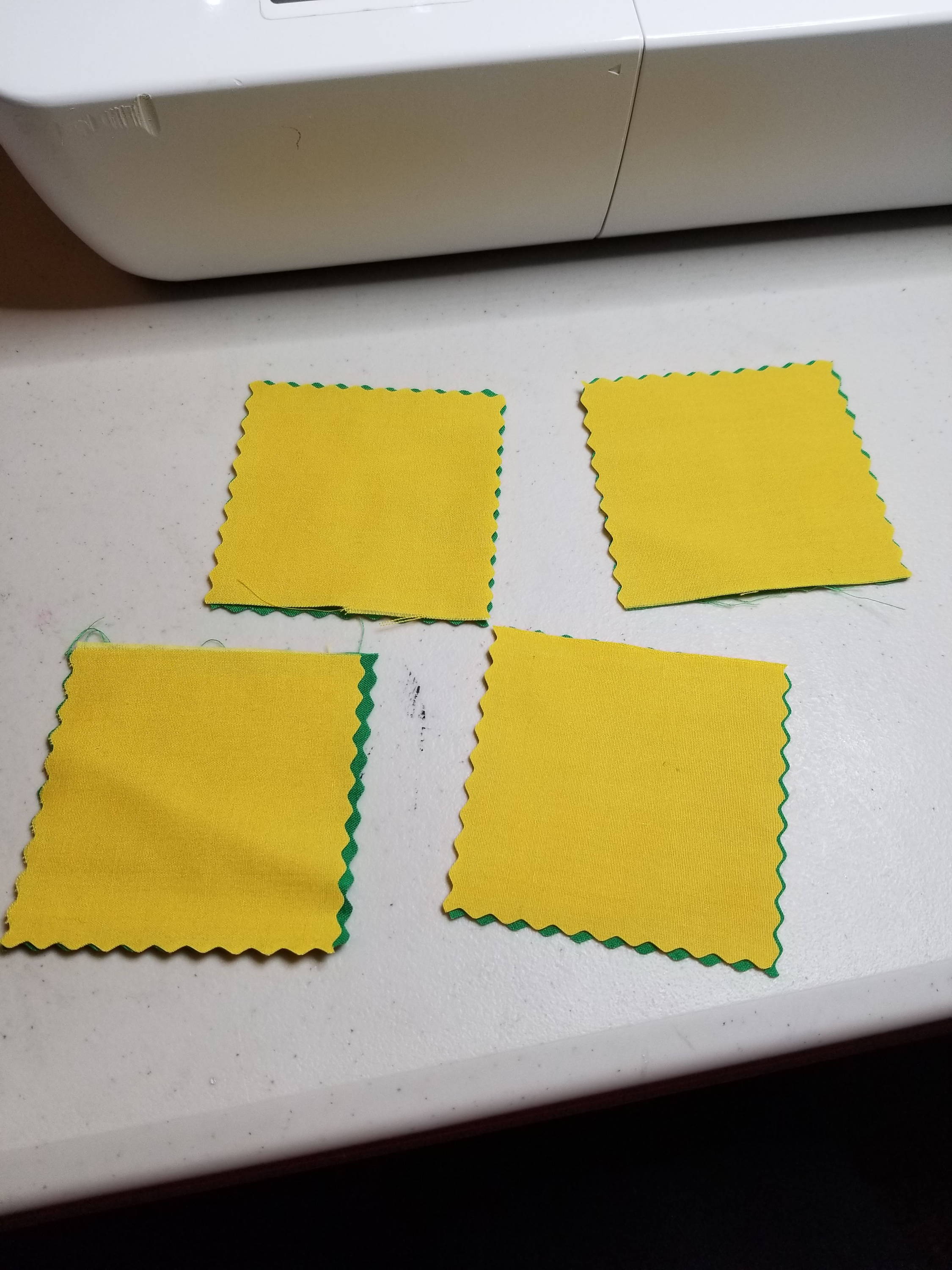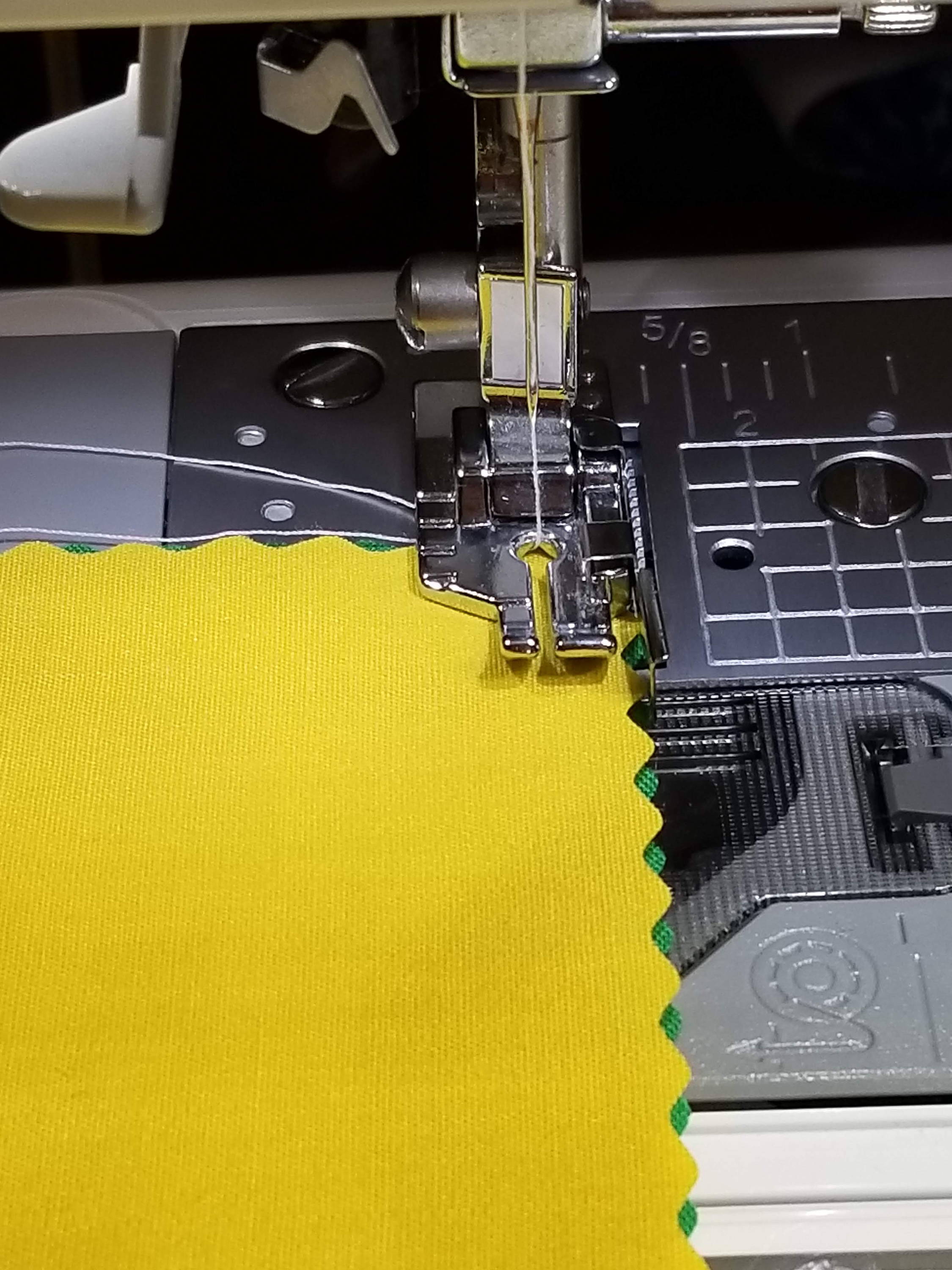 Once those are all sewn together, it's now time to make a square. Take 2 rows, and position them so the top one has the light (A) fabric on the left and the bottom one has the light (A) fabric on the right. Matching your raw edges and seams, sew a ¼" seam. Now you have a square.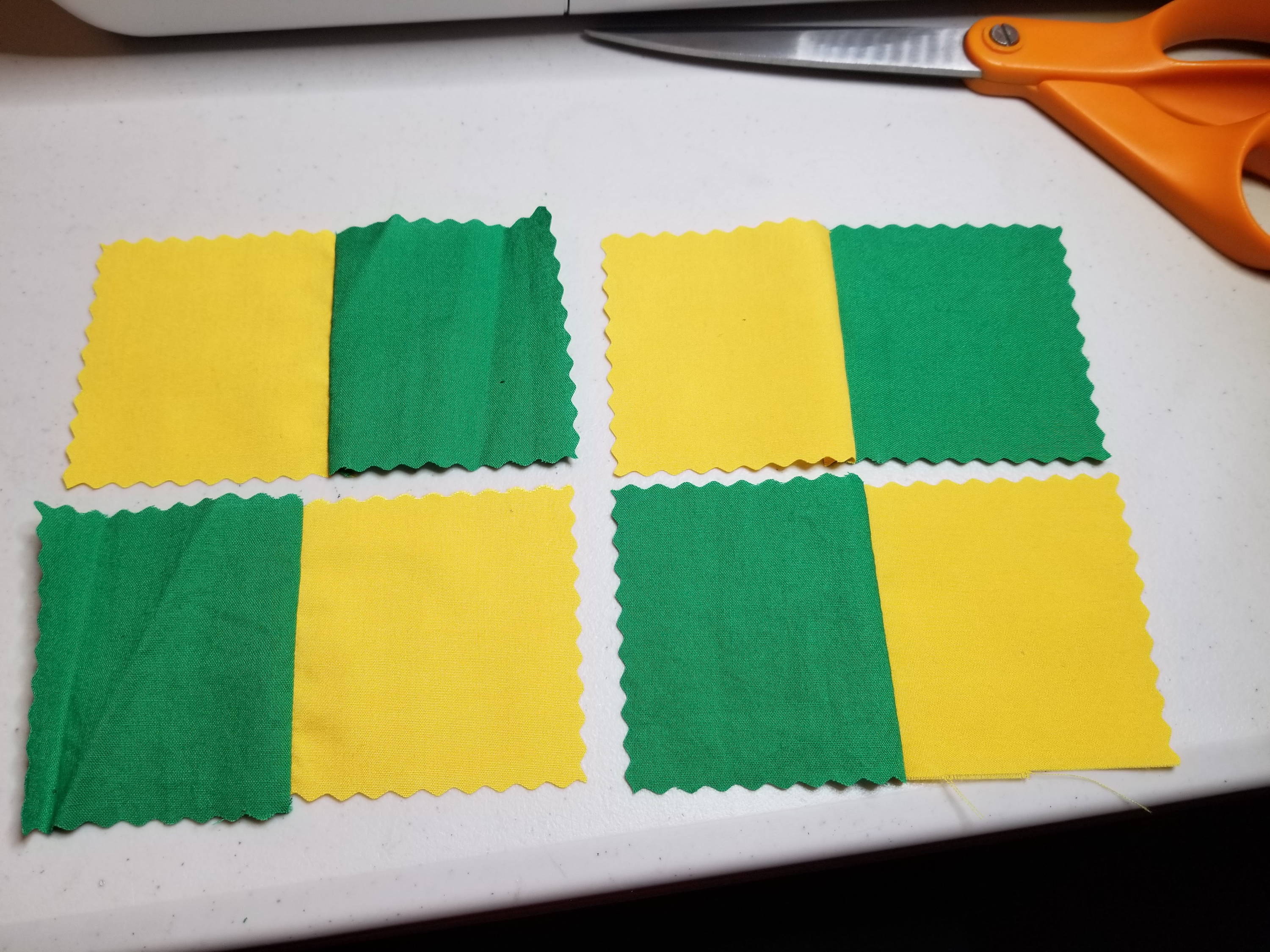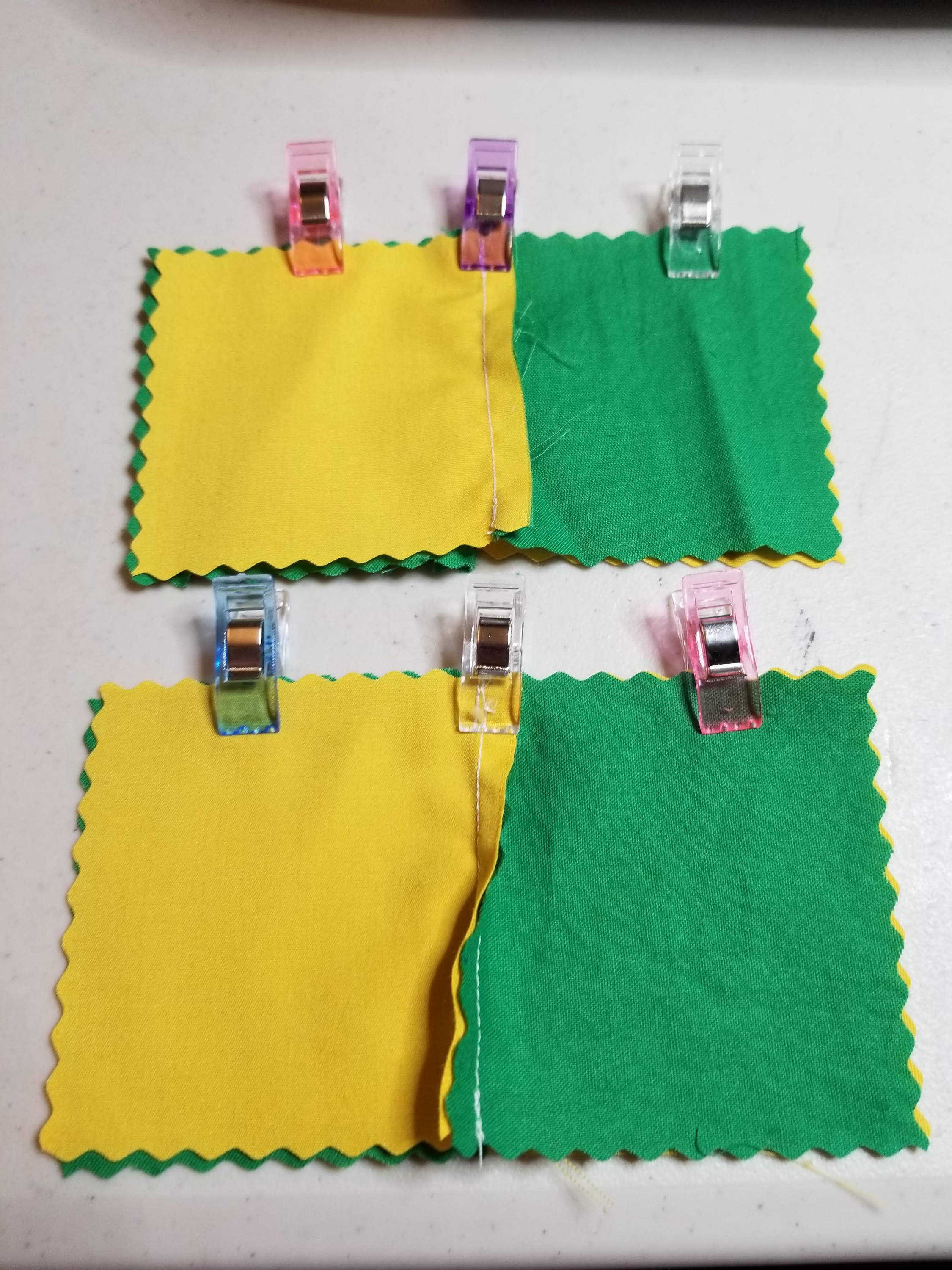 Now take your medium (B) squares and the 2 squares you just created. Arrange it so one medium (B) square is on top of one 4 patch square, and one 4 patch square on top of the other medium (B) square.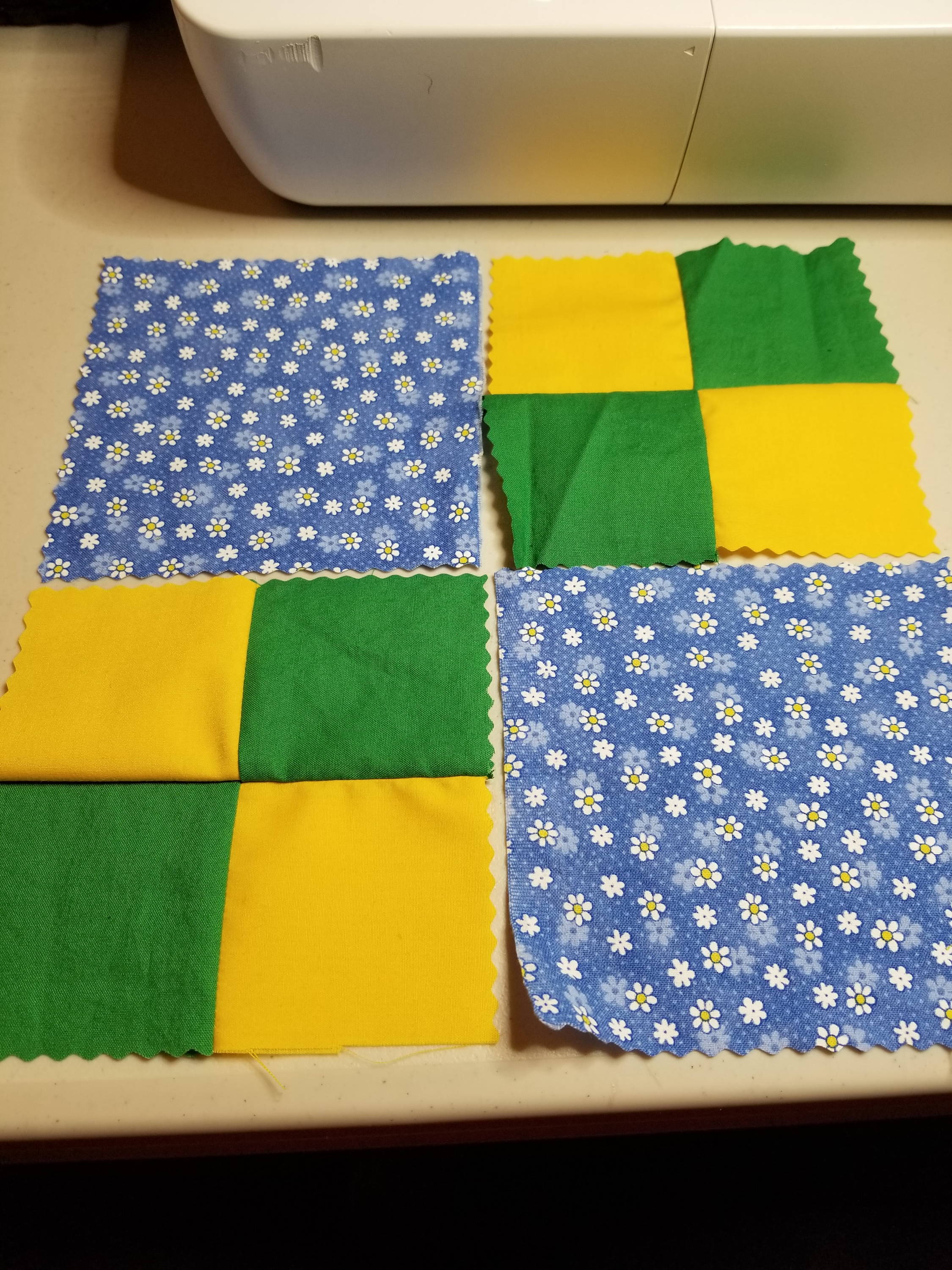 Working vertically left to right, put your squares right sides together and sew a ¼" seam. If your medium (B) fabric is directional, make sure it is facing the right direction before sewing.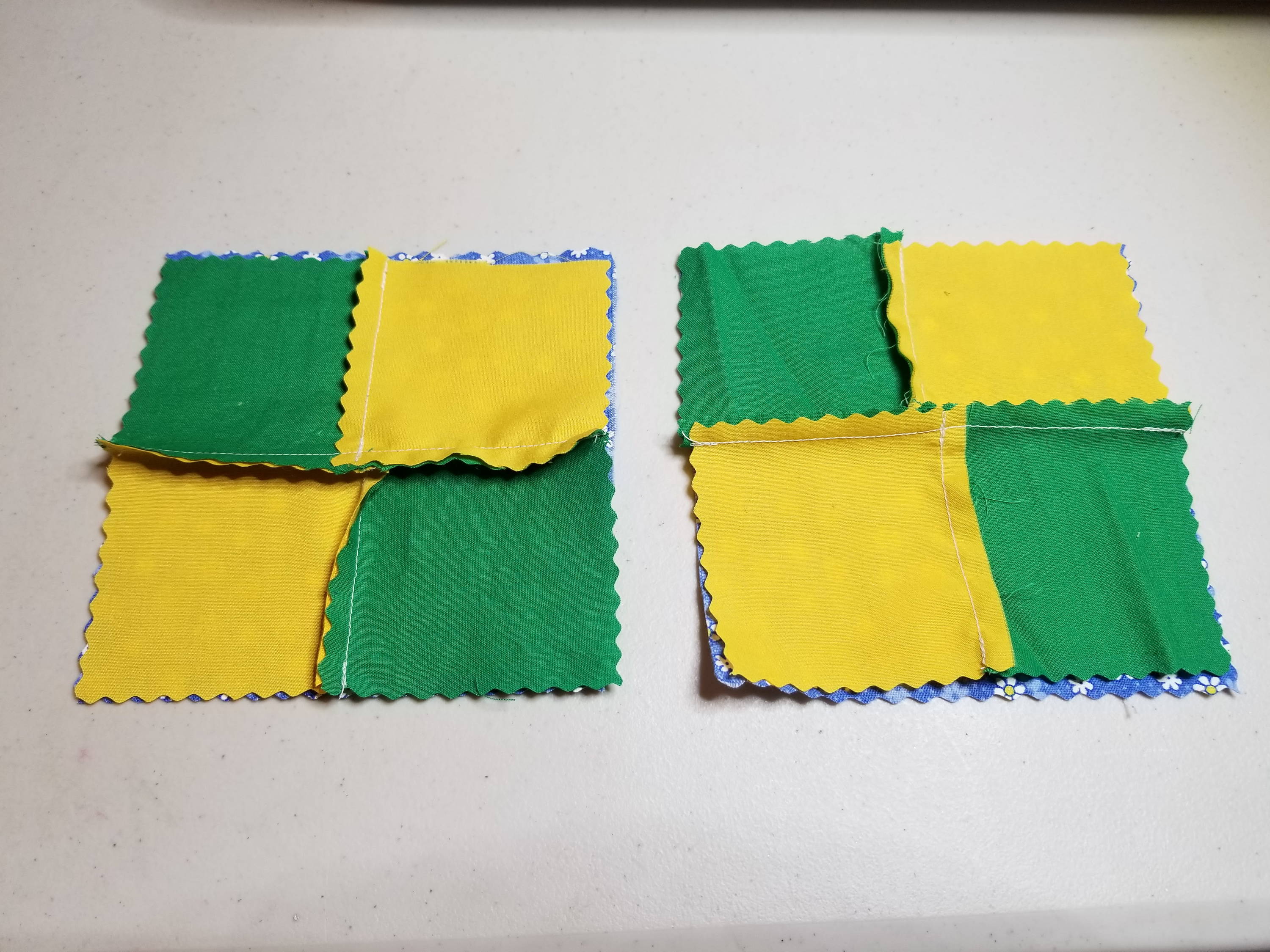 Now that you have 2 vertical rows, match your raw edges and middle seam, and sew a ¼" seam. You should now have a double four patch square. Iron your square so it lays flat.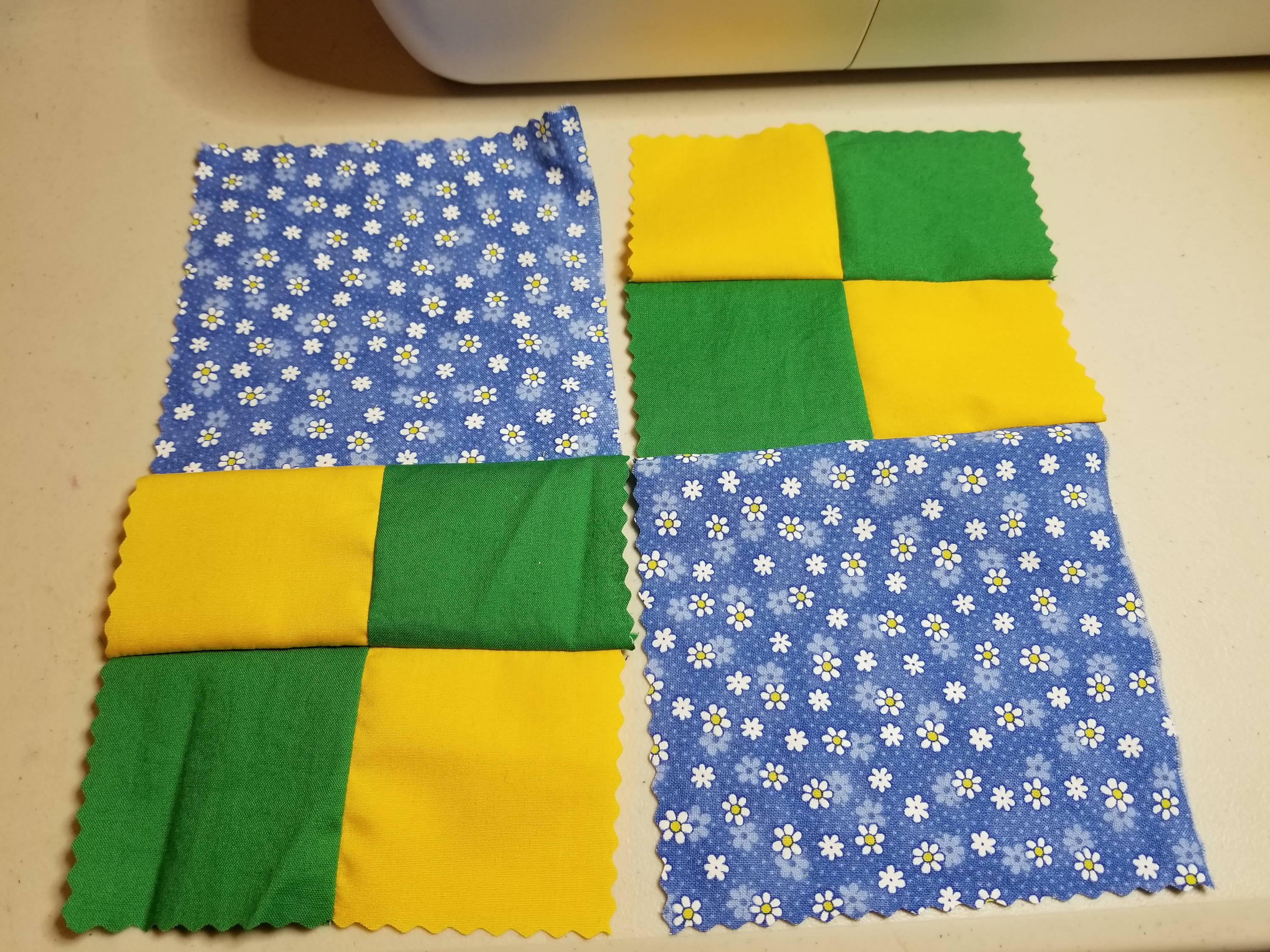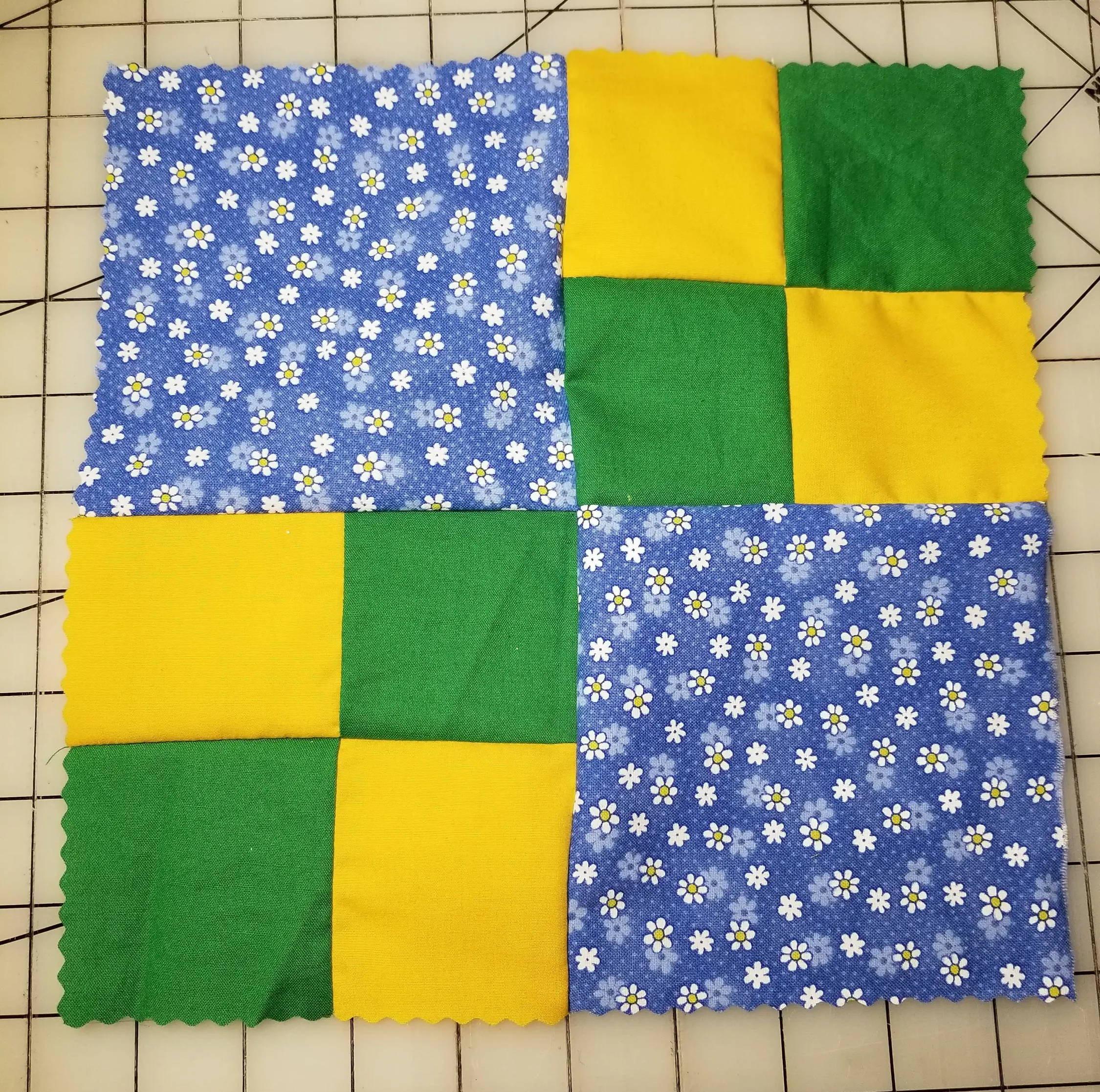 **The following steps for quilting is just one idea of how to quilt this square.**
For quilting, cut a piece of your back fabric and batting the size of the square. In this case, the back and batting would need to be cut 9 ½" x 9 ½". Make your quilt sandwich starting with the back, batting, and the square on top.
Attach darning foot #23 to your machine and put your feed dogs down. If you're unsure of how to lower the feed dogs on your machine, look at your machine's owners manual.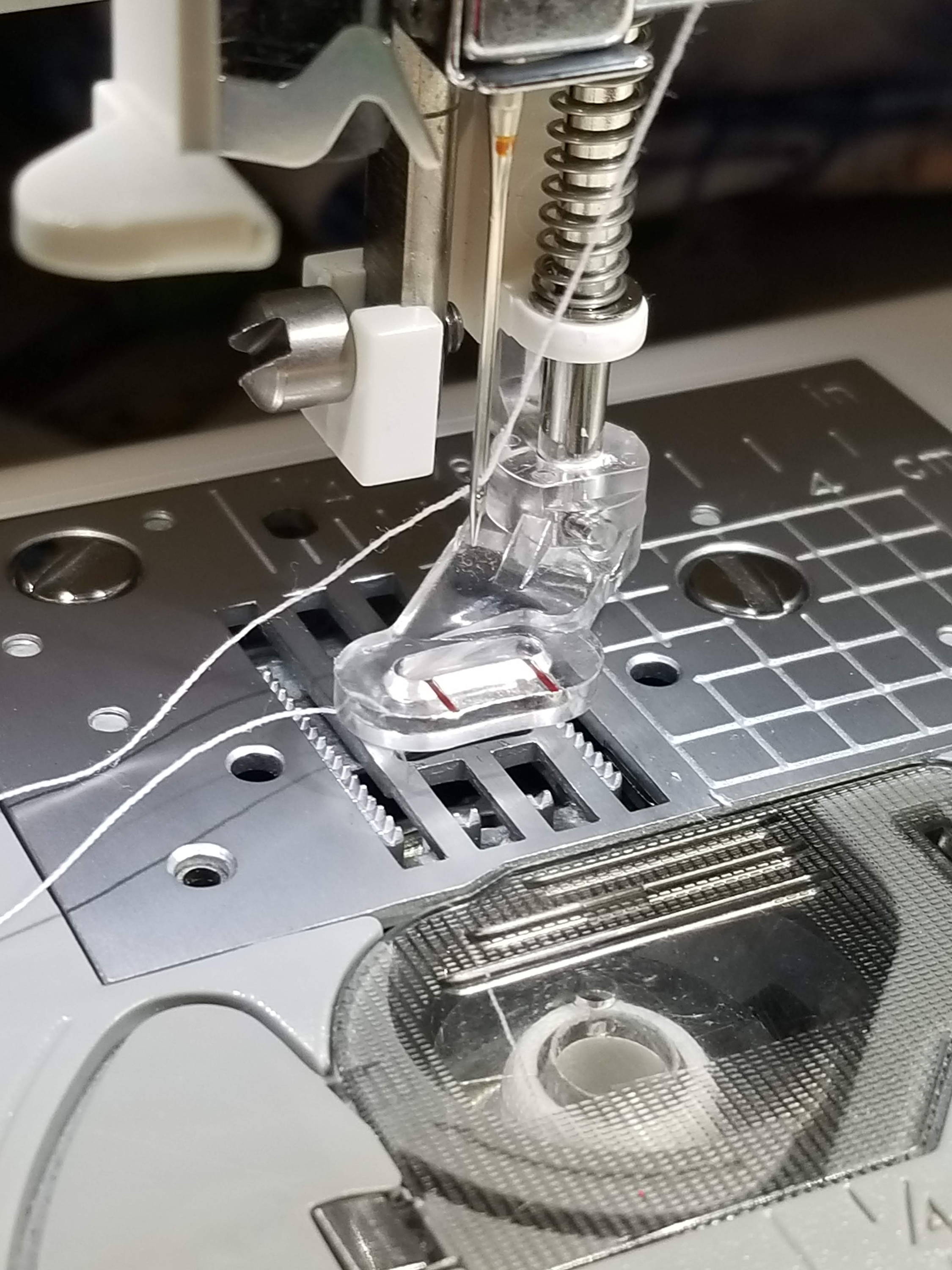 Now you're ready to quilt! I tried out the stippling quilting stitch on my machine but didn't like it so I switched to doing loops.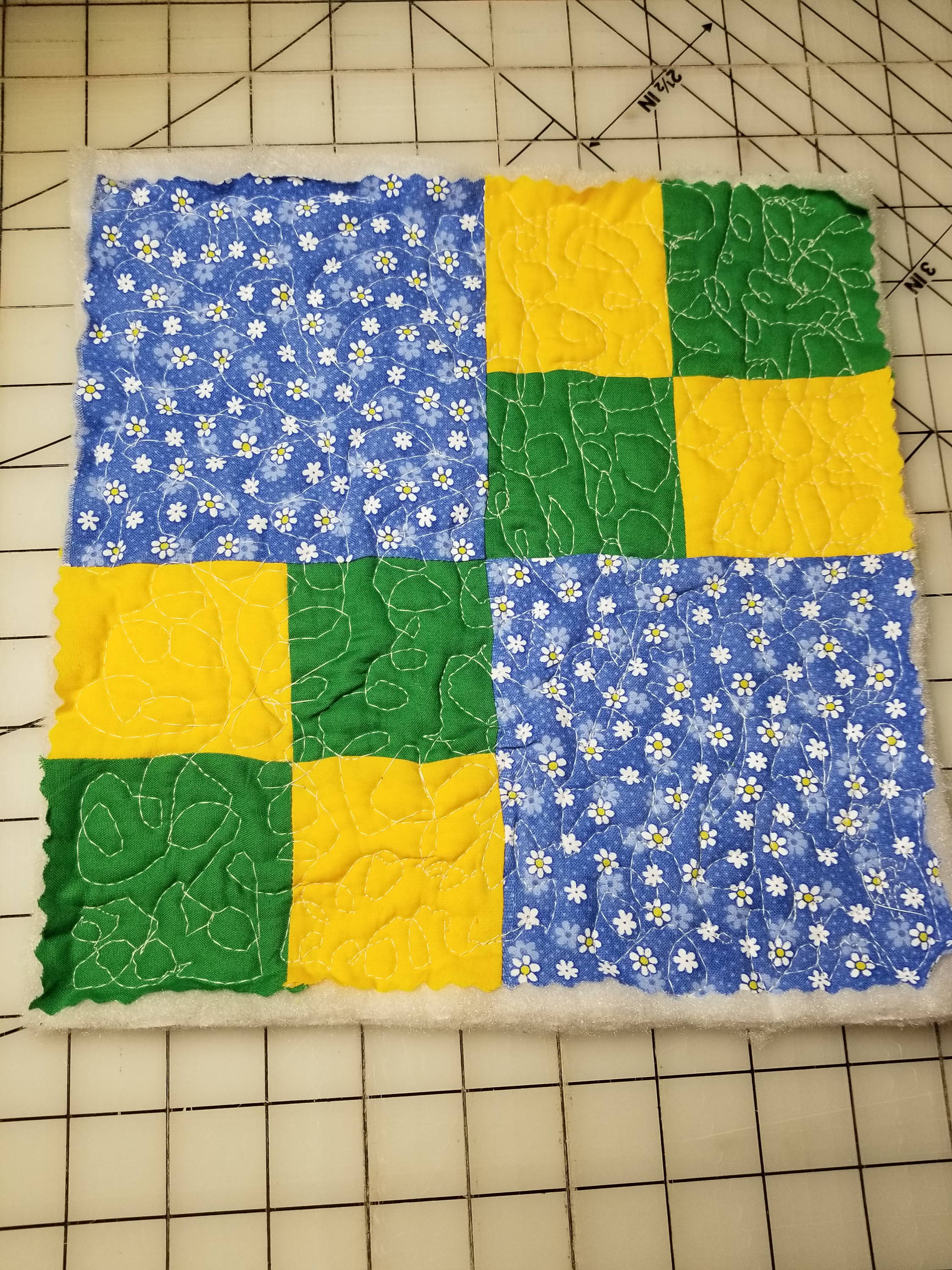 Now that you know how to do a Double Four Patch square- go have fun with it!