How To Free Quilt For Beginners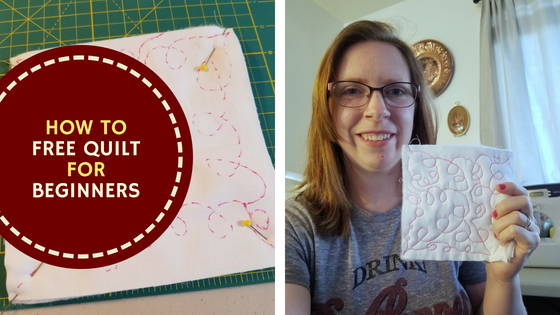 We've all seen those gorgeous quilts on Pinterest, at a quilt show, or even at a relative's house that have been machine quilted. Ever think to yourself- "Man, I wish I could do that." Well stop wishing, gather your materials and tools, and follow along to start making that wish a reality!
The materials you need are: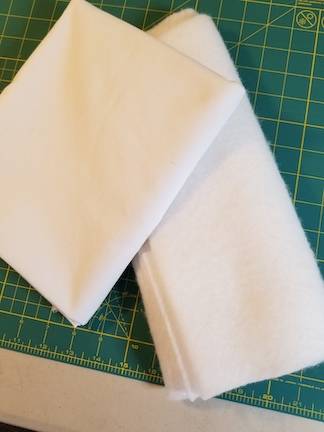 Tools used:
¼" Quilting Foot with Guide (presser foot #17 in the Madam Sew presser foot set)

Darning Feet (presser feet #14 and #23 in the Madam Sew presser foot set)

Scissors

Rotary mat and 6" square ruler

Pins

Screwdriver

Iron

Thread that coordinates or matches your fabric of choice (I used contrasting thread for visual effect)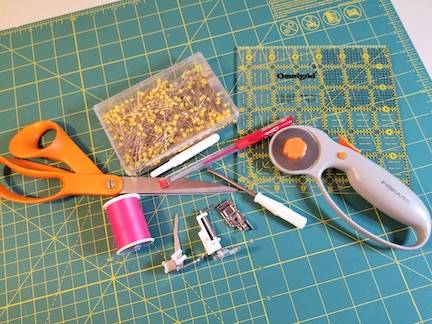 STEP 1.
Cut your fabric and your batting to the size you desire. If you are working with a pin basted blanket, skip to step 2. For this tutorial, I used a 6"x6" square.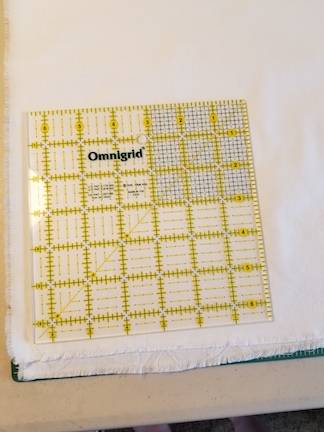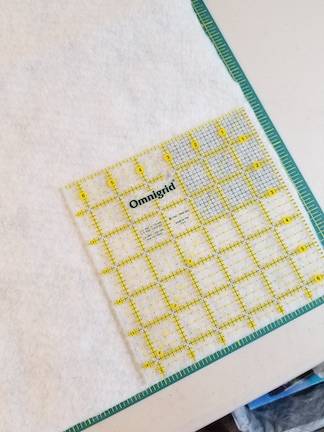 STEP 2.
With your marking pen draw out the design on your square. This will give you a template to follow as you stitch, making it a little less daunting. Your design can be as simple or complex as you want. I used the heat erasable gel pens from Madam Sew and chose a loop-de-loop pattern.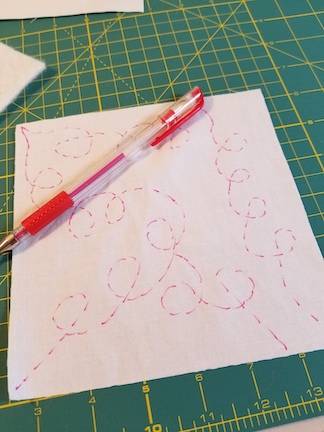 STEP 3
Once your top fabric piece has been marked, now you make your quilt sandwich. You start with your back fabric, then put your batting on top, and then finish it off with your top piece. Pin your sandwich together. The batting I used is a thin polyester batting. The thickness of your project is determined based on the thickness of your batting. Keep in mind that machine quilting will compress your project. Also- using regular sewing pins to pin this square together wasn't very effective. I would suggest using the clips from Madam Sew to hold your quilt sandwich tighter..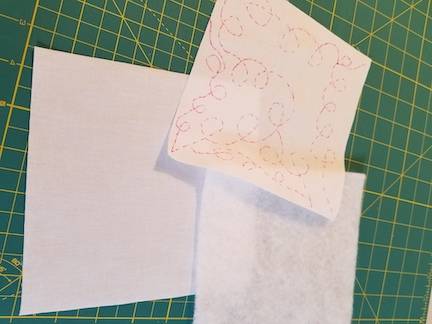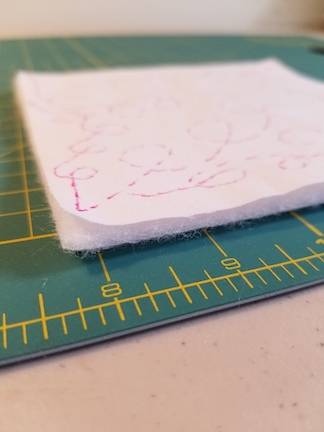 STEP 4
Once your sandwich is put together, now you're ready to head on over to your sewing machine. Lengthen your stitch to the longest length (on my machine it was a 5.0). Baste your sandwich together about ¼" from the edge- just enough to hold everything in place. I do this so I don't have to stop for pins or worry about sewing over them. To get the perfect ¼" width, I used the ¼" presser foot with guide. This foot is such a lifesaver- just lineup the edge of your fabric against the guide and sew.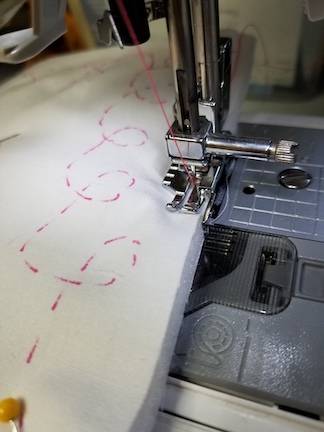 STEP 5
Once your basting stitch is in, take out any left over pins. Now you're ready to start free quilting!
STEP 6
To prep your machine there are 2 things you need to do. Change your presser foot to a free quilting foot using the screwdriver that came with your machine. I used Darning foot #14 and Darning foot #23 from the Madam Sew presser foot set. Darning foot #14 has the bar sticking up and Darning foot #23 has the spring. The second thing is to lower the feed dogs on your machine. Each machine is different, but on my Brother machine, the switch to lower the feed dogs is located on the back of the machine. The feed dogs need to be lowered so you can move your fabric freely without it getting caught.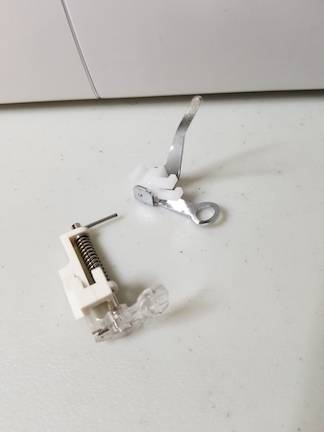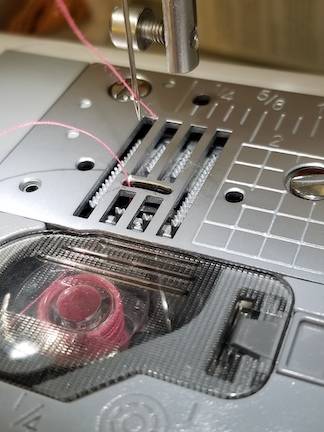 STEP 7
I started with Darning foot #14. Make sure that the bar on the foot is behind the horizontal bar on your sewing machine. I decided to start my free quilting in one of the corners of my square. Slowly test your needle to make sure that it will not hit the presser foot before you start sewing.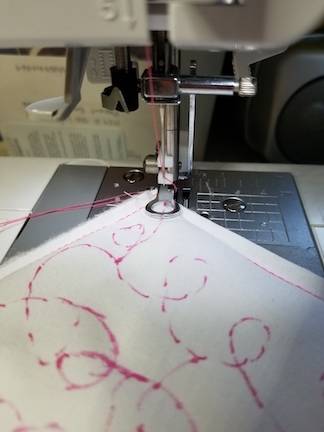 Once you're needle is in place- go ahead and sew!
STEP 8
The biggest tip I can give is to go at your own pace. I started out at a faster speed and it was a little hard to follow my pattern (as you can see in the picture). So I adjusted the speed on my machine to a slower than normal pace and it was a little easier. If your machine doesn't have adjustable speeds, just ease up on your foot pedal until you achieve a comfortable speed. As you sew, make sure you move your fabric along so the needle follows the pattern.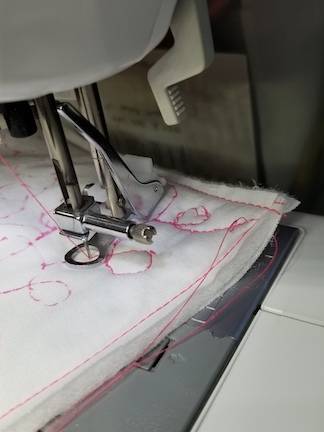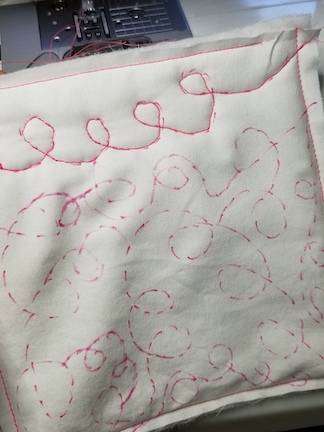 STEP 9
After I did a few lines with Darning foot #14, I switched to Darning foot #23 to see what the difference was. As you can see in the picture, this one has the spring and there's a little bar that sits on top of the needle clamp screw bar. Another difference from foot #14 is that there is a plastic guide on the bottom.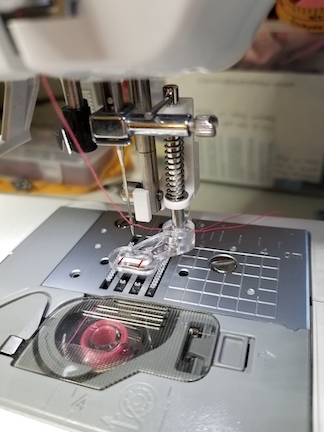 As I was sewing with Darning foot #23, it was a little trickier following the pattern I drew due to the plastic covering on the bottom. But other than that it was fairly easy.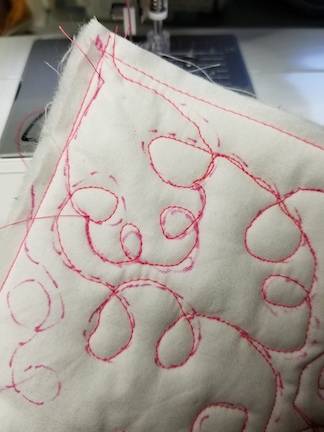 STEP 10
When you come to the end of a line (or if your pattern was completely continuous do this once you've completed your pattern), lift your needle up out of the fabric. Move your fabric ever so slightly to the side and do about 4-5 stitches in the same place. Then bring the bobbin thread to the topside of the fabric. If the bobbin thread doesn't come on it's own, then find the loop it creates and pull the bobbin thread through with a pair of tweezers or a pin. You can see the small loop the bobbin thread created in the photo.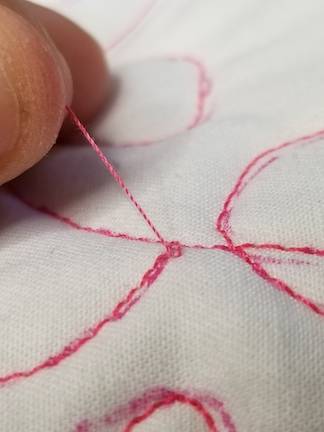 STEP 11
You should have two threads now. Tie those in a square knot and then clip the threads as close to the fabric as possible without cutting off the knot you just created. If you need to, use a smaller pair of scissors to achieve that close cut.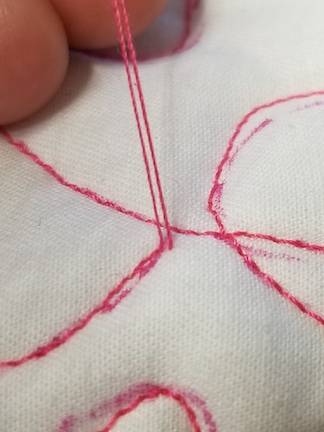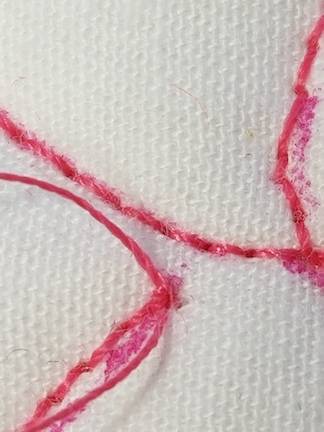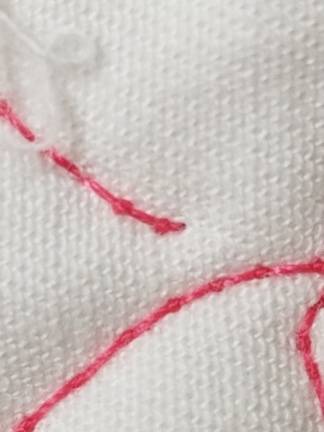 Voila! You have now completed the end of your quilting line without having the bulkiness that comes with backstitching.
My last step was to iron off the marks of the heat erasable gel pen. This was my absolute favorite part. I'm telling you, these pens make marking so much easier than regular tailors chalk or the felt tip marking pens you can get at your local fabric store. Here is a before and after: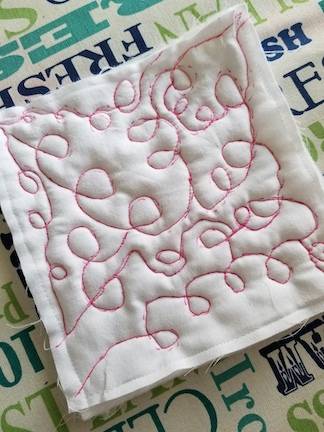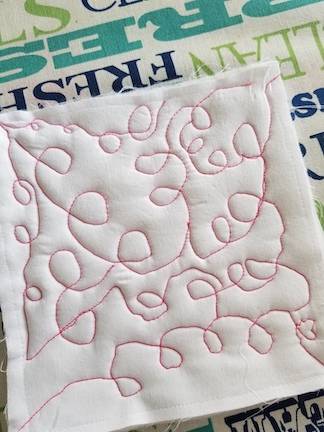 Free quilting does take time, patience, and practice, practice, practice. Use those scraps that are laying around to help you get the hang of it and to find your own rhythm. Remember: go at your own pace and be consistent with it throughout your project. You'll be a free quilting champ in no time!
Can you see yourself trying this out? Comment below and let me know!
Celia ;-)
Madam Sew is an online sewing and quilting store. It carries Tools, Notions, Presser Feet, Essentials, Handy Helpers, Organization/Storage Items, and more for sewers and quilters. Plus, it has many manuals and free tutorial blogs to help increase your skills.