How Do These 7 Fabric Marking Tools Stack Up?
For most sewing projects you need to mark along the way to be able to work neatly and precisely. You can use pins, a small snip in the seam allowance, or a tailor's tack, but very often a mark with a pen is the easiest way to note the placement of a closure, a pocket, appliqué, stitching, or even a cutting line. You don't want to use a permanent marker on that gorgeous fabric, right? Everyone makes mistakes, so please, use a temporary marker.
These days there are a lot of great temporary fabric markers available in stores. Depending on what you sew, you might have different preferences. I will list these 7 different types of markers in this post and show you the 2 markers we selected for our store and why we think they are great.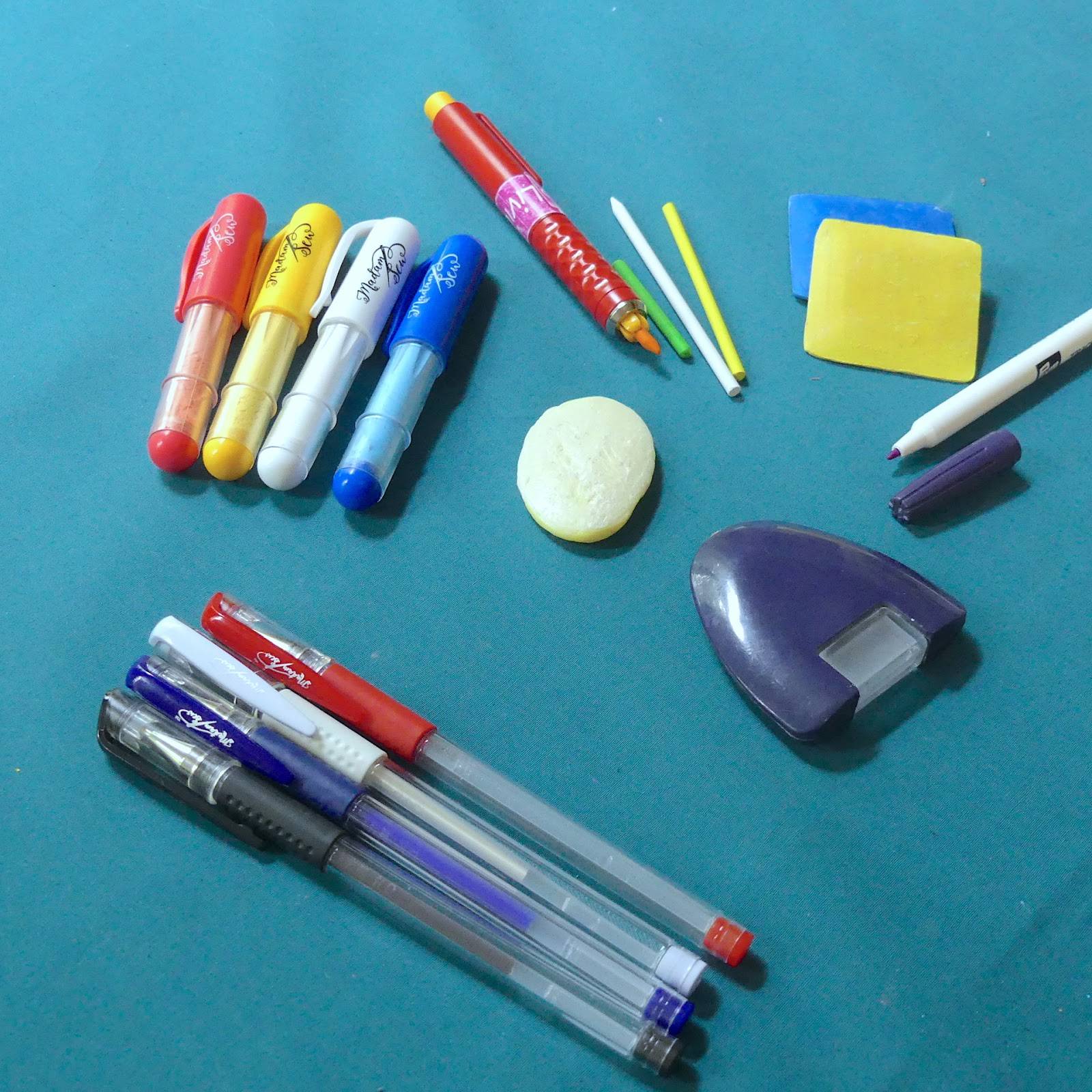 Always test a new marking tool on a little piece of the fabric you are using to see how it reacts and how easy it is to remove. Every fabric is different. The reaction of some chemicals in the fabric with the marker you are using can be unpredictable!
I tested the markers in this post on a white cotton, a green knitted fabric, a white viscose with birds on it, a pink polyester, and a jersey knit (T Shirt).
The cheapest temporary markers are soap slivers.

Use the thin soap sliver you are left with when your bar of soap is almost used up. I noticed that the little bars of hard soap you get at hotels work well for marking fabric. However, don't leave the marks on the fabric for too long. Some people say that hand soap does leave some traces on clothing. So, it's safer to use laundry soap. I have never noticed any traces, but it does become dull after a while, and if the soap sliver is really thin it can be fragile. Soap works well on different types of fabric, but only on darker fabrics.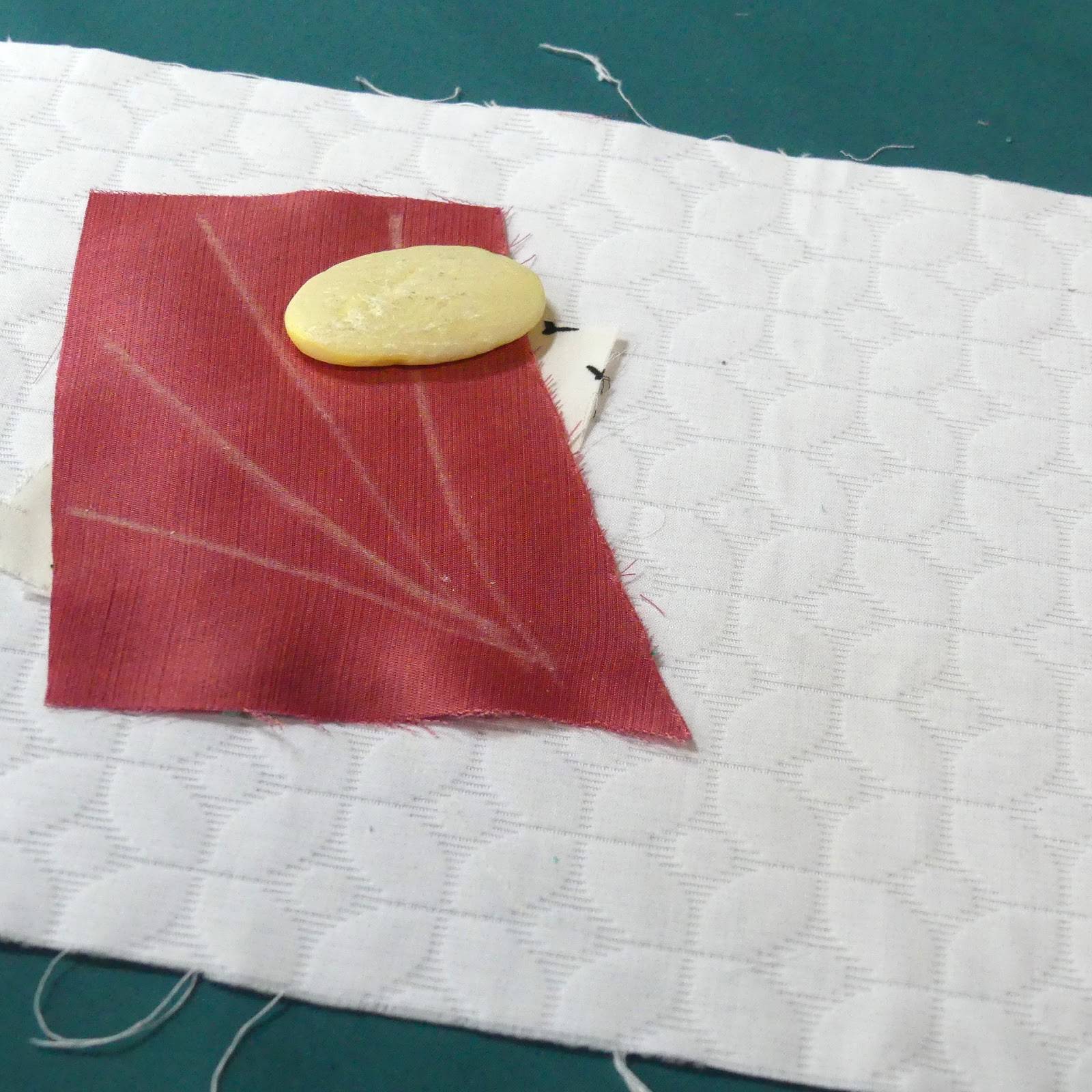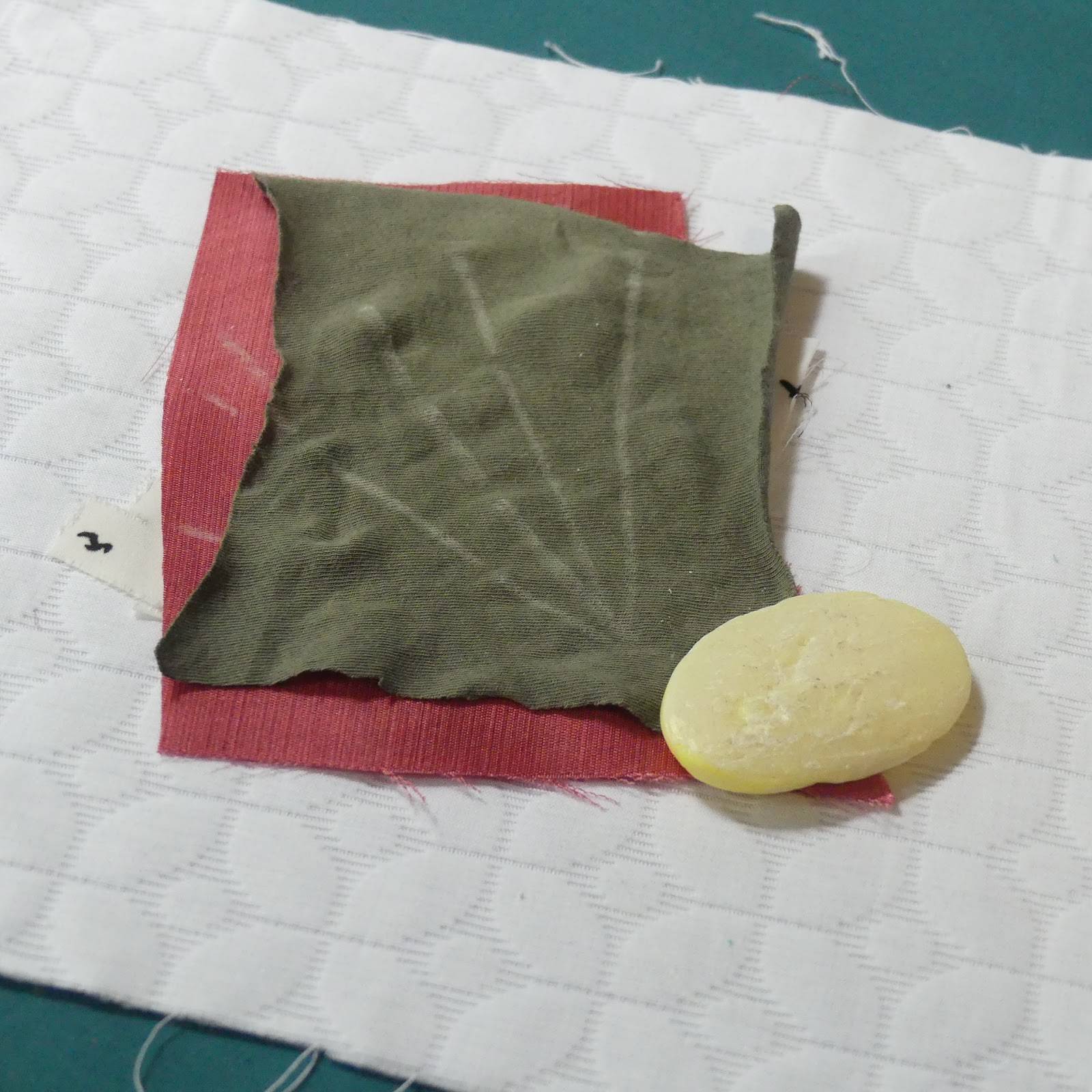 Chalk is often used for temporary markers. Chalk markers come in different shapes and forms. Chalk marks can be removed easily, just by rubbing or sewing over the marks. Chalk is a very safe and gentle product for fabrics. It makes smooth lines on different types of fabric. I have 4 different chalk markers. If the marks are still visible when you are finished sewing, try dabbing with a clean sponge or cloth and cold water.
A tailor's chalk (or marking chalk) is a classic fabric marker that is widely available and well known. It is like a crayon, entirely made out of clay based chalk.
This tool has proven its value for decades now. It's a no-nonsense sewing basic and it does its job. A common critique is that the lines fade away too easily for certain projects. If you iron over them however, the marks might become 'permanent'. The marker in itself is also rather fragile. It can break or crumble and gets dull after a while. You need to sharpen the chalk to draw thin lines. Tailor's chalk is most known in white, but these days you can get it in different colors and it is inexpensive.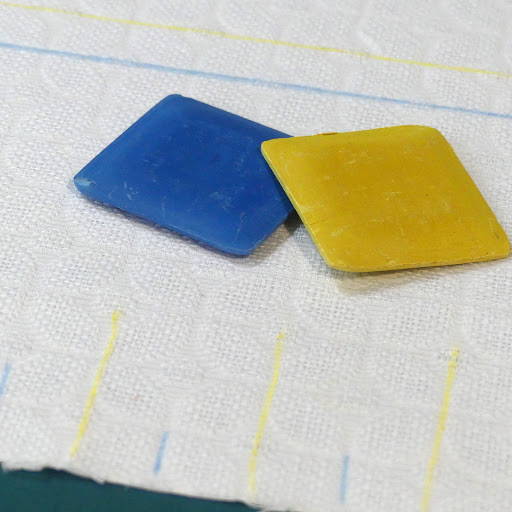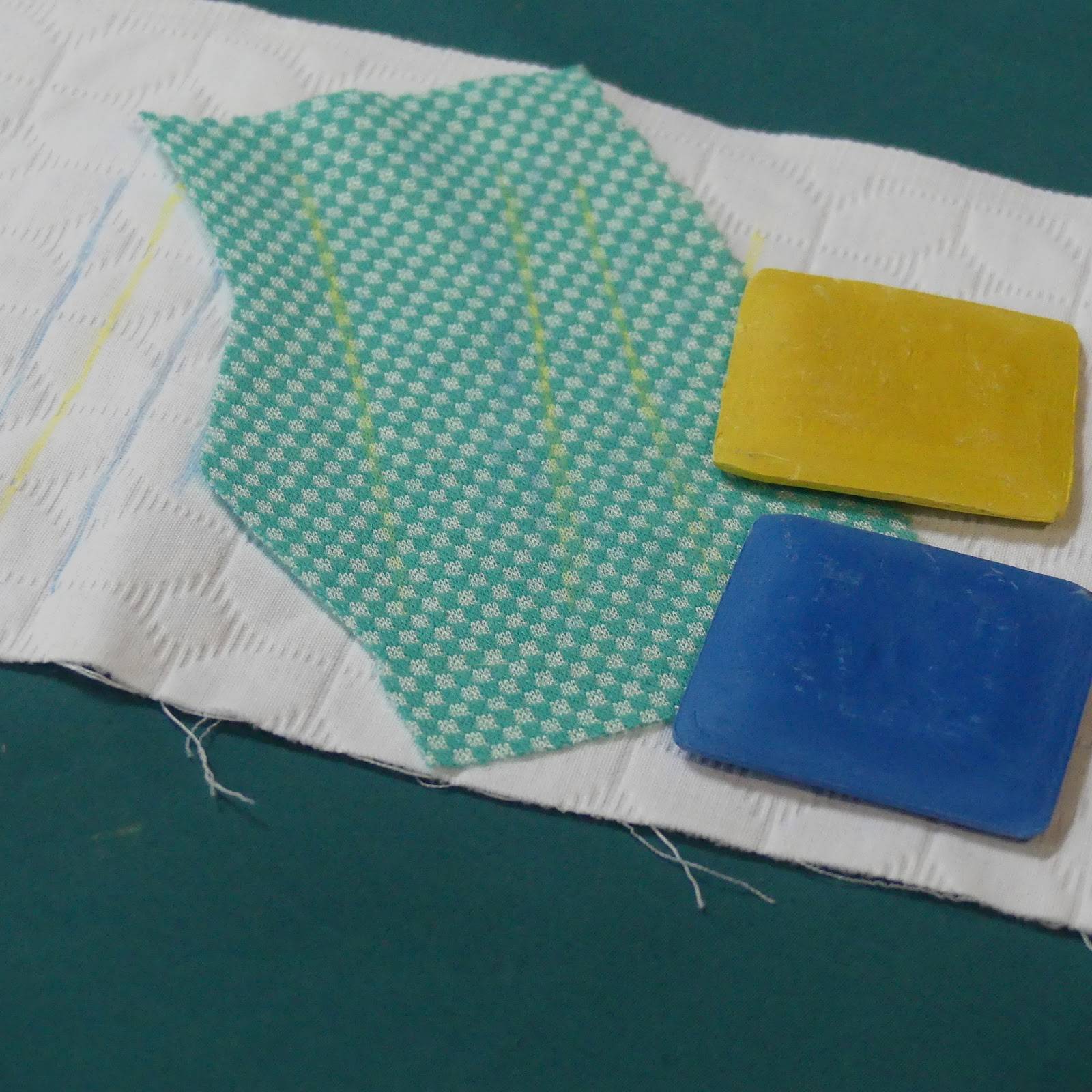 Chalk pens and pencils also come in different styles and shapes.
I own a chalk cartridge holder with 8 different colors that you can replace easily and sharpen with a pencil sharpener. I recently got a very thin white chalk pen as well. They mark rather well on woven fabrics, especially cotton. But they don't mark very smoothly on knitted jersey. They tend to jump over the fabric. The colored chalk of the cartridge holder pen also doesn't come off that easily, and the refill chalk sticks break too easily. I'm stuck with a lot of little pieces. This is also my feeling with the fine pen. The chalk sticks are too fragile. I must admit that I'm not the most careful sewer. When the fabric resists a little, they break. Tools have to be a little robust and sturdy if they want to survive in my sewing room.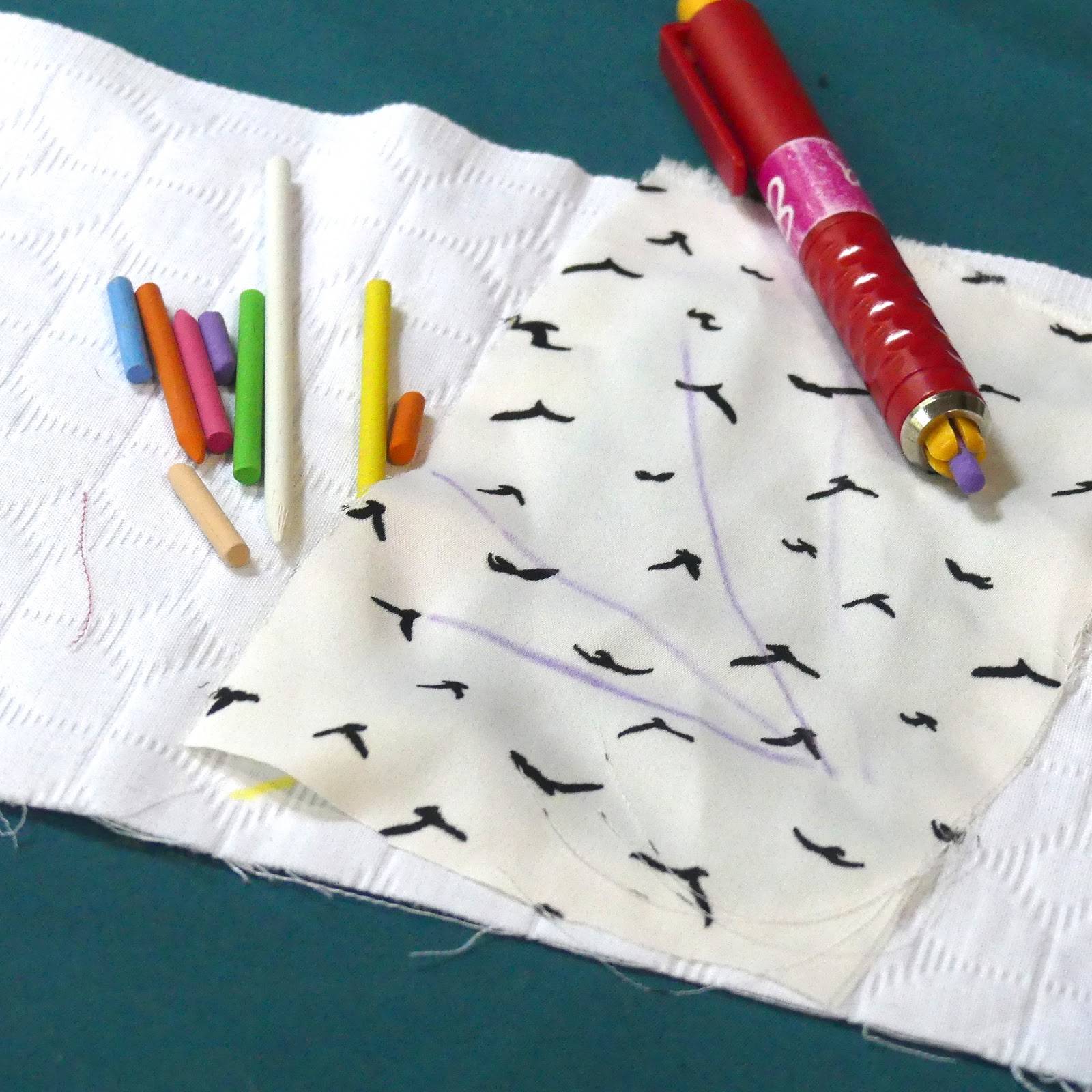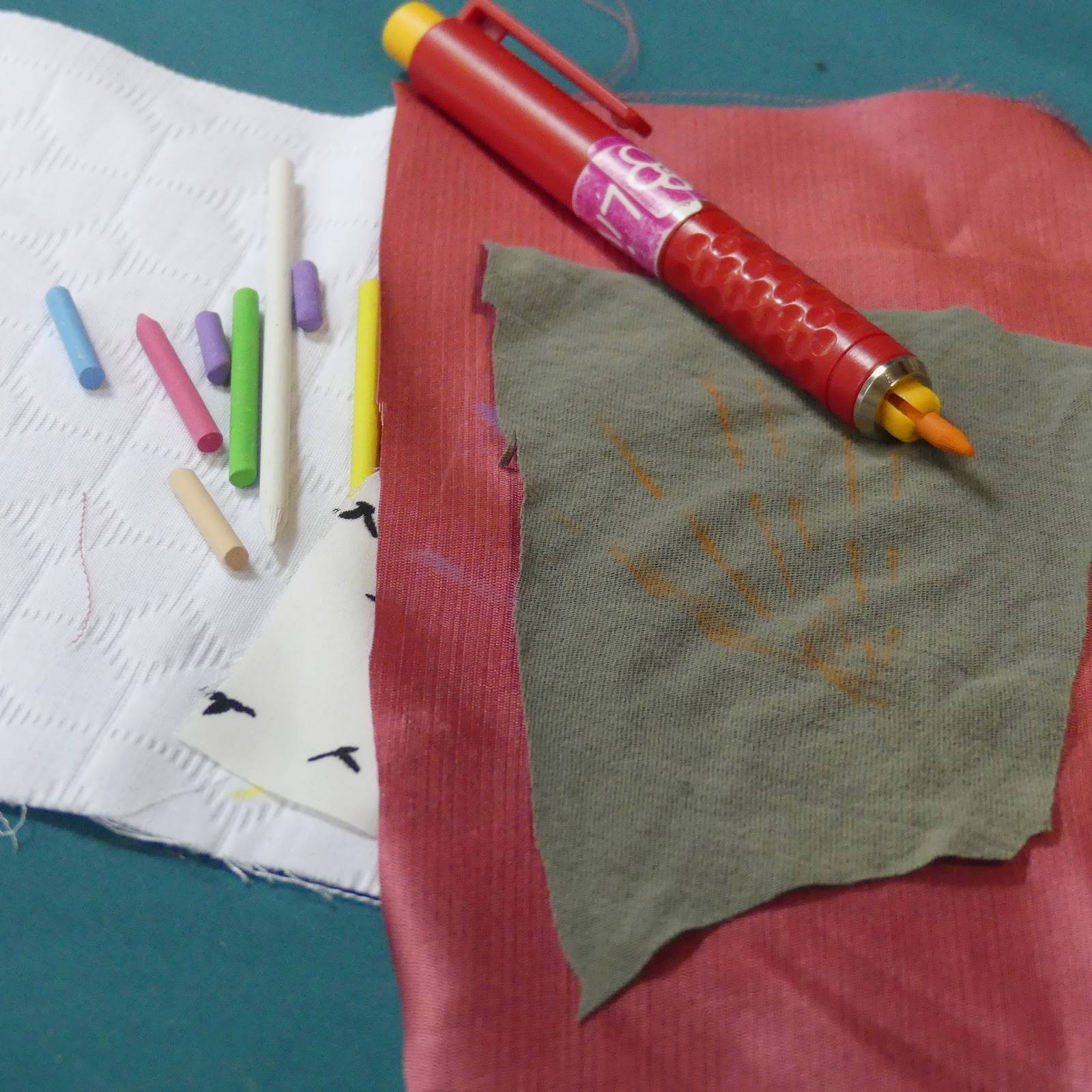 A chalk wheel is a marker with a wheel that distributes the chalk. I've had this one for years. It's sturdy and it works ok. You can achieve fine, straight lines that are very precise, as the chalk is dispersed evenly by the wheel. You don't need to sharpen the pen. They don't dry out. You can refill the chalk cabinet when it's empty. But the shape of this tool is not very ergonomic.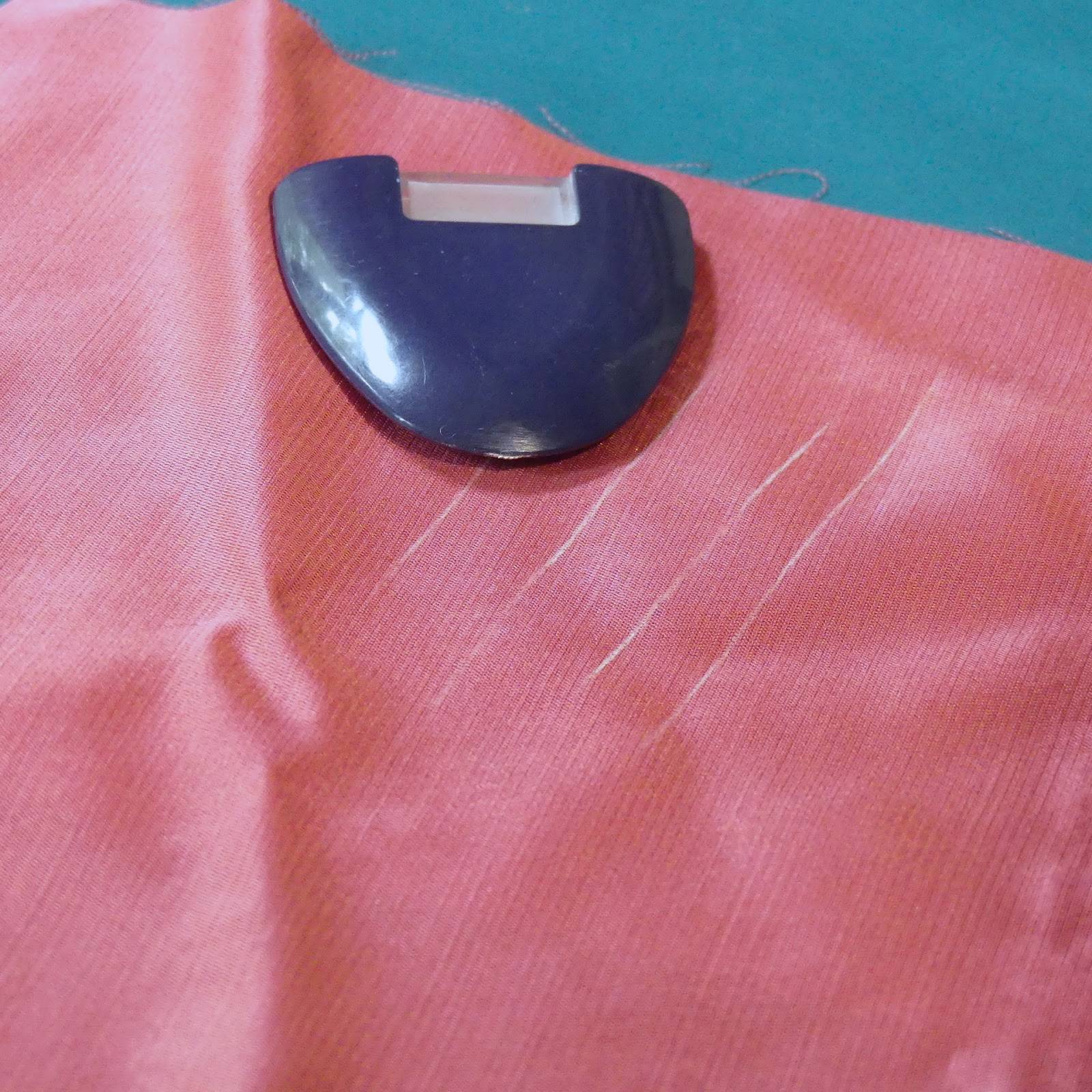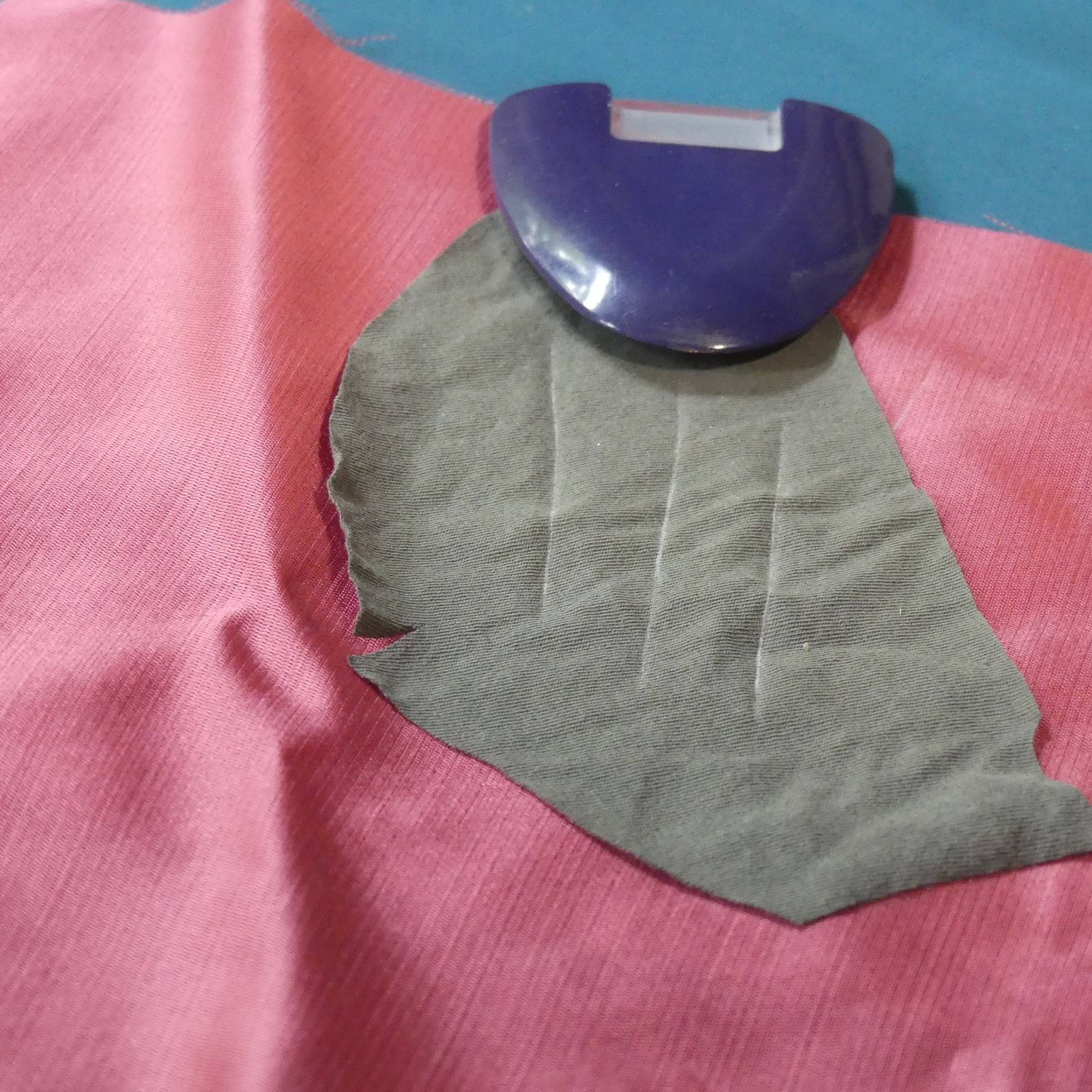 The brand new MadamSew Chalk Markers we now have in our store are an answer to this, so I'm very happy to present them to you. They look like pens but have a wheel small enough to draw curvy lines. They roll over a wide range of different fabrics and make precise temporary lines. The pen shape makes them easy to hold, draw, and maneuver with. The chalk lines are easily removed, but not too easily. They stay long enough so you can still use the marks after putting away your project for a couple of weeks, or if you've transported your project to your sewing class and back home. I know, I love our new markers. Of course, we only add new products to our store that we love ourselves! 🙂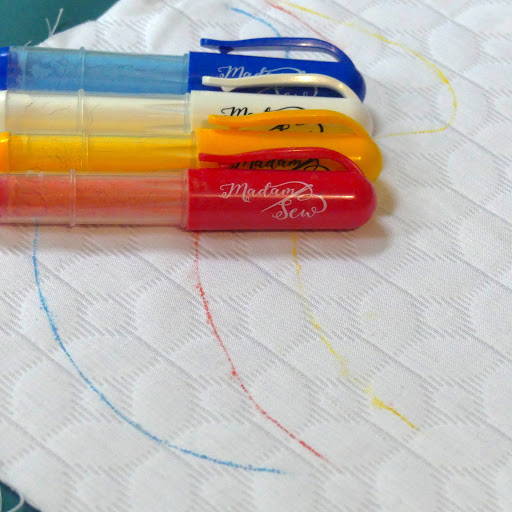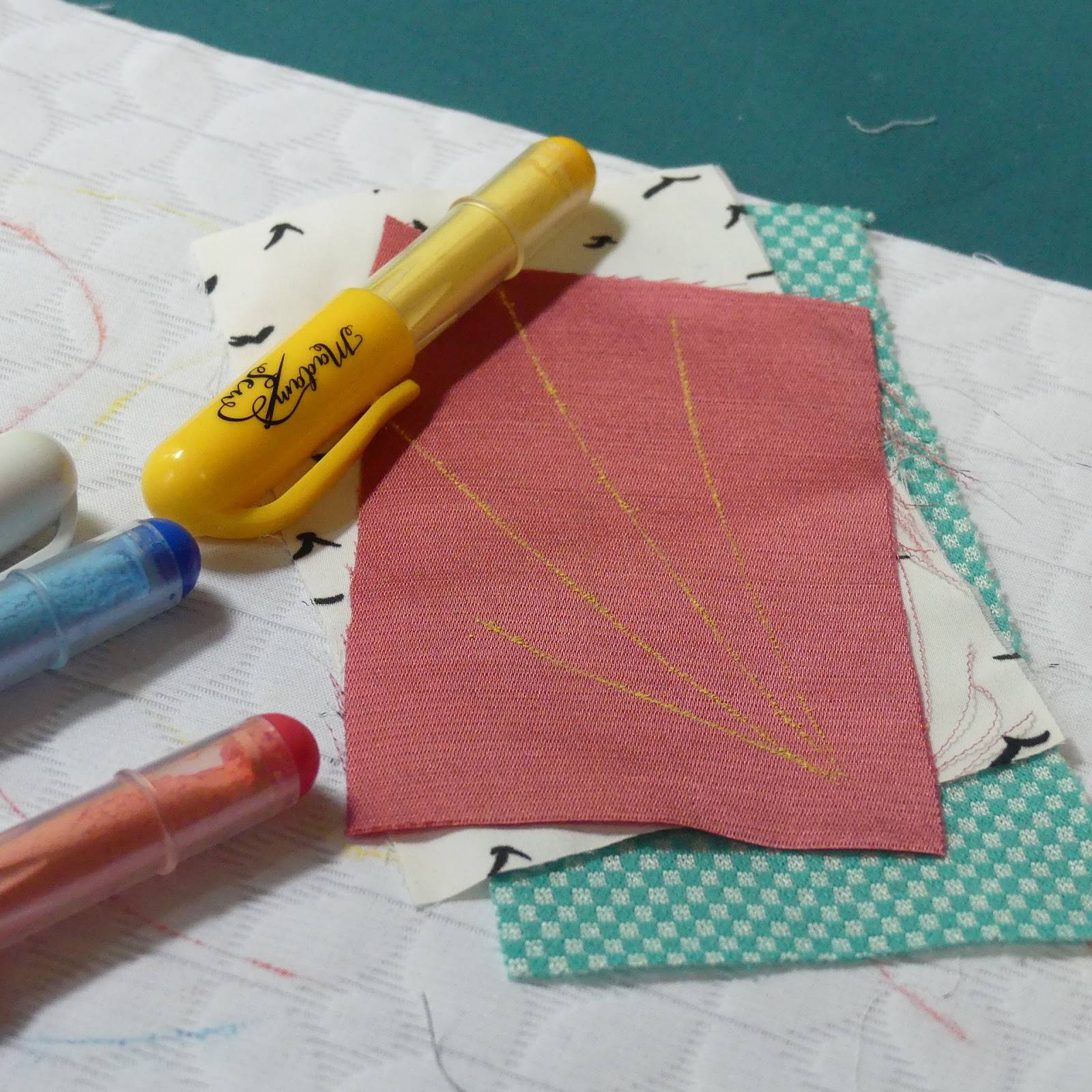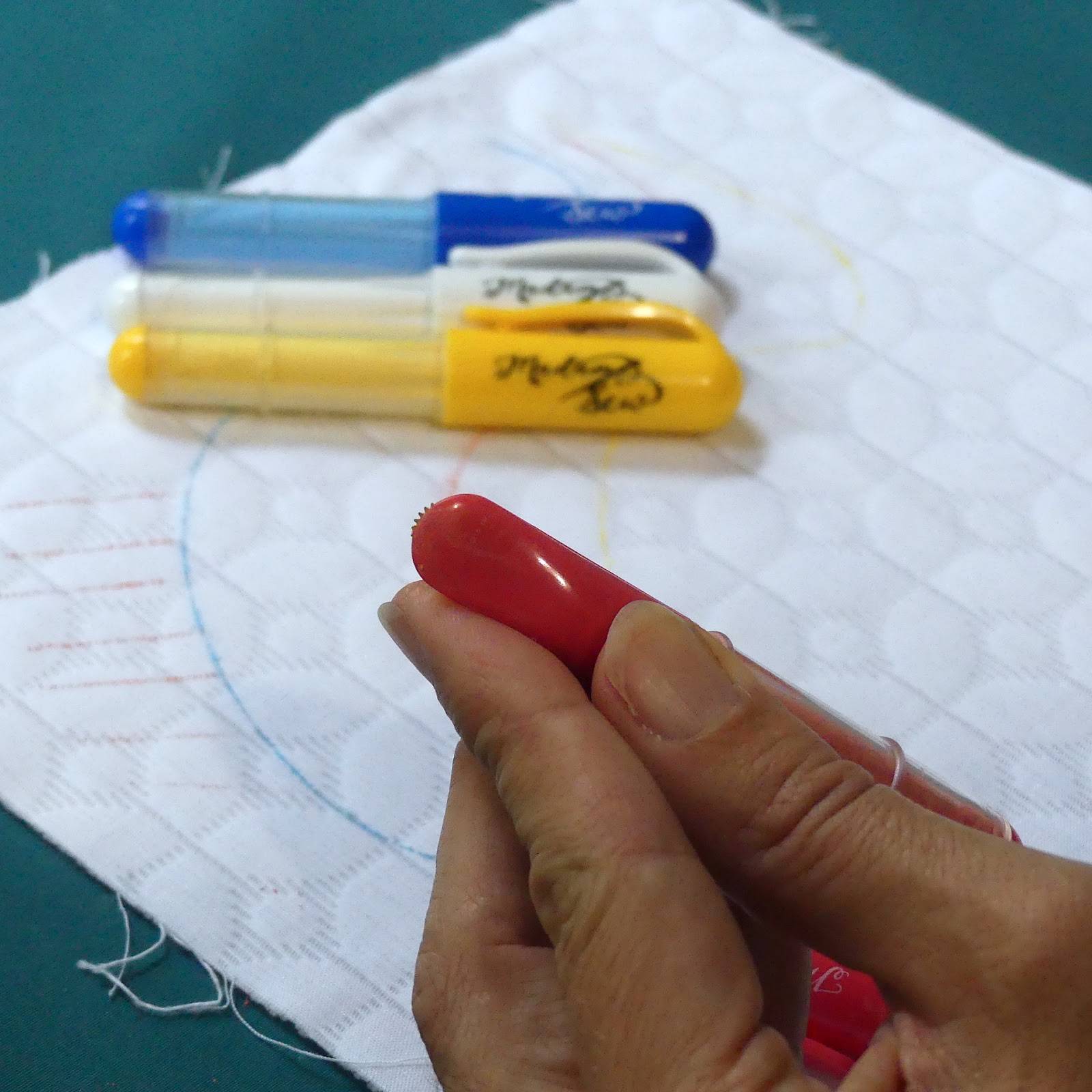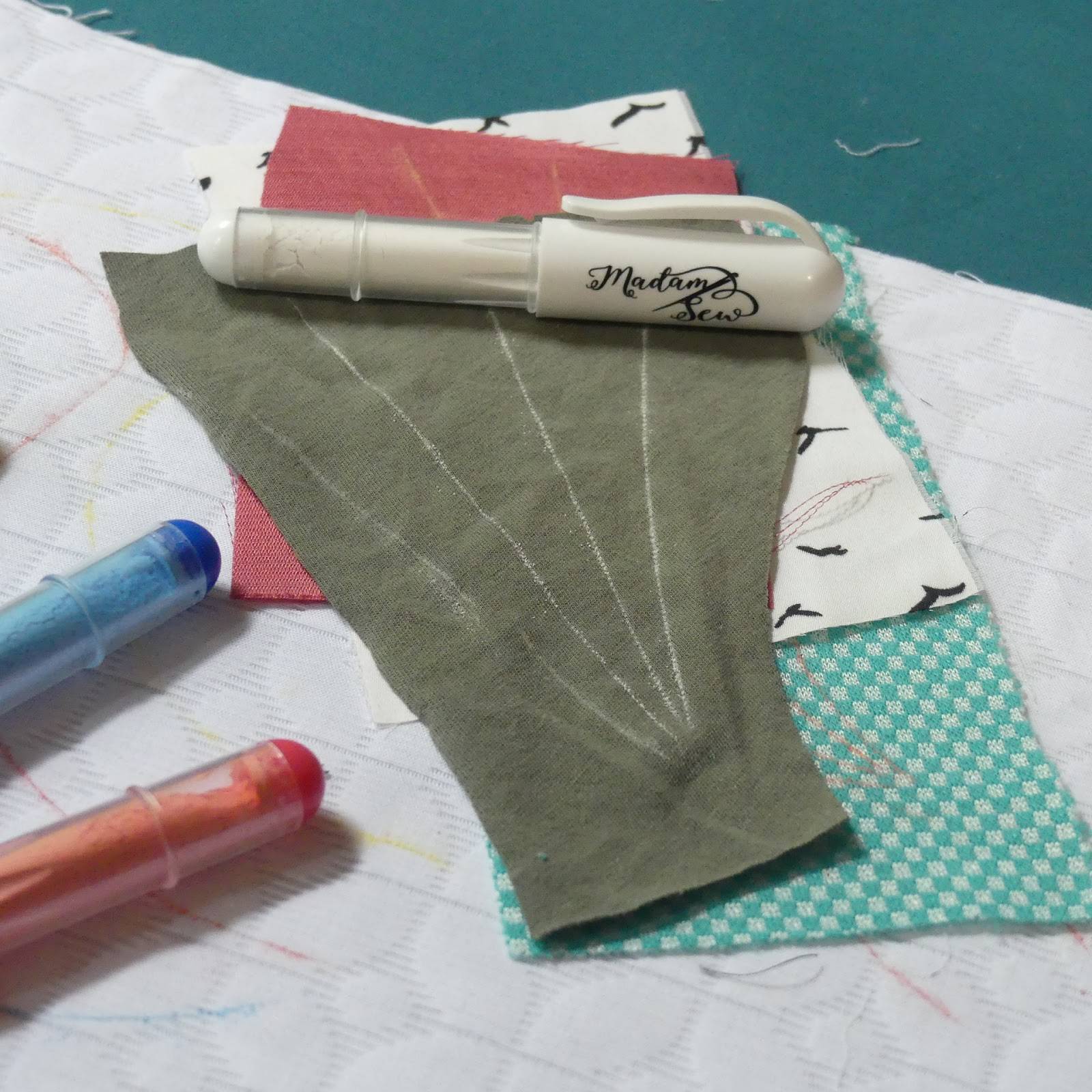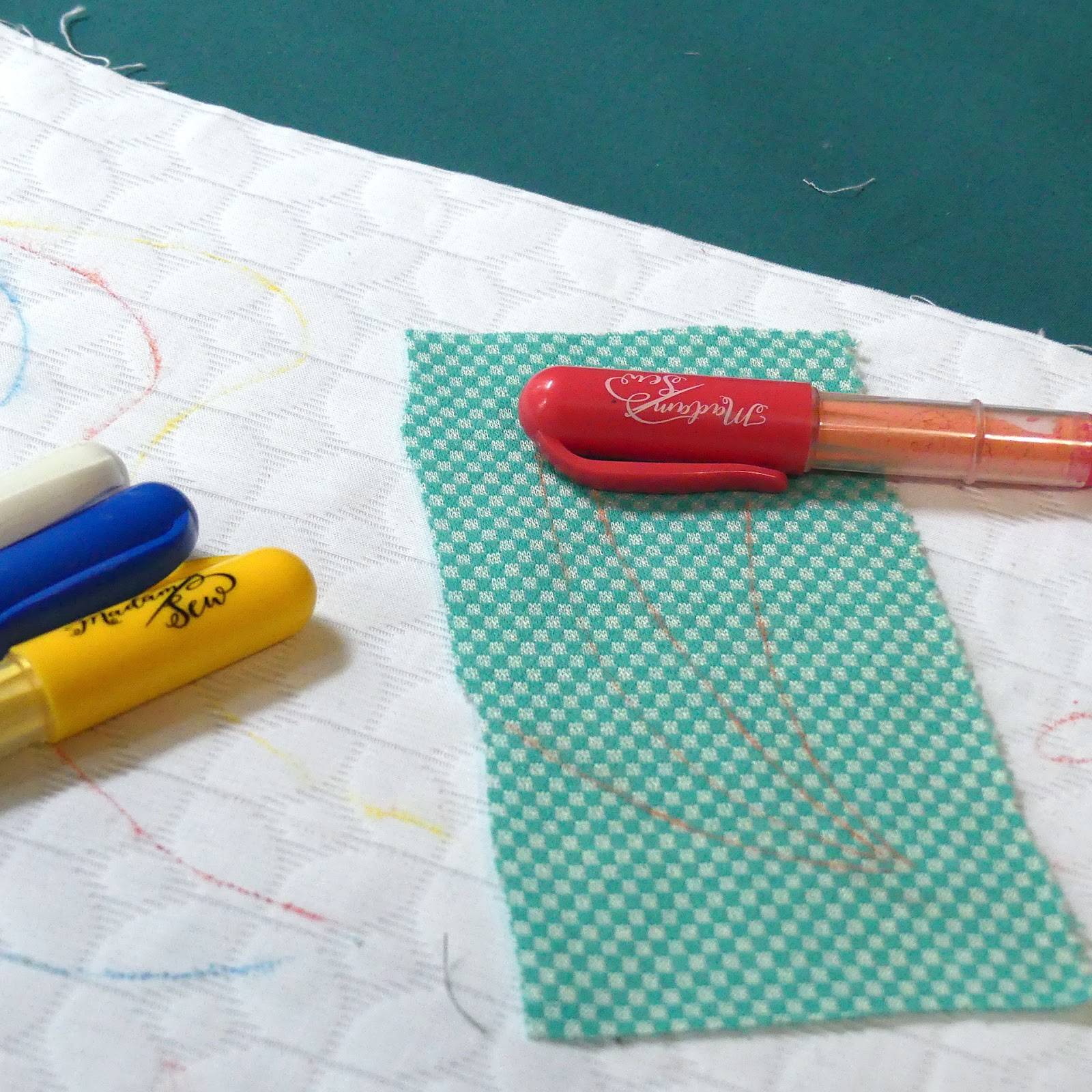 If you know our store a bit, you've seen or tried our magical Heat Erasable Fabric Markers. Drawing with them is like drawing with a normal pen with ink on fabric– very comfortable. Luckily, the ink in these pens isn't permanent. The heat of an iron makes the ink vanish. It's so satisfying to work with. It makes your project look very 'clean' because you can iron the temporary marks away quickly. I use them a lot for marks that will be stitched over or hidden in the seam. For stretchy fabrics, the pens may not always slide smoothly over the fabric and it can be hard to make an even line. That's when a chalk marker works better.
You have to know that the ink will leave an invisible residue in the fabric. If you expose your fabric to freezing temperatures, the marks may reappear. To get the ink out completely, you need to handwash the marked places with some hand soap. And you need to use the pens a lot, which in my case, is not a problem. If you buy them now and leave them in your closet for 2 years, you might be setting yourself up for disappointment because the ink can dry out. I've only had this problem with my black pen. The blue and red ink holds up for a really long time.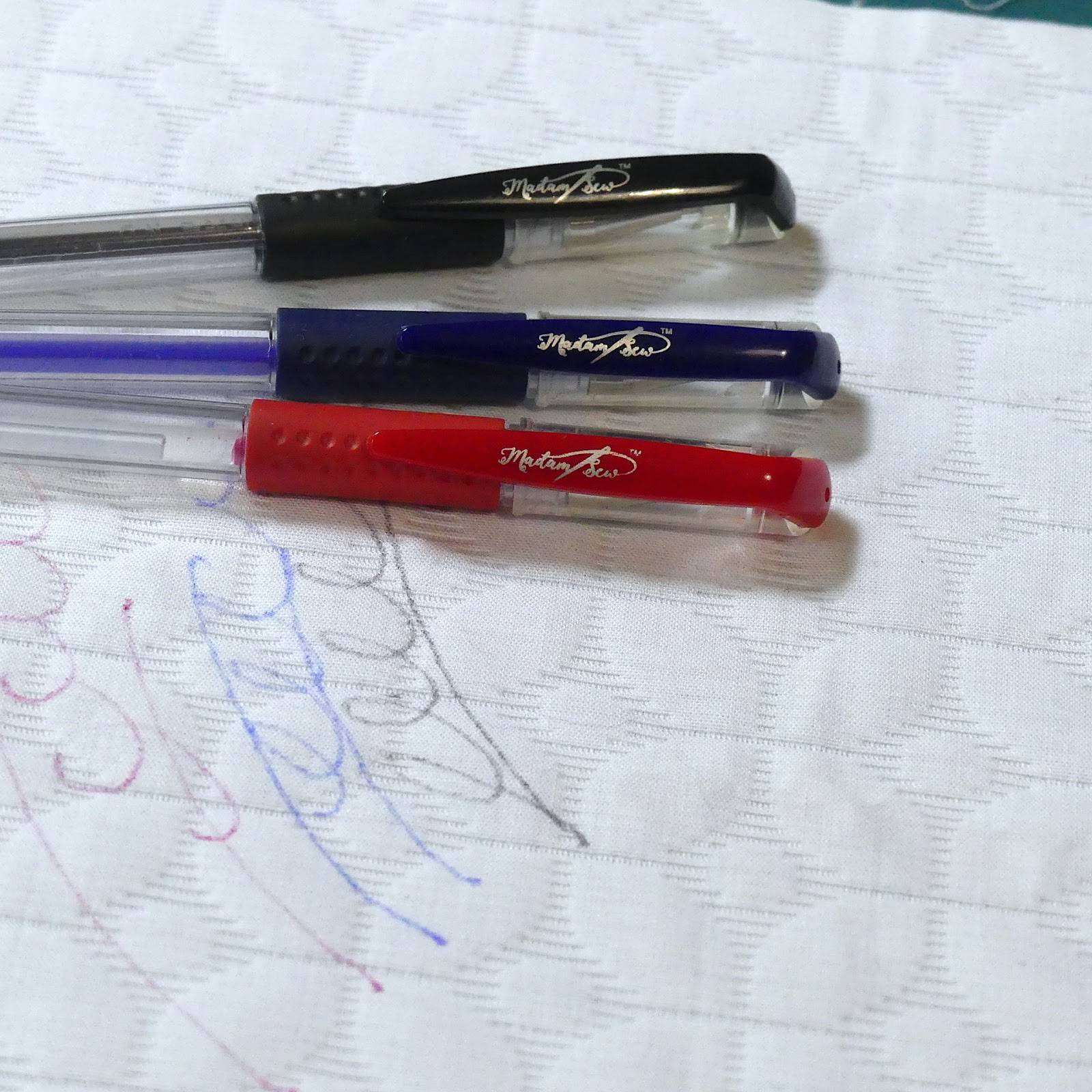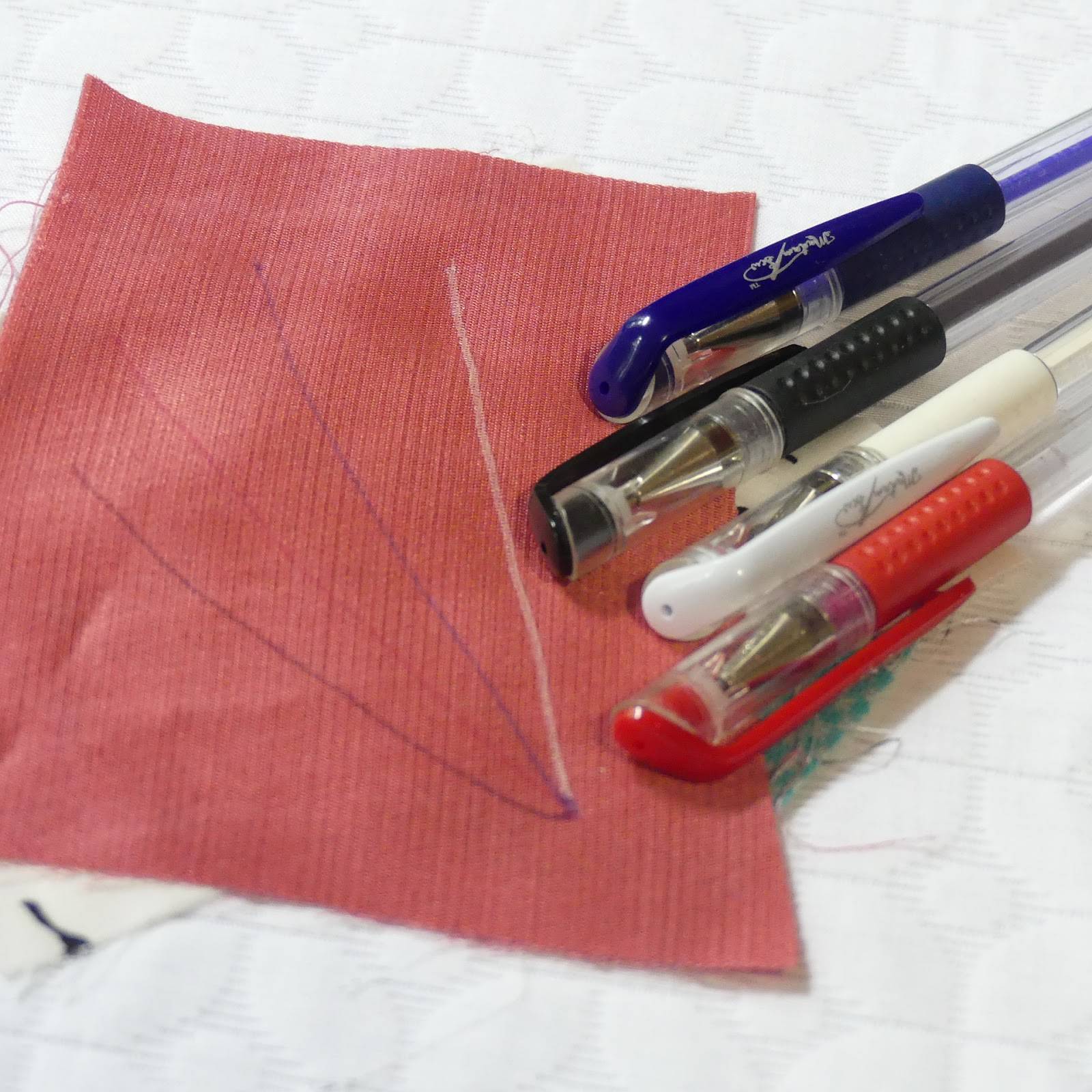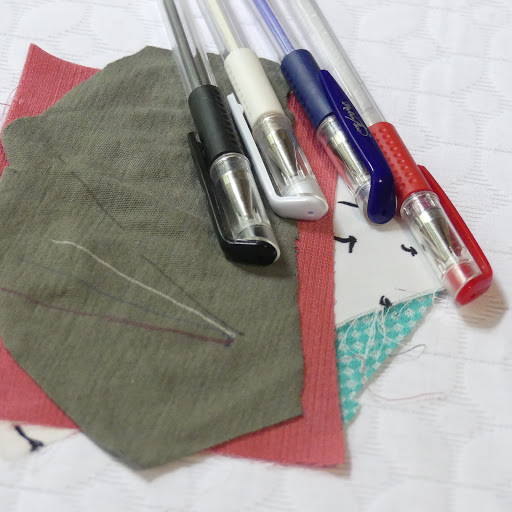 Which marker should you choose between these and the MadamSew Chalk Markers? On floppy knit fabrics or stretchy fabrics, I like to use the MadamSew Chalk Markers. To draw detailed shapes on a fabric, like for free motion stitching for example, I prefer the heat pens. You can draw flowers, write text, curvy shapes, etc.. If I work on a sewing project that I will need to iron a lot while working and I don't want my marks to disappear, I don't use the heat pens. Don't forget– all marks are gone if you iron over them :-).
I also wanted to test some water soluble markers last week, but my local sewing store didn't have them. What I did find was a self erasing marker. It draws on your fabric like a permanent marker, but the marks disappear after a few days. I'm curious if this works on all fabric types. I tried it on a couple of different fabrics and that was ok. What I don't like is that I can't decide when the markings go away. I have to admit that some projects stay on my shelf for weeks. So you should only use this option if you are sure you are going to finish your sewing, and if you don't want to wear your project immediately. After a little experimenting, I found out that you can remove the marks from the self-erasing marker with water. Take a wet cloth or sponge and rub over the marks. It takes some rubbing, but they disappear! So, apparently my self-erasing marker is also a water soluble marker! Yay!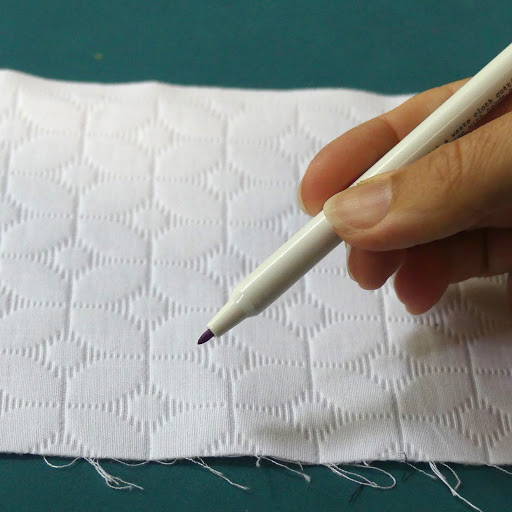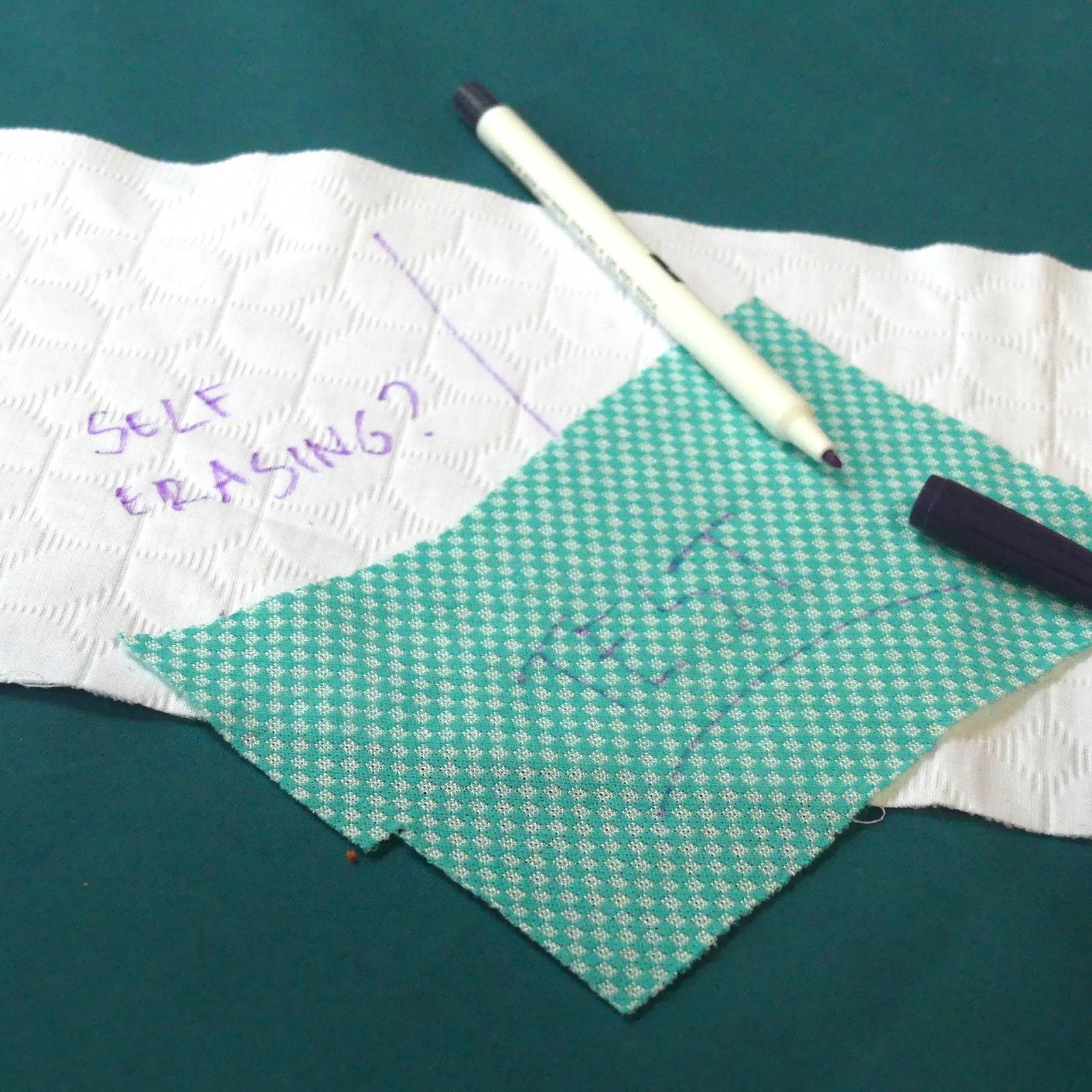 As you can see, there are a wide variety of options for fabric marking. Depending on what you are making as a sewist, what you mark, how much, how fast you work, and how precise your marks need to be, your preferences may be very different. And I know I'm far from being complete here. The MadamSew Chalk Markers and the Heat Erasable Markers are available in our store, and the other ones you can find in your local store or take a look on Amazon if you want to buy them online.
What is your favorite fabric marking tool? We love to know what sewing tools you like so we can constantly improve our own products and add the tools to the store that can help anyone that sews!