---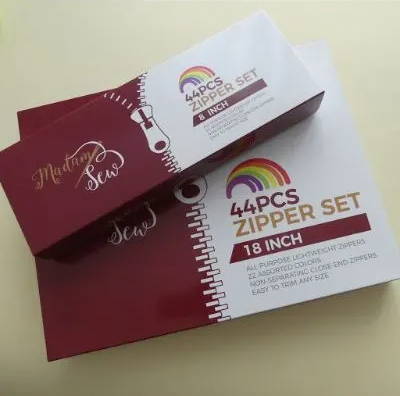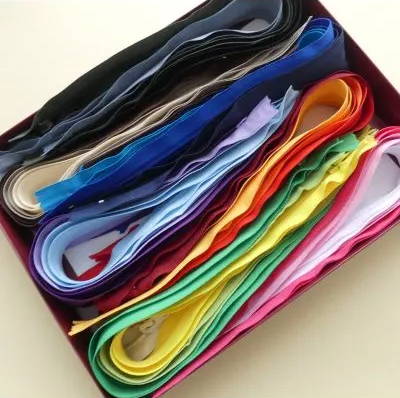 ---
There are different types of zippers and different ways to install a zipper. The MadamSew zipper sets contain the most commonly used zippers– regular zippers. These are visible close-end zippers and can be used for a wide range of projects:
- accessories like pencil cases, purses, little pouches
- home decor items like pillow cases & cushions
- clothing: the closure of trousers, skirts, dresses, pockets of jackets
We have 2 sizes in our store. 1 set contains 1 size.
- SMALL = 8 inch
- LARGE = 18 inch
THE LENGTH The size of a zipper is measured from the top stopper to the bottom stopper. Don't measure the length of the cloth tape the zipper is attached to. If you're not sure about the length you need, it is better to buy a zipper that is too long rather than too short. You can always cut a zipper down to the size you need, if you're working with a close-end zipper. Just cut at the length you want and create a bottom or top stopper by sewing back and forth over the zipper tape. If you want an open-end or separating zipper, you must buy the exact size that is required for your project.
---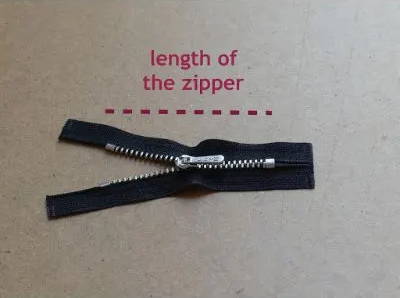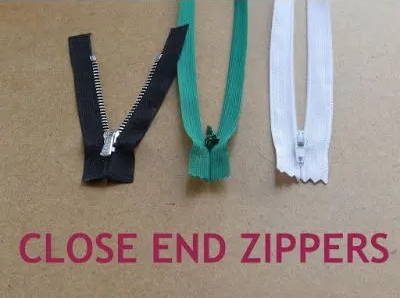 ---
---
Adding a zipper to a sewing project can be intimidating, but you can get a long way with just a few basics and the right tools. How you install a zipper can depend on your project, function, or a particular aesthetic. Here are 5 common ways to install a regular zipper.
CENTERED ZIPPER
A finishing with an even amount of fabric on each side of the zipper. Although the zipper is not exposed, you don't use an invisible zipper for this technique. Typically a centered zipper is called a centered zipper because it's on the center back or centered front seam.
Used for skirts, blouses, and dresses in a center-back seam but can also be used on a side seam.
HOW TO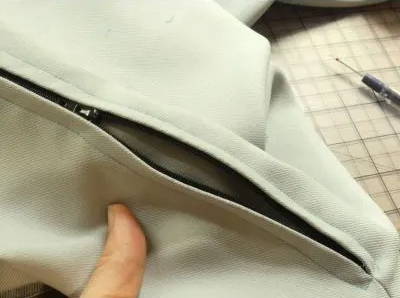 ---
LAPPED ZIPPER
The "lap" in a lapped zipper refers to the fold of fabric on the left side that covers the zipper. This fold of fabric is sometimes referred to as a placket.
You see this most often on garments, especially along a front, back, or side seam.
HOW TO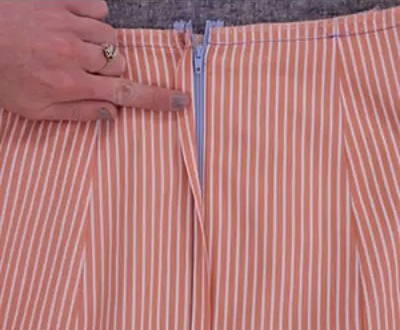 ---
INSERTED OR SIDE PLACKET ZIPPER
This is similar to a centered zipper, but here the top and bottom of the zipper are sewn across. Your stitching forms a rectangle. The zipper's opening allows just enough room to get the dress on. For home décor, you might use this technique on a pillow back.
You may also have seen this on special occasion garments within a fitted side seam.
HOW TO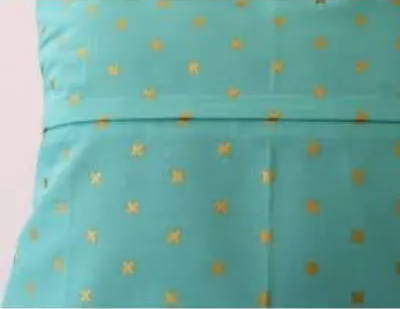 ---
EXPOSED ZIPPER
In an exposed zipper installation all the teeth and part of the tape to either side of the teeth are exposed.
This is a common technique in sportswear, accessories and a lot of home decor projects.
HOW TO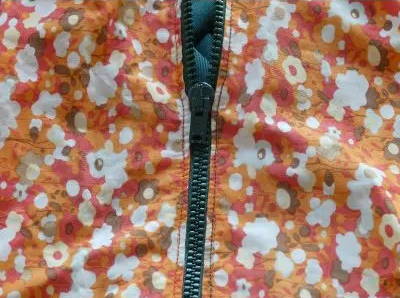 ---
FLY FRONT ZIPPER
It's pretty obvious that the zipper sewn into the fly front opening of a pair of jeans, trousers or pants is a very specific process. It's sewn underneath, leaving only the curved topstitching on the outside visible.
HOW TO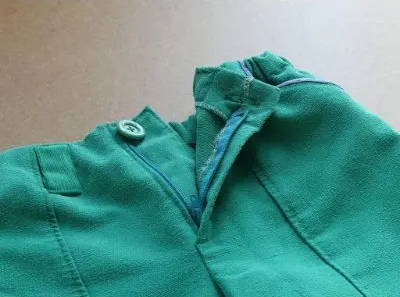 ---
---
Installing a zipper requires a zipper foot. A zipper foot has a narrow tip, which allows you to stitch close to the coil. Most sewing machines come with a zipper foot to sew a regular zipper.
A STANDARD ZIPPER FOOT has a little notch on both sides for your needle. You can use it left or right handed to sew either side of your zipper tape. Because you have to move your needle to the left or the right, the pressure from the presser foot is always off-center. The fabric might not feed through so well, and the foot doesn't always sit flat.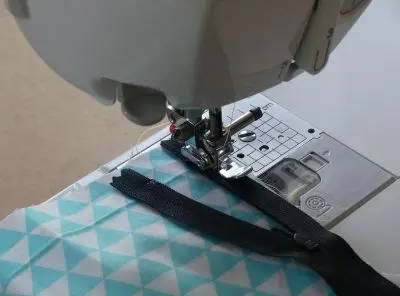 ---
An ADJUSTABLE ZIPPER FOOT is more versatile in use than a standard zipper foot. This foot can be positioned left or right as much as you want. You can adjust the positioning of the needle to exactly where you want it to be to allow for very close stitching.
This foot is in our Ultimate 32 pieces Presser Foot Set.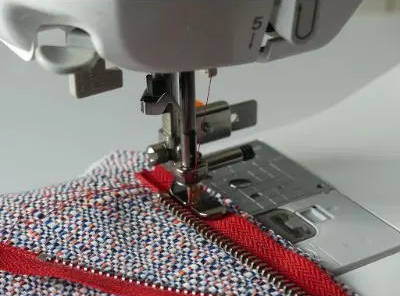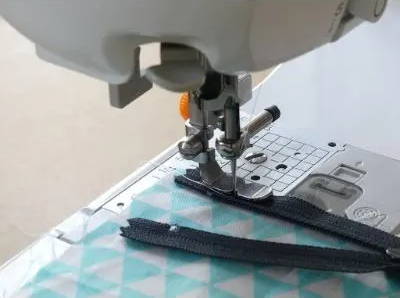 ---
INSTALL A ZIPPER : THE BASICS

---
You need a zipper, 2 fabric pieces, a zipper foot, and thread to install a zipper with your sewing machine.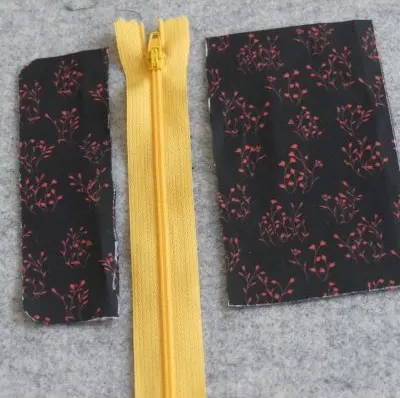 ---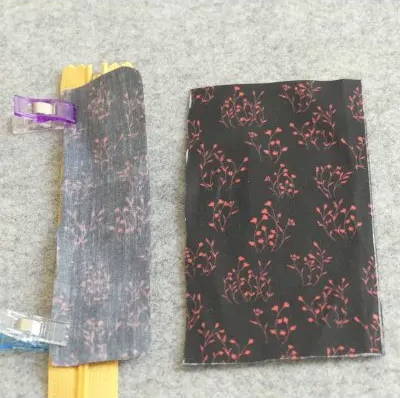 1. Take one of both fabric pieces and position and pin it on the zipper, right sides facing.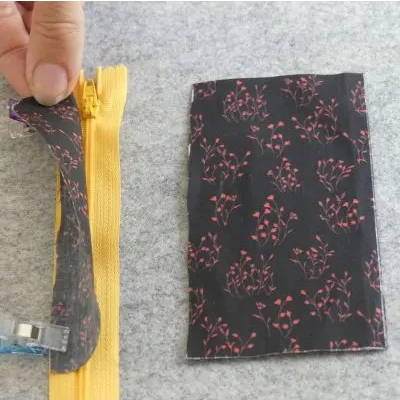 ---
2. Sew the fabric piece on the zipper tape with the wrong side of the zipper facing you.
Position your zipper foot on the zipper tape, and lower your needle close to the zipper teeth. Your needle is stitching between the zipper teeth and your foot.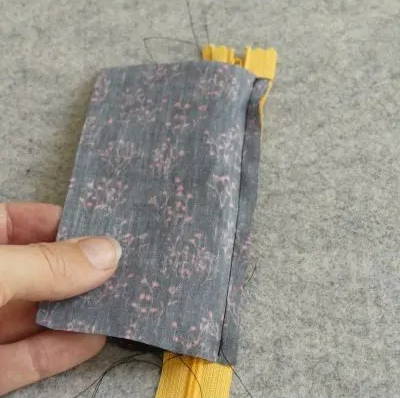 ---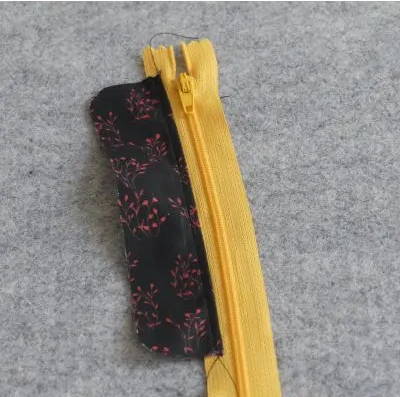 3. Turn the fabric toward you, press the seam and topstitch this fabric piece down, ⅛ inch from the zipper teeth, again using a zipper foot.
---
4. Repeat these 2 steps with the other fabric piece on the other zipper tape.
---
INTERESTED IN BUYING A ZIPPER SET?

---
---