How to Sew a Large Tote Bag with a Flat Bottom

I really wanted to make a new large tote for my groceries, one with a flat bottom and two long handles to carry my heavy load of veggies comfortably on my shoulders. This diy tote bag is a very simple sewing project that anyone with basic sewing skills can tackle. Make one for yourself or for your loved ones. It makes a great gift!
In this easy tote bag tutorial, you'll learn how to make a boxed bag where the bottom is flat like a box. The finished bag dimensions are 15 inch by 18 inch by 5 inch, but you will learn that it is very easy to change the dimensions to your preference. You can make your tote bag wider, smaller, or longer. This is definitely a beginner level project. Lining isn't needed! We'll finish the inside neatly.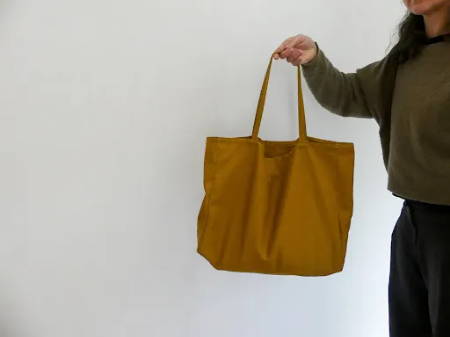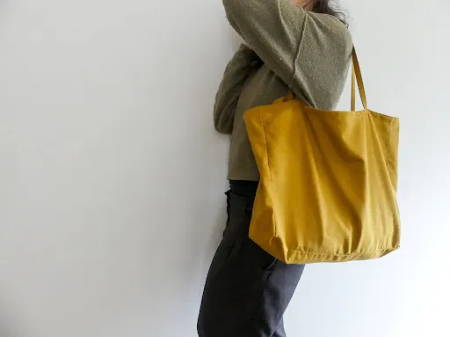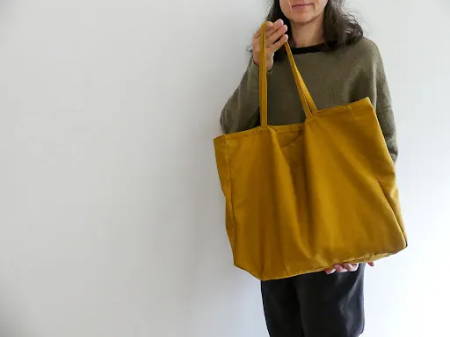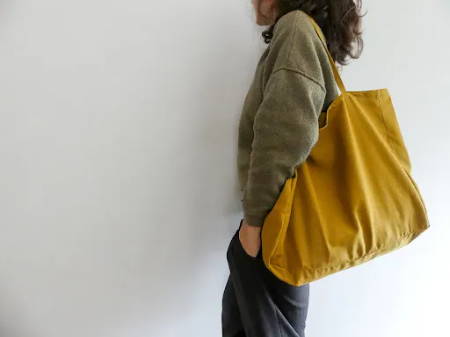 You can complete this tote project with a regular sewing machine. While a serger is helpful to finish your edges, it is not necessary. If you do have a serger, I know how daunting thread changing can be! I went for it and changed my gray serger thread to yellow thread for this project and I really like the results. If changing your thread is too much work, or you don't have a serger, try MadamSew's overlock presser foot for a similar look. In combination with the overlock stitch that most regular sewing machines now have these days, the result will be just as nice! How do you finish your edges? Do leave a comment below!
For this tote bag tutorial, I bought a firm cotton canvas fabric in my local fabric store, but you can use different types of fabric as long as the fabric is sturdy and can withstand a lot of use. Steer away from fabric with stretch or fabric that is too lightweight. I think a winter version made out of corduroy or plush teddy bear-like fabric would also be great. What kind of fabric are you using to make a tote bag? Maybe old curtains would also work for this project?
How to Make a Tote Bag Step by Step

You don't need a pattern to make this tote bag with a flat bottom! I'll show you how to make a tote bag step by step from the dimensions for cutting to the construction process.
1. Cutting the Fabric Pieces to Make the Tote Bag

There are seven fabric pieces to be measured and cut. The side pieces have the same width as the bottom piece. The length of these three pieces matches the sides and bottom of the main piece. With this information, you can decide for yourself how big you want your tote bag to be. If you want to try the size I made, use the following dimensions for cutting the fabric:
2 main pieces of 16 ½ inch x 19 ½ inch

2 side pieces of 16 ½ inch x 5 ½ inch

1 bottom piece of 19 ½ inch x 5 ½ inch

2 strips for the handles of 2 inch x 34 inch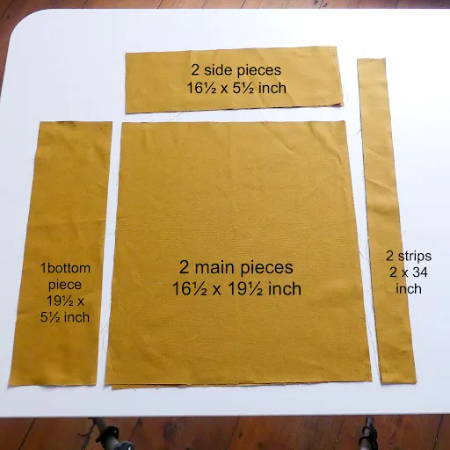 2. Make the Handles of the Tote Bag

Fold and iron the two long sides inwards towards the middle. Now fold the strip in half and sew along the two long edges. If you think your fabric isn't sturdy enough, add some fusible interfacing before you start to fold, iron and sew the strips.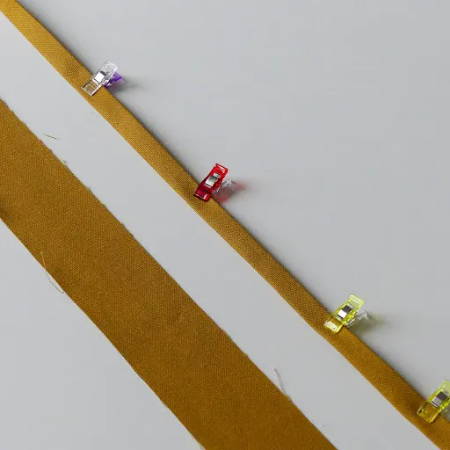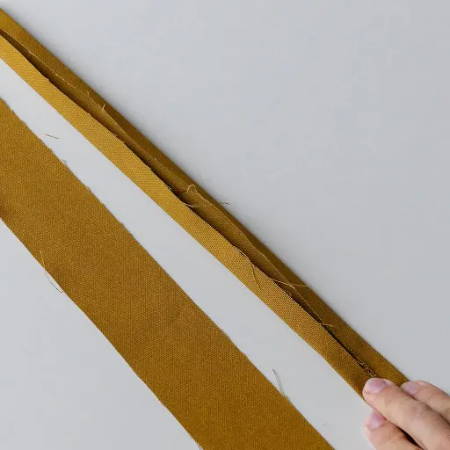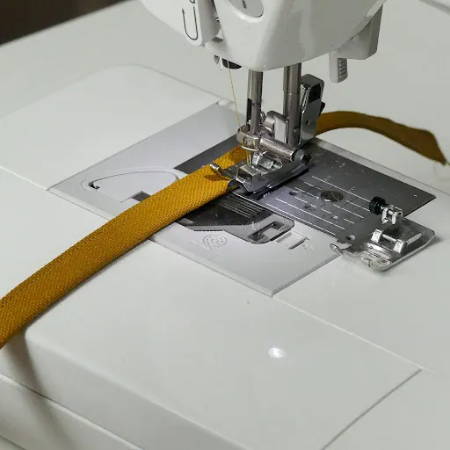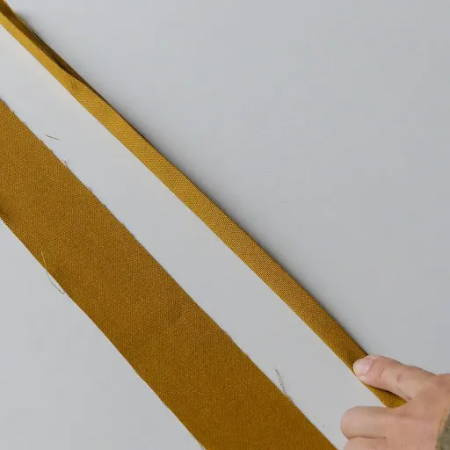 I like to use Madam Sew's fusible hem tape. It sticks on both sides which makes ironing straps really easy. You can iron them on in two steps. No pinning needed!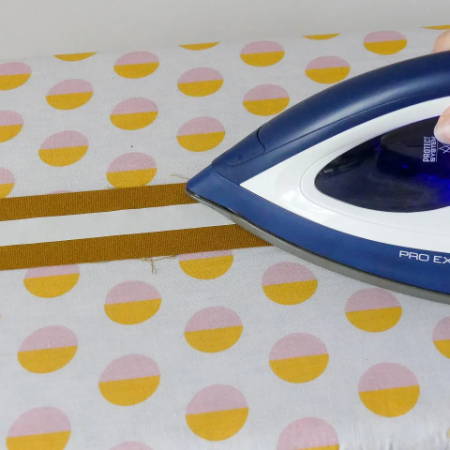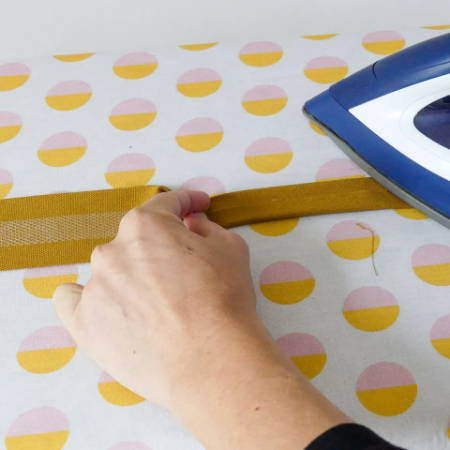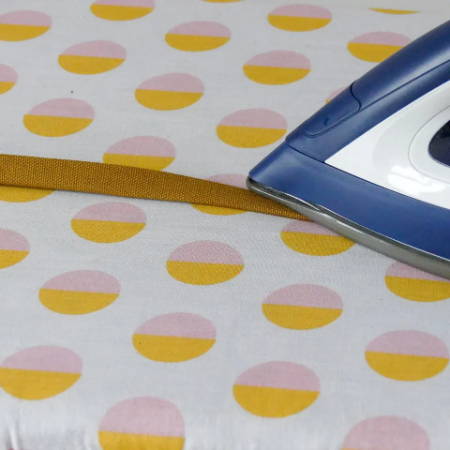 2. Make the Handles of the Tote Bag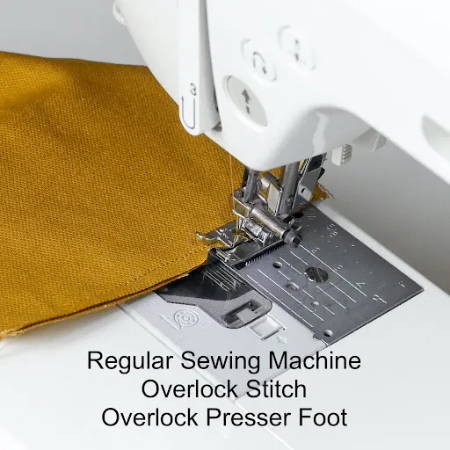 4. Attach the Handles to the Main Pieces

To attach the handles to the main pieces, pin both ends of one strip to the long side on the right side of the main piece, 2 to 3 inches from the edge, raw ends matching. Repeat this step for the other handle and the other main piece and sew over the handles at the edge of the main piece.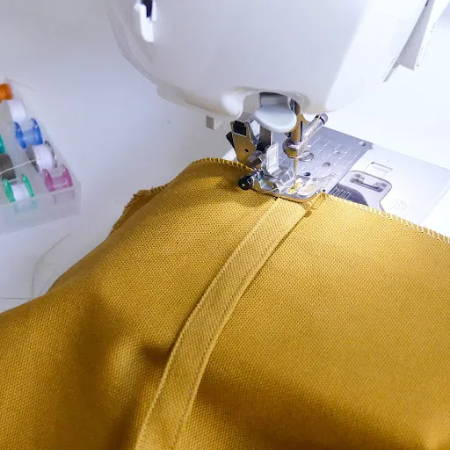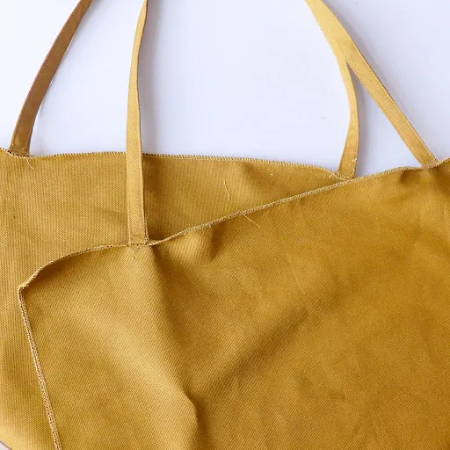 5. Prepare the Side and Bottom of the Tote Bag

Make one long strip out of the two side pieces and the bottom piece. The width of this strip determines how wide the bottom part of your tote bag will be. Sew the three pieces together at the short ends, right sides facing in the following order: side piece - bottom piece - side piece.
Finish the edges of this long strip now.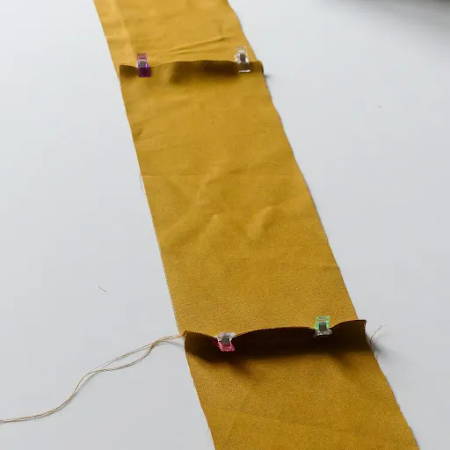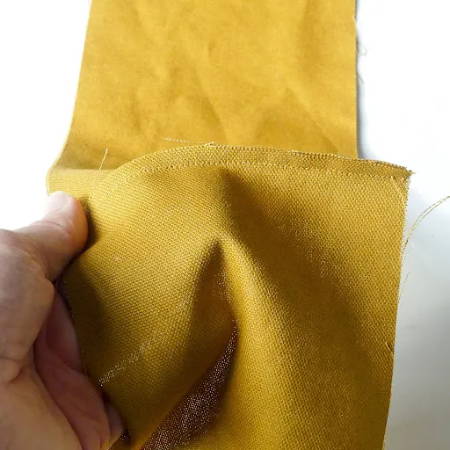 Pin this long strip to one of the main tote bag pieces, attaching it to the three sides, right sides facing, matching the corners. Sew along the three sides at ⅜ inch. Fold the seams open that you come across and sew over them.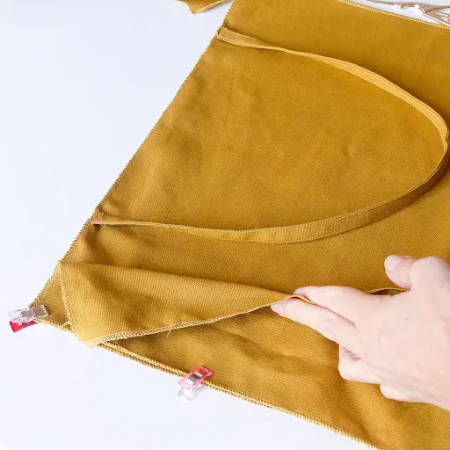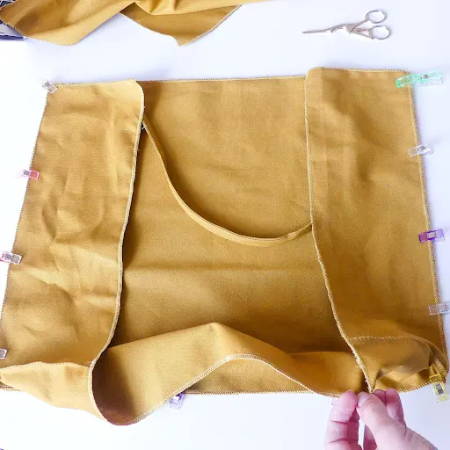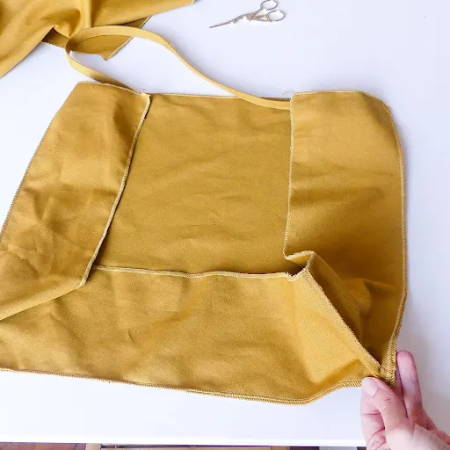 Now pin the other main piece to the other side of the long strip, right sides facing and sew with ⅜-inch seam allowance. You now created the boxed corners without any complicated folds or excess fabric on the inside of the bag.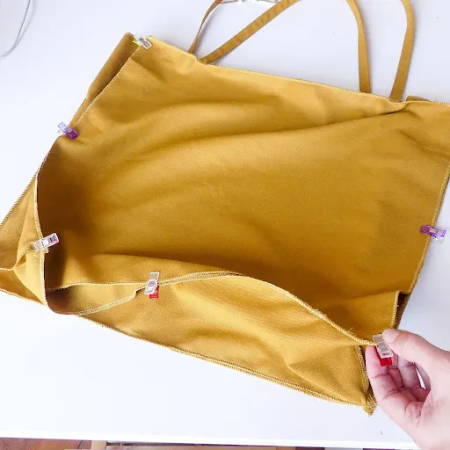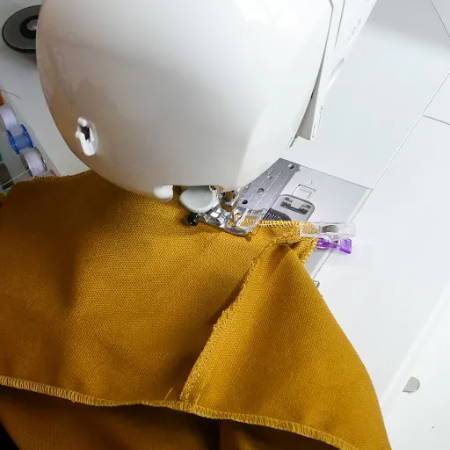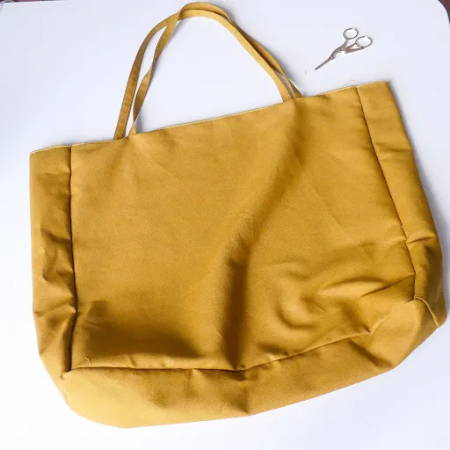 7. Hem the Top Edge of the Tote Bag

Fold the top edge towards the inside twice, about ¾ inch, like a double folded hem. Fold the handles along with the hem and fold them over the hem towards the outside of the bag. Edgestitch all around (at ⅛ of an inch) and add a second topstitching at ⅝ inch from the edge. You can use an edge joining foot to keep that ⅛ stitching consistently on the edge and the bulky seam jumper to sew over the handles and the thick seams. Not all sewing machines can sew over these bumps made out of several layers of fabric. The bulky seam jumper just gives that extra push and makes it really easy to sew over them confidently.
Cut off all the little thread ends to clean this part up.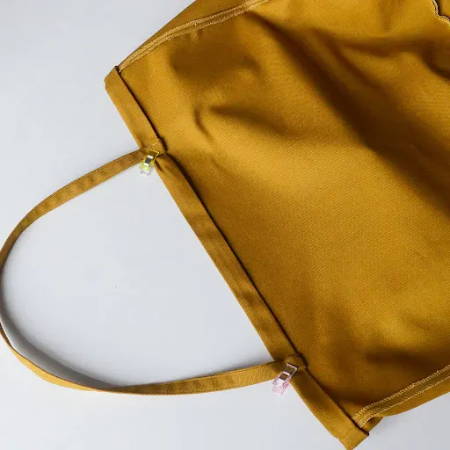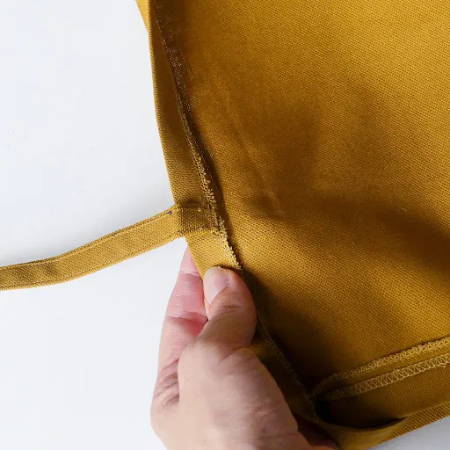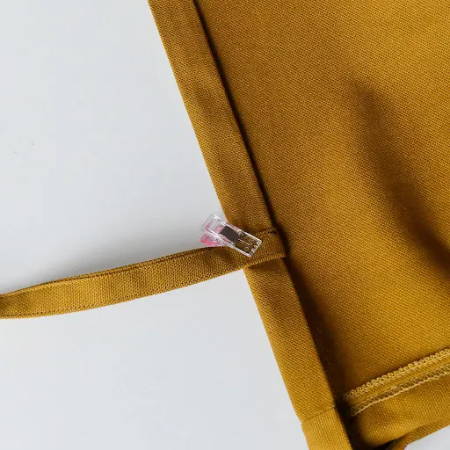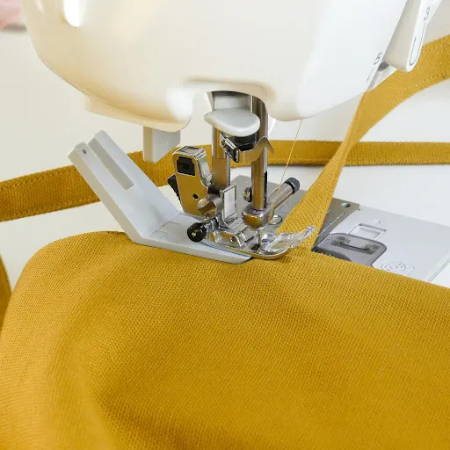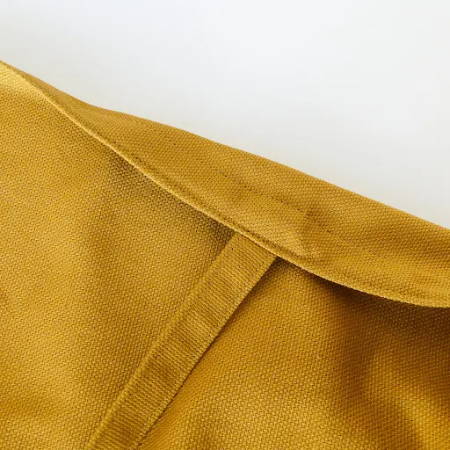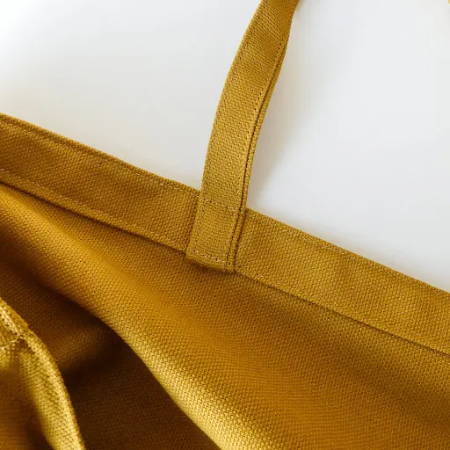 When you get to this point… your extra large tote bag is ready! That wasn't so hard, was it? And what a great result!
You have now learned how to make a tote bag with a flat bottom. With this simple technique, you can easily create a sturdy and stylish bag that is perfect for carrying groceries, books, or anything else you need.
Remember, the key to making a professional looking tote bag is to take your time and follow each step carefully. Don't be afraid to make mistakes and experiment with different fabrics and colors to create a bag that reflects your personal style.
I hope this sewing tutorial has been helpful and that you enjoy making many more tote bags in the future.
Happy sewing!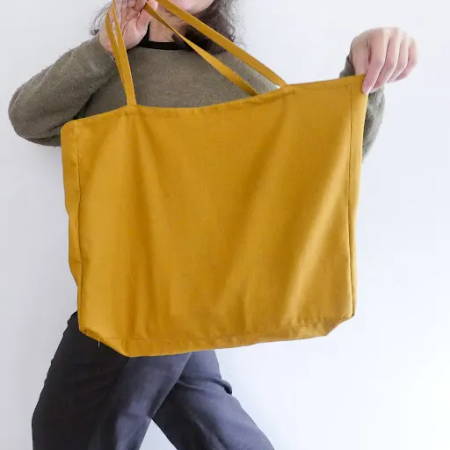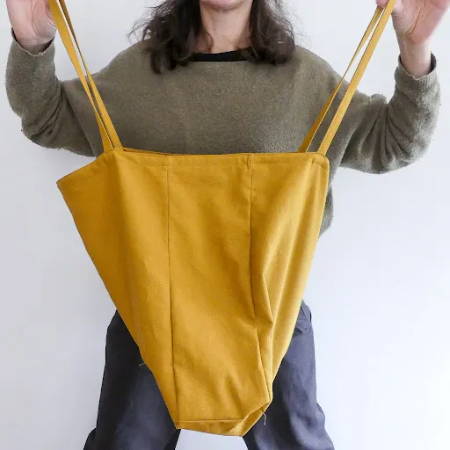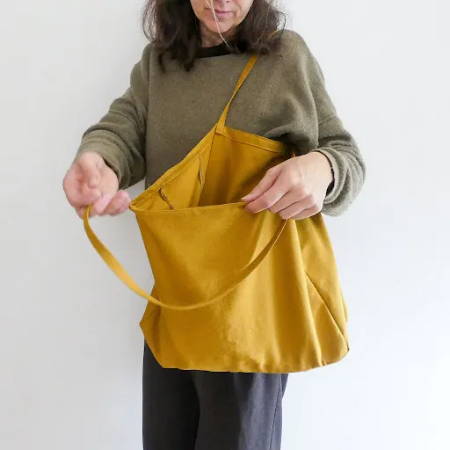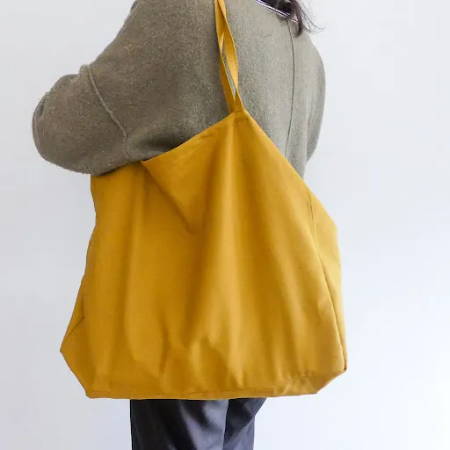 Don't hesitate to send me questions or suggestions for new tutorials on our Madam Sew Sewing and Quilting Blog!
I'm off to do some grocery shopping… in style!
Bye bye now!!
An
Writing and making tutorials for MadamSew.com