Instagram and sewing inspiration
Discover Instagram: a Wealth of Sewing Inspiration
Most of you probably have a Facebook account, right? Do you go on Facebook for sewing inspiration? Sewing Facebook groups are a great place to get inspiration and exchange experiences. Did you know that there is a whole different platform that is available to crafters? If you haven't tried Instagram yet, read on. I'll explain what it is all about and how to dive into it.
Instagram is very different from Facebook, you'll see. For sewing inspiration it is a wonderful app. Instagram is made to share beauty through pictures. Beauty– that is important to crafters, no? Instagram has a younger audience than facebook, but even if you are 70 + you should definitely check it out! It's great, you'll see.

A lot of sewers, sewistas, crafters, and quilters are showing and sharing their finished projects on Instagram. If you find someone you think has a great feed– which is a board of beautiful pictures about sewing for example– you can start following that person. Every time they post a new picture it appears in your feed and you can like it or comment on it. If you open instagram once a day, you get your daily dose of inspiration for free from the people who you think have a great style.
Instagram is first of all a smartphone app but you can also login on a computer. Uploading new pictures on a computer is not possible. Well, it is, but it's not as straightforward as on the smartphone app. The pictures in this post are from my computer, so the view might be a little different on a smartphone.
You don't have to have an Instagram account to see Instagram posts. Just google a name + instagram or a hashtag + instagram.

For example, this is what you get, when you type "madamsew instagram" into the Google search bar:

If you go to our page, you see this, without having an account:
Click on a picture that looks interesting to you. This one for example: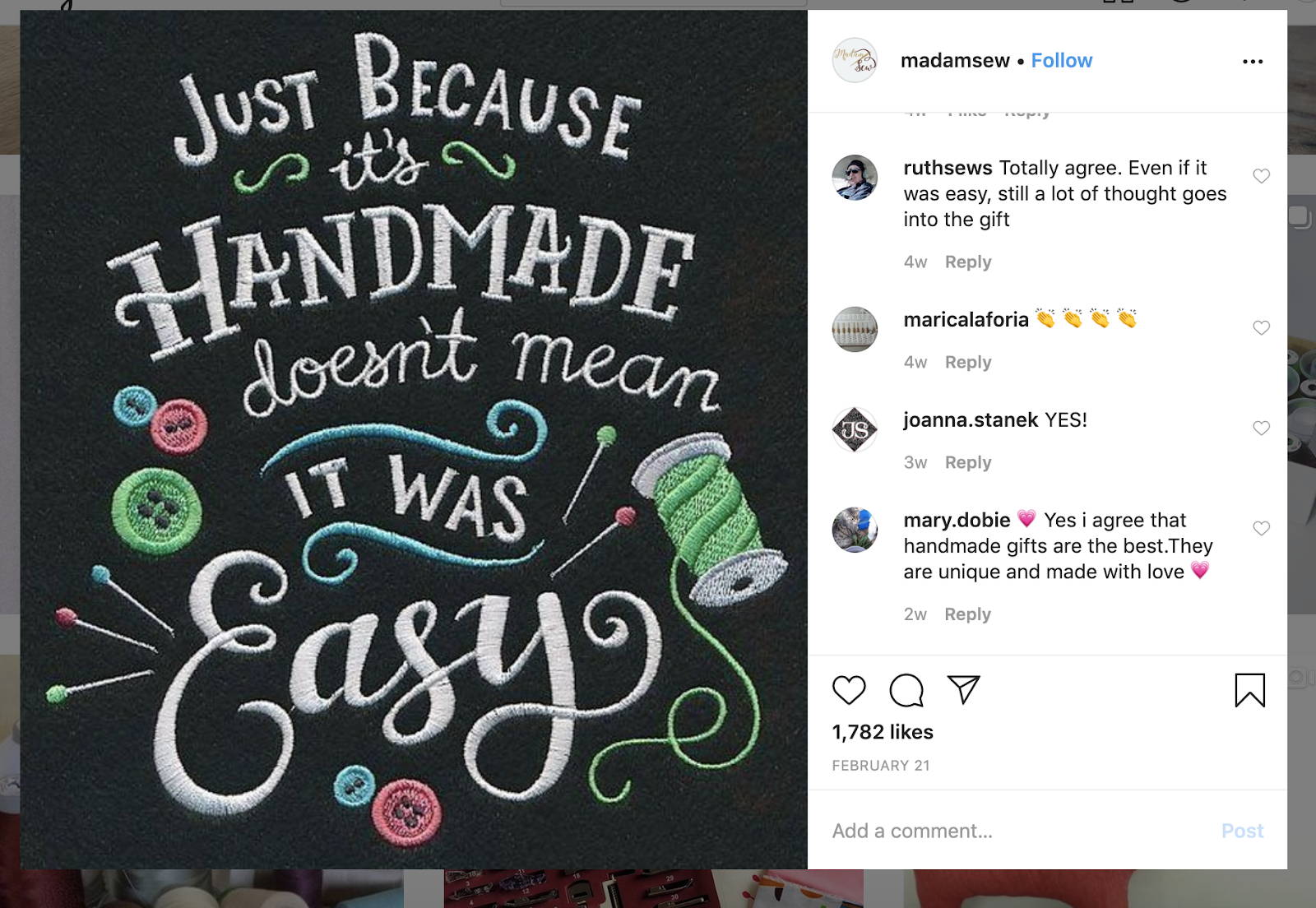 And you can scroll through our home page or go to other people's pages.
Of course it's easier to follow someone if you get their pictures in your feed automatically, just like Facebook.
If you don't have an intention to share pictures yourself, you can still make an account, post 1 picture, and start following others. Even with a private account you can follow public Instagrammers.
About hashtags #. Hashtags are important on Instagram. People add hashtags to Instagram posts to get more engagement. A hashtag is a type of metadata tag that is used on social networks so users can find themed posts. You explain through hashtags what your picture is about. If you look for posts about quilting, you can search for these posts, using the hashtag #quilting for example.
You can follow people, but you can also follow hashtags. This example you can find if you follow the hashtags #sewinginspiration or #sewingpattern. Or when you do a hashtag search.
Some fun hashtags that are great for sewing and quilting inspiration: #selfishsewing, #memadeveryday, #patternmaking, #sewingleftovers, #sewersofinstagram, #fabricaddict, #sewmystash, #quiltspiration, #quiltalong
If you want to tag a person in your description you don't use a hashtag # but ampersand @. This way, that person will get a notification that you mentioned him or her in one of your pictures. Or, you can use it in a comment to show a certain picture to a friend. Look at this gorgeous quilted pouch! The pouch was made by @ruthandesther, so we've tagged this person on our post. The maker tagged @boernehandmademarket, where she will be selling these pouches.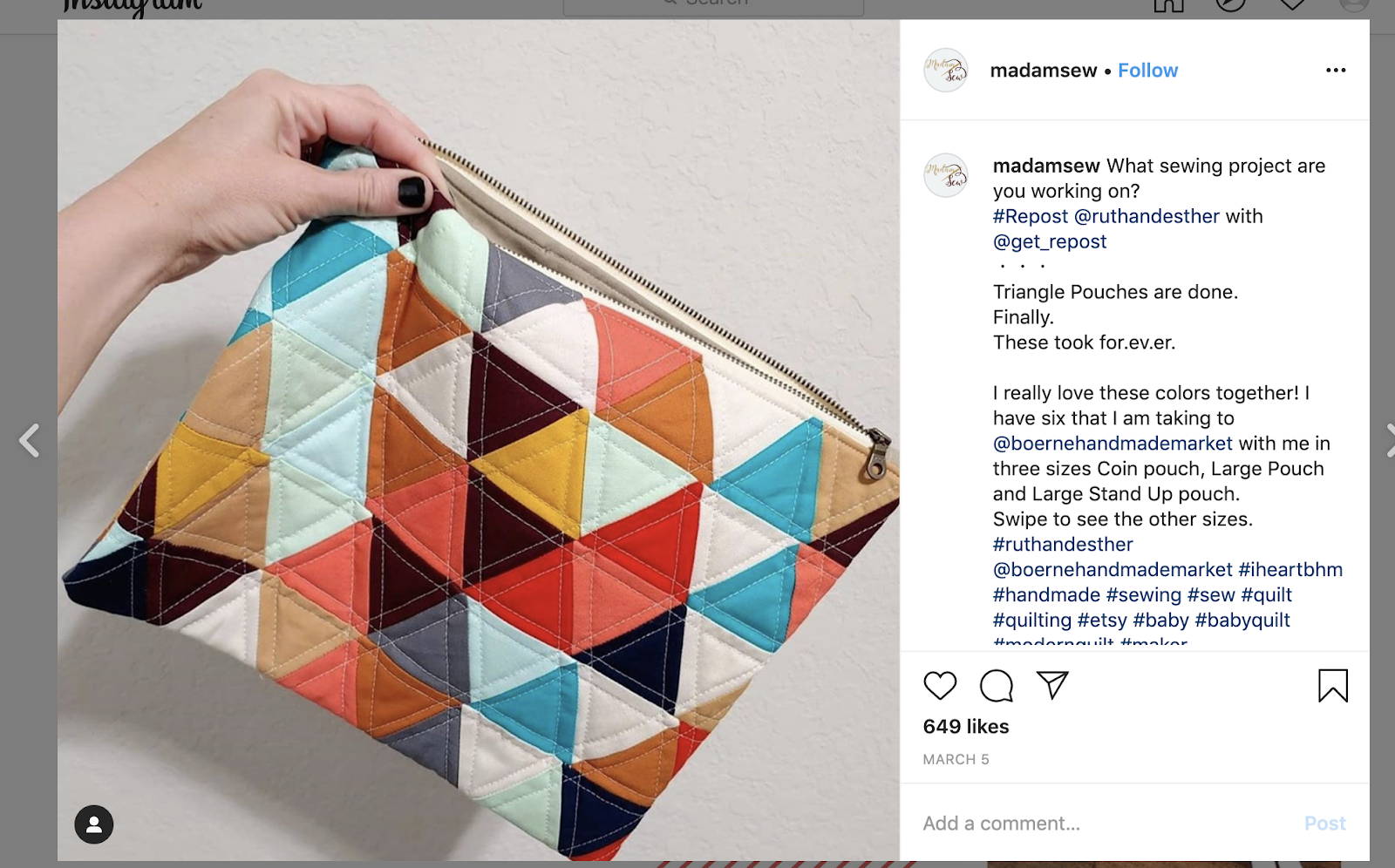 Some instagrammers also have a website or are sometimes referring to other websites. You can find those links in their "bio."– that is on their Instagram 'home page'. You will see 'link in bio' if someone wants to share a free pattern for example. You have to go to the description on the header of a page and click there. Links in the description of a picture or a comment are not allowed in Instagram.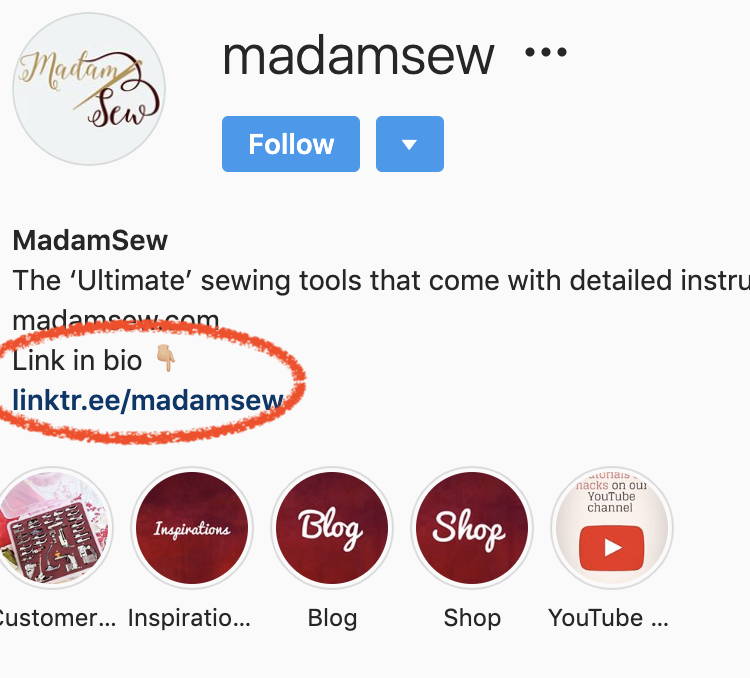 You may want to save or bookmark a picture that you really like, because you want this on your 'to do' list, you like the pattern, or you like the fabric or the color combination. Of course you need an Instagram account for this. Use the little flag that is under or next to each picture. Just click on it and the picture will be saved in your bookmarks.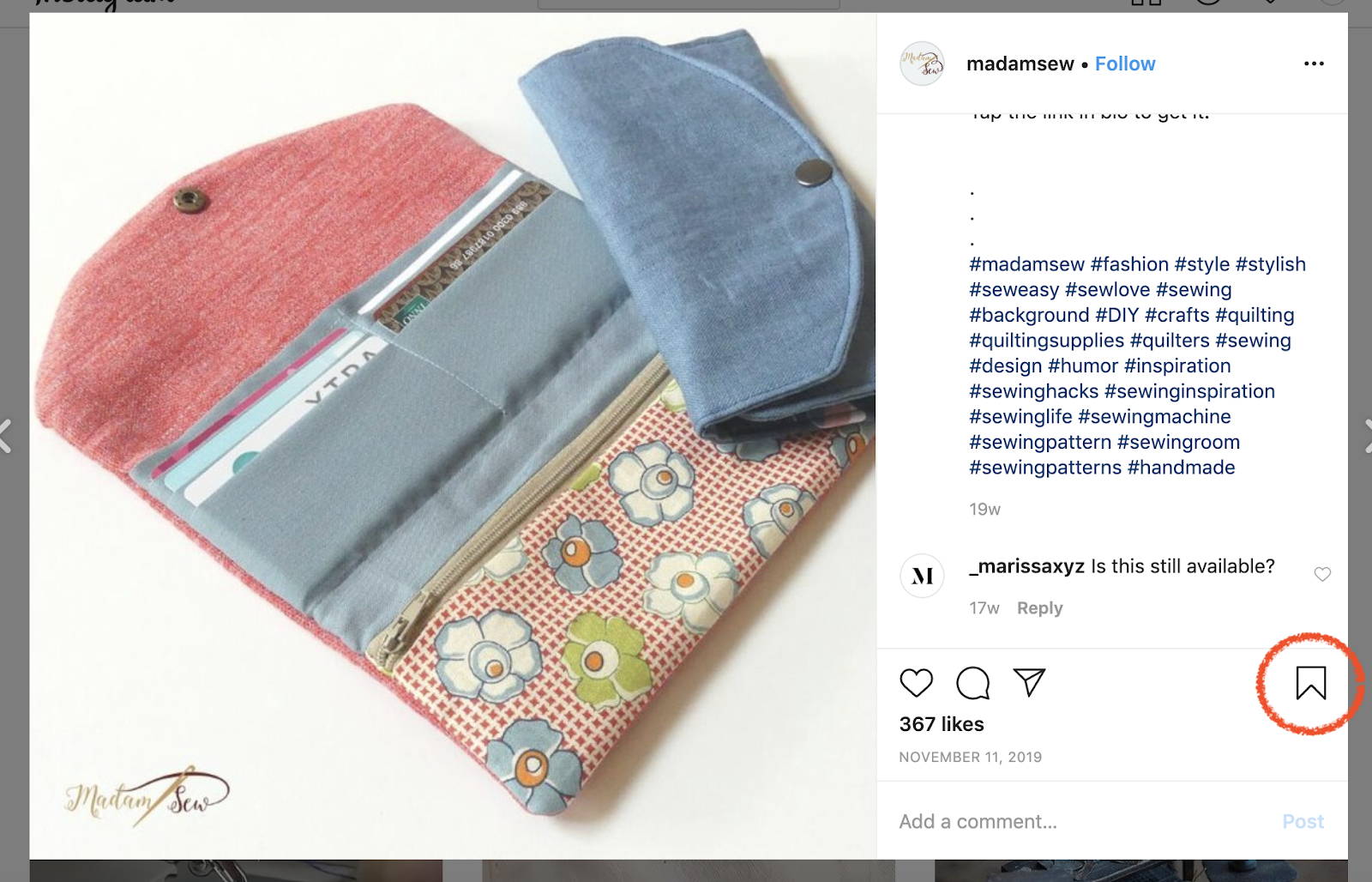 You can find your saved pictures or bookmarks in the 'saved' section on your own home page.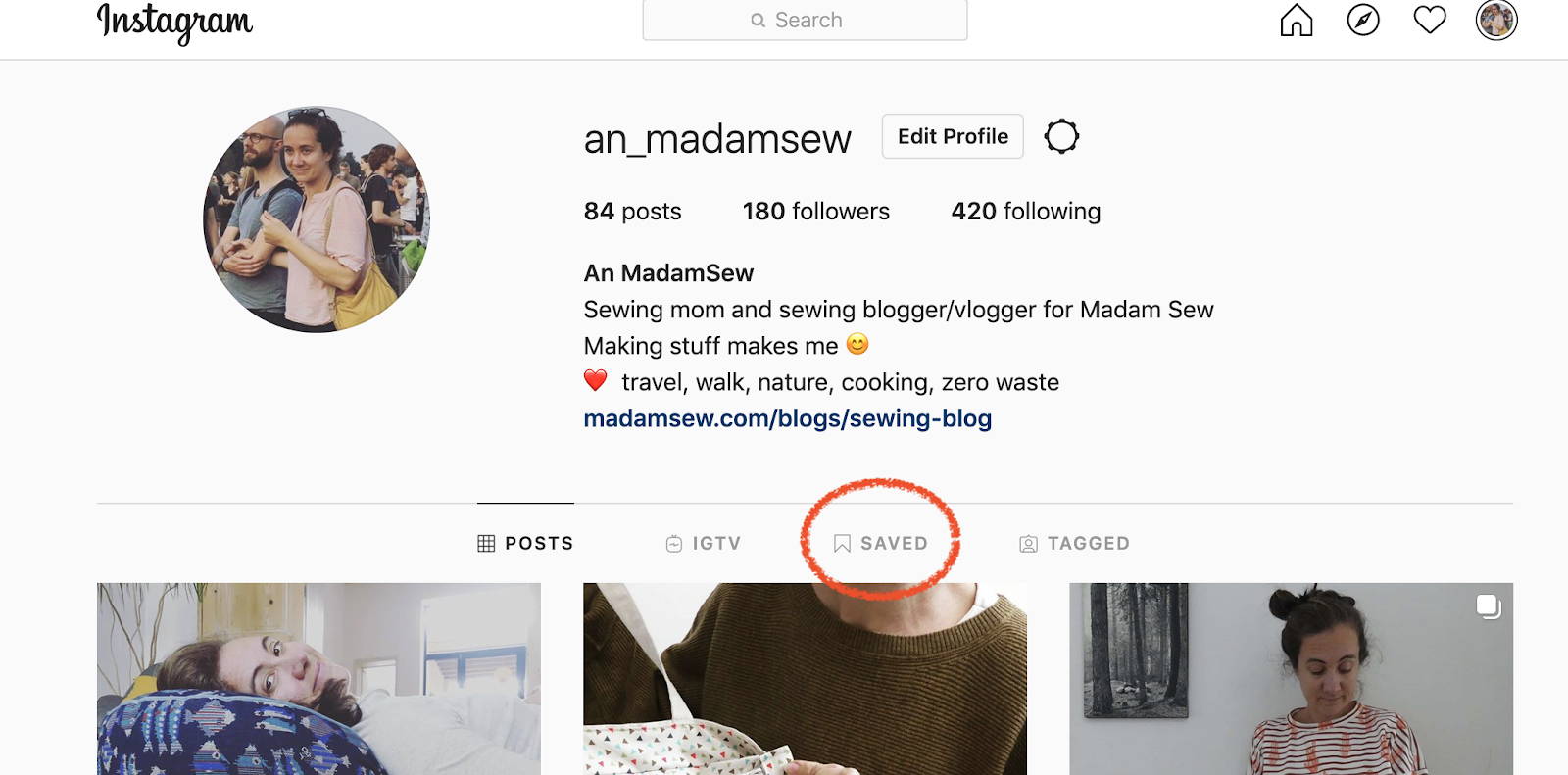 Go to that page. Only you can see what you've saved.
An Instagram feed can be private or public. Pages or companies are public of course but a lot of people are very eager to share their pictures. The private accounts are mostly meant for your real-life friends and family. I'm not digging into that in this post. However, if someone with a private account doesn't accept you as their friend, you can't see their pictures.
Instagram stories don't stay on your home page like pictures do. Instagram describes Stories as something that lets you "share all the moments of your day, not just the ones you want to keep on your profile". Stories enable you to share multiple photos and videos, and they appear together in a "slideshow format". They appear on top of your feed, and expire after 24 hours, so they are temporary.. Click on them to open and keep clicking if you want to move on to the next one. On your smartphone app, you can tap the right or left side of your screen to progress or go back in a story. If you don't tap anything, the story will play on its own. These stories function similarly to Facebook Stories. How can you utilize these in crafting? Lots of accounts will use stories to post demonstrations, or to highlight new stock in their web or brick and mortar store that you can then order online through their link in bio.

Instagram is a free application you can download on your phone in the Appstore for Iphone or in the Google Play Store for an Android phone.
Setting up an account is very straightforward. You can do it on your phone. Open the application. Tap the Create New Account button. You can either use your phone number or your email address. Enter a username and a password. Then, fill out all your personal information. You can also create a new profile from your Facebook account. To create a new account on your computer you go to instagram.com. Enter your phone number or email address, your full name, a username and a password and register.
When you just start, you might be just following 5 Instagram accounts and 2 hashtags, but it will grow really fast. Instagram wants you to explore and discover new things so when you tap on this little icon, you go to the explore and discover page.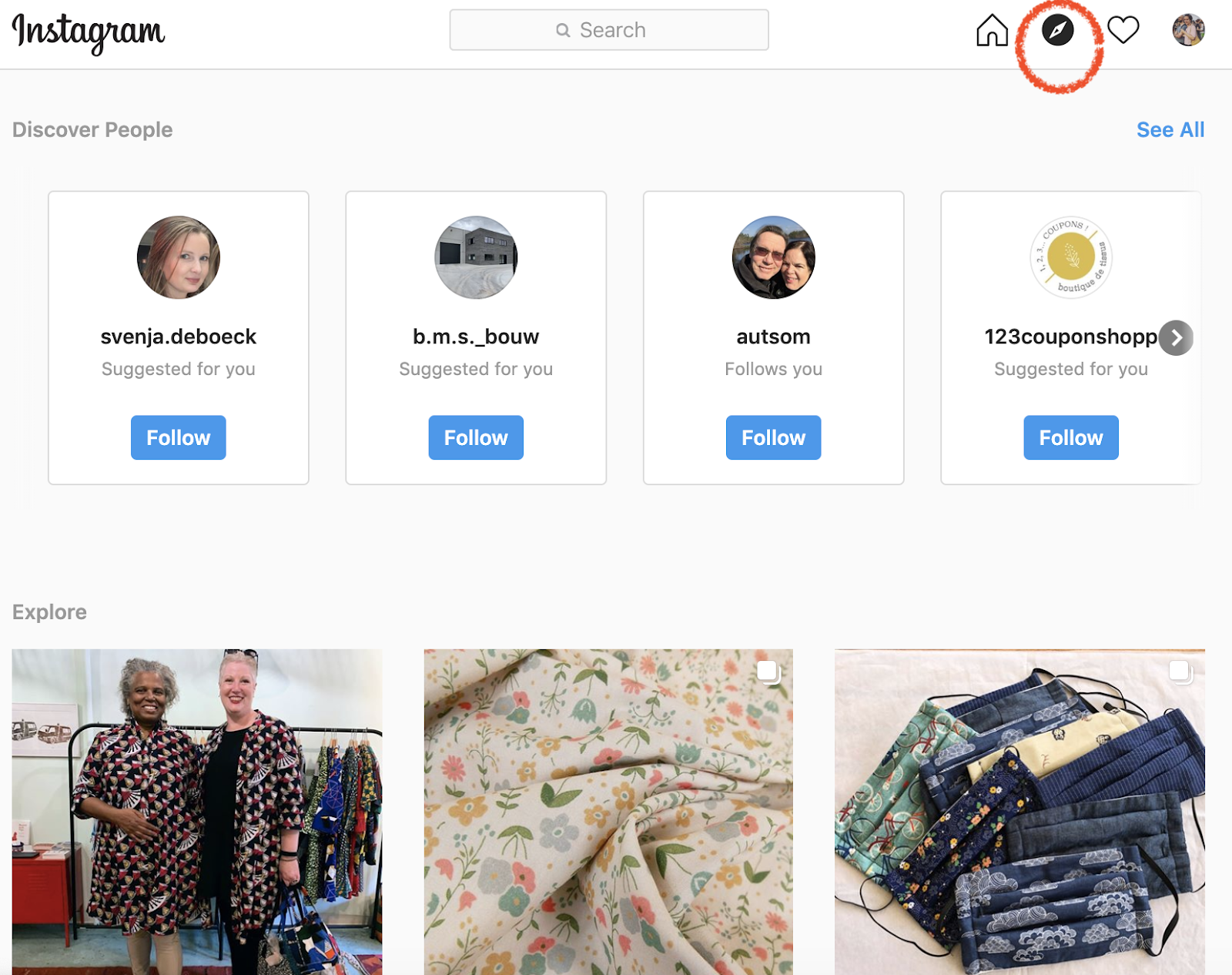 And if you want to follow someone, click Follow on the homepage of that person. To follow a hashtag you type the hashtag in the search field. Go to that page and tap the blue Follow button.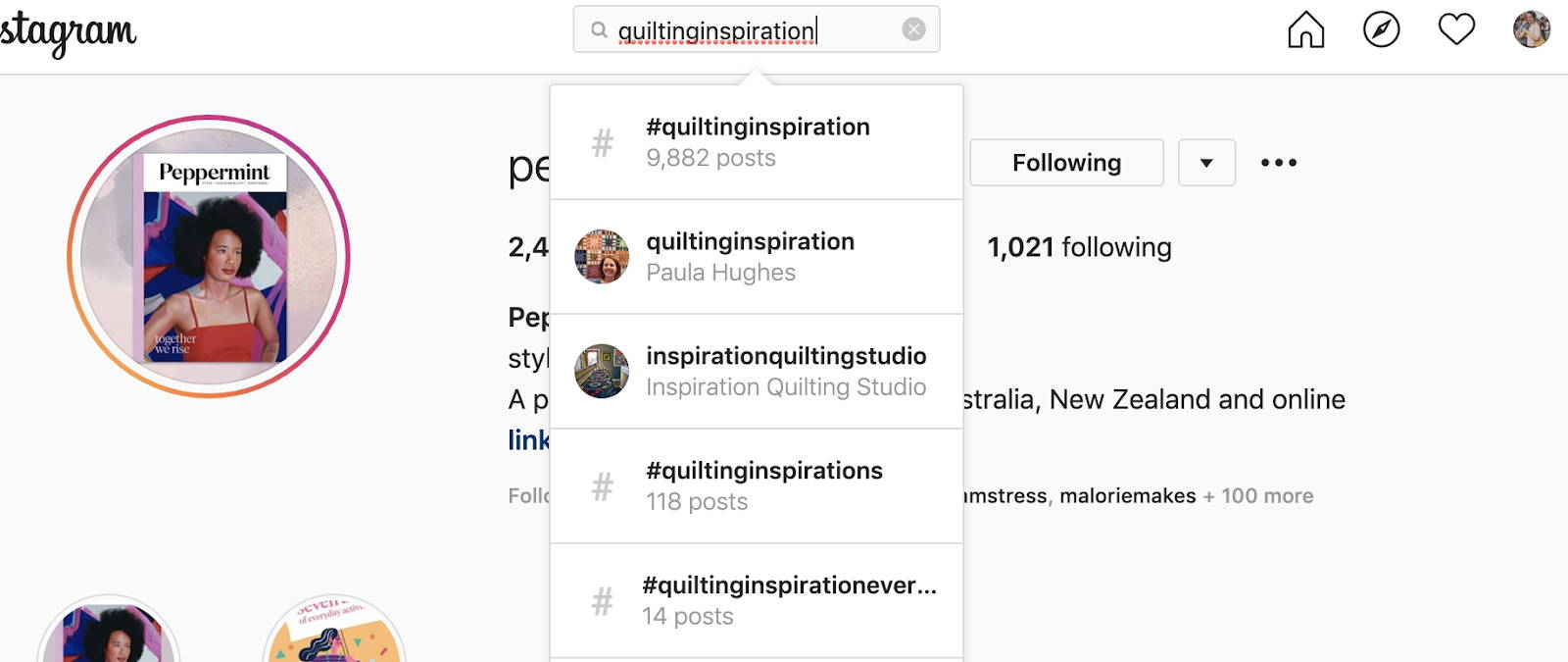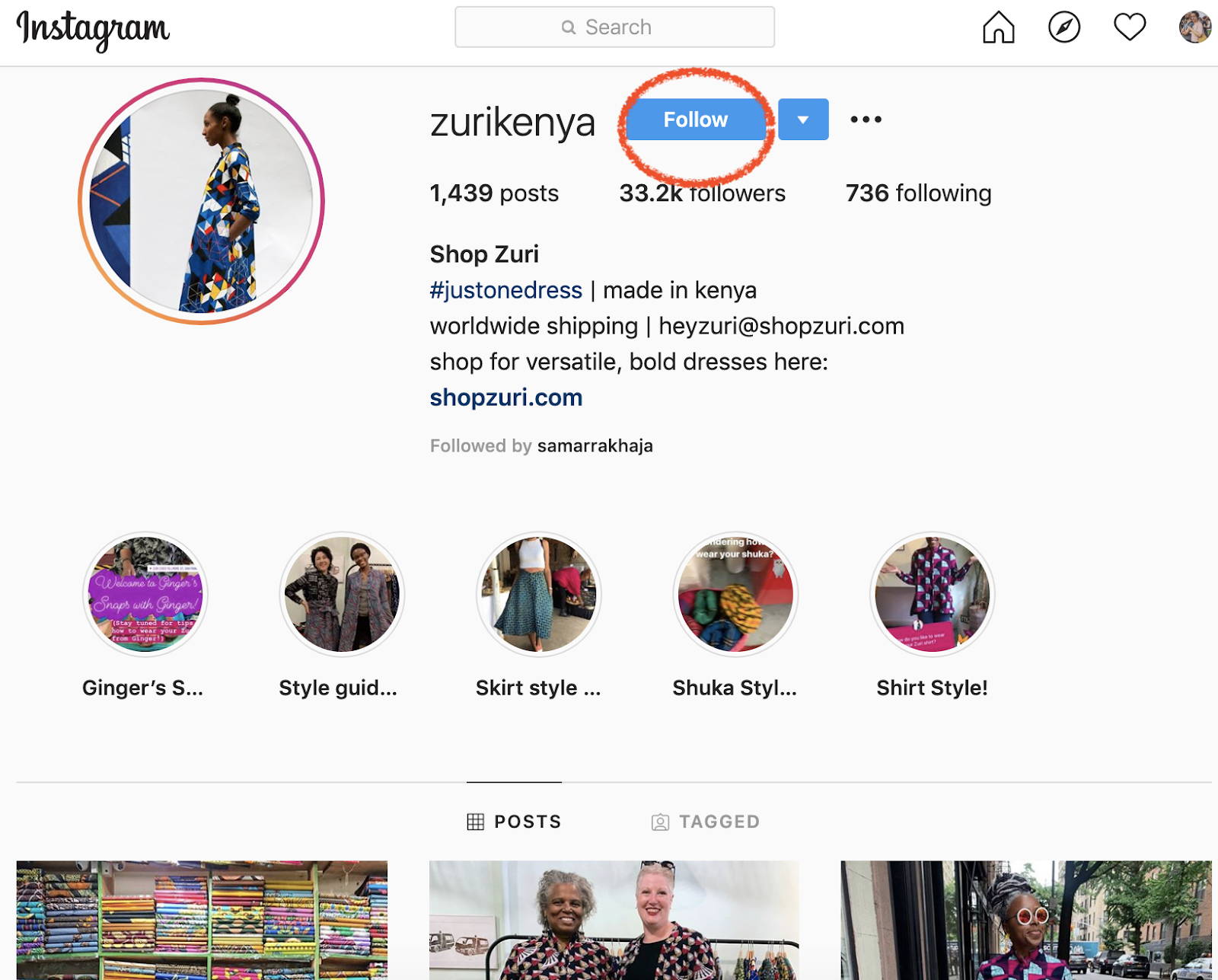 This is what I wanted to share about Instagram with you today. I hope you take some time to discover and have as much fun as I do, seeing all those creations of the crafty sewing crowd.
And as a bonus, these are 5 of my favorite Instagram accounts to get you started :-)
Keep safe and healthy.
Sewing is therapy!!
An
Sewing blogger and content creator for MadamSew.com