DIY Halloween Costume Ideas For Kids
Halloween costumes for the kids can easily get repetitive and not to mention - expensive!

So why not make them yourself this year? You'll not only save yourself some money but your kids can flaunt their one-of-a-kind creations (And your sewing skills!) at your party.

Here are some inspirations to get you started. Let's get crafty!
Just click on the title or the images to go to the free pattern and clear instructions to make these beautiful Halloween costumes.
This beautiful and beginner friendly dress is perfect for the little princess in your house! The dress - inspired by the movie Trolls is the perfect project to take up if you don't have a lot of time on your hands.
In this post by Fleece Fun, she uses felt fabric but you could also experiment with Fleece!
The best part - the detailed step by step video tutorial and the free pattern!
What more could one ask for? :D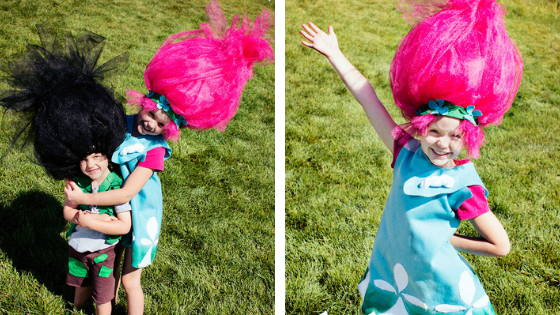 This beautiful dress will definitely get your little one all the attention at their trick or treat conquests!
Ideally for intermediate sewers, it can also be attempted by beginners who want to take up a challenge.
Marina beautifully explains the steps in her video. Her course to make this dress costs $8.50 which is totally worth it, as it'll teach you a lot of sewing tricks like sewing raglan sleeves, gathered skirt and a knit back!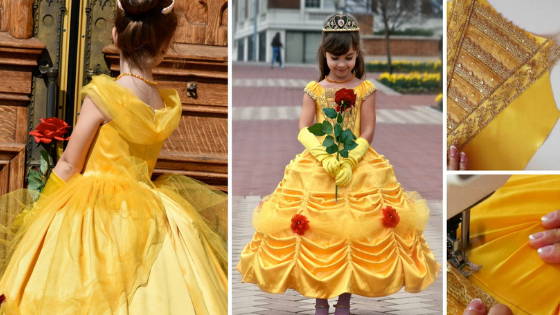 This vibrant fleece and felt parrot costume has our heart! It won't only be a fun costume for the kids, but also a different and fun project for you to take up.
The adorable costume works well for both boys and girls. Crystal also adds a hat to the costume to finish it off!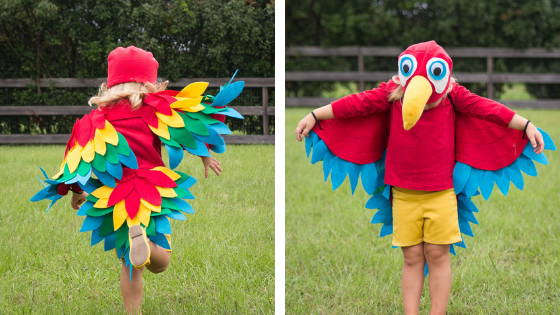 Made by Jamie Sanders, this dress is also the perfect opportunity to use up any animal print fabric in your stash!

The tutorial is fairly easy as it only involves sewing leggings and a tee! To add on to the look, she also hand sews fur trim onto the around the sleeves, neck, and ankles and finishes it off with an adorable cat headband!
Perfect for all the little animal lovers in the family!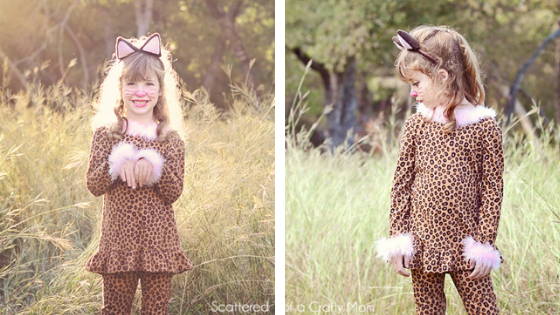 This eerie costume by The Polka Dot Chair is great for both girls and boys, and can also be converted into a no-sew costume if you're short on time (or supplies!)

Sticking to the true spirit of Halloween, this dress may be crazy and complicated to look at - but Melissa makes the whole process look like a piece of cake with her step by step instructions.

She also has many such tutorials on her blog which you can check out!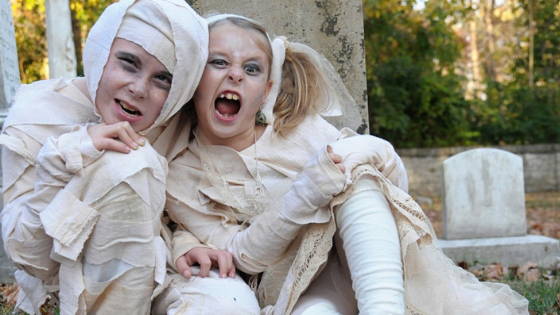 Do you also like to sew for your kids?
Tell us your favorite idea in the comment section below!
Just click on the title or the images to go to the free pattern and clear instructions on the makers website to learn how to sew these beautiful Halloween costumes.
Happy Sewing!!