Beginning Quilting - Choosing the Right Batting
There are so many choices today for batting, so many more than just 100% cotton. While cotton is a fine choice for many quilts, there are many other fibers and types that you may want to try. Today we'll go through some of the choices available and talk about the best uses for each one. First, let's go over some general information that will cover frequently asked questions.
It isn't necessary to prewash any batting, and frankly will likely give you a washer full of lint blobs if you try. Some quilters will fluff the batting on a low heat or air fluff setting in a dryer to relax some of the wrinkles before quilting, but usually just getting it out of the package and laying it out for a day will relax any wrinkles without special treatment.
Some battings have a scrim, which is a very fine mesh scaffolding for the batting fibers. Usually the scrim side will have a waffle appearance, while the non-scrim side will look nubby. Place the scrim side up as you quilt, so that the needle pierces the batting in the same direction it was made. Doing this will help prevent pokies of batting coming through the backside of your quilt. If you have a lot of batting fibers coming through the back of your quilts, it is called bearding, and is usually due to the backing fabric being too loosely woven. Higher quality cottons rarely have this problem.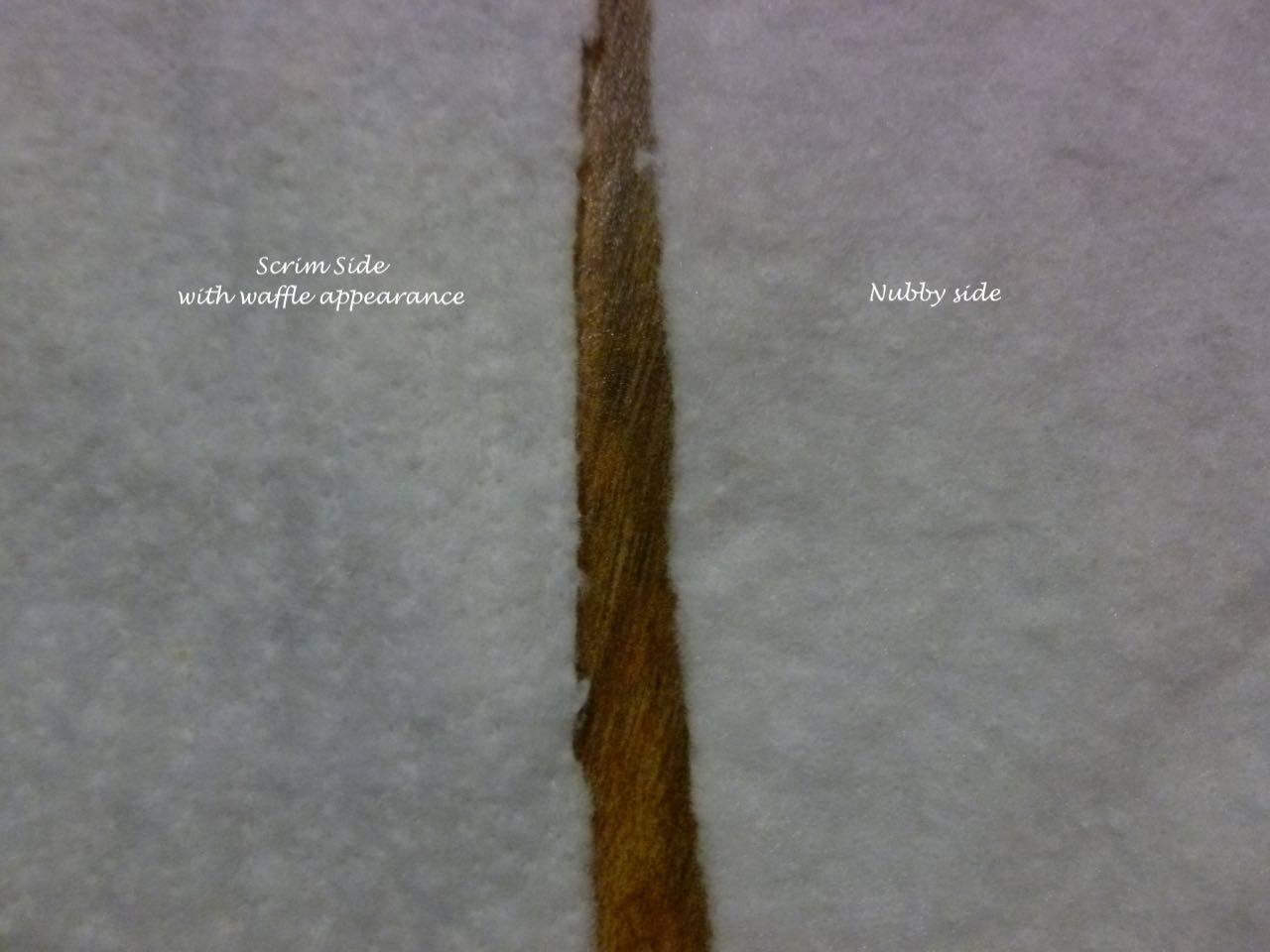 To store batting purchased in a package, it is best to remove it from the plastic and store in a pillowcase or wrapped in a sheet to keep it dust free but able to breathe. This will also help to maintain the loft of the batting, as compression inside packaging can cause the loss of loft if stored for long periods of time. This will also help prevent permanent creases occurring in cotton battings, although higher quality battings typically do not have this problem.
All quilts, no matter what the batting content, should be taken out and refolded at least every three months to prevent creases in the batting as well as change stress points on the fabric.
Cotton - Battings made of 100% cotton are thinner and flat, traditional for quilts. For most high quality cottons, shrinkage is 3-5% when washed and up to 8% for lesser quality. Washing produces the puckered look to quilts. To accent this puckering, don't prewash the fabrics before piecing. Quilt designs ay be stitched up to 4-inches apart. Cotton battings can be machine washed and dried. They are best for utility quilts that will be washed often.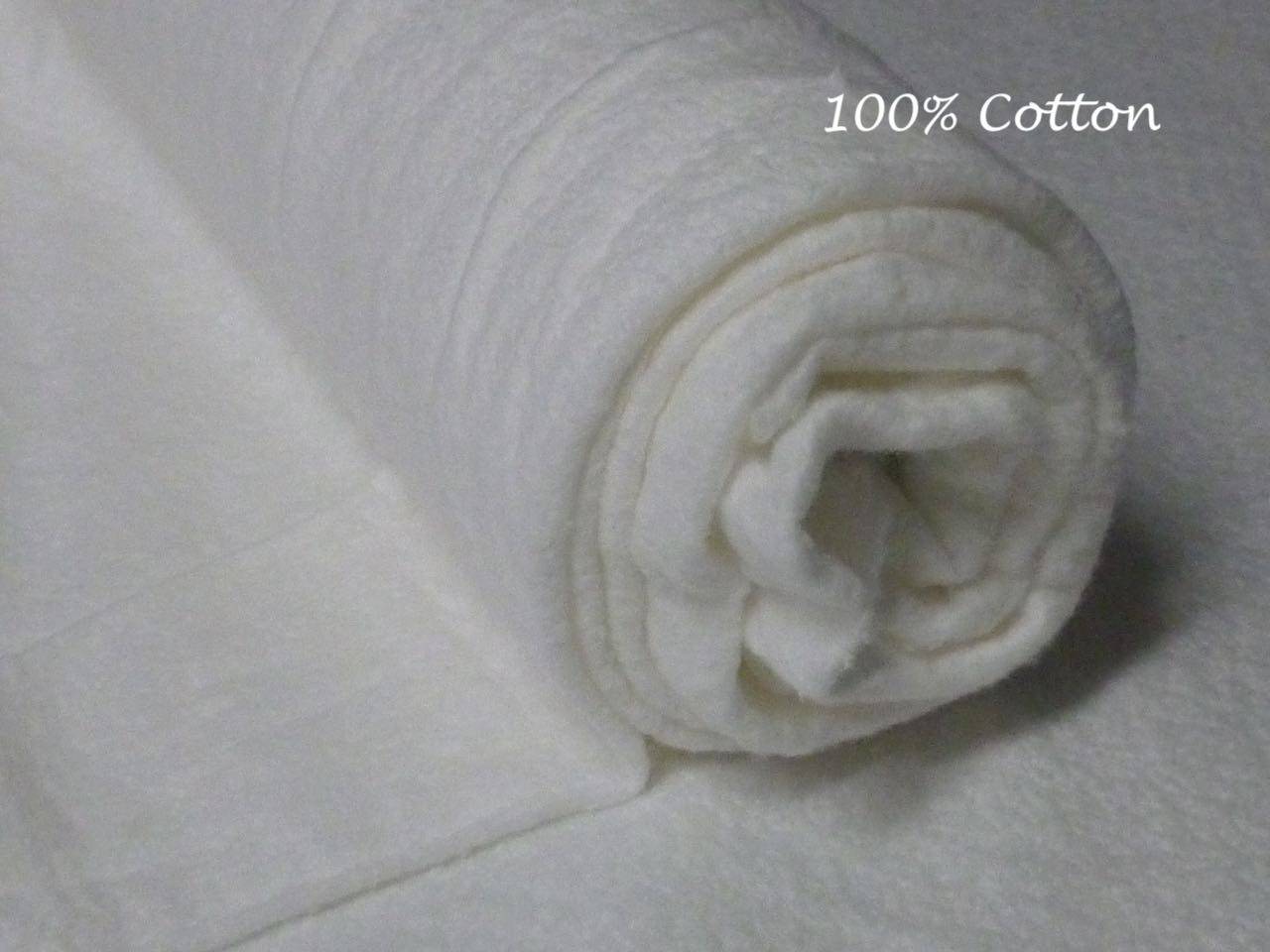 Bleached Cotton - This is the same fiber as regular cotton, but it has been bleached to a brighter white. Use in quilts with white backgrounds as it will not have the shadow effect that natural cream color cotton has.
Cotton Polyester 80/20 Blends - This type of batting is a favorite blend among quilters as it has a medium loft which shows off quilting, less shrinkage at 1-3%, and less of a tendency to crease although it will crease if left folded. Sometimes the creases will fluff out with refolding. You can quilt farther apart to keep the quilt soft and cuddly, between 4 and 8 inches apart depending on the manufacturer. This content is great for utility quilts and quilts that will be more heavily used.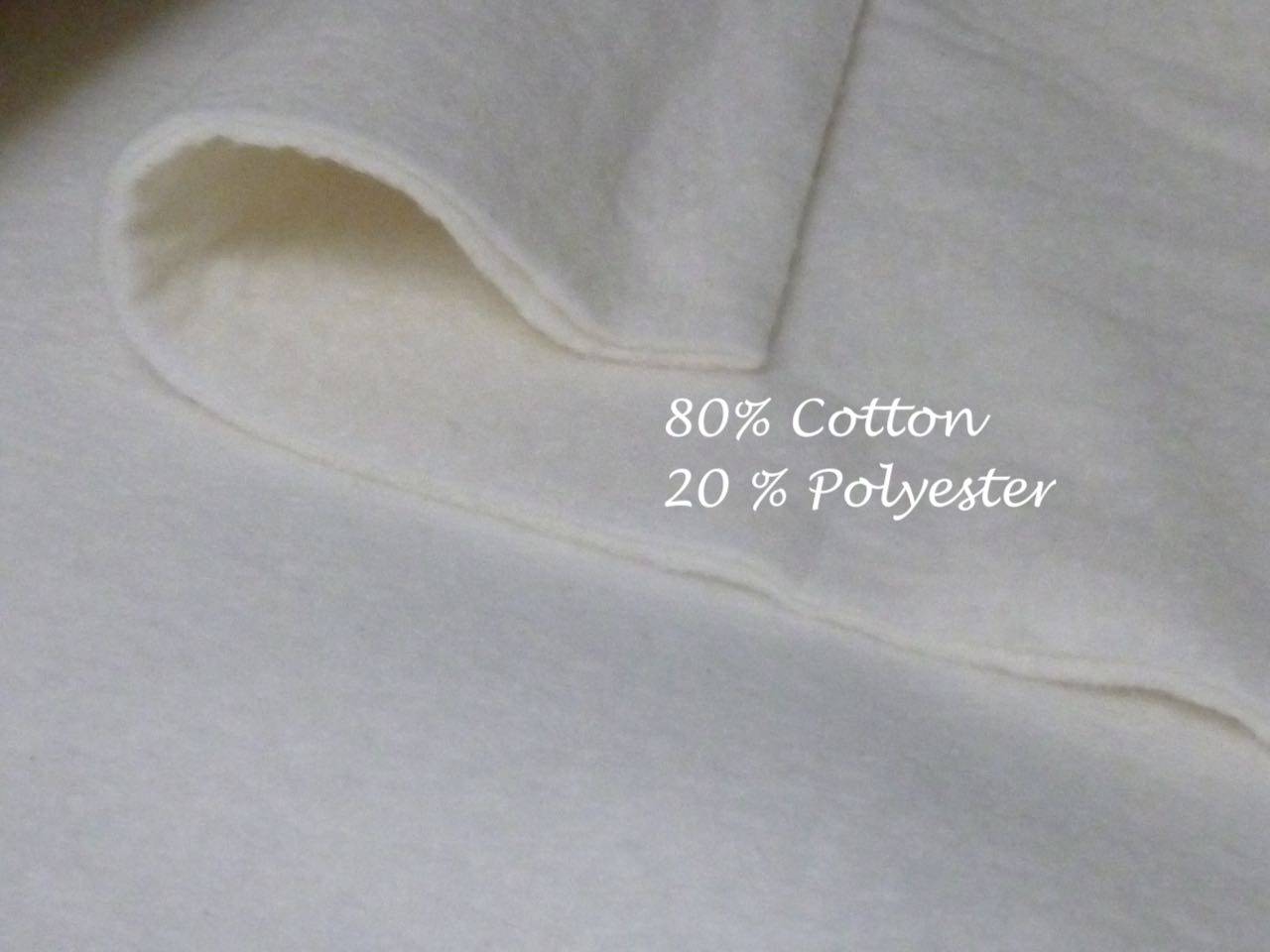 Polyester - Polyester battings have a higher loft that accentuates machine quilting. It has no shrinkage and doesn't crease. Be careful to use a high quality polyester. Even a good quality poly-batt is still inexpensive compared to other fibers. Polyester may be machine washed, but lay flat to dry. Dryers may cause melting of the fibers. This batting is great for special quilts which may be stored for long periods of time. Use with prewashed fabrics for quilts that can be washed without producing the puckered look. Polyester doesn't hold stains, so is great for quilts that get a lot of use in areas prone to soiling. Most polyesters can be quilted up to 8 inches apart, but check the manufacturer's recommendation. Polyester is better for tied quilts. Available in white and black.
Green - Polyester batting made from recycled plastic bottles has a pale green color that doesn't show through most fabrics. It has no shrinkage, yet a very soft and lovely drape. It can be quilted up to 10 inches apart. Environmentally friendly, Green batting helps create a market for recycled materials. Machine wash and lay flat to dry.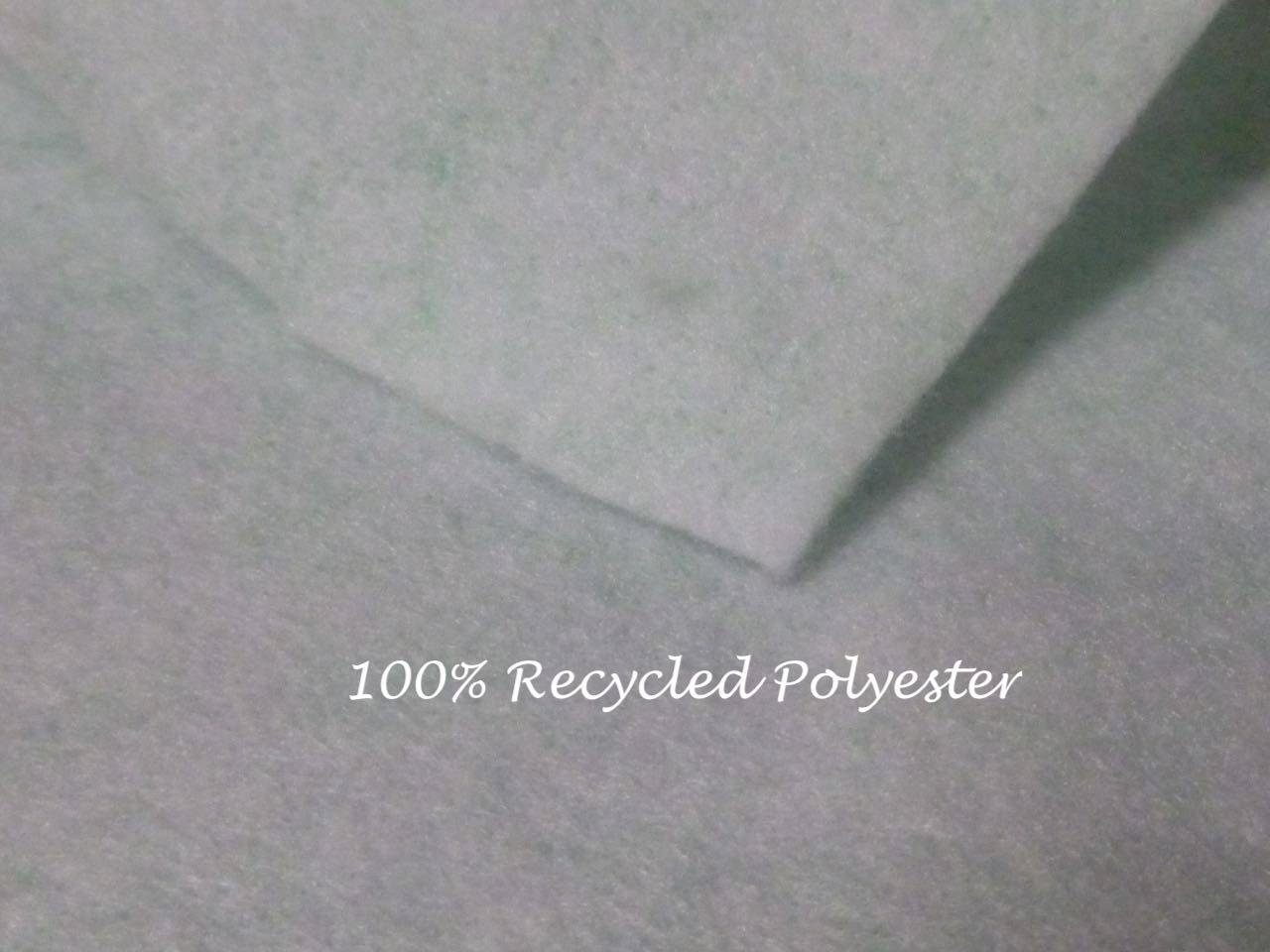 Poly-Down - This is a softer type of polyester that is machine washable, non-allergenic and maintains its loft. Available in white or black. It can be quilted up to 4 inches apart.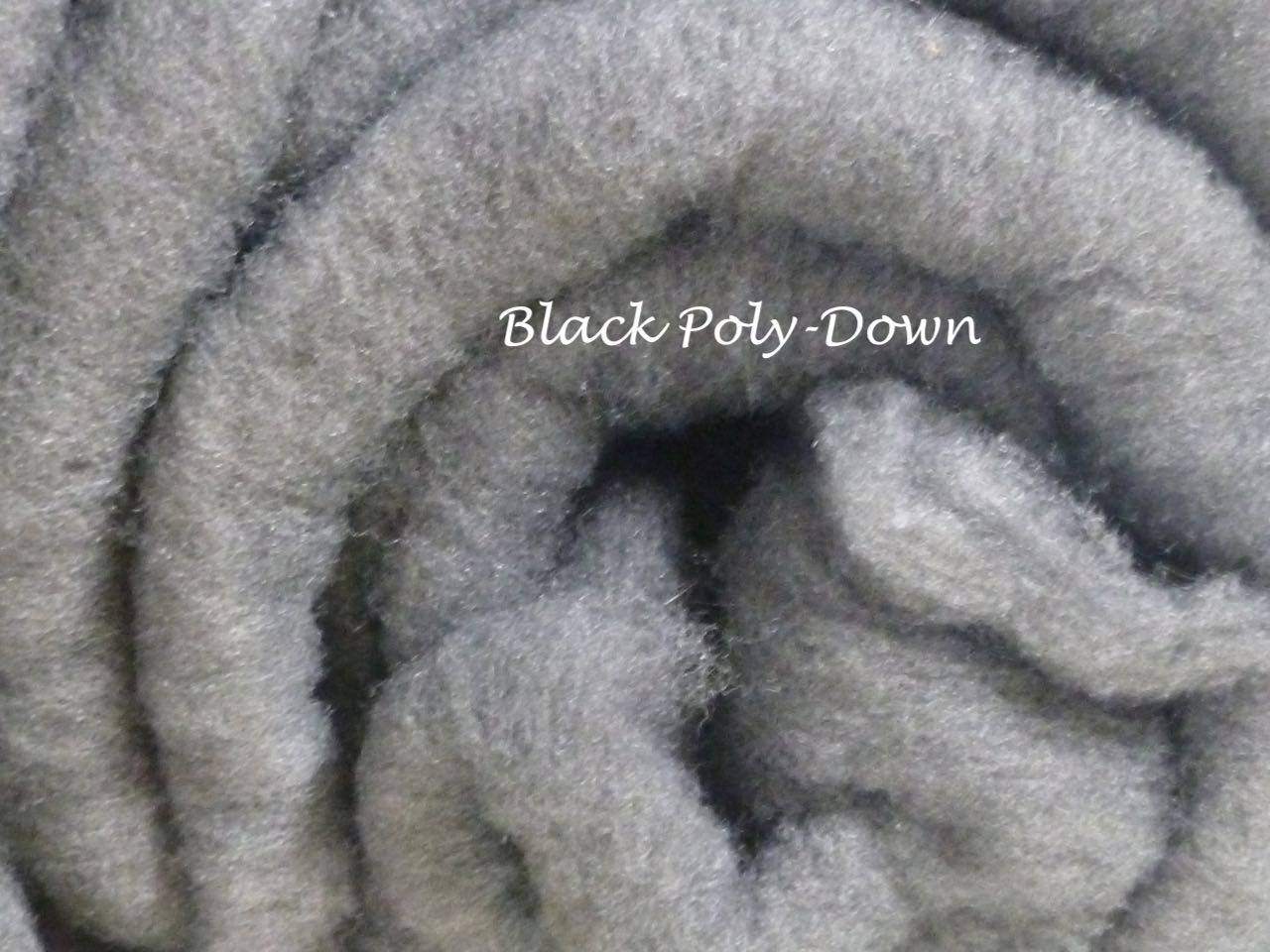 Wool - Wool has a high loft, and is warm yet breathable and lightweight. Shrinkage is about 3-5%. It is more expensive than cotton, but will not crease like cotton does. Best for quilting design definition as the loft creates a puffiness around the stitches. Wash in cold water, lay flat to dry. Wool is wonderful in special quilts with heirloom quality, like wedding quilts or show quilts. Quilt up to 4 inches apart.
Cotton Wool Blend - With 80% Cotton and 20% Wool, this batting is resin bonded to resist bunching and does not have any scrim. It is great for hand and machine quilting. It shrinks 3-5%, and can be quilted up to 4 inches apart.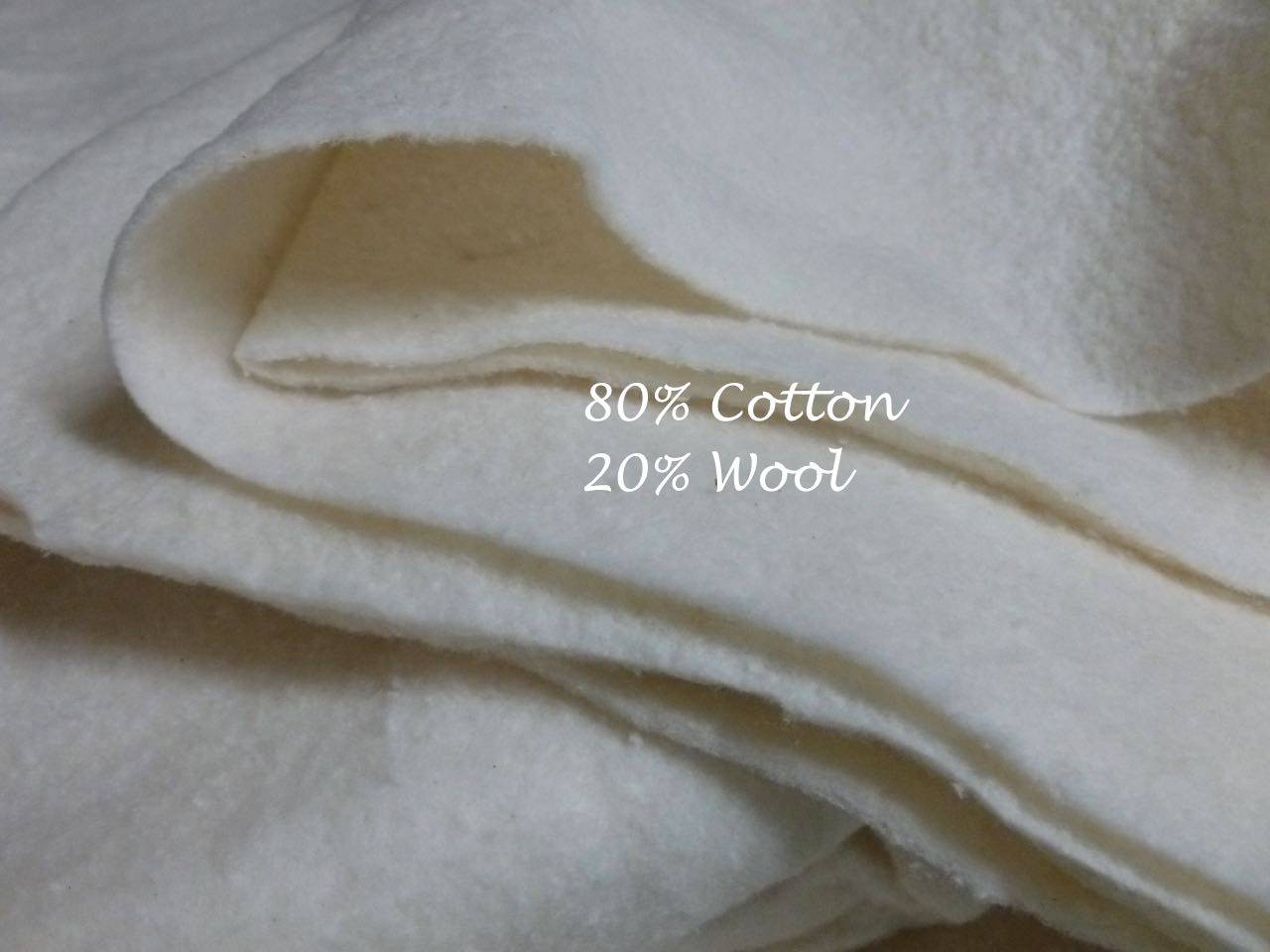 Silk - Lightweight, soft and great for summer quilts, silk is not too warm. It is low loft and very nice for hand quilting as well as machine. It can be quilted up to 4 inches apart. It will shrink 3-5% when washed. It is ideal for quilted clothing as it has a beautiful drape. Machine washable in cold water, lay flat to dry.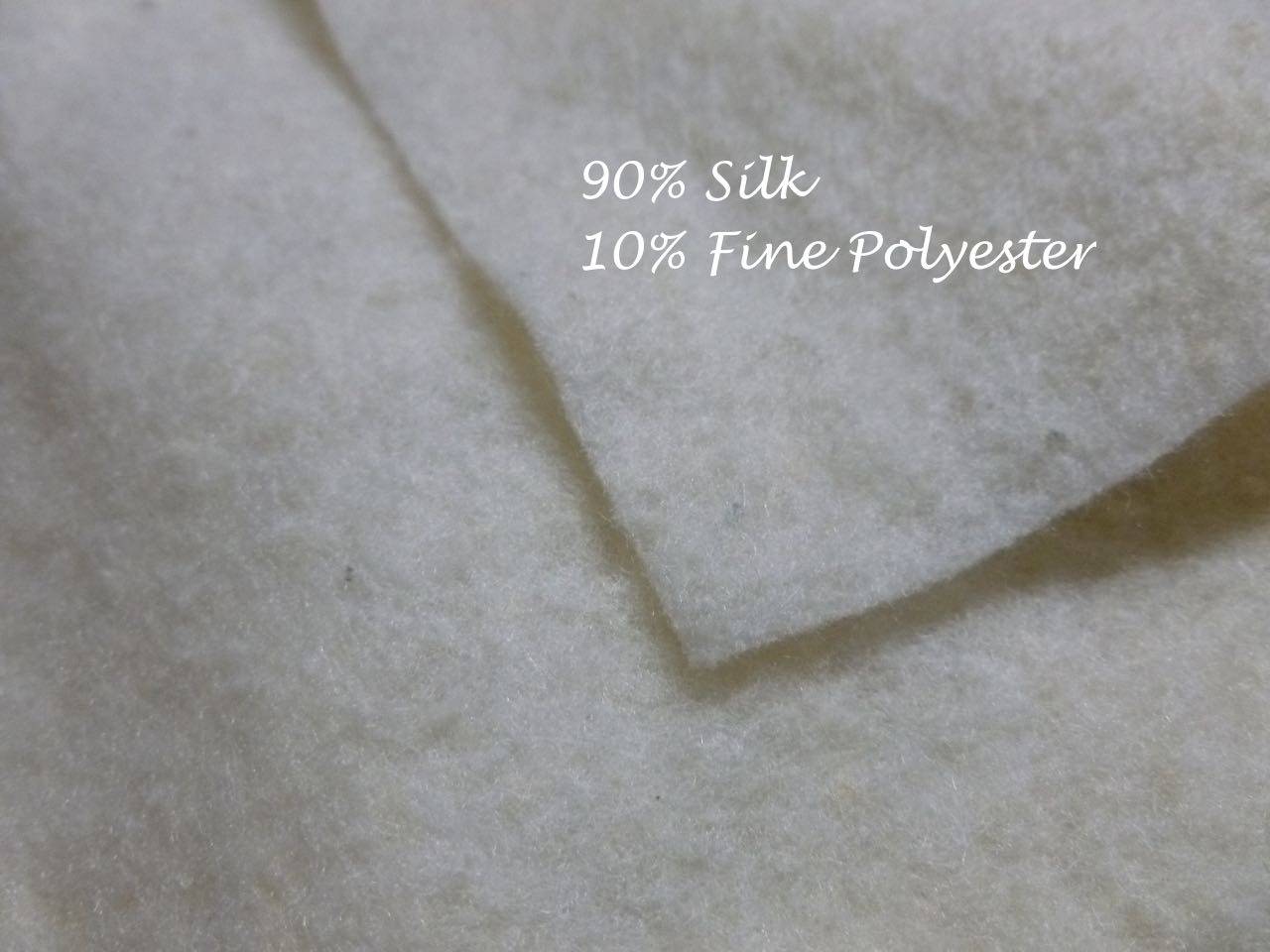 Bamboo - Often blended with silk and cotton, bamboo is a soft and thin batting perfect for wall hangings and art pieces. Bamboo is naturally resistant to dust mites and bacteria, and is wonderful for people with allergies. Beautiful on a bed, it is very lightweight and good for summer quilts as it does not hold heat. It can be quilted up to 8 inches apart. Never put a quilt with bamboo batting in a dryer as it can melt even on a low heat setting. Lay flat to dry.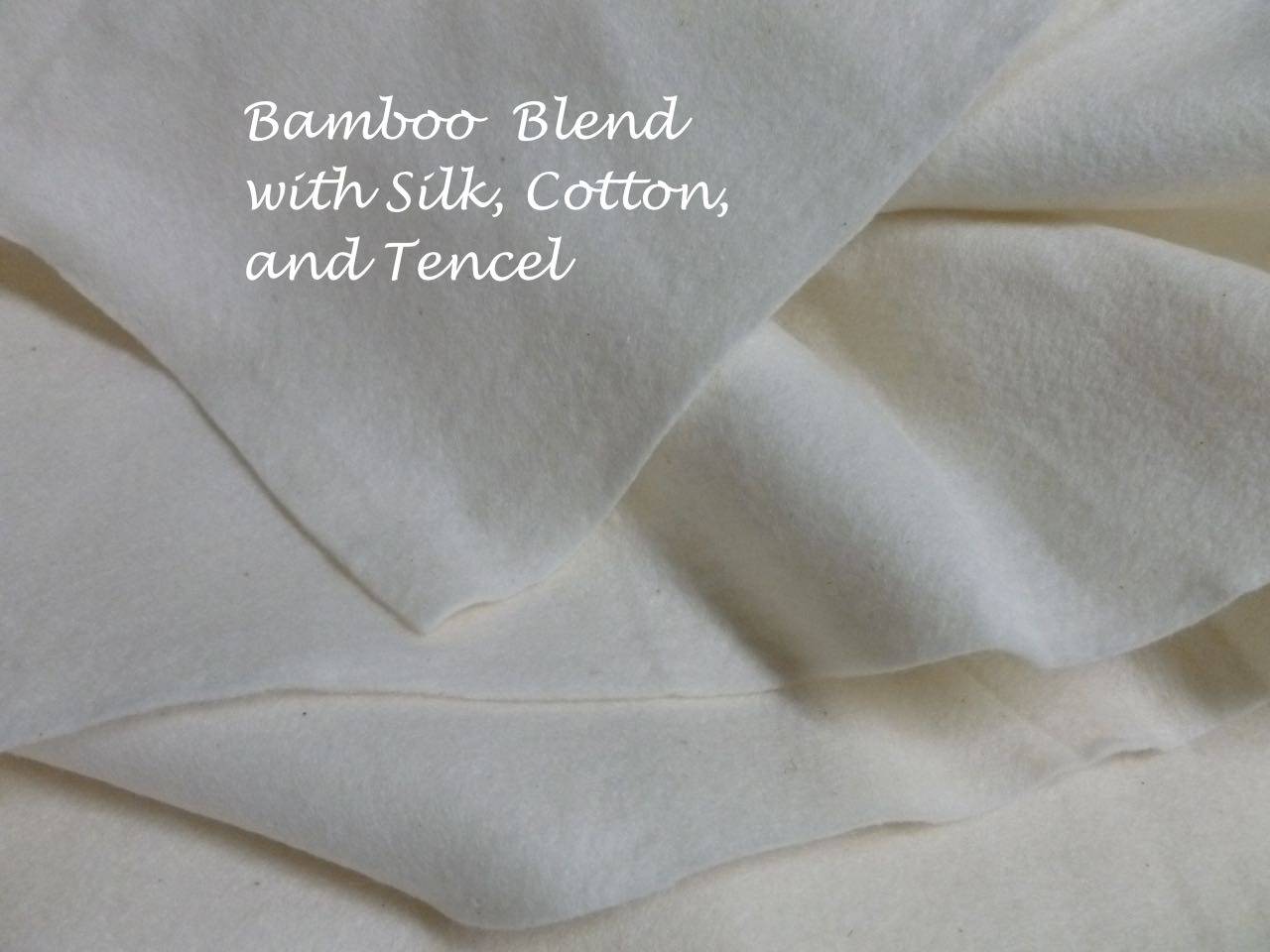 Black Battings - available in cotton, cotton blends, poly-down and wool, black color batting is best used under dark quilt projects particularly with black background fabrics. Care is the same as the content above.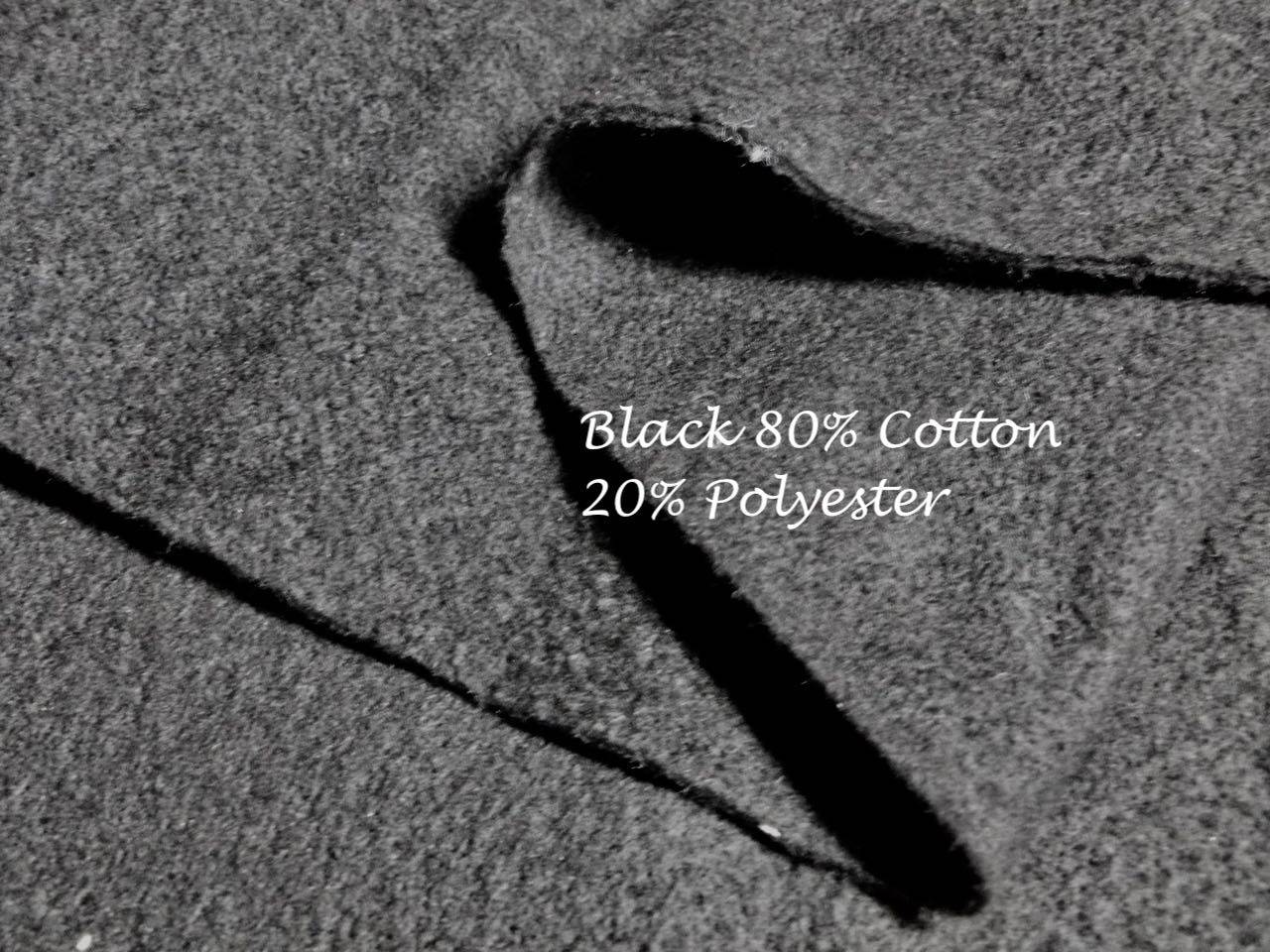 Insulated Heat Resistant Batting - Insulated battings have a layer of metalized fabric bonded to one side of the batting and is used primarily for hot pads and oven mitts. Use a layer of heat resistant batting between two layers of cotton batting. The extra cotton layers are to absorb any steam that may occur and protect hands. It does not matter which way the metalized layer faces.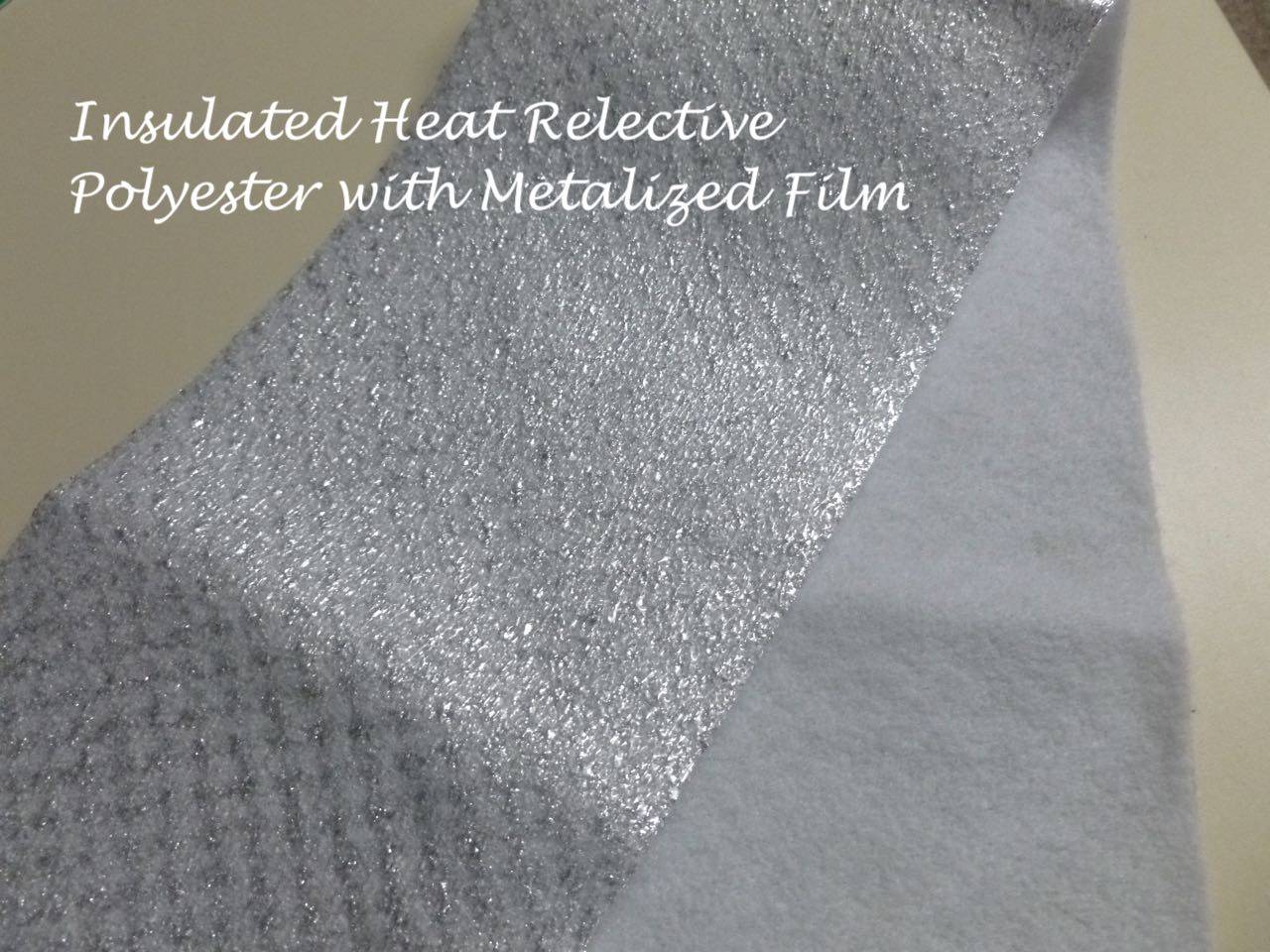 Flame retardant batting - Good for baby quilts, it is made of manmade flame retardant fibers, shrinks 1-3%, is fine to machine wash and dry on low heat setting.
Quilters who are hand quilting will have an easier time with non-scrim battings, no matter what the fiber content. Machine quilters can use any batting they like.
Many machine quilters will layer battings, using two layers to take advantage of the benefits of two fibers. The most common is to use an 80/20 on the bottom with wool on the top to create more definition in the quilting particularly when doing trapunto designs. Some will just use the second layer in the trapunto area, while others use both layers over the entire quilt.
I hope this post convinces you to try some different batting choices! Have fun quilting!
Carole
Come visit my blog at FromMyCarolinaHome.com for more patterns, tutorials, quilt alongs and ideas.