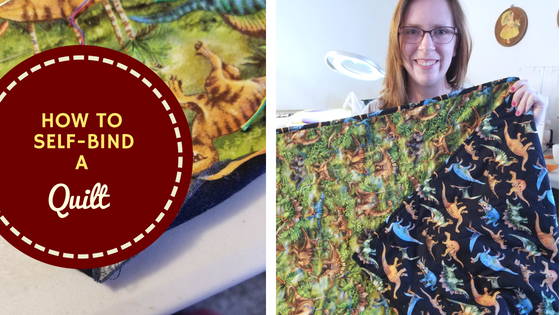 Ever get tired of messing with quilt binding? Sometimes you can't find the right color or if you do, you have to buy multiple packages and then have to sew them into continuous binding. Such a hassle!
But, there is another way! Try self binding! With this method- problem solved, money saved, and (most importantly) the binding automatically coordinates with the quilt!
For this tutorial, I worked on a quilt for my dinosaur obsessed son. When I say obsessed, I mean OBSESSED. His excitement about all things dinosaurs rivals my own passion for sewing. This gave us the best of both worlds- I get to quilt, he gets a dinosaur blanket, and I don't have to mess with binding. Everybody wins :) Follow along with me to learn how to make your very own self-bound quilt!

Materials needed are:
Pre-tied/quilted blanket
Thread that matches or coordinates with the back fabric (I used black thread to match the background of the backing)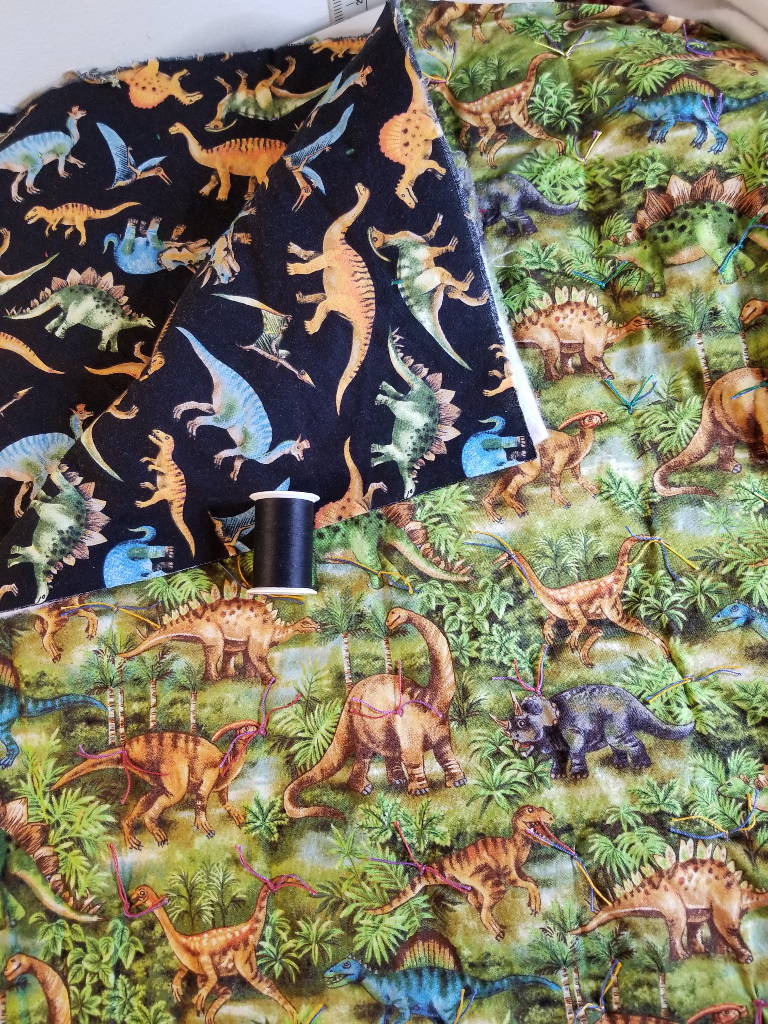 Tools used:
Stitch Guide Foot (presser foot #24 in the Madam Sew presser foot set)
Scissors
Seam guide
Pins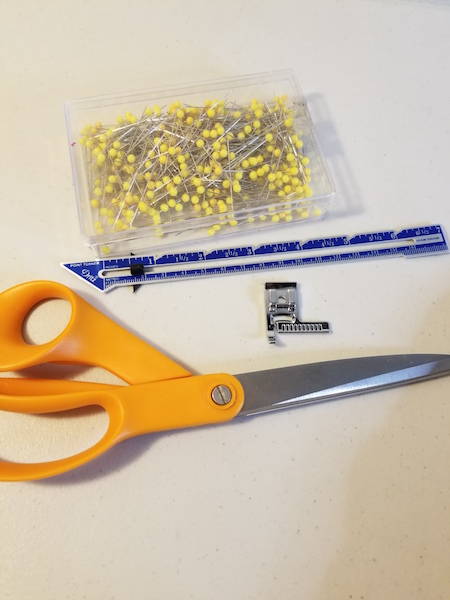 Step #1:
Lay out your quilt and trim the batting to fit the top of the quilt. This makes it so the binding isn't so bulky.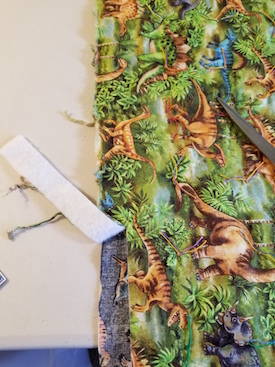 Step #2:
If needed, trim the top of the quilt to make sure the back is even all the way around. With this blanket, I needed to trim about ½" off the top and bottom edges to make sure I had the same amount of backing showing all around the blanket. Not all blankets are the same, so just adjust the measurements to your preference.
Step #3:
I wanted a ½" wide binded edge for the finished look so I made sure to have about 1 ¼" as my back to top edge width.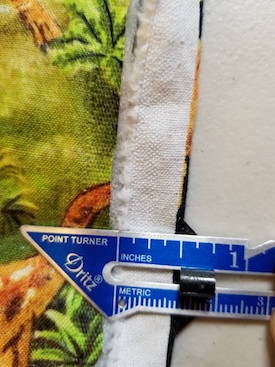 Step #4:
Next, I folded ½" in to start. I didn't cut the selvage edge off because I knew that it would get folded under and not show when I was finished.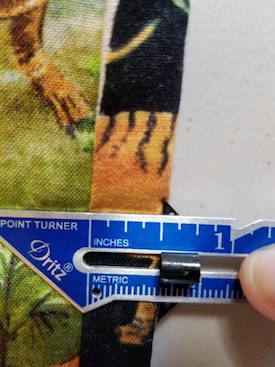 Step #5:
Fold it over again, this time bringing the edge over the top of the blanket. I made sure to measure it again to make sure it was ½" wide. Better to measure twice (or three or four times) than to have an uneven edge.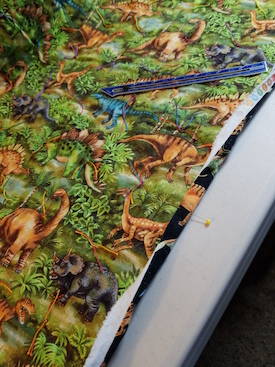 Step #6:
Pin in place. Do steps 5 and 6 all the way around the blanket. Don't prick yourself with the pins. I have done that SO MANY TIMES. #quilterlife, am I right?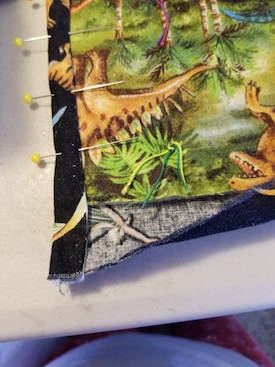 Step #7:
When you come to the corner, you want to make sure that you have enough "work room" -so don't pin right up to the corner on one side. If you pin all the way to the edge, you won't have enough room for Step #8. Personally, I leave 5-10 inches of unpinned fabric, to give myself enough room.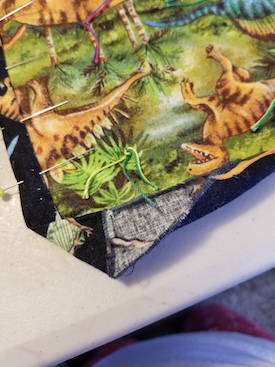 Step #8:
You take the folded edge and bring it diagonally to the edge to form a triangle. This will create your mitered corner, giving you that crisp-edge look to your final project.
Step #9:
Next, you fold ½" in on the unfolded side and then fold it again, in-casing the triangle. Make sure the fold is ½" wide or that it matches whatever width your binded edge is. Pin in place. Do this for all corners.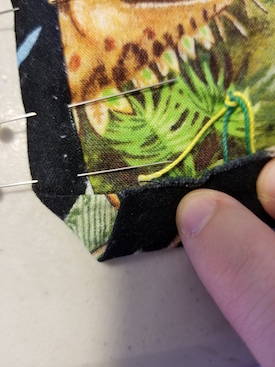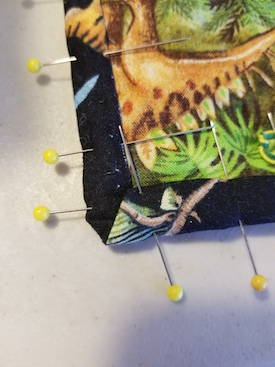 Step #10:
Once your quilt edge is all pinned, now you're ready to sew! When sewing binding, I like to start about halfway down one of the sides. That way I'm not starting or ending right at a corner.  
With the stitch guide presser foot, there are two ways to get it set up to give you that perfect seam. If you prefer to sew with your needle set to the left, line up your blanket so the outside edge is lining up with the 6th notch from the right. If you prefer your needle centered, then line up the outside blanket edge with the 4th notch from the right. (See below for images)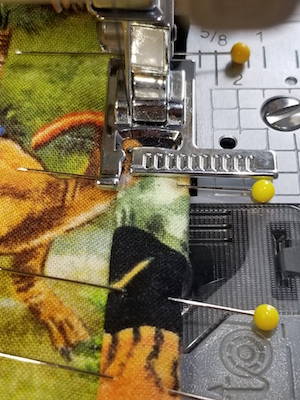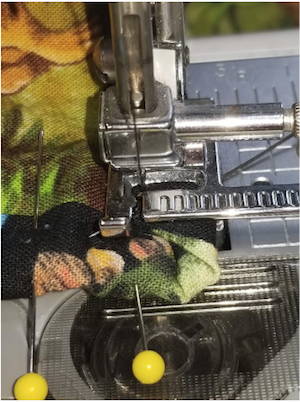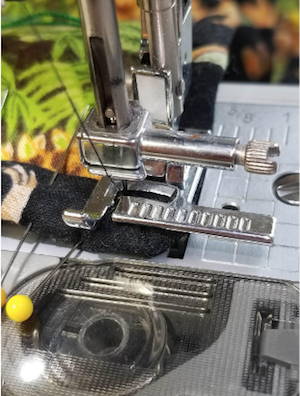 Step #11:
When you come to the corners, sew halfway to the edge of the blanket, making sure to catch the fold. Keeping your needle in the fabric, lift your presser foot, and turn the blanket to make sure the seam width is the same.
Once the binding is all sewn, you can now enjoy your quilt! Or in this case, my son can, since it's his summer blanket. I can already hear him roaring his approval, T-Rex style :)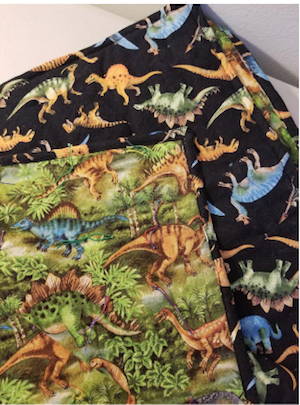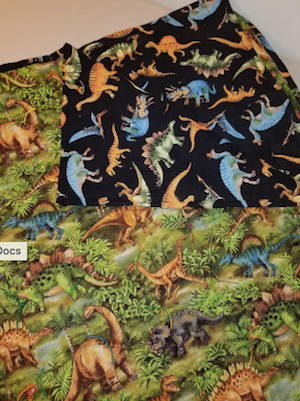 And there you have it--self binding. It's a beautiful thing. Madam Sew's stitch guide presser foot makes it sew easy and sew simple. I love it. Self binding is a breeze.
When you have finished your self-binding project, feel free to share it with us! You can find us on Facebook or you can comment here. What is your favorite thing to do with YOUR presser foot?
Happy quilting!!